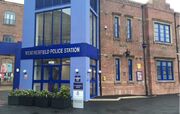 Weatherfield Police Station is the local police station for the residents of Coronation Street.
It has seen many police officers working there including: Neil Clifton, Emma Watts and Craig Tinker.
Notes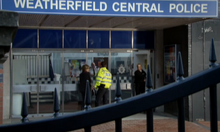 The station was named the Weatherfield Central Police Station when recording took place on at Granada Studios. The frontage of the station, in reality, was an entrance to the main Granada Studios building. With the the new set extension at the MediaCity studios in 2017, the station was replaced by a more permanent, purpose built set.