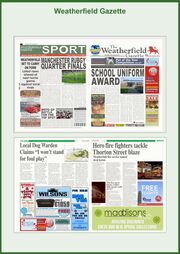 The Weatherfield Gazette is the local newspaper for the Weatherfield area. For decades it has reported the births, deaths, marriages and criminal behaviour of many Coronation Street residents. Ken Barlow is perhaps the most notable contributor to the publication and for a brief period he also ran a rival newspaper, the Weatherfield Recorder, before he was forced to sell it to the Gazette itself after the latter started a free sheet in May 1989. Ken struggled on with the paper for another eight months but in the end there wasn't enough advertising revenue around to support two titles, especially when Deirdre Barlow demanded half the profits of the paper as part of a divorce settlement from Ken.
At some point, the paper launched its own internet edition which allows reader's comments underneath the on-line stories.
They are the official sponsors of Weatherfield County FC.
List of Gazette stories featuring Coronation Street residents
Note: reference to matters such as job adverts, etc are not included in the list below.
The paper reports on a "Glamorous Granny" and "Beautiful Baby" contest run to mark the Silver Jubilee of

The Queen

and prints photographs of the finalists including Elsie Howard (May 1977)
"French Frolics. Twin-town complains about visitors behaviour". Several Weatherfield women get drunk and disorderly while on a trade mission trip to

Charleville

in France while representing the borough (February 1980)
Window cleaner Stan Ogden has been left £100 and a pot dog by Dora Entwistle, a grateful customer of his who has just passed away (March 1980)
Gazette writer

Hermione Fairfax

is unfortunately ill and therefore the romance serial

Slaves to their Passion

has to be suspended (July 2002) ("Hermione" was also the author of the "Agony Aunt" advice column and two weeks later Ken Barlow would take over authorship of this section. "Ken's Corner" is dropped as a result)
A "

Layabout's Chair

" has won first prize of £500 in a council-sponsored art exhibition, angering local residents at the waste of taxpayers' money (September 2003)
Councillor Chris Melton has been accused of taking bribes (February 2003)
The engagement is announced of Ashley Peacock and Claire Casey (June 2003) (This was a false announcement placed by Claire's jealous ex-boyfriend Gary Jenkinson)
Local butcher's pie have given local residents upset tummies (November 2003)
Newsagent Rita Sullivan is accused of assaulting local child Chesney Brown (February 2004)
Ken Barlow reviews Nicole Farnsworth's dance school production of Grease (March 2004)
Correction: the review of Grease in the previous night's edition mentioned pupil "Dozi Webster". The name should have read "Rozi Wobster". The paper is pleased to set the record straight (March 2004)
The council are spending £45,000 on a fountain to be named after ex-Mayor Alf Roberts (June 2004)
Weatherfield resident Emily Bishop is interviewed about her protest campaign against the Alf Roberts memorial fountain (July 2004)
Despite protests from residents, the council intend to proceed with their plans for the memorial fountain (July 2004)

McCarthy's

, a restaurant that has just held its opening night, is reviewed (September 2004)
The winner in the paper's "Glamorous Granny" competition is "41"-year old "landlady" Liz McDonald (September 2004)
Knicker factory boss Danny Baldwin is left red-faced when his own face is plastered over an advertising cut-out of scantily clad girl he unveiled to promote his business (December 2004)
"County kids take a dive": Football player Warren Baldwin and his girlfriend Candice Stowe collapsed on the floor drunk at the club's annual Christmas party. (December 2004)
Hairdresser Candice Stowe is claiming she was fired from Audrey's hair salon on Coronation Street because she had ambitions to better herself: "Candice, girlfriend of County's golden boy Warren Baldwin, said 'All I want to do is tell people about the weather so they can decide what to wear.' Candice's boss, Audrey Roberts, 67, fired the crimper because of her ambitions." (April 2005)
Candice Stowe is profiled in the paper (together with a scantily-clad picture of the wannabe celebrity) (April 2005)
"Right Roy-al Ingenuity": Cafe owner Roy Cropper has the patent for a dynamo-type device that connects the door of his establishment and an automatic cutlery dispensing machine (July 2005)
Local mother Sally Webster has complained about the head of Weatherfield High, Mr Lewis, and his refusal of a place at his school for her daughter but he has dismissed her as a "deluded snob" (September 2005)
"Cockerel Runs Scared?" The Scarsdale Fox issues a challenge to his fiercest rival,

Bernard

the Weatherfield County cockerel. (September 2005)
A chance to win a white wedding package in a special competition entitled "

Surprise the Bride

" (January 2006)
Competition entrants Tyrone Dobbs and Maria Sutherland are interviewed (February 2006)
"Dobbs Dumps Dream Girl!": Competition entrant Maria Sutherland has been dumped by her fiancé, Tyrone Dobbs (February 2006)
"OAP killed in hit and run" (June 2006)
"Killer Cabs": A damning article about Street Cars following the arrest of taxi driver Ronnie Clayton, involved in the hit-and-run (June 2006)
Wilf Morton's entry appears in the obituary column (June 2007)
Valandro's restaurant has burnt down (April 2008)
"My weeks of hell" Rosie Webster tells all about her kidnap ordeal at the hands of John Stape (January 2009)
Customers at the Rovers Return Inn have raised £500 for Weatherfield General (June 2009)
Local resident Ken Barlow leads the opposition to a bar being opened by his own son, Peter (December 2009)
Betty Williams, aged 90 today, is Weatherfield's oldest barmaid (February 2010)
Despite investigating the story of the innocence of Gail McIntyre, charged with murdering husband Joe, the paper is unable to print anything in order that they don't prejudice the trial (May 2010)
The opening night of The Joinery is attended by columnist Trish Brooks-Benson (November 2010)
John Stape, wanted in connection with the deaths of Colin Fishwick and Charlotte Hoyle, has evaded police after turning up at Weatherfield General (June 2011)
The paper is running a "

Search for a Star

" competition (July 2011)
Nick's Bistro is reviewed by the paper's

restaurant critic

(August 2011)
"Kidnap made me feel sexy": Rosie Webster is interviewed about her kidnap ordeal at the hands of John Stape and reveals some of her intimate family secrets (November 2011)
"Jail for Charity Scamming Duo" Two people, Rob and Janet White, who ran a scam with the Roof & Refuge soup kitchen have been jailed, even though the refuge helped Weatherfield residents such as Dennis Tanner who is profiled (November 2011)
The paper runs adverts for a road safety campaign with pictures of a resident Rosie Webster in a fluorescent yellow tabard (January 2012)
"Randy Road Safety Model" causes a near pile-up (in truth, Rosie Webster and Jason Grimshaw had a slight car accident) (February 2012)
Nick's Bistro receives its second review from the paper's

restaurant critic

(March 2012)
An arrest has been made for the murder of Frank Foster (March 2012)
Fracas at Nick's bistro as VIPs eat chilli laced with Tabasco sauce and a fight breaks out between the proprietor and his brother (May 2012)
Resident Lewis Archer has gone missing in France (October 2012)
"Landlady stripped of prestigious award": Stella Price, landlady of the Rovers Return, has been disqualified from winning the

Lancashire Leisure

magazine's "

Pub of the Year

" award after it was proven that her mother forged positive customer comment cards. (November 2012)
Firefighter Paul Kershaw saves young boy from house inferno in Thornton Street (June 2013)
Nick's Bistro raided for drugs by police as it runs a student's night (July 2013)
"Fire Fighter in Brawl Shame": Fireman Paul Kershaw charged with a public order offence for fighting in the street with Lloyd Mullaney (August 2013)
Grab-bag thief beaten off: resident Beth Tinker saves pensioner Maureen Rothwell's bingo winnings from a sneak thief (March 2014)
Protest at closure of

Weatherfield Community Library

(August 2014)
Neil Beckett ups his nonsense campaign against his wife Andrea and Lloyd Mullaney when he puts an announcement in the newspaper on his and Andrea's wedding anniversary (September 2014)
List of newspaper contributors and staff
Note: In July 1976 the paper refused to employ Ernest Bishop on its staff as he was not a member of the National Union of Journalists.
Gallery
See also
Notes
The newspaper did not make its first appearance in the programme but instead in the TV Times issue of 13th to 19th August 1966 (and the following week's issue) in a mock-up of a newspaper report on the council election storyline when Annie Walker and Len Fairclough were opposing candidates. The paper first appeared in the programme later in the year and TV Times trumpeted the fact they had an invented the title in their issue of 19th to 25th November.