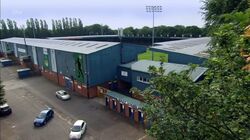 Weatherfield County FC is the local football team in Weatherfield that was formed in 1887 as a canal workers' football team. Two years later, they were a founder member of the Lancashire League and were twice crowned champions before being elected to the Football League in 1894. Their home ground is called "The King's Robes Arena" after the clothing company of the same name who entered into a sponsorship deal.
Their first manager, Harry Belmont, used the unusual tactic of throwing projectiles at his players to make them run faster. The club played throughout World War I when the footballers came in for public criticism for avoiding military service, though many were also gainfully employed on the canals of Weatherfield.
David Barlow signed for the club as an amateur player in March 1961. He scored on his début and was selected for the first team six weeks later. David left the club in June when a Second Division London club signed him for £1,000.
In 1971, Dave Smith served on the club's board of directors, but did not have a controlling share. Both Irma Barlow and Bet Lynch had affairs with player Eddie Duncan and their partying affected Eddie's playing, much to the displeasure of the menfolk of Coronation Street.
In 1987 the club enjoyed an unprecedented run of success, scoring a major trophy and it was still referred to as "the glorious cup run" many years later. In May 2015 the club made headlines in the press when they suddenly sacked their manager Mr McGilligan.
In September 2017, Kirk Sutherland gained the coveted role of appearing at games in the costume of the club's mascot: Buzzer the Bee.
In September 2019, Emma Brooker placed the ashes of her departed "father" (actually her stepfather) John under the pitch.
The club's current sponsors are the Weatherfield Gazette.
Players and staff
Former players:
Current players:
Sam

Dudley Shepherd

(Goalkeeper)
Staff:
Notes
Bury FC's Gigg Lane Stadium was used as the filming location for Weatherfield County's King's Robes Arena. In real life, the ground has been unused since August 2019, when Bury was expelled from the English Football League. For the club's appearance in Episode 10445 (1st October 2021) their training ground on Carrington Road in Trafford was used instead.