V Court Fitness was a business jointly owned by Dev Alahan, Kal and Sharif Nazir and was opened in March 2014. It was located in Victoria Street, and was built by Jason Grimshaw, with the help of his father Tony Stewart. This attracted numerous residents from Coronation Street to keep fit. It also ran a self-defence training class, which Gail McIntyre took up after No.8 was burgled. Gail and Katy Armstrong accepted jobs here as receptionists.
Gail was later demoted to cleaner when Kal's daughter Alya arrived to replace her. When Kal died in a fire that broke out at Victoria Court, Sharif appointed Gary Windass as manager and later gave him a share before he was due to marry Alya. After Sharif's seven-year affair with Sonia Rahman was exposed, he left the area, leaving the gym in deep debt.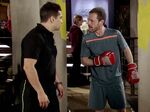 Sharif lost his share to the bank and debt collectors took away the gym's equipment, leading Dev and Gary to cut their losses and close the premises down in
January 2017
. When
Rob Donovan
escaped from
Highfield Prison
in
April 2017
, his ex-girlfriend
Tracy Barlow
harboured him in the abandoned premises.