The Kabin is a newsagent located at 10 Coronation Street, owned by Norris Cole.
The Kabin was originally situated at 16 Rosamund Street and owned by Len Fairclough, with Rita Littlewood as manageress and Mavis Riley as assistant. Rita inherited the Kabin after her husband Len's death in 1983 and was responsible for moving the shop to its new premises in Coronation Street following Maurice Jones's re-development scheme in 1990.
Rita and Mavis worked alongside each other for 24 years, until 1997 when Mavis left Weatherfield. Her place was eventually filled by Norris Cole, who was to become its owner, first as a partner in 2005 and then as full owner in 2009. Current counter staff are Norris and Rita with the occasional help of Mary Taylor and Dennis Tanner.
When it initially opened for business in 1973, the Kabin included a cafe and book lending library. The cafe was replaced with a record shop in 1978, which in turn was superceded by a video rental shop in 1987. The new Kabin is solely a newsagent but for a number of years in the 2000s it included a post office.
Rosamund Street Kabin A new business venture In May 1973, Walter Biddulph decided to close down his eponymous newsagent and retire to Spain. Len Fairclough approached him and made an offer to buy the shop unit and upstairs flat, thinking that if Biddulph had made enough money from his grotty fleapit to spend his twilight years in the sun, then it must be a goldmine. Arriving at the same conclusion, Ray Langton also made enquiries about buying the shop, but stopped when he found out that Len had finalised a deal with Biddulph on the sly. It wasn't until the deal was concluded that Alf Roberts informed them that Biddulph had a wealthy widow who was besotted with him, and he didn't have two pennies to rub together.
While Len, Ray and Jerry Booth set about giving the shop a much-needed makeover, Len searched for a manager. He first approached Elsie Howard, although she turned him down and suggested Rita Littlewood. Rita initially accepted when she learned that the offer included the flat, but changed her mind when Len refused to employ an assistant and insisted on keeping hold of the spare key to the flat. Meanwhile, Ray promised the job to Deirdre Hunt. When the men conferred, Len pulled rank and appointed Rita as it was his shop. He eventually won her round by giving her the spare key and agreeing to give her an assistant, but he refused to let her name the shop "Rita's" - in case she jacked it in after a week - choosing "The Kabin" instead.
The finished shop, with its book lending library and cafe, opened its doors for the first time on 11th June 1973. On her first day, Rita "interviewed" Mavis Riley, who barely said two words to Rita before her bottle went and she ran off while Rita was through the back. Nevertheless, Rita was impressed enough to give Mavis the job. Mavis started at the Kabin two days later and a week after its opening, the Kabin delivered its first morning papers.
Changes to the shop The Kabin was a great success, and with Fairclough and Langton's finances less stable, often a lifeline for Len. In November 1973, Len transferred the Kabin into Rita's name as a safeguard before going to court over Fairclough and Langton's non-payment of VAT on a job for Weatherfield Plastics, which went bust before they were paid. Len and Ray believed the new law to be unfair, although Jerry Booth paid the amount while they were in court, resolving the matter.
Two months later, Len decided to sell the Kabin to Douglas Wormold for £5,000, getting a good price for it while he still could as, unknown to the residents but known to Len through his role as councillor, the council was planning a re-development scheme. However, Rita ripped up the cheque, reminding Len that the shop was now hers. Len ultimately voted against the scheme and it never went ahead. Len and Rita then got engaged, and Rita signed the Kabin back over to Len.
In the first half of 1974, Rita ran the Kabin alone as Mavis moved to Grange-over-Sands with her parents, upset that Jerry Booth had done nothing to stop her going. She returned in July. Later that year, a now-single Len demoted Rita and made Mavis manageress, when Rita spent the morning in bed and missed the morning papers. Mavis didn't enjoy the responsibility - or being a pawn in Len and Rita's battles - and decided to resign, but Len came to his senses and re-instated the status quo in time.
By 1977, Mavis had grown in confidence and convinced Len to appoint her manageress, against his better judgement, when Rita took a four-month singing job in Tenerife. Both jobs fell through when Len convinced Rita not to go and to marry him instead. This time, the couple did marry, and Rita moved out of the flat and into 9 Coronation Street. Len installed a separate entrance to the flat, intending to rent it out, but Mavis manipulated him into letting it to her for a reduced rate when she threatened to move further away so that he and Rita would have to do the morning papers.
1978 was a difficult year for the Faircloughs as the building firm lost money due to equipment being stolen and a big job being cancelled before completion. Len put the Kabin down as security for a bank loan. Meanwhile, Joe Dawson bought the unit next door and made preparations to open a cafe, although he kept this from Rita when introducing himself, telling her only that it was an outlet for his bakery business. A short time later, the Kabin was reported for having no toilets for customers, and Len was threatened with a fine or imprisonment if he didn't either install two toilets or close down the cafe. On discovering that it was Dawson who reported him - and the truth about his new business - Len nearly assaulted Dawson but stopped when Rita pleaded with him. Len was left with no choice but to close the cafe, and he decided to go along with Mavis's suggestion of turning the lending library into a record shop. As it was her idea, Mavis had to become more pop-conscious to see what would sell.
In 1980, Rita left Len, Weatherfield and the Kabin. In her absence, Mavis hired Louise Clayton as assistant. Rita soon returned but she didn't plan to work at the Kabin and Louise was kept on. Louise came up with an idea to put a record player in the shop so that customers could play before buying. Rita got involved with the Kabin again when Louise accepted an order for what turned out to be a load of porn magazines, and the salesman threatened Mavis when she got him sacked by putting his boss onto the fact that he was moonlighting with the "Teaser" magazine. Rita's return was initially as supervisor, with Mavis as manageress, but Rita didn't get on with Louise and Louise eventually walked out. Once again, Rita and Mavis returned to their regular roles.
Later that year, Len and Rita swapped positions, with Len working under Mavis at the Kabin while Rita handled the business side of the operation at the Builder's Yard. Len proved to be useless at the Kabin, spending his time drinking at the Rovers.
On Len's death in 1983, Rita inherited the Kabin. She continued to run it as she had done for ten years. In 1984, Sonia Wilkins was taken on to replace Mavis when Mavis got engaged to Derek Wilton, however Sonia gave the job up when Mavis and Derek jilted each other on their wedding day, meaning that Mavis would no longer be leaving.
When Alan Bradley entered Rita's life, he showed an interest in the Kabin and in 1987 he installed an electric till and replaced the outdated record shop with a video rental library. Mavis was extremely put out: as well as not knowing how to use the new till, she feared that Alan's next "business idea" would be to put a younger, more glamorous assistant at Rita's side, and decided to resign. Rita initially backed Alan, but later took Mavis's side and told Alan that the Kabin was hers, though he continued to help out behind the counter.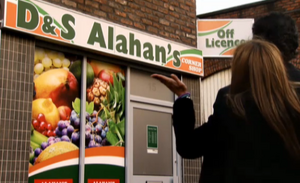 The Corner Shop is a convenience store and off-licence situated on the corner of Coronation and Viaduct Streets, Weatherfield. Now the property of Dev Alahan, the shop dates back to the building of Coronation Street in 1902 and carries a street address of No.15. Over the years, it has traded under many different names, including its current incarnation, D&S Alahan's Corner Shop, adopted in 2004.
When it was first opened under the ownership of Cedric Thwaite, the shop was small, and customers were served over the counter. Shopkeepers also lived on the premises, as full living quarters were attached to the store. These rooms were knocked through in 1985 when the incumbent owner Alf Roberts converted the shop into a mini-market, with the remainder of the ground floor going over to storage space. Smaller scale refurbishments followed a fire started by Maya Sharma in 2004 and in 2010 when the infrastructure of the shop was destroyed by a derailed tram.
Other owners to have made changes to the shop include Florrie Lindley, who opened a sub-post office in 1964 - which was then closed by her successor Lionel Petty, and Renee Bradshaw, who won a court battle to turn the store into an off-licence in 1976, overcoming stiff opposition from Annie Walker of the Rovers Return.
Above the shop lies 15a Coronation Street, originally the shop's spare bedroom later converted to a bedsit before being expanded to a two-bedroom flat in 1985. The property is usually either rented out or used for storage, at the shopkeeper's discretion.
Other people to have held the reins at the shop over the years include Tommy Foyle, Elsie Lappin, David and Irma Barlow, Maggie Clegg, Maureen Holdsworth, Fred Elliott, and Brendan Scott, who died from a heart attack in his own shop in 1993. It is currently managed by Dev with Cathy Matthews as part-time assistant.
Construction
The Corner Shop was built in 1902, numbered 15 Coronation Street. Larger than the adjoining houses, the property was envisioned as a shop from the very beginning and contained a large front room, a store room, living quarters in the rear, and three bedrooms upstairs.
Before Coronation Street was finished, Newton, Ridley and Oakes brewery launched a bid to purchase the shop and convert it into a beer house, to complement the Rover's Return at the opposite end of the Street. However, the committee in charge of the Glad Tidings Mission Hall got wind of their plans and persuaded the developers not to accept the bid on the grounds that it would lead to an overabundance of alcohol in the Street.
History by owner
1902-1915: Cedric Thwaite
Lay preacher Cedric Thwaite bought the shop for £35 - including £5 loaned to him by the Mission committee - and opened up for the first time in December 1902, four months after his immediate neighbours had moved into the new houses.
Cedric found being a shopkeeper a lonely experience, as women did not want to gossip with a preacher and many were put off by the fact that the man of God was a drinker. His fondness for the demon drink eventually led to him being struck off the preaching list.
In 1910, Cedric married Lottie Hofner, a German national who did not speak English. While Lottie struggled to learn the language, the couple spoke to each other in French. Lottie was never accepted by her neighbours and in 1914, after Britain went to war with Germany, a mob descended on the shop and the Thwaites were violently assaulted. 1915 saw Lottie interned on the Isle of Man for rest of the war and Cedric depart the Street to live with his brother in Newcastle.
1915-1945: Tommy Foyle
Leeds-born Tommy Foyle bought the shop and ran it during the war years, unable to sign up due to an old leg injury. The shop did its best business in years when Tommy hung a Union Jack in the window and painted "British and Proud" on the window.
With Tommy came his twenty-year-old sister Amelia as a lodger and shop assistant. Amelia proved her worth when she protected Tommy from the women whose husbands were away at the front. She died from the flu in 1919.
Tommy was finally married a few years later, to Lillian Makepiece, the siren of the Street. Lil nearly bankrupted Tommy as she gave her family unlimited credit at the shop, on the orders of her domineering mother Ivy - and Tommy wasn't good at saying 'no' to his wife. It wasn't until her sudden death from bronchitis in 1927 that he was able to re-assert control of the shop by acquiring a mongrel called Growler to scare Ivy away.
Tommy married his second wife Elsie Castleway in 1930. As a former variety singer, Elsie brought custom to the shop, as well as being a loving wife who provided Tommy with two daughters, Hilda and Shelagh.
The shop acted as a lifeline to the residents of Coronation Street during the years of depression and war. The Foyles sold selected products at low prices to their neighbours, and later, when rationing was in force, Elsie kept a supply of black market goods in the store room for her regular customers. Elsie was caught by the police and fined over the scheme. By this time, Tommy was bed-ridden due to a stroke and Elsie was running the shop with Hilda's help. On VE Day, as the residents celebrated the end of the war Tommy dropped dead from a heart attack.
1945-1960: Elsie Lappin
Elsie inherited the shop in 1945 and continued to run it as Tommy had. Two years later, she was charmed by salesman Les Lappin and by the end of 1947 they were married. As the girls grew up and went out to work, Les joined Elsie behind the counter. However, after just five years Les had a heart attack while serving Ida Barlow, and Elsie was again a widow. When Hilda and Shelagh left Weatherfield to work at a girls' boarding school in Surrey in 1957, Elsie was left on her own. In 1960, she decided to pack it in and retire to a bungalow at Knott End.
1960-1965: Florrie Lindley
Former barmaid Florrie Lindley took over the shop on 9th December 1960 and rebranded the emporium as "Lindley's Provisions". On her first day, she was caught by the police selling firelighters after 7.00pm, and her name appeared in the papers, much to Florrie's shame.
Florrie had no family around her and ran the shop on her own. Her neigbours saw her as a soft touch and took liberties with credit; in 1961, she hired Albert Tatlock as a debt collector to make her customers pay their bills and started opening on Sundays to boost trade. Later that year, a US-style supermarket, Billy Bargain's Supermart, opened on Rosamund Street, and some of Florrie's most loyal customers abandoned her to shop there. However, they found the lack of personal service a turn-off, and custom soon picked up again.
In 1964, Florrie opened a sub-post office in the shop and revamped the interior, transferring the counter to the Viaduct Street side and moving the door into Coronation Street. Now effectively running two shops, Florrie decided at the last minute to hire an assistant, and was landed with the only person available - Dennis Tanner. The results were predictably disastrous, with Dennis showing up late, dropping the stock, and forgetting where everything was. It was a blessing when he left for the Viaduct Sporting Club and Florrie took on a more reliable assistant, Irma Ogden.
Florrie was very lonely living at the shop by herself and in 1964 she suffered a breakdown, wrecking the shop and smashing the window with a tin. She had always presented herself as a widow and it was a surprise to the neigbours in 1965 when her estranged husband Norman Lindley returned from overseas, seeking a reunion with his wife. Florrie agreed and sold the shop to Lionel Petty as the Lindleys emigrated to Canada, where Norman had a job waiting for him.
1965-1966: Lionel Petty
An ex-sergeant major in the army, Lionel Petty was put onto the shop by his teenage daughter Sandra, who was carrying a torch for Dennis Tanner. Lionel ran the shop in a militaristic fashion, alienating existing customers. When he was brusque with Ena Sharples, the residents boycotted him until his manner improved.
Irma was kept on, joined behind the counter by Lionel, occasionally Sandra, and also, for a short time, Dennis. Eventually, Sandra grew tired of living under her father's watchful eye and moved into a flat at Leestand Road. With business slack, Lionel closed down the post office and a month later he accepted an offer from Irma and her new husband David Barlow to buy him out. Lionel then left to go into business with his brother in Wales.
1966-1968: David and Irma Barlow
The Barlows took the shop on in January 1966, weeks after a knee injury ended David's football career with Weatherfield Athletic. David made the best of a bad situation, committed to making the shop a success whilst it was theirs. This meant being firm with Irma's mother Hilda Ogden, who was allowed to run up a huge bill thanks to Irma not writing down her orders in the tick book. When David told Hilda there would be no more freebies, Irma quit the shop in anger and drafted in Hilda as David's assistant to spite him, returning once she felt she'd made her point.
In 1968, David decided to return to professional football and signed with an Australian team. However, due to the slum clearances, buyers were not willing to take a risk on the shop and David had to drum up interest by telling the Gazette about their Australia plans. A few days later, Les and Maggie Clegg viewed the shop and immediately agreed to buy.
1968-1976: Maggie Clegg, with Les Clegg and Irma Barlow
1968: Maggie and Les Clegg
Affable when sober, Les Clegg was prone to violence when he had a drink in him. He and his long-suffering wife Maggie were counting on the shop to give him the drive to stay off the booze. Within two months he succumbed, smashing the shop window while drunk. This was followed four weeks later by an all-nighter celebrating a bowls victory, after which he fell over in the shop as Maggie wrested a bottle from his hand. Les spent the next two months in a psychiatric hospital, after which he went to live with his brother.
1968-1970: Maggie Clegg
The Cleggs divorced in 1970 and the shop was transferred into Maggie's name, as she had soldiered on in the interim. She was well-liked in Coronation Street, known for her generosity including allowing the neighbours credit when many of them were out of work following the 1969 coach crash.
Immediately after Les's departure, Maggie took on Ena Sharples as her assistant. Ena was swiftly replaced by Valerie Barlow, who covered Ena while she was on holiday and refused to leave when the pensioner came back, resulting in Ena delivering some harsh words to both women when Maggie stood by Val. A year later, Val left the shop to return to hairdressing.
Maggie also had the occasional help of her son Gordon, until he left to work as an accountant in London in 1969, and her sister Betty Turpin, who moved into the shop flat with her husband Cyril not long after Gordon left. Knowing that her older sister would take over the shop given the chance, Maggie set Betty up with a job at the Rovers Return to keep her occupied.
1970-1972: Maggie Clegg and Irma Barlow
In April 1970, David Barlow and his son Darren were killed in a car crash in Australia, and Irma returned to Weatherfield a widow. Stan Ogden, in a misguided attempt to do his daughter a good turn, persuaded Maggie to sell her a share of the shop for £600. However, the shop reminded Irma too much of David and she tried to pull out of the deal. With the money tied up, Irma had no choice but to work with Maggie. In November, Irma increased her share to 50%. She remained at the shop until until December 1971 when she flitted to Llandudno, sending word for Maggie to buy her out of the shop.
1972-1974: Maggie Clegg
Maggie carried on as the shop's full owner, employing Lucille Hewitt and later Norma Ford as a live-in assistant. In 1974, she decided to enlarge the shop, knocking into the storeroom and making it self-service. She got as far as having architect Peter Shields draw up plans before councillor Len Fairclough cautioned her against it, causing Maggie to realise that the Street was up for possible redevelopment and leading her to throw the project out.
In July of that year, Maggie married her old flame Ron Cooke and emigrated to Zaire, where Ron was due to start a new job. Gordon came up from London to give Maggie away and sell the shop for her. Gordon made arrangements to rent the shop to the Hopkins family at £12 a week instead.
Layout
Shop: 1902-1985
The property was constructed in 1902 with a large front room (the shop), a store room, and behind that the living quarters, with a staircase immediately behind the shop leading to three upstairs bedrooms, plus a yard and outside lavatory through a back door. The entrance to the shop lay on the corner of Coronation Street and Viaduct Street.
In 1960, when Elsie Lappin sold up to Florrie Lindley, the shop still sold over-the-counter, which lay along the opposite walls to the front door. Elsie used every available space to tempt customers, cluttering the counter with a cake display, biscuits, and French Fancies, in addition to the till and scales. Until she replaced Elsie's old till, Florrie had to work out prices in her head before entering the amount into the machine. The shop also contained a fridge/freezer and cigarette display, for which the owner needed to display a licence above the front door.
The shop's layout was broadly the same until 1985, with only a few major changes. The biggest occurred in 1964 when Florrie opened a sub-post office - transferring the counter to the Viaduct Street side to accommodate it - and moved the front door to Coronation Street, finding the current layout too draughty. The next owner, Lionel Petty, closed down the post office and moved the counter back to its original position.
Living quarters
Existing from 1902 to 1985, the residential part of the shop was laid out similarly to the other houses in the street, with a living room/kitchen behind the shop, a scullery behind those, and three bedrooms upstairs. Two of the bedrooms were later converted, into a bathroom and bedsit, replacing the outside lavatory in the back yard. The scullery was also upgraded to a full kitchen at some point in the late 1960s and the back room left as a living and dining area.
Early episodes show a side door in the back room, presumably opening into Viaduct Street, although this had disappeared by 1968.
Shop: 1985 onwards
Stock room
Goods and services
As a convenience store, the Corner Shop sells all manner of everyday items, mainly groceries, alcohol, cigarettes, and frozen food. The wholesaler-bought goods are generally from the popular lines and brands, allowing shopkeepers to meet the demands of most customers. A notable exception was Annie Walker, who frequently requested specialist items which Renee Bradshaw didn't stock.
In 1970, Hilda Ogden volunteered to look after the shop while Maggie Clegg and Irma Barlow were on holiday. She attempted to impress the owners by ordering huge quantities of exotic foods from wholesaler Unifoods, leaving the shop short of basic foods. Customers boycotted the shop in favour of Cissie Battersby's, and Hilda had to sell the items at less than cost in order to get rid of them before Irma got back. The resulting loss was £7, 2/9, which Irma made her mother pay back by cleaning the shop for free.
Most shopkeepers allowed credit, depending on the purchaser. Elsie Lappin preferred not to and erected a notice in the shop telling them not to ask for credit, but found that they asked anyway and took the sign down.
In its earlier years, the shop provided an advertising service, placing adverts on its front window.
Incidents at the shop
Burglaries
In July 1968, Ena Sharples was minding the shop when two lads, Billy and Frank Pickles, broke in during the night. Ena confronted them with a poker and secured the frightened lads' agreement to return the next day to do odd jobs as a penance.
Health record
In September 1966, the shop was investigated by the Health department after their potted meat sandwiches served at a party at the Rovers Return was blamed for giving everybody food poisoning. The Public Health man took a sample of the meat, which was found to be contamination-free, clearing the owners David and Irma Barlow.
The shop's position adjoining 13 Coronation Street has caused the occasional problem, beyond the noise from the neighbours. In 1973, while Hilda Ogden was away at her brother Archie Crabtree's, Stan failed to keep the house clean and the mess attracted mice and cockroaches. Eventually the infestation spread next door and Norma Ford caught a mouse in the shop's back room. Later, when the house was being fumigated, Norma insisted that the fumigators move their van from outside the shop, as it was putting customers off.
Corner Shop flat
Main article: 15a Coronation Street
Around 1961, the shop's spare bedroom was converted into a bedsit, equipped with two beds, a stove, and limited kitchen facilities. Florrie Lindley was the first owner to take in paying lodgers, beginning with Phil Braithwaite and Norman Dobson, two clerks from the Town Hall. Most tenants who followed were either relatives or close friends of the shop's owner, or live-in assistants. When not occupied, it was generally used as a stockroom.
The flat underwent several alterations in the late 1960s] and early 1970s, notably the addition of a separate kitchen, but it was still functionally a bedsit, lacking a bathroom and street entrance. In 1985, when Alf Roberts turned the shop into a mini-market - removing the living quarters - he also expanded the flat by knocking through into what had been the shop's bedroom and bathroom, and installed a stairwell to the flat and side door in Viaduct Street, numbering the property 15a.
Staff
Owners
Assistants
Residents
Gallery
Background information
External links
15a Coronation Street is a two-bedroom flat located above the Corner Shop in Coronation Street, Weatherfield. It is home to Daniel Osbourne, Sinead Tinker, and their son Bertie, who rent the property from the shop's owner Dev Alahan.
Originally one of the shop's bedrooms, by the early 1960s the area had been converted into a bedsit, accessed via a staircase in the shop's living quarters. Florrie Lindley was the first proprieter to take in lodgers, and most of her successors have followed suit, although a few have used the space for storage or lived there themselves.
In 1985, as part of a modernisation of the shop Alf Roberts expanded the flat to fill the entire upstairs and built a new door to the apartment on Viaduct Street, separating the flat from the shop - although the properties have continued to be sold together.
Past residents of the flat include Sheila Birtles, Doreen Lostock, Emily Nugent, Bet Lynch, Tricia Hopkins, Gail Potter, Deirdre Langton, Shirley Armitage, Curly Watts, Ken Barlow, Chris Collins and Sunita Parekh.
History
When the Corner Shop in Coronation Street was built in 1902, it had three upstairs bedrooms. By 1961, one of the rooms had been adapted into a bedsit, allowing the shop's owner Florrie Lindley to start taking in paying lodgers. The first tenants were Town Hall clerks Phil Braithwaite and Norman Dobson.
During the 1960s and 1970s, most people who resided at the flat were either relatives of the shop's owner or live-in assistants. As it was technically part of the shop, and not a separate property, anyone living there was typically evicted when the shop underwent a change of ownership. When not occupied, it was generally used as a stockroom.
Layout
1961-1985
The flat started out as little more than a spare bedroom, lacking a bathroom, its own street entrance or postal address separate from the shop. Tenants entered the bedsit using the staircase situated within the shop's living quarters.
When first let in 1961, the flat contained two beds, a stove, and limited kitchen facilities. The layout was unchanged at least until 1967, when Emily Nugent lived there, but by 1970 it had a separate kitchen to the right of the entrance, behind a glass wall.
List of owners and residents
Residents
1965 - Jerry Booth
Lived in the flat for three months after the breakdown of his marriage to Myra and death of their baby daughter.
1965 - Sandra Petty
Daughter of shop owner Lionel Petty. The flat gave Sandra her own space away from her domineering father but it wasn't enough and at the end of the year she moved to a flat in Leestand Road to assert her independence.
1967-1968 - Emily Nugent
The Gamma Garments manager moved in when she returned to Weatherfield after spending a year nursing her sick father in Harrogate. She was forced to give up the flat when the Cleggs bought the shop.
1969-1970 - Betty Turpin
Along with her husband Cyril, Betty moved into the flat to be closer to her younger sister Maggie. Maggie allowed the Turpins to share her living space, but secured Betty a job as a barmaid at the Rovers Return in order to keep her out of the shop. The Turpins stayed for a year, moving to 37 Hillside Crescent in 1970.
1970-1971 - Irma Barlow
The shop's co-owner moved into the flat with Bet Lynch after the Turpins left. Recently widowed, Irma's time there was characterised by bad relationships with men, including Joe Donelli who confessed to murdering Steve Tanner and locked Irma in the flat with him. She disappeared abruptly in December 1971 and pulled her money out of the shop two months later, settling in Llandudno.
1971 - Janet Reid
Len Fairclough's ex-girlfriend filled in for Irma at the shop for four weeks while Irma recuperated from appendicitis in Llandudno, and in return was allowed to use the flat. Feeling lonely, Janet threw herself at Alan Howard, but was seen off by Elsie.
Gallery
Background information
The flat's interior first appeared in Episode 167 on 18th July 1962, when Sheila Birtles and Doreen Lostock moved in. Before that, the bedsit had been occupied by Phil Braithwaite and Norman Dobson, but the onset of the Equity actors' strike shortly after their introduction resulted in those character being written out.
The flat has sported dramatically different appearances over the years, with a number of inconsistencies between episodes. Episode 434, in which Jerry Booth moves into the flat, shows it to be on the ground foor, contradicting other episodes.
*Disclosure: Some of the links above are affiliate links, meaning, at no additional cost to you, Fandom will earn a commission if you click through and make a purchase. Community content is available under
CC-BY-SA
unless otherwise noted.