Anthony "Tony" Gordon was a Scottish businessman and co-owner of Underworld between 2008 and 2010. He was married to Carla Connor and was responsible for having Liam Connor killed after finding out about an affair they had while Carla was engaged to Tony.
After Tony confessed to Carla, she fled Weatherfield and Tony embarked on a relationship with Liam's widow Maria, even helping deliver Liam's son. They got engaged, but Tony suffered a heart attack and confessed to Roy Cropper, and attempted to kill him before handing himself into the police. Tony later perished when he escaped prison and burned down Underworld.
Biography
1971-2008: The ambitious businessman
Tony was born in 1971 in Scotland, and was followed by a brother named Pat. In his youth Tony witnessed his father suffer a heart attack, although did nothing to get help or save his life and allowed him to succumb to it and die, feeling that his mother was better off without him. When growing up Tony entered into the world of business and started his own company "Gordon's Catelogues", which saw him relocate down to England in the city of Manchester. There he met a woman named Lindsey and the pair married, although their relationship was strained following her affair with his brother Pat, and the pair ended up divorcing. Despite the messy marriage, Lindsey still held a torch for Tony.
Tony came to Coronation Street in September 2007 when he was interested in doing business with Underworld owners Carla and Liam Connor. Tony had known Carla's late husband and Liam's brother Paul Connor. He immediately charmed Carla, and the pair were attracted to each other. He began to make frequent visits to the factory although wasn't interested in talking about business, and the pair ended up dating. This caused Liam, who was in love with Carla, to become jealous. Tony's character was called into question when Lindsey suddenly turned up at the factory and punched Carla out, and claimed she was still Tony's wife. Liam became suspicious of Tony and began to spy on him at his house, and later got talking to Lindsay who stated that Tony was a control freak. Liam attempted to warn Carla but she rebuffed him, so Liam proposed to his girlfriend Maria Sutherland to get back at her, as Carla also loved Liam.
As his relationship with Carla blossomed Tony began to muscle his way into Underworld, and in 2008 he made an offer for Liam's share. When Liam refused, Carla blackmailed Liam to sign over to Tony, threatening to reveal reveal their previous affair to his new wife Maria.
Tony was now the co-owner of the factory, and had ambition to expand his business empire with the plan to retire in his 40s with Carla. But his dirty business tactics and dodgy behaviour made Tony unpopular with some of the street residents. He came to blows with cafe owner Roy Cropper when he illegally killed a colony of bats in a disused warehouse on Victoria Street, as they were getting in the way of his development of luxury flats which would later become Victoria Court. Tony also bought up the houses on Nightingale Terrace and began to evict the residents as he was planning to redevelop the site into a block of flats, but his plan was disrupted now lone resident Jed Stone, who refused to leave his property. After Tony spent two weeks trying to intimidate the old man into leaving, Jed's old age got the better of him and he suffered a heart attack. When Jed was in hospital Tony cleared his stuff out and had the house boarded up, and was delighted at his victory.
During this period Tony was also planning to expand Underworld, although he needed The Kabin and Webster's Autocentre demolished to help with the expansion. Tony offered to buy the Kabin from owner Rita Sullivan, which she was tempted by as she had considered retirement. But the garage owner Kevin Webster was not so willing to give up his business and took an instant disliking to Tony, even though his wife Sally was employed at the factory. Realising that Kevin wasn't willing to give in to his threats, Tony enlisted his henchman Jimmy Dockerson to steal Kevin's customers, and later arranged to have Kevin's tow truck stolen after a fake call out. Despite this, Kevin stood firm and refused to sell, and Tony's Underworld expansion never came to fruition when Rita decided not to sell the Kabin.
2008-2009: Jealousy to murder
Tony had suspicions that Carla was having an affair with Liam, so got Rosie Webster to video them. His suspicions were proven when Rosie showed a video of them kissing. Tony decided to have Liam killed in revenge. In early October 2008, Tony invited Liam and Maria to come with him and Carla for a weekend away. Tony took Liam to an underground cave and asked him to be his best man. Tony claimed he and his brother Pat fallen out. Liam agreed to be Tony's best man at the wedding.
On the night of 16th October 2008, Tony hired his friend Jimmy Dockerson to run Liam over on his stag night. Tony stole Liam's wallet and when they headed to a men's club, Liam thought he left his wallet back at the pub, so Tony convinced him to head back. When Liam stepped onto the road, Jimmy raced around the corner in his car and hit Liam, killing him on impact. Tony held Liam in his arms while the other men called an ambulance, and told him "the best man lost". Tony dumped Liam's wallet in the canal later that night after taking money out of it.
After the funeral, Carla decided to have a break and called off the wedding, before leaving for Los Angeles, much to Tony's annoyance. However, she later returned and they got married in December 2008. Jed also returned to the Street when Emily Bishop gave him a room at her home. Jed began to blackmail Tony for money. When Maria suspected Tony of murdering Liam after seeing the video of Liam and Carla kissing, knocking that Tony had seen it, she tried to convince everyone he killed Liam. Jed teamed up with her and told Maria about Tony evicting him from his home. On Christmas Eve, Jed confronted Tony and after Tony accidentally told him about Liam's killer Jimmy, Jed threatened to go to the police, which resulted in Tony strangling him. Thinking he killed him, he stuffed Jed's body into a Christmas hamper, and returned the next day to discover he was still alive. Tony took Jed to Wigan, telling him never to return to Weatherfield.
In January 2009, Tony enacted a plan to discredit Maria. When she confronted Tony in the empty factory. Maria heard him confess to murdering Jed. After a failed attempt to tell the police, an upset and distraught Maria hit Tony with her car before crashing it. Tony was seriously hurt, but decided to stop Maria once and for all, and later took Jed back to Coronation Street and into the pub, making Maria look even crazier, which humiliated her. Carla however began to get suspicious of Tony when he saw him telling Jed never to return to Coronation Street again, or it would be the last thing he did. Carla followed Jed back to Wigan to confront him and discovered the marks on his neck. Tony tried to claim that they were marks when Jed tried to kill himself, but Carla was still suspicious and confronted Jimmy. When Jimmy failed to answer her questions, she knew that Tony must have had Liam killed. A spooked Jimmy quickly phoned Tony following Carla's visit and informed Tony that she was suspicious, and Tony assured Jimmy that he would deal with it.
Tony sent the workers home and closed the factory early and awaited Carla's arrival. When Carla turned up, he locked the factory door and after probing her confessed to murder, and tried to justify his actions saying it was for love. Carla revealed that Liam wanted to run away with her, but she turned him down, which reeled Tony as he realised killing Liam was for nothing. Shocked that Carla believed Tony would kill her next, he offered to turn himself into the police as long as she stood by his side. Carla told Tony it was over; distraught, he asked her to finish him off and handed her a knife. Carla apologised to Tony for what she had done to him, but during an embrace she whispered into his ear that she could never forgive him, and then kicked Tony. While he was down, Carla escaped from the factory and into the rainy street, and got into her car. Tony jumped onto her car and cried out for her not to leave him, but she sped off (causing Tony to fall off the car) and off into the night, leaving him to sob in the street, all alone.
2009-2010: Moving on from Liam's death
Tony was left in devastation over Carla's departure, and also uncertain whether or not the police would turn up and arrest him. He was visited by Leanne and Maria, who believed that he had done something bad to Carla, but a drunken Tony informed Maria that Carla left him because she was still in love with Liam. Later on when Maria was visiting Liam's grave, a tearful Tony turned up and broke down. Maria's frosty attitude towards Tony softened as she felt he was in the same boat with her due to both their partners cheating on them, and she accepted a ride home from Tony.
Tony later discovered that Carla was settled down in Los Angeles, and that she was filing for a divorce. She also sent her old school friend Luke Strong to manage her share of the factory, making it clear she wasn't returning home and that it was over with Tony. Tony was suspicious of Luke and had a private investigator look into him, and realised Luke was having money problems. Although the pair were confrontational, Tony eventually accepted Luke at the factory and the pair of them even worked together to save Peter Barlow and his son Simon from their burning flat.
Following Carla's exit, Tony began to grow closer to Maria and overtime formed a friendship with her, and was up for supporting her. This put a strain on her friendship with Tom Kerrigan (Liam's cousin), who felt pushed out by Tony, and Tom himself was attracted to Maria. Tony felt that Tom was in the way and wanted to buy his share of Lad Rags. Realising there was nothing left for him as Maria was clearly more interested in Tony, Tom sold his share to Tony and left Weatherfield in April 2009.
Although he was drawn to Maria, Tony briefly dated hairdresser Natasha Blakeman. But Natasha grew jealous of Tony's clear infatuation with Maria and Natasha warned her off and claimed Tony was only being helpful because he felt sorry for her. When Tony found out from Maria what Natasha has been saying he was angry and later threatened Natasha in the street, before then breaking off with her. Natasha was shaken by Tony's sudden nastiness brewing through, and attempted to warn Maria about him. Nonetheless, Maria was still drawn to Tony and kept him in her life.
In the summer of 2009 Tony and Maria's friendship started to turn into a romantic one. When visiting Ainsdale Beach Maria went into labour, and Tony helped to deliver the baby. In the hospital she named the child Liam after he late husband, but also gave him the middle name Anthony in honour of Tony. When Maria's in-laws Barry and Helen visited the street they were disapproving how Maria had moved on from Liam to Tony, although Maria insisted she was just friends with Tony. Tony grew annoyed with both Helen and Barry, especially the latter, and even told her that people had moved on from Liam.
Tony and Maria eventually entered into a proper relationship, and Tony moved in with her at 7 Coronation Street. In October 2009 Barry and Helen returned for Liam's planned christening, and Tony was selected to be the godfather. When Tony and Maria visited Liam's grave on the anniversary of his death, he proposed to Maria and she accepted. When the Connor family found out they were not pleased, especially due to the timing of the proposal, but Barry and Helen eventually called an uneasy truce.
On the day of Liam's Christening, Tony was stunned to receive a phone call from Carla, who was now back in the United Kingdom having found out about Tony's relationship with Maria. He met her at Liam's graveside, where Carla voiced her disapproval and demanded Tony to sign over his shares before then leaving town, or she would go to the police. Tony returned to the street where he found that his PA Rosie Webster had barricaded herself into the office after having a small breakdown, and it was discovered that Luke had disappeared after stealing her money, as Carla had no further use for Luke anymore. Tony closed up the factory for the day and although he was meant to meet Carla there, he instead went to the christening. He was shocked to see Carla lurking outside and she threatened to tell everyone in the church, but he told her to meet him at the factory later in the day. When she was gone, he contacted Jimmy and asked him to kill Carla, as she was threatening to blow the lid. Before Jimmy could get to Carla at the factory she left and returned to her flat.
Following the christening Tony returned home and made arrangements with Carla to do the signing at her home. He then sent Jimmy to the flat in order to kill Carla. But Tony had cold feet and raced to the flat to stop Jimmy. Upon arriving at his destination Tony witnessed Jimmy and Carla in a brawl, but Tony's presence distracted Jimmy enough to allow Carla to hit him over the head with a candlestick. Tony acted oblivious to Jimmy's presence and claimed that he had likely found out she was back in town and wanted to tie up the loose ends. Although Jimmy was still alive, Tony told Carla that he was dead and covered up his "body" with a sheet. Although Carla claimed it was self defence, Tony urged her to leave town and that he would "dispose" of Jimmy. Carla was heartbroken as she realised that Tony would continue to get off with what he had done, but she caved in and left the flat. After she left, Tony roused Jimmy and told him to pack up and leave the area for good. Tony then returned home and was optimistic he would have a bright future with Maria with no disturbances.
When Maria went over to Cyprus to visit her parents with baby Liam, Tony decided to stay behind with Ozzy the dog to finish up some business and then head over in a few days. However, Tony suffered a heart attack when he left the factory and collapsed against the wall, and was later found by Roy Cropper. He was rushed to hospital where it was thought he wouldn't survive the night. Tony then cofessed to Roy about his involvement in Liam's death, before going into cardiac arrest and needing to be revived - Tony survived. Maria returned to Weatherfield and was grateful to Roy for helping Tony. Roy kept following Tony and told him he should go to the police and confess but Tony got fed up with Roy's interfering.
Tony went round to Roy's Rolls one night to confront him. Tony threatened him and told him to keep away from him. A scared Roy and Hayley Cropper went to the police to report Tony's threat, which led to Tony being questioned by the police. However, he was released due to lack of evidence, and when Maria discovered what happened, she got scared and began to wonder if it was all really true. An angered and upset Tony felt he lost everything and headed to the canal at night where Roy was bat-watching and decided to murder him. Roy found Tony with a bloody knife (Tony took it from the café earlier when hiding there, and accidently dug it into his hand when he heard an upset Maria talk to Hayley whilst discovering about Tony). Roy thought that he had hurt Hayley, and Tony smiled and made out that he did kill Hayley, which angered Roy who attacked him. Tony then threw Roy into the canal when discovering he couldn't swim. However, he changed his mind at the last minute and dived into the canal to save Roy and dragged him out. Tony then walked into the police station and confessed to murder. When Maria discovered Tony's secret, she was sickened and told him she wanted him to die. Tony had also given his friend Jimmy's name forward as the hitman, and Jimmy was later arrested.
In November 2009, Tony had his court hearing and was to be kept in custody until his trial on 4th January 2010, and would not be granted remand. Carla had returned to Weatherfield and watched Tony get sent down. Maria had also left Weatherfield to start a new life in Ireland with Liam's parents, Barry and Helen Connor.
Tony sent Carla a visiting order in December, and she decided to visit him to see what he wanted. He told her that he had hired Jimmy to kill her, and that she hadn't actually killed him. She called him a bastard, and Tony asked if Maria would ever forgive her, with Carla replying "Not a chance". Carla then left the station, leaving a broken Tony behind.
In May 2010, Tony began to plan his escape from Highfield Prison along with his cellmate Robbie Sloane so he could get revenge on Carla and Roy, as he blamed them for his downfall. He bribed his cellmate with a lot of money for his part in it. Tony managed to get a sim card smuggled into the prison so he could contact Robbie from inside the jail when he got out. When Robbie was released, he began to keep an eye on Carla and Roy, and phoned Tony through a hidden phone and told him he would see him the next day.
When Tony was having lunch in the prison lunch hall, he wound up a prisoner which led to him being punched and beaten. Tony then faked a heart attack and was rushed to hospital in an ambulance. It was however pulled over by Robbie in a black van, and he used a gun to get a policeman to release Tony. They then locked the paramedics and the police officer in the back, before heading off on a motorbike Robbie had.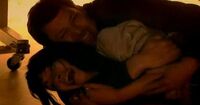 Tony arrived on the Street and lurked around the back alleyways, where he was spotted by Sunita Alahan. She thought he was mugged, but Tony slipped out the back when Sunita's husband Dev came round after hearing of Tony's escape. Robbie managed to take Carla and Roy's wife Hayley hostage, much to Tony's pleasure. After an argument over money and Robbie beginning to not trust Tony, Tony then shot Robbie dead. Maria had then arrived and Tony took her hostage, but she later escaped. Tony decided to release Hayley, as he wanted to die with Carla. He proceeded to set the factory on fire, and lit a match and set the place up. Carla managed to get untied, and shot Tony with his gun when he attempted to stop her. She escaped, and Tony decided he would rather die and walked back into the flames, and perished when the factory exploded.
Personality
Relationships
Background information
Introduction
Scottish born actor Gray O'Brien's casting of Tony Gordon was announced in August 2007, a month prior to the character's introduction. He was described by The Mirror's Brian Roberts as the new Coronation Street "heartthrob".
Murder of Liam Connor and other storylines
In February 2008, Liam Connor's actor Rob James-Collier took the decision to leave Coronation Street after less than two years, as he wanted to avoid being typecast. At the actor's request, he wanted to be killed off, and it was decided the character would be murdered later in the year, with the suspects being either Tony, Carla Connor, or Maria Connor.
It was confirmed in publicity that Tony would be the perpetrator of Liam's murder, with the plotline tying into Liam's affair with Tony's fiancée Carla Connor and Tony's plans to kill his love rival. Tony's darker side was shown in the months building up to Liam's murder, with him being involved in the gassing of bats at a warehouse which would become the Victoria Court apartments, and his harassment of pensioner Jed Stone.
Liam's murder storyline was to span during a week of episodes, with it taking place over the course of a day during Tony's stag. Although Liam was to be killed in a hit and run orchestrated by Tony on the night of his stag party, two alternative deaths were filmed in order to keep viewers guessing how Tony would kill Liam. The two alternatives included Tony shoving Liam from the balcony of Victoria Court, or shooting Liam dead in the woods during a paintball game.[1]
Coinciding with these stories was Carla's actress Alison King taking maternity leave. A partial two-hander between the two in February 2009 saw Tony confess to his crimes after Carla became suspicious of her husband, which saw Carla flee Weatherfield and take a flight to Los Angeles, which allowed King to take a break from the show for several months.
Following King's sabbatical from the show, the remainder of 2009 saw Tony attempting to move forward from Liam's death, which involved him being surprisingly romantically involved with Liam's widow Maria Connor, despite the pair previously sharing a bitter rivalry when she was convinced he killed Liam. In the summer of 2009 he helped her give birth to her son Liam, and around this period it was announced the pair would get engaged.
Alison King returned for a week of episodes in October 2009 which coincided with the first anniversary of Liam's murder, and also saw Robert Beck reprising his role of Tony's henchman Jimmy Dockerson for the final time.
Contract extension and exit
Originally it was intended for Tony to be written out of the show in late 2009 at the conclusion of his storyline, in which he would have been sent to prison for the murder of Liam. However the show's bosses wished for O'Brien to reprise the role at a later date as the scriptwriters had devised a new storyline for his character. After several meetings with the bosses, O'Brien's contract was extended into 2010, although they did grant him a short break so he could partake in the pantomime Aladdin at the Opera House over the Christmas period. This was reported and confirmed by a Coronation Street spokesperson in May 2009, who went onto say: "Gray had been due to leave Corrie later this year, and so had arranged the role in panto. But scriptwriters went back to Gray to ask him to extend his contract as they have come up with another exciting storyline for his character" In the build up to the character's original departure, ITV uploaded numerous tie-in material to coincide with the event, which also included a three part spin-off titled Tony's Mind, which provided some minor backstory for Tony as well as leaving clues on how he would deal with the truth of Liam's death coming to light.[2] The character exited the show temporarily on 11th December 2009 in Episode 7228.
Tony's return was teased by producer Kim Crowther in February 2010, in which she described it as "dramatic". When speaking to Digital Spy on Tony's upcoming return, she went on to explain: "It'll be in the spring, around May. We'll see that while he's been locked up he's gone through quite a lot psychologically. Has he had a breakdown in the period since we last saw him? He's certainly got a plan again. He doesn't settle for things when he's not in control of them so you put Tony Gordon in a corner and he comes out with a plan." At the time, Crowther also hinted that Tony's return would tie with the other return of Maria Connor, as the character departed due to Samia Smith's maternity leave. Two months later in April, it was revealed that Tony's return would involve him escaping prison and holding Underworld hostage.[3]
Tony's return scenes aired on 28th May 2010 in Episode 7349, over five months after his last appearance. The 1st June saw a storyline dubbed "Siege Week" being kicked off which involved Tony (along with his cellmate Robbie Sloane as portrayed by James Fleet) kidnapping Carla and Hayley. The story was intended to run each day through the week in order to celebrate Coronation Street's debut in HD and each episode would have aired at 9:00pm between the two episodes of Britain's Got Talent. However the rest of the episodes from Tuesday the 2nd June to Friday 4th June ended up being postponed to the following week due to the Cumbria shootings, which occurred on 2nd June.
Tony's exit and death was broadcast on 9th June 2010 in Episode 7356, which depicted a stunt involving Underworld being set on fire and subsequently blown up.
Reception
At the British Soap Awards in May 2009, Gray O'Brien won an award for "Villain of the Year" for his portrayal of Tony Gordon.
First and last lines
"Carla... Pity it's not in happier times." (First line)
---
"Oh feisty! That's why I fell in love with you!" (Final line)
Appendices
List of addresses
List of occupations
See also