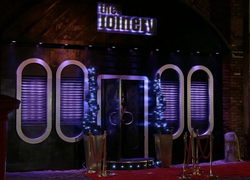 The Joinery (previously Turner's Joinery) was a drinking establishment first opened under the ownership of Peter Barlow and Leanne Battersby. The premises were closed following the devastating tram crash in 2010 and were later reopened as Nick's Bistro in April 2011.
The Joinery was located within one of the viaduct arches on Viaduct Street at the south end of Coronation Street near The Kabin and the Corner Shop.
History
The new bar was first opened to the public on 5th February 2010 however, when recovering alcoholic Peter became drunk and made a scene in front of the local press his partner Leanne made the decision to indefinitely close the premises as they were too much of a temptation for him. Exactly nine months later on 5th November 2010 the bar was reopened by Leanne and Nick Tilsley. Rovers Return Inn owner Steve McDonald, and long-running staff member Betty Williams, attempted to sabotage the competition by contacting a health inspector about a supposed rat infestation but there was no cause for concern to be found and the inspector issues Nick with a clean bill of health.
On the night of 6th December 2010 The Joinery hosted Peter Barlow's stag night for his upcoming wedding to Leanne. While the party was in full swing there was a gas explosion in the kitchen which caused a tram to derail and crash onto Coronation Street. Several people lost their lives in the ensuing carnage including; Ashley Peacock, who had been trapped inside The Joinery's office with Nick and Peter, Molly Dobbs and an unnamed Taxi Driver. Charlotte Hoyle's death at the hands of John Stape was believed to have been caused by the incident as well, however this was later proven to be untrue when John confessed to her killing.
When that end of the street was fully rebuilt and the building made stable, Nick eventually decided to open another bar at this location and this is how Nick's Bistro was opened.
Staff
Gallery