Pretty sure David and Dennis stayed here for a short time but can't remember when... The CoroWhovian (talk) 11:15, August 7, 2017 (UTC)
Entrance to the flat
Hi all,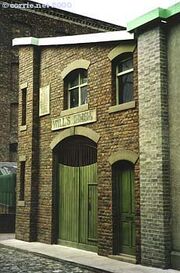 Just wondering whether anyone can clear this up for me. Out of all of the flats in Coronation Street, 19a Victoria Street is the one to have not changed much between the years (unlike 15a which has a completely different interior now compared to when it first appeared in 2000). However, in episode where Peter and Shelley move in (2002), they enter the flat via a different door, bypassing the current entrance and heading towards where the extension is/current entrance to the yard where theres a little door on the left hand side of the building going into the flat. Presumably the entrance to the yard then was what is now used as the entrance to the flat? See picture for details (from corrie.net). The green door on the right hand side is the current entrance to the flat. But in 2002 they entered via a side door to the left of the building. BlancheHunt (talk) 21:38, May 18, 2019 (UTC)
Hi, not the first time that changes have been made on the external set without explanation!!!--Jtomlin1uk (talk) 17:11, May 19, 2019 (UTC)
*Disclosure: Some of the links above are affiliate links, meaning, at no additional cost to you, Fandom will earn a commission if you click through and make a purchase. Community content is available under
CC-BY-SA
unless otherwise noted.