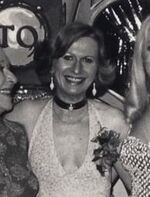 Susi Hush (12th December, 1945 - 27th October, 1995) was a producer on Coronation Street between 1974 and 1976. She was born in Yorkshire and after attending Grammar School went to Sussex University, where she graduated in English and American Studies. She worked for the BBC in 1968 and joined Granada Television in 1969 as a researcher and to write on a revue programme. In the early 1970s she moved to drama and became a script editor on the Adam Smith series before joining Coronation Street. Most commentaries on her time as producer state that she attempted to introduce an element of controversial social realism into the programme but a viewing of her episodes show that she was very much a precursor of Bill Podmore in increasing the comedy quotient in the scripts and giving the entire enterprise a sparkle that, arguably, had been missing under the producership of both Brian Armstrong and Eric Prytherch. She left the programme in 1976, supposedly without many regrets and after producing Crown Court left Granada to become freelance and later formed her own production company. Under these two guises she produced two seasons of Grange Hill in the early 1980s and Channel 4's first drama series, Winter Sunlight. Other credits include the London Weekend Television series To Have and To Hold, God's Chosen Car Park, The Moneymen and the Screen Two production Drowning in the Shallow End.
Between 1968 and her death she was married to Coronation Street director Roger Tucker with whom she had a son, Simon.
Community content is available under
CC-BY-SA
unless otherwise noted.