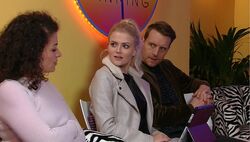 Supreme Tanning is a tanning salon on Corporation Road in Weatherfield, owned by Nathan Curtis.
Bethany Platt and Mel Maguire have filmed many hair-styling tutorial vlogs, which is Bethany's main role at the business. However Nathan and Mel used the business to keep Bethany close, as they were part of a sex ring which involved luring young girls for their shady dealings, and Nathan would even bring his friends along to check out Bethany.
Nathan and several of his friends were eventually arrested and found guilty of their crimes, and Mel left town to start a new life and to get away from Nathan.
After Nathan has been sentenced for life in prison after being guilty of rape, conspiracy to commit rape and human trafficking, it is currently unknown who owns the salon.
Upon the rare occasion of the exterior of Supreme Tanning appearing on-screen, the back fire exit of Roy's Rolls at the MediaCity studios was painted yellow to represent it.
Employees
Edit