Cobra Kai Season 4 - The Loop
Play Sound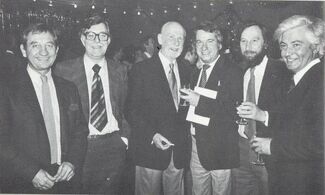 Stuart (Harry) Latham (11th July, 1912 - 31st August, 1993) was the first ever producer of Coronation Street, from the programme's debut episode in December 1960 to Episode 60 in July 1961. He returned to the position for a brief run of six episodes from Episode 332 to Episode 337 (4th March 1964).
An accomplished actor who had appeared in such television shows as ITV Play Of The Week, he also wrote, directed and produced for that programme.
It was "Harry" Latham who appointed H.V. Kershaw to be the programme's first story editor in the autumn of 1960 as described in the latter's 1981 autobiography The Street Where I Live:
"I was writing for Knight Errant, a light-hearted and somewhat upper-middle-class crime series. Granada had given me a small office in the building and I was sharpening a scene or two in my current script when the telephone rang. It was Harry Latham, director of my first play on television and more recently my producer on Biggles.
'I don't know whether you know," he said, "but they've asked me to produce this new North of England serial. They want me to do twenty-six episodes. Would you like to script edit for me?'
Kershaw went on to say...
"There were…powerful elements…in Granada who honestly believed that no programme could be a success without a strong and obvious middle-class appeal. We were to learn later that the programme did indeed have a middle-class appeal but it wasn't obvious at the time, and there were those who tried hard to inject 'classier' ingredients into the programme. Our David to these Goliaths was Harry Latham, a redoubtable fighter to all levels. Whilst, during the few months run-up to transmission, Tony (Tony Warren) and I worked on the next seven scripts which Tony was to write, Harry spent his time warding off attacks from those who believed that no self-respecting solicitor and his family would derive the slightest entertainment from the goings-on in a working class street. Let one thing be made absolutely clear. We were not fighting enemies of the programme. Had this been the case the battle would have been so much the easier but this was the worst kind of civil war with everyone loving the somewhat squalid territory over which they were fighting. Everyone simply wished to make the programme as good as we could possibly make it. The only problem was that we had different ways of going about it. But Tony Warren and I, raised in the working-class streets of Salford and Manchester, knew that our way was right and we supplied the ammunition for our London-born producer to fire. And he fired them so successfully that the second name on the Coronation Street roll of honour [after Tony Warren] must assuredly be that of Harry Latham, without whose arguments and winning ways the programme would have lost a great deal of truth and without doubt most of its life.
"I remember him coming into my office one afternoon after a particularly rough session. 'They're wearing me down,' he said. 'They want a young doctor living at No.5. They say he'll add bloom, whatever that is.' For a moment or two we lived in a defeated silence, before I dredged a word from my memory.
" 'You savages from the South may not know this,' I told him, 'but up here in the North bloom is an unsightly deposit caused by outside influences.'
"I was about to add 'usually on furniture', when he stopped me. 'Don't tell me any more, he said, 'that's quite enough!' and he went upstairs, told his critics that bloom was an unsightly deposit caused by outside influences and we never heard of the young doctor again."
Latham also put into the place the processes, procedures and routines by which Granada could continuously produce two episodes of the programme per week all year round and these processes were mostly followed for over thirty years before the programme went to four episodes a week in 1996 and the old routine of outside rehearsals followed by one or two days in studio was changed to the "rehearse-record" routine on set and in costume which is followed today.
Perhaps his best remembered contribution was to finalise the name of the programme. Tony Warren's initial scripts all referred to the serial as Florizel Street (Florizel being the name of the "Prince Charming" character in "Sleeping Beauty" a print of which was on Warren's wall) but aside from Warren, few liked it for a name. Legend has it that Agnes, the tea lady, at Granada said that it sounded like a disinfectant and the production team decided that another name was needed however Kershaw states that Cecil Bernstein, one of Granada's founders (and described by Kershaw as the programme's "Grandfather") ordered a name change.
Latham, Kershaw and Harry Elton, the programme's first but uncredited executive producer sat in Latham's office one night at 7.00pm with a bottle of whisky and thrashed the issue out. Bearing in mind the construction of their fictional street would have been at the end of the nineteenth century or the beginning of the next, they thought that either Jubilee Street (for Queen Victoria's 1897 Diamond Jubilee) or Coronation Street (for Edward VII's 1902 Coronation) were suitable choices. The arguments for each went on into the night through an alcoholic haze when Latham insisted it be put to the vote.
As Kershaw relates…
"The following morning copies of a memorandum from Harry Latham winged their way to every interested recipient in Granada announcing that the new serial was to be known as Coronation Street. One of the copies was waiting for me as I arrived and I immediately took it into Harry Elton's office on the sixth floor. He was sitting at his desk reading his copy as I walked in. His head lifted. 'I'm pretty darned sure I voted for Jubilee Street,' he said.
" ' And I'm pretty darned sure I voted for Jubilee Street too,' I added.
"And thus it was that our serial came to be known as Coronation Street ".
He was married to actress Barbara Lott who twice appeared in Coronation Street.
Latham may also have directed seven episodes of the show in 1961. The episodes in question do not credit any director, which in most television shows at the time meant that the producer had also directed the episode, due to ITV (and BBC) regulations of the day only permitting an individual to be credited for one production role.