Jurassic World: Dominion Dominates Fandom Wikis - The Loop
Play Sound
Sophie Webster (formerly Lauren Webster) is the youngest daughter of Kevin and Sally Webster. She has an older sister, Rosie, and a younger half-brother, Jack.
Sophie was born in 1994 and has lived in Coronation Street all her life. As a child, she was somewhat ignored in favour of Rosie. She began to find her identity as a teenager when she became a practising Christian and came out as gay. Her first girlfriend was her best friend Sian Powers. They were due to marry in 2011 however Sophie couldn't say her vows out of guilt over her kiss with Amber Kalirai, causing Sian to finish with her. Since then, Sophie has had relationships with Maddie Heath, Jenna Kamara and Kate Connor.
Sophie is a caring person who is very loyal to her friends and family and does work for charity. Initially upon leaving school, she held down a job at the Corner Shop. In 2015, Kevin got her involved with Webster's Autocentre by giving her a 21% of the garage as a 21st birthday present. Sophie returned her share to Kevin after he nearly bankrupted himself to pay her medical bill when she came down with appendicitis in Miami with no health insurance, and to make ends meet she and Rosie, similarly down on her luck, took on their stepfather Tim Metcalfe's old window cleaning round.
In 2018, deciding that she wanted to do more with her life, Sophie entered the restaurant business and was hired by Yasmeen Nazir to manage Speed Daal.
Biography
1994-2005: Early life
Sophie was born in November 1994 to parents Kevin and Sally Webster. Sally and Kevin planned to call their new daughter Lauren, however, her sister Rosie kept calling the baby "Sophie" after her doll. Kevin and Sally warmed to Rosie's suggestion and legally changed the baby's name to Sophie. For the first three years of her life, Sophie's parents were very much in love but after Kevin had an affair, they separated in 1997.
The Websters' separation led to Sally struggling to bring up her girls on her own. She made bad relationship decisions, most notably when she dated Greg Kelly, who was only interested in her money. in May 1999, Greg went on to kidnap Sophie, Rosie and Sally, however Sally was able to escape with the girls. Around the same time, Kevin started seeing Alison Wakefield. When Alison became pregnant, he married her in January 2000 with Rosie and Sophie as bridesmaids. Sophie's half brother Jake Webster was born that June, but died after a few hours from a Group B Strep infection. In 2001, Sally became engaged to Danny Hargreaves but they separated soon afterwards. David Platt teased Sophie over the separation, causing the two children to have a fight.
Kevin and Sally got back together and remarried in 2002. In 2003, Sally focused most of her attention on Rosie, as she was convinced that Rosie was gifted and wanted her to have a career in performance. Sophie often felt left out and got into fights with Rosie. In 2004, Sophie developed a friendship with Chesney Brown, and the pair did most things together. When Sally had an affair with her boss, Ian Davenport, Sophie feared that Sally and Kevin would get a divorce but this never happened.
2005-2010: Secondary school
Sophie arrived for her first day of secondary school in September 2005 and was promptly sent home for not being registered with Weatherfield High. Sally found out and was furious although the error turned out to be her own. She had failed to fill in the application forms adequately due to her indecision regarding whether Sophie would attend Weatherfield High or Oakhill Private School (as Rosie had done). Sophie had to go without school for weeks as Mr Lewis, the headteacher of the school, would not admit her. Sally looked up other schools in the area to find they all had terrible reputations. When Sally was dropping Rosie off at Oakhill, she saw Mr Lewis taking his daughter for her first day there. Remembering he said Jessica had Sophie's place in Weatherfield High, Sally threatened to tell the local newspaper about his lies, which earned Sophie a place at Weatherfield High.
Sophie and Chesney almost fell out when Chesney's stepfather Les had gossiped to the street residents about Chesney seeing a naked Sally in the shower. The two remained friends anyway after they made up, and in winter that year, Sophie developed a friendship with classmate Nicolette Seddon. Soon, they pair realised they were related and when Sally found out, she was furious as Nicolette was so illicit and unpleasant. Sophie and Nicolette began hanging out in the street and were rude to Gail Platt and Roy Cropper, pushing Sally to breaking point.
When Rosie and her boyfriend Craig Harris were looking after Sophie for Sally, Sophie went out to see Nicolette after being told not to leave the house. When Sally returned to find Sophie gone she was frantic, but Sophie was later found by Rosie and Craig. A livid Kevin and Sally soon discovered she had been smoking and after a huge row with Nicolette's parents, Sophie and Nicolette were banned from seeing each other ever again.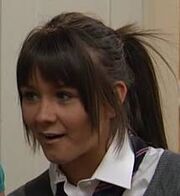 In early 2006, while Rosie was away, Sophie found out that Craig cheated on her with Suzie Watkins. When Rosie returned from her trip away, Sophie revealed to her sister that Craig had Suzie in his bedroom. Despite not believing her at first, Rosie split from Craig, leaving Sophie showing little sympathy for Rosie.
In the summer, she and Chesney started hanging out with Chesney's friend Cameron McIntyre. Sophie fell for Cameron, which left Chesney dissappointed. The trio started making mischief by prank-calling residents of the street and taking horror DVDs from Les. The films had an 18 certificate so Sally was annoyed when she found them watching one in her living room and threw them out the house, leaving them with nothing more to do.
Cameron then stole cigarettes and an enamoured Sophie took one, despite being warned by Chesney not to do so. Sally later found them in the ginnel behind the houses and smelt tobacco. The finger of blame pointed at Chesney as Cameron and Sophie had passed the cigarettes to him to hide.
Cameron felt bad for Chesney being bored so took him round to Sophie's and she agreed to have him in, although she was in huge trouble with her parents as it was. When Sally returned from work, Chesney speedily left the house after being told to do so by her. Later on, Sophie stole money from Sally to buy cigarettes for her and Cameron, but Sally assumed the thief was Chesney as his family were known for stealing. When Sally went round to Chesney's to argue with his parents, Sophie and Cameron started feel guilty over what they did and Sophie told him to go home so she could sort it out once and for all. She did so, telling her and Chesney's shocked parents everything that happened. Sally apologised to Chesney, and everything carried on as normal, but Sophie's friendship with Cameron broke off and he never returned.
Later that year, Sophie and Chesney found an old diary in the attic of No.5. It belonged to the late Ivy Brennan and Sophie started convincing people that she was psychic. Vera Duckworth even paid her to do a reading. When Rosie found out she told David Platt who said it was his step-gran's old diary. Sophie handed it over to David who was shocked to read that his mum Gail Platt almost went through with an abortion. David confronted his mum about it on Christmas Day.
On Valentine's Day 2007, Sophie got her mum to write a valentine's card, which Sally assumed was for Chesney, however, she posted it through Norris Cole's door. Norris recognised Sally's writing from a cheque she wrote him and was convinced that Sally had a crush on him. The truth was soon revealed and Sophie was made to apologise.
Months later, Sophie vented her anger on Fiz Brown's motor scooter after finding out Fiz was dating her drama teacher, John Stape, who Sophie has a crush on. Her sister Rosie Webster soon had an affair with John and when this was announced, trouble emerged, as John was Rosie's teacher. Kevin attacked John on the street, and was later arrested. This heightened the differences between her and Rosie, and they got into fights and arguments. Tension relaxed when Kevin was released from prison.
In May 2008, Sophie gave Chesney some help to get with her friend Kayleigh Morton.
In September, Rosie mysteriously disappeared. Three weeks later Kevin received a postcard saying "Sophie's next". Sophie later revealed that it was she who sent the postcards as she was tired of all the attention Rosie was getting. Even though Sophie and Rosie declared a truce, the division between them lingered.
In January 2009, Kevin found a used pregnancy test in the bin. Suspecting it was Sally's, he asked her but she denied that she was pregnant. They then believed that it is their wild child daughter Rosie that was pregnant, but she also denied it. It was then that Sophie revealed it was her. It was later revealed that she made the pregnancy up in a bid for attention. She revealed all to Sally after being pressed about going to the doctor.
Later that year, Sophie spent time at a Christian youth center with Sian Powers, Ryan Connor and Ben Richardson. Sophie took a vow of chastity along with Sian and Ben. On the day of Sophie's Baptism in December 2009, Sophie broke up with her boyfriend Ben, for trying it on with Ryan's mum Michelle Connor, as revealed to her earlier that day by Ryan. Sian took over being Sophie's baptism partner, which made Sophie ecstatic. Kevin, Sally, Emily Bishop, Sian, Ryan, Sophie's granddad Bill Webster and a few others attended her baptism. Emily gave a speech at the event, as she had supported Sophie in her new faith from the start. Sian wrapped Sophie in a towel and enthusiastic hug, as she emerged newly baptized from the pool.
2010-2011: First girlfriend
In March 2010, Sophie realised that she was gay and was in love with her best friend Sian Powers. This all kicked off when Sophie told Sian that Ryan tried it on with her, when Sian visited Sophie in Weatherfield. Sian brought Sophie with her to shout at Ryan. He turned it on Sophie, causing her and Sian to fall out.
Sian later found out that Ryan did try it on with Sophie and went round to apologise to her for what happened. Sian told Sophie that she was more important to her than any lad and Sophie kissed her. After the kiss, Sian burst out crying and ran out of the house. Sophie then tried to track down Sian, but found it hard as Sian had left for Southport, instead of being at her dad's, as she'd told Sophie. Sophie told her dad she had to go to Southport to find Sian, but Kevin refused as Sophie was grounded. She snuck behind her dad and Rosie's backs and left for Southport. Sophie talked to Sian, in Southport, about the kiss and their friendship, but Sian sent her away in tears that they were not friends or anything else.
The day after getting Sian's friendship bracelet in the post, Sophie was still very sad and told her dad, staying home from school and claiming she was ill. Kevin didn't believe her, since it sounded like one of her sister's ways to skive off, until she convinced him that something was wrong when she burst into tears. Later that day, Sophie told Kevin that she wasn't ill, but had fallen for someone and they were just not interested. Kevin thought it was Ben. She then decided to go on another date with Ryan's friend Lee after being persuaded by Rosie and Sunita Alahan. Sophie left the date to find Sian, as soon as Rosie told her Sian was looking for her. She met her and took her where they could be alone, which led to snogging and deciding to start their relationship on the down-low.
In 2011, Sian and Sophie's relationship was finally approved of by everyone in their family. Sian kept her distance from Sophie for various reasons, so Sophie started drinking alcohol and refusing help from Sunita. Turning up drunk at church, Sophie told the pastor that God hated her so much that she was so hurt. Not listening to the pastor, Sophie climbed up on the church roof to shout at God. When the pastor followed her and persuaded her to come down, Sophie fell off and landed on a car. At the hospital, Sophie and the Websters were told that she would live and Sian re-united with her.
When Sian later went on holiday, Amber Kalirai took Sophie on a night out, where she spiked her drink. When Sophie received unwanted attention by the bartender, Amber Kalirai kissed Sophie, but she managed to back off. Sophie quit her job at the Corner Shop and pitied Amber, too. At the end of 2011, Sophie and Sian decided to get married. However, at the altar, Sophie got cold feet and Sian fled the church. After a long talk, Sian agreed to give Sophie another chance. Unfortunately, when Amber confronted Sophie about their kiss months ago and whether she liked her or not, Sian overheard everything. She packed her bags, telling a devastated Sophie that she hated her. Sian left Weatherfield with her mother.
2012-2013: Car accident and second girlfriend
In early 2012, Rosie announced to her family that she'd be leaving Weatherfield to take part in a reality TV series in London. Although they said goodbye on good terms, she left Sophie feeling sad.
In the summer of 2012, Sophie was shocked when Ryan Connor came back to the area again. He convinced Sophie to stop cleaning Steve's rental and to have a few drinks, by telling her Sian had moved on and in with another girl, Chloe. They got tipsy together. Ryan had tossed the match he lit a cigarette with unattended that burned some curtains and rubbish down, but thankfully nothing else.
Later that year, Sophie got hit by a car whilst trying to save a high Ryan from being hit when he played frogger on the road. To her parents' relief she was alive, but couldn't at first feel her legs or walk. Sophie forgave Kevin for his role in ruining the wedding day she wasn't ready for and Sophie was finally ready to move on from Sian. Physiotherapist Jenna Kamara helped Sophie's pain go away and regain use of her legs, but Sophie developed feelings for her as they grew closer. Things went wrong on Christmas Day when a drunken Kevin made a move on Jenna, so she threatened to put Sophie in someone else's care. Sophie began to hate Kevin so much she didn't want to see him ever again. Eventually, after a talk with Sally, Jenna let it go and continued to treat Sophie, and the fallout with Kevin fizzled out.
2013 to 2016: Shopgirl to garage partner
In early 2013, Sophie picked up the courage to finally spend time with Jenna and even kiss her, and she responded. The pair immediately began dating, much to the disapproval of Jenna's mother Mandy and Kevin.
Later that year, Sophie was a little devastated when her close friend Sunita Alahan died from an inferno caused by Karl Munro. To help her husband Dev out, Sophie minded the shop with Jenna. She helped out with their children Asha and Aadi. Sophie grew wary of Karl.
In the summer, Sophie caused tension between her and Jenna when Paul Kershaw made a racist remark. Sophie reported Paul to Weatherfield Community Fire Station, which almost cost his job. Paul lashed out at Lloyd Mullaney. Jenna avoided Sophie, but later they made up, after peace was restored.
Sophie soon began growing tired of her mother dating Tim Metcalfe, as he kept making her look like a fool. Weeks later, Jenna decided to split from Sophie, because of their differences in character. Upset, Sophie packed and tossed Jenna's possessions at her, as she came to collect them from the house.
At a homeless shelter on Christmas day, Sophie and Sally volunteered to help. However, one girl, Maddie Heath, took a strong disliking to Sally and pushed her face into a trifle, before stealing her handbag. Sophie found this amusing, but when she spoke to Maddie she disliked her confrontational attitude. When Sophie returned the next day, things had not improved between them. Sophie soon learned that Maddie had Sally's watch, as it was in her handbag. Maddie demanded £50 for it. Sophie agreed to at first, but after some persuasion from her friends, she just took the watch without paying. Maddie was angered at Sophie's actions, so she followed her back to her house and broke in, while Sally's partner Tim was asleep. However, Tim woke up and grabbed Maddie, so she punched him in the face and left empty-handed. Tim lied to Sophie by saying it was a "burly man", but she immediately knew it was Maddie who broke in and was angry with Maddie.
Later, Maddie kissed a stunned Sophie after an argument with her. At the Red Rec, Sophie confronted Maddie, wanting to know why, only to have got a "because I felt like it" response. Sally showed up, so Maddie ran off. Sophie and Sally followed her back to a block of flats. Fran Heath, Maddie's mother, answered the door and thought they were social services and turned cold against them. Maddie quickly re-assured Fran they were just friends. Maddie's little brother Ben soon showed up, and Sophie wanted to know what was going on. Maddie revealed Ben was in care and her mother had mental health problems, so Sophie took pity on her and invited her round her dinner. Things were going fine, but when Sally started being nosey, an upset Maddie did a runner. Sophie caught up to Maddie on street outside the Webster's. She blurted out she kept getting involved, because she really liked Maddie, but she still ran, leaving Sophie upset, too.
In 2015 Sophie took a dislike to Kevin's new girlfriend Jenny Bradley. Sophie believed Jenny was actually after Kevin's money and didn't trust her. Kevin refused to pay attention to Sophie, feeling she was only trying to get between him and Jenny, and even Maddie wanted Sophie to stop her crusade. In May of that year, Maddie was caught in an explosion from the builder's yard on the night of the Victoria Court fire but left a voice message on her mobile phone warning Sophie about Jenny prior to the accident. Much to Sophie's devastation, Maddie passed away, but the voice message furthered her suspicions. This was confirmed when Jenny kidnapped Sophie's half-brother Jack Webster and fled to Hull. It was revealed by police that Jenny lost her son Tom Midgeley two years' prior. Jenny was later tracked down and arrested, with Jack returned safely to his family.
November 2015, Sophie began helping Kevin out at Webster's Autocentre by working in the office after Kevin gave her a 21% share of the garage as a present on her 21st birthday. Sophie met Kate Connor, when an argument broke out over the queue of broken vehicles blocking the front entrance delivery to Underworld. It nearly came to blows, but they were held back. Sally in her Carla Connor idolisation tried pushed them together, in spite of Kate being engaged, while Sophie derided her for tossing her at the nearest lesbian.
2016, Sophie was disappointed when Maddie's memorial on 4's ginnel wall got cleaned off. Craig painted a new one and her parent's and Anna Windass all helped defend it. This civic involvement to keep the mural prompted Tim to tell Sally to run for council and she took the suggestion seriously.
In February, Sophie's fledgeling friendship with Kate was tested, when Kate tried to cheer Sophie up with a side of an uninformed attempt to settle their differences. Tim brought Kate around so they could talk and make up, while Sally tried to spy on them. Kate's jealous fiancee Caz showed up and started threatening Sophie. Kate threw Sophie under the bus for her break up with, while Caz left the street. Sophie thought it stupid that Kate agreed to stay away from Sophie, when Caz returned to recover from her injury at Kate's. Caz and Kate later extended friendship and Sophie agreed to forgive and forget. Sophie discovered that Caz was faking her injury. She got involved enough to get more threats from Caz, but stayed out of it enough to gloat, when Caz finally accidentally revealed the deception to Kate. Caz out of the picture, Sophie respected Kate's decision to learn to be single and independent and gave her space. She fell out with Kate, after she went to protect Maria, when she went looking for Caz.
Rosie rang, in October 2016, inviting Sophie to go with her to Miami, where she did promotions work. Sophie jumped at the chance to go travelling, but her dad took some convincing. Anna Windass smoothed his acceptance and Sophie was ecstatic, though she checked she'd have her job at the garage to return to.
2017 to Present: Miami Vice to Speed Daal and beyond
Sophie returned home from Miami with Rosie in February 2017 owing a lot of money, because she didn't have health insurance to cover her stint for appendicitis in a Miami hospital. She wasn't even home a full day, before she was taken in for questioning with Rosie for suspicion of smuggling drugs.
Kevin shouldered Sophie's medical debts, but his mismanagement of the garage and bad luck, in Sophie's absence had left it nearly bankrupt. Sophie gave up her job at the garage, its salary and her 21% share of the business to remove her burden from her father, financially. She took over Tim's window cleaning business, hoping to pay Kevin back. Rosie joined her cleaning windows.
Sophie was annoyed her sister had been duped into being a drug mule, but helped her try to return them, discovered the snitch who grassed was arrested and did the literal dirty work to hide them in Tim's local garden allotment and deal with Adam, after he stole them. The next thing Sophie tackled with Rosie was foiling their mum's cyber bully, which resulted in a mix up thinking it was their aunt Gina Seddon, whom they discovered suffered from bipolar disorder.
Sophie unwittingly inserted herself in Kate's dramatic affair with Rana Nazir, when she accepted an invitation from Kate for a night on the town. She got caught snogging her up against the wall of the builder's yard flat by Alya. Between the lack of sleep and her mounting hangover, Sophie was no match for Rosie's pressing her for what happened and to pursue Kate. News of Luke Britton's shocking murder broke and by that evening, Sophie finally followed her instinct to tell Kate to never mind the snog, remind her she would be there as a mate and watched with Rana, as Kate left for Devon to grieve alone. When Kate returned from Devon, bolstered by Rana's encouragement, Sophie asked Kate out and they started dating.
In March 2018, after splitting up with girlfriend Kate, Sophie decided that she needed to do something with her life. After selling the window cleaning van to Aidan Connor, Sophie told Aidan about what she thought of her life and about why she decided to do something else, apart from cleaning windows. She updated her CV and applied for positions, including restaurant manager. A celebrity chef hired his girlfriend over Sophie, but she won her bet with Rosie that she couldn't stop taking selfies. Sophie insisted Rosie had to take all her make-up off.
Sophie got hurt again when she finally found out about Kate's affair with Rana, when she went to apply for manager of Speed Daal. In May 2018 she was blamed by Johnny Connor who said she was one of the reasons behind Aidan's suicide as she'd left a text unanswered at the time he could have been seeking her help. Hearing about the upset, Kate checked up on Sophie and they renewed their friendship. Kevin and Sally remarked that Sophie rallied a little with their friendship renewed. Yasmeen Nazir was shocked that her grandson Zeedan chose Sophie to manage Speed Daal, before he left for London.
Juggling her new responsibilities as restaurant manager, Sophie tried to give Ryan Connor a break by employing him at Speed Daal, but had to let him go after only one day. She tried to relieve her father by agreeing to watch Jack. She got a Speed Daal call, while they were playing ball and Jack fell down and got a cut and a frown. Her father showed up almost immediately after it happened, so she dismissed the minor cut and left care to him. The cut escalated into a sepsis situation, which led to Sophie first trying to coerce her friend Rana into unnecessarily breaking medical confidentiality, when her father could request the medical records legally. Later in her guilt and heightened emotion, she vented and blew up at Rana, as if she was the NHS and hospital. She apologized. At first Sophie couldn't bring herself to visit Jack in the hospital, after the sepsis led to amputation and took her father's ire onto herself. Eventually, Sophie convinced Kevin to let her help him with Jack, including a new apartment in Liverpool.
Sophie returned with her dad and brother to No.13 and regular duties at Speed Daal. Sally invited Sophie to the Viaduct Bistro to set her up with Isla Martin, daughter of her solicitor Paula Martin in a fraud case. Sophie was suspect, but pleased to meet her mom's old school mate and Paula and her daughter Isla. She was quietly smug towards Sally that her wisdom that traveling was a more constructive balm for heartache, than pulling a duvet over her head foiled Sally's plan. Paula came around to No.4 seeking Sophie, allegedly for the backpacking book for Isla. She confessed in short order she was there to see Sophie. Drinks of wine, conversation, and Paula needing to leave to work on Sally's defence led to snogging. Sally interrupted without becoming wiser. Sally invited Paula to stay for dinner. Sophie was amused that Sally wanted to match Paula with Kevin. Paula meanwhile confirmed she could see Sophie alone and keep things between them, for now.
Sophie had to endure Sally third wheeling her own time with Paula again, when Paula was distracting Sophie at work. This time Sophie was not amused with Sally's matchmaking of Paula and Kevin, but couldn't refute the solicitor's argument that one platonic date was the quickest way to put an end to it. Yasmeen got sick, which put Sophie in the awkward position of observing Kevin's date with Paula at Speed Daal. Sophie agreed to see Paula later that night, as Paula left and assured Sophie she hadn't hurt Kevin.
Sophie started the day of her mum's pretrial off sleepy, but buoyed as Paula dropped her off a short distance from Sally's and agreed to wait, so they entered separately. Sophie nearly blew it, when she intimated that she didn't have Jack's good luck card, because she needed to go home to get it, but everyone was too busy. Sophie and Paula were discovered, when Sally went looking for Sophie at No.13 and the jig was up, when Kevin entered. Sophie and Paula collected themselves and went back to Sally's at Tim's request to find Sally making a bad decision to call a witness. Sophie was angry that Sally would have been delighted if Paula had been dating Kevin and not her. Her frustration and concern further mounted at her mum's rash decision to not have Paula represent her at the pretrial. Her worry increased when Sally was late and then turned out to have been sent to jail. She had a heart breaking call from her mother in custody asking for her to get Paula back on the case and sobbing about being beat up. Sophie and Gina couldn't stop Tim from thumping Imran Habeeb, who had defended Sally's accuser Duncan Radfield, and then they went to visit Sally in jail. Sophie let Sally know she had heard from Rosie and assured her to keep working in Japan. She also let her know that Paula would be back on the case.
Sophie teased her hung-over mate Ryan at Roy's Rolls in the morning. When she exclaimed she missed clubbing, he teased her for dating an older woman. His mate Cormac came in and they arranged to go to an exclusive club opening that evening. Sophie met up at Ryan's, but bailed, when she thought he was doing drugs with Cormac. Sophie was relieved, he didn't do the drugs, but was too upset to continue. Ryan found her on the memorial bench with a peace offering of chips with salt, mayo and ketchup. They talked it out and Sophie sent him back to babysit Cormac.
She was shocked the next morning, when Michelle and Ryan came to Speed Daal, before it opened and informed her of his death. She was upset that Ryan asked her to lie, but when the cops finally came and questioned her, she figured a lie about five minutes was worth keeping gangster Ronan Truman from killing Ryan. Sophie confided in Paula later, who informed her she could be looking at a ten year sentence and urged her to go to the police and update her statement and warned her how big a criminal Ronan really was. Sophie was finally persuaded to revise her statement to the police by Paula's passionate plea for Sophie to tell the truth. Sophie felt guilty after Ryan ended up in unconscious in the hospital, after Ronan hit him with a car.
Sophie kept faith in her mother's innocence. Sophie made Paula's defence of Sally more difficult with jealousy of one colleague with evidence about the burner phone and insulting Judge Leonard Rattigan, in righteous defence of being patronized for her youth, sex and treated like a waitress, instead of the off duty other member of the dinner party that she was. Her optimism floundered as the case continued to spiral down.
Just when things started to look up with a lead on CCTV to prove Sally wasn't at one of the receipted liaisons, she learned red tape would keep it out of court. She phoned her mother and told her to play dirty to buy the time needed, which backfired as it increased Gina's doubts and invoked Paula's ire. Sophie's anger flared first for Imran and again Sophie, once home after the guilty verdict, she fired shots at Gina's testimony with a demand for Tim to kick her out of her mother's house. Tim did not comply. The shocks kept coming the next day, leaving Sophie to retreat to her room alone to process that Paula broke up with her and her mother was sentenced to four years.
Personality
Sophie is portrayed as a determined, strong-willed young woman who is devoted to her family and friends. As a younger teen she went through a phase of being rebellious and causing criminal damage. She also pretended to be pregnant in order to garner attention from her parents. Sophie has since converted to Christianity and was baptised in 2009. After the revelation of her lesbian relationship, Sophie left home with her girlfriend to start a new life. She returned some weeks later due to financial issues.
Sophie is a woman who is determined to live her life her own way after being neglected by her parents in favour of elder sister Rosie. Even after her hardships she went through growing up she has turned out pretty well-adjusted with a good sense of humour. Compared with Rosie, she is the more grounded and intelligent Webster girl, and always gets her own way as she is the apple of her father's eye. This may be contested as in more recent years Sophie has been portrayed as far more intelligent than her older sister.
Relationships
Sophie briefly dated Ben Richardson before discovering he had been unfaithful. She also went on a date with a teen called Lee but his main interest was sex, so Sophie turned down his affections. During her break-up with Ben and her rebound date, Sophie seemed thoroughly heartbroken and relied heavily on her friend Sian Powers. This close friendship developed into a romantic relationship. As of September 2010, Sophie's mother Sally had welcomed Sian into the family home. Sophie first made love to Sian, her first time ever, New Year's Eve 2010. She got engaged to Sian, tried to elope with her to Gretna Green and lost her after being unable to continue her vows on her wedding day and revelations about Amber Kalirai.
Since adulthood, Sophie has developed a close relationship with her sister Rosie. The two spent the majority of their time together as children arguing and competing, but since Sophie's revelation of her lesbian relationship, Rosie has been supportive. When Sophie briefly left home, Rosie was the one person from home she kept in contact with. She spent three months in Miami with her sister Rosie, where she got appendicitis. Sophie helped her Rosie hide the drugs they accidentally smuggled back into England. Rosie joined her in the window cleaning business to help earn money to help Kevin's flailing garage. Sophie and Rosie tracked down her mother's cyber bully that escalated to other forms of harassment.
Sophie has a strained relationship with her parents but as of late the relationships have become closer. The family saw some bonding in early 2010 when Sally was diagnosed with breast cancer. She has argued with her father Kevin because of his lack of interest in her personal life. Unbeknownst to Sophie, some of Kevin's agitation and neglect was caused by his stressful affair with Molly Dobbs. Both her parents have been very supportive and she has lived with both; her subsequent girlfiends often moving into her room at Sally's or Kevin's home. She's been referenced as her father's favourite, first by Rosie, then later by herself. She's always took more after Kevin and bore more resemblance to him. Sally was reticent about Sophie finally moving out for the first time at 25 (though it only lasted a couple of hours).
Sophie was also close with Emily Bishop, presumably because they attend the same church and Emily offered spiritual guidance. She had a friendship with Ryan Connor but after it was revealed that she was dating Sian, Ryan became disgusted and taunted and threatened Sophie and Sian for some time. Sophie resumed her friendship with Ryan, but it is unclear if he kept in touch after leaving town to DJ. She's been friendly with Ryan since his return for his mother's wedding. Sophie did have close friendships with Chesney Brown and Cameron McIntyre as they were all the same age and did many things together, however Cameron left the immediate area two weeks after they met, and Sophie hasn't been seen with Chesney for some time. She's been closer with Craig, since he painted Maddie's mural.
At the end of 2011, Sophie and Sian's wedding day arrived. However it unfortunately ended up with Sian leaving Weatherfield with her mum because of a kiss between Sophie and Amber months earlier.
In 2012, after Sophie had got over Sian, she began to see Jenna Kamara. The two started off with an unconventional relationship, as Jenna was Sophie's physiotherapist. They broke up in the middle of 2013 because Jenna believed they were both at very different stages of their lives.
Sophie began working at a homeless shelter when she met Maddie Heath, a younger homeless girl. The two had a bad first run-in when Maddie stole Sally's purse and a sentimental watch. Sophie tried to get the watch back, and when she succeeded, Maddie tried to steal it back. Sophie was very angry that Maddie had put her family in danger, but Sophie really flirted with Maddie, when she figured out the danger was Maddie. The two got into an argument when Maddie tried to get Sophie to ignore and an injury she'd received, a blow on her face. The argument ended with Maddie unexpectedly kissing Sophie, before running away. The pair gradually fell for each other, but Maddie died suddenly after being caught up in an explosion caused by the Victoria Court fire in May 2015. Sophie was left devastated by Maddie's passing.
Sophie lacked a strong love interest, while the grieving process took time. In 2016, Sophie relented to her mother's meddling and Kate Connor's charms and they embarked on a friendship. Between engagement breaking kiss born of frustration, and one month attempt at a relationship, they found their way back to their friendship. During that relationship and particularly in its aftermath, Sophie developed a closer friendship to Aidan Connor, whom she had always had a rapport with, after the dust settled on her initial meeting with Kate. After Aidan's passing, Sophie forgave and tentatively has renewed her friendship with Kate, disrupted after the revelation about Kate and Rana.
Sophie started off with an instant mutual attraction for Paula Martin, after they met on September 5, 2018. Paula decided to pursue Sophie at Sally's residence. Sophie decided not to let Paula leave without a goodbye kiss, which escalated quickly. So began their briefly secret romance. Sophie felt guilt over her texting Paula to come around, which exposed her tryst to her parents, factored in Sally's decision to sack Paula and bungled her pretrial, which landed her mum in jail. She suggested they end things, but Paula immediately talked Sophie around that Tim would have to see she was an adult, her mum was responsible for her own bad decisions and they have something special. Sophie had to admit she didn't want to end anything.
Sophie began to feel the strain of her differences with Paula and her being Sally's solicitor in particular, when Paula made lunch plans at Speed Daal without informing or including Sophie. Sophie's insecurities of being shut out, jealousy of Julian Cooper, educational and professional differences came to the fore. It even went so far as to call bisexual Paula a tourist, worried she was a dirty little secret. Sophie warmed up after Paula reassured her and introduced her to Julian. Sophie was angry that Paula didn't stick up or support her against Judge Leonard Rattigan. Sophie put Paula's career with additional legal implications with the adjournment scheme. Sophie snapped that she was helping her mum and Paula wasn't. Sophie tried to contact Paula until she finally showed up at Speed Daal, before her mother's sentencing. Sophie was stunned that Paula broke up with her and went defensively cold.
Hobbies and interests
Background information
Ashleigh Middleton played Sophie from her birth in November 1994 up until March 1997. The role was taken over by four-year-old Emma Woodward the following June. In 2004, Woodward quit the role of Sophie to concentrate on her school work and made her final appearance in April 2004. Coronation Street staff ran auditions for Woodward's replacement and Brooke Vincent was the successful candidate, making her first appearance in May 2004.
As the character grew older Coronation Street bosses were impressed by Vincent's performance as Sophie and decided to give her more storylines and in order to do so they cast some classmates for her. They were eventually cast in December 2004. Coronation Street told the Daily Star: "Brooke is an amazing actress and the introduction of two characters her own age will give the writers free rein to come up with some fantastic plots for her."
In a 2009 interview, Vincent revealed that her role in Coronation Street was just part of her life, stating she doesn't see it as a job because it's so much fun. She was also working a Saturday job and attended school but managed to fit all three into her schedule. She said "I have a normal life and the Corrie stuff is my bonus life".
Appendices
(To be completed)
List of addresses
Employment history
See also