Sinead Kimberley Osbourne (née Tinker) was the daughter of Arlene Tinker, younger sister of Millie and Penny Tinker, granddaughter of Nancy Tinker and great-granddaughter of Agnes Tinker, as well as the wife of Daniel Osbourne and mother of his son Bertie.
First turning up on the street in April 2013, to visit her auntie Beth and cousin Craig Tinker, Sinead was immediately set up with Chesney Brown and the pair's relationship lasted several years through many set backs including; Chesney's secret affection for Katy Armstrong (the mother of his son Joseph) and Sinead's temporary paralysis following a minibus crash. The relationship came to an end when Sinead began an affair with Daniel Osbourne in 2017. However, Sinead briefly returned to Chesney, after she discovered that Daniel had critically assaulted his father Ken Barlow and left him for dead. Although, when Chesney regained custody of Joseph - following Katy's death in a car accident - he began to realise that he couldn't trust Sinead not to have another affair and ended their relationship permanently on their wedding day, a decision which Sinead later came to understand.
Having reconciled earlier in the year, Sinead and Daniel exchanged wedding vows in a Pagan ceremony in October 2018 - after she had discovered that she was pregnant. Unfortunately, she was later diagnosed with cervical cancer and was forced to choose between terminating her pregnancy or delaying her treatment - to which she chose the latter. In January 2019, Sinead was induced at only six months and gave birth to a baby boy - Bertie. The pair went on to remarry in September (as their original marriage wasn't legally binding), but on their wedding day Sinead discovered that her cancer had progressed leaving her terminally ill with only months left to live.
With the help of Daniel, Sinead planned to cram as much as she could into the little time she had left but - when her body rejected chemotherapy treatment - she was horrified to learn that she actually only had a few weeks remaining. On the 25th October 2019, Sinead died at home with Daniel and Bertie by her side.
Biography
1994-2013: Childhood and upbringing
Born on 10th March 1994, Sinead was brought up by her single mother in Weatherfield, alongside her two older sisters. The Tinker family were not well off, but Sinead tried to make a living for herself by working on a market stall - making and selling her own soap. However, the rest of her family were not as eager to earn a living as she was - and her grandmother eventually began living with the them in what she described as a "complete madhouse". Throughout her childhood Sinead had always been close to her auntie Beth and, when things would get too crazy at home, she would often visit her.
2013-2015: Relationship with Chesney Brown
In April 2013, Sinead met Beth at Roy's Rolls for a catch-up. Realising that Sinead needed to let her hair down and think about herself for a change, Beth decided to set her up with her boyfriend Kirk's friend Chesney Brown - who was newly single following his split from Katy Armstrong. The pair agreed to go on a date at Nick's Bistro and they got on well together, despite both originally having reservations - as Chesney was still not over Katy and Sinead was concerned that Chesney already had a son, Joseph Brown. After having a good time on their date, the atmosphere was ruined when Katy turned up and accused Chesney of trying to get back at her for her affair with Ryan Connor. At the end of the date, Sinead left on good terms with Chesney and accepted that he needed to patch things up with Katy.
Katy later moved in with Ryan and Chesney pretended that he didn't care and contacted Sinead to ask her if she was interested in a second date. Although Sinead quickly began to realise that Katy was right about Chesney using her, when she confronted Chesney he was unable to keep up the pretense and as such Sinead terminated their relationship. However, Chesney was shocked to discover that he didn't want to lose Sinead and asked her for a second chance - to which she agreed if he promised not to mess her around again. Chesney soon invited Sinead to move in with him at 5 Coronation Street, to which she accepted, and she later became hired by Carla Connor as a machinist at Underworld.
2015-2016: Paralysation, recovery and insecurity
By January 2015, Sinead had become friends with the rest of the Underworld staff and was one of those invited to an awards ceremony by her boss, Carla, to witness her be honoured with an award. However, the minibus crashed and overturned when driver, Steve McDonald, was forced off the road by a couple of joyriders. Sinead had taken her seatbelt off prior to the crash, in order to obtain her mobile phone which had dropped under her seat, and as such suffered severe spinal injuries.
Admitted to Weatherfield General, Sinead began receiving physiotherapy in order to help her regain the use of her legs. Despite making friend with fellow patient Sam Hayden, Sinead couldn't stand being at the hospital and was able to convince Kirk to take her home prematurely. However, after suffering from a fall she was readmitted into hospital and was eventually discharged in April 2015 after making good progress with her physio. The accident led to Sinead's confidence being knocked and she began to feel insecure about her body. In 2016, Aidan Connor, the new Underworld boss, began to take an interest in Sinead and suggested that she look into modelling. However, the idea was met by criticism from Chesney - as he didn't like the idea of other people looking at his girlfriend. Following an argument in May 2016, Sinead drunkenly kissed Aidan but he stopped her before she could go any further.
Aidan's girlfriend, Eva Price, was furious upon learning about Sinead's actions and informed Chesney. After several arguments, Chesney believed that they had patched things up - oblivious to the fact that Sinead had realised she'd grown bored of her domestic life with him and was hoping for new opportunities.
2017-2018: Affair with Daniel Osbourne
In January 2017, Sinead was introduced to Daniel Osbourne - who was immediately attracted to her. The pair began flirting with each other and, although she found Daniel far more interesting than Chesney, Sinead prevented herself from doing anything with Daniel out of loyalty. However, she was eventually unable to resist Daniel's advances and the pair slept together in Underworld's storeroom.
Daniel's nephew Adam Barlow discovered the pair's liaison and wasted no time informing Chesney, who confronted the pair individually and kicked Sinead out of No.5. Daniel offered Sinead to move in with him at 15a Coronation Street and she agreed. A month later Sinead found out that she was pregnant, and knew that Daniel was the father as she hadn't had sex with Chesney within the time-frame, but Daniel's father Ken Barlow convinced her to have a termination as he feared that Daniel would be held back from greater things, like attending university, if he was tied down with a child. Sinead had an abortion without telling Daniel about the pregnancy, when the truth was revealed he violently attacked Ken - hitting him over the head and leaving him for dead at the bottom of the staircase at 1 Coronation Street.
Daniel desperately hid his guilt and a number of suspects were questioned over Ken's attack, including Sinead; who the police believed had a motive due to Ken forcing her to get rid of her baby. Ken tried hard to remember who attacked him and later realised that it had been Daniel - but decided to keep the truth secret from the police after finding out that Daniel had been abandoned from the age of fifteen by his mother, Denise Osbourne, and that he hadn't been there for his son when he needed him. However, Sinead was not so forgiving and reconciled with Chesney - despite still having deep feelings for Daniel.
Chesney began to fear losing Sinead once again and manipulated her into turning against Daniel by pretending to have food poisoning from a meal Daniel prepared and later hitting himself over the head with a brick.
In October 2017, it was revealed that Katy had passed away following a car crash in Portugal and Chesney was reunited with Joseph. For the first couple of weeks since Joseph's return he refused to talk and later, in order to help Joseph get through the trauma of losing his mother, Sinead agreed to marry Chesney so that the three of the could become a close family unit. However, Chesney later had second thoughts about marrying Sinead as he feared the emotional damage losing two mothers would do to Joseph (believing Sinead wouldn't remain faithful). As a result of his doubts, Chesney stood Sinead up at the alter in January 2018 revealing that he couldn't go through with their marriage.
2018-2019: Marriage, motherhood and diagnosis
Following her split from Chesney, Sinead moved into 2a Coronation Street and eventually reignited her relationship with Daniel. In June, Daniel proposed to Sinead - taking the attention away from Tracy Barlow's engagement, and by August Sinead revealed that she was pregnant. While Daniel celebrated the baby news and looked forward to the twelve week scan, Sinead was left fearing for the baby's life after she began suffering heavy blood-flow. Despite being told that the baby was completely fine at the scan, Sinead sought out private attention behind Daniel's back to reveal her problems and was later told that she would need to go for a biopsy as there was a chance she had cervical cancer.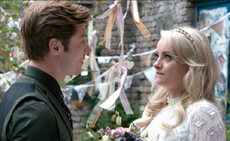 In October 2018, Daniel surprised Sinead with a spontaneous wedding and the pair were married in Victoria Street's Community Garden. However, Sinead had attended her biopsy test earlier in the day and was left fearing the results. Sinead wanted to share her news with someone, and attempted to speak to Chensey, however she was unable to. Although, a week later she was forced to confide in her father-in-law, Ken, after he discovered her in the hospital. Sinead begged Ken to help keep her diagnosis a secret as she didn't want Daniel to be made to choose between her life and that of their unborn baby's. However, her secret was soon revealed when she collapsed in the Rovers Return and was rushed to hospital.
Despite originally being furious with both Sinead and his father, Daniel later agreed to stick by her decision to delay her treatment. Later, in December 2018, Sinead was horrified to discover that her auntie Beth had came up with a scam - assisted by Kirk and Chesney - to rob from Dev Alahan to pay for a consultation in Germany with a facility which provided an experimental drug that could help cure her cancer. Sinead, caught up in everyone's argument, collapsed and Daniel blamed the trio for causing her excess stress.
In January 2019, Sinead was alarmed when she discovered that her cancer had spread and that she would need to be induced immediately - at only six months - in order to start more aggressive chemotherapy. Sinead successfully gave birth to her son, who was placed into an incubator due to being premature, but suffered from complications and was rushed into surgery. Sinead was able to recover but left confined to her hospital bed for a couple of days and yearned to be with her newborn son. In order to combat the obstacles in place Daniel began taking part in regular video calls between Sinead and the baby.
When Ken went to visit the baby Daniel was annoyed, as he didn't believe that anyone else should get to meet the baby before Sinead, but Sinead insisted that it was fine for Ken to see his grandchild. After bonding with his father over the baby and deciding to put their troubles behind them, Daniel suggested to Sinead that they name their child "Albert" ("Bertie" for short) after his middle name and Ken's first wife Valerie's uncle Albert Tatlock.
2019: Last hurrah and losing her battle
Personality
Upon her arrival on the cobbles it was made abundantly clear that Sinead wasn't like other girls her age. Usually going make-up free - to avoid plastering herself up like a "clown" - and wearing drab colours, Sinead was described as "quirky" and "a bit ditsy". Differing from her Auntie Beth and the rest of her family, who were often loud and judgemental, Sinead was an eternal optimist and kind to a fault - always willing to see the best in other people. An example of Sinead's kind and forgiving nature occurred in January 2015 when she held no ill-will towards Steve McDonald, the driver of the minibus that he inadvertently caused crash while trying to race another car - leaving her paralysed.
Concerned that others would find her boring, Sinead once sheepishly confessed to Chesney Brown - on their first date at the Bistro - that she wasn't a fan of alcohol as she couldn't stand the taste. Over the years she was only ever known to drink heavily during times of great conflict in her life such as; when she began doubting her relationship with Chesney in May 2016 and December 2016 (the former time saw her drunkenly kiss Aidan Connor - as she was unable to handle her drink), and when she drunkenly attempted to confront Ken Barlow in March 2017 after he inadvertently pushed her to have an abortion.
Never the most intelligent, she did run her own business prior to 2013 - making her own homemade soap, and selling it on a market stall, a trade that she would later return to in 2019 by offering her service to barbers Trim Up North to provide them with homemade beard oils after their current stock caused customer Sean Tully to suffer a skin irritation.
Relationships
Family
Main article: Tinker family
Bertie Osbourne
As a result of Sinead's battle with cancer her son, Bertie, was induced early in January 2019 - at only six months - so that Sinead could begin treating her cancer more aggressively. While going through her treatment Sinead was left unable to visit her son for the first few days, as he was kept in intensive care, but she managed to interact with him over video calls organised by Daniel. When Sinead was eventually introduced to Bertie she was left horrified when alarms began to siren within his incubator - but was later reassured by a nurse who explained that she hadn't done anything wrong and Bertie was fine.
In March 2019, Sinead and Daniel were finally able to bring Bertie home and the pair agreed to have a Christening for their son to appease Sinead's family (although Daniel had originally protested against the idea due to the fact neither of them was religious and suggested a naming ceremony instead). During the ceremony at the Bistro trouble broke out between Ken's partner Claudia Colby and Sinead's auntie Beth but tensions were eventually resolved when Kirk Sutherland performed a rendition of his own original song; "Our Souls".
Beth Sutherland
Auntie Beth had always been Sinead's closest confidant while she was growing up, so much so that Sinead considered her a second mother and would often visit her for advice and guidance - especially whenever her home life became too hectic. On one such occasion in April 2013, Sinead turned up on Coronation Street when Beth planned to set her up with Chesney Brown after he split from his girlfriend Katy Armstrong. However, when it became apparent that Chesney was messing Sinead around - in order to make his ex jealous - Beth was the first person to confront him about his actions and urged him to put Sinead straight.
Eventually, Sinead reunited with Chesney and moved into No.5 with him in January 2014 where they were later joined by Beth, her partner Kirk Sutherland and son Craig that same year.
The following January Sinead took on the role of a bridesmaid at Beth and Kirk's wedding, alongside Tracy Barlow and Maria Connor, and comforted Beth when Kirk got cold feet about going through with the ceremony. That same month Sinead was left paralysed after a minibus crash, leaving Beth guilt-stricken as Sinead had been attempting to answer her phone call at the time of the crash which led to her being badly injured. Beth supported Sinead throughout the ordeal and, when she had recovered Beth pushed her to go through with a modelling offer that Underworld boss Aidan Connor presented her. Although, Chesney was less than keen about the idea as a result of his own insecurities.
In February 2017, Beth took Sinead's side upon learning that she had began an affair with Daniel Osbourne and the following month she turned up at the clinic to meet Sinead when she phoned her after going through with an abortion. When Ken Barlow was hit over the head and pushed down the stairs by an unknown assailant (who turned out to be Daniel himself), Beth advised Sinead to keep the fact that Ken had influenced her decision to have the abortion a secret so that she wasn't considered a suspect in the police investigations.
Despite their extremely close bond, Sinead was unable to confide in Beth upon being diagnosed with cervical cancer in October 2018. Although, the truth soon came out and Beth recruited Kirk and Chesney to stage a robbery of Prima Doner in order to pay for a consultation in Germany with a facility which provided an experimental drug that could help cure her cancer. However, Sinead condemned the plot and informed Dev Alahan about the plan to steal from his business. In March 2019, Sinead asked Beth to be godmother to her son Bertie Osbourne - although, during the Christening Beth fought with Ken's partner Claudia Colby. However, tensions were quickly resolved when Kirk began playing his own original song "Our Souls".
Later, in September 2019 Beth helped plan Sinead's surprise wedding at the Viaduct Bistro. Although, while she prepared Sinead's hair Beth located a lump and Sinead was horrified to realised that the cancer had returned. While Sinead wanted nothing to interupt her wedding day, Beth pressured her into letting Daniel know - and the pair visited the hospital in the morning where Sinead was told that her cancer was terminal and she had just months to live. Hoping to get her affairs in order before the end, Sinead tasked Beth with ensuring that she looked beautiful in the coffin - and insisted that she wanted to go to the grave bare footed.
Craig Tinker
Living together for several years at 5 Coronation Street between 2014 and 2017, Sinead and Craig had an almost sibling-like relationship - due to the close motherly bond Sinead had with her Auntie Beth. The pair cared strongly for each other and Craig visited Sinead regularly when she was seriously injured in a minibus accident in January 2015 - presenting her with a DVD player and promising to bring her a new movie option every day. Meanwhile, Sinead supported Craig through his break-up from first girlfriend, Caitlin Ryan, and discovery that his father, Darryl Parkins, was in Highfield Prison.
When Sinead began an affair with Daniel Osbourne in 2017, Craig accepted her decision - which made it awkward for him as he remained living with Chesney. However, when Sinead and Chesney reunited later that year - and Chesney regained custody of his son Joseph following his mother Katy Armstrong's death in a car accident - Chesney decided that Craig, Beth and Kirk Sutherland would have to find somewhere else to live as Joseph was struggling to settle in. As a result the trio moved in with Kirk's sister Maria Connor at 2a Coronation Street - later to be joined by Sinead when she and Chesney split permanently.
Throughout 2018, Sinead reunited with Daniel and Craig attended the pair's pagan wedding in October 2018. However, at the time Sinead was hiding the secret from her family that she had been diagnosed with cancer - wanting to withold treatment until due to the fact that she had recently discovered that she was pregnant. In January 2019, Craig visited Sinead in hospital after she'd given birth to a son Bertie. Later, he was relieved when it was believed that she had beaten the cancer but she later discovered that it had returned - this time more aggressive, leaving her terminally ill with only months left to live.
In October 2019, as Sinead's condition began to deteriorate Craig was one of many who supported her and Daniel through the difficult time - he supported Kirk Sutherland's idea to throw an early Christmas, as Sinead wouldn't last till December, and often found himself defending Daniel against Beth's remarks about his controlling behaviour of Sinead. However, Craig turned on Daniel and threw him out of the flat when Sinead informed him of Daniel's kiss with his best friend - and former crush - Bethany Platt. Later, Craig publicly ended his friendship with Bethany - exposing her crush on Daniel.
Spouses
Daniel Osbourne
By late 2016, Sinead realised that she had grown bored of her domestic life with Chesney after she was forced to decline a modelling job due to his insecurities. When Daniel moved to the street, following his father's stroke in October, she was immediately attracted to him but attempted to suppress her feelings out of loyalty to Chesney. However, Daniel continued to pursue Sinead and the pair realised that they shared a lot in common - especially when Daniel bought her a Venus flytrap (which was later accidentally killed by Chesney and Gemma Winter). In February 2017, Sinead gave in to her feelings and had sex with Daniel in the Underworld storeroom - taking his virginity in the process.
Following their night of passion, Sinead was overcome with guilt about having betrayed Chesney and planned to keep the affair secret. However, Daniel's nephew Adam Barlow discovered the truth and informed Chesney - leading Sinead to move in with Daniel at 15a Coronation Street after being thrown out by Chesney. Not long after, Sinead discovered that she was pregnant and Daniel's father Ken challenged her - comparing her to his late wife Deirdre Barlow and accusing her of holding Daniel back from his true potential of going to Oxford University.
Following the confrontation Sinead decided to have an abortion which led to Daniel angrily breaking up with her. Although, when Daniel discovered that his own father had influenced her decision he angrily pushed Ken down the stairs at No.1 - after hitting him over the head with a book - before covering his tracks and reconciling with Sinead. Sinead soon became one of the many suspects, and her relationship with Daniel later came to an all-time low when she uncovered the bloody book (which he had used to assault his own father months prior) under the floorboards at his flat. Disgusted by the crime, and the fact that he had allowed her to be suspected and questioned by DS MacKinnon, Sinead broke up with Daniel and returned to Chesney.
Later in October, Sinead had a conversation with Daniel at Nick's Bistro to discuss what their future would've been like if she had not followed through with the abortion. Daniel suggested that the pair could reunite but, despite being tempted, Sinead chose to remain with Chesney after learning that his son Joseph Brown's mother Katy had passed away in a car accident. Despite having reunited with Chesney, he jilted her at the alter in January - fearing that she would eventually stray again leaving his son Joseph Brown having lost two moths. Shortly after this Daniel attempted to reunite with her - but she rejected him. However, after having a talk with Beth, she changed her mind, but was devastated when Daniel began a relationship with her boss Carla Connor. Daniel later ended his relationship with Carla after he admitted that he was still in love with Sinead; Carla did not take the break up badly, and she summoned Sinead to the hospital in order to give her a provocative outfit that she could use to seduce Daniel.
Although, the pair's reunion was initially bolstered by Flora McArdle - an elderly woman who was living with Daniel as he planned to help her get justice for Pat Phelan's violent murder of her son Harvey McArdle - who became wary of Sinead (due to her adulterous past). However, following a heart-to-heart Flora warmed to Sinead and encouraged Daniel to propose to her. Later, during a 1950s themed party for Flora, Daniel got down on one knee and Sinead graciously accepted his marriage proposal. However, the news was not well received by Daniel's sister Tracy Barlow - who herself had been proposed to that day by her partner Steve McDonald - as she felt that the pair were stealing her spotlight.
The following month, Flora moved into a new nursing home allowing Sinead to move back into the flat. When August came, Sinead was shocked to discover that she was pregnant again and revealed the news to an elated Daniel. However, when she began to suffer from heavy blood-flow she was left fearing for the baby's life. Despite being told that the baby was fine, Sinead sought out private attention behind Daniel's back and was told that she would need to go for a biopsy as there was a chance she could have cervical cancer. When Daniel surprised her with a spontaneous wedding in the Community Garden Sinead was taken back, while the pair went through with the ceremony (which wasn't legally binding) she was left worrying about her biopsy test.
After being diagnosed with cervical cancer Sinead felt like she was unable to confide in anyone, especially after she was given the option to either terminate her pregnancy or delay her treatment. Sinead was later forced to open up to Ken after he bumped into her at the hospital, but she swore him to secrecy reminding him about the last time she meddled in her pregnancy. Behind Sinead's back, Ken informed his partner Claudia Colby and the pair banded together to support Sinead. When the truth came out, after Sinead collapsed at the Rovers Return, Daniel was furious with his father for neglecting to inform him about her diagnosis.
When Sinead met fellow cancer patient Steff Mulvenney in November 2018 at Natural Harmony she was encouraged to give up on the chemotherapy and begin self-medicating by improving her diet and living a healthier lifestyle. However, Sinead was aware the Daniel would disagree and began secretly avoiding her chemotherapy sessions behind his back. When Sinead eventually introduced Daniel to Steff, he condemned her for giving up on chemothrapy - leaving Sinead secretly guilty. Later, in December 2018 Steff's partner Sam revealed that she had passed away. That same month Daniel condemned Beth, Kirk Sutherland and Chesney after they devised a plan to rob from Dev Alahan (in order to pay for a consultation in Germany with a facility which provided an experimental drug that could help cure her cancer) which caused Sinead to collapse from excess stress.
After Daniel went to the effort of ensuring that Sinead had the best Christmas, aware that it could possibly be her last, her supported her in January after it was revealed that her cancer had spread and that she would need to be induced immediately so that she could start more aggressive treatment without harming the baby. Their son, Bertie, was placed in an incubator due to being born prematurely and Daniel began using video calls so that Sinead (who was confined to her ward) was able to interact with him). Later in April, the pair held a christening for Bertie which ended in chaos when the Barlow and Tinker families clashed.
Before long tensions began to rise between Sinead and Daniel when he started to chastise her for spending too much time on her new business venture, producing her homemade brand of beard oil, and he began confiding in his colleague Bethany Platt and his maritial problems (while she also opened up about her grooming ordeal at the hands of Nathan Curtis). In September, Daniel came close to cheating on Sinead following an argument - after he realised that she hadn't even begun to plan for their wedding - when he contemplated kissing Bethany. Fortunately, he was able to stop himself - but Sinead noticed the pair sharing a look and questioned Bethany.
In-laws
Ken Barlow
Sinead's relationship with her father-in-law was never a straight-forward one right from the start. Ken likened Sinead to his late wife Deirdre Barlow, who hadn't aspired to be more than a shop worker during her lifetime, and he believed Sinead wasn't good enough for Daniel. After discovering Sinead's pregnancy in March 2017, Ken chastised her for being careless - he warned that Daniel would grow to despise her as she'd hold him back from opportunities; such as a place at Oxford University.
Upon hearing Ken's harsh words, Sinead terminated her pregnancy - and later blamed Ken for forcing her to make the decision. When Ken was pushed down the stairs at the end of March, Sinead became one of the many suspects interviewed by the police after she was spotted angrily pounding on Ken's door while heavily intoxicated. After Ken's attacker was revealed to be Daniel, who blamed his father for Sinead's termination, Ken decided to apologise to her and she accepted.
In October 2018, Ken discovered that Sinead was pregnant again - this time he had completely changed his stance and congratulated the couple. However, later that month he discovered that Sinead had been diagnosed with cervical cancer and would have to terminate her pregnancy to go through with immediate treatment. Ken, who didn't want to let his son down again, warned Sinead that if she didn't tell Daniel he would have to. Although, Sinead guilt tripped Ken - blaming him for her last termination, and he agreed to respect her decision and keep Daniel in the dark.
Denise Osbourne
Kirk Sutherland
Since the start of his relationship with Sinead's auntie Beth, Kirk became integrated into the family. From January 2014 to November 2017, Kirk and Sinead lived together at 5 Coronation Street alongside Beth, Chesney and Craig.
In January 2015, Sinead acted as a bridesmaid at Kirk and Beth's wedding and later that month Kirk was the first person to rush to her aid after the minibus crash which left her paralysed, with the help of Julie Carp Kirk was able to successfully pull Sinead to safety.
In December, Kirk helped stage a mugging alongsisde Beth and Chesney in order to steal thousands of pounds worth of money from Dev - the aim of the robbery was to fund a private consultation with a facility in Germany which provided an experimental drug that could help cure Sinead's cancer. However, the plan fell through and the trio were found out - but Dev decided not to press charges.
Peter Barlow
Tracy Barlow
Adam Barlow
Carla Connor
Partners
Chesney Brown
Chesney Brown was Sinead's boyfriend. The pair met in April 2013 at Roy's Rolls after Chesney's break-up with Katy Armstrong.
Their relationship went well for a while but Chesney reunited with Katy and left Sinead behind. However their relationship did not last long, and Sinead got back with Chesney. After the minibus crash in 2015 Chesney helped her get through the ordeal by being at her side and helping her recuperate. In 2017, Sinead left Chesney for Daniel, but later reconciled with him after leaving Daniel. However, after having more problems into her relationship with Chesney, Sinead began to fall back into Daniel's spell, but then discovered that Katy had been killed in a car crash in Portugal. Chesney, despite orders from doctors not to fly due a stressful collapse at work, leaped from his hospital bed to go and see his son Joseph. Just before he drove off, Sinead proposed to him but he left without saying anything. Later on during a phone call, he accepted Sinead's proposal, but at the wedding, he broke it off with Sinead.
Rivals
Katy Armstrong
Upon her arrival to the street in 2013, Sinead took an instant disliking to her boyfriend Chesney Brown's ex-girlfriend Katy Armstrong. The pair's first meeting had resulted in Katy being rude and dismissive towards Sinead, accusing Chesney of only dating her as a means to make her jealous. However, Sinead later realised that there was truth to Katy's claims and Chesney hadn't moved on from her after all. Despite breaking up, after Sinead confronted Chesney about his true feelings, Chesney realised that he didn't want to lose Sinead and asked her for another chance - which she accepted and later moved in with him at No.5.
Overcoming their initial hostility Sinead and Katy were able to be civil with each other, and later actually became friends. After the minibus accident in January 2015, that left Sinead paralysed in hospital, Katy visited her in order to let her see Joseph one last time before they left Weatherfield. The pair parted on good terms and Sinead was saddened to learn of her death in October 2017 - she later tried her best with Joseph although understood that she could never replace his mother. At Sinead and Chesneys wedding in January 2018, Chesney jilted her at the alter - revealing that he feared she would eventually stray again and that he couldn't risk Joseph losing another mother at such a young age.
Gemma Winter
Since Gemma Winter began working with Chesney at Prima Doner in 2016 Sinead secretly began to grow jealous of their friendship. In July, Sinead overheard Macca and Clayton Hibbs bragging about the free food they'd received from Gemma and Sinead revealed what she had heard to Chesney. While Chesney believed Gemma's claims that, despite letting the men go without paying, she'd paid for their food herself, Sinead insisted that Chesney check the till to ensure her story was true. When Chesney later confirmed that the money in the till was accounted for he forced Sinead to apologise to Gemma.
Chesney and Gemma's growing friendship became a major factor in Sinead's decision to have an affair with Daniel Osbourne, especially after the pair carelessly murdered the Venus Fly Trap that Daniel had bought for her. When Gemma found out about the affair she immediately took Chesney's side and thought up ways of how he could get his own back on her, but she was left confused when the pair reunited later in the year. After Chesney was stabbed at the Bistro by Rich Collis Gemma attempted to encourage him to sue the Bistro owners Robert Preston and Michelle Connor but Sinead was against the idea.
Irritated by Gemma's constant presence, Sinead attempted to stop Gemma from visiting Chesney. Although, when he recovered from his injuries Sinead was unable to stop the pair from seeing each other due to the fact the worked together. Following Chesney's decision to jilt Sinead at the alter in January 2018, he and Gemma began to grow even closer and they later entered into a relationship in early 2019. When Chesney was invited by Sinead and Daniel to be godfather to their newborn son Bertie Osbourne at his christening in April 2019, Gemma failed to attend which annoyed Chesney - unbeknown to him she was pregnant with quads.
Bethany Platt
By September 2019, Sinead and Daniel had began to argue quite a bit - as he accused her of spending too much time on her new business venture. The arguments led Daniel to begin confiding in his work colleague Bethany Platt at the Viaduct Bistro (while she also opened up about her grooming ordeal at the hands of Nathan Curtis. On one occasion, Daniel came close to cheating on Sinead - after sticking up for Bethany's article against the Weatherfield Gazette - but was able to stop himself at the last moment. Sinead however, noticed an awkward look between the pair and arranged to meet with Bethany at the Rovers Return in order to put her mind at risk.
When the pair met, Bethany explained that Daniel had merely been using her to vent about his home-life while also helping her to write an article for the Gazette. The explanation appeased Sinead, and she mentioned that she was glad Daniel had someone to confide in. However, Bethany's grandmother Audrey Roberts noticed her affection for Daniel and warned her not to pursue her feelings.
Acquaintances
Cilla Battersby-Brown
In October 2014, Sinead was surprised when boyfriend Chesney Brown's mother Cilla turned up on the street - after hearing some pretty negative things about her - as she had always related Chesney's stories about Cilla to those of her own mother. While the Brown family held Cilla at arms lengths, Sinead took a different approach - having witnessed her struggling in pain - and sympathetically sat her down to ask her what was really going on. Sinead was shocked when Cilla admitted to suffering from osteoporosis and that her bones were like "sticks".
Later that month, Cilla stepped in to babysit grandson Joseph but after falling and hurting herself she sought medical help - leaving Joseph in the hands of teens Craig Tinker and Faye Windass. Chesney was furious with his mother's apparent negligence, forcing Sinead to step in and defend her - revealing her illness in the process.
Fiz Stape
Joseph Brown
Joseph was originally one of the main concerns Sinead had about entering into a relationship with Chesney, especially as he was a tie to Chesney's ex-girlfriend Katy - who Sinead didn't get on with. Later, Sinead began to grow close to Joseph and was devastated when Chesney agreed to let Katy take Joseph for a new life away from Weatherfield. Sinead blamed herself for Chesney's decision, as he was unable to look after his son due to caring for her while she was in hospital.
When Chesney returned home from Portugal with Joseph in October 2017 following Katy's death, Sinead tried her best to make him feel welcome. However, Joseph began to act out and cause trouble but eventually settled into his new life. On their wedding day in January 2018, Chesney terminated his relationship with Sinead at the alter as he didn't trust Sinead not to walk out on him again and feared what losing a second mother would do to Joseph's mental health.
Roy Cropper
Claudia Colby
Hobbies and interests
Background information
Character creation and role
Sinead first appeared in Episode 8107 in April 2013. Katie McGlynn's casting was announced on 22nd February 2013, where it was revealed that she would be introduced as the niece of established character Beth Tinker (Lisa George). The official Coronation Street website suggested that Sinead would catch the eye of local resident Chesney Brown (Sam Aston) with the comment "Will new girl Sinead be [Chesney's] light at the end of the tunnel?". McGlynn was born in Rochdale and studied at Rochdale's Wardle High School where she sat A-levels in Drama, English Literature and Media Studies. McGlynn made her television debut in a minor role of BBC1's daytime drama Moving On, before landing her first major role in Waterloo Road as Jodi "Scout" Allen in 2011. Sinead's arrival accompanied Chesney's split from partner Katy Armstrong (Georgia May Foote) following her affair with Ryan Connor (Sol Heras).
First major storyline in the minibus crash
Partnered with Daniel and "Who pushed Ken?"
Cervical cancer storyline
First and last lines
"Sorry not yet. Mmm, that's a gorgeous scent you're wearing by the way." (First line to Sylvia Goodwin)
---
"He needs a story... to send him off to sleep." (Last line to Daniel Osbourne, about Bertie Osbourne)
Appendices
List of addresses
Employment history
See also
Community content is available under
CC-BY-SA
unless otherwise noted.