Sabeen Habeeb was the ex-wife of Imran Habeeb.
In August 2018, she arrived in Coronation Street for her father-in-law Hassan's funeral. Imran was furious to discover that she had been invited by his mother, Saira, as the pair were currently going through divorce settlements after Imran kissed her best friend while on his stag night. Back at the Rovers, Sabeen approached Imran wanting to talk about money from the divorce settlement, however Leanne Battersby introduced herself as Imran's PA and told her to book an appointment, infuriating Sabeen. She had Imran write up a sworn statement guaranteeing he wouldn't cheat her out of her share of proceeds from his sale of interests in Speed Daal.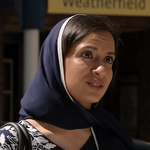 In August 2021, Sabeen arrived looking for Imran and met with him at the Viaduct Bistro. Imran asked her for advice on his defence for Kelly Neelan, who was standing trial for the murder of Seb Franklin. However, Sabeen revealed that she was part of the team representing Corey Brent, the other defendant in the trial, and that he didn't stand a chance against her. During the trial, Sabeen tried to discredit the testimonies of Nina Lucas and Asha Alahan, citing the former's fractured memory of the attack on her and Seb before the trial as proof she was an unreliable witness, and the latter's admission of doing stupid things for love as proof she could be lying for Nina's affection. When Laura Neelan spoke in Kelly's defence, Sabeen highlighted her previous description of her daughter as violent and unpredictable during her prosecution for child cruelty. Sabeen's efforts ultimately succeeded, with Corey being found not guilty and Kelly being found guilty. She sympathised with a devastated Imran and gave him a set of her house keys in case he needed somewhere to stay for the night. Imran took her up on the offer.
A few weeks later, Sabeen returned asking Imran for help with an appeal for Harvey Gaskell. Knowing Harvey had terrorised his partner Toyah Battersby's family, Imran refused, but Sabeen reminded him of his night with her. Toyah, suspecting Imran and Sabeen were having an affair, confronted both of them separately, but both insisted that while Imran went to her house, nothing happened between them. Sabeen proceeded to blackmail Imran into cooperating, pointing out that he didn't spend the whole night at hers even though he was gone all night and that Toyah would find out if he didn't help her. Sabeen finally backed off after watching Imran break down in front of her. Imran confessed to having a one night stand to Toyah (failing to mention it was with Abi), and that Sabeen had blackmailed him to help free Harvey. Convinced that it was Sabeen he had cheated with, and disgusted with what he had done to cover it up, Toyah stole Imran's phone and handed the pair's texts to Sabeen's boss. She furiously confronted Imran about it, revealing that she had been accused of misconduct and removed from all of her cases. After warning Imran he had made an enemy for life out of Harvey, Sabeen told Harvey what Toyah had done, making him vow revenge against the Battersby sisters.
The character's voice was heard in Episode 10460 (20th October 2021) during a telephone conversation with Imran, but was uncredited for this "appearance".
List of appearances
2018
2021