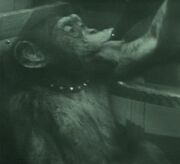 Rupert was a performing monkey who was a part of Lenny Phillips' roster of artistes. In November 1961, Lenny asked assistant Dennis Tanner to put up the primate for the night at 11 Coronation Street as he had been thrown out of his previous digs, although Dennis wasn't told exactly why this had happened.
He duly collected Rupert from outside Lenny's office at 17B Edward Street and brought him back to Coronation Street in a taxi, being careful to make sure that none of the neighbours caught sight of him and that his mother, Elsie, was out for the evening.
Dennis was first caught out when Christine Hardman called to borrow a cup of milk, being caught offside by the sight of the monkey, and she fled when Dennis suggested she shake hands with him. Elsie arrived soon afterwards, making her way back into the scullery where he had hidden their house-guest, and returning to calmly ask her son, "Why is there a gorilla sitting in my sink?"
Dennis made up a bed for Rupert for the night in the back room but in the small hours he fled through an open window and made his way to the Rovers Return Inn, smashing glasses in the bar and waking up Jack and Annie Walker. Scared witless by the noises, Annie sent Jack downstairs to the bar with a hairbrush for a weapon where to his astonishment he found Rupert in the Snug, initially occupying Ena Sharples's seat, and knocking back milk stout from a bottle.
Rupert made his own way back to No.11 but Concepta Hewitt gave the game away to Annie as to who was responsible for the appearance of the animal in the pub. The next day, Elsie was sporting a bandage on her thumb as their visitor had bitten his hostess and Rupert was duly sent back to Lenny.
Background information
The storyline regarding Rupert was written as a direct consequence of the Equity actors' strike which meant that Granada Television were unable to employ any human actors on short-term contracts, aside from children. He was played by the famous Cheeta who had enjoyed a long career in films and television and appeared in Episode 96 (13th November 1961) and Episode 97 (15th November 1961).
He was the first of several animals to appear during the six months of strike including racing greyhound Lucky Lolita, performing seals Bunny and Sherry and Archie, Ena Sharples' present of a budgie after she was brought home to convalesce from the effects of a stroke.
*Disclosure: Some of the links above are affiliate links, meaning, at no additional cost to you, Fandom will earn a commission if you click through and make a purchase. Community content is available under
CC-BY-SA
unless otherwise noted.