Jurassic World: Dominion Dominates Fandom Wikis - The Loop
Play Sound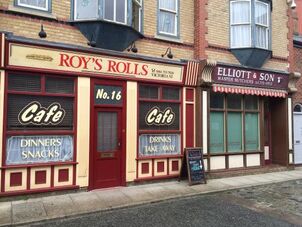 Roy's Rolls is a café, owned by Roy Cropper, that is currently located at 16 Victoria Street, Weatherfield having opened there in 1999 from its original location at 12 Rosamund Street. Roy's Rolls holds the phone number of 0161 715 7028.
Rosamund Street (1997-1999)
Roy's Rolls was originally located at 12 Rosamund Street after Roy, a former employee of Jim's Cafe, bought part-owner Alma Sedgewick's share of the business for £35,000. He put his own stamp on the place by removing the slot-machines and introduced a newspaper rack. In November 1998, Roy and Gail Platt were offered £65,000 to sell the property so that the shop next door could expand. Roy accepted the offer as he liked the idea of starting again in another location. The cafe reopened in Victoria Street.
Victoria Street (1999-present)
The current Roy's Rolls on Victoria Street has seen a few incidents, the first was just before the opening of the new café, a water pipe burst and water went everywhere. The new business eventually opened in February 1999.
In mid-1999, Roy and Hayley Patterson were set to be married, but unfortunately, Les Battersby spoiled the celebrations by tipping off the press about Hayley being transgender. Roy was furious with Les for ruining the festivities. Roy and Hayley were married in the café on Wednesday 21st April 1999.
In 2012, Milton Fanshaw - the American friend of Roy's mother Sylvia Goodwin - came up with an idea to expand Roy's Rolls into an American-themed diner and merge it with the empty Elliott & Son's property next door. However, Roy was against the idea as he liked the cafe how it was.
Staff
Current
Former
(Rosamund Street)
(Victoria Street)
See also