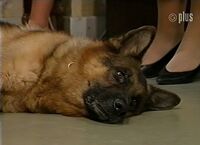 Rover was a stray German shepherd who Bet Gilroy got from the RSPCA in 1988, meant as a guard for the Rovers Return's back entry. Staff and customers alike immediately took the pedigree to their hearts - that is, all except Alec Gilroy, who became even more miserable than usual due to his dislike of dogs.
Despite his moaning and jibes, Alec was soon roped into taking Rover on walks. On the day after taking Rover in, the dog escaped due to the back gate being left open and Alec was accused of doing it on purpose, though he denied this, suggesting that perhaps Rover was a professional stray! The dog was quickly found safe and sound on the Red Rec by Percy Sugden. Alec's hell resumed; on one occasion he was pulled into a bus queue when Rover was sniffing around a German sausage dog, which Alec noted was unpatriotic as well as obscene, but he thought that he was making headway with the dog when Rover gave him his first lick when he was lying on the pavement after tripping over his lead. Predicting a life of misery ahead, Alec decided to take action, remarking to Brian Tilsley, Martin Platt and Kevin Webster that plans were "apaw". Firstly, he asked Mavis Riley to put up a notice about Rover in the Kabin window, so that they could trace the original owner, but Mavis refused to do so without Bet's permission. Thwarted, Alec turned to an old mate, Chaz Ferguson, and got him to send his son Tommy to the Rovers and claim to be the dog's original owner. Bet swallowed the lad's story about losing "Prince" in Heaton Park, and let the boy take Rover.
See also
*Disclosure: Some of the links above are affiliate links, meaning, at no additional cost to you, Fandom will earn a commission if you click through and make a purchase. Community content is available under
CC-BY-SA
unless otherwise noted.