Robert Darren "Rob" Donovan is the younger brother of Carla Connor and former fiancé of Tracy Barlow, currently serving a life sentence for the 2014 murder of Tina McIntyre.
Rob returned to his estranged sister's life in 2012 after spending time in Strangeways Jail. He gained employment at Underworld and Carla gave him a 45% share of the business to help him get back on his feet, but he proved to be a liability to his sister, and schemed to get the factory off her. In 2013, a huge win at Barlow's Bookies that Peter couldn't pay allowed Rob to buy the shop and open Barlow's Buys, a second-hand store which he ran with girlfriend Tracy Barlow.
In 2014, just after getting engaged to Tracy, Rob bludgeoned Tina to death to prevent her from telling the police about his dodgy dealings. Tina had previously had a one-night-stand with Rob that nearly ended his relationship with Tracy. The truth came out on the day of his wedding when Carla ratted him out to the police. Rob was apprehended and sentenced to twenty-five years in prison.
Prison wouldn't keep Rob down as a year into his sentence he had conducted a revenge scheme involving blackmailing Carla's biological father Johnny Connor. In 2017, Rob broke out of prison and was hidden away in Coronation Street with the help of Tracy. Although he intended to go on the run, Rob eventually handed himself in and was sent to a prison in Humberside, leaving Weatherfield and his troubles there behind for good.
Biography
1979-2011: Background
Rob's family resided on a run-down council estate. Rob and his sister Carla had a bad upbringing and their mother was a drug dealer. They also had a bad relationship with their abusive stepfather George. Rob and Carla had a good relationship with the Connor family who also resided on the estate, and Rob shared his first kiss with their younger daughter Michelle. When Carla married Michelle's older brother Paul and moved away, Rob found himself on his own to support his mother.
Some time in the early 2000s, Rob's mother got herself into debt with drug dealers. Wanting to help her pay them off, Rob took on the job as a getaway driver in an armed robbery. However he was caught by the police and was sentenced to eight years in Strangeways Jail. During his time in prison he rarely had contact with Carla. When their mother died in June 2011, Rob contacted Carla to inform her.
2011-2012: Release and reunion with Carla
He was released in July 2012 and tracked Carla down to her business Underworld in Coronation Street. Rob came across Carla's boyfriend Peter Barlow giving her a hard time, and stepped in and told Peter to stop having a go at his sister. Later on Carla met up with Rob in the Rovers to catch up, but the reunion didn't go well as Rob began to have a go at her for abandoning him and their mother and hardly keeping in contact. He went to stay with Carla's friend and ex-sister-in-law Michelle. Within a few days he'd persuaded Carla to give him a job at Underworld, although he lost an order with client Sandy Austin by having a go at her when she complained about the prices, angering Carla. The order was however secured when he won her round when they met a couple of days later.
Rob took control of Underworld when Carla left Weatherfield with boyfriend Peter. Rob continued to run the factory with Michelle until Carla and Peter returned from Los Angeles in December that year. She decided that she wanted to return to America to start afresh and planned to sell Underworld so put the business on the market. Rob knew that he couldn't make the bid, so he doctored the books so that broker Moira Bayley unvalued the business. Carla once again returned to Weatherfield, planning on staying for good and running the factory again, causing Rob and Michelle concern. When Carla discovered what he had done, she sacked him. Angry and feeling betrayed for the work he had put in, Rob set up his own business and began stealing Underworld's clients and contracts. Fed up with his tricks, Carla decided to give Rob his job back, however he wanted a share of the factory. She agreed to give him a 45% share of the business, much to Michelle's dismay. 
2013-2014: Teaming up with "Toxic Tracy"
In 2013 Rob started dating Tracy McDonald and gave her a job at Underworld in packing. Prior to their relationship, he had previously dated Eva Price and got her a job as a machinist, but was dumped after being caught cheating with a hotel waitress when he attended a business meeting in Sheffield. 
In April, Carla bought the rest of the shares of Barlow's Bookies from Peter's ex-wife Leanne Tilsley hoping to help him to turn the business around when he began having financial problems. She approached Rob for advice, and he planned to modernise the premises and install top of the range TV screens to garner more custom. Peter wasn't happy to discover Rob working in the bookies and carrying out alterations. However, Rob took some delight in winding Peter up about it, as business steadily improved. Peter then devised a plan to get his own back; by being nice to him and playing Rob at his own game, although Peter made Rob work the evening shifts. As Tracy vowed to move in with him, Rob became unsettled and Peter believed that Rob wasn't committed to their relationship.
In July 2013, Rob and Tracy took over the bookies' rent-free for six months when Peter couldn't afford to pay out Rob after winning £35,190. As a result, they revamped the premises and reopened as Barlow's Buys. In October, Tracy ripped off Dennis Tanner after he'd pawned Rita's engagement ring and subsequently caused a feud between Tracy and Tina McIntyre, who had offered to buy the ring back for Dennis.
Despite his arguments with Carla, he cared for his sister deep down and didn't want to see her getting hurt. Prior to her wedding to Peter, Rob warned her that she was too good for him but seeing that Peter meant the world to her, he gave her his blessing and wished her the best of luck. Carla asked him to give her away and he accepted.
In January 2014, Rob moved out of his flat in Victoria Court and into 1 Coronation Street with Tracy and her mother Deirdre in a money-saving exercise. The following month, Rob attempted to make more of an effort with his relationship with Tracy especially as he realised that she wanted to spend more time with her daughter Amy. However, through Norris Cole, Tracy soon discovered that Rob had a brief fling with Tina McIntyre, and although he had tried to deny it she kicked him out, much to the relief of a smug Peter. Rob moved into 9a Rosamund Street in the knowledge that his relationship with Tracy was over. Carla attempted to trap Rob into a date with Tina by inviting the pair for dinner at Nick's Bistro only for Tracy and Deirdre to walk in, leading to her causing a scene and subsequently attempting to sell his possessions at their shop. After telling Tracy that he wouldn't be punished for one simple mistake for the rest of his life. Tracy realised that she did in fact love him and having made up, Rob moved back into No.1 and the couple announced their engagement in April 2014.
2014: Murdering Tina McIntyre
In May, Rob supported his sister after Peter hit the bottle once again, and discovered that she was pregnant with his child. He started to suspect that Peter was having an affair with Tina, after seeing them meeting secretly on several occasions; Peter acted shiftily when Rob spotted them. When Peter refused to give Rob answers, he decided to ask Carla about the matter. However she suffered pains and Rob rushed her to Weatherfield General. Although it was a false alarm, Rob decided not to tell her about Peter's affair, instead warning him that if he hurt Carla he would kill him.
Near the end of the month, Rob and Tracy held their engagement party at the Rovers. Unbeknown to Rob, Tracy slipped out of the pub in order to help Tony Stewart deliver stolen goods to his lock-up. The situation gave Rob an opportunity to call round at Tina's flat after seeing that she appeared distraught after walking into the Rovers and overhearing Peter's announcement of his wife's pregnancy. Rob went to check on Tina and tried to assure her that she was better off without Peter. However Tina was enraged and angry, threatening to tell Carla about her affair with Peter, and said that she would report Rob and Tracy to the police for their dodgy dealings. Worried, he chased her onto the balcony of the Builder's Yard where the pair had an altercation. When Tina attempted to leave, Rob pushed her away causing her to fall. Thinking that he had killed her, Rob faked a robbery in the flat, but when he left the property he heard Tina groaning. Despite Rob trying to convince her that she had an accident, Tina still threatened to expose him for his crimes. Desperate, Rob grabbed an iron bar and attacked Tina with it. Tina survived the bludgeoning and was taken to hospital.
Over the next few days Rob was guilt-ridden especially as his sister was being accused of the attack and he tried to pin the blame on Peter. He was also angry when he learned that Tracy was delivering stolen goods during that evening. Tina passed away in hospital on 2nd June, and Rob relayed the news to Carla in the Rovers. Over the next few weeks Rob attempted to lay the blame on Peter, and tried to convince people he was the killer. On the day of Tina's funeral, Rob got into a fight with a drunk Peter by the graveside, which resulted in Peter stating that he and Tina were "even", which helped put suspicions into people's minds that he may have been the killer. Weeks after the event, Peter was arrested and charged on suspicion of Tina's murder and held on remand.
Rob was relieved when Peter was convicted of Tina's murder in October, after spending several months trying to hide his involvement in actually killing her and convincing others that Peter was guilty. However, Carla wasn't convinced that Peter was guilty. This started when Peter ended up in hospital with alcohol poisoning and confessed to Carla that he "believed" she had killed Tina and would cover for her. Rob tried to get Carla to drop the subject, and on the run up to his wedding to Tracy asked her to be "best man" which she accepted.
A week after Peter's conviction, Rob celebrated his stag night with Carla and she began to work out the truth behind Tina's attack. Deducing that Rob and Tracy's stories didn't add up, she confronted Rob believing he was covering for Tracy and that she'd killed Tina. Determined and frustrated, Rob told Carla that Tracy was innocent and admitted that she was out delivering dodgy goods with Tony. Not letting things settle, Carla could see that Rob was haunted and scared, working out he was the killer, which he eventually confessed to. Rob told Carla that Tina was determined to send him back to prison, and that she sought to destroy Carla's happiness. When Carla attempted to leave the flat, Rob locked the door and took her phone, but seeing that Carla was terrified of him, gave back the phone and a sorrowful Rob told her that he would never hurt her. Carla told Rob to hand himself in, however Rob told her that they should keep it a secret as he had more to live for, and that if Peter was released he would most likely relapse and drink himself to death.
On the day of the wedding Carla called the police. Taking Rob into a separate room, a tearful Carla revealed that the police would be there any minute. Distraught and betrayed, Rob made a run for it and later in the day booked himself at the Woodland Park Guest House, upset at how his life had fallen apart. He contacted Tracy by payphone and she later arrived to meet him. Although angry at his actions and how things were falling apart, she eventually softened and they decided to run away together.
Tracy met Rob at an abandoned warehouse, but the place was surrounded by police and Rob came to the realisation that she had called them. Stunned and distraught Rob allowed himself to be arrested. Despite a tearful Tracy's pleas that she didn't have a choice, Rob told her that she always had a choice. He was then taken away by police, leaving behind a broken Tracy. Rob later confessed to killing Tina and was charged with her murder. He refused to allow Carla or Tracy to contact him. A month following his arrest, Rob was sentenced to twenty-five years in prison, which was for killing Tina and also allowing Peter to be wrongfully convicted of the crime.
2014-2016: Imprisonment and revenge
A year into his imprisonment, Rob read an article in the newspaper about Johnny Connor's involvement with Underworld. He sent out a visiting order to Tracy, and revealed to his cellmate Ian Rigby how he had been unable to move on from his sister and ex's involvement in his incarceration. Tracy turned up to visit Rob and wondered why he had chosen to contact her after so much time, however Rob confessed to being angry at first but could never stop loving her. Rob also falsely claimed that he didn't blame her for him being sent to prison, and before Tracy left he asked if she would come to visit him again, to which she agreed. Tracy also failed to mention that she was in a relationship with Robert Preston. It was clear at this point that Rob showed no love or care for Carla as he had done before, and didn't seem bothered that she was involved in a fire at her flat several months prior, showing that his time in prison had transformed him into a bitter and envious man.
Rob sent out another visiting order the following week - this time to Johnny Connor - which caused confusion as neither he or Carla could work out why Rob would want to see him. When Johnny did turn up the next day, Rob revealed that he knew Johnny was Carla's biological father, as his mother had told him years ago and that Carla was born nine months after a one-night-stand between them. Rob offered to remain silent on condition that Johnny paid him £10,000. When asked by Johnny why he was targeting him, Rob revealed that he was "bored". Before Johnny left, he let slip that Tracy was in a relationship with her ex-husband Robert.
Tracy continued to visit Rob, where he told her that he could be getting released due to corruption from the officer in his case. Tracy relished the suggestion that she could have a future with Rob, again failing to mention that she was in a relationship with Robert. Rob used a secret mobile phone to contact Robert, where he informed him that he would be sending him a visiting order. Robert agreed to visit Rob, where Rob told him of Tracy's planned infidelity. Robert was at first sceptical, but Rob was able to prove that Tracy had been visiting him. Tracy visited Rob a final time where he revealed that his potential release was a lie and he was actually manipulating her as revenge for ruining his life. Tracy attempted to physically attack him but she was dragged away.
Johnny, not wanting to succumb to Rob's blackmail, informed Carla himself that he was her real father. Johnny phoned Rob and told him his plan had failed. Carla later visited Rob who tried to carry on his blackmail by threatening to tell Johnny's son Aidan and daughter Kate about the one-night stand with Carla's mother. The plan once again failed when Carla decided to tell them herself. Before leaving Rob, Carla told him that when he is released to never come looking for her.
2017: Seeking redemption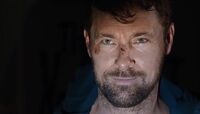 A year later Rob found out about illicit activities which were occurring in the prison which involved drugs, and planned to testify against those who were responsible. As his life was in danger, it was decided to transfer Rob to a more secure prison, however on route the prison van crashed into a river. Although it wasn't initially known to the authorities if Rob was dead, he had survived the crash although badly injured. Rob made his way back to Coronation Street in hopes of finding Carla, however discovered that she was no longer living in the area. Rob skulked around the back ginnel and watched Tracy talking to her new boyfriend Luke Britton from afar. When Tracy headed to her shop, Rob approached her and convinced her to help him out. Tracy complied, and Rob went to squat in the abandoned premises of the V Court Fitness gym. When Tracy was visited by the police informing her of Rob's escape, she decided not to inform her family. During the night of discovering Rob, Ken Barlow had been pushed down the stairs by an unknown assailant, which led to Tracy having to convince Luke to give her a false alibi as she couldn't reveal the truth about seeing Rob.
Tracy continued to visit Rob at the abandoned gym in order to provide him with medication and supplies. She grew fed up and was wondering why she bothered helping Rob, however he convinced her not to dob him in again as it would be the end of him. The following day Tracy visited Rob to give him more supplies, and he revealed he would be gone within a few days. Although Tracy was relieved, she admitted the two of them would have been amazing together.
Over the course of the next few days, Tracy confided in Rob about her worries over Ken, and how she feared Amy was responsible for pushing him down the stairs and the effect police questioning was having on her. Even though Rob dismissed her fears, Tracy believed she needed to lie to protect Amy. Rob then confided about his escape plan and apologised to Tracy for ruining everything. The pair then kissed and rekindled their romance. Tracy later declared that she wanted to go on the run so she could be with Rob. Whilst Rob was enthusiastic, he didn't want to bring Amy, as he feared she was too young. Tracy was adamant, however, and went about getting money together to buy a car for the plan. Later on in the evening, feeling risky, Tracy and Rob went out into town for a drink, sleeping together at the end of the night.
Once Tracy had bought the car, under the cover of darkness Rob got into the boot, and despite his protests, Tracy brought Amy with them, driving up to the Peak District. The plan was to wait for Rob's ex-con friend Tiggsy who would help them get to Scotland and from there abroad. In the meantime, the three stayed in a cottage with Amy unaware that Rob was living in the attic. Eventually, Tracy and Amy were reported as missing and their faces appeared on the news. When Rob and Tracy saw this, they decided to leave. Unknown to them, Amy had walked into the nearby village and used a phone box to call her father Steve McDonald. With the police giving Steve questions to ask Amy, she revealed they were in the Peak District and that it was only the two of them. The police then traced Amy's call and dispatched armed police to their location. When Amy got back, she found Tracy in Rob's arms, having persuaded her to go back to Weatherfield with Amy and leave him to go on the run alone, as he didn't want them to suffer. With the police sirens now audible, Rob grabbed his bag and ran. Tracy, however, had another idea. She put Amy in the car with Rob and told him to drive and that she'd stall the police. After one last kiss, Rob departed, leaving Tracy to be arrested. She then told them she'd put Amy on the bus home and falsely confessed to pushing Ken down the stairs. Tracy was incarcerated and was due to appear in a hearing the next day.
After driving for a while, the car broke down and Rob got out to fix it. There, Amy asked him if he was sorry for killing Tina. He responded by telling her he regretted it every day. When Rob told Amy that Tracy had confessed to attacking Ken, she was upset and angry, and stormed off. Following her, Rob attempted to get a confession out of her, but Amy told him she did not attack her granddad and didn't know what he was talking about. Rob persuaded her to return to the car, where they talked for a while. Amy yelled at Rob to help her mum. After contemplating it, he returned Amy to Coronation Street and headed for the courtroom. Rob burst into Tracy's hearing demanding that she tell the truth. Whilst being dragged away by guards, Rob told them to check the CCTV footage of the night Ken was attacked, as it would show Tracy with Rob at the time the attack occurred. Tracy retracted her earlier confession.
Rob was questioned by DI Young, who wanted to know why he went on the run. The detective was somewhat sympathetic and said he'd do what he could for Rob. He let him and Tracy have ten minutes alone together. He told her that he was to be transferred to Humberside and would have a stint in solitary confinement. After convincing Tracy Amy was innocent, the pair made love and said a final goodbye to each other.
Personality
Relationships
Background information
Introduction
Prior to his debut, a brother named "Darren" was referenced by Carla in the show, and also in interviews by cast members and producers, some of who had expressed interest in seeing her brother. In 2008, actress Alison King also expressed interest in seeing Darren being introduced and speaking of her fictitious relative said "I think she's got a brother who's absolutely brilliant with her. I think he'll be stunningly charming, but a complete minger inside. He'll be as rough as old boots because Carla's mum was rough too. Carla's from a really rough family, but she's tried to put all that behind her." She continued "It'd be good to have someone there like Darren who wants to sponge off her or embarrass her all the time. Or maybe he just loves her to death and idolises the ground she walks on? I also think Carla could have a sister that she's not spoken to for years."[1] Kim Crowther discussed the possibility of introducing Carla's brother to Coronation Street with her team, although this didn't come to pass during her time as producer.
In 2012 it was announced that a casting process was being made for Carla's brother with a number of actors being set out, one of them being Jamie Lomas (who at the time was dating Kym Marsh). Marc Baylis's casting was announced in May and on joining the soap he said "I feel incredibly honoured to be joining the very talented cast of Coronation Street. Rob is an exciting character to play and I am hoping he is going to ruffle a few Weatherfield feathers". Rob made his debut in July 2012, five-and-a-half years after Carla was first introduced.
Darren's name change to "Rob" caused some confusion among regular viewers who were left to wonder if Carla had another brother. According to an interview given to Digital Spy by producer Phil Collinson, Darren is Rob's middle name. [2].
Departure and guest stints
In 2014, Rob was involved in a major storyline in which he brutally attacked Tina McIntyre. A few weeks prior to the airing of the episode, the true culprit was kept under wraps and Rob was listed as one of four suspects along with Carla Connor, Peter Barlow and Tracy Barlow. Rob was unveiled as the attacker on 27th May 2014 when he inadvertently caused Tina to fall from the balcony of her flat, which was then followed by a shock attack which aired during the following episode.
In June 2014, after the murder was aired, Baylis confirmed that he would be leaving the show [3]. In the months following Tina's murder, Peter Barlow was wrongfully imprisoned for the crime which would leave fans to wonder which one of the men would be found guilty of the heinous crime. Although Peter was found guilty of killing Tina on 20th October, Rob confessed to Carla the following week on 27th. Rob's arrest and departure was aired in Episode 8506 on 5th November.
Prior to the character's exit, Baylis stated he would be open to returning to Coronation Street [4]. After the character's exit was aired, Baylis praised the scenes and stated that he was glad Rob "Went out with a bang" [5].
Baylis would in fact go on to reprise the role of Rob on two occasions. In August 2015 it was announced that Marc Baylis would return later in the year for an "exciting storyline" [6]. Baylis returned to filming in October, with the character's return scene airing on 4th December 2015, thirteen months after his last on-screen appearance [7]. The character appeared for a month, making his final appearance on 4th January 2016, at the end of his brief storyline.
In March 2017 it was revealed that Baylis was again reprising the role of Rob, and photographs of him filming scenes were leaked to the press and published. The character's return aired during the following month [8]. He appeared for a period of two and a half weeks, and made his final appearance in Episode 9160 on 8th May 2017.
First and last lines
"Did you speak to your mother like that?" (First line, to Peter Barlow)
---
"About 7 minutes I reckon." (Final line, to Tracy Barlow)
Appendices
List of addresses
See also
References