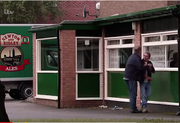 The Paul Robeson Estate is a council estate in Wythenshawe.
The estate has been home to several families and also home to The Dog & Gun, a pub in which was full of residents of the estate - most of them criminals. Kylie Platt visited the pub in October 2014 to find her ex Callum Logan, to speak to him about their son Max's ADHD.
Eva Price was disapproving of Kylie returning to her roots, fearing she would get into her old habits, including burning down cars and taking drugs. This was confirmed when she became addicted to drugs and started buying them off Callum.
Callum's mother Marion and Callum's mates also lived on the estate at some point, including Cormac (Macca) Hibbs, Clayton Hibbs and Gemma Winter.
Clayton was sent to prison in 2016 for the murder of Kylie Platt, and Gemma left the estate to live on Coronation Street, also working at Prima Doner.
Residents of the estate were again mentioned, when Roxy Ward and Zoe White arrived on the street as old friends of Gemma's. When Rita found out, she was livid. Gemma defended Rita from Roxy and Zoe, resulting in their revenge. They trashed The Kabin, and created a false dating profile. However, they were scared off by Rosie Webster.