Cobra Kai Season 4 - The Loop
Play Sound
PJ Leisure was an amusement arcade group and sportswear distributor named for its owner, the shady entrepreneur Phil Jennings. In late 1990, one of its arcades, managed by Phil's lackey Dean Lockwood, came under fire from councillor Deirdre Barlow for letting underage children inside. Phil agreed to erect a sign refusing admittance to under 16's, a gesture which satisfied Deirdre.
On the distribution side, PJ Leisure placed an order with Ingram's Textiles to produce sportswear for them after its manager Mike Baldwin invited Phil to a party at No. 6 Quebec House, Weatherfield Quays and introduced him to Deirdre. A few weeks later, Phil donated £2,000 to Weatherfield Comprehensive to sponsor their teams in order to raise the company's profile. PJ Leisure also provided the new strips. Ken Barlow, a teacher at the school, was fiercely opposed to the sponsorship due to the children playing truant at the arcades, but he wasn't listened to with headmistress Sue Jeffers accusing him of being biased against Phil because of his friendship with Deirdre.
Despite his flashy lifestyle, Phil was heavily in debt and often went weeks without paying his employees. In July 1991, he fled the country with his wife Valerie in order to escape his debtors.
Arcade repair facility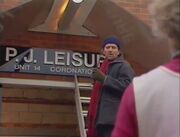 In February 1991, Phil bought 14 Coronation Street factory unit from Maurice Jones as a repair and storage facility for his arcade machines and employed some lads, including Dean Lockwood, to work there full-time. The premises was shared with Phil's new promotions venture, PJ Promotions, which operated separately under Deirdre's management.
In July, Phil held a poker game in the unit with Jim McDonald, Don Brennan, Jack Duckworth and Des Barnes and lost £650 to Don. A few days later, Don returned to the unit demanding payment from Phil and witnessed Scotch Tommy thumping Phil over money owed to him.
List of appearances
1991