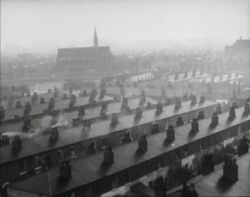 Ordsall is a district of Salford and was both the design template and a filming location for Coronation Street.
The area sits within a large bend of the River Irwell, part of which was converted into the Manchester Ship Canal and opened in 1894. The historic Manchester Docks lay within the district and the conversion of the land into a mass of terraced streets coincided with the development of the canal and the railways in the area between Manchester and Liverpool. The number of inhabitants rose from 755 in 1844 to 3,852 in 1891.
Coronation Street wasn't specifically based on Ordsall in scripting terms, but more generically on his maternal grandmother's house and similar residences all over Salford and Manchester which existed at the time. However, as the nearest terraced estate to Granada Television's Quay Street studios it made a handy location for research and filming. Warren made a recee with designer Denis Parkin to the area in the Autumn of 1960 and happened upon Archie Street, determining it as a ideal template for the fictional Coronation Street (at that point in time being named Florizel Street).
The only occasion on which filming took place on Archie Street was for the programme's first title sequence, alongside a series of photographs for establishing shots and the end credits. When producer Tim Aspinall introduced a new title sequence in Episode 366 (15th June 1964) the end credits showed Clifton Street in Ordsall as a film sequence with, on some early occasions, The Amalgamated Inn which stood of the corner of that thoroughfare and Gloucester Street. Although the film sequence was soon dropped, a photocaption from it of the cobbles survived until Episode 926 (10th November 1969).
Further location work has taken place in the area over the years for the following episodes: