Oliver Benjamin Battersby was the son of Leanne Battersby and Steve McDonald, born in 2017 as the result of a one-night-stand.
At three years old, Oliver was diagnosed with a life-limiting form of mitochondrial disease. The condition eventually took his life in November of that year.
Biography
Birth and parentage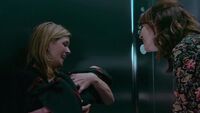 Oliver's parents Leanne Battersby and Steve McDonald had a one night stand in June 2016 when Steve briefly separated from his wife Michelle Connor. Leanne was surprised to discover she was pregnant as she had previously been told her chances of conceiving naturally were low following a miscarriage in 2011. Steve wanted nothing to do with the unborn child, choosing instead to remain with Michelle whilst Leanne got back together with her ex-husband Nick Tilsley. A mutual agreement was made between Leanne, Nick and Steve that Nick would be presented as the baby's biological father to their respective families and friends.
Oliver was born in the lift of the Victoria Court flats on 20th February 2017 while Leanne and her stepsister Toyah were trapped inside during a power cut. Toyah delivered the baby with the help of the townsfolk who were waiting outside. A few days after the birth, Nick's family, still believing Nick to be the biological father, celebrated the new arrival at Nick's Bistro. During the event a minor scuffle took place which left Steve holding the baby. Unable to hide his true feelings about his son any more, Steve confessed to Michelle that he was Oliver's real father. Steve's betrayal hit Michelle deeply, as she had recently given birth to her and Steve's stillborn son, Ruairi, in January of that year, and was still grieving.
Having lost his wife for good, Steve was determined not to lose his son. Despite hostile resistance from Nick, Steve was able to persuade Leanne to give him partial custody of Oliver while also including his name on the birth certificate. Nick became increasingly spiteful towards Steve, but after nearly dying in quicksand, Nick apologised and decided he could no longer play father figure to Oliver. Nick ended his relationship with Leanne and left Weatherfield.
When Leanne had to give up her tenancy on 8 Victoria Court, she and Oliver moved into the Rovers Return Inn which had been purchased by Toyah and Peter Barlow. After they split and Peter sold the Rovers to Johnny Connor in August 2018, they were forced to move to a flat on Tile Street. In October, Oliver was a page boy at his father's wedding to Tracy Barlow which ended in disaster when a second one night stand between Steve and Leanne was publicly revealed and Leanne was involved in a road accident on her way back from the venue. With Leanne critically ill in hospital, Nick was summoned as he was still listed as her emergency phone contact. As Leanne recovered she reunited with Nick and they moved back to Victoria Court, now at No.12, with Oliver.
Mitochondrial disease and death
In April 2020, Oliver was in Summer Spellman's care at No.1 when he suddenly began fitting. Dr Gaddas advised Steve that Oliver had had a febrile convulsion, but over the coming weeks the seizures recurred and became more frequent, ruling out this possibility. At the same time, Oliver's key worker at nursery raised concerns that he wasn't developing physically at the same rate as the other children. After several visits to the hospital, Oliver began to fit continuously and was put under heavy sedation. As Leanne and Steve waited for the results of genetic tests to find out what was wrong with Oliver, their main concern was getting him back home. When the sedation was reduced, the seizures stopped but Oliver remained in a catatonic state and was unresponsive to people's voices, indicating that he may have suffered brain damage as a result of the seizures. Nevertheless, with the boy responding to his anti-seizure medication, he was allowed home.
For a short time, things looked up for Oliver. Leanne in particular clung to any sign that he was getting better, being delighted when on a day out to the park Oliver spoke and mimicked a cow's mooing sound. However, when his genetic test results came through, paediatric consultant Dr Ward broke the news to Oliver's parents that he had an incurable and rare life-limiting form of mitochondrial disease. She also confirmed that the seizures had resulted in permanent brain damage.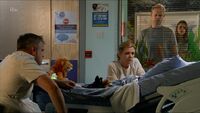 As the weeks passed Oliver's condition deteriorated quickly and he had to be kept under constant heavy sedation to prevent his fits as well as needing a breathing tube. In September the doctors confirmed that Oliver's brain damage was so severe that he'd never be able to breath on his own, and combined with the constant sedation needed and the fact he had no hope of ever recovering they felt it was time to withdraw Oliver's life support and allow him to die. Leanne and Steve were adamant that more could be done to save Oliver and decided to fight against the decision, eventually culminating in a hearing which occurred in November, and Steve selling Street Cars to pay the legal fees. The medical trust however were satisfied that the doctors had done everything they could and ruled in favour of the hospital's decision. Leanne vowed to appeal, although at this point Steve realised they were fighting a losing battle and wanted to let his son's suffering end. It was only when Oliver began arresting that Leanne accepted that his death was imminent and she decided that if it was going to happen, it should happen with his family around him and not a load of doctors. On 27th November, Oliver's life support was switched off, with Leanne and Steve singing You Are My Sunshine to their son as he passed away.
Relationships
Oliver had three half-siblings, all through Steve: Emma Brooker, his daughter with Fiona Middleton, Amy Barlow, his daughter with Tracy Barlow, and Ruairi McDonald, his son with Michelle Connor who was stillborn in 2017, a month before Oliver was born. Emma and Amy were 18 and 13 years older than Oliver respectively. On his mother's side, Oliver had an older brother, Simon Barlow, who although not a blood relation, had been raised by Leanne and lived with the family for the first year of Oliver's life.
Background information
Oliver was played by twins Emmanuel and Jeremiah Cheetham from his birth in February 2017 until his death in November 2020, with Toby Catley also appearing in the role from February to July 2017.
Appendices
List of addresses
See also