Doctor Strange in The Multiverse o Madness - The Loop
Play Sound
Norris Benjamin Cole was the owner of The Kabin between 2009 and 2019, as well as the ex-husband of Mary Taylor and longstanding lodger of Emily Bishop.
Norris was deeply affected by the death of his mother Eunice in 1961, on which be blamed his older half-brother Ramsay for returning to the scene some years after Eunice had him adopted. Norris never accepted Ramsay as his brother, even 48 years later when Ramsay tried to make amends shortly before he succumbed to a brain tumour.
Norris has been married three times. In 1994, he left his first wife Myrtle and became a thorn in the side of fellow salesman Derek Wilton after a chance meeting at an M6 service station. Norris and Derek became rivals with Norris eventually marrying Derek's ex-wife Angela Hawthorne and becoming involved with her stationery wholesaler, Hawthornes. In 1999, now divorced from Angela, Norris rented a room at the Park Road B&B before taking permanent lodgings at 3 Coronation Street the following year. At the same time, Rita Sullivan recruited him as her assistant at The Kabin.
Ever the fusspot, Norris became a cowardly gossip, criticising his customers and neighbours from behind the counter. While his ramblings caused both Rita and Emily no end of despair, he maintained strong friendships with both women. In 2009, Norris bought The Kabin from Rita and then in 2013 Emily signed her house over to him. Norris and his third wife, Mary Taylor, were married in 2017 in order to win a Mr and Mrs competition.
In 2018, Norris left to visit Emily, who was now residing in Edinburgh and while there began a relationship with Emily's niece Freda Burgess. He later returned to Weatherfield to seek a divorce from Mary in order to marry Freda. The couple then moved into Stillwaters retirement home, where they remained until his death from a stroke in 2021.
Biography
1940-1994: Early years
Norris was born on 15th March 1940 to Eunice Cole. In 1960, Norris learned that he had a half-brother named Ramsay Clegg, who was born five years prior to Norris but was given up by their mother due to her being single. Ramsay's arrival caused great stress to Eunice as it brought up a past she wanted to forget, and in January 1961 she suddenly passed away. Norris was devastated by his mother's passing and blamed it on the shock of seeing Ramsay, and during the funeral Norris got into a conflict with him. Norris wanted nothing to do with his brother and cut him off, subsequently leading to Ramsay returning to Australia.
At some point afterwards, Norris met a woman named Myrtle Hargreaves and the pair got married, although he later suggested that it wasn't a happy marriage and once remarked that Myrtle had seduced him with her milk puddings.
In March 1994, Norris gave Derek Wilton a lift after he was stranded on a motorway. A grateful Derek told Norris that he would be welcome to visit him in Weatherfield anytime. Taking Derek's advice, Norris left Myrtle and suddenly turned up at Derek's home on Coronation Street unannounced, much to the displeasure of Derek's wife Mavis, who was irritated by Norris's habit of referring to Derek as 'Dirk'.
1994-1997: Norris' lucky years
While staying with the Wiltons, Norris attended a recruitment drive for the company EnviroSphere and both became involved in its pyramid selling scheme, hoping it would bring them riches. It quickly became clear Norris was capable of success and luck, whereas Derek squandered at the bottom and this was to be the beginning of a friendly rivalry between the pair. When Mavis made it clear to Norris that he had outstayed his welcome, he departed but not before selling Derek his car at what seemed to be a bargain price only for the exhaust to immediately fall off.
Derek next encountered Norris in October at the North West High Achiever Awards, which Norris won. Soon after he was invited to the Wiltons' anniversary dinner party where he was first introduced to Derek's ex-wife Angela, who he went on to marry in 1995. Norris was horrified when Norris's relationship with Angela earned him the position of sales director - and therefore Derek's boss - at her stationery company Hawthornes. Nevertheless, Derek accepted when Norris asked him to be his best man at the wedding but on his stag night Norris drunkenly revealed that he was behind the theft of Derek's gnome Arthur and Derek furiously drove him to the wrong church as revenge. Only after making Norris beg did Derek escort to him to the correct church although his late arrival still caused problems with Angela.
As 'Mr Stationery', Norris was a high flyer and by 1996 had become a member of the Square Dealers, alongside Fred Elliott and Eric Firman. In March, he invited Derek and Mavis to a Square Dealers 'Ladies Night' but arrived late and alone having had a row with Angela. Further marital disharmony followed in May when Angela blamed Norris for them losing a game of golf and Norris again landed himself on the Wiltons in order to get away from his wife and began sleeping outside their house in his car, leaving Derek feeling obliged to invite him to stay. When Norris told Derek that he wanted to kill Angela and she subsequently disappeared, the Wiltons began to fear he had carried out his threat. Their fears were inflamed further when they realised Norris had been digging on their allotment and feared he had buried Angela's body there. In fact, it was merely Angela's golf clubs that Norris had buried at the allotment and shortly afterwards they were reconciled and he returned home.
After Derek had passed away suddenly from a heart attack in 1997, Norris broke the news to Mavis. Angela didn't attend the funeral, with only Norris going in order to represent the Hawthornes. He was late to the funeral service and barged past the coffin, and insensitive to Mavis's feelings mentioned how Mavis had abandoned him on the motorway and forgotten his birthday during a eulogy.
1999-2002: Moving onto the Street
By December 1999 Norris had separated from and divorced Angela alongside his position at Hawthornes and was using his skills as a sales rep to sell 'Guarana' chewing gum, a come down from his previous job. One of his potential clients was the familiar face of Rita Sullivan who ran The Kabin newsagent. When Rita was suddenly left shorthanded, Norris persuaded her to take him on as a temporary assistant. Norris quickly made his mark on the Kabin and encouraged Rita to open a sub-post office. At the same time, he moved into the Park Road B&B run by Jack and Vera Duckworth, leaving behind the bedsit he had been stuck in since he left Angela.
In July 2000, Norris left the B&B in disgust following an argument with Vera over cleanliness after Tyrone Dobbs' greyhound Monica gave birth on his bed. Rita put Norris up for the night but ruled out the idea of him moving in permanently. Emily Bishop did offer him a room at No.3, not wanting to live alone after her nephew Spider left to go travelling. Emily and Norris quickly stuck up a friendship although Emily often found Norris too interfering and overprotective of her.
Norris became an unlikely midwife in December 2001 when he helped deliver Curly and Emma Watts' baby. Norris was first on hand as Emma began having contractions while he was complaining to her about bin collection in the ginnel. Curly and Emma gave the baby Norris's middle name Benjamin and later asked him to be one of the godparents. One night Ben was continually crying and Norris managed to put him to sleep by singing songs to him. Norris kept having to go over to sing to baby Ben until Curly decided to record Norris's singing on a cassette tape.
2001-2003: Feud with Richard Hillman
In 2001, wanting money to invest in a business venture of Spider's, Emily sold the house in an equity release scheme to Kellet Holdings, the company of neighbour and financial advisor Richard Hillman. Norris was suspicious of Richard's intentions and advised Emily against the scheme but she dismissed his warnings. Norris remained wary of Richard especially after he caught him trying to administer some pills to Emily and believed Richard wanted to kill Emily to get the money from her house. Although most regarded Norris to be making wild accusations, he urged Rita not to invest with Richard and succeeded in making the Duckworths question their own investment which caused a headache for Richard. Angered by Norris's interference, Richard forced him into his car and drove him to his property development, The Ridings, where he intimidated Norris and warned him to keep his nose out of his affairs.
Although scared by this encounter, Norris remained concerned for Emily's safety and kept a watchful eye on Richard from afar. In January 2003, Emily was attacked while babysitting for the Peacocks and left in a coma. Maxine Peacock was also attacked and bludgeoned to death and Norris stumbled on the scene and Maxine's distraught husband Ashley after being concerned that Emily was late returning from the Peacocks. Norris was overjoyed when Emily survived and began to recover from the attack but soon became convinced that Richard was behind the attack and not Aidan Critchley who had been arrested for it. Most of the street believed Aidan to be guilty and the accusations against Richard to be preposterous and Norris's only allies were Audrey Roberts and Archie Shuttleworth.
Emily was incensed at what she saw as Norris exploiting the tragedy to serve his vendetta against Richard and threw him out of the house, forcing him to lodge at No.5 with Kirk Sutherland and Les Battersby. This was far from comfortable for Norris as he was left to shoulder all of the responsibility when it came to housework and had to put up with Les calling him "Doris". As soon as he believed Emily would take him back, he relished in telling Les what he really thought of his house but was forced to grovel to Les to allow him back when it turned out to be a misunderstanding. Nevertheless, Norris didn't have to stay with Les and Kirk for much longer as Emily secretly missed him and invited him back on the condition he cease the rumours about Richard completely. Shortly afterwards however, it transpired Norris had been correct all along after Richard confessed his crimes to wife Gail in February and then drowned while trying to kill her and her family in March.
2004-2009: Neighbourhood fusspot
In May 2004, Norris and Emily found themselves disturbed by the noise of Chesney Brown's new dog Schmeichel who had moved in next door and Norris was even more concerned when he discovered that young Chesney had been truanting from school. Norris informed Les who was looking after Chesney since his mother had gone AWOL, but when Chesney continued to truant Norris warned Les that he would consider contacting social services, arguing that Chesney's education was important enough to warrant the intervention. Les was less than grateful for this interference and when social services did become involved, he blamed Norris who pleaded his innocence.
In June, Norris became convinced that the stockroom of the Kabin was haunted, sensing a strange presence in there when he came in to do the papers on a morning and after hearing about the death of Vera Lomax, on the site where the stockroom now stood, from Emily he became convinced this was the source of the 'haunting'. Enlisting the help of Rita, Blanche and Betty, Norris decided to conduct a seance and everybody was unnerved when the lights flickered and a box fell off the top shelf in the stockroom. The theory was soon rubbished when it turned out the real cause was damp.
The following September, Norris became acquainted with Rula Romanoff, an old friend of Rita's from her days on the club circuit who called into the Kabin to visit her and later invited both her and Norris to dinner. Norris was immediately taken with Rula and reckoned she fancied him too, so was disappointed to be introduced to her husband Bernie. Nevertheless, the dinner party at the Romanoff's country house was a success but after retiring to bed, Norris got the shock of his life when Rula entered his room and climbed on top of him. When Rita burst in having had a similar encounter with Bernie, the pair realised they were at a swinger's party and made a swift exit, swearing to never speak of the incident again.
In January 2005 Norris formed a local Book Club along with Rita, Emily, Blanche, Audrey, Ken and Roy and was eager to suggest Hard Grinding by Mel Hutchwright as the first book, one he had already begun reading himself and was a great fan of, describing it as "masterly". Although other members of the group, particularly Ken, were far more critical of the book, Norris and Blanche were in awe when the author himself turned up to a meeting of the book group in May after responding to a letter from Blanche. Mel claimed that being in Weatherfield had helped cure his writer's block and so Norris offered him a place to stay at No.3, allowing him great liberties to sponge off him and smoke in the house in return for Mel's praise of Norris's own writing efforts. Mel had quickly won over the rest of the book club with his charm, with the sole exception of Ken and Norris had soon persuaded the rest of the group to pay £200 each in order to fund the publishing of Mel's new book. In the nick of time however, Ken exposed Mel as Lionel Hipkis, a fraudster who had a track record of scamming book clubs like theirs to fund a book publication that never appeared. Horrified at being duped, Norris and the rest of the group sent Mel packing.
In February 2006, Norris and Rita traded places with Norris moving into Rita's flat to allow Rita to stay with Emily following the traumatic reveal that Emily's friend Ed Jackson was the killer of her husband Ernest. Initially pleased at the idea of having Rita's flat to himself, Norris soon found himself lonely and made excuses to visit No.3. Normality was resumed when Norris and Rita swapped back in May, Emily's problems with Ed having been resolved. Around the same time Norris joined an internet dating website, but didn't have much luck; one disastrous date was a lady with a squint. Another with a woman named Helen was interrupted when they returned to the flat only to be disturbed by Rita who was hiding in a cupboard, having been slyly checking out the adjustments Norris had made to the flat while he was out.
In September 2007, after discovering that his ex-wife Angela had died, Norris made two proposals, firstly to Rita who respectfully turned him down and then to Doreen Fenwick, although he withdrew his proposal to Doreen before receiving a response.
In May 2008, Norris and the Kabin were attacked by a gang of teenagers lead by Kenzie Judd, leaving him shaken and prompted him to install CCTV as an increased security measure at the newsagents. In October, he was joined by a new assistant in Tina McIntyre.
Ever the competition addict, Norris came face to face with Mary Taylor who had beaten him on several occasions in November. Mary invited Norris to a Cliff Richard concert she had won tickets to. Together, Mary and Norris won a motorhome in January 2009 and Mary wanted to travel with Norris in it around the world. Norris, feeling pushed out of the Kabin because Rita had become close to Colin Grimshaw, decided he might as well. But when Colin Grimshaw was disgraced and then died, Norris used this as an excuse not to leave town because he felt Rita needed him and Mary left on her own.
2009: Ramsay's return
On the same day that Mary set off to travel the world, Norris was thrown back by the return of his half-brother. Turning up for the first time in nearly fifty years, Ramsay informed Norris that he wanted to catch up with him, but Norris rebuffed him, accusing him of having blood on his hands for what he had done to their mother.
Much to Norris's annoyance, Ramsay became popular with the neighbours and especially formed a close bond with Emily. The only other person that was annoyed by Ramsay's do-gooder nature was Emily's niece Freda Burgess, especially after he tried to impress her with badly done sign language.
Two months following his return, Ramsay took Norris to look around a flat at the Victoria Court apartment block and made clear that he was going to stay in Weatherfield and not return to Australia. This angered Norris to the core, and he wasn't best pleased that Emily was in on the plan also. Norris gave Ramsay an ultimatum - that either he left or Norris himself would move away. Not wanting Norris to leave his friends on his account, Ramsay finally gave in and decided to leave. He bid Norris and Emily farewell and departed by taxi for the airport.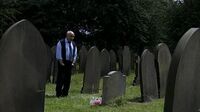 A few days later, Norris was shocked when a police came to the door and informed him that Ramsay had died on route to Australia. He was further shaken when it was revealed that Ramsay had a brain tumour all this time, and specifically returned to make amends with Norris before passing on. An angry Emily lashed out at Norris for his treatment of Ramsay, which caused a distressed Norris to leave the house and visit his mother's grave, where he broke down in tears.
2009-2013: Ruling the Kabin
Using the inheritance that Ramsay left him, Norris bought the Kabin from Rita. In November 2009, Freda made another return visit and began joining Norris in on his competition hobby, which resulted in the pair of them winning a cash prize. The prize was split, which Freda put towards a flat in Edinburgh. Around this time, Mary made a surprise return having been away for over six months, although she was convinced that Freda was Norris' new fancy woman. Much to her relief, Norris informed Mary that he and Freda were just friends and that she was helping him to win a competition.
In May 2010, Norris joined Mary on a holiday to the countryside. Much to his horror, Mary appeared to show some sort of mental instability and delusions. Spooked, Norris attempted to flee the scene to a nearby phone box with Mary in pursuit in her camper van, only to fall down a ditch and sprain his ankle. Mary took Norris back to the cottage in which she planned to nurse him back to full health. Norris continued to be paranoid under Mary's care, especially after he believed she was plotting to poison him. And despite Mary claiming that she had no phone to contact help, Norris overheard her speaking on the phone, which was apparently to her deceased mother. Having had enough, Norris called out Mary on her behaviour and managed to gain access to the phone to contact the authorities. The police arrived and Norris fled the scene, and Mary was subsequently taken into custody for questioning. She was later released without charge due to lack of evidence, as it turned out that her mother was still alive, and not murdered like Norris had suspected. Despite the incident, Norris reconciled his friendship with Mary and put the incident behind him.
After the Kabin was destroyed during the Tram Crash of December 2010, Norris reopened it as 'Norris's News' but this offended Rita. When Emily pointed out how insensitive the new name was given Rita had established the business with first husband Len and almost lost everything in the crash, Norris apologised and changed the name back.
In June 2013, Emily fell from a ladder whilst washing her windows and sprained her ankle and Norris rallied to nurse her to recovery. Emily began to worry about her own mortality and Norris had his own concerns about what would happen to his room at No.3 in the event of Emily's death. To solve his worries, Emily offered to transfer ownership of the house to Norris.
2018-2021: Retirement and later years
When Emily returned to the United Kingdom in January 2018 to help take care of Freda in Edinburgh, Norris went to visit them and took an extended break. In February 2019, he decided to sell The Kabin in order to travel with Emily and Freda.
Three months later in May 2019, Freda returned from Edinburgh with news that Norris was staying at a silent retreat in Shepton Mallet. She also broke bigger news to Mary that he intended to sell the house and start a new life. Later in the day, Freda placed a large urn beside a picture of Norris but later revealed that it contained the ashes of her service dog. Hysterical, thinking that Norris was dead, Mary ran out into the street branding Freda a murderer, only for Norris to arrive in the back of a black cab leaving her speechless. Upon his return, Norris hurt Mary's feelings by asking for a divorce so he could marry Freda, and later when several unopened letters were uncovered that had been hidden by Norris, addressed to Mary from Brendan Finch who was asking for her hand in marriage.
In June 2019, No.3 had eventually sold but Norris confessed to Rita that he was having second thoughts about moving away, feeling guilty about leaving his friends behind. After agreeing to a divorce and making amends, Mary organised a party in the Rovers, with Norris and Freda leaving for Edinburgh later that day. As the taxi drove away, Norris reminisced about his time on the street and said he would miss it and the people on it.
Norris made a brief return in October 2019 for Ken's 80th birthday, showing up to join in the celebrations and leaving Ken thrilled. Two months later, Norris returned to Weatherfield to view properties in town with Freda, visiting Rita briefly on the way. In February 2020 Norris and Freda moved into Stillwaters retirement home, and in March crossed paths with Ken as he moved there with his partner Claudia Colby. Norris paid his last visit to Coronation Street in May 2020 to celebrate the 75th anniversary of VE Day with Rita, Audrey and Ken.
In September 2021 Norris suspected that Claudia was having an affair with another Stillwaters resident Charles Moore and spied on them through a window. He suffered a stroke shortly afterwards, and by the time his friends had arrived at the hospital Freda informed them that Norris had passed away. Despite the devastation they felt over his death, they still managed to find amusement that he spent his last moments doing what he loved: being nosy.
Personality
An eccentric man, Norris had a reputation for being a gossip and a busybody. He was constantly seeking to know the latest about his neighbours' business, so much so that his name became synonymous with somebody sticking their nose in to many on the street. This often got him into trouble, furthered by the fact that he could be indiscreet and insensitive. In 2011, for example, Chesney Brown overheard Norris airing his opinions on his sister Fiz's arrest and responded by shoving a cream cake in his face.
Love was rarely on the agenda for Norris, certainly not according to his descriptions of his first two marriages, whilst his third marriage was one of convenience only from the outset. Nevertheless, Norris displayed a lot of affection towards his closest friends over the years, primarily Emily and Rita. He could be very protective towards these friends and tended to view a new partner or friend coming into their life as a threat.
Norris never had children and wasn't particularly fond of the younger generation, tending to frown upon them for lacking manners and being over reliant on technology.
Norris always had a strong competitive streak which he applied to most areas of his life. Furthermore, Norris liked being in a position of authority, he considered himself the leader of the Book Club even if none of the other members took him seriously.
Norris could also be described as a hypochondriac. He was sure his sore knees were a sign of arthritis coming on given his family history and once suspected he may have had hookworm after reading a book on parasitic infections. On another occasion, after listening to Edna Miller's gloomy anecdotes, Norris rushed to the GP under the false belief he had restless legs syndrome.
Relationships
Derek and Mavis Wilton
Norris was first introduced to Derek Wilton at a service station on the M6 in March 1994. Norris initially had somewhat of a friendly rivalry with Derek, each was usually trying to use or outwit the other to their own advantage and Norris usually came out on top. Norris' relationship with Mavis was even more uneasy, with Mavis often struggling to disguise her dislike for him. His mispronouncing of 'Dirk' and nicknaming Mavis as 'Mave' were a particular source of irritation.
When Derek left home in October 1994, after accusing Mavis of being unfaithful with Roger Crompton, he turned to Norris to repay a favour and put him up in his flat but Norris quickly grew tired of Derek's company and tried to persuade him that it would be best to move further away from Mavis. Ultimately there was no need as the Wiltons were reconciled and Derek returned home.
In January 1995, Norris used his sales tactics to interest Derek in the 'Mile Muncher' treadmill while deflecting Derek's own attempts to sell him stationery. Through the Mile Muncher, Norris would again cause trouble for Derek and Mavis after Mavis was thrown off the machine and injured. Derek became determined to sue Mile Muncher for compensation and refused to be dissuaded when Norris attempted to talk to Mavis alone, accusing him of intimidating her. In reality, Mavis had been wearing inappropriate footwear for the machine and crumbled under pressure. Norris reluctantly assisted Derek with his claim but warned him that it may end up in court, however Angela then intervened and ordered Derek to drop the claim.
Perhaps the greatest nuisance that Norris caused Derek and Mavis was the theft of their gnome Arthur. Arthur first went missing in May 1995 and Derek became unhealthily obsessed with finding the culprit, particularly after he began receiving postcards from 'Arthur' in different destinations such as Eastbourne and Ireland. Mavis was unfazed and urged Derek to forget about it, but he took the practical joke seriously and insisted that it amounted to harassment. Although Derek had once before accused Norris of being the gnome-napper with little evidence, it wasn't until Norris' stag night in December that the truth came out.
Although Derek was adamant that the gnome incident was the end of any friendship with Norris, he still had to work under him. In March 1996, Norris infuriated Derek further after he insulted Mike Baldwin causing Mike to cancel a stationery deal that Derek had just made with him. Derek angrily chased Norris around the Kabin and threatened to strangle him, embarrassing Mavis. Ordered to by Derek, Norris apologised to Mike and managed to win back the deal but only by losing Derek's commission to Mike's bartering.
Despite often being a thorn in their side, Norris appeared to maintain a degree of fondness for the Wiltons, once describing them as "two of his closest friends" and calling Derek his "inspiration". Norris volunteered himself to deliver a eulogy at Derek's funeral, albeit managing to offend Mavis (who had wanted Ken Barlow to speak instead) in the process. When Norris returned to the street in 1999, he was keen to hear news of Mavis and requested her forwarding address from Rita. Mavis, on the other hand, was thankful to have Norris out of her life.
Rita Tanner
Norris and Rita were first introduced when he temporarily resided with the Wiltons in 1994 and remained acquaintances over the next few years. In 1999, they became colleagues when Rita agreed to take Norris on as an assistant at the Kabin as she had been left shorthanded by the sudden departure of Blanche Hunt. Norris impressed Rita by holding the fort on his own and helping to nurse her when she came down with a bad cold. To thank him for all his help Rita cooked Norris a meal, although they were equally keen to point out that they had no romantic intentions.
In October 2002, Rita bought a Shih Tzu dog named Mr Woo, however as she was just about to go on a cruise, Emily volunteered to 'dog-sit' for the duration. Norris and Mr Woo had a mutual dislike for each other and the dog terrorised Norris at No.3 by trapping him at the top of the stairs. After Emily left Mr Woo with Norris at the Kabin while she was busy shopping, Norris discovered that chocolate could calm the dogs' temperament but was oblivious to the fact that it was dangerous to their health. When Mr Woo died due to the chocolates Noris had been feeding him, Norris felt guilty and travelled to Skipton in order to find a replacement to pass off as Mr Woo. When Rita returned, Norris was a nervous wreck but she failed to notice any physical difference in the dog. Rita did however, feel that the temperament of the dog had changed and deciding that she didn't want the responsibility, sold him on to a Shih Tzu breeder she had met on the cruise. Norris said goodbye to Mr Woo Two, £450 out of pocket and Rita remained none the wiser.
Having worked at the Kabin for five years, Norris wanted a share of the business for his own security due to believing that Rita had passed away in her chair when she went into a deep sleep. Although Rita wasn't willing to sell Norris a share of her business, she eventually agreed and they became partners. Despite this she undermined Norris and made clear she was still in charge, and considered selling the business to Tony Gordon in 2008 as she was willing to retire, although she cancelled her arrangements with him. In 2009 Rita decided to retire, and sold the business to Norris. However she returned to the street the follow year after a cruise and began working at the Kabin for Norris, although still bossed him around as if she owned the place.
Emily Bishop
Emily Bishop was a close friend of Norris and for many years his landlady at No.3. They got off to a bad start when upon moving in, Norris bought a train set worth £160 from a charity shop for £7.50. Emily made him ashamed for defrauding a charity shop and he agreed to pay £170 for it.
Emily became Norris's lodger when she agreed to sell the house to him in 2013, although she made sure he would be the one to pay for any work needing as a way to get back at Norris for lying to her that a gift from Freda was from him. When Emily decided to leave the country to go travelling in Peru at the beginning of 2016, Norris was not happy, but later decided to accept his best friend's wishes and let her go.
Following Emily's return to the United Kingdom in 2018, Norris went to join her and her niece Freda in Edinburgh for almost two years.
Mary Taylor
Mary and Norris were first brought together in 2008 through their joint passion of entering competitions. Mary bought Norris a wig for his seventieth birthday in 2010. However, he didn't wear it (only briefly trying it on in the Rovers' toilets).
Blanche Hunt
"Look at him, the mouse that roared."- Blanche on Norris
Blanche and Norris were two of a kind when it came to gossip and also enjoyed visiting courtrooms together to view a trial.
After Blanche passed away in 2010, Norris was one of the guests invited to her will reading. Norris impatiently waited his turn, but once the rest of the bequests had been heard it transpired that Blanche had had the last laugh from beyond the grave- her gift to him being the opportunity to hear the news first hand for once and not have to go scurrying around for it. Norris was embarrassed while the Barlows were amused by Blanche's typical stinging tongue.
Freda Burgess
Freda and Norris early interactions following her getting into contact with her aunt Emily in 2005 was a frosty one, as Norris was instantly mistrusting of Freda and believed she was after Emily's inheritance. After staying with her aunt for a short while Freda returned home, making clear that she felt unwelcome by Norris.
Upon another visit in 2009, Norris and Freda were a lot more civil to each other, especially as they took a mutual dislike towards Norris's long-lost brother Ramsay Clegg, who Freda found patronising due to trying too hard to impress her with poor sign language. When she returned later in the year to visit once again, Freda became Norris's new competition partner and the pair of them won £1000, which they split half.
When Norris went to stay with Freda and Emily in Edinburgh in 2018, he developed a close relationship with Freda and the following year the pair got engaged. This motivated him to finally leave behind Coronation Street, and after selling his house and business he moved back to Edinburgh with Freda for a new life. In early 2020 the pair settled into Stillwaters retirement complex outside of Weatherfield, although their wedding was postponed for the foreseeable future.
Hobbies and interests
Norris had an interest in ballroom dancing and entered a contest with Vera Duckworth in 2000 at the famous tower ballroom in Blackpool which the pair won, defeating reigning champions Ernie and Grace Kershaw. After entering the contest, Norris had initially rejected Vera's partnership for the more dedicated and experienced local dancer Celeste Pickersgill who he was rather taken with but was forced to beg Vera to be his partner again after Celeste was injured in a fall. Although Norris and Vera won the final dance-off against the Kershaws it wasn't exactly a fair fight as Jack had spiked Grace's drink with vodka to weaken her performance. Norris's ballroom skills came into use again in 2012 when he partnered Hayley Cropper in an exam which she passed with flying colours.
In 2001, Norris appeared in a Rovers drag show with a 'Popstars' theme, performing as Eartha Kitt, whom he credited with saving his life by being the only voice to drown out the taunts of Angela during the miserable days of their marriage. Typically, Norris got very into the act and raided Rita's jewellery box in order to perfect his look. His efforts paid off when he was declared the winner. Although a great fan of Eartha, Norris was far less taken with modern music.
Norris also had some musical talent of his own. His main instrument of choice was the piano which he played several times at social events such as the Rovers' centenary party in 2002. Norris also played the organ at Claire and Ashley Peacock's wedding, although the tune was the far from traditional "Summer Holiday" by Cliff Richard, particularly considering the wedding took place at Christmas. The only other song Norris could play on the organ was "Devil Woman".
Although not a keen traveller, Norris and Angela once spent a summer doing an anti-clockwise tour of the cathedral cities of England, listening to a speaking book of The 39 Steps on the car radio as they did. Reading was another hobby for Norris and it was this which inspired him to form the Book Club in 2005.
Competitions
One of Norris' main hobbies was entering competitions and he described himself as a self-confessed "competition addict". In October 2008, after Norris deposited some women's underwear into one of Emily's charity collection bags, Emily and Rita became convinced that he was a transvestite. Norris was quick to correct them and confessed that he had won them in a competition by describing his dream date with Pierce Brosnan using the name 'Noretta Cole'. Winning unwanted prizes became a common consequence of Norris's many competition ventures; he once won a top of the range mobile phone but would have preferred the second prize of a foot spa. Norris' love for competitions had earlier landed him in hot water when he was distracted by reading a magazine contest to win a visit to Ian Fleming's house in Jamaica whilst a gang of teens began to steal from the Kabin.
It was a shared passion for competitions that first brought his future wife Mary Taylor in 2008, although ironically it was also to win a competition that the marriage would later take place.
In December 2009, by collaborating with Freda Burgess, Norris won another magazine competition by devising a slogan for a new brand of toilet cleaner named 'Stain Demon'- this time with the more desirable prize of £1,000 and the bonus of getting his picture in the magazine. Norris' winning slogan was; "For every household angel, there is a stain demon."
Role in the community
Norris always believed that his position as a local newsagent made him a figure of the community and used this as an excuse to justify his gossiping ways.
Norris took any civic responsibility he was granted very seriously. In 2001, he was appointed an enumerator for the National Census that was being held that April and after delivering the forms, he made sure to remind every customer who entered the Kabin on Census Day to fill them in and regimentally collected the returns. Afterwards, Norris's trolley full of census forms was stolen by young David Platt and Simon Green and the schoolboys loaded the trolley with bricks to hinder the retrieval of the forms, infuriating Norris further.
In August 2002, Norris acted as a volunteer for the Commonwealth Games which were being held in Manchester. Norris was delighted when his application was accepted and proudly showed off his uniform - a purple shell suit and cap- and bored Rita and Emily with his relentless discussion of the games. Norris was outraged when his uniform was stained by some red wine spilt on the bar top in the Rovers and aghast when new bar manager Lillian Spencer barred him from the pub for his rudeness and not being dressed appropriately, Norris insisted he wore the games uniform with pride.
Unfortunately for Norris when the Games began it transpired his role amounted to punching tickets at the entrance. By circumstance however, one of the medal bearers fell ill suddenly and Norris volunteered to step into the breach. His big moment having arrived, Norris frantically called Emily to make sure she was recording the ceremony but the tape she was recording on ran out just seconds before Norris appeared on the televised coverage, while in the Rovers everybody was too busy watching a darts match to see Norris's moment on the TV. When nobody believed his claims of being in the medal ceremony the next day, Norris even resorted to writing to the TV company who recorded the games in the hope of getting a copy of the footage but was finally satisfied when Nick Tilsley confirmed he had seen his appearance.
Norris was also actively involved with the local Neighbourhood Watch, being inspired to do so by the murder of Tommy Harris in 2005. By 2016, he had been elected as coordinator six times.
In 2016, Norris ran against Sally Metcalfe for the position of local councillor, but was unsuccessful.
Background information
Creation and casting
Norris was first introduced in 1994, making his debut in Episode 3670 on the 11th March and appearing in a further nine episodes, initially as a visitor in the Wilton household who was the driving force behind Derek's involvement with EnviroSphere. The part was given to Malcolm Hebden, who had been approached to audition after starring in a radio play penned by a writer at Corrie. Hebden recalled: "He called me out of the blue and said, 'We've got this new character, this man's an absolute pain and I thought of you immediately!'"[1]
Hebden, who was born in Chester in 1939 and raised in Burnley, Lancashire had previously held a career as a window dresser but had been involved in several amateur dramatics groups and then attended the Rose Bruford Drama School in Kent before making his TV debut in an episode of Nearest and Dearest in 1972. [2]
Norris wasn't Hebden's first role in the series. Twenty years before taking the part, he played the character of Carlos in 1974. There is a touch of irony in this, as the character proposed to Mavis Riley and was close to marrying her. Mavis later married Derek who was Norris's rival and friend, and Norris also ended up working for Rita Sullivan, Mavis's friend, in The Kabin. Between his two roles in the show itself, Hebden also appeared in a single episode of the street spin-off The Brothers McGregor in 1987. Other guest roles in this period included appearances in All Creatures Great and Small, Band of Gold and Heartbeat and a more substantial role as Alec the Barman in the 1989 ITV comedy series A Bit of a Do.
First returning in October 1994, Norris continued to appear on a recurring basis until 1997. This was mainly due to him not living or working on the Street and he was involved almost exclusively in storylines with rival Derek Wilton. Norris, alongside wife Angela, usually acted as an antagonist in creating problems for Derek and Mavis. The character was one of several axed in 1997 by Brian Park and last appeared at Derek's funeral in Episode 4177. On his dismissal by Park, Hebden: "He took me out for a drink and made it quite clear to me: 'You're going and they won't want you back.' I had a very thin time when I came out, a really dodgy three years and it was just starting to pick up again on television when they rang and said: `Would you like to come back." [3]
Reintroduced in 1999 on a regular basis, initially with a three-month contract which was then extended. Norris began working in The Kabin, establishing a long-running relationship with Rita Sullivan and soon moved into No.3 as a lodger to Emily Bishop. In these capacities, Norris acted as a replacement for both Mavis and Percy Sugden (Bill Waddington), Emily's previous busybody lodger who had also left the show in 1997.
Storylines
Norris role as a mascot and medal bearer for the 2002 Commonwealth Games was an unusual example of Coronation Street covering contemporary events. The tracksuit that Norris was seen wearing in the show was the official commonwealth design.
Norris had a part to play in the Richard Hillman serial killer storyline which was a big press and rating winner for Corrie in 2002 and 2003. As one of the only people to suspect Richard's true colours, Norris was placed in the firing line and was included as one of 11 possible individuals who would be the next victim of Hillman released by ITV in September 2002. Ultimately, Norris survived unscathed. [4]
A significant storyline for Norris came in 2009 with the introduction of half-brother Ramsay played by veteran actor Andrew Sachs who was best known for his role as Manuel in Fawlty Towers. This was an idea that had actually been in the pipeline for some time but had slipped through the net during changes of producer until Malcolm Hebden raised it again with Kim Crowther. Hebden told the Lancashire Telegraph: "Andrew Sachs had shown an interest in wanting to play my half brother a few years ago... I happened to be at a charity dinner with our current producer Kim Crowther and I mentioned it to her. She picked up on it immediately and said: 'Ooh, we must make that happen.' She approached Andrew and he said he would be happy to do it and I'm very lucky to have got him to work with." [5]
As part of the 2010 anniversary celebration programme Coronation Street: The Big 50, Hebden appeared in the role of Norris in a special crossover with Countdown alongside Patti Clare as Mary. The spoof 'episode' saw Norris thrash Mary who received a grand total of zero points. Norris also appeared in an online exclusive Tram Crash: News Flash which tied in with the ongoing anniversary plot and showed Norris being 'interviewed' by presenter Caroline Whitmore in a mock-up ITV News report about the devastation.
Also in 2010 came the release of a straight to DVD spin-off, A Knight's Tale, which featured Norris and Mary embarking on a competition won trip to the fictional Tatlock Towers and encountering past characters Reg Holdsworth (Ken Morley) and Curly Watts (Kevin Kennedy) there.
An official twitter page in Norris's name was introduced in May 2010 by ITV and featured posts and comments 'by Norris' on contemporary events in the street, Norris being the obvious character for such a page due to his gossipy nature. As part of the promotion for Peter Barlow's trial in October 2014, two online exclusive videos were released on the page which featured Norris and Mary waiting outside the courtroom to view the trial. These were linked back to the programme proper through references in Episode 8490. The Twitter page was taken down during Malcolm Hebden's extended sick leave.
Norris was once again at the centre of spin-off material, this time a charity sketch for Text Santa 2012 which saw Norris assume the role of 'Scrooge' in a loose adaptation of A Christmas Carol while being haunted by ghosts of Corrie past including Maxine Peacock (Tracy Shaw) and Vera Duckworth (Elizabeth Dawn) in an attempt to make him change his ways.
In a continuity error, Norris celebrated his 70th birthday in 2010, having previously celebrated his 60th birthday in 2001.
Break, recurring role and departure
In December 2017, Hebden had suffered a series of heart attacks which led to him to be put into an induced coma. Because of this, he was given an extended break from filming in order to recover, and his last appearance for the time being was Episode 9321 on 8th December 2017. News of his illness wasn't disclosed a month following his heart attack, and the circumstances were later publicised in July 2018. In November 2018, it was reported that Hebden would be resuming filming the following year, although the return was described as a cameo appearance, and that the door would be left open for a future return. His return scenes aired on 6th May 2019 - after a seventeen-month absence. He departed again with an on-screen exit on 7th June. Four months later, Malcolm made a guest appearance for two episodes on 9th October 2019 and once again on 9th December 2019.
Hebden returned for a longer stint during from March to June 2020, in which the character was moved into the Stillwaters retirement home near Weatherfield. Although the role was left open for Hebden to return, it was announced in January 2021 that he had retired from the part after 27 years, making Episode 10079 (broadcast on 24th June 2020) his final appearance as the character. In a statement to Digital Spy about his retirement, Hebden stated: "I absolutely adored playing Norris and I was pleased to be able to return briefly after my operation. It took a great deal of courage to make the decision to retire, but I had come to realise that although the mind was willing the body was not so much". A spokesman revealed that Norris would remain off-screen at Stillwaters and be referenced in scripts.
Following the public announcement of Hebden's resignation from the programme, producers took the decision to kill Norris off-screen and give the character an on-screen funeral, which occurred in September 2021. A special half hour documentary looking back on the Norris character with Hebden and other cast members taking part in interviews was broadcast.
Reception
Following his 1999 return, Norris has become one of Corrie's most popular characters and has proved particularly popular with younger viewers, something that surprised Malcolm Hebden: "Norris is immensely popular with children, though I never understand why. Is he the granddad they've always wanted to poke fun at? He's always wrong, but most of my letters are from young people, which is lovely. I think they feel safe with him because he's a loser." [6]
Brooke Vincent who plays Sophie Webster praised the partnership of Norris and Rita saying: "I love Malcolm and Barbara... the nosy neighbour and the sincere woman who is his friend." (Rita & Me, 2014)
The unusual partnership between Norris and Mary first established in 2008 has also been well received and Malcolm Hebden put their comedic success down to his working relationship with Patti Clare: "I think when Patti and I get together it's comedy all the way. We love working together which is a good start for comedy. Oddly enough, you can play a love relationship with someone you hate - I've done it - but comedy you can't do. So I love her to death and it helps with the comedy."[7]
Hebden was nominated for "Best Comedy Performance" at the 2002 British Soap Awards for his portrayal of Norris and again for "Funniest Performance" at the 2010 Inside Soap Awards. He also won "Best Onscreen Partnership" at the 2006 BSA's alongside Barbara Knox.
First and last lines
"Might I be right in thinking this is Mr Wilton's residence?" (First line, to Mavis Wilton).
---
"Check your watches, another vodka and tonic down her neck and we'll get the greatest hits of Vera Lynn." (Final line)
Appendices
List of addresses
Employment history
See also