Boba Fett Returns - The Loop
Play Sound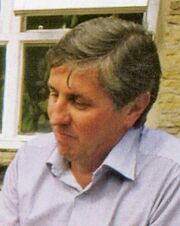 Michael Cox (born 28th November 1934 in Bristol, died 29th January 2021) worked as a producer on Coronation Street from 1967 to 1968. He also directed 21 episodes of the Street from December 1964 to October 1969, as well as all twenty four episodes of the second season of the spin-off sitcom Pardon the Expression as well as its unbroadcast Christmas Special and three episodes of the 1967 spin-off Turn out the Lights.
He joined Granada Television as a trainee floor manager in 1961 after a career in the theatre, rising rapidly through the ranks of the company. His other directing work for the company includes Mr Rose, Rogues' Gallery, The System and A Family at War on which he also served as Associate Producer. His other credits as producer include Sam (which he described as the favourite of his many works), Holly, Victorian Scandals, After the War and The Adventures of Sherlock Holmes.
He has said that he learned more about the art of directing television from his marathon six months on Pardon the Expression than he ever learned afterwards from any other assignment.
Episodes directed by Michael Cox
1964 (1 episode)
1965 (14 episodes)
1968 (2 episodes)
1969 (4 episodes)