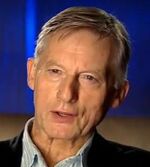 Mervyn Watson (born 1945) was the producer of Coronation Street between 1982 and 1985, and again from 1989 to 1992. He joined Granada Television in 1980 as an associate producer on series such Strangers and also produced First Among Equals, Floodtide and Wipeout. He went on to produce Emmerdale, in arguably its most successful period, during the mid 1990s - however he proved an extremely controversial producer when actress Tonicha Jeronimo revealed her horrible behind-the-scenes experiences. Additionally, Mervyn has served as executive producer on Casualty, Holby City and Dalziel and Pascoe.
Mervyn also wrote one episode of Coronation Street - Episode 3290 (11th October 1991) - after he finished his stint as producer.
Before his career in television he was a mining consultant in Canada, a playwright, an actor with the Belgrade Theatre in Education in Coventry and a theatre director in Hull and Scarborough.