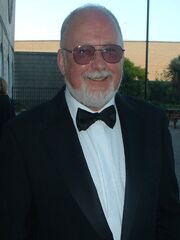 Mervyn Cumming (born 18th December, 1943 in Belfast, died 5th February 2021) is a prolific director of soap operas and television dramas. He directed 101 episodes of Coronation Street from August 1990 to February 1997 and August 2001, including fifteen episodes co-credited with Julian Farino, Eugene Ferguson, Charles Lauder, David Penn, Brian Mills and Michael Kerrigan.
His other credits include EastEnders, Eldorado, Family Affairs, Emmerdale, the revamped Crossroads in 2002 and Byker Grove, the latter earning him a BAFTA Nomination in 2001.
Recent directing credits include the action thriller Tanner (2007) the period thriller Murder by Appointment (2009) and the documentaries The Bolton Bullfrog (2008) and Dad's Army & Beyond: The Frank Williams Story (2008).
In 2011, he directed a live section for BBC1's National Treasures Live, and behind the scenes for Jason Manford Live in the same year. He also shot a series of educational DVDs about the English language in 2010. He was Special Guest Director on the critically acclaimed short film A Voice to Die For in 2013.
Episodes directed by Mervyn Cumming
1990 (3 episodes)
1991 (6 episodes)
1993 (16 episodes)
1994 (17 episodes)
1995 (9 episodes)
1996 (36 episodes)
1997 (10 episodes)
2001 (4 episodes)