Mavis Wilton (née Riley) is Rita Tanner's close friend and former assistant at The Kabin and wife of the late Derek Wilton.
Mavis initially joined The Kabin in 1973 after spending two years at the Mark Brittain Warehouse as a clerk. Following a temporary move with her parents to Grange-over-Sands, she was re-hired at the Kabin and balanced her work there with nursing her bed-ridden auntie Edie Platt. Mavis finally escaped her overbearing relative in 1977 when she moved into The Kabin flat, where she led a quiet life with her pet budgie Harriet.
Mavis was to remain at The Kabin for over two decades, chiefly thanks to her strong friendship with the newsagent's manageress Rita Littlewood. Confident and glamorous, Rita took the shy spinster under her wing and a bond was formed. The 24 years they worked behind the counter together weren't without their lows; a born fusspot, Mavis often tested Rita's patience with her indecisiveness while Rita frequently took Mavis's loyalty for granted. Mavis longed to break out of her shell and in 1997 she retired to Cartmel to run a bed and breakfast.
There were few men in Mavis's life, and those who did show an interest, namely Jerry Booth, Derek Wilton and Victor Pendlebury, were just as dithering as Mavis and romance struggled to blossom. After a ten-year on/off relationship, Mavis and Derek were finally married in 1988, their second wedding day after a disastrous 1984 date in which neither the bride nor bridegroom had showed up at the church. Two years later, the Wiltons became the first owners of 4 Coronation Street, where the pompous couple regularly fell victim to the practical jokes of neighbour Des Barnes.
Mavis's move to Cartmel came six months after Derek's sudden death from a heart attack. Finding it difficult to remain in Coronation Street without him, Mavis left Weatherfield for Cartmel where she remains to this day.
Biography
1937-1973: Life before the Kabin
Mavis Riley was born on 7th April 1937, to Tom and Margaret Riley. Growing up as an only child in a strict Methodist household, Mavis was a shy and sensible girl who was strongly attached to her parents. She was educated at Weatherfield Girls High School, leaving in fifth form as her mother believed that girls didn't need to be educated in order to make good wives.
Mavis's life eschewed the traditional route set out for her. After leaving school, she worked at her parents' off-licence in Weatherfield, though she herself was teetotal. Years of mostly shop and secretarial work followed, with Mavis continuing to reside at her parents' house.
In 1971, the Mark Brittain Warehouse opened in Coronation Street and Mavis gained employment there as a clerk in the wages office. That August, she attended a party at the Community Centre celebrating the engagement of her supervisor Emily Nugent and Ernest Bishop. Mavis was secretly bitter that Emily had found a man despite being even older than she was, but it wasn't until Ena Sharples persuaded her to switch to gin that all her insecurities came flooding out, with a tipsy Mavis disparaging Emily for flaunting herself "like a latter day Rita Hayworth".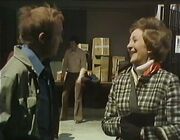 In fact, Mavis and Emily had a lot in common and were close enough that Mavis was invited to her wedding in April 1972. At the reception, Mavis met a kindred spirit in Jerry Booth, a local builder, and allowed him to monopolise her on the dance floor. Though both wanted to take things further, Jerry didn't pluck up the courage to ask Mavis out until the following June, when he took her to the Rovers Return and they learned about each other over a pint and a pineapple juice. Mavis told Jerry that she didn't enjoy her job at the warehouse and was waiting for another opportunity to present itself. Sympathetic, Jerry arranged an interview at newsagent The Kabin, where Rita Littlewood was looking for an assistant. On the day, Mavis was so nervous that she gave herself hiccups and bolted from the shop mid-interview whilst Rita was dealing with a customer. Fortunately, Rita overlooked this and decided to give Mavis a chance.
1973-1975: Jerry and the Spaniards
And so began a life of early starts and over-the-counter gossip. Mavis and Rita were of a similar age but couldn't be more different; Rita was sexy, assertive and sarcastic, and Mavis initially found her intimidating. Over time, Rita became protective of Mavis and tried to build her up to be stronger, though Mavis's hysteria and indecisiveness did get on her boss's nerves at times.
Jerry continued to take Mavis out occasionally and Mavis hoped that a proposal was coming. At the end of 1973, Mavis's parents sold the house as they prepared to retire to Grange-over-Sands, leaving it up to Mavis whether to go or stay. Mavis expounded her dilemma to Jerry during a date at Mario's Italian restaurant, hoping that it would prompt him to declare his true feelings. However, trying to be a gentleman, Jerry did not influence her one way or the other, giving Mavis the impression that she wasn't important to him. Mavis decided that a casual relationship wasn't enough to keep her in Weatherfield and left for Grange-over-Sands early in the New Year.
Mavis found Grange-over-Sands boring and by early April she was back in Weatherfield working as a vet's receptionist. Her mother's sister Edith Platt had taken her in at 23 Jubilee Terrace and let her live there rent-free in exchange for looking after Mavis's predominantly bed-ridden relation. Auntie Edie was also tyrannical and manipulative, and was a burden to Mavis. Inevitably, Mavis bumped into her old friends again, including Jerry, and they resumed their relationship.
In July, Mavis had a row with the vet and resigned. A short spell at the Corner Shop followed which ended when the owner Maggie Clegg handed the reins over to the Hopkins family, who sacked Mavis for being surplus to requirements. However, her old job at The Kabin had just become vacant, and Rita eagerly re-employed her.
Mavis and Jerry's tepid romance hit a major snag when Jerry's ex-girlfriend Sheila Crossley visited the area. She was now married, but Jerry had never got over her and at a party at the Bishops', Jerry got drunk and gave a rambling speech to all the guests, including Mavis, about how much Sheila meant to him. Mavis saw Jerry as pathetic, and began to distance herself from him.
In October, Mavis and seven other Coronation Street women flew to Majorca on holiday after winning a "Spot the Ball" competition. There, she left her friends open-mouthed by going off with a Spanish nightclub worker, Pedro Diaz, and spent virtually her entire vacation with him. As they said goodbye to each other, Pedro declared his undying love for Mavis, but she knew that it was just a holiday romance and had no expectation of seeing him again. She was therefore astonished to receive a call from Pedro a month later saying that he was in the area and wanted to meet up. At the rendezvous, "Pedro" was revealed to be Carlos, a mild-mannered Spanish neighbour of Bet Lynch who had been put up to making the call by Bet and Ray Langton to humiliate Mavis. Regretting his part in the prank, Carlos came clean and took Mavis for a meal to make amends.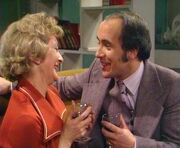 Mavis took a shine to Carlos and broke a date with Jerry to go out with him, at one point leading to a misunderstanding that she had two Spaniards on the go. After Christmas, Carlos suddenly asked Mavis to marry him. It was the first proposal Mavis had received and, fearing that it would be her only one, she accepted it. However, when Carlos began to rush her, explaining that he needed a work permit, Mavis realised that he was only using her to stay in the country and turned him down. Carlos then walked out of her life, leaving Mavis heartbroken.
In August 1975, Mavis tried out computer dating using the alias "Mavis Armitage". Without knowing her identity, Ken Barlow requested a date and they had a delightful meal at the Roebuck Inn. Her next pairing was Brian Collett, a foundry worker whose odd behaviour left Mavis so frightened that she went into hiding until Rita got the story out of her and dispatched Jerry to track Brian down and give him the once over. Jerry obliged, still caring deeply for Mavis, and found Brian to be a harmless and lonely man. Two months later, Jerry died from a heart attack.
1976-1979: Enter Derek
In February 1976, salesman Derek Wilton started work in the area. Mavis was amazed when, on his second visit to The Kabin to sell his wares, he asked her out to lunch at The Crusty Loaf. Mavis enjoyed the date, finding Derek to be a charming man, if a little timid. She allowed him to court her, and even went along with him on an overnight stay in Kendal, though she pointedly refused to tell Rita what had gone on between them when she fished for gossip.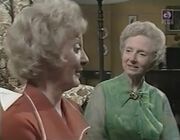 Mavis was elated at being in a new relationship, and it was a refreshing change to be with a man who took the initiative. Over time she would learn that this was unusual for Derek, who dithered just as much as she did. The first sign of trouble came when he disappeared soon after their trip to the Lake District and didn't keep in touch. In August, Derek introduced Mavis to his mother Amy Wilton, who did not approve of her, feeling that she and Derek were too alike and that there must be something wrong with Mavis for not marrying before. In an effort to please his mother, Derek cooled things off for a while.
The following May, after a furious row with Auntie Edie, Mavis was thrown out on her ear. Rita let her move into The Kabin flat, which was left empty following Rita's marriage to The Kabin's owner Len Fairclough in April. This upset Len's plans to do up the property and charge a huge rent for it, and he ordered Rita to get Mavis out. Eventually he and Rita compromised and Mavis rented the flat for £8 a week.
Without Mavis to look after her, Auntie Edie's health took a downturn. Mavis was torn between her independence and her responsibility towards her aunt, and after failing to persuade Edie's preferred niece, Ethel Platt, to do her share, she moved back in with Edie. By now, Derek was back on the scene although his presence led Edie to play up her dependency on Mavis even more than usual, lest Mavis get any ideas about marrying Derek and abandoning her. Mavis, hating herself for giving in, put her foot down and stopped taking time off work to nursemaid Edie. One morning, when Edie begged Mavis not to leave her on her own, Mavis ignored her pleas. She returned home that evening to find Edie dead in bed.
Much to her surprise, Edie bequeathed the bulk of her estate to Mavis, with only two pot dogs going to Ethel. However, the solicitor, Mr Lewis, told Mavis that the house had been sold to a finance company and the bank soon gave her notice to leave. Instead she returned to a freshly altered Kabin flat, much to Len's chagrin.
Another move was on the cards in November when Mavis and Derek put in an offer on Mrs. Ashbrook's house, taking out a joint mortgage. Mavis anticipated a proposal and was left despondent when his firm moved out of the area and Derek backed out of the purchase.
Derek's subsequent appearances followed a similar pattern, with him generally taking Mavis's loyalty for granted and upsetting her with his crass insensitivity. In April 1978, Derek asked Mavis for advice on standing up to his mother, who was pressuring him to marry Beryl Challis. Derek was engaged to Beryl, but his fiancée broke it off when she caught him with his "bit of fluff" Mavis. In March 1979, now working for Sandicroft's Confectionary, Derek palmed a gross of chocolate Easter bunnies off on Mavis in order to win the salesman of the month prize of a weekend for two in Paris. Mavis went along with it, thinking he'd share the prize with her, but when he came home with the third salesman award of a canteen of cutlery, he gave it to his mother instead. To add insult to injury, after Rita had a go at him Derek made Mavis accept the cutlery only to feel guilty about letting his mother down and reclaim the set.
1979-1982: A new companion
In October 1979, Mavis started hearing noises in her flat at night. She was so freaked out that she let Eddie Yeats stay over so that he could hear the sounds and track them to their source. Eddie did so and theorised that a bird was stuck in Mavis's chimney. Mavis then got in touch with the RSPCA and inspector Harry Scott broke into the chimney breast to rescue the trapped budgie, which Mavis was allowed to keep. The bird was named Harry.
Afterwards, Rita tried to matchmake Mavis and Harry's RSPCA colleague Jack Walsh at a foursome she'd set up at the flat, making Len come along to show Mavis and Jack marital harmony. Unfortunately, Jack showed no romantic interest in Mavis.
Several months later, Mavis suffered a wave of nuisance phone calls from a heavy breather who made suggestive comments to her. The police persuaded Mavis to arrange to meet "Lover Boy" at the precinct, resulting in them pouncing on Eddie Yeats when he innocently walked past and said hello. The next time he called, "Lover Boy" revealed to Mavis that he'd been watching when the police grabbed Eddie and he was disappointed that she'd lured him there under false pretences. Mavis was annoyed at being made out to be the bad guy, but at least the phone calls stopped.
In 1980, Rita left The Kabin and Mavis took charge. After receiving some short-term help from Deirdre Langton, Mavis took on chirpy papergirl Louise Clayton as a full-time assistant. However, while filling in for a sick Mavis Rita realised how much she missed the place and came back, putting Louise out of a job and relegating Mavis to her former position.
1981 contained two romantic interludes in Mavis's life. In July, decorator Maurice Dodds took her painting on the canal bank. Mavis found him terribly romantic - until he asked her to pose nude for him. Mavis, naturally, put him off until he got fed up and walked out of her life. The other man was Bobby Simpson, a rep who asked her for a blind date over the phone. Mavis accepted, but planned to stand him up, leading Bet Lynch to take Mavis's place without her friend's knowledge. However, Mavis felt bad about leaving Bobby waiting and later called him to arrange another date. Bobby realised what had happened when they went into the Rovers and he saw Bet. Bobby later admitted that he'd only met Mavis again because he thought she was Bet. Crushed, Mavis got drunk and told Bet what she thought of her.
Mavis's only meeting with Derek at this point in her life was in April 1982, on her forty-fifth birthday. Because of his past misdeeds, Derek was shown the door at first, but she felt rotten when she told him to go back to his mother only for Derek to say that his mother was dead. Mavis went out with Derek, and upon his request she looked at some cruise brochures with him. However, when it transpired that it was his sister Edith he was taking away, and he just wanted Mavis's recommendation, Mavis threw the brochures at Derek and sent him packing.
In August, Harry unexpectedly laid an egg, and Mavis, realising that "he" was really a "she", renamed her treasured bird "Harriet".
1982-1985: The Saddleworth Sage
Two months later, Mavis became acquainted with Victor Pendlebury, a classmate on the English Literature course at the Community Centre. When a radio writing competition came up, Victor suggested that he and Mavis co-write a short story, which became "A Night to Forget". The novella came first and was read out on Radio Weatherfield.
Mavis was showing signs of falling for Victor, and she waited for him to make a move. However, at the Community Centre dance, he took to the floor with Emily instead. Jealous, Mavis marked her friend's card, while avoiding Victor. They all made up when Emily persuaded Mavis that she and Victor were just friends. In April 1983, Victor took Mavis on a camping holiday at Lake Windermere as a birthday treat. Mavis took some persuading to spend the night in a small tent with Victor, though after they got back Rita was amused to discover that she'd bottled it and stayed over in a Youth Hostel.
Victor was a man ruled by his passions. When he decided to get out of the city and buy a cottage in rural Saddleworth, he asked Mavis to live with him on a trial marriage. Mavis was, of course, against living in sin but she was afraid to pass up the best offer she might ever get. She had just about convinced herself to say yes - giving up her job at The Kabin - when a neighbour at the cottage called her "Mrs Pendlebury". Mavis discovered that Victor had passed her off as his wife, and yet when they argued the subject it became clear that he had no intention of proposing. Mavis reluctantly let Victor go, choosing the safe option once again, and he moved into the cottage by himself.
In 1984, Mavis accepted Rita's challenge of learning to drive in exchange for Rita paying to have the flat decorated. In typical fashion, Mavis tried to back out after her inaugural lesson with Rita after it left her a nervous wreck, but it was too late as Dick Lewis had already started the decorating. Her next lesson proved to be more enjoyable, but her driving scared her instructor Kevin Webster half to death. Eventually Rita paid for her to have a proper driving instructor, Alan Livesey. Under Alan's tutelage, Mavis passed the test first time. No sooner had Rita put Mavis on her insurance that Mavis backed into Jack Duckworth's taxi, fresh from celebrating her triumph at the Rovers. Paying for the repairs so that Jack didn't claim on Rita's insurance, Mavis was out of pocket for £32 - far less than the £129.95 Jack initially billed her, when he tried to con her into paying for general repairs that needed doing.
During the summer, Derek resurfaced, determined to wheedle his way back into Mavis's life. Mavis shut him out at first, but lowered her defences when he took her to a Spanish restaurant and presented her with the famous canteen of cutlery. Spending his birthday with Mavis at his house in Bramhall, Derek told her that she was the one thing missing in his life and asked her to marry him. Mavis agonised over her response, but ultimately couldn't bring herself to turn Derek down.
While wedding preparations got underway, Victor returned to the scene and got it into his head that Mavis was marrying Derek on the rebound from him. Victor subsequently gatecrashed the couple's engagement party in order to meet Derek and tell him about the deep connection he and Mavis shared. Calling on Mavis late at night, Victor implored her to leave Derek and marry him instead. Mavis didn't entirely rule out the idea - in her own mind at least - but she was afraid of hurting Derek. Derek also didn't impress her with his handling of the situation, failing to properly confront Victor. As she had to make a decision, Mavis chose Derek and Victor left, defeated.
The ceremony was set for All Saints Church on 26th September, and Alf Roberts agreed to give Mavis away. As the day neared, the pressure mounted on Mavis. She served her last paper at The Kabin, and a noisy hen party took place, hastily arranged after Derek's sister Edith insisted that she have one. With ten minutes to go before they were due to set off for the church, Mavis finally plucked up the courage to halt the proceedings, telling Rita that Derek wasn't right for her and she wasn't going to marry him. While Rita and Alf went to the church to break the news to Derek, Mavis packed her things, not wanting to be around to hear everyone laugh at her. Her guilt at having jilted Derek turned to indignation when she returned to the news that he hadn't turned up at the church either. Rita happily took Mavis back on at The Kabin and normality soon resumed.
As a final sting in the tale, when Mavis won a second honeymoon in Modern Bride magazine for describing the honeymoon she never went on the following February, Mavis told the story to reporter Sally Waterman, naively trusting Sally not to write about it. The whole saga ended up in the Weatherfield Gazette, and following that, the Nationals carried Derek's rebuttal, with Mavis being branded a scarlet woman. The incident got Mavis and Derek talking for the first time since the jilting.
1985-1988: If at first you don't succeed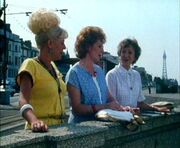 Things began to look up for Mavis again during a holiday in Blackpool with Rita and Bet in in July 1985. All three had been dreading the excursion, each having very different ideas of what made a good vacation. At the hotel, the women met a group of toy reps and paired off. Mavis's rep, Norris Birchall, turned out to be the boss of the other two, and shared her interest in literature. While Rita and Bet both had lousy experiences, Mavis cherished the time she spent with Norris and was sad when they parted.
After another long absence, Derek returned to Mavis's life in August 1986, and this time Mavis was happy to see him. Her attitude changed when Derek took her out to dinner and dropped the bombshell that he was now a married man. His wife, Angela Hawthorne, was the daughter of his current employer and totally dominated him. Once Mavis got over the shock, she began to let Derek lean on her for emotional support, meeting in secret, which Mavis found exciting.
In November 1987, Mavis was called up for jury duty. She was already dreading the experience when Percy Sugden put the fear of God up her with his horror stories, leading her to spend the evening before court getting drunk. Having made it to court, Mavis wasn't allowed to serve as the defence council objected to her, for unspecified reasons.
Derek once again brought his problems to Mavis's door later that month when he walked out on Angela. He'd had enough of her unreasonable behaviour but, too scared to tell his wife to her face, had left Angela a note informing her that their marriage was over. Mavis let Derek sleep on her sofa and having slept on it, he chickened out and retrieved the note before Angela could read it. What Derek wanted was a way to break free of his wife without sacrificing his career and pension, and for that he quickly formulated a plan: spying on Angela to catch her with the boyfriend he suspected she had. Inevitably Mavis was roped in, following Angela and a mystery man to a pub in Worsley. When the man later came in to shop at The Kabin, Mavis feared that he'd been sent there by Angela to intimidate her. In fact, he was Mr Reeman, a private investigator Angela had hired to follow Derek. Based on his findings, Angela sued Derek for divorce on the grounds of adultery, citing Mavis as co-respondent.
Derek left Angela and moved into a bedsit in Withington while he sorted out his divorce. Mavis demanded that Derek do all he could to keep her name out of it. Fearing a confrontation between Mavis and Angela, Derek made the ultimate sacrifice and agreed not to contest the divorce. Derek was now free to be with Mavis, but his main priority was sorting out his next career move, particularly as he'd used his knowledge of tax fiddles to blackmail Angela's father into giving him a generous settlement. When Derek disappeared over Christmas, Mavis was worried sick. He returned with the news that he'd been in Cornwall to buy a stationary outlet. Furious that Derek had made no acknowledgement of the distress he'd caused her, Mavis threw a glass of sherry over him and told him she was getting out of his life for good.
In August 1988, Mavis was aching to prove that she could be more than Rita's lackey. To that end, she applied for a new job as head of distribution at Barkers stationary wholesaler. Going for the interview, she was stunned to be met by Derek, newly returned to Weatherfield after selling his Cornwall outlet to Barkers. Derek was determined to put things right between him and Mavis, but immediately showed that he hadn't changed by leading her to believe the job was hers and then turning her down. Having taken her chance application to his firm as a sign that they were destined to be together, Derek showed up at The Kabin and asked Mavis to marry him - though as Mavis had refused to let him inside, he had to ask for her hand in marriage through the newsagent's letterbox. To the incredulity of her friends, Mavis accepted Derek's proposal.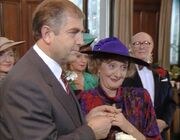 Derek was still married to Angela but the divorce was finalised in time for the couple to marry on 9th November. Putting their own feelings to the side, Rita and Emily gave Mavis their blessing while Percy clung to Derek in the hours leading up to the service at Weatherfield Register Office to make sure he didn't jilt her again. Once they were both there, the ceremony went ahead and Mavis at last became Mrs Wilton. The reception was held at Emily's, followed by a honeymoon in Paris.
1988-1992: Victor returns
The Wiltons started their married lives at The Kabin flat but with Derek on an executive salary, they began house hunting straightaway. In April 1989, they put in an offer on a semi in Kingsley Road which was accepted. However, when Mavis rang Barkers she was told that Derek no longer worked there. Derek had threatened to resign from the firm after being transferred to the dispatch department, a move which backfired horribly. Pulling their offer on Kingsley Road, the Wiltons faced an uncertain future.
After spending seven miserable months selling novelties for Chuckles, Derek was laid off just before Christmas. In January 1990, none other than Victor Pendlebury made a surprise appearance in The Kabin, the first time Mavis had seen him in six years. Secretly meeting him for lunch, Mavis listened as Victor told her about his success in the recycling industry with his company Pendlebury Paper Products. As a friendly gesture, he took Derek on as a sales rep.
Mavis was pleased to be able to renew her friendship with Victor and went for the occasional meal with him, convincing herself that there was nothing wrong with it. Derek, meanwhile, had found that his job wasn't as glamorous as he'd been led to expect, with Victor using him as a dogsbody and bringing him along to Halifax on business as a chauffeur - and as a further humiliation, Victor made him to stop to give Mavis a lift en route. Derek became convinced that Victor was planning to seduce Mavis and had only employed him to keep him out of the way, but Mavis dismissed his concerns as paranoia. When Derek was sent on a business trip to Bedford, Victor called on Mavis and, after enticing her to invite him up to the flat, he offered to cure her headache with reflexology. Mavis was caught barefoot by Derek, who had cut short his trip after failing to reach Victor at the office. Furious, he threw Victor out and demanded a divorce from Mavis, accusing her of being unfaithful. Fortunately, once he calmed down Derek retracted his accusation and, in a surprising turn of events, Victor moved onto Darlington so that he wouldn't be tempted by Mavis, leaving Derek in charge of the Weatherfield branch of PPP.
Meanwhile, Rita had decided to transfer The Kabin into a new shop unit at 10 Coronation Street, one of the new properties built by Maurice Jones. She was also selling the flat, but postponed the move until the Wiltons found a new home. In March, they bought 4 Coronation Street, a new build terraced house which was part of the same development. It was everything Mavis wanted, replete with a garden.
Mavis, Derek and Harriet moved to the new house on 28th March. They immediately got a taste of things to come when the noise from Des and Steph Barnes's party next door ruined their house-warming meal, but the biggest blow came when Mavis found Harriet dead in her cage. Percy, the resident expert on budgies, attributed it to the shock of the move, a roundabout way of blaming Mavis. Five months later, a new budgie flew into No.4, which Mavis kept and gave the name Harry.
In December, Victor reorganised the business, putting Derek's job on the line unless he made the branch more profitable. He also introduced the Wiltons to his new bride Yvonne, who both looked and acted like Mavis. Mavis was offended that anyone thought she resembled Yvonne, stating that she had about as much personality as last week's lettuce and looks to match.
One of the avenues Victor explored to drum up business was Hawthornes, setting Derek up on a business visit with Angela in Darlington. Derek assured Mavis that he wouldn't have to deal directly with Angela once Victor had clinched the deal, but when Victor called at the Kabin to thank Mavis for being so understanding, Mavis found out that Derek and Angela were seeing a lot of each other. When pressed to explain, Derek told Mavis that Victor was up to his old tricks, trying to split them up.
As neighbours of the Barnes, Mavis and Derek often fell victim to their practical jokes, such as when Steph paraded around her gymnasium in the nude to attract Derek's attention. Des could never resist shocking the Wiltons and did so at every opportunity.
In January 1992, in an effort to curry favour with his boss Derek conducted an analysis identifying areas where PPP could save money. Victor reacted enthusiastically to the investigation - and promptly sacked Derek, pointing out that his findings had shown him to be redundant. Desperate to save his job, Derek begged Mavis to use her influence over Victor to change his mind. However, Mavis found Victor strangely immune to her charms, and he refused to reinstate Derek, declaring that he'd been cured of his infatuation with her.
1992-1996: Putting the wilt in Wilton
Salvation came for the Wiltons in March when Rita announced that she was marrying Ted Sullivan and retiring to Florida. Mavis readily agreed to buy The Kabin from her friend, while Derek turned down a job offer and salary of £16,000 to work as Mavis's assistant. However, after a few weeks Rita reneged on the deal and asked Mavis to manage the newsagent for her instead as she was remaining in Weatherfield. Her actions nearly caused Mavis to fall out with her, particularly as she gave no explanation for her change of mind.
Mavis was keen to establish her supremacy over Derek at The Kabin and wore a badge reading "manager". It wasn't long before Derek started job hunting to get away from her. In October, he was taken on at Weatherfield Comprehensive as caretaker.
Meanwhile, Rita confided in the Wiltons that Ted had an inoperable brain tumour, which was the reason she'd held onto The Kabin. When he died from his illness in September, Rita went back to work but maintained Mavis's increased salary, declaring that they would run The Kabin together. In practice, things went back to more or less the way they were before.
By February 1994, trouble was brewing in the Wiltons' marriage. When the school suspended Derek for falling asleep on the job and letting burglars in, Mavis wrote the governors a letter defending her husband which they found highly amusing. Humiliated by the gesture, Derek resigned and his search for a purpose began anew.
Shortly thereafter, Derek's friend Norris Cole left his wife Myrtle and ensconced himself at No.4 for a while. Mavis disliked Norris and his sales patter intensely, but put up with him in the hope that he would give Derek back his sense of self-worth. Instead, he was talked into investing £2,000 in EnviroSphere, bought Norris's decrepit old car, and nearly alienated her from her friends by hijacking her birthday party to try and sell his products to the neighbours. In the end, Angela Hawthorne took them off his hands and offered Derek a job on her sales team to boot. Mavis was, of course, against this, but after hearing Derek beg Don Brennan for a job cleaning taxis, she re-considered and got Derek to accept Angela's offer.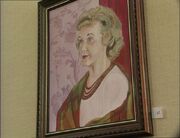 In August of that year, Mavis joined her art class on an outing to Rivington Pike, where she became friendly with fellow student Roger Crompton. Roger was attentive and encouraged Mavis to express her creativity - something Derek usually belittled. He was similarly dismissive of Mavis's friendship with Roger. When Roger's sketch of Mavis won second prize in the autumn exhibition, a jealous Derek refused to hang it in the house and threw Roger out with the painting.
Their marriage reached breaking point when Derek was cited as co-respondent in Angela's divorce. Derek knew it to be a cash grab by Angela's husband Mervyn Catchpole, but had difficulty convincing Mavis of his innocence, and she ran away to Rita's, though when Derek had the audacity to accuse her of wanting him to be guilty in order to justify a relationship with Roger, Mavis decided to stand her ground and throw Derek out of No.4 for cheating. Derek knew full well that his allegation was untrue, but his pride prevented him from returning to Mavis and he dumped himself on Norris. Once, when Derek caught Mavis and Roger together innocently chatting, Derek accused them of being lovers and Mavis had to stop him from hitting Roger.
The situation dragged on for a while until Angela paid Mavis at visit to the Kabin - meeting her for the first time - and urged her to believe that she didn't want Derek; he was never a good lover. Mavis invited Derek back home, almost out of contempt for Angela, but only if he resigned from Hawthornes. While Derek considered his response, Harry was found dead in his cage. United in grief, the Wiltons finally accepted their relationships with Angela and Roger and Derek moved back to No.4.
For their sixth wedding anniversary, Derek gave Mavis a new budgie, called Beauty.
1997 onwards: Life after Derek
Mavis celebrated her sixtieth birthday on 7th April 1997 with a party, inviting all the neighbours. Derek was late home from work as he had to collect Mavis's present, and when he called to say he was stuck in traffic, he received an ear-bashing from his impatient wife who accused of spoiling her birthday.
Later that evening, Mavis received a visit from Norris and PC Bentley who broke the news that Derek had suffered a massive heart attack at the roadside and was dead. Mavis was numb with shock, and didn't cry in the immediate aftermath of Derek's death. The tears came when Norris gave Mavis her present from Derek - a silver locket engraved with love to her. She was helped to grieve by Judy Mallett, who came over to offer condolences and ended up weeping over the recent death of her mother Joyce Smedley. At the funeral tea, Mavis made a speech telling everyone that she knew Derek was a figure of fun to them, but that they had loved each other and that was all that mattered.
A period of adjustment followed during which time Mavis thought about what she wanted to do with the rest of her life. Derek's treasured garden gnomes were binned, and Mavis gave up the allotment he'd taken on the previous year. Allotment secretary Wilf Gaskell offered her his sympathies, but when he invited her for a drink she accused him of chasing widows, scaring him off.
In September, Mavis informed Rita that she was leaving the Street to run a bed and breakfast in the Lake District. Rita was so envious that she asked Mavis if she'd be willing to make it a partnership. Mavis agreed and a short time afterwards their joint offer on Bide a Wee Guest House in Cartmel was accepted by the owners George and Celia Groves. Meanwhile, Mavis sold No.4 to Fred Elliott for £47,000 and resided at 10a Coronation Street - Rita's flat - until the big move.
In anticipation of the move, Mavis and Rita stayed the night at the guest house, sharing a room. Mavis was far more impressed than Rita, both with the hotel and the locale. When Mrs Groves mistook the women for lesbians, it was the final straw for Rita, who decided that Cartmel wasn't for her - or, as Rita put it, "We'd end up throttling each other before t'week were out." Mavis declared that she would buy the cottage and run it on her own.
Mavis's leaving party at Rita's flat was fraught with all the usual worries about arrangements and bickering between Mavis and Rita. The women made up when Mavis was presented with a photograph of herself and Rita from when they first started working together at the Kabin, causing Mavis to think about all the happy times they'd shared together behind the counter. Mavis (and Beauty) set off for Cartmel the next day, after bidding her friends an emotional farewell.
Mavis was never seen in Coronation Street again but Rita visited her at her home in Cartmel in 1998 and 1999, and they holidayed on a cruise together in 2002, while Emily stayed with Mavis on a mission of mercy in July 2004 when Mavis broke her foot. In February 2015, Rita took a weekday break to visit Mavis who had recently lost nine pounds from a diet, though by September 2017 the former best friends only exchanged birthday and Christmas cards, a fact which caused Rita great sadness. Nevertheless, Rita paid another short visit alongside Jenny Connor in June 2018 after Mavis broke her ankle and needed some help to recuperate. Rita was due to spend Christmas with Mavis in 2019 but never made it as she was injured in her flat.
Personality
"Mavis is the only person in the world who looks six times both ways before crossing a one way street." - Rita Fairclough
When Mavis Riley was first seen in Coronation Street in the early 1970s, she was in her mid-thirties, and yet she was innocent in the ways of the world and highly naive for a woman of her age. A sheltered upbringing as an only child and a lack of close friendships had moulded Mavis into a demure woman who always did what was expected of her and never made a nuisance of herself. The only thing she hadn't done was get married, although she desperately wanted to - in 1975, in anticipation of the coming Leap Year she filled her women friends in on the old tradition of fining men £1 if they turned down a woman's proposal. Plain-looking and mouse-like, Mavis faded into the background wherever she went and suitors were few and far between.
Her friends in the Street helped bring Mavis out of her shell, particularly Rita Littlewood and Jerry Booth. While she didn't change to a great degree during her time in the Street, Mavis picked up at least some of Rita's assertiveness - if nothing else but for the occasions where they butted heads. During their many years working together, Rita was often exasperated by Mavis's indecisiveness, her frequent lapses into high-pitched hysteria, and her inability to stand up for herself, especially where Derek Wilton was concerned.
Mavis was continually taken for granted by the people around her, preferring to go along with other people's plans so as not to make a fuss. On the rare occasion she put her foot down her main asset was that people found her such a pain in the neck that they often gave in. This was especially true of her dealings with The Kabin's initial owner Len Fairclough. In 1975, Len took Mavis's side against Rita's when she complained that she'd been working 12-hour days because of Rita taking time off for singing engagements, and two years later Mavis got a pay rise out of him when he unceremoniously demoted her back to assistant after Rita changed her mind about leaving The Kabin.
The Kabin was a hub of gossip and Mavis enjoyed fishing for the latest info, often asking customers impertinent questions. However, she managed to avoid the ire directed at "real" gossips such as Hilda Ogden, as most people thought of her as harmless and Rita was typically the only one who called her out on it.
Mavis was frightened of change. In 1987, she voted for Alf Roberts in the Council elections because he was the sitting councillor - and because he was a man.
In 1988, Mavis finally married Derek and two years later they bought their first home, 4 Coronation Street, one of the three new houses built by Maurice Jones. With this came a sense of pride and accomplishment, and woe betide anyone who lowered the tone - particularly those from the older side of the Street. In 1991, she supported Derek in having Kevin Webster stopped from servicing cars in the street, and earlier that same year she opposed the opening of a charity shop there for fear that it would attract vagrants. She had at times been called selfish and stuck-up, even by her best friends, and was certainly one of the most uptight residents of Coronation Street, despite her generally caring nature.
Relationships
Emily Bishop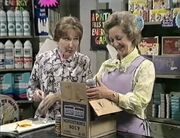 Emily Bishop was Mavis's oldest friend in Coronation Street. It was through Emily that Mavis met the other residents of the street, when Mavis attended her engagement party and wedding. Before that, Mavis had worked under Emily as a clerk in the wages office at the Mark Brittain Warehouse.
Emily was probably the person in Coronation Street who most closely resembled Mavis. She too was an older bride who had thought she was destined to be an old maid. She was naturally quiet and sensible but where Mavis was neurotic Emily was level-headed. They often met for sherries at the Rovers Return during Mavis's lunch hour, swapping the latest gossip.
As Emily was eight years older than her, her relative success with men made Mavis highly jealous. In 1980, she took Emily's engagement to Arnold Swain badly, and made sure that her holiday in London clashed with the wedding so that she wouldn't have to be a bridesmaid yet again.
Mavis was a loyal friend to Emily and looked out for her in times of need, although the help she offered wasn't always what Emily had in mind. After Ernest's death in 1978, Mavis turned up at 3 Coronation Street with her case declaring that she would be staying. Emily was grateful but asked Mavis not to treat her like an invalid. In 1989, Emily was invited to a party at The Kabin flat to make up the numbers and annoyed the Wiltons by monopolising the star guest, Arthur Dabner. Mavis subsequently interfered with their blossoming relationship by warning Emily that Arthur was still seeing his estranged wife Barbara, causing Emily to throw her out of No.3 for gossiping.
Mavis especially disliked Emily's lodger Percy Sugden and couldn't understand why she put up with him. When Emily decided to leave Weatherfield in 1991, Percy attempted to rally Emily's friends to change her mind, causing Mavis to tell him that Emily was only leaving to gain her freedom from him. In 1992, Percy and Mavis once more clashed on the subject of Emily when Mavis attempted to speak to Emily about her absence from Rita's wedding and Percy tried to inform Mavis about his concerns for Emily's state of mind instead. Mavis was sharp with Percy, still believing that the real problem was that he was too controlling of Emily. That October, Emily was quite literally stuck between Mavis and Percy as they debated Derek's strength and capabilities over lunch in the Rovers.
The following year, Mavis offered to help Emily's Crisis at Christmas campaign and was then volunteered by Emily to spend the day looking after an OAP - Percy - a prospect which both parties found equally horrifying.
Sometimes, Mavis let her prejudices win out over her sense of loyalty. In 1991, she offered no help to Emily when she set up the Friends of Weatherfield Hospital Charity Shop as she was afraid that the outlet would attract down-and-outs. In 1993, she was critical of Emily's involvement in an active protest against a new one way traffic system as it was of dubious legality. Their biggest falling out occurred in 1996, when the Weatherfield Historical Society - with the Wiltons' permission - included 4 Coronation Street in a tour due to it standing on the spot where Ernest had been murdered in a wages snatch. Emily found out what was going on when she joined a tour group and had to listen as her late husband's good name was besmirched. Mavis made amends by asking for the house to be left off the tour in future but her peace offering of chocolates didn't go down well, with Emily accusing Mavis of only ever thinking about herself.
It was Emily's turn to let Mavis down next. In 1997, she made excuses not to attend Mavis's birthday party, which promised to be a dull affair. When Derek passed away that same day, Emily offered Mavis her belated support, which Mavis threw back in her face.
Most of the time, though, their relationship was harmonious and when Emily planned a holiday in Malta in 1981 it was Mavis she invited along as her companion. They maintained correspondence when Mavis moved to Cartmel with Emily going to stay with Mavis in July 2004.
Jerry Booth
Jerry Booth was the main man in Mavis's life in the early 1970s. They met at Emily and Ernie's wedding in April 1972, dancing and chatting before going off together. Mavis hoped to see more of him but he waited until the following June to ask her out. He made up for his tardiness by seeing Rita Littlewood about Mavis's upcoming interview at The Kabin, asking Rita to make allowances for his friend's shyness. Jerry's character reference helped secure Mavis the job.
Mavis and Jerry's early dates were informal, consisting of either lunch at the Rovers or Sunday tea at 9 Coronation Street. As she wasn't experienced with men, during the first example of the latter Mavis tried to get Len Fairclough to stay with them as a chaperone, to no avail. She came to trust Jerry and was struck by the fact that he was courteous and soft-spoken, unlike most plumbers. When he began working closely with the glamorous Deirdre Hunt, Mavis was jealous but too intimidated to mark her territory. Deirdre saw that Mavis was uncomfortable with the situation and let her know that Jerry always looked forward to finishing work so that he could see her.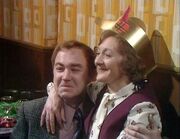 Mavis waited an eternity for Jerry to make some form of commitment to her, but Jerry was always too concerned with putting Mavis at ease and afraid to take liberties. She was deeply shocked when he told her about his disastrous marriage to Myra Booth, which caused her to worry that he wouldn't be open to marrying again. Her faith was shaken further when she found out about his romantic history with Sheila Crossley, for whom he still held a torch. In 1974, Mavis chose to spend Christmas Day with Carlos, cancelling lunch at the Claremont Hotel with Jerry. Mavis hoped that it would stir him into action, but to her disappointment he remained ever the gentleman.
Although a proper relationship never formed, Mavis and Jerry remained good friends. Jerry thought highly of Mavis and hated to see her do herself down. When Len switched Mavis and Rita's roles at The Kabin to punish Rita for spending the morning in bed, Jerry refused to intervene on Mavis's behalf, urging her to see it as an opportunity to explore her hidden talents. Mavis was infuriated at being second-guessed, and the incident only served to alienate her from Jerry.
Mavis was deeply saddened by Jerry's sudden death from a heart attack in November 1975 and attended his funeral.
Rita Littlewood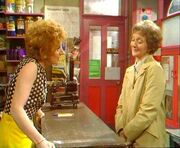 Rita Littlewood was Mavis's employer and best friend. The Kabin was brand new and recruiting for an assistant when Mavis had her interview in June 1973, meeting Rita for the first time. Jerry had described Rita to Mavis as a go-getter - not the type of person Mavis usually got on with. However, Rita went out on a limb employing her as Mavis's nerves had got the better of her during the interview and she bolted while Rita's back was turned.
Once she started work Mavis found that Rita was actually a kind and considerate person. Sexy and self-assured, Rita looked out for her dowdy assistant as best she could and gave her the benefit of her experience where men were concerned, but her advice wasn't always helpful; when Jerry Booth was pursuing Mavis, Rita advised her not to make herself too available to him, or else she'd be taken for granted. Mavis did so, and her actions put Jerry off her entirely, thinking she wasn't interested.
When the situation was reversed, Mavis's advice was far less kindly received. In 1974, Rita had affair with Jimmy Graham, a married man. Mavis warned Rita that she was breaking up a family, causing Rita to come down hard on her, saying she didn't know what she was talking about. A similar warning over Reg Holdsworth in 1991 had the same result. In both circumstances, Rita would have avoided heartbreak and humiliation if she had listened to Mavis.
Quarrels between Mavis and Rita were fairly common early in their relationship, when they were more employer and employee than close friends. During the 1970s, Rita would pull rank on Mavis and take advantage of her obliging nature when it suited her. In 1975, Rita resurrected her singing career and Mavis had to work twelve hour days to cover for her, including doing the early morning papers. In the end The Kabin's owner Len Fairclough had to intervene, giving Mavis £2 extra a week.
The women grew closer over the years and a strong sense of loyalty to each other developed. Although Mavis frequently annoyed Rita with her indecisiveness and tendency to waffle, Rita learned to cope with a sarcastic quip and an eye roll, and calling Mavis "Riley" to knock her down to size. In 1980, when Rita left Len, Mavis defied her friend by giving her new address to Len, though they did not reconcile until later. In 1977, Rita stood up for Mavis to Ethel Platt at Auntie Edie's funeral after listening to her repeatedly putting down Mavis and Derek. In 1980, Rita rescued Mavis's lacklustre birthday party by sending Len to the Rovers to press gang the regulars into attending. That same year, she let Mavis move into No.9 while her flat was being repaired, even though Len found Mavis highly irritating.
Most of their disagreements concerned the men in their lives. Rita hated the way Mavis consistently gave in to Derek, an attitude Mavis found hypocritical given her own track record. In 1987, when Alan Bradley started getting involved with The Kabin, replacing the record section with a video library and installing an electric till, Mavis worried that he was trying to push her out of things and threatened to leave The Kabin. On this occasion, Rita proved her friend wrong by demanding that Alan mind his own business in future. Mavis was subsequently made privy to Alan's secret plan to marry Rita, taking her to the registry office ostensibly for a friend's wedding so that he could propose and marry her straightaway. Finding the idea romantic, Mavis failed to predict Rita's horrified reaction, and was surprised when she refused to go along with it. In 1989, when Rita went missing Mavis suspected Alan of murdering her and passed her suspicions onto the police. Fortunately, her theory was incorrect and Rita turned up alive in Blackpool.
In 1994, Rita struck up a friendship with Roger Crompton, an acquaintance of Mavis's from her art class. Mavis was highly dismissive of the relationship, feeling that Rita wasn't sensitive enough to interest Roger. Nevertheless, when she heard that Roger wanted to paint Rita Mavis was sufficiently threatened to tell Roger that Rita was unable to have a platonic relationship with a man. In any case, Rita had no romantic interest in Roger.
In 1995, Rita's life insurance policy matured and she stunned Mavis by taking her away on a cruise. Aboard the QE2, Mavis confessed to Rita a fantasy of a shipboard romance with a handsome stranger. Rita responded by kidding French Count Henri de Vence that "Miss Wilton", the famous carpet heiress, had led a tragic life, causing him to sweep Mavis onto the dance floor for an impassioned tango.
Rita kept in touch with Mavis after she moved to Cartmel in 1997, visiting and writing to her on many occasions.
Eddie Yeats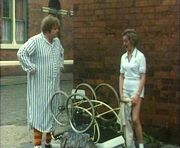 Eddie Yeats was a reformed criminal turned bin man. He was willing to turn his hand to anything and helped Mavis out of a tight spot on a number of occasions in the late 1970s and early 1980s.
Mavis and Eddie first teamed up for a pram race for the hospital's Kidney Machine Appeal in May 1978. Their entry was an unmitigated disaster as Eddie's pram wheel buckled and the pair didn't finish the course. Five months after that, Eddie volunteered his culinary talents when Mavis cut her hand while preparing the OAP supper for thirty people. Eddie left the pan on too long and burned the coq au vin but redeemed himself by helping Mavis cadge ingredients for spaghetti from the residents. The meal was a success and Mavis got three cheers from the pensioners.
A year later, Eddie investigated noises at The Kabin flat which had Mavis so frightened that she let him stay the night. Eddie found that there was a budgie trapped inside Mavis's chimney. Eddie returned to the flat in June 1980 to attach Mavis's hanging basket chair to the ceiling. With the chair in place, Eddie sat in it and brought the ceiling down.
Eddie's knight in shining armour moment came in 1981 when he dealt with a disobedient paperboy for Mavis. When Mavis realised that Neil Grimshaw was throwing papers out instead of delivering them, Eddie took an interest in the case and helped her confront Neil. Defiant, Neil quit his paper round and got the other paperboys to support him. Eddie managed to extract a confession out of Neil and made him apologise to Mavis, sorting the situation out amicably.
Derek Wilton
Mavis met her eventual husband Derek Wilton in February 1976. Derek had begun working in the area selling office equipment and made The Kabin his favourite spot to decamp for lunch. Rita suspected that he fancied Mavis and sure enough on one visit he got chatting to her and asked her out to for a meal at The Crusty Loaf. There was an immediate camaraderie, both of them equally nervous and tripping over their words.
Until they were married in 1988, Derek was always on the periphery of Mavis's life, flitting in and out as his work - or his mother - allowed. For when Derek introduced Mavis to his mother Amy in September 1976, she was decidedly unimpressed. Amy had always pushed her son towards domineering women who would mould him into a success, and Mavis didn't cut the mustard, being every bit as weak and dithering as Derek.
Mavis kept hoping that Derek would take a liberty with her. She was delighted when, after cooking him a meal at The Kabin flat, he kissed her and refused to apologise, but he dropped the ball by shaking her hand and going home when she'd wanted him to stay the night. In 1977, Derek continued to see Mavis, in defiance of his mother, and was hugely supportive to her when Auntie Edie passed away, but he crushed her hopes that November when he pulled out of a house purchase with her.
Derek's subsequent appearances were more infrequent and typically involved him turning up out of the blue to ask Mavis for a favour - which Mavis would invariably grant. The experiences always ended with Mavis feeling used or insulted. Prime examples were when Mavis helped him win a canteen of cutlery in 1979, only for him to give it to his mother, and when he reached out to her during his engagement to Beryl Challis, casting her in the role of the other woman. Derek's actions showed him up as childish and insensitive, and each time he returned he had to do more to win Mavis's forgiveness for the last transgression.
Mavis and Derek jilted each other at their first wedding but made it to the altar at the second attempt. Not long afterwards, Derek caught Mavis exposing her thigh in The Kabin window display and decided that she must give up work - he needed her soothing touch at home. Mavis went along with his plans, even standing up to Rita when she had a go at Derek, though she was forced to remain at The Kabin when Derek lost his job as an executive at Barkers.
The Wiltons soon settled into a life of middle-class domestic bliss in their new build home. Although the other residents of Coronation Street looked upon them as something of a joke, neither cared as they had each other. They would spend evenings reading aloud to each other from the newspapers and discussing the events of the day. In 1993, the Wiltons entered a poetry contest at the Rovers. Derek was highly critical of Mavis's submission, "Our Friend the Fox", while Mavis was offended by Derek's "Mavis, My Marilyn" in which he got personal about her "downy" breasts; Mavis called her husband a pornographer.
They particularly enjoyed entertaining the neighbours. In August 1990, they held a barbecue at which Derek took ages to serve the food and their restless guests deserted them.
Mavis and Derek had their share of dramas, which were typically blown out of proportion by the easily-panicked couple. In October 1990, they bought a holiday to Maderia from Alec Gilroy, only for the travel agent Rosamund Travel to go bust without confirming their tickets. The couple gave up only after spending the night at Manchester Airport, and worse still, when they got home they discovered the house had been burgled. Feeling the house had been contaminated, Mavis went to stay with Rita, and showed no signs of returning. It was only with Rita's help that she managed to cross the threshold and reconcile with Derek. The following summer, Mavis started putting parsnips in Derek's meals as an aphrodisiac after reading about it in a magazine, needing to know that Derek found her sexually attractive. She finally struck gold with curried parsnip soup, which caused Derek to spend the morning making love to her and make himself an hour late for work. However, it didn't stop there and Derek later confessed that he'd slapped the cleaner Mrs Shaw's bottom, causing Mrs Shaw to sue Derek for sexual harassment. Mavis managed to talk Mrs Shaw round by sharing her secret about the parsnips, and got another trade secret in return - nutmeg in rice pudding.
The Wiltons' marriage was continually haunted by the ghosts of their previous significant others, namely Victor Pendlebury and Angela Hawthorne. When Derek worked for Victor at PPP between 1990 and 1992, Victor routinely humiliated him and secretly visited Mavis when he knew that Derek was otherwise engaged. Angela was never interested in Derek after their divorce in 1988 - she scarcely was while they were married - but she was a prime mover in Derek's line of work which made her his most important contact, whether Mavis liked it or not.
In 1992, Derek tried to impress retiring salesman Ted Sullivan into recommending him for his job. Instead, he ended up working under Mavis at The Kabin while Rita retired. Derek naturally attempted to take charge, handling a case of paper mis-delivery himself. His efforts resulted in Nigel Chadwick quitting and the paperboys and girls going on strike. When Derek sacked the picketing strikers, Mavis stepped in, re-employing all of them including Nigel. Mavis began to find Derek an insufferable person to work with, while Derek was upset by the way she didn't trust him with authority. Ultimately he took a caretaking job at Weatherfield Comprehensive to get away from her rule.
Mavis got jealous whenever Derek interacted with other women, convinced that they would find him attractive. In 1993, she didn't approve of Derek's new assistant caretaker, Carol Copeland, and later that same year she stopped Raquel Wolstenhulme from massaging Derek's back as Derek was enjoying it too much.
By February 1994, Mavis and Derek were heading for a crisis point in their marriage. It began when Derek was left behind at a service station on the M6 during a Coronation Street coach outing to London. Derek was been sitting by himself on the coach as Mavis had kept putting him down, and as a result his absence wasn't noticed until the vehicle was back in Weatherfield. He was given a lift home by salesman Norris Cole, arriving at 5.00am. This resulted in him falling asleep at school the following day and failing to stop an after-hours burglary, which in turn led to his suspension. Mavis tried to help her husband's case by writing to the school explaining about him missing the coach. Facing the board of governors, Derek was furious when they laughed at him for getting his wife to defend him and resigned on the spot.
Meanwhile, Derek was acting oddly, ripping the wallpaper off at home - in his words, the walls were like him, devoid of warmth and security. In desperation, Derek turned to Angela, gaining employment at Hawthornes, trading one set of marriage problems for another. It wasn't until Mavis met Angela for herself and realised that she had no romantic interest in Derek that she accepted the status quo.
In 1996, Derek celebrated his sixtieth birthday and eagerly awaited his surprise from Mavis. He remained confident that there was a secret party planned until Norris probed Mavis and reported back that his present was only blinds for the conservatory. It transpired that Mavis had thought he was only fifty-nine.
After Derek's sudden death from a heart attack in 1997, Mavis decided that she couldn't go on living in the house that had been theirs and left Weatherfield to start anew in Cartmel.
Des Barnes
Des and Steph Barnes were a newly married young couple who had just moved into 6 Coronation Street when Mavis and Derek bought the house next door in 1990. At the time, they were the only families to inhabit the south side of Coronation Street. The Wiltons seemed terribly eccentric and old-fashioned to the Barnes, and they took any opportunity to send them up.
In March 1991, Des installed a dilapidated boat in No.6's garden, casting a shadow over the Wiltons' shrubs. He spent the next three months lovingly restoring while the Wiltons waited patiently to get their sunlight back. In June, Kevin Webster installed the boat's engine, and Des gave it a trial run, causing the boat to topple over and crush the Wiltons' fence and brand new sun lounger in which Mavis and Derek were sitting contentedly. Des was prepared to pay the Wiltons damages but refused to meet Derek's bill of £850, resulting in Derek claiming the boat as salvage. Des and Mavis conspired together to move the boat to the canal without Derek's knowledge. At the end of the year, when Des had the remains of the burned-out boat taken to the dump, he couldn't resist making a detour to Coronation Street and pretending that he was installing the wreck in his garden. The Wiltons were completely taken in by the prank, with Derek threatening to go to every court in the land to have the craft removed.
The Barnes separated when Steph had an affair with Simon Beatty and left Des. The first person to find out about their tryst was Derek, when he witnessed Steph kissing Simon in a wine bar. Sharing the discovery with Mavis, at his wife's urging Derek advised Steph to choose between Des and Simon, and was called a busybody for his troubles. To make matters worse, Phyllis Pearce caught the end of their argument and started telling people that he had tried to molest Steph, causing Des to get nasty with him. Enraged, Mavis burted out the truth to Des.
In 1996, Des showed an interest in Gary Mallett's conservatory in order to motivate the Wiltons into putting in an offer themselves. In actuality, Des was never interested in the structure and was only helping Gary get rid of it. Later that year, the couple thought they'd got one over on Des when he set them up with the man who allocated allotments - Tim Hedges. As it was April Fool's Day, they assumed that Des was playing a trick on them and refused to take the man seriously, poking fun at his name. However, Billy Williams later confirmed that his name was really Tim Hedges, and it was only because of Des putting in a good word for them that they got their allotment.
Des was on a sailing holiday when Derek passed away in 1997 and was unaware of Mavis's bereavement when he came back and put a sex book through the Wiltons' door as a joke. Fortunately, Emily retrieved it for him before Mavis saw it. Des subsequently comforted Mavis over Derek's death and reminisced about Derek on what would have been his 61st birthday, telling Mavis what a great man he was.
Norris Cole
Norris Cole was the salesman who befriended Derek and wheedled his way into the Wiltons' lives in 1994. When he first turned up at No.4 having followed Derek's advice and left his wife Myrtle, Mavis allowed him to stay in the hope that he'd bring Derek out of a slump. Before long Norris was a third wheel in their marriage and Mavis was unable to dislodge him. She particularly disliked the way he called Derek "Dirk", even after being called on it. Norris became Derek's de facto business partner and persuaded him to invest in EnviroSphere; by the time Mavis finally gave him his marching orders, he's turned No.4 into a warehouse full of his products.
In January 1995, Mavis tried out the Mile Muncher, Derek's exercise bike, while wearing court shoes and was thrown off. She suffered a concussion and Derek decided to sue Norris, who had sold him the bike. He attempted to get Mavis to lie about her footwear, though naturally Mavis crumpled under questioning, making Derek look a fool.
Later that year, Norris masterminded a plot against Derek by kidnapping his garden gnome Arthur and sending the Wiltons postcards from Arthur from around the world. As the messages from the gnome-napper became more elaborate - such as a parcel with a severed gnome's ear inside and a ransom note for 50 chocolate doubloons - Mavis begged Derek to forget about it, though her husband took the prank seriously and resolved to catch out his tormentor. Derek learned the truth the day before he was due to act as best man at Norris and Angela Hawthorne's wedding - an event Mavis had refused to attend due to her hatred of both the bride and groom. Derek got his own back on Norris by taking him to the wrong church, resulting in them only making it to the altar in the nick of time.
After Derek died in April 1997, Mavis asked Ken Barlow to give a eulogy at the funeral. In the event, he was beaten to the pulpit by Norris, who proceeded to give an insensitive tribute describing how he and "Dirk" had met after Mavis had forgotten his birthday and left him behind at a service station. While angry with Norris, Mavis was thankful that at least he and Angela were out of her life.
Hobbies and interests
The arts
When she came out of her shell, Mavis showed a great passion for art and literature and was a familiar face in the relevant classes at the Community Centre. In 1976, Mavis enjoyed her art lessons with Peter Milton, but quit out of prudishness when she heard he was bringing in a male model for the artists to sketch, who turned out to be Albert Tatlock.
In July 1981, Mavis found a drawing partner, Maurice Dodds, who encouraged her to be more confident and express herself in her paintings. Maurice scared Mavis off by asking to paint her in the nude. Her best friend in the artistic world was Roger Crompton, with whom she attended a night school art class under tutor Edwin Davis in 1994.
Writing was another ongoing interest, though Mavis was too bashful to let other people read her work. In November 1976, after much toiling, she prepared to submit a romantic novel she'd written to a publisher, entitled "Song of a Scarlet Summer". Her manuscript was found by Rita Littlewood who couldn't help noticing that the lives of the characters closely resembled those of Mavis's friends, including "Rosalind Lane" and "Lionel Forrest", analogues for herself and Len Fairclough. Mavis was horrified by Rita and Deirdre Langton's sneak preview, particularly in light of the steamy plot. After posting the manuscript, Mavis decided that her writing wasn't good enough and gave up on her ambitions.
Mavis was also fond of poetry and recited some compositions at the Community Centre's OAP party when the comic booked was a no-show in December 1977. Five years later, she signed up for an English Literature course at the centre and became friendly with fellow bookworm Victor Pendlebury. The pair collaborated on a short story for a competition on Radio Weatherfield, which became "A Night to Forget". Again, the item took Mavis's friends by surprise with its rudeness, and Mavis was mortified when it won the prize and was read out on the radio. Fortunately, everyone other than Rita and Len forgot to tune in.
Mavis was not as bold when it came to acting. When the residents mounted a production of The Importance of Being Earnest in 1974, Mavis signed up as prompt and prop master. Mavis took her roles seriously but the prop benefactors managed to bully complimentary tickets out of her. The following year, she plucked up the courage to take on a speaking part as the Baroness in Cinderella, the Christmas pantomime.
Pop music was far from Mavis's forté but when The Kabin's cafe was closed down, Len took up her suggestion of turning the back section of the newsagent into a record shop. As it was her idea, Rita made Mavis head of the music section and ordered her to become pop-conscious - a mission doomed to failure.
Sports and activities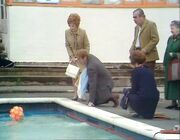 Mavis was known to get physical, depending on the occasion. In August 1973, she joined Betty Turpin, Norma Ford and Rita in a women's bowls team that lost out to the men. The following month, Jerry Booth signed her up for a sponsored swim in aid of the Weatherfield Darby and Joan Club. Mavis only agreed to participate when Emily Bishop allowed her to wear a one-piece swimsuit. Scared to let her sponsors down, she did better than expected, quitting after eighteen lengths.
In April 1977, Fred Gee suggested a fishing trip with Mavis as a joke and was landed with her when she agreed to the excursion. In the end, both of them invited someone along so that they weren't alone together: Alf Roberts and Renee Bradshaw. The day ended with the boat overturning and all of them except Alf falling in the water.
Mavis also entered the hospital pram race in a disastrous partnership with Eddie Yeats in May 1978. She made several attempts to take up jogging, firstly in 1979 when Ken Barlow drummed up support for a keep-fit class at the centre. The idea was abandoned when only Ken and Mavis turned up.
Animals
Mavis was hot and cold with animals, tending to like those she was familiar with and hate others. In July 1973, a rude-talking budgie originally belonging to the vicar found its way into Mavis's care via Alan Howard. Mavis got rid of the bird after it escaped its cage and ensconced itself on her ceiling.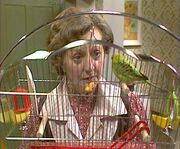 Six years later, another bird was rescued from her chimney, soon to become her treasured companion Harry, named after RSPCA man Harry Scott. "Harry" was renamed "Harriet" after laying an egg in 1982. Mavis looked forward to the egg hatching and carried it around in her bra to keep it warm - a fool's errand, as she found out from Harry Scott's RSPCA colleague Jack Walsh. Jack was the first to suggest mating Harriet and offer to supply a cock bird. Mavis refused both Jack and Percy Sugden when he attempted to set Harriet up with his own budgie, Randy.
Harriet died after eleven years in Mavis's care, on the day she and Derek Wilton moved into 4 Coronation Street - according to Percy, the shock was too much for the delicate bird. The question then turned to Harriet's remains. To spare Mavis further grief, Derek buried Harriet but his wife made him exhume the bird so that she could be buried in a pet cemetery. Mavis also found this unsatisfactory, as there was no security and Harriet's plot was next to a cat's, and so she chose to bury Harriet in her garden after all.
In September 1990, six months after Harriet's death, Mavis was amazed to find a budgie in the house which reminded her of her former companion. The mystery was solved when Kabin customer Sybil Featherstone put a notice in the newsagent's window regarding her missing budgie Boris. However, Mavis was determined to keep Harry (as she'd named him) and waited nervously for Sybil to abandon her search. In the meantime, she hid the bird from visitors - although Percy heard him chirping when he called at the house. Eventually Rita cottoned onto the fact that the Wiltons were keeping Boris and Mavis gave the bird back to the Featherstones. Unbeknown to her, Derek had already bought a budgie and given to Darren Featherstone, passing it off as Boris. Mavis was delighted when Sybil returned Harry to her, meaning that she could keep him with a clear conscience.
Harry lived until 1994. From then until she left Weatherfield, Mavis kept a new budgie, Beauty. In 1996, Mavis even gave Becky Palmer her own budgie, much to the horror of her mother Claire's partner Des Barnes.
In 1991, a fox started roaming the area which broke into Jack Duckworth's pigeon loft and killed some of his beloved pigeons. Mavis was the first to glimpse the fox and hatched a plan to save it when Jack and Bert Latham planned a foxhunt to avenge the pigeons using Boomer the dog. On the night in question, Derek left a trail of bacon bits leading the fox to the Wiltons' garden, where Mavis was poised to scare the fox away with a saucepan. The plan worked but Boomer picked up Derek's scent and led an inebriated Jack and Bert to the Wiltons', where Mavis hit Bert on the head with the frying pan.
Gerbils did not rank so highly with Mavis. When Derek was given Gerry the school gerbil to look after over Christmas during his days as Weatherfield Comprehensive's caretaker, Mavis took an immediate dislike to the rodent.
Other interests
As an adult, Mavis also took lessons in history and self-defence, the latter in response to Jim McDonald setting up Jim's Bike Shop.
Mavis was fond of the Royal family and went to London with Betty Turpin to see the wedding of Prince Charles and Diana in 1981. The following year, in anticipation of the upcoming Royal birth, Mavis knit a red, white and blue jumper for the baby and sent it to Buckingham Palace.
Role in the community
From behind the counter at The Kabin, Mavis often had to deal with difficult customers, many of whom tried to take advantage of her naivety. When she joined the newsagent, she was especially green in dealing with other people. In June 1975, Les Buckley sold her two gross of "La Brigitte" tights, which had one leg shorter than the other.
One particularly stressful encounter took place in December 1975. Eunice Wheeler was caught by Mavis shoplifting a wind-up toy for her son's Christmas. Len got the police in and Mavis was pressured to give a statement. Mavis felt uneasy about the whole situation, and gave the Wheeler children presents to make amends after Bob Wheeler called her a dried old prune for ruining the family's Christmas. She tried to get out of testifying in court, but Rita and Len ganged up on their "wet lettuce" assistant and dragged her there in Len's van.
In March 1980, Mavis was managing The Kabin with feisty Louise Clayton working under her. The first test of her leadership came when Louise unwittingly bought a load of pornographic magazines. The Kabin was stuck with a load of offensive magazines which the salesman refused to take back. Mavis was wily enough to make enquiries with the man's bosses. She found out that they didn't handle that particular publication, leading them to sack him for moonlighting.
Working at The Kabin also meant hiring and firing paperboys and girls. In 1988, Mavis and Rita took on Harry Ashton as a paper-pensioner. Their decision rankled the other paperboys and girls as Mavis felt obliged to give Harry the easiest round, and she was forced to backtrack to stop the others from quitting. When Harry took Mavis out on a date, she ordered an omelette - the cheapest item on the menu - thinking that Harry was destitute. She was later told by Harry's sister Muriel that he dabbled in stocks and shares and was very wealthy. Nevertheless, Mavis asked Harry to keep things formal between them from then on.
A few months later, Mavis sacked Wayne Pickles for his continual no-shows and gave his round to Jason Stubbs. Wayne started abusing Jason for "stealing" his round and Mavis, refusing to stand by and do nothing, let Wayne's mother know what her son was up to, but only got a load of abuse. The situation carried on until Mrs Pickles bumped into Jason's mother Sandra in The Kabin, and Sandra punched her in the face.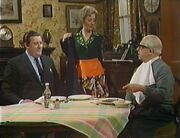 Mavis liked to cook for other people and in her single days would volunteer her culinary skills at every opportunity, whether it be an organised charity event or a slap-up meal for the unmarried male element of the street to give them a change from beans on toast. In February 1975, she helped Alf Roberts in the kitchen when he was due to entertain councillor Harold Digby. Mavis was supposed to play hostess too, but cried off and Rita took her place, serving Mavis's food. Later that year, she and Hilda Ogden made cakes and sold them to raise money for a family who lost everything in a fire.
She was a regular participant at community events, though often a reluctant one. At the Autumn fayre in 1983, Mavis baked a cake with a mystery ingredient inside which the residents had to guess. At the cake stall, Albert Tatlock correctly identified the ingredient as sage, but refused to eat the cake as he didn't like sage. The following year, Mavis served on the Pub Olympics committee and was horrified to be nominated as talent concert organiser. She later manned the toy stall, along with Rita, at the Street fete in 1987, and was part of a Rovers quiz team which lost to the White Swan in 1985.
Background information
Creation and casting
The role of Mavis was initially a bit part, debuting on 11th August 1971 as a tiddly guest at Emily Nugent and Ernest Bishop's engagement party. She was next seen at the Bishops' wedding over two episodes in April 1972. In all three appearances, she was credited as "Miss Riley".
Born in Middlesbrough in 1929, Thelma Barlow came from a non-theatrical background. She'd been working as a secretary in Huddersfield when she joined a speech and drama course at night school. Her first experience of rep was with the Joan Littlewood Theatre Group, based in Devon. Barlow spent most of her career on the stage before breaking into radio and, eventually, television, in serials such as Vanity Fair. She was asked to audition for the part of Miss Riley after someone from Granada saw her perform at the Liverpool Playhouse.
Arriving at Quay Street studios for her first rehearsal, Barlow found the experience terrifying, recalling in a 1990 interview: "My first day was frightening because there was nowhere to sit. Nobody told me where the green room was and I walked around... sat about the set looking for somewhere to sit and eventually got into a corner with the script and Doris [Speed] came in and she said "Good morning" and then she walked away. [A] little later [she] came back and said, "do you think I could have my chair, love?"" (Des O'Connor Tonight, Thames Television, 1990)
The Kabin and Rita
Barlow accepted a full-time contract in 1973. In her first appearance as a regular in Episode 1292 on 4th June, her character rekindled her friendship with Jerry Booth, following on from their meeting at the Bishops' wedding, and was given a first name.
It was in her second week that Mavis was hired as Rita Littlewood's assistant at The Kabin newsagent, where she would remain for the next 24 years. Mavis and Rita became one of Coronation Street's most enduring and popular double-acts. On the relationship, co-stars Helen Worth: "It was one of those things where she could say what she wanted about Mavis, but nobody else could." And Sally Dynevor: "I loved Rita and Mavis. I think it's because Rita is so strong and Mavis is so weak but together they just work so brilliantly." (Both quotes from Rita & Me, ITV Studios, 2014) Thelma Barlow felt that the downtrodden nature of her character helped endear her to the audience: "I think Mavis's popularity was down to her vulnerability, really. All the teasing and leg pulling that went on from other characters brought out the protective side in the audience." (Fifty Years of Coronation Street, Headline Publishing Group, 2010)
Barlow was absent from the programme for three months in the first quarter of 1974 until she signed a new contract. She continued to act elsewhere when time permitted, taking several weeks off in 1988 to appear in a Chekhov play.
Mavis/Derek partnership
The death of actor Graham Haberfield on 17th October 1975 meant that his character Jerry Booth had to be written out. After a suitable gap, writers introduced a new love interest for Mavis in the form of sales rep Derek Wilton. The role went to Peter Baldwin, who had acted with Thelma Barlow in repertory some twenty years earlier, most notably in restoration drama The Way of the World at Bristol's Old Vic Theatre in which they played a married couple, despite never actually sharing the stage. Baldwin, who had remained friends with Barlow, later lodged at the boarding house she and her husband ran for fellow actors. When Baldwin joined Coronation Street in 1976, Barlow was told that someone she'd previously lived with had been cast before she knew the identity of her screen partner. (This Morning, ITV, 19th July 2012)
Derek wasn't a full-time part at first; Peter Baldwin's initial contract was for two weeks. He was seen in ten more episodes in 1976, clocking up 33 total appearances by the end of 1979. Derek was portrayed as a dithering but selfish character, turning up at Mavis's door when it suited him. According to producer Bill Podmore, the writers didn't like the idea of Derek as a regular character: "Many thought Derek was acceptable only in small doses, and believed his indecision would be a source of unbearable irritation if it became a permanent feature." (Coronation Street: The Inside Story, Macdonald & Co, 1990).
In 1984, Derek was brought back from a two-year hiatus for what would be his longest stint to date. Podmore planned for Mavis and Derek to marry and a wedding was planned but in the end he was persuaded not to go ahead with the union - a decision he later regretted: "I allowed myself to be talked out of a marriage between Derek and the twittering spinster, Mavis Riley, played so beautifully by Thelma Barlow. I felt almost immediately that I had made a mistake." (Coronation Street: The Inside Story). The wedding went ahead but with the bride and groom standing each other up. On Mavis' decision to jilt Derek, Barbara Knox remarked: "She was quite a tough little character. You know a lot of girls would have gone through with it and she stuck to her guns and said no, no this isn't right... again dithering and weepy but she was tough enough to do it." (50 Years, 50 Moments, 2010)
Nevertheless, the storyline allowed Thelma Barlow to take centre stage, which she relished: "I think the public reaction was about 30 percent marry Derek, 30 percent marry Victor [Pendlebury] and 40 percent don't marry either of them! It was fun because Mavis doesn't often hit the big headlines or anything like that. She's just consistently there." (The Coronation Street Story, Boxtree Ltd, 1995) On Mavis's wedding attire: "I sat down and designed the dress, went out and bought the material, took it to the dressmakers and had it made up. Then I chose that Princess Diana hat." On not wearing white: "She would just have been too worried what people would say, though in her heart she would love to have floated down the aisle as a virgin bride." (Both quotes from Coronation Street, Octopus Books Ltd, 1985)
Bill Podmore rectified his mistake four years later, handing Peter Baldwin a full-time contract in 1988. Mavis and Derek were then married on 9th November that year. Podmore: "I overruled some scriptwriters when I brought dithering Derek Wilton in on a regular basis." (Coronation Street: The Inside Story) One writer who supported Podmore's decision was Adele Rose: "We thought it was natural. They were both complete ditherers anyway and they were just made for each other. They were the opposite of Len and Elsie: Mavis and Derek together were even stronger than as separate units and we got a huge amount out of that marriage." (50 Years of Coronation Street: The (very) Unofficial Story, JR Books, 2010)
In her marriage to Derek, Mavis had to become a stronger woman to curb her husband's excesses. Barlow: "I always say she came in as a mouse but she ended up as a shrew, because he just needed giddyupping all the time." (This Morning, ITV, 19th July 2012) On the growth of her character: "She has changed over the years - how could she not, working with someone like Rita Fairclough?" (Coronation Street) Mavis and Derek was often sent up by their neighbours, particularly Des Barnes: "Derek and Mavis were figures of fun a lot of the time – people don't always recognise that those who are quiet and unassuming can have more to offer than people who make a lot of noise about life. Once they got together, it was those two against the world – they took strength from and supported one another." [1]
Departure
By 1995, Thelma Barlow was thinking about moving on. She signed her last contract with Coronation Street in 1996 and asked not to be killed off (The Mirror, 22nd May 1997). Barlow: "I thought I'm getting on so if I'm ever going to do any other work but this I'd better go.... I think it was that I thought I'd done it for so long and loved it for so long and I ought to just risk again and go out into the big world and see what happened." (Open House with Gloria Hunniford, Thames Television, 10th December 1999)
A side-effect of Thelma's departure was that her screen husband, Peter Baldwin, was told that he would be written out. Carolyn Reynolds: "Thelma wanted to leave. We talked to the writers and everybody felt that they didn't want Derek on his own and if Mavis was going, Derek should go too." (50 Years of Coronation Street) Producer Sue Pritchard made the final decision but the news was broken to a stunned Baldwin by Pritchard's replacement Brian Park on his first day in the job. Park: "The feeling was that Derek and Mavis had had their day" (The Sunday Mirror, 21st December 1997) The decision greatly upset Barlow, who said in an open letter paying tribute to Baldwin on his death in 2015: "It was a cruel blow to Peter, and to me and to the Street really, as Derek was such a popular character [2].
Tabloids reported on Thelma Barlow's resignation on 22nd May 1997, six weeks after Derek was killed off on-screen. Due to the timing of the announcement, it was popularly believed that she had quit in protest of Peter Baldwin's sacking. Park: "No. The fact was that Thelma Barlow was leaving before Peter Baldwin. She'd announced she was leaving and that was one of our prime [reasons] to kill off Derek. A little-known fact and I'm never quite sure where that story came from that she resigned." (50 Years of Coronation Street)
Barlow spent her last six months playing Mavis as a widow. She made her final appearance in Episode 4279 on 10th October 1997, in which Mavis left Weatherfield to run a guest house in Cartmel. As of 2020, Mavis continues to live in the Lake District and other characters, principally Rita, have paid her several off-screen visits since her departure.
Other appearances and parodies
In 1995, Mavis was featured in video spin-off Coronation Street - The Feature Length Special along with Rita, Alec Gilroy, Curly Watts and Raquel Watts, produced for the 35th anniversary. Thelma Barlow has not played Mavis since 1997 but the actress carried out narration duties on the programme Gail & Me - Forty Years on Coronation Street in 2014 and contributed to the documentary Corrie at Christmas in 2019.
In the early 1980s, Mavis became known for the phrase "I don't really know" due to a famous parody by Les Dennis and Dustin Gee on Russ Abbot's Madhouse, in which Dennis played Mavis and Gee Vera Duckworth. Barlow: "Suddenly everywhere I went people were doing Mavis impersonations. There was no escaping it. Little boys would shout it at me when I walked past, and once I was walking up Dean Street in Manchester and this huge great articulated lorry slowed down next to me and a big burly trucker leaned out and shouted "I don't really know" at me in the most effeminate voice possible. It was hilarious - although I doubt Mavis would've approved!" (Fifty Years of Coronation Street) In 2015, Dennis, now playing Michael Rodwell in Coronation Street, "reprised" the character of Mavis in the programme's Text Santa sketch, naturally uttering the famous catchphrase.
First and last lines
"Excuse me." (First line, to Ena Sharples)
---
"I hope you will be too." (Final line, in response to Rita Sullivan's wish that she'll be happy in her new life)
Appendices
List of addresses
Employment history
See also