The Luxy Cinema was a picture house on Rosamund Street which has frequented by many of the residents of Coronation Street until its demolition in 1968. It had opened up many years earlier as the "Bijou Cinema".
The venue was frequently used by courting couples and Joe Makinson took Christine Hardman there in January 1961, while Billy Walker dated Doreen Lostock there one month later. Although not an item, Christine also went there with Dennis Tanner in the July and, in gratitude, allowed him to practice his guitar in her house to perfect his "Ricky Dennis" act.
The pensioners of the area also used the cinema as a place of entertainment and Martha Longhurst and Minnie Caldwell went to a cheaper afternoon matinee in September 1961. The following March, they made plans to go and see a re-release of the 1960 film Spartacus at Ena Sharples's insistence, although in the event she suffered a stroke in the vestry that evening and her two friends, unaware of her condition and thinking that she was childishly snubbing them, went on their own.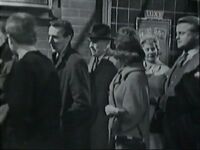 In October 1963, Lucille Hewitt lied to her parents that she was going to the Luxy with friend Marjorie Thornley but instead she was going on a date with the wholly unsuitable Jim Pickup. He used the trip to establish an alibi for his whereabouts when he committed arson against Frank Barlow's DIY shop that same evening in revenge for Frank increasing the rent on the shop flat above where his aunt Ethel Tyson lived.
Dennis took Elsie Tanner to the Luxy one night in September 1964 where she wasn't happy to be seeing one of his beloved horror films. They were surprised when they returned home to be told to go to the basement of the Glad Tidings Mission Hall as the residents had been evacuated there following the discovery of a wartime bomb under the flags of No.1's back yard.
One month later, Florrie Lindley made plans to go with Emily Nugent to the Luxy, albeit to see a film she had already watched a couple of months before and thoroughly enjoyed, even though she had "wept buckets"!
In February 1965, Elsie and Dennis made plans to go for the afternoon matinee but Elsie cancelled on her son when she preferred to go to a trade exhibition with Norman Lindley instead. Just under a year later, in January 1966, Minnie tried to organise a trip to the cinema with Hilda Ogden to avoid clubman Fred Nuttall but Hilda was more interested to attend Lionel Petty's farewell party at the Rovers. In the November, sisters-in-law Val and Irma Barlow had a girls' night out at the cinema where they were picked up by two men, Ron Jenkins and Brian Thomas, to whom they failed to mention their married status and gave their names as Gail and Avril.
In December 1967, Ena, Minnia and Albert Tatlock went for a night out to the cinema and were told by the manager of the time, Mr Barnstaple, that the council had ordered the building to demolished. With the adjoining Elliston's Raincoat Factory having a similar order put against it, Ena forced councillor Len Fairclough to be truthful with her and he admitted that the same fate was ordained for the mission hall and her vestry home. All these buildings were wiped off the face of the map early in 1968.
In Episode 2229 (11th August 1982), Alf Roberts in his role of councillor is accused of banning an x-rated film at the Luxy. As it was established that the Rosamund Street version was demolished in 1968, this must be a cinema of the same name but in a different location.
*Disclosure: Some of the links above are affiliate links, meaning, at no additional cost to you, Fandom will earn a commission if you click through and make a purchase. Community content is available under
CC-BY-SA
unless otherwise noted.