Doctor Strange in The Multiverse o Madness - The Loop
Play Sound
Kylie Platt (née Turner) was the wife of David and mother of Max Turner and Lily Platt.
Kylie was raised by a drug addict mother and abusive father. She resented her half-sister Becky Granger for leaving home when Kylie was eight, and was thrown out after getting pregnant when she was nineteen. After Kylie gave birth to Max, his father Callum Logan ended up in prison and Max was taken into care, as Kylie was homeless.
In 2010, Becky tracked Kylie down and helped her regain custody of Max, but fearing she couldn't hack it as a mother, Kylie sold Max to Becky and Steve McDonald and left. She made a surprise return to Weatherfield the following year after meeting David Platt in Tenerife, where she was working as a cage dancer. Once married, the Platts won custody of Max and in 2013 Kylie gave birth to David's daughter Lily - although there was uncertainty over her parentage due to a one-night stand between Kylie and David's brother Nick Tilsley.
Arriving in the Street as an opportunistic thief, Kylie frequently pushed David to get what he could - including Audrey Roberts's salon where they both worked - but matured as she was accepted into the family.
Callum re-entered Kylie's life in 2014 when her drug addiction re-surfaced. She and her family had an intensive feud with Callum over custody of Max which came to an end when she bludgeoned Callum over the head while trying to protect her sister-in-law Sarah Platt. Callum's body was hidden under the Platts' house until it was exposed when a van crashed into the house.
In 2016, Kylie decided to escape from the guilt of Callum's death by moving to Barbados with her family, but a few days before they were due to leave she was stabbed to death by Clayton Hibbs.
Biography
1987-2009: Childhood and Max's birth
Kylie was born on 22nd August 1987, on the Eccleston Estate, her mother supposedly having been "too wasted" to get to hospital. Growing up, Kylie's closest ally was her older half-sister Becky Granger, who shielded her from dad Brian Turner's fists and their mum's drug habit.
When Kylie was eight years old, Becky left home at just fifteen years of age, despite promising to look after her. Jealous of the attention Brian lavished on Becky, Kylie grew up believing that Becky had instigated an affair, when in fact Becky had gone away to escape his advances. Without Becky's protection, Kylie began to be abused and beaten up, and was once tied up and left in a cupboard, which resulted in her going into care.
In 2006, Kylie became pregnant. By now she was back living with her parents, but Brian kicked her out when he heard the news, forcing her to lean on the baby's father Callum Logan for support. Callum was initially supportive, but he left Kylie as the pregnancy progressed. Kylie was alone in the labour ward on 5th September when she gave birth to a baby boy, whom she named Max. She was thrilled when Callum then returned to her, however once the novelty wore off he absconded once more, and ended up in prison after assaulting a judge. Kylie struggled to cope on her own but without a stable home, she began heavily using drugs and Max was taken away by social services and put into foster care, with Kylie restricted to two visits a week.
2010-2011: Reunion with Becky
In 2010, Kylie spent some time cleaning for airline pilot Ben Carrig at Buttercup House, Weatherfield. Without his knowledge, she made a copy of the key and squatted in the house when Ben was away. In August, social services contacted Kylie but not because of Max - Becky, now married to Steve McDonald had applied to adopt a child, and social services needed a reference from her. Still holding a grudge against her sister, Kylie informed them that Becky used to have a thing with her dad, contributing to the McDonalds being turned down by the adoption panel. Seeking retribution, Becky obtained Kylie's address from social worker Dawn Coghill's bag and marched over to Buttercup House, all guns blazing.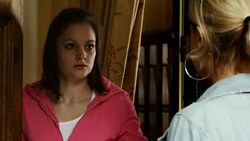 Opening the door to Becky, Kylie defended herself against her sister's violent attack, and ended up hiding in the toilet. Cooling, Becky told Kylie the real reason she left home and informed her that their mother was dead, a revelation which stunned Kylie into coming out of her hiding place. The sisters seemed to be on the verge of making up, with Kylie telling Becky that she was married to Ben, when Ben returned home a week early and Kylie, unseen by Becky, fled the scene. Finding Kylie swilling down a bottle of cider nearby, Becky took her homeless sister back to the Rovers Return, inviting her to stay until she got back on her feet.
Arriving in Coronation Street, Kylie upset just about everyone with her stroppy and immature manner, particularly Steve and Liz McDonald who were keen to get rid of her. When she went missing, Becky and Steve traced her through a hostel to Max's foster home. Kylie admitted she had a three-year-old son and told Becky how much she hated not being able to care for him. Hatching a plan, Becky got Roy Cropper to employ Kylie at Roy's Rolls and talked her into going for custody, giving the Rovers Return as her full-time address. Kylie agreed but struggled to play by the rules; after selling Steve's motorbike to her friend Don to buy Max a birthday present, she snatched Max, only stopping when Becky detained her at the Rovers and called the police. Becky spent the next week preparing Kylie for a hearing over Max's future, but terrified of failing, Kylie spent the night before court with Gary Windass in Mary Taylor's stolen motor home. The next morning, Becky dragged her sister to the courtroom, where Kylie put in a surprisingly sincere performance and won the case.
The path to reform was slow; Kylie stole from the Rovers till, and tried it on with Steve when he caught her rifling through Becky's handbag, only for him to rebuff her and try to throw her out. However, afraid that Kylie would lose Max if she left the Rovers, Becky forced Steve to back down. Max's care fell mostly to Becky and Steve, while Kylie lay about and skived off work. When she announced plans to take Max on holiday to Cyprus, Kylie tricked the McDonalds into volunteering to look after Max, and stole £100 from the café for spending money. During Kylie's absence, Becky had to masquerade as her sister during a visit by a social worker. Kylie enjoyed herself so much that she decided to settle in Ayia Napa with her new boyfriend Dimitri, who owned a bar there. Informing the McDonalds when she returned to collect Max, Kylie's news devastated Becky, who had formed a motherly attachment to Max due to the amount of time she had spent with him and her inability to have children of her own. To ease the transition, Steve paid Kylie in exchange for leaving Max with them while she found somewhere to live in Ayia Napa. Seeing an opportunity, Kylie told the McDonalds they could keep Max for good in exchange for £20,000. Steve rejected the idea as immoral, but Becky talked him round, convincing him that they would be better parents to Max than Kylie. After nearly bankrupting himself to raise the £20,000, Steve paid Kylie and she and Dimitri left for Cyprus without Max.
Kylie made a surprise return on the evening of the tram crash, where she secretly took Max away, causing Becky and Steve briefly to fear him dead under the rubble. Kylie demanded a further £5,000 for Max as she had "invested" the previous £20,000. A desperate Becky stole £5,000 from the Corner Shop to pay Kylie off, and threatened to kill her if she ever saw her again.
By early-2011, Kylie was once again down on her luck. Broke and single after blowing the McDonalds' money, she was making a living in Tenerife as a cage dancer under the name "Candy".
2011-2012: Gaining a family
In February, David Platt was on holiday on Tenerife when he met "Candy" by chance. Their pre-existing relationship in Coronation Street had been nothing more than a fleeting encounter; enough that they started hanging out together in Tenerife, but not enough for Kylie to know that David was lying when he bragged about owning a salon. Just as irresponsible and puckish as Kylie, David fell for her and convinced her to fly back to the UK as soon as possible so that they could be together.
Back home, David wound up Gail McIntyre and Audrey Roberts about "Candy" and, railing against their disapproval, proposed to Kylie by text - which Kylie accepted without hesitation. On 4th March, Kylie's plane landed and David introduced his family to "Candy", without forewarning them of her identity. With David getting his way by threatening to leave home, Kylie immediately moved into 8 Coronation Street, but there were a few bumps on the road to married bliss: given a job at "David's" salon, Kylie arrived for her first shift only to find that David was merely a hairdresser who worked at his gran's salon and that Audrey didn't want her there. Kylie slapped David round the face for his troubles, but their engagement was saved when, stunned by the sudden death of client Edna Hargreaves, Audrey signed the salon over to David to avoid inheritance tax, and David insisted on employing his fiancée. Another problem was Becky and Steve who, incredulous at the notion of Kylie being in Weatherfield for love, anxiously waited for her true motive to surface.
Kylie booked the wedding at the register office for 8th April, which was to be a double wedding with their friends Graeme Proctor and Xin Chiang also tying the knot. In the run-up to the wedding, Gail stepped up her attempts to drive a wedge between the couple by prompting David to question Kylie about Max and, during Kylie's hen night, offering her £1,000 to leave David and Weatherfield. A tipsy Kylie took the money and looked set to jilt David, only for her to turn up at the register office in the nick of time and go through with the ceremony. Kylie used the £1,000 to buy her wedding dress and book their honeymoon, claiming it was a gift from Gail, who was furious but was left with no recourse.
With the wedding out of the way, David interrogated Kylie about Max again. Puzzled by her lack of involvement in her son's life, David decided she was being coerced by the McDonalds and tried to persuade her to go for custody. Knowing that he would be ashamed of her if he knew about the £25,000, Kylie kept quiet, but Steve told David the truth after David complained to a social worker, Roberta Kite, that the McDonalds were bullying Kylie. Now regretting selling Max, Kylie came clean to social services, and Max was taken off the McDonalds and put into foster care again. However, Kylie still refused to go for custody, fearing she'd be a failure as a mother, and in August she made arrangements to put Max up for adoption. Her mind was changed by Gail who, after having a go at Kylie, comforted her when she broke down and revealed the real reason she didn't want Max.
As the Platts applied for custody, Kylie decided to prove herself by setting up her own mobile nail bar, with Audrey giving her nail equipment to get shot of her. In November, they gained custody of Max and he moved into No. 8, but it took a while for him to adjust; he once went missing only to turn up at the Rovers, which he still saw as his home. After the incident, Kylie got Becky to agree to steer clear of Max. In January the next year, Kylie teamed up with Becky to obtain Tracy Barlow's medical records which exonerated Becky in causing Tracy's miscarriage, after which Becky left Weatherfield for good to live in Barbados with her new boyfriend Danny Stratton.
2012-2014: Lily's paternity
In March 2012, Audrey fell out with the Platts over their disapproval of her relationship with con artist Lewis Archer, who had supposedly changed his ways. To safeguard her business, Audrey demanded that David sign the salon back over to her, but David refused, fearing that Lewis would get his hands on it. A family feud then erupted, with Audrey setting up a makeshift salon in Mary's motor home, while Kylie renamed the salon "David & Kylie's" without David's permission. After arguing with David over their clients, Audrey had a mild heart attack. The realisation that he could have caused his gran's death caused a regretful David to reverse all of the changes to the salon and sign it back to her, blaming Kylie for egging him on and causing the rift between him and his gran. As the Platts closed ranks against her, Kylie took Max and left No.8 for pastures new, ignoring David's pleas of apology.
Three weeks later, Kylie was spotted working at Britney's, a lap-dancing club, when David and his brother Nick Tilsley went there to drown their sorrows. Fortunately, she was only seen by Nick who, after dropping his brother off home, returned to the club to talk her round on David's behalf. Kylie was still hostile towards David but, after getting sacked from the club, she was drunk with nowhere else to go. Hoping Kylie would see the situation differently in the light of day - and sober - Nick booked her a hotel room for the night and stayed with her. The following morning, Kylie did indeed have a change of heart, and she and Max immediately moved back to No.8, although she didn't mention Nick's part in proceedings as she didn't want David to know where she'd been working. Nick helped the Platts out again by asking Kylie to fill in as a waitress at Nick's Bistro, as he was short-staffed on a big night where he was entertaining local dignitaries. The night was disaster as Nick's girlfriend Eva Price, who had pieced together that Nick and Kylie had spent the night in a hotel, spiked the chilli in the customers' hotpots and publicly accused Nick and Kylie of having an affair. A ballistic David punched Nick and smashed his car windscreen before Kylie, swearing her innocence on Max's life, persuaded him that Eva had got it wrong.
For a while, Kylie went back to doing nails at the salon. She hoped to be trained as a hairdresser but with three stylists on staff, there wasn't enough work to go around. In October, seeing how bored she was, Nick invited her to work at the bistro full-time. Kylie loved her new job, and her hard work was rewarded when, after coping well with a double booking, an impressed Nick promoted her to assistant manager.
Meanwhile, David was starting to talk about them having a baby of their own. Kylie seemed to come round to the idea, but after Gail knocked over her handbag and found contraceptive pills, Kylie confessed to David that she wanted to put her work first for a while before having another child. David took the admission personally, and commiserated with Tina McIntyre, ending up passed out on her sofa. David got back at Kylie by drunkenly ordering her to strip in the bistro, announcing to everyone that she'd done it before, causing her to leave the venue in tears. On the verge of leaving David, Kylie attended Nick and Leanne Barlow's Christmas wedding, which was called off by Nick when he and Leanne were at the altar after Eva revealed that Leanne had tried to get back with Peter Barlow earlier that day. Both in pieces over their recent dramas, Kylie ended up in the honeymoon suite with Nick, where they slept together. The next morning, Kylie returned to David but quickly crumbled under the pressure and booked flights to Barbados for her and Max, intending to leave for good. At the last minute she changed her mind and went back to David, deciding to bury the memory of the whole affair.
Kylie and Nick's secret was unveiled gradually over the course of 2013. In January, Kylie discovered that she was pregnant and decided to abort it (under pressure from Nick) due to the uncertainty over who was the biological father, but David caught her at the abortion clinic just in the nick of time after finding the positive pregnancy test in the bin and being warned about the abortion by Kylie's best friend Eva. With David threatening to leave her if she killed his baby, Kylie was left with no choice but to carry it to term.
The first person to find out about Nick and Kylie was Lewis Archer, when he overheard the pair discussing the baby. Pursuing a vendetta against Gail, Lewis blackmailed Kylie into giving him Gail's bank account log-in and password and stole £40,000 from her, crippling her financially to such an extent that to keep hold of No.8, Kylie and David bought the house, with Gail becoming their lodger. Gail smelled a rat when she found a piece of paper in the pocket of Lewis' blazer, and recognised Kylie's handwriting. Upon interrogation, Kylie admitted to everything except the identity of the man she'd slept with. Gail wasn't sure whether to tell David and, feeling the pressure of her lies, Kylie got drunk and fell off a table in the Rovers, rupturing her spleen in the process. A hospital check revealed the baby was unharmed but with Gail ready to tell David everything, Nick confessed his involvement to her, and a disgusted Gail realised she had no choice but to keep the lie.
In June, Kylie booked a romantic getaway at a cottage in Cheshire as a surprise for David. The trip was a disaster, with David's odd behaviour and moods causing them to cut it short. Shortly afterwards, Nick was targeted in a hate campaign, with someone smashing up his Victoria Court flat and leaving bad reviews of the Bistro on Trip Advisor. In early-August, Nick's car was hit by a lorry, leaving David with minor injuries and Nick comatose with serious head injuries. Kylie had no idea that this chain of events was triggered when David overheard a conversation between her and Gail about her one-night stand with Nick. Forgiving his wife, David had targeted Nick and the crash had occurred just moments after a confrontation between David and Nick, which ended when David panicked and tried to seize control of the wheel.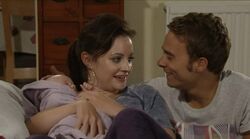 A few weeks later, Kylie went into labour alone at No.8. Sean Tully came to her aid after hearing her screams, and summoned David, Gail and Leanne. The paramedics didn't arrive in time so Gail delivered her grandchild, with the midwife giving advice to David over the phone. Kylie gave birth to a baby girl, who she named Lily, born on 26th August. The matter of her paternity was settled when David had a DNA test done and found out that he was indeed the baby's father after all.
David later burned the results, but before he did so, it was found by Kylie inside a DVD case where he'd hidden it. Confronting Tina, who had been David's confidante throughout his troubles, Kylie pieced everything together. By now, Nick had come out of his coma but he'd been left with permanent brain damage. Conferring with him, Kylie realised that David was behind the hate campaign. At Lily's christening, the enormity of what David had done hit Kylie, and she stopped the service, unwilling to go on. The truth was then revealed to the entire family, including Audrey and Leanne. As he'd scarred his brother for life, David shouldered most of the blame, and was shunned by the family once again.
David still felt wronged by Kylie but was willing to take the blame if she'd forgive him. However, Kylie was realising for the first time what lengths David would go to get even with people and didn't want her family to be in the firing line. After throwing David out, Kylie secured her job at the Bistro when her new enemy Leanne saw the flip side - she could give Kylie the lousy shifts. Despite Kylie threatening to call the police, David continued to hang around, worming his way back into his family's affections one member at a time. After he won over Audrey and Gail, Kylie let David back in the house but on the condition that he was never around when she was there or left alone with the children. Feeling the tide turning, Kylie became depressed and turned to alcohol. At Christmas, her fighting spirit gone, Kylie returned to David. Having given up on life, she continued to drink, and reached her lowest ebb when Max attempted to cook dinner for himself while she lay in a drunken state on the sofa. The realisation that she'd put the kids in danger stunned Kylie into sobering up and taking responsibility, reconciling with David properly.
2014-2015: Drug addiction and return of Callum
In the New Year, Kylie resumed her old job at the salon. 2014 began quietly for the Platts, but between working and parenting, Kylie and David were constantly worn out and didn't get much time alone together. Max was becoming especially tiresome, often running Kylie ragged. In July, the family went on holiday to Barbados to get a break from everything, but on holiday; Max was overly hyperactive and David and Kylie came home more exhausted than when they left. Kylie was in denial about Max's behaviour, but at his wit's end David saw Dr Gaddas, and Max was referred to a child psychiatrist for an assessment for ADHD. Little doubt was left when, while at school, Max went out of control with red paint in front of the psychiatrist, who confirmed the diagnosis and prescribed Max pills to help him concentrate.
Seeing the calming effect the pills had on Max, Kylie soon took some of his medication to cope with her own exhaustion and stress. She intended it as a one-off but continued taking them, covering by pretending to David that she'd lost a strip. After being caught taking one by David, Kylie confessed what she'd been up to, resulting in a furious David keeping tabs on Max's pills in case she relapsed. Still addicted, Kylie went back to the Paul Robeson Estate in Wythenshawe for the first time in years, in search of her old boyfriend Callum Logan. Ostensibly to get to the bottom of Max's problems, but really to see if he could give her something to satisfy her withdrawal as he had dealt drugs previously. Kylie found Callum at The Dog & Gun pub - their old haunt - and he agreed to give her a pick-me-up. As their secret meetings continued, Callum soon got curious about Max and asked to see him, turning up at Bessie Street School after Kylie refused.
On Christmas Day, Callum called round to No.8 when the family were out celebrating David's birthday and Kylie was preparing Christmas dinner. Although she asked him to leave, David returned just as Callum was waving amphetamine in front of her face. Broken and angry, David decided to have a family Christmas dinner, before telling Kylie to pack her things and leave. She begged him for forgiveness and told him that she was clean but David was having none of it. After saying goodbye to Max and Lily, Kylie left the house and was picked up by Callum.
In the New Year, David was disappointed when Kylie failed to show up for Max's ADHD check-up. He began searching for her and was convinced that Callum knew where she was, but Callum insisted that she'd disappeared the day after Boxing Day and, with no other leads, David had to wait for his wife to make contact herself.
2015-2016: Feud with Callum and death
Five months after her disappearance, Kylie was spotted by David's niece Bethany before running off. Kylie finally returned home in June, revealing that she had spent some time in London and was now off the drugs. She was shocked and horrified to discover that in her absence Callum had been given rights to see Max. David was furious at Kylie for abandoning him and the children and refused to get back together with her, but he agreed to pretend they had fully reconciled in order to hinder Callum's chances of gaining custody rights over Max.
Kylie met David's sister Sarah who was now dating Callum. Bethany told Callum that Kylie and David's relationship was just an act, though David and Kylie did eventually reconcile properly. Kylie tried to make Sarah split up with Callum by getting him to try and sleep with her in front of Sarah but Callum saw right through her tricks. Sarah eventually saw Callum for who he really was after Max found a loaded gun in Callum's flat. Although Sarah broke up with him, Kylie was still furious with her for her irresponsible behaviour.
After a court meeting, Callum was granted partial custody of Max. However, soon afterwards, Max became terrified of Callum after witnessing him brutally beat up Jason Grimshaw. Kylie reluctantly took Max to the police station to give a witness statement, though Callum responded by forcing Bethany to give a counter statement after drugging and threatening to harm Sarah. In September, after it was clear that Max never wanted to see his real dad again, Callum agreed to relinquish his custody rights - but only if the Platts gave him £20,000 to help him settle a debt with another drug dealer named Denton. Callum sent his thugs to threaten Audrey and wreck No.8 as warnings.
Sarah tricked Callum into meeting her at No.8, telling him she had the money. She tried to record him confessing to his crimes but Callum discovered what she was up to when her phone rang. Callum attacked her but Kylie arrived just in time and bludgeoned him over the head with a wrench, killing him instantly. David was summoned and it was decided that they would dump Callum's body in a canal far away. However, when they were leaving through the back garden with Callum's body in tow, Callum's car was stolen by Tony Stewart and Todd Grimshaw leaving them with no means to transport the body. In the meantime, they hid the body under a manhole in the garage, which was being renovated. But another pushback occurred as they were unable to retrieve it after the hole cover was concreted over and the garage was converted into a "granny annex" for Gail to live in.
Kylie, Sarah and David each struggled to keep Callum's death a secret, especially when the police and his mother questioned them on his whereabouts, as his mother said he hadn't sent her a birthday card. Kylie found David's laid back attitude to the situation disturbing and was disgusted when he threatened Sarah in order to prevent her from letting slip what had really happened. Kylie also became frightened of the annex and thought she could smell Callum's remains through the floor. Sarah was hit by a car, sustaining minor injuries, and Kylie believed David had deliberately pushed her, but David was offended over Kylie's accusations that he was a psychopath. He told her their marriage was over, but they soon reconciled on Christmas Day.
Around the same time, it transpired that Sarah was pregnant with Callum's baby. Kylie was the first person to learn the news after she found an appointment for an abortion clinic in Sarah's bag. She persuaded Sarah not to abort, as Max was Callum's as well and she still loved him. When Sarah's due date was arriving, she asked Kylie to be her birthing partner. When Sarah went into labour in March 2016, Kylie was busy spending time with Freddie Smith, the widower of her former client, and accidentally missed the birth of Sarah's son, Harry.
In May, Tyrone Dobbs crashed his pick-up truck into the grannex, exposing Callum's body. Kylie was a suspect in Callum's murder but David was able to temporarily pin the crime on Jason, since he also had a grudge against Callum. Sarah's mental health was deteriorating, so, in order to save her from going to prison, Todd claimed that the recently deceased Tony Stewart was the murderer. Tony had been doing building work on the garage during the time that Callum died and the murder weapon that Kylie used had belonged to him. He also keyed Callum's car, stole it and set it on fire but was never caught. The police determined that Tony was in fact the murderer, and Kylie had to learn to live with what she'd done.
Kylie's guilt intensified after Sarah was admitted to a psychiatric ward for issues related to Callum, Bethany struggled with her exams because of Sarah's troubles and Max continued to have nightmares about his deceased father and began wetting the bed. Kylie knew that as long as she lived in No.8, she and her family would always be haunted by Callum. She persuaded David that they needed to start a new life and decided to move to Barbados to live with Becky. On 15th July, Kylie excitedly announced to the street that she would be leaving but her excitement was interrupted when she noticed her friend Gemma Winter being assaulted by the teenage Clayton Hibbs, a former acquaintance of Callum. Kylie ran over to help Gemma but was stabbed in the chest by Clayton who fled the scene. David found her and held her as she clung to life. David promised everything would be fine but Kylie died in his arms before the ambulance could arrive.
David broke the news to Max and Lily later that day that their mother had died, but assured the children that her last moments were spent thinking of them and she would always love them. Her funeral was held on 1st August.
Personality
Kylie arrived in Coronation Street in 2010 as Becky McDonald's stroppier, and even more obnoxious and dishonest sister. In the latter half of that year, Kylie's worst qualities were at the forefront - her ingratitude at being given a second chance by Becky, her desire to get something for nothing, and her total lack of scruples. At the root of this behaviour was her failure to look after Max and his being taken into foster care. Kylie loved Max and hated only being allowed to see him twice a week, but her lack of self-belief embittered her.
After marrying David, Kylie's circumstances improved. Her vicious side wasn't seen as often but, when provoked or after something, she was still ruthless and uncaring. After some time had passed, she found the courage to apply for custody of Max. Though not the most sensitive or understanding mother, Kylie's efforts to be a good wife and mother were sincere, and she was finally able to put some demons to rest.
As a couple, David and Kylie didn't take life too seriously and enjoyed taking the mickey, with Gail McIntyre being the usual victim of their jokes. Kylie's enthusiasm for her nails business at Audrey's salon was minimal; she never felt it was going anywhere and preferred her job as a waitress at Nick's Bistro, as her contributions were better appreciated there.
Relationships
Becky Granger
Kylie's best friend and protector for the first eight years of her life was her half-sister Becky Granger. Seven years older than Kylie, Becky was 15 when she left home because of her stepdad Brian Turner's advances. Kylie lived under her parents' roof until she gave birth to Max in 2006, in which time Becky had almost no contact with the family; when she encountered Kylie again in 2010, Becky had no idea Max existed.
The sisters met up again when an enraged Becky tracked Kylie down, blaming a bad character reference given by Kylie to Social Services for causing her and Steve McDonald to be turned down as adoptive parents. Becky planned to get even using her fists, but after finding out that Kylie was homeless and jobless, Becky insisted on Kylie moving in with her, hoping to do for Kylie what Roy and Hayley Cropper had done for her. Kylie still felt something of their sisterly bond but her instinct to cheat and lie was stronger; seeing their desire for children, Kylie got £20,000 out of Becky and Steve in exchange for Max and left for an ill-fated new life in Ayia Napa. Their relationship hit its lowest point when, after being reduced to robbing the Corner Shop to pay Kylie off during the tram crash, Becky threatened to kill her if she saw her again.
Just three months later, to Becky's astonishment, Kylie got engaged to David Platt and moved back to the street. Becky believed that she had really returned for Max, and had a few violent run-ins with her, but Kylie fought to keep their arrangement a secret, and warned Becky when David started to ask questions about Max.
Later in the year, after Kylie and David got custody of Max and Becky split from Steve, Becky's relationship with Kylie became more significant. They both cared for Max, and while Kylie initially asked Becky to stay away to ease the transition for Max, she eventually relented. By the end of the year, the sisters had repaired their relationship and when Tracy Barlow blamed Becky for causing her to miscarry her twins by pushing her down the stairs, Kylie joined forces with Becky and helped her prove her innocence. Becky then left Weatherfield for a new life in Barbados with Danny Stratton, but kept in regular touch with Kylie, and Kylie, David and the kids went to visit her in February 2012 and July 2014. After Kylie's death, David and the kids continued to visit Becky in Barbados.
As sisters, Kylie and Becky were broadly similar in their independence and precariousness, but although Kylie was not as self-destructive as Becky, and Becky not as devious as Kylie, both qualities were evident in both of them to a large degree.
Max Turner
Max was born on 5th September 2006, when Kylie was nineteen. A single mother on her own after Callum Logan left the scene and being thrown out of the family home, Kylie couldn't look after Max properly and he was taken into care. Kylie was torn between wanting to see more of Max and her gut feeling that she'd be an unfit mother and that Max would be better with different parents. In selling Max to Steve and Becky, Kylie convinced herself that she and Max were both getting a good deal.
In 2011, after some persuasion from Gail, Kylie lobbied for custody of Max and she and David won the case. In contrast to David who was a natural father, Kylie was often brusque with Max and only disciplined him when he bothered her. She had pride in her ability as a mother and reacted defensively when it was questioned; in March 2012, when Bessie Street School headmaster Brian Packham banned junk food in school meals, causing Max to go hungry, Kylie got one over on him by selling chips to the kids, and got in a struggle with Brian over the contraband which ended with him covered in mushy stuff from the chip shop. Kylie decided to take Max out of Bessie Street and home school him, but his first lesson had no sooner begun that Max was playing computer games while Kylie texted her mates. Bowing to family pressure, Kylie swallowed her pride and asked Brian to take Max back.
David Platt
On 20th September 2010, after being snubbed by Gary Windass in favour of Izzy Armstrong, Kylie sought out another companion and settled on David Platt. David was at the Rovers celebrating Nick Tilsley and Natasha Blakeman's engagement but it was only when Kylie pushed a bottle of beer towards him that David showed any sign of wanting to be there.
Aside from that one-time flirtation, Kylie and David had nothing to do with each other until five months later when David met Kylie, or "Candy the cage dancer", on holiday in Tenerife. Picking up where they left off, they had a no-strings-attached holiday romance. Kylie thought she was onto a good thing - David was fun, and more importantly, he owned his own salon (or so he bragged). Smitten, David proposed by text when he got home and Kylie returned to Weatherfield, engaged - much to the Platts' horror.
Despite opposition to them marrying, Kylie and David proved to be a stabilising influence on each other, and their marriage one of the strongest in Coronation Street. Used to being the black sheep of the Platt household, David earned his family's respect and a sense of responsibility by forcing Gail and Audrey to treat Kylie better and so willingly taking on Max and doing a good job.
David and Kylie shared a similar sense of humour and enjoyed a good wind-up. In 2014, they went on a night out playing the part of a Frenchman and a Russian woman, and planned to stay the night in a hotel dressed as Mia Wallace and Vincent Vega from Pulp Fiction before cancelling when No.8 was burgled by Michael Rodwell.
Despite her efforts to change, Kylie's devious side showed occasionally, such as in 2012 when she pushed David into a feud with the Platts in a bid to oust Audrey from the salon, which Kylie believed was rightfully David's. Running her own nail business from the salon, Kylie wanted to become a hairdresser and resented the fact that David had never trained her despite being in a position to do so. Their biggest bust-up occurred in 2013, when David's revenge campaign against Nick Tilsley for sleeping with Kylie ended with Nick suffering brain damage in a car crash. Having not previously seen David at his worst, Kylie was shocked at the lengths he had gone to to get even with Nick and threw him out of the house, but a few months later they patched up their marriage and things returned to normal.
Gail McIntyre
Recent years had seen Gail McIntyre oppose most of her childrens' relationships for one reason or another. David had got off comparatively lightly thus far, with Gail approving of his ex-girlfriend Tina McIntyre, but Kylie was a rough diamond and Gail assumed her to be like her sister. Gail went to Becky for information on Kylie and reported back to David. Furious, Kylie exploded at Gail with the details of her rough upbringing. As her meddling had caused problems before, Gail didn't stand in their way, but with less than 24 hours to go before the wedding, in desperation she offered Kylie £1,000 to disappear. Kylie accepted the money - but spent it on her wedding dress and a honeymoon in Tenerife, telling David it was her wedding present.
When Kylie moved into No.8, to Gail it was like gaining another child; another person with no sense of responsibility for her to skivvy after. Gail doggedly tried to keep the household under her control, getting on at Kylie for being a useless wife. Eventually Kylie decided to prove herself by laying on a barbecue, but instead Gail found them having a play fight in the garden with the house a tip. Incensed, Gail announced she was on strike, but after a few days she gave up and accepted the new status quo.
In August 2011, after David found out that Kylie was having Max put up for adoption, he reacted badly and went out to get drunk. Gail had just started on her when Kylie broke down on the stairs and admitted that she was getting rid of Max as she was afraid of failing him. Putting aside their differences, a sympathetic Gail offered emotional support and some encouraging words which convinced Kylie to go for it.
This moment of understanding helped Gail accept Kylie as a member of the family, although she still thought she was a terrible wife. Just a few weeks after their heart-to-heart, Gail and Kylie were left alone at No.8 when David went on a management course. When she saw Kylie flirting with a lad in the Rovers, Gail went over to them and told the boy she was married and angrily locked Kylie out of the house. After Gail got Audrey to sack her from the salon, Kylie tried to blackmail Audrey by threatening to disclose Marc Selby's secret that he was a cross-dresser, however this led to Marc deciding to out himself, humiliating Audrey. Kylie got back into the house using Nick's keys and emptied a pan of water out of the bedroom window, intending to soak Gail, only to drench David.
Despite this event, Gail and Kylie continued to grow closer over time and Gail began to realise that Kylie and Max had made David into a better person. When David and Kylie's marriage suffered difficulties in December 2012, Gail was keen for them to resolve their differences and was overjoyed when she found out Kylie was pregnant. However, Gail was horrified when she found evidence that suggested Kylie had aided Lewis Archer in defrauding Gail and when backed in to a corner, Kylie was forced to admit to Gail that Lewis had blackmailed her over her unborn child possibly being Nick's. Although Gail was disgusted with Kylie and Nick, she realised she had to keep the secret for David's sake. Months later at the christening of David and Kylie's daughter Lily, Gail discovered David's hate campaign against Nick and sided with Kylie when she broke up with David and didn't want him near the house.
Gail and Kylie both mellowed towards David and Kylie and David once again reunited. By now Gail had come to appreciate Kylie as a member of her family and would attempt to usher reconciliation during later disputes between her and David, and Kylie came to respect Gail too. In 2016, Kylie intervened to help reunite Gail and her estranged husband Michael. It was not long after this that Kylie was fatally stabbed and Gail was with her and David when she died. Kylie told Gail that she was sorry for everything she had put her through over the years and Gail told Kylie that she was honoured to call her family.
Eva Price
Eva Price was Kylie's best friend in Coronation Street. Eva was one of the few people who made an effort to see things Kylie's way, and she often played the role of confidante in Kylie's myriad of dramas. Although Kylie never heeded her level-headed friend's advice, Eva still supported her and kept her secrets. The only time she broke Kylie's trust was in 2013, when Eva warned David that Kylie had booked into an abortion clinic, allowing him time to get there and stop her. In 2014, when problems with Max caused Kylie to try and track down Callum Logan, Eva went along for moral support, but she left in disgust when Kylie's behaviour around Callum showed that her goal had nothing to do with Max.
Eva didn't wholly trust Kylie; in 2012, after finding out that Nick and Kylie had stayed the night in a hotel, Eva readily believed that they were having an affair, even though the true reason for it was innocent. When Kylie came to work as a waitress at Nick's Bistro, she worked alongside Eva, where both shared a dislike of manageress Leanne Barlow, Kylie because of her bossiness and Eva through jealousy of Leanne's relationship with Nick.
Eva was very upset when Kylie died. She attended her funeral as well as the trial of killer Clayton Hibbs and a memorial to celebrate Kylie at No.8 on the first anniversary of her death.
Background information
Creation and casting
At the British Soap Awards in May 2010, Katherine Kelly revealed to PA that Becky McDonald's younger half-sister was set to join Coronation Street. At that time, casting was still taking place, with Kelly's younger sister Grace rumoured to be up for the part.
Paula Lane grew up in Hebden Bridge, Yorkshire, and studied acting at London's Central School of Speech and Drama. After graduating in 2008, she landed small roles in The Royal and Heartbeat and first came to the attention of the Street's casting directors when she auditioned for the part of David Platt's girlfriend Zoe in 2009. She was working at Harrods when she got the part of Kylie. Lane: "I just had this feeling that I could really do it. I've watched Coronation Street since I was little and Becky is one of my favourite characters, and people have pointed out there are similarities in the way we look." On her screen test: "I was inches from Kym's face and I had to be really bolshy. It was scary, but survival and adrenalin just kick in. I was shaking on the way out." [1]
Lane started filming straight away and her casting was announced on 22nd June 2010, with producer Phil Collinson hinting that the "tearaway" character would be just as much trouble as her sister: "She's a very big character across the next six months and beyond and it's fair to say that she'll cause hell for the McDonalds." [2]
Introduction
Kylie was introduced as part of Becky and Steve McDonald's adoption storyline, making her on-screen debut in Episode 7410 on 26th August. Her first scene was a fight scene with Becky, which Lane later cited as a favourite: "They were quite tough to film and they had to be toned down for the broadcast, which just shows how far me and Kate went when we were filming them [3].
Kylie's early scenes showed her to be similarly volatile and irresponsible to Becky but Lane was determined that Kylie would be her own character. Speaking to Digital Spy: "It's important for me to have Kylie as different to Becky in some ways, as otherwise the audience will feel that they've already seen it all before. So it's all about what you can bring to the table that's new, and I'm constantly sitting down and thinking about that. It's not that I'm totally opposed to Kylie being like Becky, because there are some slight similarities - but people are different and they make different choices." [4] Speaking to What's on TV, Lane described Kylie and Becky's relationship as loving but with lingering resentment from Kylie that Becky left home when she was only eight: "Becky was like a mother to Kylie." The actresses enjoyed a close working relationship and Lane credited Kelly for helping her settle into the soap: ""From the very first screen test, Katherine was so welcoming to me, she made me feel like part of the family." [5]
Taken under Becky's wing, Kylie moved into the Rovers and her son Max was first seen on 29th August. Over the next few weeks, Becky helped her sister regain custody of Max, having to contend with Kylie's wild behaviour. In an interview with The Mirror, Lane explained how she considered Kylie's difficult past when playing the character: "Kylie's a mixed-up girl, but she's had to fight for survival. I feel for her - it's quite a sad story. When I analyse things that have happened in my past, I can draw on it to play her. My sister had her first child when she was 16. And while she was very different and never once thought of giving up her daughter, it was still very hard for her. [Kylie] is a very messed up girl. She was dragged up by an alcoholic mother, so she's had to fight for survival." [6]
After winning custody of Max, Kylie sold him to Becky and Steve for £20,000, playing on Becky's desperation for a child, to set up her new life in Ayia Napa. Lane left at the end of her contract, and her final scenes were shown on 13th December. Speaking to This Morning, Lane insisted that Kylie did love her son but came up with the money-making scene as she was "immature and irresponsible". About Kylie: "She's like a cat - she just pounces. The minute she can see something for herself, she's on it. But she's a very mixed up girl and she is misunderstood." On playing the scenes: "I'm the most maternal person you'll ever come across and I can't wait for the day to have a child. When I look at Harry who plays Max, I think, 'How could anyone do that to a child?'. And he looks at me with these blue eyes and sometimes I have to stop filming because I get too into it - and that's not Kylie!"
In January 2011, Lane was voted Best Newcomer at the National Television Awards, and a month later she was nominated for Best Actress in the 2011 All About Soap Bubble Awards.
Marriage to David Platt
On 4th January 2011, while appearing on Loose Women, Paula Lane revealed that she would be returning to Coronation Street full-time and that Kylie was set to marry David Platt. At that point, the characters had only appeared together in one scene set in the Rovers (although in the Inside Soap Yearbook 2011, Jack P. Shepherd had praised Lane and expressed a desire for more scenes with her). Kylie returned to screens on 4th March, having met David on holiday in Tenerife. In a Digital Spy interview, Lane approved of the somewhat unlikely circumstances of Kylie's return to the Street: "I think it was the only way they could have brought me back, because I don't think they could have kept on with the whole Becky and Steve scenario - the viewers need something new." [7]
In an interview for the Daily Star, Lane hinted that Kylie was marrying David with an eye on Audrey Roberts's salon: "She's very money-orientated and will do anything if the price is right. She thinks that by marrying salon owner David Platt, it will be ker-ching for her!" [8]. Teasing Kylie and David's relationship in All About Soap, Lane said: "They work very much in sync with each other and know what the other one is thinking. When one comes up with an idea that's a little bit mischievous, the other gets it straight away and they egg each other on. They could be very happy together and living in wedded bliss, but everyone around them may not feel the same way about their relationship because they do everything for their own benefit and not for other people!" Lane tipped Kylie to be the one in control of the relationship, and remarked that a "loved up" nicer side to Kylie surfaced when she was with David.
As part of the Platts, Kylie's storylines went in a more light-hearted direction, particularly in her clashes with Gail. About being involved with the Platts: "Let me tell you, the scenes with Gail are going to be so funny. I've been reading the scripts and it's just pure class with the comedy - Kylie and Gail just clash! Then you've also got the mix of Audrey in there as well, so it's going to be brilliant and I can't wait." [9] Lane believed that Kylie was a naturally funny character, and had enjoyed playing comedy in her previous stint, as she told Now magazine: "I think she's quite witty. Obviously it can't be nice for the person on the receiving end of it but I like how she's quite quick off the mark and won't let someone stamp her down. I've got a little bit of a feisty side but I'm very sensitive as well and I'd never dream of doing stuff that Kylie's done. My mum said to me the other day, 'Don't you look at me with them Kylie eyes.'"
Kylie's return re-ignited her feud with Becky and Steve. The storyline was resolved with the sisters making peace and Kylie and David gaining custody of Max, with Kylie playing an instrumental role in Becky's exit in January 2012. Lane believed that Kylie had always wanted to raise Max but didn't think she was good enough before: "I think Kylie does genuinely want him back now. David has really boosted her confidence as far as motherhood's concerned, and she just feels like she's able to do it now. She's got the family network there and she's got the support - not only from David but from Gail too. I think Kylie will try to be on her best behaviour and do things right for once." However, she also stressed the importance of keeping Kylie's dark edge: "I don't think that can ever really leave her, even if it's just a trip of the tongue. Kylie often doesn't think before she speaks! I think she'll gradually get some more social awareness about her, because she's in the family situation now and she's got to keep the peace with people on the street. But I think it's important that she keeps an edge to her and people will always have to be a little bit wary of her, I think!" [10]
Further storylines
In April 2012, Kylie left David over his behaviour after Audrey's heart attack which followed a battle over the salon. Her exploits during their separation was the basis for an online spin-off, Where's Kylie?, which went live on the official ITV site on 11th May.
In the autumn of that year, Paula Lane teased a big storyline for Kylie over Christmas. On 8th December, she revealed to Radio Times that Kylie would cheat on David, but didn't yet reveal her bed partner's identity. About Kylie's motivation: "She isn't thinking straight at that point. It comes out of the blue and it's spontaneous and animalistic. It's all about the passion - they both want this at that time and they're not thinking about the consequences. As soon as she sees David after the one-night stand, she knows that he's the person she wants to be with and that she's made a massive mistake. It was just a bit of comfort when she needed it, there was nothing more to it than that."
The fling was followed by Kylie's pregnancy with baby Lily, eventually revealed to be David's after a period of uncertainty - during which time David learned the truth and waged war on Nick. On 17th September 2013, producer Stuart Blackburn discussed the future of the Platts with Inside Soap: "There is hope for Kylie and David, but while she'll be angry with him, there's also anger at herself. Kylie has seen nothing but pain and heartache. In her head she's a screw-up, and she'll be furious with herself for imagining she could ever have a normal life. If there's hope for Kylie and David, they must accept each other for who they really are."[11]
In June 2014, Lane announced that she was pregnant with her first child. Max's father Callum Logan (Sean Ward) was introduced in September that year which involved a story where Kylie had resorted to taking Max's ADHD medication to cope with her stress, and relying on Callum to give her speed. The character departed on 25th December 2014 in order to tie with Lane's maternity leave. In April 2015 it was reported Lane returned to filming, with Kylie's return airing on 29th May 2015.
Upon her return an ongoing feud between the Platts and Callum culminated with Kylie killing him with a wrench and burying him in the foundations of the annex with David and Sarah. Episode 8740 which saw Kylie kill Callum was a special hour long live episode commissioned to mark the sixtieth anniversary of the ITV network.
Exit
In January 2016, Lane revealed she was pregnant with her second child. A few weeks later, she announced she would be leaving the soap for good to focus on motherhood. In early July, it was revealed through a teaser trailer that the character of Kylie would be killed off, but leaving the manner of her death open to speculation until her final episode aired.[12] Kylie died on 15th July 2016 after being stabbed by Clayton Hibbs, though her body was shown in a coffin on 20th July 2016. Lane's second child, Penny, was born on 27th July.
First and last lines
"Just do one, all I did was save some poor kid from ending up with a mother like you." (First line, to Becky McDonald)
---
"It was great wasn't it? We were great." (Final line, to husband David)
Appendices
List of addresses
*It is known that Kylie spent time in London during this period
Employment history
See also