Jurassic World: Dominion Dominates Fandom Wikis - The Loop
Play Sound
Kevin John Webster is the husband of Abi, father of Jack, and father of Rosie and Sophie through his former marriage to Sally. A lifelong car mechanic, he is the co-owner of Webster's Autocentre.
Kevin moved to Coronation Street with his father Bill and sister Debbie in 1984, four years after the death of his mother Alison from cancer. Cheerful and chirpy, Kevin was the perfect match for feisty Sally Seddon, who he married in 1986, buying No.13 from Hilda Ogden the following year.
Kevin liked an uncomplicated life; a job he enjoyed, a wife who doted on him, and the odd drink at his local. He had little desire to be his own boss and it fell to Sally to push him to want more. In 1996, after some years working at Tilsley's Garage and then managing Casey's Garage and MVB Motors, he went into partnership with Tony Horrocks to buy the Coronation Street Garage, which he continues to run with business partner Tyrone Dobbs under the name Webster's Autocentre.
Kevin and Sally's daughters Rosie and Sophie were born in 1990 and 1994 respectively. By 1997 the couple was in a rut and Kevin had an affair with Natalie Horrocks, leading to their divorce. While Kevin's heart arguably remained with Sally, he saw several other women during this period, notably Alison Wakefield, who became his wife in 2000. After their newborn son Jake's death from a Group B Streptococcus infection, Alison threw herself under the wheels of a lorry.
In 2002, Kevin persuaded Sally to take him back for the girls' sake. They re-married again but without a mutual trust and commitment, both parties eventually strayed. In 2009, Kevin fell for Tyrone's young bride Molly and fathered her son, Jack, a fact which they kept secret until Molly made a deathbed confession to Sally in 2010. Soon divorced again, Kevin picked up the pieces by re-buying No.13 to raise Jack as a single father.
After relationships with Jenny Bradley and Anna Windass, Kevin found love with Abi Franklin, marrying her in 2021. He, Abi, and Jack now reside at No.13.
Biography
1965-1983
Kevin was born on 3rd September 1965. The son of Bill and Alison Webster, Kevin grew up in Weatherfield with his parents and younger sister Debbie. Alison died from cancer in 1980 when Kevin was fifteen. Upon leaving Greenbank School, Kevin took a Youth Opportunity Scheme and trained as a car mechanic at Whitehead's.
1983-1986
On completing his course in 1983 aged eighteen, Kevin looked for work but couldn't find anything until he had a lucky encounter with Alf Roberts while hitchhiking back to Weatherfield in October that year. Alf's car broke down while passing him by, and Alf offered to give Kevin a lift home if he could get it going. When Kevin carried out the repairs with no trouble, the grateful shopkeeper recommended him to Brian Tilsley, owner of Tilsley's Garage in Bridge Street, as Brian was looking for a mechanic to work alongside him. After a successful interview, Kevin was taken on.
Within a few months, Kevin was a fixture in the Street, and could often be found in the Rovers Return playing Devil's Advocate to his friends Terry Duckworth and Curly Watts. In July 1984, Bill bought No.11 and the Websters moved into the Street; Bill was renting the Builder's Yard in Mawdsley Street from Rita Fairclough so it was a sensible move for the family. However it didn't provide the stability Bill was hoping for as within a year he'd become engaged to Elaine Prior, and the couple were planning to marry and move to Southampton. Kevin felt betrayed by Bill and blamed Elaine for breaking up the family; he refused to move with him and was planning not to go to the wedding until Brian talked him round.
After the Websters moved, No.11 was bought by Harry Clayton and Kevin was homeless. Sympathetic Emily Bishop let him lodge at No.3, which meant sharing a room with Curly. This didn't bother Kevin much at first as they were already friends, but while Curly respected Emily's strict rules, the more laid-back Kevin found her a difficult landlady and, tired of being woken up daily at 5.00am by Curly's alarm, moved into No.13 with Terry's old landlady, Hilda Ogden, who he found far more easy-going.
In May 1985, Terry set Kevin up on a double-date with Michelle Robinson. Kevin fell for Michelle and impressed her after fighting off her ex-boyfriend Malcolm Nuttall, who accused him of poaching Michelle. Kevin hadn't had much experience with women and, keen to lose his virginity, made a clumsy effort to seduce her in No.13 while Hilda was away. Their relationship survived but when Kevin started talking about marrying Michelle decided he was moving too fast and finished with him.
1986-1990
Sally Seddon crossed paths with Kevin in January 1986 when Kevin accidentally splashed her with his car while she was on her way to a job interview. Kevin obligingly took her home to dry off and any animosity was soon forgotten as they ended up arranging a date.
As with Michelle, it didn't take Kevin long to decide that Sally was the only woman for him. The first obstacle in their relationship was Hilda, who knew the Seddons were rough and thought Sally was the same. It was only after she'd had time to get to know Sally that Hilda warmed to her. Kevin's protective side showed when he feared Terry was after Sally as he'd given her a secretarial job at the yard and when Kevin saw Sally on Terry's knee, he went for him.
In May, with Hilda away, Kevin and Sally spent the night together for the first time. This resulted in Sally's father Eddie throwing her out and Hilda refused to have Sally living with them when she found out they'd betrayed her trust. When she found out Sally was expected to hand in her dole money to Eddie, however, Hilda changed her mind and let Sally move in - but Sally soon grew tired of living under Hilda's watchful eye and moved out back in with her parents.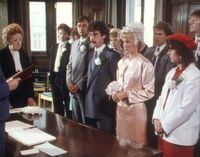 With Sally working as a barmaid at the Rovers and Kevin continuing at the garage, the lovestruck couple discovered that they could afford to marry and saw no reason to wait. None of their family attended the Registry Office ceremony; the Websters had moved to Germany and Sally had been disowned for leaving her parents for Kevin. The newlyweds lived at No.13 with Hilda now fully supportive of them.
In spite of the freedom Hilda gave the couple, Sally wanted a place that was their own and convinced Kevin to go for the flat above the Corner Shop, where she was now working. Alf agreed to rent it to them but at the end of 1987 Hilda offered to sell No.13 to them at a knock-down price and they accepted, despite Kevin's reluctance at taking on a mortgage. They nearly didn't get a mortgage as Sally had an unpaid debt which she hadn't declared when applying as she'd forgotten about it. Kevin applied for a mortgage in his name and told the building society the truth about previously being refused a mortgage; he was relieved when they were impressed with his honesty.
Kevin had now been working under Brian for five years and was content with this; he liked working for someone else and not having the responsibility of running a business. In January 1989, he refused to put £1,000 of Sally's money into the garage but a few weeks later Brian was murdered, losing Kevin a friend and job security. He was annoyed when Gail didn't involve him in the sale of the garage, only asking him if he could match Tom Casey's offer of £18,000 within 24 hours as she wanted a quick sale. As Kevin hadn't the money, and didn't like taking loans, Tom bought the garage and installed his son Mark as trainee under Kevin, who was kept on as manager.
As Mark was the boss's son, Kevin wasn't sure how to treat him but was encouraged by Tom not to give him special treatment. Kevin followed the instructions too well; he fired Mark for inefficiency, only to reinstate him later after missing him. The following year, the situation was reversed when Mark was given the garage as a birthday present; Kevin quit on hearing that he was going to have to work under Mark after being his boss but later changed his mind and stayed, swallowing his pride.
In April 1990, at the dinner table, Sally surprised Kevin with the news that she was pregnant. Rosie was born on 24th December that year, delivered by Liz McDonald in Don Brennan's taxi as Sally had gone into labour while Kevin was out repairing Alf's car as he and Audrey were on their way to a WARTS function.
1991-1994
Money was a perennial worry of the Websters'. Kevin cut short his paternity leave to return to work and did private repair jobs to earn more cash. In January 1991, Kevin crashed into a tree while taking customer Terry Seymour's car to the garage. Mark refused to claim on the garage's insurance and sacked Kevin for moonlighting. Fortunately Kevin was almost immediately taken on at Walker's Garage but he was left with a £1,250 legal bill, with Seymour threatening court action if it wasn't paid in two weeks. Proud Kevin refused loans from his friends, insisting they'd find a way to pay the money, but when nothing turned up he grudgingly accepted Sally's mum Elsie's offer to bail them out.
On finishing her maternity leave, Sally decided to stay at home with Rosie but returned to the shop in July, working evenings.
Kevin didn't enjoy his work at Walker's as he didn't get on with his boss; in October, after being late for the first time ever, Kevin was sacked. By now, Kevin felt he could set up on his own and tried servicing cars in the Street, but the police made him move when Derek Wilton complained to the Council that it was an eyesore. His relationship with Sally was strained as Sally was growing frustrated with Kevin's refusal to consider other lines of work.
Kevin had an unlikely saviour in Mike Baldwin. When Kevin's dole was stopped when he was found to be servicing a fleet of vans owned by a friend of Mike's, Mike offered to set Kevin up in business in Unit 16 in Coronation Street, calling the garage MVB Motors. Kevin was wary of Mike but accepted the offer graciously. He greatly enjoyed turning down Mark Casey a job as assistant and buying up most of Casey's Garage's equipment cheaply at auction when it went out of business.
Kevin and Mike soon clashed. In January 1992, Mike secured a contract by giving client Jack Halliwell a £1,000 backhander, and told Kevin to make the money back by fiddling the company's bills. Kevin felt dishonest but did as Mike told him. After Kevin told Sally and word got back to Mike, via Gail and Alma, Mike was angry that Kevin had been discussing the matter publicly and this caused a few problems between Kevin and Sally.
Their working relationship continued like this; in December that year, Steve McDonald, who worked at Mike's printing factory MVB Print, crashed Mike's Jaguar and gave his name as Kevin Webster as he had lied about passing his driving test. Again, Kevin went along with Mike's instructions by presenting his licence to the police. Mike enjoyed Kevin's discomfort, thinking him amusingly naive, but the fraud was uncovered in June 1993 when Doug Murray stole Mike's Jaguar and the CID interviewed Kevin and realised he wasn't the man from the crash. Kevin and Steve were charged with perverting the course of justice. Kevin pleaded guilty in court and was livid when he was fined £800 while Steve got only 200 hours community service; Steve's barrister had accused Kevin of leading Steve astray.
1993 was a difficult year for the Websters. While Kevin dealt with his court case, Joe Broughton tried to tempt Sally into an affair. A registered childminder, Sally was minding Joe's son Jonathan. Attracted to Sally, Joe preyed on her weariness over Kevin's troubles and his moping. Hazel Broughton warned Kevin that they were having an affair but Kevin refused to believe it, trusting Sally without question. In January 1994, Kevin went to pay the first installment of his fine but discovered that somebody had already paid it. He punched Joe, thinking he was playing a game to win Sally over but it was actually Mike's wife Alma who had paid it, to spite Mike. Kevin worked out a repayment scheme with the Baldwins, while Sally made Joe realise that she would never leave Kevin for him.
In March, Sally told Kevin she was pregnant again. He was angry at first, saying they couldn't afford another child, but quickly came round to the idea and supported Sally. While he took on extra work chauffering for Mike, Sally received help from Rita Sullivan, who gave the family £5,000 as she had come to care about them. Sophie was born on 4th November; this time Kevin was on hand to take Sally to hospital and be there for the birth.
1995-1998
In 1995, Bill returned to Weatherfield when Elaine left him. It was the first time Kevin had seen his father in ten years, and the first time he'd met Sally.
Changes were afoot at the garage. In November, Kevin persuaded Mike to give Tony Horrocks a job of mechanic to work alongside him, a position Jim McDonald had recently been fired from. In March 1996, Mike decided to sell the garage but while the bank agreed to give Kevin a 90% loan, which he could afford, Kevin showed no interest as he knew Mike would only sell a poisoned chalice, and despite Sally pushing him towards buying it he still only wanted to service cars, not run a business. Don Brennan bought the garage and quickly ran it into the ground; a lot of the equipment needed replaced and Don wasted money by giving taxi drivers discounts. When Don's girlfriend and business partner Josie Clarke left him, a desperate Don asked Kevin to buy into the business but Kevin, while worried about his job, refused to back him. The bank reclaimed the garage and after a few days working at Fast Fitters Exhaust Centre, Kevin and Tony went into partnership and bought their old workplace for only £25,000.
With his experience, Kevin was quickly able to turn the garage's fortunes around. Tony soon got bored with the work and his left his mother Natalie to take care of his side of the business. Kevin was fine with it as she did the books, a job he didn't like, but quickly realised divorcee Natalie fancied him and enjoyed making him uncomfortable by trying to flirt with him. Chris Collins, recently taken on by Kevin as a mechanic, suggested that he go for it, as Sally was away nursing her mother in Scarborough, as Elsie had had a stroke. Eventually, Kevin did succumb to temptation; on a high after a win at the races with Chris, Kevin ran into Natalie and ended up going back to her house and having sex with her.
At first, Kevin accused Natalie of seducing him and refused to see her again but had to admit that he did have feelings for her. With Sally absent, Kevin succumbed to temptation and embarked on an affair. Natalie quickly wanted to know where she stood; Kevin still loved Sally and was wracked with guilt about betraying her. After telling a suspicious Rita that he wasn't having an affair, Kevin went to see Sally in Scarborough, leaving Natalie fearing the worst, but when he returned he went on a dirty weekend with her, pulling out the phone wires so Sally wouldn't phone in his absence. Bill was the next to become suspicious, but he went as far as to contact Sally and advise her to come home immediately. Sally returned to a moody Kevin and reports of Natalie hanging around at No.13, and cottoned on when Kevin lied about his whereabouts to be with Natalie. Catching them in bed at Natalie's house, Sally launched herself at Kevin and broke down.
Kevin's first instinct was to dump Natalie and make up with Sally. He followed Sally and the girls back to Scarborough but aside from a brief few hours when Rosie went missing, Sally didn't want to see him and threw him out of No.13 on her return to Weatherfield. With nothing except Natalie left, Kevin let her take him in but, after missing Rosie's nativity play to nurse an ill Natalie, Kevin made it up to the girls and told Sally he was sorry for everything and that he still loved her. To prove he meant it, he dumped Natalie, telling her he never really loved her and he was returning to Sally, but Natalie hit back by alerting him to the fact that Sally was secretly sleeping with Chris. Kevin still left Natalie but was too hurt to return to Sally, moving instead into a B&B.
On Christmas Day 1997, Sally let Kevin celebrate with her and the girls. When the couple got sentimental, they realised they didn't really want to separate and decided to try a reconciliation, with Kevin moving back into No.13. It didn't work; inside of trust, the Websters were full of insecurities, with Sally objecting to Natalie's involvement in the business even though Kevin couldn't do anything about it, and Kevin helping Des Barnes uncover his girlfriend Samantha Failsworth's affair with Chris to get back at Chris.
When Elsie died in May 1998, Kevin suggested they use the inheritance money to buy Natalie out of the garage so they could be rid of her. Sam got revenge on Kevin by telling Sally that Kevin really wanted to run away with Natalie and the inheritance money. When Kevin was proved to be innocent, he wrongly believed that it had actually helped his marriage but Sally soon realised she didn't love Kevin any more and started an affair with Greg Kelly. On his advice, she decided not to put her money into the garage, and Kevin ended up taking out a loan against No.13 to buy out Natalie himself.
For a while, Kevin remained confused about Sally's intentions but later spotted her kissing Greg. He threw her out of the house and refused to let her see the girls. Sally eventually took matters into her own hands and took Rosie and Sophie from him, moving them in with her in the shop flat, turning the tables on him. During this difficult period, Kevin learned that Natalie had got engaged to Des and, drunk in the Rovers, proposed to her himself, resulting in Alec Gilroy throwing him out.
In December 1998, Kevin discovered that Greg had beaten Sally and that he'd been after her money all along, just as Kevin had suspected. Sally willingly let Kevin have the girls back while she moved in with Rita. Kevin surprised Sally by asking for a divorce, with him getting custody of the girls as she wasn't fit to take care of them.
1999-2002
In the New Year, Kevin had a date with factory girl Alison Wakefield but spoiled it when Alison got upset at him looking at his watch. They overcame this and kept seeing each other, with Alison going along on holiday with Kevin, Rosie and Sophie.
In February, Kevin and Sally appeared in court to fight for custody of the children. Sally won as her lawyer stuck the knife in over Kevin's affair breaking up the marriage and him having not enough time for the girls because of work and Alison. After causing a scene in court, Kevin decided he needed time to think and went to stay with Bill in Germany, contacting Alison a week later to tell her where he was.
On his return to the country in April, Kevin told Alison he'd been confused and only now felt able to pick up the pieces of his broken life. Giving up No.13 to Sally in exchange for Sally relinquishing her share of the garage, Kevin re-employed Jim and took Tyrone Dobbs on as an apprentice mechanic. He persuaded Alison she was the only woman for him and they moved into 17a Victoria Street.
While Kevin and Alison were serious about each other, Alison remained worried that she was a low priority to Kevin. When Alison was mugged after Kevin left her to sort out a problem of Sally's and had to be saved by Terry, Alison was ready to leave him but he stopped her by proposing. Accepting, Alison opened up to Kevin about her past, revealing that her parents blamed her for her sister Cheryl's death as she died while Alison was looking after her. Kevin pleased Alison by standing up to her difficult parents but when Alison went missing with Rosie and Sophie, Kevin told Sally what Alison had told him and admitted that he was worried. The explanation turned out to be innocent, but when Alison found out Kevin's faith in her had been broken so easily, she ended the engagement and left Weatherfield. Kevin didn't have any idea as to her whereabouts until she sent a Christmas card to Sally revealing she was working in a cafe in Morecambe. Tracking her down, Kevin was stunned to learn that she was pregnant with his child and, with some persistence, persuaded her to return with him to Weatherfield and get married as they'd planned.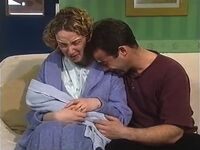 Kevin and Alison got married on 23rd January 2000. The night before, during Alison's hen night, Kevin and Sally had slept together after reminiscing about old times and then rowing about whose fault their divorce was. Kevin had wanted to tell Alison but chickened out, and Sally also regretted it. Dismissing it as a blip, Kevin began making plans for the baby's birth, including selling the garage to Jim and buying a house. On 5th June, Alison gave birth to a son, who the Websters named Jake, but within hours he showed symptoms of Group B Strep infection he caught in the womb and died at less than a day old. While a devastated Kevin tried to make sense of what had happened, Alison remained in hospital and later disappeared with Sarah Platt's newborn baby, Bethany. When she was tracked down, Kevin was allowed by police to talk to her alone and convinced the confused, grieving woman to hand Beth over to him. When she did, she immediately ran out in front of a lorry and was killed.
In the wake of Alison's death, Kevin found the pain too deep and, uncomfortable with Sally's support, left for Germany to see Bill. He returned in August.
In the New Year, Sally got engaged to Danny Hargreaves. When Danny found out that Sally had discussed Danny's proposal with Kevin before accepting it, he persuaded Sally that they should move away from Weatherfield. Kevin accused Sally of trying to push him out of the girls' lives, and ended up punching Danny in the face when Sophie was accidentally hurt when in Danny's care. When Sally supported Danny's decision to bar Kevin from No.13, a stung Kevin turned to drink and, a short time before her wedding, he made a failed attempt to convince Sally to take him back. On the day of the wedding, Kevin told Danny about his night with Sally before his own wedding but was surprised to learn Sally had already told him. To his surprise, Danny called off the wedding anyway and punched him.
Having burned his bridges with Sally, Kevin decided to move on. In June 2001, while chasing nurse Molly Hardcastle about an unpaid debt with the garage, Kevin found her about to kill herself as she owed people money. He stayed at her house all night to make sure she didn't go through with it and in the morning she regretted what she'd done. The couple ended up confiding in each other about their problems and they went out a few times, but insisted to others that they were just friends.
In September, Kevin found out Sally was seeing his friend Martin Platt and lashed out by smashing Martin's car windscreen. After going on a drinking binge, he showed up at Molly's flat and tried to grope her, but later apologised and made up with her. When Molly was burgled and didn't feel safe in her flat any more, Kevin invited her to move in with him. While their relationship was platonic at first, it soon became romantic. Meanwhile, after a few months Kevin came round to the idea of Sally being with Martin and even let Martin move in with him and Molly when Martin's flat was damaged in a fire at Sally's hardware shop. With Sally facing money problems, Kevin gave her a loan, using the money he was planning to use to book a surprise holiday for him and Molly. Tired of being a low priority in Kevin's life, Molly decided it was time to move out and move on.
2002-2008
In July 2002, Kevin suggested to Sally, who had now finished with Martin, that he move back in to share the bills. At first, Sally dismissed the idea out of hand but after they went to Gail Platt and Richard Hillman's wedding as a family and enjoying it, she came round to the idea and accepted. However, she made it clear that he wasn't returning to her bed but would sleep in the front room. Kevin decided to play it slow as he knew that if he rushed Sally she'd throw him out. With the family atmosphere and the girls happiness at Kevin being back, Sally eventually agreed to let Kevin sleep with her as long as there was no sex.
In November, they decided to try again as a couple; the next day, on Sophie's eighth birthday, Kevin asked Sally to marry him again and she agreed. On their wedding day, Sally confessed to Kevin that she was in love with someone else and that she didn't know whether to go through with it. Eventually she decided to marry Kevin for the sake of the girls.
Kevin and Sally's second marriage was fraught with disagreement and personality clashes, mostly concerning Rosie and Sophie. Sally had become an aspiring social climber and, believing Rosie was gifted, enrolled her in Oakhill School. Sally was keen to mix with the other parents and the couple made friends in Ian and Justine Davenport, parents of Rosie's friend Gemma. Ian owned a garage and gave Sally a job as PA; Kevin was pleased as she'd been trying to get more involved in his garage and Ian put some work his way too. When Sally lost her job at Davenport's, she told Kevin Ian had sacked her as she'd refused to sleep with him. Kevin went to Ian's garage and punched him in the mouth, but Ian told him that Sally had slept with him, and they'd had an affair. On confronting Sally, Kevin never received an admission, but he could tell by her behaviour that it was true. When Justine later accused Sally of sleeping with Ian, Kevin said it wasn't true and, choosing to save his marriage, told Sally they'd never mention Ian's name again.
In October 2007, Fiz Brown told Kevin that she thought Sally might be having an affair with her boyfriend, John Stape. This turned out not to be true, but when Kevin found out Rosie was John's bit on the side, the protective father punched John in the Street. John reported him to the police and Kevin was charged with assault, resulting in a 28 day prison sentence.
The following year, Sally reached an agreement with Claire and Ashley Peacock, who wanted to downsize, that they would buy each other's houses and move across the Street. Once the husbands were convinced, the Websters moved into No.4, a newer house with a garden, satisfying Sally's desire to be rid of the old terrace.
2009-2010
In April 2009, Tyrone's new wife Molly started doing the books at the garage. Kevin enjoyed spending time with Molly and signed up for a 10K run with her. Stuck in a rut with Sally, Kevin realised he was attracted to Molly and told her how he felt. She was appalled at first, but with problems at home, Molly spent more with Kevin and, caught in the excitement, they started having sex.
Kevin was a natural family man and was guilty about starting another affair. He tried to get rid of Molly by paying for a holiday for her and Tyrone, but soon realised he couldn't avoid her and, as a cover for them meeting for sex, told Sally he would be doing more breakdowns. In October, Tyrone confided in Kevin that he was having marriage problems and thought that Molly might be having an affair. Molly's aunt Pam Hobsworth spotted them together and threatened to tell Tyrone, but they convinced her it was over. By the end of the year, Molly wanted more commitment from Kevin and they agreed to tell their spouses the truth. On Christmas Day, Kevin was about to tell Sally when she revealed to him that she had been diagnosed with breast cancer.
Sally's bombshell was just the wake-up call Kevin needed. He stopped Molly from leaving Tyrone and, after revealing all to Bill, supported Sally as she had treatment. Sally had the lump from her breast removed, and her battle brought the family closer together than they'd ever been. While this was going on, Molly found out she was pregnant and told Kevin she didn't know whether it was his or Tyrone's. Realising the damage the truth would cause, Kevin had no choice but to stand back and watch Tyrone and Molly make plans for their child. Molly gave birth on 6th September 2010, and the baby was delivered by Sally, with Kevin in the room, as Molly had refused to go to hospital until Tyrone was by her side (he was on a breakdown call). The next few months were very difficult for Kevin as the uncertainty of baby Jack's paternity were hard to bear, as was Tyrone always talking about him.
In November, Kevin decided he'd had enough and stole Jack's dummy to run a DNA test. He discovered that he was Jack's dad and told Molly, who decided she couldn't live a lie and implored Kevin to tell Sally the truth. When he didn't, Molly confessed to Tyrone that Jack wasn't his, but refused to reveal who the real father was, but on the fateful night of 6th December, a tram crashed down onto the Street after an explosion at The Joinery and Molly was killed. Sally was with Molly when she died and Molly made a deathbed confession that Kevin was Jack's father.
Molly's revelation changed everything for Kevin. Sally threw him out of the house, accusing him of returning to her in sympathy because of her breast cancer, Rosie and Sophie stopped speaking to him, and when Tyrone noticed Kevin and Sally rowing at Molly's funeral, he realised that Kevin was Jack's father and knocked him into the grave. After Tyrone had handed Jack over, Kevin started the New Year in a new flat with his son.
2011-2013
In January, Kevin caught Tyrone leaving No.4 in the morning and accused he and Sally of sleeping together to spite him. Sally happily told him that they'd let him think that to upset him. Kevin responded by having the house valued without telling Sally and filing for divorce - but offered to call it all off if Sally took him back. Sally refused point blank.
Kevin pressed ahead with his plans but still seized any moment of weakness on Sally's part to try and wheedle his way back into her favour. When Sophie was in hospital after falling from the church roof, he and Sally were united in their concern for her but Kevin spoiled the situation by trying to kiss Sally. In March, on the day he and Sally were to finalise their divorce, Kevin won £200,000 on a scratch card but didn't tell Sally. Tyrone stopped Sally from signing the divorce papers and Sally was furious to learn that Kevin had nearly tricked her into losing her chance to get half of his winnings. Kevin eventually gave all the money to Sally but, now getting along better with him, she returned half of it so he could provide for Jack.
Meanwhile, the animosity between Kevin and Tyrone had made it difficult for them to work together at the garage. When Kevin had a new hydraulic lift installed, Tyrone took his anger out on it and accidentally damaged it, resulting in Kevin being nearly crushed underneath a car he was working on. Fortunately he escaped with minor injuries and he and Tyrone agreed to call a truce to save their business. He was furious when Sophie stole £20,000 of his winnings to donate to charity Roof & Refuge, which unbeknown to Sophie was a scam, but there was no way to get the money back as he couldn't report his own daughter to the police.
In late 2012, Kevin returned to 13 Coronation Street after buying it from Steve McDonald. He moved out temporarily in March 2013 with Jack to allow the Price family (Stella, Eva and Gloria) to stay there after the Rovers was burnt down, moving in with Sally. In April, he found out that Bill had suffered a massive heart attack and got a flight over to Germany with Jack to tend to Bill.
2014-
Once Bill had made a recovery almost a year later, Kevin and Jack returned to Weatherfield. Shortly afterwards, Kevin's bag was swiped while he was catching up with Rita in The Kabin. Kevin tackled Sally's new boyfriend Tim Metcalfe thinking he was a burglar before the thief was revealed to be Maddie Heath, a homeless girl whom Sophie had taken under her wing and was now living at No.4. Kevin was talked out of calling the police and moved in with Tyrone and Fiz Stape at No.9 until the Prices left No.13.
Kevin went back to Germany in April 2014 - only a month after returning to Weatherfield, as he learned that Bill had not been taking his medication and he'd subsequently collapsed and broken his leg. Before he left he gave Maddie a job as a valet at the garage to keep her out of trouble. Sophie relayed the news of Kevin's departure to Sally, who was unhappy about Maddie working at the garage. He returned in September once Bill had again recovered.
Despite his previous unsavoury run-in with Tim, Kevin made up with him and the pair began to become good friends.
Tiring of single life, Kevin took up internet dating in 2015 and reunited with former neighbour and friend Jenny Bradley, who had left Weatherfield in 1993. Kevin and Jenny got on well, agreeing to see each other again and despite Rita Tanner's cynicism upon seeing Jenny again, her and Kevin grew closer over the next few months. When Kevin's childminder broke her leg, Jenny who had supposedly just lost her job decided to take on the responsibility of looking after Jack full time and despite the continued misgivings of Rita, Sophie and her girlfriend Maddie Heath, Kevin continued to defend Jenny. Unbeknown to Kevin, Jenny was still struggling to cope with the loss of her own four year old son Tom who had accidentally drowned in a swimming pool in 2013 and who she was constantly reminded of when being around Jack.
While Kevin was attending Maddie's funeral, mentally ill Jenny took Jack and fled to Hull under a false identity, leaving Kevin bereft. When Kevin reported Jack's abduction to the police, he was shocked to learn about Jenny's tragedy. With the help of Rita, Kevin tracked Jenny down to the apartment she was renting and managed to talk her in to handing Jack over and prevent her from committing suicide by jumping off the balcony, after which she was arrested and sectioned. 
In December 2015, having moved on from events with Jenny, Kevin tried his luck at dating again and attended a singles night with Anna Windass, where he met a woman called Joanne. Kevin and Joanne met for several more dates but Kevin had no strong feelings for Joanne and found her too clingy as she began to visit him at the garage. Kevin planned to finish with Joanne but struggled to find the right way to let her down gently and Anna decided to intervene and do the job for him by pretending to be pregnant with Kevin's child and painting him as a serial womaniser. After this Kevin and Anna began to grow closer and embarked on a relationship themselves. 
In January 2016, Jenny returned to the area after Rita found her living in a squalid bedsit and invited her to live at her flat. While Sophie was hostile towards her, Kevin recognised that her actions were the result of grief and illness and forgave her, seeking to move on. When Jenny later rescued Jack after he ran into the path of a tram on a day trip to Blackpool with Kevin and Tim, the Websters were grateful. Meanwhile, Kevin continued to enjoy a blossoming romance with Anna but in October she received serious burns to her legs when she was caught up in the explosion of David Platt's car. Kevin attempted to support Anna through her difficult recovery but the couple also had to deal with Pat Phelan, who had a long standing rivalry with Anna and her son Gary that was reignited when Anna and Michael Rodwell attempted to expose Phelan's Calcutta Street scam. 
A vengeful Phelan blackmailed Andy Carver into setting fire to Kevin's garage in January 2017 in an attempt to frame Kevin for insurance fraud and although Kevin was arrested, no charges were brought against him. Furthermore Kevin tired of Anna's obsession with Phelan and her pushing him away due to her insecurities over her burns and shared a kiss with Erica Holroyd who was equally bored in her own relationship with Dev Alahan in June. The following month the pair met a at a hotel room, planning to embark on an affair but Kevin backed out at the last moment. Anna discovered the truth and exposed Erica's cheating to Dev but agreed to stay with Kevin and attempt to salvage their relationship.
Despite working through this further trouble brewed later that year as Phelan blamed Anna for his long lost daughter Nicola turning her back on him and in revenge hatched an elaborate plan to frame her for pushing Seb Franklin off some ladders in November 2017. Anna was denied bail and when Kevin visited her in hospital the following month, he broke up with her, believing that whatever had happened her continued obsession with Phelan meant she was no good to be around Jack.
In July 2018, Jack grazed his knee while playing football and a few days later complained of illness and was kept off school. While Kevin and Sophie initially believed Jack was feigning illness, his condition rapidly worsened and he collapsed while being babysat by Faye and was rushed to hospital where he was mistakenly diagnosed with a virus and sent home. When Jack's condition didn't improve, GP Ali Neeson called an ambulance and Jack was diagnosed with sepsis and put on life support.
Kevin desperately waited for news on his son's condition but was horrified by Sophie's suggestion of suing the NHS for medical negligence and point blank refused. When Jack didn't respond to antibiotics as well as expected, Kevin was informed that his son would require an amputation of his foot and lower leg. Kevin was horrified by the news and demanded a second opinion but was persuaded to sign the consent forms by Sophie as Jack's condition risked worsening further. As family and friends fundraised, Kevin did his best to help Jack adjust.
Personality
Traits
Kevin had a moustache between 1984 and 1990. When Steph Barnes noticed how uncomfortable Kevin was when she flirted with him, she bet Des that she could shave off the moustache. Steph won the bet, so Des had to walk into the Rovers without his trousers on as he'd agreed. Kevin's moustached days weren't forgotten; when Kevin and Sally were getting ready to marry again in 2002, Rosie drew a fake moustache on his face and he wore his old wedding suit for a laugh.
Relationships
Bill Webster
Kevin is close to dad Bill and often confides in him. They have many similarities; both family men who worked a trade and owned businesses. Bill could be unreliable but Kevin had more faith in him than most people, as demonstrated by Kevin bailing Bill out by loaning him money to pay a tax bill. Their relationship survived a ten-year estrangement between 1985 and 1995, during Bill's marriage to Elaine Prior. On Bill's return to Weatherfield, Kevin was very pleased to see him again and put him up at No.13.
Bill didn't hold back when he thought Kevin needed a talking-to. They had major differences of opinion when Bill found out about Kevin's affairs with Natalie Horrocks in 1997 and Molly Dobbs in 2009. Bill's part in Kevin's life in 2009 was complicated by the fact that he was in a relationship with Molly's aunt Pam Hobsworth and both were disgusted by their relation's behaviour. As Bill's own wife Alison had died from cancer, Bill was appalled when Kevin didn't immediately commit to Sally when she was diagnosed with breast cancer, worrying instead about his own problems with Molly and the possibility of Sally finding out, although Kevin did then realise he was being selfish. Since Molly's death, and Kevin's separation from Sally, Bill has rarely visited the Street and lives with Pam, though Kevin flew over to take care of him when he took ill.
Sally Webster
Sally Seddon entered Kevin's life when he thoughtlessly splashed her with his garage van, however this wasn't their first meeting - they'd met in passing at Captain's Beaky's, where they hung out. Sally remarked that Kevin never gave her the impression that he cared about anyone but himself. Kevin laughed it off, telling Sally she and her friends "squawked away like parrots".
Kevin and "Sal" were well suited - they were both respectful, cheerful people who never seemed to tire of each other's company. Any disagreement was between them and others, rarely with each other. Once Kevin realised he loved Sally, he immediately put plans in place to spend the rest of his life with her. With Kevin at 21 and Sally 19, they were young newlyweds and with time and maturity their feelings towards each other could be expected to change but though they did have arguments, their deep-seated affection for each other resulted in a rock-solid marriage which stood the test of time.
The aforementioned arguments were mostly caused by Kevin's temperament and ambition. Kevin was very protective of Sally and their daughters, and any man who crossed them could expect a thump from Kevin. However it was Kevin's lack of ambition which drove many disagreements in the Webster household - Sally often pushed Kevin to aim higher, but Kevin was satisfied with being a lowly mechanic, working for someone else. Sally knew this would mean there would be no fortune in their future but while this bothered her she stood by Kevin regardless.
Kevin's affair with Natalie changed their relationship. Kevin blamed the affair on Sally's absence and Natalie chasing him, but Sally accused him of being bored with her and going to Natalie for excitement, adding that if she'd turned into a boring housewife then he was to blame. When Kevin and Natalie became a couple, Sally broke into Natalie's house, wrote 'whore' on the mirror, and left the taps running, flooding the house. She was infuriated when Kevin dismissed the idea of her being the culprit on the grounds that it was out of character for her - she'd always been the more impulsive of the two; in 1993 she made a stand against the Council allowing diverted traffic to go through Coronation Street, increasing traffic levels to a dangerous amount, by parking Alf Roberts's car across the road, blocking the traffic, and putting the car keys in the postbox.
Kevin's reconciliation with Sally served several purposes: Rosie and Sophie would be better off with two parents, and neither Kevin nor Sally had had a stable, long-term relationship since their divorce, and together they could pull their finances. While Sally was mainly thinking of such practicalities, for Kevin their re-marriage was a long time coming as he still loved Sally and having his family all living under one roof again was a dream come true. Despite Kevin's best wishes, the second marriage was always one of convenience and was fraught with disagreements from the outset. Sally became increasingly obsessed with the talent she saw in Rosie, pushing her towards performing arts and later Oakhill school, in the hope that her daughter could take full advantage of opportunities that were never offered to her. While Kevin was more concerned with the practicalities of funding a private education, Sally had tunnel vision when it came to her daughter having 'the best' and was keen for the family to be upwardly mobile. Both Sally and Kevin strayed again during the second marriage and it ultimately and perhaps inevitably collapsed in 2010 after Sally discovered Kevin's affair with Molly Dobbs and his fathering of her child, Jack.
While the Websters are now divorced again, they still instinctively close ranks during family crises. In March 2012 Sally was frightened off by her partner Frank Foster, who was a rapist. Kevin went to deal with the situation although never confronted him. When Frank was found dead in the factory, Kevin and several Street residents who Frank schemed against were suspects, however it transpired that Frank's mother Anne was the killer.
Although Sally was initially hostile towards Kevin and his love child Jack after his affair with Molly was revealed, she later softened and was there to rally round and offer support when Jack contracted sepsis and had to have a leg amputated in 2018. With Sally now happily married to Tim Metcalfe, who is also a good friend to Kevin, Kevin and Sally have a better relationship than they have in years despite being apart.
Rosie Webster
Rosie has often been a source of worry for the Websters. In 2003, aged 12, she went missing only to turn up in Birmingham for a girl band audition she'd decided not to tell her parents about. From that point, she became Sally's 'project'; the socially ambitious mother was determined that her 'gifted' daughter should be recognised for her talent. Kevin was bemused by Sally's campaign but left her to it. The Websters later agreed to pay to send Rosie to Oakhill School, even though the escapade was far more about Sally than Rosie.
In contrast to Sally, Kevin didn't believe in being too interfering a father, but when he and Sally found out Rosie, at 15, was having sex with her boyfriend Craig Harris during the school holidays, he barred her from leaving the house and took her mobile phone away. In 2007, Kevin thumped John Stape for 'taking advantage' of 16-year-old Rosie after finding out about their affair. After serving a custodial sentence for assault, Kevin organised with Rosie to start spending more time together by having a father daughter night out every week.
As Rosie has grown up, Kevin has let her become her own woman. At times Rosie can be thoughtless and the typical airhead. In 2010, Kevin angrily snapped at Rosie over her insistence on getting a boob job despite Sally's breast cancer battle. In 2011 she took Jack along to a modelling job, pretending to Kevin that she wanted to get to know her half-brother better, and returned with the wrong baby, preoccupied with herself in typical Rosie fashion. As usual, Kevin was furious but put the incident aside as it was quickly cleared up. Despite her mishaps, Rosie's intentions are usually good and Kevin has always forgiven his daughter her mistakes.
Sophie Webster
Kevin is probably closer to Sophie than to Rosie. While Sally's obsession with Oakhill and Rosie's 'talent' was in full swing, Sophie lived somewhat in her shadow and often went to Kevin for attention. Kevin noticed this and made Sally aware that she was neglecting one daughter for another.
However, Rosie and Sophie were also very different. Sophie scoffed at most of the plans Sally made for Rosie, and told a relieved Kevin and Sally that she would much rather go to Weatherfield Comprehensive than the pretentious Oakhill. Even so, Rosie being more of an ongoing concern for the Webster parents meant that Sophie wasn't kept under such close scrutiny. In 2005, she was caught smoking. In 2009, she got a pregnancy test and let Kevin and Sally find it so that they would worry.
2009 was a year of change for Sophie as she decided to practice her Christianity, setting her apart from the rest of her family. She became best friends with Sian Powers and in 2010 they revealed that they were in a relationship. Kevin accepted Sophie's announcement that she was gay far easier than Sally did, pledging his support of his daughter in a heart-to-heart conversation shortly after she came out.
He has occasionally taken a stance against Sophie however; Like Rosie, Sophie is sometimes prone to reacting on impulse and this can cause tension with Kevin when things go wrong. In 2011 Kevin was vehemently opposed to Sophie quitting her job to volunteer at a soup kitchen full-time, rejecting the idea that helping people was its own reward. When Sophie stole £20,000 of Kevin's scratch card winnings so that the (fraud) charity could buy a house at auction, the already fractured family suffered another blow to their trust in each other. In 2018, Sophie believed Kevin blamed her for Jack contracting sepsis as he injured himself while she was looking after him and Kevin angrily refused Sophie's suggesting of suing the NHS for medical negligence. Kevin later reassured Sophie that he didn't blame her for Jack's illness.
Tyrone Dobbs
Tyrone Dobbs joined Websters' Auto Centre as an apprentice mechanic in 1999 and was Kevin's longest-term assistant at the garage.
Like Kevin, Tyrone was content to fix cars; it was the women in his life, such as Maria Sutherland and Fiz Brown, who tried to give him ambition. Kevin and Tyrone had much in common and got along tremendously well, with Kevin being something of a mentor and best friend to Tyrone.
Tyrone was once sacked by Kevin. In February 2002, Kevin found out that Tyrone had been supplying blank MOT certificates carrying the garage's address to Karl Harper, and immediately fired him. Tyrone had been 'convinced' by Harper to provide the certificates as he was already illegally clocking cars for him. Harper had bought the cars from Weatherfield Windows, whose cars had been serviced by the garage with a cut of the profits going to Alan Rush. Tyrone knew Kevin was in on this scheme (Harper had first offered the clocking jobs to Kevin but he'd refused) but Kevin quickly reinstated him.
In 2005, Maria convinced Tyrone to fake a job offer from another garage so that Kevin would appreciate him more. Kevin found out but surprised Tyrone by making him Night Service Manager. In 2008, Kevin offered Tyrone a chance to buy a share of the business and Tyrone agreed.
It is perhaps surprising then that Kevin would so readily have an affair with Molly. After Tyrone found out, he felt nothing but animosity for Kevin, and took any opportunity to get one over on him, including sharing a kiss with Sally from who Kevin was now once again estranged. Against all odds and only because of the garage Kevin and Tyrone began to repair their relationship over many months.
In February, Tyrone admitted to Kevin how his partner Kirsty Soames (who accused Tyrone of assaulting her) had abused him over a period of a few months. Kevin decided to help Tyrone take his daughter Ruby who Kirsty refused Tyrone to see. Kevin offered to babysit for Kirsty at Sally's house while looking after Jack so Kirsty could go out. He then handed Ruby over to Tyrone, and pretended to be asleep on the couch, as an alibi that he had been asleep the whole time. Despite this however, Tyrone was later found and arrested, although he was later released when Kirsty admitted to lying and got sent to prison.
When Kevin returned after a year away in 2014, he was angered to discover that Tyrone had unpaid invoices and unanswered tax documents, including a fine. Fuming at how Tyrone let things get that bad, Kevin began to shun him. At Fiz's request, Sally later approached Kevin in the Rovers and asked him to go easy on Tyrone because of all he had been through with Kirsty and being left in the lurch when Kevin left for Germany. Cooling down and coming to his senses, Kevin made up with Tyrone, but told him to ask for help in the future instead of letting things get out of hand.
Now Kevin and Tyrone are firm friends once again, surprisingly having overcome Kevin's affair with Molly and Jack's parentage which is now water under the bridge. Tyrone supported Kevin in 2018 after Jack contracted sepsis and had to have a foot amputated.
Friends
Kevin's closest friends in the Street were Curly Watts and Martin Platt. When Gail Tilsley confided in Sally that she was going to abort Martin's baby in 1990, Kevin warned Martin, who didn't even know Gail was pregnant, which resulted in Martin stopping Gail from going ahead with it. A year later, Kevin was Martin's best man at his wedding to Gail.
Many of Kevin's friendships have started in the garage. He got on well with his first boss Brian Tilsley but they didn't socialise much outside work. Because of his casual managerial style, Kevin was quick to become friends with mechanics who worked under him. Mark Casey, Doug Murray, Tony Horrocks and Tommy Harris all worked for him by day and drank with him in the Rovers by evening. If Kevin got on well with someone, he always gave them a chance; he kept Doug on at the garage even after Doug went missing for a few days. Doug showed up and admitted he was bankrupt and was living under a false name to escape his creditors.
Kevin's friendships sometimes put him in a difficult situation. In 2003, Kevin found out that Martin was seeing Tommy's 16-year-old daughter Katy and strongly disapproved, implying that Martin was a pervert as Katy was only a few years older than Rosie.
Another friend of Kevin's was Terry Duckworth. Terry got up to trouble that Kevin didn't want to get involved with, but Kevin did choose Terry has his best man at his first wedding to Sally. The Websters fell out with Terry when he tried to stir things between them by getting a girl to kiss Kevin on a lads night out, and then getting others to play along with it to panic Sally.
Upon his return to Weatherfield in 2014, Kevin had a run-in with Sally's new boyfriend Tim Metcalfe and attacked him believing he was a burglar at her house. However when he returned to Weatherfield a few months later, the pair made up and grew fairly close. On Christmas Day, Tim went round to No.13 and the pair had fun playing with Jack's Scalextric, arriving back at No.4 two hours late for Christmas dinner. Despite a kiss between Kevin and Sally in 2015, he remains close to Tim and the pair took Jack to Blackpool together in 2016.
Hobbies and interests
As with most men his age, Kevin is a big football fan. In 1998, he neglected Sally's birthday to watch the World Cup in the Rovers. Kevin enjoys spending a night drinking in the Rovers and like many of the regulars, enjoys playing darts in the pub.
In 1989, Mark Casey interested Kevin and Sally in banger racing. Sally bought a banger with money she inherited when Eddie Seddon died and they enjoyed competing, although when Sally drove the car alone she crashed and broke her ankle.
At the Rovers talent night in 1984, Kevin played percussion in Curly and Terry's band.
Background information
Kevin first appeared in Episode 2353 on 19th October 1983. Michael Le Vell also played Kabin paperboy Neil Grimshaw in January 1981. According to Le Vell in The Coronation Street Story (1995), he got the part of Kevin by chance: "I was at Granada waiting to audition for a programme called Scully, and the casting director Judy Hayfield walked past and said, "Am I seeing you tomorrow for Coronation Street?" I said, "No" so she said, "Oh, I'll get on to your agent." So I came back the next day and got the part!"
Initially a stand-alone character, Kevin was soon joined by dad Bill and sister Debbie. Executive producer Bill Podmore had long-term plans for the Websters but they had to be shelved when Peter Armitage (Bill) quit at the end of his contract. Debbie left with Bill but Podmore saved Kevin, explaining: "I was anxious to (keep him), because he had brought a special sparkle to the character which had not been lost on our young female audience." (Coronation Street: The Inside Story, Podmore, 1990).
On Kevin's character, ITV publicity says: "A non-nonsense garage mechanic who likes an uncomplicated life and his tea on the table when he comes home from work." In the book Life in the Street by Graeme Kay, Kevin is described as a very cheerful yet cautious character. Bill Podmore enjoyed the contrast between Kevin and his friends, reflecting in A Celebration of Coronation Street's 25 Glorious Years: "I'm extremely pleased with the way the new youngsters are fitting in. With Kevin Kennedy, Michael Le Vell and Nigel Pivaro we have a nicely balanced young comedy trio to bring back a bit of the bite Ena, Minnie and Martha used to put into the Rover's conversation." In his 1990 memoirs, he adds: "(Kevin) played the upright young citizen any mother would be pleased to welcome into her daughter's life."
In the 1980s, Kevin sported a moustache, which was famously shaved off by Steph Barnes in 1990. In 50 Years of Coronation Street by Tim Randall, Le Vell remembers: "There are old pictures of the cast all over the studios, and my overriding thought when I see them is that I can't believe I had that long mullet hair and that horrible moustache. The only reason I grew it in the first place was so I could get served in pubs and I soon got sick of it. I asked the producers several times if I could shave it off and but they refused point blank. In 1990 I got a script saying "Steph Barnes lures Kevin upstairs and shaves off his moustache" I nearly jumped for joy. No one was more glad to see the back of that 'tache than me!" Kevin didn't have a moustache in his first appearance.
Kevin's 1997 affair with Natalie Horrocks was the brainchild of producer Brian Park. In 50 Years of Coronation Street by Sean Egan, Park elaborates: "One of the first things I did was to go, 'Right, who's the happiest, longest married couple in the show?' The only one that hadn't seemed to have an affair had been Kevin and [Sally] and therefore we introduced Natalie Horrocks, played by the redoubtable Denise Welch. Started to break up that marriage." On his rationale, he adds: "You can't be complacent. Drama at the end can't be an exposition of the obvious and the predictable and, if it is, it stultifies. People go to watch it each week because they want to see twists and turns." On the Websters, Park says: "Kevin and Sally Webster had years of washing their hands and eating baked beans on toast. Michael Le Vell and Sally Whittaker were then given great storylines, including his affair with Natalie, Sally's catfight with her when she found out and the subsequent divorce."
Le Vell took four weeks paternity leave for the birth of his son in 1999. Within storylines, this occurred after Sally had been awarded custody of Rosie and Sophie.
During the 1980s, Kevin was somewhat of a gay icon, thanks to his moustache, tight jeans and pierced ear and Le Vell received large volumes of fan mail from gay men. According to Le Vell the attention from gay men ended after he shaved his tache. "Gay people loved it. I was a massive icon. But as soon as I shaved it off, they just didn't want to know!" he claimed in 2008. [1] Kevin's gay following was reportedly revived in 2005 after Le Vell appeared in an ITV sketch dressed in drag in a remake of the video for Queen's "I Want to Break Free".
Le Vell was nominated in the category of "Best Actor" at the 2011 British Soap Awards.
Kevin's last appearance for the bulk of 2013 was on 8th February 2013 as Michael Le Vell had been suspended from the programme pending alleged child abuse charges. Scenes that had been previously filmed involving the character were removed. Kevin was written out of the show and sent to look after his sick father Bill Webster in Germany to explain his absence. Le Vell was found not guilty of all the charges against him on 10th September 2013 and the character returned on-screen on Episode 8347 (21st March 2014).
Before the character's return in March 2014, it was reported in the press that Michael Le Vell had taken drugs during his absence and was to take a three month break in order to seek professional help with addiction problems. The character of Kevin was only back for four weeks on screen, disappearing after Episode 8368 (18th April 2014). He returned with Episode 8476 (24th September 2014).
Controversy surrounded the character in June 2015 after Kevin appeared to forget the death of his baby son Jake on screen. In the episode broadcast on 10th June 2015, during a conversation with Sophie about Maddie Heath's death, Kevin remarked that "It must be hard burying one of your kids." Apparently forgetting the death of Jake (and subsequently Alison) in 2000 which was a major event in Kevin's life and was reflected on a lot in the months and years immediately following. Producer Stuart Blackburn apologised for the mistake, telling The Sun newspaper: "I'd like to thank viewers who spotted our mistake. Our episodes go through many drafts and are scrutinised by many people, but on this occasion we did make a mistake." [2]
First and last lines
"Thanks very much. You going to Weatherfield are yer'?" (First line, to Alf Roberts)
Appendices
(To be completed)
List of addresses
Employment history
See also
External links