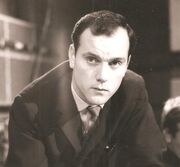 Kenneth Charles Cope (born on 14th June 1931 in Wavertree, Liverpool) was a familiar face in several iconic 1960s television programmes. He first appeared as the fondly remembered 'Sonny Jim' - Jed Stone - in Coronation Street in a one-off episode in April 1961, then returned as a regular character in September of the same year. The Equity actors' strike meant that his departure from the programme was sudden in November, however he reappeared for further stints in the role from November 1962 to March 1963 and January to September 1966. His popularity in the role of the street trader was such that he was invited to become member of Belfast branch of National Market Traders Federation in January 1963.
After this he turned to his writing talents, penning Episodes One and Three of the Leonard Swindley spin-off Turn out the Lights with Peter Eckersley. He later appeared - and is best remembered - for the series Randall and Hopkirk (Deceased), in which he played the latter titular-role. He also contributed to the seminal satirical series That Was the Week That Was.
As well as being an actor Kenneth has worked as a DJ for Radio Luxembourg and recorded a record, 'Hands off. Stop mucking about', with Tony Hatch.
He has continued to act after leaving the programme taking a leading role in two of the better late 1970s 'Carry on' movies, Carry on at Your Convenience and Carry on Matron. He appeared in the soap opera Brookside for three years as Ray Hilton.
Somewhat unexpectedly, Cope returned to Coronation Street as Jed in August 2008. The forty-two year gap between his appearances was stated as being a possible record for any television programme but his was broken by actor Philip Lowrie who returned in 2011 as Dennis Tanner after a forty-three year absence. After playing the role for four episodes in August, he returned again in November that year, where the character was almost killed by Tony Gordon (Gray O'Brien) on Christmas Eve. After a brief return in the New Year, he made his final appearance in February 2009. It was originally intended for Jed to be killed off, but Kenneth Cope was against the idea so producers had a change of heart.
In March 2014 Kenneth appeared as a character witness for former colleague William Roache (who plays Ken Barlow) over historical sex abuse allegations dating back to the 1960s.
Kenneth met his wife Renny Lister when she appeared alongside him in Coronation Street as Jean Stark. Their children include the actress Martha Cope who herself appeared in Coronation Street in December 2015 and January 2016 as Joanne, a woman who briefly dated Kevin Webster.
With Coronation Street being his last contribution to television, Kenneth currently resides in Southport and writes a column for the weekly Visitor newspaper.
*Disclosure: Some of the links above are affiliate links, meaning, at no additional cost to you, Fandom will earn a commission if you click through and make a purchase. Community content is available under
CC-BY-SA
unless otherwise noted.