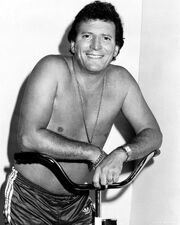 Johnny Briggs MBE (5th September 1935 - 28th February 2021) was a British actor most famous for his role on Coronation Street as Cockney entrepreneur Mike Baldwin, a part he played for thirty years from 1976 until 2006. He appeared earlier on the programme in May 1974, playing Mark Brittain Warehouse lorry driver Frank.
Since leaving Coronation Street, Briggs appeared in interviews for specials such as Farewell Vera, Coronation Street: 50 Years, 50 Moments, The Corrie Years and reunited with former co-stars William Roache (Ken Barlow) and Anne Kirkbride (Deirdre Barlow) for the latter's tribute show Deirdre & Me - Forty Years on Coronation Street in 2012. That same year Briggs also reprised the role of Mike Baldwin as the ghost of the character for the Text Santa Christmas Charity sketch, which was transmitted on 21st December 2012.
Briggs paid tribute to Anne Kirkbride when she passed away in January 2015.
He was a pupil at the Italia Conti Stage School in London from 1947-1953 and prior to joining the programme he was best known to viewers for his regular role in crime drama No Hiding Place. He appeared in many other television series such as Crossroads, The Saint, Danger Man and Softly, Softly and numerous films including HMS Defiant and Hue and Cry.
In February 2021, Briggs passed away after suffering from a "long illness".