James "Jim" McDonald is the ex-husband of Liz and father of Steve and Andy.
Jim served with the Royal Engineers before moving to Coronation Street with his wife and teenaged sons in 1989. Post-Army, he was mainly employed as a mechanic and labourer, though he broke from his usual skill set to manage The Queens pub with Liz in 1993. As a businessman he was less successful; starting off in civvy street as a TV repairman, Jim ran Jim's Bike Shop until it folded in 1992, while his and Bill Webster's once thriving building firm floundered once Jim was left to run it by himself.
Jim's cool reserve hid a temper which flared up violently on occasion. He and Liz had a particularly stormy relationship, with many falling outs due to Jim's possessiveness and paranoia over Liz's relationships with other men, but they always reconciled. In 1992, they were united in grief for their daughter Katie, who died a day after her premature birth.
The McDonalds' first marriage ended in 1996 after Liz confessed to a fling with Jim's army buddy Johnny Johnson many years earlier, leading Jim to hit her and call her a whore. They re-married in 2000 ahead of Jim's sentencing for the manslaughter of drug dealer Jez Quigley, who had died following a revenge attack from Jim for having Steve beaten up. Jim was given eight years for his crime and by the time of his release in 2007, Liz had given up waiting and had divorced him again. Remaining devoted to Liz, in 2011 Jim held up a building society in order to give her enough money to buy the Rovers Return, resulting in his arrest and another seven years in prison.
Diagnosed with Myotonic Dystrophy in 2016, Jim was released from prison two years later and currently lives with his partner Hannah Gilmore.
Biography
1955-1999: Early life, Marriage and life on the Street
James McDonald was born on 14th November 1955 in Northern Ireland to parents Masie and Edward. Jim joined the army at a young age, eventually earning the rank of Sergeant. He later met Liz Greenwood during his time in the army and the two embarked on a romance. However in 1974, Liz fell pregnant with twin boys and so the pair married. Later in the same year their sons, Andy and Steve, were born. Jim continued to serve in the army throughout the twins' childhood and the family often found themselves moving from place to place, living in army housing with the family never having a place of their own. Liz became very lonely and depressed whilst Jim was away and felt destitute having to bring up two young boys on her own. She eventually found a shoulder to cry on in the form of Jim's army mate Johnny Johnson, who was also the twins' godfather. Once, when Jim was serving in Norway the pair grew even closer and had a brief three-week affair before calling it off and agreeing that Jim could never know about it.
Eventually, Jim decided to concentrate on his family and give them a fresh start and so moved to Weatherfield with his family in 1989. Jim and Liz purchased 11 Coronation Street from Audrey and Alf Roberts and soon began to get settled in, moving in with the the twins a few weeks later and making home improvements. In order to provide for their family, Jim began a bike repair shop simply called Jim's Bike Shop whilst Liz began working as a barmaid at the Rovers Return Inn. The family soon settled into life on civvy street as the family were relieved to finally have a permanent residence of their own instead of the cramped army housing they were used to and considered life at Number 11 a fresh start.
In February 1990, two months into their new life on Coronation Street, Johnny came to stay for a few days. He had come to Manchester for an interview for the position of recruiting sergeant at their office there - a job which, unbeknownst to Johnny, Jim was also after. Out of respect, Jim didn't tell Johnny he wanted the job as well and allowed him to stay at at Number 11 for as long as he wished. Johnny was especially happy to see Liz again, but when she told him about Jim being interested in the position and made it clear that him living locally would be an unwanted complication for her, Johnny turned the job down. However, there was still the prospect of Jim getting the job and returning to the army, breaking his promise to her and uprooting their family once again after they had just gotten settled. Liz threatened to leave Jim if he took the job, which he considered a bluff but Johnny warned him that she meant it this time. His friend's words hitting home, Jim decided not to pursue the job, and credited Johnny with saving his marriage.
In 1991, Liz told Jim that she was pregnant but wasn't sure whether or not she should keep the baby as she believed the risks of having a baby at her age were too great. However, after much discussion the couple decided that they would keep the baby and go ahead with the pregnancy. Jim was delighted with the news and wasted no time in telling the packed Rovers the news. As the year drew to a close ,however, Steve began getting into trouble with the law, getting caught stealing car radios. He refused to name any of his accomplices and so remained a target of police investigation. If this stress wasn't already enough on the pregnant Liz, Steve vanished on New Year's Eve that year. With Andy not knowing where his brother was either, the family began to worry. Liz believed that Steve's accomplices had attacked him or he had been taken in by the police again. In reality, Steve was with Victoria Arden at her house which they had planned for nobody to find out. After Steve still failed to return home the stress got too much for Liz and she began to experience severe abdominal pains. Jim got Andy to call an ambulance and Liz was rushed to hospital. The following morning Liz gave birth prematurely to a baby girl who they named Katie. However, due to Katie being born so early she was unable to survive on her own. She was placed in an incubator but one of the Doctor's at the hospital, Doctor Swann, warned the couple that Katie's chances were not good. They were grief stricken when Katie passed away the next day on the 2nd January. She was buried by the family the following week. The couple were never quite the same since Katie passed away with Jim more angry and distant. Jim vowed to never have children again and underwent a vasectomy.
Liz took time off her work as a barmaid to mourn Katie and so Jim was left as the sole money earner for a while, still running his bike garage. Business was slow for Jim, despite his former success and even Liz returning to her job later in 1992 wasn't enough to keep his bike shop from folding. After the failure of his business, Jim sought employment elsewhere. He was eventually employed at MVB Motors working alongside mechanic Kevin Webster. The two soon became great friends for many years. Due to Katie's death, Jim and Liz's relationship hit the rocks and the pair separated in 1993 after the couple began to manage the Queen's pub, as running a pub had always been their dream.
This came to be because Liz was offered the position by Newton and Ridley. Jim soon became convinced that Liz was having an affair with the Director of the company, Richard Willmore and punched him, forcing Liz to tell Jim their marriage was over and that she was staying to manage the Queens without him. Despite their separation the pair still cared for once another and soon grew close again with Jim often visiting her at the pub. On New Years Eve the pair kissed and agreed to try again with their marriage. Jim then briefly joined again Liz at the Queens. However, Liz was made to choose between Jim or the pub by Richard and she chose Jim, moving back to Coronation Street with him. By 1995, Jim was still working at the garage but decided he wished to branch out more. He and Kevin's father, Bill Webster decided to set up their own building firm, purchasing a single van for their transport. Business soon began to boom however and Jim and Bill's company soon grew into an empire.
In February 1996, Liz confessed to her affair with Johnny as they were heading back home from attending an Army reunion in Macclesfield. Angered, Jim shouted verbal abuse, dragged Liz from the car and hit her. He then left her lying in the road at the service station, driving off in a drunken rage. Liz had to make her own way home. Upon returning home and sobering up, Jim realised what he had done and immediately tried to find Liz and apologise to her. However, she was having none of it and ignored him all day. Finally, Jim managed to get Liz to meet him in the Rovers to apologise and make his case. However, Liz declared their marriage truly over this time and left to go home. Jim became enraged and determined to save his marriage and speak to Liz. He attempted to break into the house after Liz with a snooker cue rest. Liz called the police and he was arrested. A restraining order was placed on him. In spite of this, Jim refused to leave Liz alone and one day had the police called on him for violation of the order after he refused to leave the Rovers where Liz was. He was subsequently charged with violation of the order and spent three weeks in Strangeways Jail. The pair were divorced later that year, ending 22 years of marriage. That same year, Steve was charged with selling stolen whiskey and dodgy tobacco and was sentenced to 2 years in prison. In addition to this Jim's mother passed away, leaving all her money to Jim. He had recently heard that Liz was planning on selling Number 11 and moving away. Jim spied his opportunity and approached Liz in the Rovers and told her he wished to buy the house with his inheritance money. Liz was surprised but agreed and so Jim moved back into the house while Liz moved out.
Jim still had contact with his children after the divorce, visiting Steve in prison and living with Andy at Number 11. In 1997, the now single Jim decided to try his hand at romance. He took a fancy to new Rovers barmaid Samantha Failsworth as they shared an enthusiasm for motorbikes. The pair had dinner together many times at her house with them even going bowling together one evening. Jim considered this to be the most fun he had in a while. Jim wanted to tell her how he felt, and was encouraged by Bill who was having relationship problems of his own. Jim was reluctant to do so as he believed himself to be too old for her, being 21 years her senior. Jim never got the chance to confess his feelings as Samantha told Jim she wanted to remain just friends, putting an end to his hopes. The pair remained close however, with Jim waving her off when she departed Weatherfield the following year. Steve was released in June of 1997 and began working for Jim's business. Steve had begun a relationship with Fiona Middleton in 1994 and continued to have a close friendship with her after his release, hoping to win her back one day. Fiona was having relationship problems with her fiancee Alan McKenna and relied on Jim for support. During this drama, Jim and Fiona began to grow close despite Fiona's engagement. Around this time, after hearing of his ill-fated attempts at romance with Samantha, Liz began to warm to Jim again. The pair spent time together due to both of them wanting to see Steve and Andy. One night Jim prepared a birthday meal for Liz at Number 11 that he whole family was to attend but Steve and Andy backed out at the last minute to go to the Rovers, meaning Liz and Jim had the meal alone. The pair spent the evening together, drinking and reminiscing over the old
times. The evening concluded with the two sharing a kiss and sleeping together. The following morning they agreed to get back together, but take things one step at a time. However Jim was reluctant due to his feelings for Fiona. Jim's involvement with Fiona culminated in the two having sex at the Salon. Soon afterwards Jim told Liz that there was no future between them leaving Liz heartbroken and feeling used. Not long after her evening with Jim, Fiona announced that she was pregnant but due to Jim's vasectomy, the child could not be his. But, to be on the safe side, Jim visited the doctor's where it was revealed the vasectomy had failed and that there was every chance he was the father of Fiona's baby. It was later found out that this was not the case, but Jim still interrupted Fiona and Alan's wedding to tell everyone the truth about what happened between them. Alan was enraged at Jim and Fiona, with the latter also being upset at Jim for ruining her big day. When Steve found out, he practically disowned his father, not only because he slept with his ex-girlfriend but because he gave his mum false hope of a reunion. Andy graduated from university at the end of the year and upon doing so moved to Spain to teach English, leaving Jim the sole McDonald left at Number 11.
In 1998, Jim and Steve were still not on good terms, with Steve attempting to make Jim's life hell at work. Bill had decided to leave to go to Germany with his wife Maureen, leaving their business to flounder as Jim was unable to run the firm by himself. He attempted to ask Steve for a job working on the same building site but Steve adamantly refused due to his father's previous actions. Jim turned to Liz and asked her to have a word with Steve about a job. But still, Steve refused, leaving Jim to look for employment elsewhere. Jim managed to secure a job at Coronation Street's garage where he used to work, though it was now owned by Kevin who had purchased it the previous year. Jim visited Steve on the building site in order to gloat about no longer needing him. This soon turned into an all out argument with Steve goading Jim about hitting Liz years prior. Jim was furious and made a swing for Steve. A fight commenced which resulted in Jim losing his balance and falling from the scaffolding and into a rubble filled skip below. Jim was rushed to hospital and when there remained unconscious as the doctors examined what damage had been sustained from his fall. Jim's family was told that it wasn't certain he would ever walk again. Jim had also hit his head and so when he came round, he could not remember Steve's attack on him and was told that he simply fell from the scaffolding. After a short stay in Weatherfield General, Jim was allowed home but was confined to a wheelchair. Liz took great pity on Jim and decided to stay with him at Number 11 in order to help him recover and to care for him when he was incapable of doing so himself. The couple once again grew close, with Jim having genuine feelings for his ex-wife, however Liz only went along with things out of pity. They agreed to once again take things a step at a time but said they wished to make a go at things. The couple went on a few dates but they almost always ended in disaster. Jim was unhappy with how everyone now treated him differently when the two went for a drink in the Rovers and was angered when Maud Grimes appeared to trivialize his wheelchair and left in a rage. Another time, Liz took Jim to a restaurant. Things appeared to be going well until Jim left to go to the bathroom. One of the restaurant patrons had been eyeing Liz up all night, and once Jim was out of the way came over and began to flirt with her. Liz politely turned him down and he returned to his table, not before Jim caught sight of him. Jim demanded to know if he had tried it on with her and after some persuasion she admitted that he had. Jim approached the man and yelled at him, telling him he had no right to flirt with Liz simply because he was paralyzed. The man left and Jim returned to the table. Liz was unhappy, however, at Jim's actions and scolded him for ruining a perfect evening with his jealousy. Due to Jim's injuries he was assigned occupational therapist Michael Wall who helped him to walk again. With Michael a near enough permanent fixture at the house, Michael and Liz embarked on an affair without Jim's knowledge. Around this time, after a tip off from Fiona, Jim realised that Steve was responsible for his fall and paralysis. He confronted Steve in a rage and after initially denying it, admitted to pushing him. Up until this point, the pair had been reconciling after Jim slept with Fiona, but this revelation worsened relations between father and son even further. As a result of everything stacking up on top of him, Jim became depressed. He hated his wheelchair and thought there was no hope for his future or for him with Liz. He attempted suicide by wheeling himself in front of Mike Baldwin's car. Mike slammed on the breaks just in time and shouted at Jim for his stupidity. Maud witnessed those whole thing, and later came to visit Jim as he was attempting to drink himself to death. At first Jim was openly hostile towards Maud, refusing
to tell her anything. After she continued to demand answers Jim angrily admitted he wished to die and that he hated her. Despite this, Maud managed to make an impression on Jim by reminding him of his time in the army, and of when he was Sergeant James McDonald. She told him to think before he tried to kill himself as there were many men such as himself who never came home from war, many that she once knew. Maud departed after this, but her words left such an impression that Jim decided to make a better life for himself. After many months of trying, Micheal had managed to get Jim out of his wheelchair and helped him to walk for a few steps aided by a frame. With Jim believing that he and Liz's relationship was going well, he saw this as the perfect time to propose to her again. Jim picked out a ring and a bouquet of flowers with the help of his friend Gary Mallett. Gary helped Jim out of his chair and set up his walking frame, and left Jim to get into Number 11 and propose. With great difficulty, Jim made his way indoors and into the front room. What awaited him dismayed Jim and caused him to collapse into a heap. Liz and Michael were having sex in the front room. Jim was shattered and Liz disappointed that Jim had to find out like that. Jim threw Liz out of the house and initially planned to make Michael's life hell as payback.
Things changed when, after giving things a lot of thought, and finding out that Liz and Michael wanted to set off for a new life in Milton Keynes, Jim decided to let Liz go, as he knew she would never love him and that he was simply hurting himself by trying. Steve and Jim finally reconciled in order to wave Liz off. Jim wanted Liz's last memory of him to be a positive one, so got Steve to help him out of his chair and for the first time since his accident, stood unaided in the street to say goodbye to his former wife.
Things began to look up for Jim in 1999. After months of trying and hard work, he was able to walk again with the aid of a walking stick. He began working at the garage again, as well as restarting his building firm with Gary as his partner. Jim also began a relationship with factory worker Gwen Davies whose ex-husband served in the same army
regiment as Jim. At the garage, Kevin took on a new apprentice, Tyrone Dobbs, who Jim was tasked with training. Tyrone and Jim became friendly, with the former often coming to Jim for advice on adult life and romance. Jim's side business saw success as well, despite having some issues such as the time where Jack and Vera Duckworth were late on the payment for a new staircase that Gary and Jim fitted in the Rovers. After waiting patiently, the two decided that until the money was paid, there would be no stairs at all and so took them out while the Duckworths were sleeping. Eventually the payment was made and the stairs returned. Sadly this partnership did not last the year as Gary's wife Judy passed away after a car accident and Gary had to stop working for a while to concentrate on bringing up his two children, Billy and Becky. The two men remained friends, with Jim attending Judy's funeral to support Gary and often visited him to make sure he was doing okay.
2000-2007: Prison sentence
By 2000, life was almost back to normal for Jim. His job at the garage earned him a steady wage, he was back on good terms with Steve and he had a good relationship going with Gwen. Early in the year, Rovers landlady Natalie Barnes, a good friend of Jim's let him know that she would be away for a few weeks and that she'd like him to be the Rovers' temporary manager.
Jim leapt at the chance to run a pub again and enjoyed every minute of his time as manager before Natalie returned. Not everything ran smoothly for the couple, with the pair nearly splitting up after Gwen confided in Jim that her ex used to hit her and that she could never be in a relationship with a violent man again. After much thought Jim thought it best to sit down with Gwen alone and tell her about the incident with Liz years prior. Gwen was appalled despite Jim telling her that he'd never do something like that again and that it was a drunken mistake that he regretted every day. Gwen was having none of it and after accusing Jim of trying to make excuses, stormed out of the house. Before long, though, the two reconciled and agreed to continue their relationship in spite of what was revealed. Gwen also told Jim about how she had money problems in the past and debt used to be one of her demons. Jim promised her all the support she needed and eventually asked Gwen to move in with him to which she accepted after initially being unsure of the idea. Unknown to Jim, however, Gwen was still massively in debt and was often hounded by debt collectors and so moving in with Jim was a form of escape. At Gwen's insistence, they redecorated the house, with Gwen buying all the furniture with Jim's credit card. While she was happy with Jim, her debt played constantly on her mind and when she found out that Jim had £35,000 in his bank account. The thought of the money drove her mad and eventually, she withdrew the money, in cash, bought a first class train ticket to London and left one day without telling Jim a thing or saying goodbye. Gwen's plan went wrong however when after he train was cancelled, she spent some time shopping in Manchester with the stolen money. Before she could pay, her handbag was stolen and she was forced to return back to Jim, inventing an excuse as to why the money had vanished. Jim had a surprise of his own, as on that day he had been planning to propose to Gwen, even going as far as to buy a ring. When at home, the police came to the door after finding Gwen's handbag and finding out where she lived from the contents of her purse. it was then that the police informed Jim that they were suspicious of the contents of the bag and told Jim of the money and the train ticket. Jim was beyond enraged but waited as calmly as he could for Gwen to return.
When Gwen arrived, Jim interrupted her as she prepared to tell him her tale about the money and demanded to know what she was playing at. A hurt and confused Jim revealed he knew about the
money and wondered if Gwen had ever loved him or if she had just been in it for the money. Sick of her excuses, Jim threw her into the street and told her to never come near him again. In the coming days Jim got Gary to help him move the furniture Gwen had bought into the street before Jim set it on fire as it reminded him of Gwen and what she tried to do. The police and fire brigade were quickly called, with the fire being extinguished and Jim receiving an official police caution.
If this wasn't bad enough, things soon began to go further downhill. Steve and his friend Vikram Desai entered a partnership to set up a taxi firm called Street Cars. Both men had to borrow money for the investments, with Steve borrowing from a notorious drug dealer and gangster called Jez Quigley. In order to pay back the money, Jez forced Steve to sell drugs for him which Steve hated but was obliged to do so under threat of death. Steve spied a way to get rid of Jez after the body of Tony Horrocks, son of Jim's friend Natalie, was discovered and Jez was arrsted and held on suspicion of murder. Steve decided to testify against Jez alongside Leanne Battersby who had become addicted to drugs in the past due to Jez's interference. Sadly, their efforts were in vain as Jez was found not guilty and warned Steve to watch his back. Steve became reclusive, fearing for his life if he ventured outside for too long. Jim vowed to protect Steve and encouraged him to forget about Jez and live his life. Steve did as Jim said, but was wrong for letting his guard down as one day, Jez and his gang cornered Steve in a car park and brutally beat him, leaving him to die. Jim realised something was wrong when Steve didn't return home and he and Vikram went out in search of Steve, finding him half dead, but just in time. Steve was rushed to hospital and had his injuries tended to, his condition later stabilising though he remained shaken and paranoid as a result. While Steve recovered in hospital, Jim managed to coax Jez's address out of Vikram and drove there in a rage.
Jim barged his way into Jez's flat and after having a verbal confrontation, out of revenge for what happened to his son, Jim severely beat him before departing. Jez was taken to the same hospital as Steve and after finding this out, made his way to Steve's bed at night and after mocking and traumatising him further, attempted to smother Steve with his own pillow. Suddenly, Jez keeled over, blood leaking from his mouth. As it turned out, Jez's spleen had received damage after Jim's beating and the effort he went to trying to kill Steve caused it to rupture, killing him instantly. Jim was relieved to hear that Jez would no longer be a problem but was terrified that the police would find out that he was behind the attack on him. When the police eventually came around, at the encouragement of Steve, Vikram and Natalie, Jim denied any responsibility and the police left him alone.All was not as well as it seemed with Jim though, as he confided in Natalie that he still felt a great deal of guilt and that he had a responsibility to hand himself in. Natalie told him that Jez's death was an accident and that he had it coming after what he did to their sons and asked him not to confess. Jim agreed and headed home.
While there, Jim attempted to relax by having a drink and looking at old photos. Due to everything hanging over him, he was unable to let things go, and after seeing a photograph of himself in the army, was reminded of the responsibilities he used to have. With that, he polished his shoes, put on his best suit and went to the Rovers for one last drink and to say goodbye to Natalie. When questioned about his attire, Jim lied and said he was going to an army reunion. After finishing his drink, Jim headed to the Police station and handed himself in where he was remanded in custody, awaiting trial.
Liz returned and the pair reconciled before remarrying in November 2000 before his trial. Jim was sentenced to eight years for manslaughter.
Three years into his sentence, Jim feared that Liz was having an affair with Laurie Dyson, manager of The Black Dog pub in Blackpool, where Liz was now employed. Jim broke out of Holmes Gate Prison and with the help of Steve, went to Blackpool to meet Liz. Jim and Liz planned on fleeing to Ireland and looked forward to life as fugitives, however the pair stopped to help Ashley Peacock and Claire Casey who were trapped adrift on a boat. When they got back to the marina, Jim was arrested and sent back to prison. In 2005, he was eligible to be released on parole, but this was overturned as he had beaten up a cellmate. Liz visited him and requested a divorce for the second time.
2007-2010: Release
Jim was eventually released early in November 2007 for good behaviour. He appeared to be a changed man and Steve gave him a job at Street Cars, and he was able to see his granddaughter Amy. However, Jim still had feelings for his ex-wife Liz, who was set to marry Vernon Tomlin. On the day of Liz and Vernon's wedding, Jim declared his undying love for her and they kissed, which ended with Vernon launching at Jim. Steve interrupted and broke up the fight and told Jim that he was not welcome with them. Jim soon left the area.
In August 2009, he returned along with son Andy for Steve's wedding to Becky Granger. When Becky was arrested due to drugs being planted at the pub by her ex-drug dealing boyfriend Slug, Jim suggested to Steve that he put photographs in his cabs in case people recognised him. With that he left once again with Andy and went to Spain. He turned up a year later for his birthday to visit everyone, but wanted to see Liz in particular and wasn't happy about Liz's new boyfriend Owen Armstrong. Annoyed by Jim turning up looking for Liz, Owen hired some of his builders to beat Jim up, putting him in hospital. Steve went to see him and when Jim was discharged, he warned Steve about Owen. Sometime later, Owen was told by Steve that Liz wanted nothing to do with him.
2011-2016: Back in the big house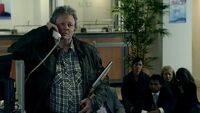 In 2011, Jim returned again when Liz had fallen out with Steve and Becky as it was believed that Becky was making a mess of her son's life. After a talk with Liz, Steve came up with a plan to buy the Rovers to pay off his debts, as he had got into financial problems when the pair "bought" nephew Max Turner from Becky's half-sister Kylie. Steve was angered by the idea and felt betrayed. However, when Becky came up with an idea to run off to Spain with Max and Amy to get away from both Kylie and Tracy, Steve agreed to sell the pub to Jim. His parents accepted the idea of Steve, Becky and the children running away, and looked forward to running the pub together and giving their relationship another go. However Jim was having problems with getting the money. On the day when Steve and Becky planned on fleeing, Jim was unable to make up the money for the pub. He met up with former cellmate Spoony, who presented him with a shotgun. He then went to a branch of Lancashire & Fyle Building Society intent on robbing it so he could get the £120,000 to buy the pub. However, the panic button was pressed and Jim ended up taking everyone in the bank hostage as the police arrived. Liz and Steve were called to the scene and Liz managed to talk Jim out through the phone. Jim let the hostages go and planned on killing himself, but decided to give himself up. He was arrested and put into a police car, and told Liz he was very sorry for everything. She visited him in Strangeways and promised that she would wait for him when he would be released. However later that night, she left the Street, and Steve visited him the next day with a letter she left for him and Jim blamed himself for everything.
Jim was given a sentence of a minimum of seven years' imprisonment. Steve was the only one to attend the trial; Liz chose not to return as she felt it would be too humiliating. Jim was upset by the snub and told Steve he wanted nothing more to do with any of his family.
While serving out the remainder of his sentence in Highfield Prison, Jim began selling alcohol under the name "The Landlord" and had built a reputation up for himself. In August 2014, he was approached by alcoholic Peter Barlow who was on remand for murdering Tina McIntyre. Jim decided to comply with his "requests" as he was a friend of son Steve, but told Peter that he would be expecting payment.
Over time Peter became dependent on Jim and was suffering from alcohol withdrawal symptoms (seemingly unnoticed by Jim). He then made a proposition to Peter - get him back in contact with Liz and Steve in exchange for more drink. Peter made a call to Steve begging him to visit him, and asked for him to visit his father. However Jim was instead visited by Liz who then told Jim to leave her and Steve alone. Angry Jim refused Peter more booze as he hadn't fulfilled his side of the deal. Jim later found Peter collapsed in the prison kitchens having found the booze, and summoned help. This earned his respect from Steve, who decided to make amends with his father for saving Peter's life. When Peter was discharged from Weatherfield General and was returned to prison, Jim warned him that the other prisoners weren't happy for Peter drinking most of the supply, and goaded him that his family was visiting, but Peter had no one. In revenge Peter told Tracy that Jim had supplied him with the booze, and in turn told Steve who again cut contact with his father. Angry Jim arranged for Peter to be beaten up.
In the aftermath of Peter's beating, Liz turned up at the prison for Deirdre's sake to beg Jim to leave Peter alone. Jim then resorted to blackmail, telling Liz to visit him in exchange for Peter being left alone. Liz complied, however when it began driving a wedge between her and partner Tony Stewart, she decided to cut off contact with Jim.
Still not wanting to lose her, Jim acquired a mobile phone and continued to harass Liz. When she visited him to ask him to stop, a delighted Jim informed her that he may be moved to an open prison soon, meaning that he could come and visit her. When this information got back to Steve who felt used by Jim, he turned up at the prison and reported Jim for illegally using a mobile phone and harassing Liz. An angered Jim had to be dragged away by prison guards as he swore revenge on Steve, with his sentence most likely being extended for his illegal activities.
Jim was hospitalised and diagnosed with Myotonic Dystrophy in October 2016. After his diagnosis, Jim promptly rang Steve to tell him that there was a 50% chance that he would have the condition too.
2018 onwards: Release and revenge scheme
In late 2018, Jim was released from Highfield Prison and after a few weeks he returned to the street - to the shock and dismay of Liz and Steve, and feigned again that he was a changed man, although the pair of them found it difficult to buy into his claims.
Jim met with Liz at the Viaduct Bistro and revealed to her that he found out their daughter Katie was still alive as there was a mix up at the hospital over 20 years ago, and later introduced her to Hannah Gilmore, who was supposedly their biological daughter. The revelation shocked Liz, although she was later ecstatic that she would finally be able to properly get to know the girl she thought she had lost. However unknown to Liz and everyone else, Hannah was in fact a girl impersonating Katie, and Jim was in on the scheme in order to get revenge on his family for abandoning him in prison. Jim was also in a relationship with Hannah, and shared a kiss with her in the car following a meeting with Liz at the bistro, feeling victory at tricking her. Hannah later confirmed to Jim that the gullible Liz had offered to give Hannah and Jim her life's savings, after Hannah faked a collapse whilst with Liz at the Rovers. Liz also told Hannah that if need be, she would give Hannah her pension money. And to top things off, Liz also asked Hannah to move in with her. Hannah felt triumphant and immediately told Jim that they may be receiving £10,000 from Liz in the near future due to their lies. However, Jim was furious, and said that it would not be enough. Jim was also otherwise occupied, as he began to wonder if their scheme was going too far. Hannah attempted to get Jim fully back on side, by reminding Jim that none of his family cared for him when he was diagnosed with Myotonic Dystrophy back in 2016. However, later that night. Liz expressed her remorse for not caring for Jim's condition and felt guilty for letting him go through having the illness alone. Jim forgave her, and the pair hugged, but Jim showed clear signs of guilt.
Jim soon tried to dig deep into the relationship of Johnny Connor and Liz, as he was unaware of the brief fling between the two. He met with his son Steve in the Rovers, who told him of the relationship between the two. Jim also lied of the whereabouts of Steve to Tracy Barlow. Jim would later send Johnny an anonymous text, telling him that if he did not pay £50,000 to him, then he'd expose the fling to Jenny.
Eventually, Hannah took over the blackmailing scheme, sending Jenny a bouquet of flowers with a threatening message inside. When it had been delivered, she sent another text message to Johnny, but made sure to send it whilst Jim was in Johnny's sight so that he'd stop suspecting him of being the blackmailer. Johnny agreed to leave the money in a bag by the Bee B&B in the Community Garden. However, this was Carla Connor's idea, as she was trying to help her father to escape the blackmail. She resolved to leave fake money in the form of old newspaper in the bag and would wait to see who came to collect it. When the bag was planted and a text sent to Hannah confirming the drop off, Hannah, who was dining in Speed Daal with Jim, Liz and Eileen Grimshaw, secretly triggered the fire alarm so that a crowd would form outside, obscuring the view. The plan worked at first, however Kirk Sutherland, Daniel Osbourne and Tyrone Dobbs were videoing the garden from a fire escape in an attempt to catch the Manchester big cat. Carla later looked at the footage with Johnny and discovered Hannah was the blackmailer. Johnny then broke this news to Liz.
It was at this time that, happier than ever, Jim began distancing himself from Hannah and the con, as he was spending more time with his family and getting close to them again. Jim's guilt reached new heights when Steve said he had missed his dad and asked him to be his best man for his upcoming wedding to Tracy Barlow. Even though he accepted, his guilt was hard to hide. Later, after a row with Hannah, Liz confided about the blackmail and her night with Johnny to Jim, oblivious to the fact he was already aware. The pair reminisced about old times and kissed on the street later, unaware that Hannah had seen everything.
Liz's £10,000 finally came through on the day of Steve and Tracy's wedding. And after lying to Hannah, saying that his kiss with Liz was part of the con, Jim said they could soon be out of Weatherfield quids in. However, Jim suggested that Hannah leave a few days before him to avoid suspicion, in reality wanting to stay with his family. Hannah refused, wanting to be with Jim, so the pair stayed for the wedding, where, after a minor change of plan, Jim walked Tracy down the aisle. Later on in the wedding, Liz told Jim she loved him and wanted to give their relationship another try. The pair kissed once more, again witnessed by Hannah who now understood that Jim's feelings were legitimate. With this, Jim made up his mind to stay. Hannah and Jim then rowed, with Jim saying that he didn't love her and that what he and Liz had was real. After asking to see Jim in private, Hannah feigned forgiveness and said she was going to leave Jim so he could be with Liz. Jim was delighted that he'd soon have his family back and accepted Hannah's request of a final kiss. However, Hannah didn't tell Jim that Liz was in the bathroom and when she emerged, saw the pair kissing. As a panicked Jim tried to explain, Hannah spitefully revealed all about the scam and how she wasn't her daughter. A distraught Liz ran away as Hannah tried to get Jim back on side, telling him that Liz wouldn't love him now. Jim was furious and after telling Hannah he never wanted to see her again, departed to find Liz.
Jim caught up with Liz at the cemetery. Liz was enraged by Jim's deception and how he had the audacity to show his face again. After an angry confrontation where Jim begged for forgiveness and declared his love for Liz, with Liz saying he'd stamped on Katie's grave, she pushed him to the ground, calling him a monster. With Jim unable to get up due to his illness, Liz came close to beating him with his own walking stick, but decided against the idea as it would make her as bad as he was. With all hopes of a romance dashed, Liz allowed Jim to get up, before leaving for home. Back at the wedding, Hannah had told Johnny where Liz was and he'd left to find her. When he got there, he found only Jim there in a bad way. Jim told Johnny that Liz had already left. After a brief verbal confrontation, Johnny departed leaving Jim alone at his daughter's grave.
After spending time with Katie, Jim left the Churchyard, intent on leaving Weatherfield. However, he soon saw Hannah following him in her car. Initially Jim stood by his word and told Hannah to leave him alone. However, Hannah told him that she forgave him for what he said and that he had been abandoned by his family once more. Jim said he was grateful and after telling Hannah she was the only one who still cared, got into her car, and the pair left for pastures new.
The pair were later arrested in December, and were held in police custody whilst evidence was amassed. However, due to lack of evidence and the fact that Liz handed her money over willingly they could not be charged and so were allowed to walk free.
Personality
Relationships
Hobbies and interests
Other information
Jim's Royal Engineers number was 67569897.
Jim hails from Northern Ireland and was noted for his usage of Irish sayings, like finishing his sentences with "so it is" and "catch yourself on".
Background information
First and last lines
"Hi. Listen, sorry just to drop in on you like this but we've just seen your house in the estate agent window and was wondering if we could have a wee look around." (First line, to Audrey Roberts)
---
"Yeah." (Final line, to Hannah Gilmore)
Appendices
List of addresses
Employment history
See also
Community content is available under
CC-BY-SA
unless otherwise noted.