watch 09:08
The Loop (TV)

Jaqueline Rachel "Jackie" Ingram (formerly Baldwin) was Peter Ingram's widow who married Mike Baldwin in 1991. The marriage lasted just a week as when Jackie found out Mike had been manipulating her over Ingram's Textiles, she threatened him with a shotgun to see him off.
Biography
Jackie Ingram first met Mike Baldwin when he interviewed her for a position with Phoenix Fabrics, which he was setting up on the quiet while working for Peter Ingram as a sales rep. Mike had no idea that Jackie Williams was really Jackie Ingram and Peter's wife, and when Peter found out what he was up to, he demoted him to work's manager on the factory floor at Ingram's Textiles.
A short time later, Peter died suddenly of a heart attack. Jackie assumed charge of the factory with the help of Ralph Dobson, who had managed it with Peter. Mike saw Peter's death as an opportunity for advancement and also offered his support to Jackie, making sure to show her that he could handle a managerial role. He gradually became Jackie's friend and adviser over the factory, impressing her by securing a contract with Phil Jennings. His true motives were obvious but Jackie thought she could handle him.
Jackie found the factory hard work and soon decided to sell up and buy a house called "Thorngrove" in Oakfield which she and Peter were going to buy before his death. Mike surprised Jackie by telling her it was a good idea, but when buyer Charlie Travers's offer for the factory was lower than Jackie hoped, Mike convinced her it was a bad time to sell. He also talked her into making a go of running the factory herself, which resulted in a confrontation with Ralph, who subsequently resigned.
Jackie then made Mike General Manager and the two of them ran the factory together. Jackie relied on Mike and made him go with her to a conference in Harrogate. Mike told his girlfriend Alma Sedgewick that he was going alone and when she found out that Jackie was with him, she demanded that he resign from Ingram's. Mike made a show of going to see Jackie to hand in his notice - when he was actually spending a romantic evening with Jackie, after which they had sex - and then telling Alma he'd saved his job once she cooled down.
A few weeks into their affair, Jackie demanded that Mike dump Alma. Alma already knew about them but didn't want to tackle Mike as she knew he'd choose Jackie. When he realised Jackie was serious and that he could lose her, Mike told Alma the truth and afterwards he moved in with Jackie. Jackie was serious about Mike and decided to sell her house so that they could have a place that was truly theirs. Curious about Jackie, Alma viewed the house and while there she slashed Jackie's duvet.
In March 1991, Jackie proposed to Mike and he accepted. She then surprised him by asking him to sign a pre-nuptial agreement. Mike was furious and demonstrated his love for Jackie by signing the contract without reading it. Jackie ripped up the contract and wrote a new one which gave him 50% of everything, which she changed to 25% on her solicitor Gordon Barrett's advice. Both parties signed the contract and set a date for the Registry Office wedding.
Jackie gradually took more of a back seat in the business but remained in charge when it came to the major decisions. With the country in recession, there were redundancies at the factory. In May, while going through the firm's accounts, she discovered an anomalous entry on Alcazar Holdings. Mike told her it was a holding company for tax purposes and she accepted his explanation. A short time later, Ralph Dobson contacted Jackie and told her his new firm wanted to buy Ingram's. Jackie allowed him access to the business's accounts and asked him to put in an offer but didn't tell Mike yet.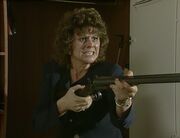 Jackie and Mike were married on 5th July. Jackie's wedding present to Mike was the news that they were selling up. Understandably, he didn't take it well and they spent their honeymoon arguing about it. Jackie too had a surprise waiting for her, when they returned home - Dobson had investigated Alcazar Holdings and learned that it held the lease on Jim's Cafe and Alma's flat. Mike explained to Jackie that he bought the cafe to alleviate his guilt over Alma and pointed out that they hadn't lost any money from it. Jackie wasn't sure what to make of it and went to see Alma, whose vitriol towards Mike convinced her there wasn't anything going on. Jackie agreed to forgive Mike and challenged him to change her mind over the factory by landing an order big enough to keep it going. Mike managed to do just that, but while he was at work Phil Jennings went to see Jackie and told her about how Mike had manipulated her early in their relationship, including putting Charlie Travers up as a fake buyer. When Mike came home to celebrate with Jackie, she threw her rings back at him and became hysterical, telling him to get out of her house. Mike dismissed her show of anger - more worried about her messing up his deal than about her - and laughed off her attempt to threaten him with a shotgun. Jackie drove off in the car, leaving Mike with the gun, which he discovered actually was loaded.
Jackie immediately started divorce proceedings and sought out Ralph Dobson to protect her from Mike while he finalised the sale of the factory. Mike refused to leave the house, even when Jackie threatened to tell the police about him misappropriating company funds. He finally left after accepting Jackie's settlement of £100,000 in exchange for quick divorce.
In April 1992, Alma received a letter from Jackie's solicitor, revealing that she was being cited as a co-respondent in the divorce. Mike saw Jackie and learned that she had a new man and wanted a quick divorce. She agreed to keep Alma's name out of the divorce, although it had been Mike's idea to cite her. Two months later, Alma went to see Jackie to convince her she never had an affair with Mike. Jackie was confused as Alma thought she had named her in the divorce petition; Mike had let Alma believe that he had to pay Jackie off to keep her name from being dragged through the courts, as a scheme to get her to marry him. Jackie advised Alma to get away from Mike while she could. Alma chose not to heed Jackie's advice and became the third Mrs. Mike Baldwin four days later.
Other information
After Peter Ingram's death, Jackie found out from employee Sandra Rogers that he'd been having an affair with her for eighteen months before he died. Sandra told Jackie in retaliation when Jackie sacked her.
Jackie had already reverted to the surname of "Ingram" before her divorce from Mike Baldwin had been finalised.
Background information
Shirin Taylor enjoyed playing the scenes of Jackie threatening Mike with a shotgun: "The fun of it was that it was such a good script and such a good storyline. Jackie was a strong modern woman who had a momentary lapse and weakness after her husband died and then after she felt betrayed by Mike Baldwin she used all her strength to get herself back together again. She wasn't going to have him play around." (The Coronation Street Story (Daran Little, 1995)).
See also
External links
*Disclosure: Some of the links above are affiliate links, meaning, at no additional cost to you, Fandom will earn a commission if you click through and make a purchase. Community content is available under
CC-BY-SA
unless otherwise noted.