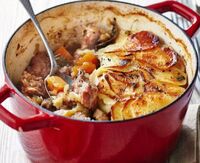 Hotpot, or to give it its full name, Lancashire Hotpot, is a traditional dish associated with North West England. It contains, in the main, lamb or mutton with potatoes and onions.
It predates the coming of the Industrial Revolution in that families slow-cooked the meal in their homes where they spun cotton and, after the arrival of the cotton mills, they could leave the dish at the bakers while they worked their long hours at the looms. The name is thought to be a derivate of "Hotch Potch", meaning the different ingredients, and the famous Mrs Beeton's Book of Household Management contains a recipe for the dish under this name.
Many residents of Coronation Street have made the dish over the years though it remains most famous for the meal served at the Rovers Return Inn as cooked by Betty Williams. After her death in April 2012, Sean Tully was bequeathed the recipe and cooks it for patrons to this day.
A form of the recipe has been printed several times in various publications related to Coronation Street and one is repeated below.
Betty's Hotpot
Serves 4
1 lb 'scrag end' or best end neck of lamb, cubed
1 1/2 lb potatoes, peeled and fairly thickly sliced
1 large onion, thinly sliced
1 1/2 cups water (or beef stock — my addition)
3 tbsp vegetable oil
1 tbsp of flour
1 bay leaf
1 tbsp Worcestershire Sauce
salt and pepper to taste
Brown the lamb in a heavy saucepan with 2 tablespoons of very hot oil over medium-high heat, then remove from the pan and set aside. In the same pan, add the sliced onions and fry until they begin to brown. Sprinkle flour into the pan with the onions and stir to soak up the fat. Turn off the heat and add the water (or beef stock) slowly while stirring vigorously to prevent lumps forming. Add a dash of Worcestershire Sauce; salt and pepper to taste. Then mix the onion, meat and stock together and stir in a bay leaf. To compose the hotpot, alternate layers of the meat and onion mixture with thinly sliced potatoes in an ovenproof dish. The top layer should be potato. Cover and bake at 325°F for 2-3 hours. Remove cover and continue to bake until the top layer of potato browns. Serve hot with traditional condiments such as chutney, pickled red cabbage or pickled onions.