Doctor Strange in The Multiverse o Madness - The Loop
Play Sound
Hayley Anne Cropper (née Patterson) was the late wife of Roy Cropper. Born as a male named Harold Patterson in 1966, Hayley started treatment to physically become female when she was in her twenties.
When she met Roy in 1998, a kinship was developed as they were both lonely, introspective people. Although he took Hayley's revelation about her sex badly, Roy pursued her to Amsterdam, where she was having the final part of her treatment, and they returned to Weatherfield together as a proper couple.
Hayley had a difficult time adjusting to life in Coronation Street. She was a fast machinist and got a job at Underworld, though when her secret came out and she faced bigotry in the workplace and elsewhere, she found it difficult to cope with. A non-confrontational but resilient woman, Hayley made many friends through her kind and honest nature.
Hayley and Roy were something of an odd couple; they were not overtly romantic with each other, their bond being an emotional rather than physical one. Owner of Roy's Rolls, Roy was an incessantly honest man, and Hayley was one of the few people who understood him. Proving their doubters wrong, they got married in 1999, and again in 2010, by which time changes in UK law meant that their union could be acknowledged legally as a result of the Gender Recognition Act 2004.
The Croppers couldn't have children, but they fostered Fiz Brown in 2001, and took in several waifs and strays, most notably Becky Granger. However, some abused their kindly nature. In 2003, Tracy Barlow fooled everyone into thinking she'd slept with Roy, and extorted money from Roy and Hayley in exchange for her baby before revealing that Steve McDonald was the real father of Roy's "daughter" Patience Cropper.
In 2007, Hayley discovered that she had a son, Christian Gatley, fathered before her sex change, and admitted to Roy that she'd lied about being a virgin when they met. Roy was shattered by her dishonesty although they soon made up. In 2013, Hayley battled pancreatic cancer. When the treatment failed, Hayley decided to end her life on her terms, which she did on 20th January 2014, passing away with Roy at her side.
Biography
1966-1997: Becoming Hayley
Hayley was born as Harold Patterson in 1966. As a child, she was lonely due to having no friends or siblings, and felt out of place among the other boys. In particular, she never felt right in her body, especially after puberty which she described as "like sores breaking out".
When Hayley was fourteen, her mother walked out on the family and she was raised by her father thereafter. Hayley had respect for her father but he didn't understand her problems. As a teenager, she became friends with a girl called Cath who was similarly outcast amongst their peers. They stopped seeing each other shortly after Hayley lost her virginity to Cath, and as a result Hayley didn't find out until 2007 that Cath had given birth to Hayley's son Christian Gatley. Another friend of Hayley's from this period was Ruth Audsley, who hid her attraction to "Harold". When her father had an accident, Hayley became her dad's home carer and what life she had outside the house was reduced to nothing.
Over time, Hayley came to better understand her feelings about her mind and body and she decided to become physically a woman. When she told her father this, he threw all photographs of "Harold" into the fire and refused to allow her to wear woman's clothes in his presence. To prepare her body for surgery, Hayley was given hormones and she began identifying herself as a woman. Some time later, her dad regularly attended day centres, and Hayley went out to work as secretary to manager Curly Watts at Firman's Freezers in Weatherfield.
1998-1999: Hayley comes a Cropper
Because of her sheltered upbringing, Hayley was shy and had trouble making friends. Worse still, her position at Firman's was one of authority, and Hayley was too afraid of her colleagues to discipline them. When an unimpressed Curly told Hayley to stop being so wet, he reduced her to tears in front of another colleague, Alma Baldwin. Feeling sorry for Hayley, Alma offered her the hand of friendship, although she was slightly disturbed when Hayley, having no other friends, latched on to her and started following her around.
In February, Curly and Alma broke the news to Hayley that her father had passed away. On hearing that Hayley didn't have anyone else in her life, Alma and Mike Baldwin held a dinner party with Hayley, Curly, Audrey Roberts and Roy Cropper as guests, but the intention to matchmake Hayley and Curly was obvious and embarrassed the pair. However, Hayley was impressed with Roy, whose stories at the dinner table had bored everyone but her, and they went out for a drink afterwards. In Roy, Hayley had found someone who was similarly set apart from the world around him, and although Roy had trouble expressing his feelings, he greatly enjoyed Hayley's company. After a few more dates, Hayley decided to reveal her secret to him. Over a romantic meal at Roy's cafe, Roy's Rolls, Hayley confessed to him that she had been born a man, and explained to him what had led her to decide to change her body. Though she asked only for his friendship, Roy took the news badly and asked her to leave him alone.
Rejected by Roy, Hayley confided her troubles in Alma, also revealing her sex change to her. Alma took the news better, and urged Roy to make amends. Roy regretted his harshness with Hayley and asked her to be his friend again, which she gratefully accepted, but despite liking her as a person, her sex change still made him uncomfortable and their relationship stalled. In April, Hayley received her father's inheritance and went to Amsterdam for her final operation.
After her operation, Hayley remained in Amsterdam and rented a houseboat, intending to stay for a while. She wrote to Roy letting him know where she was, and was shocked when, a short time later, he visited her out of the blue. Having missed each other, they toured the sights of Amsterdam together, while surreptitiously trying to find out where they stood in each other's affections. Roy was especially closed, but as he left to go back the UK, he gave her an engraved gold watch. Hayley caught up with Roy at the airport and returned to Weatherfield with him.
Hayley knew that her past would always be a part of her; immediately on her arrival in the UK, she was stopped by Immigration as she still held a man's passport. Roy and Hayley decided to start an affair and shared their first kiss at the boating lake on the Red Rec.
Unable to return to Firman's Freezers, Hayley got a job at Underworld knicker factory when Roy won a bet with Mike Baldwin that Hayley could out-machine any of his girls. Hayley was thrilled to work in an environment where she could just be "one of the girls", but her colleagues took some time to warm to her due to her showing them up with her speed on the sewing machine. Additionally, Mike discovered her secret when Alma told him why the DSS was insisting that Hayley was called Harold. Worried about staff morale should the girls find out, Mike sacked Hayley, but without knowing the reason behind it, the girls demanded her reinstatement and threatened to strike. Mike eventually caved in and re-hired Hayley.
Looking for somewhere permanent to live, Hayley was delighted when Roy asked her to move in with him, dutifully offering to sleep on the sofa until they were married. His offer came with a proposal of marriage, but Hayley had to decline, reminding him that they couldn't marry under UK law. However, she did not want to sleep apart from Roy anyway, and as she moved into Roy's flat, they cemented their relationship, although Hayley lied to Roy by telling him that, like him, she was a virgin.
At work, Hayley had to live with Mike's constant ribbing. His bad treatment of her intensified when Roy threw a pint over him in the Rovers Return in retaliation for calling Hayley a freak. Eventually Hayley decided she'd had enough and told the girls herself. The news quickly spread throughout Coronation Street, stunning the residents. After the initial surprise, most were supportive of Hayley, but some, such as Les Battersby, picked on her, while at work Linda Sykes tried to make her use the gents toilets, resulting in Mike stepping and forcing Linda to back down (although his intentions were only to get everyone back to work, rather than anything noble). Hayley felt the strain of everyone watching her and contemplated leaving Weatherfield, but Roy pleaded with her to stay and together they braved the Rovers.
At the end of the year, Hayley bought Gail Platt's share of the cafe but went on working at the factory. With Hayley behind him, Roy bought a new unit in Victoria Street, No.16, and the flat above, and moved the cafe there.
In February 1999, Hayley became suspicious of Roy's movements when he put on his best clothes to go for a walk. Following him along with Linda and Janice Battersby, she saw him meeting a woman, who turned out to be Beryl Freeman, his dancing tutor. Unbeknown to Hayley, Roy was planning to propose to her at the upcoming 70s Valentine's dance, but when Roy caught Hayley spying on him even after he'd explained why he was seeing Beryl, he felt betrayed by her lack of trust, causing a brief rift between them. However, with some prompting by Alma, he surprised Hayley by turning up at the disco dressed as John Travolta and showed that his dancing lessons hadn't gone to waste. He then proposed, and Hayley excitedly accepted, agreeing not to be defeated by a law.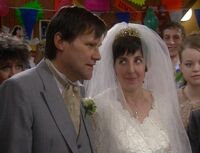 Driven by his determination to fulfill his promise to Hayley, Roy found (via Emily Bishop) a minister who agreed to perform a ceremony at St. Paul's Church. Hayley made her own dress, while the train was made by the other girls and presented to her at her hen party at No.5, with Janice Battersby selling Les's records to pay for it. In revenge, Les tipped off a reporter about the wedding between "two blokes". As the day arrived, the wedding party was just about to arrive when the press turned up at the church. While minister Jessica Lundy and Spider Nugent kept the reporters occupied, Emily intercepted the wedding party and told them to turn around. Hayley thought the day ruined but to her great surprise, Roy hastily re-organised the day's events, moving the ceremony to the cafe. With Alma as Matron of Honour, Martin Platt as Best Man, and her Great Uncle Bert as Father of the Bride, Hayley and Roy were married on 23rd April 1999. By law they were still unwed, but with Hayley changing her surname to "Cropper" by deed poll, they considered themselves a married couple.
1999-2002: Fostering and Wayne Hayes
The following year was relatively quiet for the Croppers. As Hayley had yet to update her passport, they took their honeymoon in York. Although not a loving couple in the romantic sense, they were friends as well as husband and wife and enjoyed doing things together, such as taking Spanish lessons and learning first aid.
In March 2000, Hayley attracted the attentions of Stuart Leigh, a builder working on the Medical Centre development. Stuart kept popping into the cafe to see Hayley and they developed an innocent flirtation, with the understanding that nothing would happen due to Hayley being married. However, having got wind of the relationship, Les Battersby told Stuart that Hayley used to be a man. Stuart then confronted Roy and Hayley in the cafe and called them freaks.
The following month, Hayley was promoted to supervisor at the factory, with responsibility for quality control. Hayley was determined to prove herself capable and challenged Gwen Loveday about her shoddy work.
In September, having recently become closer to thirteen-year-old Sarah Platt and become godmother of her daughter Bethany, Hayley's thoughts turned to children and she suggested to Roy that they adopt. Roy suggested fostering instead, as they would be able to help more children, and Hayley agreed. They successfully applied and were taken on as foster parents. However, their first experience with a foster child wasn't an official one - on Christmas Day, they caught Wayne Hayes stealing food from the cafe, having run away from home. He was collected by his stepfather Alex Swinton and eventually returned to the children's home. The Croppers struck up an instant bond with Wayne, but although the quiet lad hadn't said why he ran away from home, as Alex left with Wayne, Roy saw him hit the boy through the cafe window.
In January 2001, the Croppers were accepted as foster parents and received their first foster child: Jackie Mosley, who stayed for two weeks while her mother was in hospital. It being a big step for them, Hayley and Roy were very attentive and enthusiastic, much to Jackie's chagrin, but overall it was a pleasant experience for them. In April, they fostered Fiz Brown, a headstrong and somewhat rebellious young woman. Fiz tried her usual tricks to skive off school, only to be caught in the Corner Shop by Hayley when she was supposed to be ill. After setting the cooker on fire, Fiz was berated by Roy and retaliated by reporting him for hitting her. The Croppers were relieved when they were informed that Fiz had done similarly before, and there would be no action taken. Fiz subsequently returned to the area after turning sixteen, where she enjoyed a far better relationship with the Croppers.
In the summer, Hayley encountered Wayne Hayes and his mother Sheila in the Kabin and brought them to the cafe for lunch. Wayne later returned and stayed the night, feeling safe with the Croppers. Roy and Hayley felt protective of Wayne and, when he confessed that Alex often lashed out at him and his mum, they decided to act and reported Alex to Peter Hartnell, their contact from Social Services. However, when interviewed the Hayes family and Alex denied any abuse was taking place, and the Croppers were suspended from fostering for good measure. Refusing to give up on Wayne, Roy and Hayley implored Sheila to put her story straight, but she was too afraid of Alex even to admit the truth to them. They then tried recording Alex confessing to being abusive, but he spotted the tape recorder and smashed it. Alex then stunned them by offering to sell Wayne to them for £10,000, which he lowered to £5,000, eager for them to accept. Roy paid the money without Hayley's blessing, but although Sheila returned it, she agreed for Wayne to remain with the Croppers for the time being.
While Wayne was staying with them, Roy and Hayley pretended to the neighbours that they were fostering him. For a few weeks, they lived in fear of Alex, Social Services and the police, finding little comfort in the fact that they were doing it to protect Wayne. Eager to give Wayne a sense of normality, they agreed to go on a camping trip with Martin Platt, Sally Webster and their children, but they were tracked down by Alex, who had heard about Hayley's sexuality from Les Battersby. With Alex threatening to call the police, the Croppers stole Martin's car and, taking with Wayne with them, sought refuge with Hayley's old friend Ruth Audsley in Warwickshire. A police search for the couple ensued, with the papers reporting them as kidnappers and painting Alex as a concerned stepfather. In desperation, Hayley and Roy hatched a plan to catch a ferry to Ireland, before coming to their senses and opting to turn themselves in and put their faith in the British justice system. However, before they could do so, Ruth shopped them and they were taken into police custody, and Wayne was returned to his parents.
After explaining the situation fully to the police, the Croppers were granted bail on the condition that they didn't have any contact with Wayne. Furious that the police weren't investigating Alex, Hayley refused to accept her bail condition and was remanded in custody. Roy admired his wife's courage but advised her to change her mind as Wayne would understand them not visiting him under the circumstances. Hayley had a difficult time in prison, as the women in her block knew she was a transsexual and picked on her, but after a few weeks Sheila reported Alex to the police for beating her and Hayley was released, the charges against her and Roy dropped and Alex arrested.
In the wake of the Wayne incident, Peter Hartnell told the Croppers that their fostering suspension would be lifted, but the couple never fostered again.
2003-2004: War with Tracy Barlow
In July 2003, Hayley went to visit her ill Aunty Monica. Just before she left, Hayley got into an argument with Tracy Barlow, standing her ground when Tracy made fun of her sexuality, although it revealed an insecurity in her that Roy didn't find her physically attractive. Unbeknown to the Croppers, Tracy made a bet with Bev Unwin that she could bed Roy, in order to prove that she could have any man she wanted. Hayley then went to visit her family, and when she returned she was stunned when Roy told her he'd had sex with Tracy.
According to Roy, he had got drunk at Peter and Shelley Barlow's wedding reception and woke up the next morning in bed with Tracy. He couldn't remember what had happened in between but Tracy was more than happy to fill in the blanks. While Roy was in a vulnerable state due to his grief over betraying Hayley, Hayley acted out in other ways, initially accusing Tracy of making the whole thing up, and then, after persuading Roy to fight for their marriage and not move out as he proposed, adopting a more feminine image, which was not to either of their liking. They seemed to be back on the road to normality when Tracy dropped a bombshell – she was pregnant, and Roy was the father.
Following Tracy's news, Hayley found it to hard to go on and decided to leave Roy and live in Amsterdam, his betrayal hurting all the more for the fact that it had given him the one thing she couldn't.
However, when she caught Roy attempting suicide in the cafe flat, Hayley broke into the cafe and stopped him, forcing him to drink salt water and make himself sick. Her resolve changed, and Hayley decided to support Roy in stopping Tracy from going through with her plan to have the baby aborted. Tracy agreed to have the baby and give it to Roy and Hayley in exchange for £20,000, with £5,000 as a deposit and the rest when the baby was born. The Croppers did not hesitate to pay up, although when Tracy went to the Caribbean with the money, they realised that she could afford to pay for an abortion in a private clinic and sought legal advice from Maya Sharma to find out how they stood. Maya suggested that Roy marry Tracy.
Tired of appeasing Tracy, the Croppers became more aggressive in their dealings with her by telling Ken and Deirdre about her pregnancy, but Tracy hit back by getting an extra £10,000 out of them in exchange for her marrying Roy and then shaming them in public by telling the neighbours about their financial arrangement. A small Registry Office ceremony was arranged with Roy signing his assets over to Hayley beforehand in case Tracy tried to get hold of the cafe in the divorce. A baby girl was born on 9th February 2004, with Tracy stalling the Croppers for a few days before handing the baby over. All the pain they had gone through was forgotten as Hayley and Roy began a new life with their daughter, whom they named Patience Cropper.
A week after the birth, Hayley was serving as a bridesmaid to Karen McDonald at her and Steve's second wedding. In the middle of the ceremony, Tracy arrived and caused a scene by shouting for Roy, resulting in Steve having her ejected. Tracy then announced to the entire congregation that her baby was in fact Steve's, and she never had sex with Roy at all. The Croppers fled from the wedding with Patience, but faced immediate pressure from the Barlows to give Tracy back the baby. Initially considering fighting for Patience, the Croppers made a joint decision to give Tracy back her baby, while they faced the fact that the pain and anguish they went through in the last eight months was all for nothing. While Tracy felt no guilt over her treatment of the Croppers, Ken and Deirdre forced her to pay back the money and make the Croppers godparents to Patience, whose name was changed to Amy Barlow. The Croppers even let Tracy off with paying some of the money in exchange for letting them baby-sit Amy, and when Roy's divorce came through in June, the Croppers celebrated their freedom from Tracy with a candlelit dinner.
2005-2007: Waifs and strays
In March 2005, Hayley and Roy took in ten-year-old Chesney Brown when Les and Cilla went on an extended holiday in Spain without him. Chesney thought the Croppers would be a soft touch and laid it on with stories about how neglected he was at home. They saw through his scheme but even their regular attentive method of parenting were beyond what Chesney was used to at home. A year later, they let homeless Craig Harris move into the flat after finding him living in squalor in the empty bakery next door.
Enjoying making a difference to people's lives, Hayley decided to do voluntary work at the church, although restrictions were placed on her due to her being a transsexual and she was only allowed to work with ex-offenders. While teaching a literacy class, Hayley came into contact with Becky Granger, with whom she had previously worked at Underworld. Becky had fled the area earlier that year, after framing Kelly Crabtree for robbing her friends at the factory. Hayley was wary of Becky's attempts to befriend her but, sensing something in her, decided to cut her a break and gave her a job at the cafe. With her troubled past, Becky's aggressive and thieving behaviour was a hard habit to break, but she was spurred on by her loyalty to the Croppers.
In September 2007, Hayley was saddened to learn of her Aunt Monica's death. After the funeral, Hayley's Uncle Bert passed on to Hayley some letters addressed to her which Monica had held onto. The letters, authored by Hayley's old friend Cath, revealed to "Harold" the existence of his son. Hayley felt compelled to track down her son and hired a private detective, who identified her son as Christian Gatley, manager of a record shop.
Steeling herself, Hayley introduced herself to Christian, but for the moment she was too afraid to tell him who she really was. At the same time, she came clean to Roy about her secretive behaviour of late, and her lie to him about being a virgin when they met. Roy found the situation difficult to accept, but agreed to stand by Hayley provided she was honest from now on. Daunted by the prospect of telling Christian the truth, Hayley immediately broke her promise to Roy by telling Christian that she was his aunt and that his dad Harold was dead. Hayley enjoyed talking to Christian about Harold, but while she plucked up the courage to tell him the truth, her lies became more elaborate, much to Roy's disapproval, whose one piece of advice on the matter was that she couldn't build a meaningful relationship on a lie. Meeting with Christian on the pretence of showing him where Harold's ashes were scattered, Hayley finally told Christian that she was Harold. Christian was weirded out by her revelation and punched Hayley when she ran after him, leaving her bleeding on the ground. Feeling Christian would have responded better if she had told him the truth in her own time, Hayley blamed Roy everything and went to stay with Becky, although once she'd calmed down she returned to Roy.
In October, Hayley was offered a place on a six-month volunteer project building a school in Mozambique. She left Weatherfield immediately, with Liam Connor agreeing to keep her job open at the factory.
2008-2012: The return of Mrs. Cropper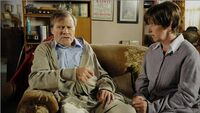 Hayley's volunteer work lasted longer than expected; she didn't return to the UK until November 2008. In that time, she'd fallen in love with Mozambique and its people, and in fact no sooner had she returned to Roy's side that she announced her intention to return and continue her work. On hearing from her friend Tilly Eaves, with whom she had shared a tent in Mozambique, that their project leader Olaf was a womaniser, Hayley confessed to Roy that she had a crush on Olaf and he was part of the reason she wanted to return, but, coming to her senses, she opted to remain in Weatherfield and apologised to Roy for her heartless behaviour.
Deciding not to return to the factory, Hayley continued with her volunteer work and helping Roy at the cafe. The Croppers' charity work included organising a Christmas lunch for the homeless at the cafe. In 2009, Hayley was tempted back to the factory when Tony Gordon offered her the position of manager in his absence, although with the return of co-owner Carla Connor, Hayley returned to her old machinist/supervisor role.
In May 2010, Roy suggested to Hayley that they have a civil partnership, to improve their pension benefits. Hayley broached the possibility of having a legally-recognised wedding instead, as they had always intended to do once the law changed, but Roy opposed the idea because of the expense and his discomfort at expressing his feelings publicly. The issue hung in the air for a few weeks until, frustrated with Roy's stiffness and insensitivity, Hayley went to stay with the Windasses. The Croppers were reconciled when Roy bought Hayley a salsa dress as a present. Their reunion was cemented when Hayley was taken hostage at the factory by a maniacal Tony Gordon, escaping after her fellow hostage Carla Connor appealed to Tony's better side and persuaded him to let Hayley go. Realising how close he came to losing Hayley, Roy got down on one knee and proposed marriage instead of a civil partnership, and Hayley accepted without hesitation.
With the help of Mary Taylor and her wedding dossier, Hayley set about planning her dream wedding. Fiz and Becky agreed to be bridesmaids, and Mary found the perfect venue: the Shawbrooke Country House Hotel, which had a function room overlooking the East Lancs steam railway. As a surprise for Roy, Hayley arranged for the wedding bus to stop at the train station and for Roy to drive a steam engine to the venue, with the bridal party in the rear carriage. Hayley's hen night, planned by Becky, saw her blindfolded and led to the cafe, which had been transformed into a salsa bar, where Sean Tully had hired a friend to pose as a Latin lothario and salsa dance with Hayley. Initially helpful, Mary had railroaded Hayley into accepting her suggestions but Hayley had been too polite to tell her to back off. Mary realised she wasn't wanted when she didn't receive an invite to the wedding, and in revenge she disconnected the rear carriage, stranding the bridal party. Commandeering a pump wagon, Fiz and Becky got the bride to the hotel in time, and Hayley and Roy were married legally.
In April 2011, Roy's mother Sylvia Goodwin turned up at the cafe demanding an explanation for Roy's no-show at her husband Roger's funeral, in the process meeting Hayley for the first time. As a boy, Roy had found his mother cold and unsympathetic, and as an adult she still instilled fear in him. However, when Hayley discovered that Roger's death had left Sylvia bereft and living in a care home, she persuaded Roy to take her in. Two months after her arrival, Sylvia's attentions turned to grandchildren. When she found Hayley's hormone drugs, Sylvia assumed she was going through the menopause and gave her an aloe vera plant to help her. This drew the attention of Tracy Barlow, who let the cat out of the bag that Hayley was a transsexual. Sylvia was initially appalled but Roy rose to the occasion and made her feel ashamed for her gut reaction.
Sylvia soon settled down and became an indispensable member of the Cropper family. In October 2012, when Mary won tickets to the United States in a competition, she gave them to Roy and Hayley so that they could visit Sylvia, who was temporarily staying with her companion Milton Fanshaw in Palm Springs, California. Hayley remained there longer than Roy, returning on 9th January 2013.
2013-2014: Cancer and death
In May 2013, Sylvia's friend Dorothy passed on a letter for Roy, from his estranged father, St. John Cropper, asking him to get in touch. The letter stirred up some painful childhood memories of abandonment, but with Hayley's encouragement Roy took a trip to Blackburn to meet St. John. At the given address, they were met by Margaret Cropper, St. John's second wife, who informed them that her husband had recently passed away. Suppressing his feelings of grief, Roy slumped into a depression.
The Croppers' problems were forgotten temporarily when the couple discovered that someone had been in the cafe overnight and moved things around, on multiple occasions. Roy became obsessed with catching the prankster, suspecting Beth Tinker, but the mystery was solved when Deirdre Barlow, walking her dog Eccles, found Roy sleepwalking on the Red Rec. Roy didn't believe it until he saw himself sleepwalking on the cafe CCTV footage (which he'd had installed to catch the prankster). Traumatised by the incident, Roy's sleepwalking episodes intensified, and on one occasion the cafe smoke alarm went off when Roy cooked in his sleep. Hayley insisted that he get a full health check, offering to go through one herself to encourage him.
When she got her results, Hayley was informed by the new GP, Dr. Akhtar, that she had abnormal liver functions and was checked into hospital for an ultrasound scan, which revealed a blockage in her bile duct. She was subsequently booked in for a more in-depth CT scan, after which the doctors broke the news to her that she had pancreatic cancer, and her chances of survival were only one in five. Hayley returned to work but, dazed by the news, she broke down in front of the girls, and privately informed Carla of her diagnosis. With Carla's support, Hayley told Roy and Sylvia about the cancer.
In the following weeks, Hayley had two operations, the first to unblock her bile duct and the next to remove the tumour. Hayley continued to work throughout, insisting on giving herself a sense of normality and asking Roy not to mention the word "cancer" in her presence. She also swore those who knew to secrecy, but Roy blurted it out at Audrey Roberts's birthday party at Nick's Bistro after catching her drinking alcohol. Although appreciative of her friends' support, Hayley got fed up with the barrage of sympathy and decided to take up Mary's offer of borrowing her motor home for a holiday with Roy.
On their return, the Croppers discovered that Sylvia had departed the Street to live with her sister. Hayley then had the operation to remove her tumour, giving Roy her wedding ring to look after while she was in the operating theatre. Upon awakening, Hayley looked at the clock and realised that not enough time had elapsed for the operation to have been successful, and it was confirmed by the consultant, Mr Peakman, that the tumour was inoperable as it encased a vital vein. Hayley was given six months, or up to a year with chemotherapy.
Hayley's prognosis was devastating for the Croppers and their close friends, with Roy constantly fussing over her and trying to keep her from tiring herself. However, Hayley refused to be defined by her illness and remained as active as usual. One of the first things she did was to make a bucket list of everything she wanted to do before she died. Spurred on by a nightmare in which she was still Harold and had never met Roy, she decided to try and make amends with Christian. Hayley got in touch with Christian and he turned up at the cafe to see her, having stood her up at their arranged meeting in Bury two days prior due to his uncertainty about seeing her again. In order to know that Christian's feelings were genuine, Hayley didn't tell him about the cancer, and he delighted her by expressing his regret over hitting her six years prior and informing her that she had two grandchildren, Sam and Maisie. However, their meeting ended on a sour note when Christian refused to let Hayley meet his children.
In October, Hayley and Roy joined a cancer support group, where they met a couple, Jane and Jeff Rayner. Jane shocked the couple by making jokes about her pancreatic cancer, but while Roy found her attitude inappropriate, Hayley was inspired and befriended the couple. A short time later, Roy surprised Hayley by changing the habit of a lifetime and being spontaneous by booking a trip to Blackpool. The couple enjoyed the day immensely, with the highlight being a dance in the Tower Ballroom, Roy having learned ballroom dancing especially for the occasion. On their return, Hayley found out that Jane had been taken to a hospice for round-the-clock care. Hayley was alarmed at her friend's rapid deterioration and revealed to a stunned Roy that she wanted to end her own life when the cancer spread, before her morphine dosage was high enough to make her delirious. Roy couldn't believe that Hayley wanted to take herself away from him earlier than her illness dictated and refused to support her. Their row led to Hayley leaving Roy to stay with Fiz and Tyrone Dobbs at 9 Coronation Street, where she had a collapse due to an infection and was taken to hospital. The Croppers reunited, but the incident only made both parties more entrenched in their positions on Hayley's suicide plot. When Jane passed away a short time later, Hayley struggled to cope and became tough on Roy for not supporting her. With Anna Windass's encouragement (after Roy let slip Hayley's plans), Roy lied and told Hayley that he had changed his mind.
As the year came to a close, Hayley started her chemotherapy sessions and began planning her funeral. To her surprise, Christian returned and introduced Hayley to Sam and Maisie, at the same time asking her for £5,000 to clear his debts. Although disappointed in Christian's tactics, Hayley gave him the money and remarked to a disapproving Roy that she had no regrets. After Christmas, Hayley and Roy went to the hospital for the results of another scan, carried out when Hayley complained about feeling pains. The doctor revealed to the couple that the chemotherapy was proving ineffective due to the cancer being more aggressive than expected, and Hayley's life expectancy was revised to mere weeks. Initially seeming to take the news well, Hayley broke down in a panto queue and asked Roy to take her home, where she became hysterical and knocked the Christmas tree over, complaining that her life had meant nothing. Comforted by Roy, she softened and told him that loving him had made her life worthwhile.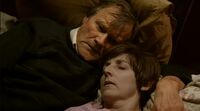 Over the following days, Hayley became more frail and lost her appetite. Feeling herself getting weaker, Hayley decided to end her life the next day and saw each of her close friends in turn, telling them how much she appreciated them, even finding the time to tell Tracy Barlow what a horrible person she was. On her last day, Hayley prepared a lethal cocktail, instructing Roy not to touch it, and ironed Roy's best shirt for the funeral. Leading a terrified Roy into the bedroom, Hayley lay on the bed, while Roy played "The Lark Ascending" by Vaughan Williams, a mutual favourite of theirs, before laying down beside her. In their final conversation, Hayley and Roy reminisced about the past, with Hayley telling Roy that she knew what it was to be loved thanks to him, after which she downed the cocktail and passed away in Roy's arms.
Eleven days after her death on 20th January 2014, Hayley Cropper received a humanist funeral with a colourful theme; mourners were under orders to dress brightly and Hayley was cremated in a coffin adorned with differently coloured flower patterns. This was followed by an upbeat music-filled wake in the Rovers. The manner of Hayley's send-off was entirely appropriate for a woman who always looked to the positive; a woman who had lit up people's lives with her boundless enthusiasm and kindness.
Personality
Hayley joined Firman's Freezers after years of looking after her father, and in the midst of a sex change. It was an emotional time for an emotionally vulnerable woman, which was reflected in her somewhat needy and naive manner in her interactions with her co-workers such as Alma Baldwin. With the support of friends, Hayley gained in confidence and her bubbly personality emerged. She was a kind woman who always put others first, at times such that she could be seen as a pushover, as evidenced by doing her colleagues work for them to meet quotas.
Hayley was very non-confrontational, at least when dealing with bigots such as Les Battersby. Once she had her final operation in Amsterdam, Hayley wanted nothing more than to be one of the girls, but when faced with prejudice it was not anger but disappointment Hayley felt, the abuse serving as a reminder that she would never be able to lead a normal life. Her anger was typically directed at her circumstances, rather than her tormentors. However, she made an exception for Tracy Barlow, giving her a slap when Tracy made cracks about her sexuality during a heated argument.
Faithful, loyal and kind, Hayley didn't mind putting herself out to help others in a jam. Her skill on the sewing machine made her the go-to person when a dress needed making or mending for a wedding or christening, with Hayley going as far as to mend Claire Casey's wedding dress late at night on Christmas Eve. In some ways this was a disadvantage; her easygoing nature made her a poor stand-in factory manager after Paul Connor's death, with Carla having to take over to get things back on track.
Traits
Hayley's manner of dress was indicative of a woman older than her years. She usually wore a shirt and cardigan with a skirt, short hair, and for all of her sixteen years in the Street, she wore the same red anorak. Occasionally, Hayley experimented with a more youthful, feminine look, before deciding that it didn't suit her.
Relationships
Alma Baldwin
Alma Baldwin was Hayley's first close friend following her sex change. Taking pity on Hayley when Curly Watts picked on her for being too unassertive in her job at Firman's Freezers, Alma befriended her in order to boost her confidence. Hayley was so glad to have a friend that she started following Alma around and bought her an expensive sweater. Realising that Hayley had no other friends, Alma searched for a way to free herself of her without hurting her feelings, succeeding when Hayley was introduced to Roy Cropper at dinner at Alma and Mike's flat.
During Hayley and Roy's relationship, it often fell to Alma to talk sense into them during difficult moments, the most significant one being Roy's rejection of Hayley when she confessed her sexuality to him. In 1999, Alma was Matron of Honour at their wedding.
Hayley was also loyal to Alma. When she saw Mike kissing Linda Sykes, Hayley didn't tell Alma to avoid hurting her, but when Alma found out that Mike had a girlfriend, she came clean.
Roy Cropper
Before meeting Hayley, Roy Cropper led a life very similar to his future wife; he was an only child, whose father St. John Cropper had walked out on the family, and his mother Sylvia found him a disappointment due to his oddness. in Coronation Street, he was generally seen as an anorak and a misfit. His relationship with Hayley started out platonically, meeting for the first time over dinner at Alma's flat. With nobody else in the mood for talking, Roy bored the rest of the table with his dry stories, but he had a captive audience in Hayley, and took her out for a drink afterwards.
Roy and Hayley shared a caring, trusting relationship, successful partly because they were friends as well as husband and wife. In most aspects of their lives, they were a team, for example in their volunteer work and becoming first aiders. Hayley was the more open emotionally of the two, with Roy wearing a constant stone face. He had a very analytical, literal mind, and abhorred lying. One instance where this was a problem was when the Croppers were interviewed to assess their suitability as foster parents in December 2000. Roy upset Hayley with his honest but blunt responses to the questions, in which he admitted that he didn't see her as a normal woman, because he knew intellectually that she was a born a man. She briefly left him and went to stay with Alma, before deciding to forgive him. However, Hayley's insecurity over how Roy saw her occasionally cropped up, in particular her fear that he didn't find her attractive, but it was never mentioned again after his near-suicide in 2003 when he thought he'd been unfaithful to Hayley with Tracy Barlow.
Although devoted to Hayley, Roy could sometimes be insensitive. In 2012, he failed to take an interest in Hayley's ballroom dancing due to being caught up in his chess games with Mary Taylor. In 2006, he ignored Hayley in favour of his friend Clifford Ford, who loved trains almost as much as Roy did. Also, his presents to her was usually more suited to him, for example an authentic but rustic meal from the Civil War period (2002), a holiday in Burnham Thorpe for the two hundredth anniversary of the Battle of Trafalgar (2005), and Scrabble in a foreign language (2003). However, this was borne out of a desire to share his interests with his wife rather than selfishness, and Roy was also capable of more romantic gestures, with the occasional prompting from friends.
When Hayley decided to end her own life when diagnosed with incurable pancreatic cancer, Roy refused to support her, seeing it as selfish on her part to take herself away from him, cherishing every possible second he could spend with her. For Hayley's sake, he gave his approval, but he let his true feelings slip on occasion. Hayley made him promise to go on and be her eyes, ears and heart for years to come. She passed away with Roy at her side, but she left behind a husband who felt betrayed and abandoned, who was now without his soulmate.
Fiz Brown
Fiz Brown was the second of the Croppers' foster children in 2001. New to the Street, Fiz found Roy and Hayley old-fashioned and caused trouble by reporting Roy for hitting her when they tried to crack down on her skiving off school. A few months later, Fiz returned to the area, older and wiser, and apologised to the Croppers for being rotten to them.
Roy and Hayley's role in Fiz's life was as surrogate parents although in contrast to Becky Granger, Fiz rarely leaned on the Croppers for emotional support and her job alongside Hayley in the factory meant that they were as much friends as mother and daughter figures. In 2009, the Croppers employed Fiz's husband John Stape at the cafe, despite his kidnap of Rosie Webster which had resulted in his imprisonment. In 2011, when Fiz was on remand for murders which John had committed, she asked the Croppers to look after her daughter Hope until she was transferred to the Mother and Baby unit in prison. Hayley was run off her feet looking after Hope but was sad when the time came to give her up.
Angela Harris
Angela Harris was one of Hayley's colleagues from the factory. When her family moved to Coronation Street in 2002, they were known as the "Nelsons" due to being in the witness protection programme. Hayley was the first Street resident to find out their secret, learning the truth when Angela confided in her, after Hayley took her to casualty when Angela hurt her finger on the sewing machine. Hayley agreed to keep her secret and didn't even tell Roy.
Hayley also played a part in the drama surrounding Tommy Harris's murder. Interrupting Angela typing the words "you're next" on the factory computer, Hayley was asked by Angela to go to Sheffield and post a letter containing the threat. Angela claimed to be doing it so that the police would take the threat from the Morgan brothers - the cause of their relocation to Weatherfield – seriously. Hayley did so, but was very troubled by deciding to get involved, and told the police about the fake letter when Angela was arrested for her husband's murder. Angela apologised to Hayley and asked her to tell everyone the truth. The murderer was later revealed to be Katy Harris, with Angela taking the blame to protect her daughter.
Becky Granger
Becky Granger entered Hayley's life when Becky started working at Underworld in 2006. One step away from living rough and always in some sort of trouble with the police, about the only thing Becky had going for her was her 'friendship' with Kelly Crabtree, who she betrayed by letting her take the blame for thefts at the factory. Hayley was therefore sceptical when Becky tried to befriend her when Hayley was doing voluntary work with ex-offenders later in the year, but she decided to give Becky a chance, feeling that everyone could be rehabilitated.
Becky's stay with the Croppers reached an impasse when Becky went for a joyride in Hayley's car with her friend Slug, and she was subsequently sacked for starting a fire in the cafe which was actually caused by an electrical fault. Hayley gave Becky her job back at the cafe and from then on there was more trust in their relationship.
Becky grew very attached to "Royston" and "Hayles". She admired their honesty and loyalty, seeing it as something to aspire to, and her desire to be worthy of their trust was a big motivator in her turning her life around. In an eventful six years in the Street, Becky loved and lost, achieving some of her dreams but constantly arriving back at square one, partly because she always thought that any happiness in her life was temporary and sooner or later she'd blow it. The Croppers usually played a supportive role in her dramas, even those which were of her own making; in 2011, they convinced Dev and Sunita Alahan not to press charges against her for robbing the Corner Shop. In 2010, Becky confided in them her mother's death, which she had kept even from Steve McDonald. Later that year, they supported her when she had her miscarriages, and it was on Hayley's advice that the McDonalds turned to adoption.
Hayley and Becky did have the occasional cross word. In 2007, she assaulted Christian Gatley due to his violent reaction to Hayley's revelation about being his father, causing Christian to flee the area and lose touch with Hayley. In December 2011, when Tracy Barlow had a miscarriage which she claimed was caused by Becky pushing her down the stairs, Becky defiantly refused to take the blame, claiming that Tracy had lost the babies before the stairs incident and slipped down her staircase of her own accord. Due to her longstanding feud with Tracy, Becky was shunned by the residents, with only Roy and her sister Kylie Platt believing her. When Becky heard Hayley admitting to Roy that she didn't know who to believe, she became angry and shoved her. Hayley regretted her harsh words and she and Becky soon made up. The Croppers were one of the few people Becky said goodbye to when she left the Street a few weeks later, to start a new life in Barbados.
Carla Connor
Carla Connor became the Underworld co-manager in 2007 following the death of her husband Paul. Carla appreciated Hayley as a valuable member of the sewing room team, but nothing more; poles apart in personality, Carla was a glamorous factory boss, and Hayley a frumpy staff supervisor. It wasn't until 2009 that Hayley took on a greater significance in her life; when Carla's husband Tony Gordon made a deathbed confession to arranging the murder of Liam Connor to Roy, only to recover, Roy became obsessed with exposing him. This culminated in Tony nearly drowning Roy in the canal before turning himself over to the police and confessing to his crimes. Carla was absent from Weatherfield throughout these events, as she had fled to California when Tony admitted the truth to her months earlier. Upon her return, she faced the disgust of the residents, Hayley among them, although Hayley was one of the first to forgive Carla.
In June 2010, Tony escaped from prison and took Carla and Hayley hostage at the factory, intending to kill Hayley along with Carla so that Roy would feel the same loss he felt when Maria Connor turned her back on him. He only set Hayley free when Carla pleaded with him, and the incident ended with Tony perishing in a blaze he started himself. Hayley credited Carla for being the reason she was still alive, and the two became close, if unlikely, friends. In September 2011, Hayley cleared Frank Foster's things from the factory after his rape of Carla and ran the factory in her absence.
In 2013, Carla was one of the first people to find out about Hayley's cancer treatment. Then awaiting the results of her CT scan, Hayley couldn't concentrate at the factory and explained her situation to Carla. Carla drove her to the hospital, where she found out she had pancreatic cancer. After Roy, Carla provided the most support to Hayley in her final months, and in fact often acted as a counterbalance to Roy by encouraging Hayley to stay active and trying to boost her spirits, which was much appreciated by her ailing friend. During their last conversation, Hayley thanked Carla for giving her three extra years of life. Finding her manner odd, Carla investigated and persuaded Anna Windass to let her into the flat, where they found Roy with a lifeless Hayley, who had passed away moments before. When she saw Anna wash a glass from the bedroom, Carla realised that Hayley had taken her own life before the cancer reached its final stage, but she respected Hayley's choice not to share her plans with her and didn't pursue the matter further.
Hobbies and interests
Hayley and Roy shared many interests and activities. In 1998, they took evening classes in Spanish, which led to hilarity when, on their way to their way to their inaugural lesson, they stumbled into a "life class" with a nude Nick Tilsley as the model. They later joined the Weatherfield Operatic Society together, with Hayley encouraging a terrified Roy to try for The Sound of Music with her. Both were successful in their auditions.
The following year, the Croppers joined the Weatherfield First Aiders. Taking his duties very seriously, Roy upset Hayley by repeatedly critiquing her technique, resulting in her sticking a plaster over his mouth. They went on to possibly save their group mates' lives by evacuating the first aid tent when a rocket landed on it and started a fire at the local firework display.
Hayley and Roy were also interested in seeing the world. In 2004, Roy bought Hayley an old globe and suggested they travel the world, starting with Kent, although they were tired out by one day's travelling and sold their camper van to Harry Flagg.
In many respects, the Croppers were very different and this was reflected in their other interests. In 2010, Hayley took dance classes with Anna Windass, and two years later learned ballroom dancing with Norris Cole and Mary Taylor. Dancing with Norris in her dancing exam, Hayley passed with flying colours, although much to her annoyance, Roy was more interested in his and Mary's chess games. Hayley's theatrical bent extended to singing, with her singing Abba on stage along Deirdre Rachid, Linda Sykes and Janice Battersby at the Street's Millennium party in 2000.
Hayley had also been a keen bowler since the 1980s, when she competed in the East Lancashire Semi-Pro Guild. Her passion for bowls was passed on by her father. In 2004, she joined the Rovers Ravers, and ended up carrying the team as she was the only one with any experience at the sport. Her return to the fray ended on a sour note as she was disqualified due to her being registered as Harold and therefore not allowed to compete in the all-woman team.
Background information
Creation and casting
The idea of introducing a transgender character came about during a story meeting, when the writing team were discussing the possible introduction of Coronation Street's first homosexual character. However, as other UK soaps such as Brookside and Hollyoaks had recently covered such storylines, the idea did not appeal to the team. Producer Brian Park: "[We] didn't want to be seen as chasing their tails so much. So when we had our transsexual character brought in, we thought that neatly transcended it, but in a slightly Coronation Street way: we went one step further but didn't shake it to its foundations as well... I can't remember whose idea that was. I think maybe Ann McManus came up with it. And I said, 'Brilliant!'" (50 Years of Coronation Street: The (very) Unofficial Story, JR Books, 2010)
Hayley Patterson was devised as a young, shy woman who would fall for Street anorak Roy Cropper. Although it was decided that Hayley would be a pre-op transsexual when viewers first meet her, Park was determined that Hayley would be portrayed with dignity: "We are approaching it sensitively. We'll get to know Hayley as a person, not a soap-box cause." (The Guardian, 17th January 1998) To widen the field of available talent, the decision was taken to have an actress play the part instead of a transgendered woman.
27-year-old Julie Hesmondhalgh was born in Accrington, Lancashire. She trained as an actress in London before returning to Manchester. She was appearing in Much Ado About Nothing at the Royal Exchange Theatre when she was spotted by a member of the casting team and subsequently asked to audition for Coronation Street. Before auditioning, the actress was given sketchy details about the character, with one glaring omission: "All I knew at first was there's a part going in Coronation Street, she's called Hayley, she's going to work in the factory and she's fun. That's all they told me. So I immediately imagined myself as a Bet Lynch-type character and I did literally pitch up for the audition with red lipstick and a leopard-skin coat. Then Judi Hayfield, the casting director, said to me: 'I don't know how to begin to tell you what this part is or how you'll feel about it, but she's a transsexual and at the moment she's still in a male body. What do you think about that?' Well, I was gobsmacked, of course, but I thought it was a fantastic idea. So I went away to this great bookshop in Manchester and said I need every book you've got on transgender." (Fifty Years of Coronation Street, Headline Publishing Group, 2010) At 27, Hesmondhalgh was four years younger than her character.
Hayley's attire and mannerisms were used to subtly hint at her background. Hesmondhalgh: "I worked with the costume department to create a look. There was the wig, of course, I had to have my shoulders built up in my cardigans and there was the ubiquitous polo neck that was supposed to hide my Adam's apple. And of course we had to plaster on tons of make-up." (Sunday Mirror, 8th March 1998) "The point about transsexuals is that they want to blend in. I keep my chin tucked in and my head down and my hands in front of me or under the table, because she would want to conceal her masculine hands. She is terrified of anything that might give her away." (The Guardian, 17th January 1998) However, she was written and played as a woman from the outset. Brian Park: "We had hoped for her to be a sympathetic character and we didn't want to make her big and blowsy and looking like Pete Burns." (50 Years)
Contemporary reaction
News that Coronation Street was set to introduce British soap's first transsexual character broke in the papers two weeks before Hayley's on-screen debut in Episode 4341 on 26th January 1998. Media outlets, noting the programme's usual reluctance to confront soap taboos, predicted "a storm of outrage, particularly from older viewers" (The Star, 16th February 1998). However, reaction to the character was mainly positive. Granada received three letters of complaint, all which were about Hayley being played by a cis-gendered woman and not a transwoman. Following Hayley's confession to Roy that she was a transsexual on 27th February 1998, the Independent Television Commission received ten complaints that it wasn't suitable for a pre-watershed timeslot. These complaints were rejected, with the ITC commenting that the issue had been handled with "tact and great sensitivity". (The Daily Telegraph, 21st April 1998)
Most criticism came from the LGBT community, who slated the portrayal of Hayley as cliched and ill-informed. For Hayley's return to the programme some months later, a communication was established between the production team, including Julie Hesmondhalgh, and a trans advisor, Annie Wallace, associated with Press for Change, the transgender campaign and information group. This liaison continued for eighteen months. Inspired by her work with Coronation Street, and encouraged and mentored by Hesmondhalgh, Wallace entered a Manchester drama school, and went on to become the first transgender actress to play a regular transgender role in a UK soap opera, Hollyoaks, in 2015, playing school headmistress Sally St. Claire.
On the reaction from the LGBT community: "There's no way either me or Granada see this as a funny subject. I know the transsexual community have experienced terrible prejudice because of fear and ignorance, but this storyline has actually got people talking about a subject they might otherwise not have known about. I think the whole thing has been incredibly positive." On being a woman playing the role: "I know a lot of the transsexual community were upset that it was a woman playing the part of Hayley, and not a transsexual. They thought it was a cop-out. But we wanted the character to live and breathe a bit so that people could get to know her without prejudice. We didn't want people to be fearful of her and dislike her for the wrong reasons."
Reaction to the character improved over time, with praise focusing on Hayley's relationship with Roy. Hesmondhalgh: "Since the scene was broadcast when Hayley told Roy I have personally found that people have been very positive. Most just want Roy and Hayley to get together." (Lancashire Evening Telegraph, 7th March 1998)
Partnership with Roy
After her initial two-month stint was deemed a success, Julie Hesmondhalgh was given a new contract and Hayley returned as a permanent character with Episode 4429 on 29th June 1998, beginning with a memorable set of episodes filmed on location in Amsterdam, where Hayley reunited with Roy having completed her transformation into a woman. Julie Hesmondhalgh was pleased to be working alongside David Neilson again, believing that he helped her performance: "It's in the costume and the wig and acting with David, who's so brilliant as Roy. When he transforms himself, it transforms me." (Woman's Own, 15th April 1999)
Hayley's relationship with Roy was especially well-received by viewers, despite the actors' initial fears about putting two oddball characters together. Hesmondhalgh: "I think in the beginning the original idea may have been pitched as a sort of joke – you know, give Roy a girlfriend and she turns out to be a man. But I was really conscious that I didn't want it to be making fun of her, and as it happened it was beautifully written and David [Neilson] and I played it, and continue to play it, as a delicate love story." (Fifty Years) On their relationship, David Neilson: "Everything just clicked and the two characters just seem to sparkle together," (Inside Soap)
In 1999, the writers decided that Hayley and Roy would marry. At that point, they could not legally marry as under UK law Hayley would be recognised as a man. This was incorporated into scripts, with Curly Watts finding a vicar who would carry out a blessing ceremony which was then treated like a wedding, with Hayley changing her name by deed poll to Hayley Cropper. After the "wedding" was screened, the Labour Government announced that a Parliamentary Working Group was being created to assess how the UK could grant trans people the legal rights for which they had fought for decades. The result of this was the tabling, in 2004, of the Gender Recognition Act, granting trans people full legal status in their acquired sex. It has been said that the character of Hayley Cropper deserves partial credit for bringing the issues faced by trans people to public attention in a sympathetic manner, rather than the sensationalist coverage that had previously existed. As a result of this change in the law, the Croppers had a legal wedding in 2010.
For their on-screen partnership, Julie Hesmondhalgh and David Neilson received a British Soap Award in 1999 and 2004. They went on to be one of the longest-lasting couples in Coronation Street history, something which pleased the actors. Hesmondhalgh: "Because nobody else would have them, the scriptwriters have got to be a bit imaginative with us - they can't just keep splitting us up and sending us off and having affairs and having children and things. They've got to be a bit more imaginative, so it's great - it works out good for us." On the value of the couple: "I've said this before, but they are, despite how unusual they are as people, they are the most conservative couple on the Street really. And you need that. You need a couple of people who just love each other and stay together through thick and thin."
In 2009, David Neilson, Julie Hesmondhalgh and Katherine Kelly starred in direct-to-DVD spin-off Coronation Street: Romanian Holiday, shot on location in Romania.
Storylines
Julie Hesmondhalgh left Coronation Street temporarily in 2001 to give birth to her daughter, Martha Mo. In 2007, she enjoyed playing scenes of Hayley meeting her son Christian Gatley, although his existence went against known Street history which had established Hayley as a virgin. Hesmondhalgh: "I was very excited to be involved in some action drama because that's not my normal place in the show, I'm usually behind a knicker machine or serving butties. When I got the scripts for those episodes I read them like a novel, all five episodes back to back – I found it absolutely thrilling." (Fifty Years)
Shortly after this storyline was transmitted, Hesmondhalgh took a year off to concentrate on family. She returned in Episode 6950 on 17th November 2008. In 2012, she took three months off to appear in Black Roses: The Killing Of Sophie Lancaster at the Royal Exchange Theatre.
In her sixteen years as Hayley, Hesmondhalgh wore the same red anorak. In 1999, the actress responded to suggestions that it was time to pack away her trusty anorak: "A charity shop sent me a new one the other week. But I think the anorak has got to stay - it's an institution!"
Departure
On 11th January 2013, it was announced that Julie Hesmondhalgh would be leaving Coronation Street at the end of her contract in early 2014. Hesmondhalgh quit the programme to pursue other work, having enjoyed her return to the stage the year before: "The decision to hang up Hayley's red anorak was a tough one. But doing the play at the Royal Exchange last year made me realise that there's life in the old dog yet. Whatever happens next I'll always be proudest of lovely Mrs Cropper."
The decision to kill Hayley off came from incoming producer Stuart Blackburn, who described it as the "easiest decision [he'd made]". Hayley's exit storyline saw her diagnosed with terminal pancreatic cancer and, in a story twist, decide to end her life on her own terms. Much of the drama in Hayley's final months concerned Roy's refusal to accept her plans. Blackburn: "This is a very sensitive issue and we will be exploring the effects of her decision on husband Roy who has a huge emotional and moral dilemma over her choice to die this way." Hesmondhalgh agreed that killing Hayley off was the only believable option: "In a way, she has to die because it would be much more of a betrayal of everything if she just left Roy. She'd never do it."
As the storyline played out, Hesmondhalgh feared a backlash from fans over the storyline but was surprised by the reaction: "I've had so many messages and it's been overwhelming. I did think that people might be angry about it because a lot of people don't want to be watching Corrie and to be seeing this sort of thing, especially with a character that's likable like Hayley. But a lot of people have said because it's been so true to Roy and Hayley, they've found it moving. For me it's a love story with a beginning, middle, and an end and this is the end."
First and last lines
"But I don't want to be in authority. I'm happy as I am. Couldn't you speak to 'em about taking too many smoking breaks?" (First line, to Curly Watts).
---
"Then remember it. I love you, always have and always will. I'm so sorry I have to go." (Final line, to husband Roy)
Appendices
List of addresses
Employment history
See also