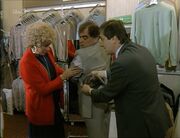 Greenwoods Suits was a menswear retailer was where Alf Roberts went to buy a new coat in May 1988, making the rare use of a credit card for the purchase. He was dealt with courteously by the sales assistant until his card was found to be over the limit, whereupon the assistant cut up the card. An embarrassed and angry Alf swore he'd never shop there again.
A few weeks later, Jack Duckworth was dragged there by Vera who was determined to find him a new suit for his upcoming role as best man at Don Brennan's wedding. The sales assistant found Jack a suit which had been marked down due to a flaw in the lining, but Vera managed to negotiate an extra £3 off for damages. Vera was also present when Jack collected the suit once it had been altered, where the warring pair had a tussle over a red shirt which Jack wanted, with the sales assistant caught in the middle.
Maurice also worked at the shop as an assistant.
List of appearances
1988
*Disclosure: Some of the links above are affiliate links, meaning, at no additional cost to you, Fandom will earn a commission if you click through and make a purchase. Community content is available under
CC-BY-SA
unless otherwise noted.