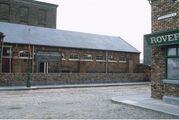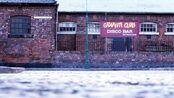 In March 1983, Mike Baldwin and business partner Alec Yardley announced they had bought the old warehouse on Rosamund Street, situated at the bottom of Coronation Street opposite the Rovers Return Inn with plans to turn it into a nightclub and disco. Mike managed to get the help of builder Len Fairclough (who later won the plumbing contract in the club) and grocer Alf Roberts in supporting the new venture on the council.
The name for the club came about thanks to a comment Eddie Yeats made to Alec and Mike, and the Graffiti Club was born. The Graffiti was opened in September 1983, with Hilda Ogden working in the cloakroom and Alec's nephew Don Watkins as manager. In January 1984, Mike discovered that Don had been fiddling the club books and had disappeared with half the stock. Alec suggested he buy Mike out of the partnership. Hilda left the club in March that year after the staff were reorganised.
Following the fire at the Rovers in June 1986, customers flocked to The Graffiti, now managed by Alec Gilroy on behalf of Newton & Ridley. Jack Duckworth was promised a job as long as he could get thirty new members to sign up, but Alec employed Gloria Todd as barmaid instead. Jack joined the staff after Gloria left soon after. Jack's time behind the bar was short as he was sacked by Alec when he was overheard asking Rovers landlady Bet Lynch for his former job back. Alec attempted to get his own back by poaching new Rovers barmaid Alison Dougherty. The joke was on Alec when Alison ran off with the club takings.
By December 1986, The Graffiti was losing money, and the brewery decided to cut their losses and fired Alec Gilroy. The club later closed. Its premises were later converted into Rosamund Street Medical Centre.
List of appearances
1983
1984
1986
*Disclosure: Some of the links above are affiliate links, meaning, at no additional cost to you, Fandom will earn a commission if you click through and make a purchase. Community content is available under
CC-BY-SA
unless otherwise noted.