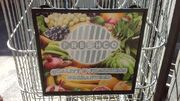 Freshco is the main supermarket in Weatherfield and is used by the residents of Coronation Street. Formerly known as Firman's Freezers it is unclear whether this was a take over or just a rebrand. Employees of the supermarkets included Reg Holdsworth, Curly Watts, Andy McDonald, Anne Malone, Alma Baldwin, Izzy Armstrong and Hayley Patterson.
Freshco was last seen on our screens in 2011. Notable storylines involving Freshco's were Linda Sykes brother Sean and his mate Lenny Larkin holding Curly Watts, Mike Baldwin, Alma, Ken Barlow, Fred Elliott and Ashley Peacock hostage in an armed raid in October 2000 .
In 2014, Deirdre Barlow mentioned that the Frescho aisles had been narrowed and there had been more self-service checkouts.
Freshco became a key plot element in early 2016, when it was revealed that Weatherfield Council would be discussing whether or not to commission the development of a new and expansive Freshco store which would apparently encompass a café. Recently elected councillor Sally Metcalfe declared her opposition to the development, as it would harm local businesses such as The Kabin and Corner Shop. However, in April, Jason Grimshaw managed to close a deal to have his building company work on the development, at the insistence of work partner Pat Phelan. Feelings toward the development divided the street, with business owners dead-set against it. However Jason and Pat, as well as a select few other residents were firmly in agreement with it.
In 2017, following her losing her job at Underworld after it went out of business, Sinead Tinker managed to get a job working at Freshco as a shop assistant, the first Coronation Street resident to get employment there in nearly two decades.
Freshco FastTrack
First introduced in 2011, Freshco FastTrack is a convenience store version of Freshco's supermarket, it was first mentioned on 21st February by Dev Alahan, who stated that a store had opened near one of his shops in Manchester.
Staff
Former Staff:
Gallery