Firman's Freezers, also known as Firman's was a chain of supermarkets owned by Eric Firman, with the Weatherfield branch on Albert Road often frequented by the residents of Coronation Street.
Buying Bettabuy

In January 1994, after being made redundant as area manager of Bettabuy, Reg Holdsworth invited Eric Firman (who had recently bought the Albert Road branch of Bettabuy and rebranded it as a Firman's) to be his best man at his wedding to Maureen Naylor in hope that a role would arise within his company. Six months later, Eric took on Reg as manager of the Weatherfield branch, and in early 1995 he was persuaded by Reg to employ Curly Watts as assistant manager, a position he had served under Reg at Bettabuy. At Firman's, they were never far from Eric's gaze and he often shared his business plans with them, most of which concerned his early retirement.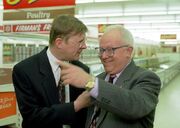 In March 1995, Eric was in talks to sell the chain to Brad Martin but after a bad interview with Reg and Curly they pulled out suddenly, to Eric's irritation. Wanting to take a step back from his duties, Eric entrusted his nephew Leo Firman to take charge of the business, though by November he was sent packing when Curly reported his attempted rape of Raquel Wolstenhulme. In the same month, despite his seeming antipathy for Reg, Eric thought highly of him professionally and he offered him a promotion to Chief Executive for Distribution in Lowestoft. Reg accepted and Eric appointed Curly the new manager, impressed with him and Raquel when he and wife Edith Firman entertained the pair at the Firman residence in Bramhall. It was later revealed in April 1996 that Reg had used the relocation as an opportunity to run off with wages clerk Yvonne Bannister and got her pregnant.
Anne Malone terrorises Curly
In December 1996, Eric accepted Curly's resignation and made arrangements to re-employ Reg as manager, with Anne Malone as assistant manager, but Curly returned at the last minute and was kept on in his current position. Anne was in love with Curly but he spurned her advances and her reaction was to try to ruin his career by complaining to Eric that he'd been sexually harassing her, resulting in Eric suspending him. Curly didn't understand Anne's hatred of him and tried to get her to admit the truth but when Eric saw Curly shaking Anne, he fired him. Anne then tried to frame Curly's lodger Samantha Failsworth for shoplifting but assistant Sheila Dixon told Eric she saw Anne plant a package in Sam's bag. Eric realised Curly had been telling the truth all along and reinstated him, after sacking Anne.
Final years
Eric became taken with shop worker Alma Baldwin in July 1997 and made her employee of the month, putting a blown up photograph of her on the wall and using her face on in-store point of sale, much to Alma's frustration. Eric used her poster to advertise their poorest selling stock, which succeeded in boosting sales but angered Alma who felt customers were blaming her for the bad recommendations.
Early the next year, Curly and Eric stood against Spider Nugent, who objected to Firman's stocking Norwegian prawns on the grounds that it supported whaling. When Spider spoiled the prawns with antifreeze, the insurance company refused to pay out.
Moving premises and Freshco takeover
Upon retirement in August 1998, Eric sold the Firman's Freezers brand to American company Freshco plc who rebranded all stores under their fascia. Shortly before the takeover, Firman's had relocated to a larger premises on Albert Street and refreshed their logo.
Staff
Management
Sales assistants
Administerial
Yvonne Bannister

- Wages clerk
Filming location
Scenes at Firman's Freezers were recorded at three different stores across Greater Manchester during the four years it appeared in Coronation Street. Initially, the Iceland Foods store on Bury Old Road, Cheetham Hill was used, and therefore the logo was a variation of the Iceland logo at the time. When filming moved to Farmfoods, 52 Church Street, Eccles, a shorter 'FF' logo (see above) was used more prominently. During the month of the Freshco takeover storyline, the store location changed again to Somerfield, 13 The Precinct, Cheadle Hulme, and as such the logo adopted blue colours used by Somerfield at the time.
See also