Boba Fett Returns - The Loop
Play Sound
Fairclough and Booth was the business operated in the Builder's Yard at 15 Mawdsley Street between 1965 and 1968.
Jerry Booth had originally first worked with Len Fairclough as his apprentice in 1963, and at the end of the apprenticeship in the September of that year, Len employed him as a labourer on the site.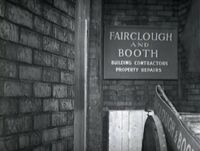 In 1965, Len offered Jerry a partnership in the firm as a birthday present, and two years later Len invested £300 from the company in an ill-fated property deal. To prevent anything like that happening again, Jerry proposed that he and Len became equal partners.
Following his divorce in 1968, Jerry left Weatherfield and Len operated the yard alone. Upon his return three years later, he found that the company was now known as Fairclough and Langton, though was employed as a labourer by Len and his new business partner Ray Langton.
Jerry's duties within the business were frequently underappreciated by Len and Ray, though when he rescued the business from financial ruin in 1973, he was offered an equal partnership between the three. The new business name was Fairclough, Langton and Booth. His death in 1975 meant the business was once again owned by just Len and Ray.