Spider-Man: No Way Home Trailer Dropped - The Loop
Play Sound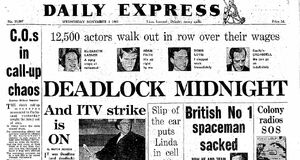 The Equity Actors' Strike was an industrial dispute that lasted from November 1961 to April 1962 between the ITV television companies and Equity, the actors' union which, until 1988, had a closed shop agreement with the commercial network (although not the BBC) under which no actors, except for children, would be employed to appear in the network's programmes unless they were members of the union.
After rumbling discontent that had lasted for many months, the strike began on 1st November 1961, the day after the previous contract that had existed between the two parties came to an end. The cause of the strike was an insistence from Equity that an actor's basic rate of pay, which they claimed had been set to a low figure when the cash-strapped ITV companies began broadcasting in the mid-to-late 1950s, be raised now that those companies were comfortably profitable. The agreed basic appearance figure in 1955 had been seven guineas, rising to ten guineas in 1958. By 1961 Equity were demanding thirty-six guineas - equal to a 260% pay rise - while an actor who had more than ten lines would be given forty-four guineas - or a 340% rise. One of the ITV stations, Associated Rediffusion, considered the claim to be "fantastic" and talks broke down in late October but Equity countered that the previously agreed levels were based on when television was experimental and before "colossal expansion" of the television network in the 1950s. In addition they said that their claim also took into account the closure of theatres and cinemas with the rise of television and its consequent effect upon their profession. In addition they stated that actors' fees ought to reflect whether or not their performances were in productions televised locally or across some or all of the ITV network.
On the 28th June 1961, Equity instructed their members not to sign new contracts which would be effective after 1st November that year. Although this was a move to put pressure on the ITV companies, the latter's refusal to capitulate meant that Coronation Street lost a large part of its cast by the time that that date came round. Characters who were deemed at the time to be "Guest Cast" were on short-term contracts (in some cases, weekly) and, as the programme was recorded the Friday prior to transmission at this time, they were immediately lost to the storylines. For this reason, Episode 93 broadcast on the day the strike was called features the last appearance of Jed Stone and Bill Gregory in 1961 and the next few episodes were hurriedly re-written to explain their absence. (Jed was next seen on 25th April 1962 and Bill on 2nd July 1962).
From that point onwards various characters disappeared, some never to be seen again (Jean Stark, Phil Braithwaite and Norman Dobson), others came back to the programme after the strike was over (in the main Miss Nugent, Mr Swindley, Esther Hayes, Christine Hardman, Doreen Lostock, Sheila Birtles, Lucille Hewitt, Valerie Tatlock) and others, where the actors had, previous to 28th June, signed to long-term, year-long contracts (a rarity in television), remained. The characters who continued to be seen in the programme were Annie Walker, Jack Walker, Albert Tatlock, Frank Barlow, Ken Barlow, Harry Hewitt, Concepta Hewitt, Elsie Tanner, Florrie Lindley, Ena Sharples, Minnie Caldwell, Martha Longhurst, Len Fairclough and Dennis Tanner although Philip Lowrie's long-term contract expired before the strike ended on 3rd April 1962 and thus Dennis disappeared from the programme after Episode 129 (7th March 1962) and didn't return for over a year as Lowrie wanted to try and further his career away from Coronation Street.
For the most part, the programme survived for five months with just fourteen characters, almost no guest cast and no extras. The exceptions were in Episode 102 (4th December 1961) and Episode 103 (6th December 1961) when a group of assorted children appeared and Episode 104 (11th December 1961) when future pop star Peter Noone appeared as Stanley Fairclough (Noone had also played one of the aforementioned children in the previous episodes). These child actors were not covered by Equity rules and Granada started to stretch the point by having them appear as milkmen and the like until Equity put in a strong objection. After that, children only appeared as occasional background extras.
Coronation Street was the only ITV drama to continue through the actors' strike. Many programmes, such as Emergency Ward 10 and The Avengers disappeared from the screens and the schedules were filled with shelf materials, US imports and films. Only three other programmes continued - Bootsie and Snudge, Mess Mates and Our House - all situation comedies which had to find enough comic scenarios which involved just the regular cast, and it was stated that there were only twenty-eight actors working for ITV in early 1962. In January of that year, Equity considered instructing those actors to renege on their contracts and stop working but the ITCA threatened legal action against the individual actors and a special meeting of the Equity Council backed down on the proposal. In addition, Violet Carson went public in stating that she had no intention of breaking her contract.
The income of actors not working during the strike suffered greatly and by its end Equity stated that they had paid out £15,000 in hardship pay while actors overall had lost £600,000 in income. On 19th March, Charles Royle, the Labour MP for Salford West, asked John Hare, Minister for Labour to intervene in a House of Commons debate, saying that actors were suffering tremendous hardship and that there was an "appalling deterioration" in the quality of ITV programmes, stating "In fact, I understand that even Coronation Street has deteriorated in recent weeks." (something not borne out by the programme's viewing figures during and after the dispute) [1]
Like most industrial disputes, the strike was conducted with a series of public statements of bravado while, behind the scenes, negotiations and compromises continued. Equity reduced their demand of forty-four guineas down to forty-two, while the network offered thirty-eight pounds. The actors may have been suffering hardship but the situation was getting desperate for the ITV companies who were running out of broadcast material and resorted to buying the rights to transmit a stock of old feature films from the BBC. The final meeting of the two sides took place on 28th March when the following agreement was reached: the country was divided into four broadcast areas (London, Midlands, North and the remainder) and an actor who had less than ten words to recite would receive a payment of twenty-eight guineas for an appearance in a fully networked programme or, nominally, a quarter of this should the programme only appear in one of these regions however another part of the agreement was that no actor would ever receive a payment of less than fifteen guineas. For actors with more than ten words, the minimum payment was thirty-six guineas for a networked programme. Certain reductions would be given where the actor was in a production that guaranteed more than thirteen weeks' work and was networked. Speciality acts and performances would receive a minimum of seventy-five guineas although for star names (the main Coronation Street cast would fall within these numbers), the actors' agents could always negotiate more. Walk-ons, not previously covered by any agreement, were guaranteed five guineas per day (meaning six hours' work) with one guinea for each subsequent hour - previous to this they had received between £3 to £3/10 for nine hours' work.
The overall cost of the package added an estimated £2 million to ITV's wages bill but Equity in the end proved the victor and they then turned their attention to the BBC for a similar agreement. Although the strike presented the production team of Coronation Street with many problems, it was a blessing in disguise as the programme had virtually no opposition during the period concerned: it was consistently at the very top of the ratings and its popularity became assured.