Doctor Strange in The Multiverse o Madness - The Loop
Play Sound
Emily Bishop (née Nugent, previously Swain) was a Coronation Street resident for nearly fifty years, with most of that time being spent as a widow following the violent death of her husband Ernest in 1978.
Born in Harrogate, Emily was the shy daughter of an ex-soldier who was determined to see her married. By the 1960s, she was in her thirties, living alone and running a baby linen shop in Rosamund Street, Weatherfield. In 1961, she merged her business with Swindley's Emporium, becoming assistant to draper Leonard Swindley. Emily hero-worshipped Swindley and in 1964 he agreed to marry her, but on their wedding day Emily realised that she had only proposed out of fear of spinsterhood and jilted Swindley, decreeing that she would only marry for love.
Emily found a kindred spirit in photographer Ernest Bishop as she entered her forties. They were married from 1972 until his death in 1978, when Ernest was killed in an armed robbery at Baldwin's Casuals. A grieving Emily allowed herself to fall in love again in 1980 when she met and married pet shop owner Arnold Swain. Just two months later, Emily discovered that Arnold was still legally married to his first wife Margaret and told him to leave.
As she approached old age, Emily remained at 3 Coronation Street, the home she had shared with Ernest, taking in lodgers including Curly Watts, Percy Sugden, Norris Cole and her nephew Geoffrey "Spider" Nugent - some appreciated, some tolerated. In 1998, Spider convinced the usually reserved Emily to join him in a protest against renovating the Red Rec. The incident saw pensioner Emily spend the night atop a tree. In 2016, Emily left Weatherfield in order to volunteer at a school in Peru with Spider. She later returned to the United Kingdom and currently lives in Edinburgh.
One of the few religious residents of the street, Emily was a volunteer for the Friends of Weatherfield Hospital charity for many years. Prior to that, she spent years working hard for the local Mission circuit and the Community Centre. Her working life was mostly spent in shops, including Gamma Garments and Ernie's Camera Shop, or secretarial, such as the Mark Brittain Warehouse and Baldwin's Casuals, until she retired in 1989 with the factory's demolition. In Coronation Street, she was closest to Mavis Wilton and Deirdre Barlow.
Biography
1929-1962: Early life
Emily Nugent was born in Harrogate on 18th October 1929, the daughter of James and Agnes Nugent. Her mother died when she was eleven and she spent the next fifteen years bringing up her siblings with no help or praise from her father. In 1949, at the age of nineteen, Emily passed up the chance of marriage to a man named Norman, because she did not love him. Although shy in comparison to her brother and four sisters, Emily was independent and by the early 1960s ran her own baby linen shop in Rosamund Street, Weatherfield, handling all matters involving the shop by herself and living alone in the flat above, leaving her roots and family home behind.
A devout Christian, Emily spent much of her free time engaged in secretarial work for the Weatherfield Mission committee or helping out at the Glad Tidings Mission Hall with Leonard Swindley. Emily greatly admired her pompous colleague but while they were never more than friends, their apparently close relationship was noticed by Emily's father, who was keen for Emily, at thirty-one, to marry soon and thought Swindley would make a good husband for her.
In 1961, Emily's shop faced closure as the lease was up. She was delighted when, after she broke down in front of Swindley, he proposed an amalgamation of her shop and his drapers Swindley's Emporium. Emily graciously accepted, but came to regret it as she did not always enjoy working with Swindley, and he himself was not financially secure. In 1962, he was forced to sell to Niklos Papagopolous's clothing empire Gamma Garments to avoid bankruptcy. The Emporium was taken over but Swindley remained manager, with Emily and Doreen Lostock as assistants.
1962-1966: The unwilling spinster
Over time, Emily herself began to worry that she would never marry. She held out hope that Swindley would come to see her as more than an assistant and was elated in 1963 when Swindley saved her job by threatening to resign in protest of Emily's sacking from Gamma, when it was decided the shop's low takings could not support Emily's wages. With Emily on probation, friends and neighbours did more shopping at the store to ensure Emily kept her job. The increase in custom earned Swindley a promotion to Head Office, and his replacement was Neil Crossley, who caused concern for Emily as he stole from the shop's takings and intimidated her with his confrontational manner. Emily reported him and he was sacked.
For a short time, Emily ran the shop as manager quite successfully. Even at that, she missed Swindley and when she saw how unhappy he was at Head Office, she resigned so that he could return to his former position.
1964 saw Emily and Swindley grow closer when Emily supported Swindley after he had a nervous breakdown. After some time away, he returned and Emily, realising that waiting for Swindley would mean waiting forever, took advantage of the leap year by proposing marriage. After an initial reaction of shock and terror, Swindley accepted and they planned a wedding for July of that year. As the wedding approached, Emily started having doubts. On her wedding day, with the guests waiting at the Mission, Emily realised that marrying Swindley would make a mockery of the institution of marriage, which she felt should be built on love, and as she didn't love him she couldn't go through with it. When she explained her decision to Swindley, he admitted that he felt the same but didn't have the courage to back out.
As Emily and Swindley had come to a mutual understanding, they were able to continue working together, their relationship continuing as it was. In 1965, Swindley left Weatherfield to take a job as Area Manager of Gamma Garments and Emily took over his responsibilities at Gamma and the Mission. Emily took on Elsie Tanner and Sandra Petty as assistants at Gamma and threw herself into the work.
In 1966, a friend invited Emily to manage a souvenir shop in Majorca. Emily immediately made preparations to leave, but then learned that her father had had a stroke and that the family expected her to look after him, as she was his only unmarried child. Aware that refusing would mean her father going into a home, Emily eventually bowed to family pressure and moved back to Harrogate to nurse him.
1967-1969: A modern woman
In 1967 Emily returned to Weatherfield to take over Gamma Garments on Papagopolous's request, having convinced her sisters to take turns to look after their father. Emily moved into the Corner Shop flat in Coronation Street, living in the Street for the first time.
With Emily under orders to attract younger custom at Gamma, she gave Dennis Tanner and Lucille Hewitt jobs, only to be accused by them of putting off teen shoppers with her outdated image. To encourage Emily to work on her appearance, Lucille set her up with a friend of hers, Brian Thomas. An already doubtful Emily was alarmed when Brian became infatuated with her, and she decided to introduce him to a young friend of hers, Audrey Hargreaves, to divert his attentions. Fortunately, the ploy worked.
Emily continued to harbour a desire to marry and later that year signed up at a marriage guidance bureau. Through the bureau, she met farmer Frank Starkie. The couple got on well but Emily ended the relationship when she found his farm too much work and realised she was frightened of the cows.
Emily's next contact from the bureau was Douglas Preston, a man dominated by his sister Amy. When Emily realised Amy was against their relationship, she decided to shock Amy by making plans to move into a flat with Douglas, realising that Douglas had seen the bureau as a means of escape from Amy. Once Emily had given him the confidence to stand up to his sister, she broke off the relationship.
The following year, Emily fell for Hungarian demolition expert Miklos Zadic. While they made an unlikely couple, Miklos agreed to go out with Emily and they found they got on well, with Emily thrilled by his passion. The relationship hit the rocks when Emily refused to have sex before marriage, prompting Miklos to take a job in Newcastle, deciding they were wrong for each other. He offered Emily a holiday in Scotland with him before he started his new job. Emily accepted the invitation and returned to Weatherfield, having lost her virginity. With the shop's owners David and Irma Barlow selling up, Emily had to leave her lodgings and was invited to live at the Rovers Return by Annie Walker.
On her return, Emily moved into the Rovers, which led her to put in the occasional shift behind the bar. Later in the year, Emily and Lucille lost their jobs at Gamma Garments when Papagopolous declared bankruptcy. As he hadn't told them the news until the day of the shop closure, they rebelled by using the shop's phone to make long distance calls.
With no money to pay rent, Emily found work for an Import and Export Office. Emily quickly realised her bosses were crooked and walked out after tipping off the police. Fortunately, Emily soon found a secure position at St. Mary's nursery through her friendship with Reverend Reggie James.
Emily continued at the Rovers until 1969 when Annie threw her out for causing her son Billy to fall out with her; Annie had been against his relationship with Jasmine Choong as she was Chinese, but put on an act of kindness which Emily warned Jasmine was false. Billy had left the Rovers in anger at Annie. After a brief spell living with Elsie at No.11, during which time Emily annoyed Elsie with her clear disapproval of her relationship with married man Dave Smith, Emily returned to the Rovers.
1969-1972: A bride at last
Later that year, Emily was offered a job at Ernest Bishop's camera shop, and accepted it on the condition that her friend Ena Sharples was given the position of resident caretaker. Ernest was a lay preacher and like Emily was often engaged in Mission work, so they saw a lot of each other and quickly became friends.
In 1970, Emily stopped working at the Rovers when Ernie told her that the Mission committee disapproved, although Emily continued to live there. The following year, Emily joined a protest against plans for a mail order warehouse to be built in the Street to accompany the new Community Centre. The protest failed and ironically Emily soon took a job as a clerk at the warehouse, to accompany her new position as secretary at the Centre, with Emily elected to the committee over Ernie. Emily enjoyed spending time with Ernie, but Emily broke off their budding relationship when it was discovered that Ernie was behind a series of caricature sketches of the neighbours which Emily deemed offensive. However, they quickly realised that they were right for each other and reconciled, with Emily accepting a marriage proposal from Ernie soon afterwards.
The wedding plans were put on hold later in 1971 when Ernie was arrested in Spain for offending against public morality by taking photographs of topless models on a beach. He had been on a job for William Piggott and Emily had taken over his camera shop in his absence, quitting her job at the warehouse to do so. Ernie returned early in 1972 and the couple finally made preparations to marry. The service, held at Mawdsley Street Chapel on 5th April, went perfectly although Ernie had last-minute doubts after hearing that Emily had jilted Swindley. The couple honeymooned in Edale and moved into 3 Coronation Street, with Ernie buying the house.
1972-1978: Marriage to Ernest
Married life for the Bishops consisted largely of trying to make ends meet on a limited income, and ironing out the differences in their relationship. In 1973, Ernie tried to boost the business's takings by employing Rita Littlewood as a rep. Emily was annoyed that he had taken on the extra work himself rather than give her the job, and proved her worth by taking an assignment photographing strippers. Ernie was impressed when Emily handled herself well and formed relationships with the strippers.
By 1974, the Bishops found they were arguing too much for their liking, having clashed over Ernie's production of The Importance of Being Earnest, with Ernie walking out during rehearsals when the actors stood up to him for being too grumpy. When they fell out over a planned visit to see Sheila Crossley, with Ernie eventually letting Emily go on her own, Emily was shocked on her return to find out Ernie had been to the Marriage Guidance Bureau to ask for advice.
On Emily's suggestion, the Bishops registered as foster parents, hoping that looking after children would unite them as a couple. They were given Lucy and Vernon Foyle to look after and while tired by the work they enjoyed having children in the house; Emily had come to accept that she would never have children. They were disappointed when the children's father returned early to collect them.
Money continued to be a worry for the Bishops. In 1976, things took a turn for the worse as the lease on the shop was trebled and Ernie couldn't afford the rent. When he was refused a loan, he took his accountant's advice and went into liquidation. As Ernie was signing on the dole, he didn't want Emily to take work out of pride, as he would have been ashamed if Emily was to be the sole bread-winner for the household. When Emily took work as an orderly at the hospital and sold her engagement ring for £100 to help raise capital, Ernie agreed to play the piano at the Gatsby Club in desperation. Emily was furious with Rita for getting Ernie the job and made him give it up, determined that they would never stoop quite so low.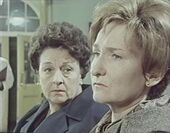 Their fortunes improved when Mike Baldwin arrived in the area to open denim factory Baldwin's Casuals in Coronation Street and gave Ernie a job as wages clerk. Emily kept on her job at the hospital for extra income and for a time the Bishops lived life comfortably. With more money in the bank, they were able to spend more on luxuries, and in January 1978 they were planning a holiday abroad. On 9th January, while making up wage packets at the factory, Ernie was interrupted by two men, Ed Jackson and Dave Lester. Armed with a shotgun, they demanded the factory's petty cash and a powerless Ernie obliged. After he handed the money over, however, Mike Baldwin entered the office. He knocked the arm of one of the men, causing the gun to go off. Ernie was shot in the chest. Emily noticed the ensuing chaos at the factory and fainted when she was told that Ernie had been shot. Ernie later died on the operating table.
Emily tried to cope alone following Ernie's death but accepted help from friends and neighbours. She stayed with her sister Norah Seddon for a while but it was Deirdre Langton who helped Emily out of herself.
Fortunately, Emily soon had peace of mind as the culprits were quickly caught and sentenced to life imprisonment. Emily went to court to see them receive their sentences.
Later in the year, Emily tired of her hospital work and took a job in charge of the new Dawson's Cafe in Rosamund Street. She also let single mother Deirdre and her daughter Tracy live with her at No. 3 following Deirdre's separation from husband Ray after his affair with Janice and his departure to Holland.
1979-1981: Arnold Swain - the bigamist
In 1980, the cafe was bought by Jim Sedgewick, who turned it into a transport cafe. Emily decided to quit as she didn't like the roughness of the lorry drivers. She spent a short time looking after Tracy at home while Deirdre looked for work, but quickly grew weary of being taken for granted and admitted to Deirdre that she felt trapped in the house. They hit on an idea to go into business together and formed the Coronation Street Secretarial Bureau, with Emily doing the bookkeeping for clients and Deirdre typing.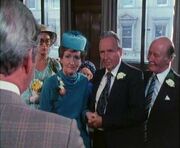 One of their clients was pet shop owner Arnold Swain, who quickly asked Emily on a date. Emily was initially worried about his intentions as he kept asking questions about her finances, leading Emily to wonder if he was interested in her for her money, but when Deirdre investigated and found out that he was well invested, Emily began a relationship with him. She was astonished when he proposed marriage after a few weeks, and she instinctively turned him down, telling him she only wanted a friend. A short time later he asked again, and this time Emily accepted. The wedding took place at Weatherfield Register Office on 10th September, with Emily following Arnold's wishes that they not be married in a church as he wasn't religious. A difference of opinion followed on where the Swains would live; Emily wanted to stay in Coronation Street where she had many friends but Arnold persuaded her that they should move to a cottage in Derbyshire.
On 3rd December, an insurance agent called at the pet shop while Emily was in charge and told her that a Margaret Swain - Arnold's wife - wanted to finish her policy. When questioned by Emily, Arnold explained that his marriage to Margaret wasn't real in his mind as they had separated after three weeks, and she had been dead to him for years. Emily refused to accept his poor justification for bigamy and threw him out of the house. After finding the courage to face the neighbours, Emily spoke to the police as she wanted to confirm that she wasn't legally married. In doing so, she set the police onto Arnold, much to her regret as she hadn't wanted to get him into trouble.
In March the following year, Emily came home one evening to find Arnold waiting for her, having let himself in. Arnold, showing signs of severe mental distress, refused to let Emily leave the house and tried to convince her to join him in a suicide pact so that they could be together in the next life. Emily managed to escape when Arnold went upstairs to get her Bible, but when she returned with Len Fairclough for protection she found he had fled. Although terrified, Emily was worried about Arnold and felt guilty when she agreed to act as bait, allowing the police to arrest him.
Arnold was admitted to a psychiatric hospital, where he died at the end of the year. The following year he left Emily £2,000 in his will. Emily didn't feel comfortable keeping the money so decided to spend it on a new trampoline for the Community Centre and a hospital bed in Ernest's name. After making the commitments, Emily was visited by Margaret Swain, who revealed that Arnold had left her on their honeymoon, and not the other way around as he had told her. Emily felt sorry for Margaret and gave her £2,000 of her own money as she felt she deserved equal compensation.
1982-1988: The lodgers move in
Having dissolved the Secretarial Bureau, Emily looked for work and found a job as a wages clerk at Baldwin's Casuals; Ernie's old job. Emily developed a good working relationship with Mike but wasn't always comfortable with him bending the rules and his usual harshness with the machinists.
As Deirdre and Tracy had moved out when Deirdre married Ken Barlow, Emily was starting to feel lonely and gave binman Curly Watts a room at No.3 in 1983 when he was looking for lodgings. She was worried at first that with his youth would bring noise and worry but he quickly proved himself to be considerate and reliable. Curly was followed in 1985 by Kevin Webster, who was homeless when his father and sister moved away, but when Kevin found Emily too strict and her house too old-fashioned he moved in to No.13 with Hilda Ogden.
In 1986, No.3 was burgled when Emily let in two men she thought were from the water board. Emily's engagement ring was stolen as well as Curly's telescope. When the insurance company refused to pay out due to Curly being a lodger, Emily felt guilty and gave him the money to pay back the Hire Purchase company he was buying the telescope from. Curly repaid Emily's kindness by giving her a job doing the accounts for his antiques business, Cheap and Cheerful, which he ran with Terry Duckworth. The business folded the following year.
Curly moved out in 1988, to move into the shop flat with Shirley Armitage. Emily wasn't alone for long as Percy Sugden, having been forcibly retired from his caretaker position at the Community Centre, was waiting to move into flat 11 Parliament Street and as it wouldn't be ready for two months he dumped himself on Emily, who agreed to take him in, although the insufferable war veteran deceived Emily by initially claiming his stay would be a mere two weeks. Upon moving in, Percy immediately took charge of No.3, doing all the chores, although Emily fought his attempts to run her life. She was relieved when he moved into his new flat but upon seeing his new living conditions and his unhappiness she steeled herself to offer him a room at her house permanently. Percy jumped at the chance, although much to Emily's disappointment he was no less insufferable a lodger than a houseguest.
1989-1992: Retirement
The following year, Emily rumbled a plot by Mike to sell the factory to property developer Maurice Jones. When the sale was complete, the factory and Community Centre were demolished, losing Emily and the factory girls their jobs, with little to no notice. As Jones was responsible for the redundancies, Emily tackled him for compensation. When he refused, Emily, backed by her former co-workers, picketed the building site and arranged a sit-in, forcing Jones's hand.
Now sixty, Emily was forced by circumstances into retirement, but continued to busy herself with charity work. In 1991, she opened a charity shop at the empty 2 Coronation Street shop unit, designed to raise funds for the Friends of Weatherfield Hospital. The shop operated until December of that year.
After a relaxing holiday at Rhos-on-Sea, Emily started thinking more about where she wanted to spend her retirement and decided to sell No.3 and move to Rhos-on-Sea. Percy didn't take the news well and tried to put off potential buyers in a hope that Emily would change her mind. Nevertheless, Percy moved out just as Emily found a buyer for the house, but as Emily basked in a Percy-free house she realised that she didn't want to move, she only wanted peace and quiet, and decided not to sell. She felt guilty when Percy was rushed to hospital after suffering an allergic reaction to his new landlord's cat. While he quickly recovered, with nowhere else to go Percy was to be moved to an OAP home. When Emily found out, she reluctantly asked him to move back in with her.
1992-1996: Breakdown and recovery
Early in 1992, Emily fell into a depression and started exhibiting odd behaviour, such as forgetting engagements and becoming easily confused. Percy became worried but Emily refused help and friends, who hadn't noticed anything out of the ordinary, accused Percy of being too interfering. When Emily signed over a £10,000 loan to Mike, ignoring Percy's attempts to stop her, Percy decided to move out, but changed his mind when Emily asked him to stay. From there, he tried to protect her reputation and state of mind by covering up her lapses in memory.
In June, Emily had an episode and wandered out of the house in her slippers. She was found by Percy and Alf Roberts at the train station, and was taken to hospital, where she received psychiatric treatment. Emily assured Percy she didn't blame him and thanked him for everything he had done for her.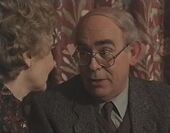 When she returned home, Emily was upset to find Percy and Ken had turned on Mike for "conning" Emily out of £10,000, even though Emily was still adamant that she was of sound mind when giving Mike the money. Mike was preparing to sue Ken for slander but dropped the case, ostensibly for Emily's benefit (but in reality because no one would testify against Ken for him).
While attending a wedding the following year, Emily met vicar Bernard Morton and they quickly became friends. Emily started helping out at his parish and worked with him on the Crisis at Christmas campaign, which saw her distribute food and clothes to the homeless on Christmas Day 1993. In the new year, Bernard told Emily he was leaving the church because of a crisis of faith. Taking up Emily's suggestion that he begin his new life with a holiday, Bernard invited Emily to go on a walking holiday in the Lake District with him. Emily agreed, with the pair sleeping in adjoining rooms. As they had agreed that they only wanted a friendship, Bernard felt they should stop seeing each other when he told Emily he had developed real feelings for her. He later told her he loved her and proposed. Emily responded to his interest in her and agreed to marry.
Unsurprisingly, Percy was slow to wish the pair well but he eventually did. When he did, he let slip to Bernard about Emily's breakdown, which caused Bernard great concern, as he had nursed his mentally ill mother for years and couldn't bear to go through it again. Emily was heartbroken as he broke off the engagement.
1997-2000: The eco-warrior
In 1997, the Battersby family moved into No.5. The noisy family caused distress for the other Street residents and Emily was disturbed to find out Les Battersby was entering the other houses using the loftspace and violating their homes, including her own. Percy, who was finding it especially difficult to live next door to them, decided that living in a home at Mayfield Court was preferable to his current living conditions and moved out. Although she had often been exasperated at Percy's overbearing nature, Emily was surprised at how upset she was and how much she missed his company when he finally left.
Later in the year, Emily's nephew Geoffrey "Spider" Nugent asked if he could stay with her. Emily was delighted with ecologist Spider's company as he made her feel young by involving her in his various campaigns against the Council. One such campaign, in January 1998, saw Spider lead a protest against a Council plot to build on the Red Rec, Weatherfield's largest green space. Emily was keen to help and climbed up a tree so it couldn't be cut down.
Having braced the cold and spent the night in the tree, Emily's story made the front page of the Weatherfield Gazette. Fortunately, the discovery of a Roman bath house resulted in the Red Rec being declared a historical site, making the protest a success. Emily was so thrilled that she went on to help Spider with further protests and persuaded him to stand for the Council so he could fight for his beliefs. Emily was briefly given the job of being Spider's campaign manager but stood down when she decided her ideas were out of date. Spider stayed until 1999, when he moved into a bedsit with Toyah Battersby.
In 1999, Emily returned to work as she took a job at Mike's new factory Underworld. She quickly found however that the new technology was beyond her understanding and she struggled to operate the computer. When she thought she had deleted the payroll, she resigned, deciding she was no longer cut out for such work.
When Emily's house was ransacked by burglars, Emily was petrified and for a time lived in her living room, scared that the thieves would return. Spider stayed to look after Emily for a while but soon left to go travelling. Emily, unwilling to live alone, offered her spare room to Norris Cole, who gratefully accepted. Like Percy, Norris was something of a busybody but as Norris had a full-time job behind the counter at the Kabin Emily had enough space that she didn't feel as invaded by his presence.
2001-2003: Richard Hillman
In 2001, Spider returned from his travels and told Emily about his plan to open a juice bar in London. Emily wanted to invest in the business so that Spider could realise his dream and raised £15,000 by selling her house to a company in a home reversion plan, which would see her receive monthly payments for the house which would see her live comfortably for the rest of her life. Norris was wary of the scheme, which was a suggestion of Richard Hillman, a financial adviser and neighbour. Norris found out that Richard was a director of the company which now owned Emily's house. Nevertheless, Emily was grateful for Richard's help.
The following year was a difficult time for Emily as she went through an extended period of illness, suffering consistent migraines and flu. Norris remained suspicious of Richard, but the more he warned Emily about him, the more Emily trusted him and encouraged him to call round any time he liked. Unbeknown to Emily, Richard had indeed become determined to gain access to the money he had tied in Emily's house and had decided to kill her. After a failed attempt to smother her with a cushion on Christmas Day, Richard executed a plot to hit her with a crowbar while she was babysitting Joshua Peacock, and framing Aidan Critchley for the murder. Richard carried out the plot as planned, but was interrupted by Maxine Peacock, who he also knocked out before fleeing. Emily survived the attack, but Maxine died, leaving Emily full of guilt. However, she and the neighbours believed that Aidan had carried out the murder until Richard confessed the crime to his wife Gail. Richard died in March after unsuccessfully trying to kill his entire family.
As her house was owned by Richard's company, Emily was worried that the escapade would leave her homeless, but fortunately this was not the case and Emily retained ownership of the house.
2004-2014: Moving on
Despite her advancing years, Emily remained active in the community, and arranged a demonstration outside the Council offices to protest a Council tax increase, which Emily objected to in light of the plan for an expensive memorial fountain for the late Mayor Alf Roberts to be built by the Council. Emily refused to pay her Council tax and received a summons, although before she could take matters further Norris paid the bill, much to her fury.
Emily continued to take in occasional lodgers, with Ray Langton and Mel Hutchwright occupying her front room for brief periods in 2005, Jed Stone in 2008, Ernest's niece Freda Burgess staying for short periods in the late 2000s and she also took Tracy and her daughter Amy in, in 2012 for a short period, although put Tracy out due to her scheming towards Norris. In 2006, Emily became friends with churchgoer Ed Jackson. She was stunned when he admitted that he was the man who had shot Ernest dead in 1978. Having since served a life sentence, he claimed to be a changed man and that his interest in the church was genuine. He had sought Emily out to seek her forgiveness so that he could live with his act. Emily couldn't bring herself to offer forgiveness and had a crisis of faith as she felt that by refusing to forgive she wasn't following the way of God. She told Ed that she hated him and wanted him dead. In doing so, she had trouble going to church as she felt like a hypocrite. Upon hearing that Ed was suicidal, however, Emily forced herself to offer genuine forgiveness, begging Ed not to kill himself as she didn't want his death on her conscience. Some time later on the day Ed left, Emily gave him Ernest's camera that she had owned all these years, as a parting gift.
In 2009, Norris's half-brother Ramsay Clegg arrived in Weatherfield from Australia. He received a frosty reception from Norris, despite their not having seen each other for fifty years. Emily and Rita befriended him and found him to be a friendly, interesting man and tried to encourage Norris to bury the hatchet. Emily in particular warmed to Ramsay and Norris failed to notice them developing feelings for each other, concerned only with his own resentment of Ramsay dating back to the very short time they knew each other as children. Norris's refusal to make peace with his brother eventually caused Ramsay to return to Australia, devastating Emily who launched into a tirade at the incompassionate Norris. She was further stricken to learn that Ramsay had died on the flight back to Australia, and that he had a brain tumour he hadn't told anyone about. His visit to Weatherfield was a last attempt to make peace with Norris before his death. Rita consoled Emily with the fact that at least Ramsay had found her.
In June 2013, Emily fell from a ladder whilst washing her windows and sprained her ankle. Norris nursed her to recovery, but Emily still began to worry about her own mortality, aiming to slow down her charity work commitments and catch up with relatives such as Spider Nugent and Freda Burgess. She also transferred the ownership of 3 Coronation Street to Norris, to eradicate his fears of being homeless when she died but she continued to reside there.
2015 onwards: Leaving Weatherfield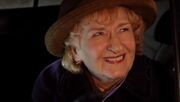 Emily was devastated to learn that Deirdre had passed away in July 2015 and supported Ken and Tracy during the difficult times. In December, Emily got back into contact with Spider by using Norris's tablet and a video-conferencing app. She found out that he had been working at a school in Peru for several months. Emily expressed enthusiasm about the idea of voluntary work there, and was encouraged by Billy Mayhew. Soon after being given the go-ahead she booked a flight. Norris immediately disapproved of her decision saying she was too old, but on the day of her departure Norris said goodbye to Emily just before she left for Manchester Airport, telling her that she was the bravest person he had ever met. With that Emily left behind Weatherfield after over 50 years.
Later in 2016, Emily got Norris to sell off her old stuff, indicating that she wouldn't be returning anytime soon.
In January 2018, Emily returned to the UK to care for an unwell Freda after two years in Peru, the news of which reached Ken who relayed it to some of the residents in the pub, and hinted that Emily may stop by and visit (although this wouldn't come to pass). Norris visited Emily there in January and again in April, and remained there with her and Freda.
In February 2019, Emily, Freda and Norris made plans to travel the world, which led to Norris selling The Kabin back in Weatherfield. In October of that year, Norris returned briefly to Weatherfield for Ken's 80th birthday celebrations at the Rovers. Emily remained behind in Edinburgh, but contacted Ken via video call to wish him a happy birthday, and urged him to come and visit her soon.
Rita planned to visit Emily in December 2019, although the trip was cancelled as Emily had developed bronchitis. In February 2020, Emily remained behind in Edinburgh while Norris and Freda moved to Stillwaters retirement home in Weatherfield. Emily took in a young Chinese couple who were students, once again taking on her role as a landlady taking in others of need of shelter and housing.
Personality
"I've always wanted to be stormy, passionate and tempestuous. But you can't be. Not when you're born with a tidy mind."
Emily Bishop spent most of her life helping others. She was much loved by friends and neighbours as she was reliable, considerate and always put other people's needs before her own, and even if she had to put herself out to support them she usually does so. Even so, Emily was not a pushover; if her trust was abused, or her morals challenged, Emily was more than capable of fighting her corner. While she didn't do so often, Emily was known to turn on someone with an ear lashing if she felt that they deserved it.
Quiet and thoughtful, Emily had at times harboured a desire to be more spirited, but her manner was always shy and polite, and her speech formal and considered. A practising Christian all her life, Emily was fiercely moral but didn't force her beliefs on others.
One of Emily's biggest regrets was that she never had children. Due to the nature of her work, she has been heavily involved in the community and so was a popular figure in Coronation Street, with many friends.
Emily learned to drive in 1965, but after passing her test she didn't often drive. In 1993, she bought Vera Duckworth's car and was annoyed when her wheel was clamped as while there was a notice in the parking bay she deemed it too small, and decided to wage war on the clamping company by warning other drivers not to park their cars.
Traits
In the Rovers, Emily could often be found ordering a tomato juice although her favourite alcoholic tipple was a sweet sherry, which she was quick to point out to Sean Tully in 2015 was nearly the same strength as a single scotch. Despite this, she wasn't a heavy drinker and would rarely ever get drunk.
Emily had a fear of water and suffered from hay fever.
Relationships
Family
Emily's family generally didn't play a large part in her life. After leaving home, Emily remained close to her sister Norah Seddon, who was the sole attendee of the Nugents at Emily's wedding to Ernest Bishop in 1972. After Ernie's death in 1978, Emily went to stay with Norah until she felt able to return to face an empty house.
From her nephew Geoffrey Nugent's arrival on her doorstep in late 1997, Emily has treated "Spider" like a son (although Emily insisted on calling him by his proper Christian name). She was impressed by his willingness to stand up for his beliefs and it occasionally even awakened a sense of rebelliousness in her. As she was so fond of Spider, Emily turned a blind eye to the fact that his herbal cigarettes were actually cannabis. When he moved in his girlfriend Log Thwaite, who Emily didn't like, Emily put her foot down on the issue.
In 1999, while Emily was on a break with Maud Grimes, Spider and his girlfriend Toyah Battersby accidentally set fire to Emily's living room after decorating the room with candles. Spider managed to track down the correct wallpaper to replace it, even though it was now discontinued. While Emily disapproved of Spider and Toyah having sex in her house, she allowed it as the alternative was putting them out on the Street.
Although not strictly family, Emily was also fond of Ernest's niece Freda Burgess, who stayed with Emily for brief periods in 2005, 2006 and 2009 to 2010. They enjoyed sharing memories of Ernie and his photography, and joking at Emily's lodger Norris Cole's expense.
Leonard Swindley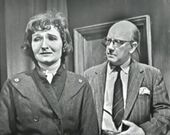 Leonard Swindley was Emily's esteemed employer and colleague at Gamma Garments and the Glad Tidings Mission Hall from 1960 to 1965. They shared a formal relationship, referring to each other as "Mr. Swindley" and "Miss Nugent" throughout the time they knew each other, even throughout their engagement. Self-important but honest, Swindley was to Emily her only hope for a husband as she entered her thirties. For most of the time they knew each other, Emily followed in Swindley's shadow, stimulating his ego by complimenting him and sharing his worries, but never having the courage to take their relationship beyond the realm of employer/employee. To Swindley, Emily was a faithful assistant and confidante. His failure to notice or acknowledge Emily's interest in him was not without precedent as his assistant at Swindley's Emporium, Miss Pemberton, had carried a torch for him since 1924. When she found out she was being replaced by Emily, she resigned, having had enough.
One of Emily's early romantic relationships was with a man named Edwin Birtles in 1962, who was a distant cousin of Sheila Birtles. When Swindley noticed them spending time together he became jealous, but did not do anything to interfere. When Emily was sacked from Gamma Garments in 1963, she cited this as a reason Swindley might want her to lose her job.
While they almost always saw eye to eye, differences did occasionally show. In 1964, Emily processed an order for velvet curtains for Laurie Frazer, a man Swindley objected to as he was manager of the Viaduct Sporting Club, a venue Swindley saw as lowering the moral tone of the area. Swindley shouted at Emily for her actions, accusing her of lacking in judgement.
Most of the time, Swindley and Emily presented a united front to any crisis. In 1965, Swindley was caught with an expired licence when Emily drove the wrong way down a one-way street when receiving driving lessons from Swindley. Emily pleaded guilty in court and was fined £5.
In 1980, long after Swindley's departure from the Street, Emily and Arnold Swain received a telegram from Swindley on their wedding day.
Ernest Bishop
Emily and Ernest Bishop were married from 1972 until Ernie's death in 1978. Ernie was a friend of Emily's from the Mission circuit and as they got to know each other they formed a relationship somewhat akin to Emily's relationship with Swindley; Ernie was also a kind, honest man but not quite as pompous as Swindley - he sometimes lacked confidence and took a pessimistic view of most situations. Emily was the usual recipient of his worries and complaints but whenever his pessimism became too much to bear Emily could silence him with a cutting remark. Though they had a rocky engagement, Emily soon realised that she and Ernie were right for each other and they got married on Easter Monday, 1972.
The Bishops soon became mainstays of Coronation Street, a reliable couple neighbours knew they could depend on in a crisis. They often worked as a team on community events, starting the Rovers Amateur Dramatic Association together in 1974 and running Ernie's camera shop together.
While they loved and depended on each other, Emily and Ernie often quibbled about minor differences of opinion. As both of them had sensitive dispositions, however, they took even minor arguments seriously and sometimes fell out for little reason. One of Emily's main complaints about Ernie was that he rarely satisfied her desire for an exciting life and almost never took notice of her as a woman. In 1977, when the Bishops were preparing to go to a disco, Emily decided not to go when Ernie was restrained with his compliments about her outfit. Ernie went on his own and met Thelma, who fell for him, but she backed away when Emily warned her off.
Ernie was a proud man and his pride was another sore point for Emily. In 1976, Ernie was bitter about Emily going to work as an orderly at the hospital while he stayed at home and did the chores. He objected to Emily alleviating their money worries by selling her engagement ring, even though he had just sold his cameras, which until his business fell under had been his livelihood. When Ernie was working full-time, he encouraged Emily to quit her job but Emily too didn't like the thought of being in the house all day.
Emily had few relationships with other men after Ernie's death. While life without him got easier for Emily after a while, she remained loyal to his memory and still occasionally talked about him decades after his death.
The Barlows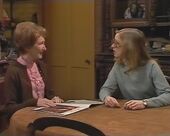 One of Emily's most enduring friendships in the Street was with the Barlow family, particularly Deirdre Barlow. In the 1960s, before Deirdre moved to the area, Ken and Valerie Barlow lived at No.9, and Emily was close enough to the family that Val asked Emily to be a godmother of their daughter Susan in 1965. Ken also gave Emily driving lessons that year, until he realised she had no sense of danger. Being a fan of the sanctity of marriage, Emily wrote to Ken when he was in New York on business to warn him that Val was having an affair with Ray Langton, even though she was mistaken and Ray was only giving her driving lessons. When Emily realised she was wrong, she confessed to writing the letter and apologised.
Emily formed a closer relationship with Ken in the 1970s as they both held positions at the Community Centre: Ken as Community Development Officer and Emily as secretary. Emily admired Ken's devotion to the community and together they were responsible for several community events.
In 1977, Deirdre and Ray Langton moved into No.5, next door to Emily and Ernie. The couples got on well and when Ray and Deirdre's daughter Tracy was born Emily was asked to be godmother. Despite this accolade, when Ray and Deirdre went away and needed someone to look after Tracy Deirdre refused to ask the Bishops as they had never had children. Ena Sharples was asked instead, but when Ena collapsed while looking after Tracy, Emily came to the rescue.
A short time after starting work at Dawson's Cafe in 1978, Emily noticed that Ray was getting friendly with her assistant Janice Stubbs. After confirming that they were having an affair, Emily implored Janice to end it, but didn't tell Deirdre herself until a suspicious Deirdre asked her directly. Emily then provided support for Deirdre when she split from Ray, and housed Deirdre and Tracy when they had nowhere to live. From then on, Emily took a great interest in Deirdre's life and was happy when in 1979 Deirdre began a relationship with Ken. Emily thought they would be good for each other and was disappointed when Billy Walker and Mike Baldwin competed for Deirdre's affections prior to her marriage to Ken in 1981. Emily was Matron of Honour at the wedding.
In 1983, Emily found out that Deirdre was having an affair with Mike behind Ken's back and was disgusted. She approached Deirdre and Mike separately and implored them to end the affair, but while she kept quiet about it to others she made her disapproval clear to them. Emily's situation was made more difficult by the fact that she was Mike's wages clerk at Baldwin's Casuals at the time. When Deirdre confessed to Ken and they decided to work on their marriage, Emily was delighted.
Emily continued to be a close friend to the Barlows in the late 1980s. In 1987, Emily served as campaign manager when Deirdre successfully stood for the Council. In 1993, when Deirdre was in Morocco, Emily took over her job at the Corner Shop to guarantee her job would be safe when she returned. By 1993, Ken and Deirdre were divorced and when Deirdre returned in 1994 she revealed she had fallen in love with Samir Rachid, a Moroccan. When they decided to get married a few months later, Emily took Ken's advice not to support it as he believed they were only marrying to keep Samir in the country. After Samir's death in a thug attack in 1995, Emily apologised to Deirdre for not being there when she needed her.
When Deirdre stood trial for fraud in 1998, Emily gave a character reference in court and later took part in a demonstration to campaign for her release when she was wrongfully imprisoned.
Mavis Riley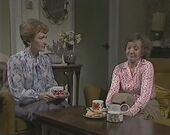 Emily was friends with Mavis Riley from her job at the Mark Brittain Warehouse in 1971. Like Emily, Mavis was a spinster who wanted to marry, and shy around most people. In 1973, Mavis took a job as assistant at newsagent The Kabin and Emily was one of her closest friends in the Street. After Ernie's death, Mavis took it upon herself to be there for Emily.
While Emily had taken many years to walk down the aisle, Mavis took even longer, not marrying Derek Wilton until 1988. As Emily had a happy marriage to Ernie and married again in 1980, Mavis grew bitter by the fact that despite Emily's similar disposition and quietness, and her apparent lack of interest in men, she always seemed to find them anyway.
Emily and Mavis became closer in the 1990s, attending an art class together in 1994. They briefly fell out in 1996 when Mavis and Derek authorised an historical visit to their house and drew attention to the fact that Ernie was shot on the site of the house. Emily was furious that Mavis would agree to the cheapening of her husband's memory, but they quickly repaired their friendship.
Percy Sugden
Grumpy pensioner Percy Sugden had hoped to become Emily's lodger in 1983, but she chose Curly Watts instead. When he finally moved in in 1988, along with his bird Randy, Emily was wary as she knew Percy was difficult to live with, being forceful with his opinions and unafraid to meddle. The move also angered Percy's admirer Phyllis Pearce, who warned Percy that Emily was only after his body.
As Percy was the elder of the two, he saw himself as Emily's protector and carried a torch for her throughout the years they lived together, although his feelings were never reciprocated. He was sometimes jealous of Emily's friendships with other men; in 1989, Emily started spending time with accountant Arthur Dabner although they decided to remain friends. Nevertheless, Percy felt put out by Emily excluding him in Arthur's favour and tried to make Arthur feel unwelcome, leading Emily to warn him that if he kept the behaviour up he would have to find somewhere else to live. As time went on, Emily started developing feelings for Arthur, but when Arthur saw Percy when out with his wife Barbara, Arthur confessed to Emily and revealed that he was reconciling with his wife. Emily was surprised and delighted that Percy had spared her hurt feelings by not telling her.
In 1995, Emily discovered damp in Percy's room and decided to redecorate it as a surprise. In the meantime, she moved him to Curly's, and Percy feared Emily would use the damp as an excuse to evict him. He was touched when he found out the effort she had gone to.
When Percy moved out to get away from the Battersbys in 1997, Emily was surprised by how much she missed him.
Norris Cole
Norris Cole became Emily's lodger in 2000. They got off to a bad start when Norris bought a train set worth £160 from a charity shop for £7.50. Emily made him ashamed for defrauding a charity shop and he agreed to pay £170 for it.
Norris shared some traits with Percy; in particular he was a busybody and sometimes interfered but he respected Emily's independence, taking greater interest in his own life and the goings-on at the Kabin. Norris could be extremely cantankerous and at times petty, but Emily often managed to tolerate his eccentricities, and they became friends. Nevertheless, his role in Emily's life was very similar to Percy's and he too fought on her behalf when he thought she needed help, particularly when Richard Hillman's company bought No.3 and Richard often called at the house to check on Emily. Norris conspired with Audrey Roberts and Archie Shuttleworth to convince Emily that her life was in danger but she refused to listen, eventually throwing Norris out because of his persistence. In 2003, after Richard's death, Emily faced possible eviction as she worried the house would be sold to pay off creditors. Norris suggested that he buy the house and then allow Emily to live there as his lodger. As he looked into the matter, Emily discovered that the house was safe, but let Norris go to the bank to ask for a mortgage (which was refused) before telling him the truth.
When Emily took in additional lodgers, Norris was usually resentful, taking particular exception to Ray Langton and Jed Stone. He was far more welcoming to author Mel Hutchwright, even though "Mel" turned out to be a conman named Lionel Hipkis.
In the 2000s, Emily, Norris and Rita Sullivan shared one of the closest friendships in the Street. In 2005, Emily and Rita found a novel written by Norris and discovered that the characters were based on the three of them. The protagonist, based on Norris, killed himself after his marriage proposal was turned down, so when Norris proposed to Emily, she accepted, until she found out it was a joke by Norris.
Role in the community
"That's what they'll put on my gravestone, you know. "She reorganised the soups.""
Emily was continually involved in community work throughout the years. Aside from commercial ventures, including her baby linen shop, Gamma Garments and Ernie's camera shop, Emily was engaged with Mission work and held a secretarial job at the Community Centre. After the Centre's closure, Emily continued to serve the community by volunteering.
Her first big venture was organising a Christmas production of Cinderella for the children's home in 1964. Emily found the rehearsals difficult but was aided by Swindley. In 1965, Emily arranged a trip for the Street residents to the Speedwell Cavern. After being put in charge of the Mission and Gamma, Emily hit on an idea to boost trade at the shop by holding a fashion show at the Mission. Emily ultimately had alter the outfits herself and at the show the garments got mixed up backstage, turning the event into a fiasco.
In 1967, Emily and Annie Walker arranged a Rovers outing to Tatton Park. The following year, she produced another children's panto, Aladdin. Emily had to blackmail the residents into participating, and directed the play herself. Another outing followed in 1969, this time to Lake Windermere in the Lake District. The coach crashed on the way back to Weatherfield, and most of the Street residents were hospitalised. Only a few weeks later, Emily organised a Christmas concert in the Rovers select. In 1970, Emily arranged a trip to see a panto but after a hostage situation in the Street, everyone except Albert Tatlock cancelled, and Emily gave the tickets to underprivileged children. Much to her surprise, the children were better behaved than Albert.
Emily started work at the Community Centre in 1971. Among the events spearheaded by Emily were Coronation Street's Silver Jubilee float, a pram race and the productions of Cinderella and The Importance of Being Earnest, which Ernie was initially in charge of but which Emily took over when Ernie walked out.
Emily was a believer in community spirit and was involved in some campaigns to keep the community from being spoiled. In 1976, she started a petition against plans to open a nightclub in the Street, and in 1983 protested against a planned disco. When Len Fairclough kept the residents in the dark about a Street redevelopment, and spoke in favour of the plan, Emily threw a brick through his window, accusing Len of making her feel defiled.
For several years Emily was also the first port of call when friends and neighbours needed someone to do secretarial work. In 1965, she took on the books at the Builder's Yard and suggested Fairclough and Booth become a limited company after finding out that the books were £300 out. In 1970, Emily's integrity was tested when William Piggott, Ernie's landlord at the camera shop, blackmailed Emily into finding out Len's tender for a job. Emily violated her principles by spying for Piggott and giving him the information he wanted. She was relieved when Len undercut Piggott by giving the contract to someone else and selling them the tools.
Emily also did the accounts for Maggie Clegg at the Corner Shop and worked as wages clerk at Baldwin's Casuals from 1982 to 1989.
Emily often acted as a confidante to many Street residents, especially children. In 1964, Emily found out that Lucille Hewitt was skipping school and using an alias to work at Mason's Record Shop. She promised to keep quiet on the condition that Lucille returned to school. In 2009, she became a friend to Sophie Webster when Sophie decided to start practicing her Christianity and going to church. She was delighted when Sophie asked her to be a part of her baptism later in the year.
Hobbies and interests
Emily was a regular participant in Street stage productions in the 1960s and 1970s. Even when also organising the event, Emily still usually took roles, including Mrs Gilda Montefiore in Lady Lawson Loses, Miss Prism in The Important of Being Earnest and Dandini in Cinderella. She was also a capable singer and sang Drink to me only with Ernie at the 1969 Rovers concert.
Even before meeting Ernie, Emily had an interest in photography. She bought a camera to take up the hobby in 1965, but was shocked when Dennis Tanner stole the camera to embarrass Jerry Booth by taking half baked photos of him.
Since Ernie's death, Emily regularly attended church and holds a number of voluntary positions, including a volunteer assistant at Weatherfield General.
Other talents included speaking French and playing the didgeridoo. She was also a member of a Book Club in 2005.
Background information
Emily Nugent/Bishop was played by Eileen Derbyshire for almost 55 years beginning with Episode 15 on 27th January 1961. Derbyshire was approached by Granada for a role in December 1960, but the actress was tied up in a Christmas stage play. Of this Derbyshire said: "Four weeks after it started (airing) they said I could either wait until they introduced a new family into the programme or take the tiny part of a little, shy woman helper at the Mission Hall" going on to say "I have always been a fatalist, so I took the bird in one hand, not realising what a momentous decision I was making". (Life in the Street, Graeme Kay, 1991)
The character first appeared in Episode 4 (21st December 1960) in an uncredited non-speaking role, where she was played by an unknown actress.
In early episodes, Emily was referred to as "Miss Nugent" by virtually every character, even those close to her. Although given a first name in Episode 73 (23rd August 1961), she continued to be credited as Miss Nugent in the episode credits until Episode 894 on 21st July 1969. From the following episode, credits listed the character as Emily Nugent, and it was at around that time that characters began to refer to Emily by her first name.
Eileen Derbyshire was absent from the programme from December 1961 to June 1962 because of the Equity actors' strike. The character's absence was not explained, although Emily was not a Street resident at the time. Emily was also absent from February 1966 to January 1967 as Eileen Derbyshire was on maternity leave, in the programme she went to look after her sick father James Nugent .
Derbyshire is the second longest-serving cast member in Coronation Street history, behind William Roache. During an interview in 1991, Derbyshire spoke about her character's thirty years in the show, stating: "The writers have a tough enough task as it is, trying to find new storylines for a character who has been in the serial for three decades." "I just get on with it. Emily has had a more colourful past than you might think. She has had lots of men friends and liaisons. In the early days, when they were stuck for something to do with her, I think the writers used to say 'Let's give Emily another boyfriend.' I've lost count of the number of men friends she has had." Of her early years in the programme, Derbyshire recalled: "I think she had been rather squashed by circumstances into being at everybody's beck and call. She was extremely timid and anxious to please."
In November 2015 it was announced that Eileen Derbyshire would be taking a six-month break from the programme for personal reasons and what was deemed to be her last episode for the interim was broadcast in January 2016. When Derbyshire didn't return to the programme after this time had passed, speculation began that she had retired from the role for good and in April 2019, producer Iain MacLeod confirmed that there were no current plans for Emily to return although the door had been left open.[1] Subsequently however, it was announced that Derbyshire would reprise the role for a cameo appearance to mark Ken Barlow's 80th birthday. The character appeared via a video message on 9 October 2019.
Outside of the main show, the character appeared in the direct to video spin-off The Life and Loves of Elsie Tanner in 1987 which saw Emily reunited with Linda Cheveski. Eileen Derbyshire also presented two VHS releases containing 'highlight' episodes of 1964 and 1968 respectively, released as part of a collection to commemorate the 30th anniversary in 1990.
First and last lines
"Anniversary Sunday" (First line, to Ena Sharples)
---
"Oh, thank you, Norris, it's very thoughtful" (Final line)
Appendices
List of addresses
See also
External links