Elsie Tanner (née Grimshaw, previously Howard) was a Coronation Street resident from 1939 to 1973, and then again from 1976 to 1984. For all of that time, she lived in No.11, first moving in after marrying Arnold Tanner then remaining in the house, raising her two children Linda and Dennis herself after separating from Arnold.
Elsie was frequently looked down upon by some of the neighbours for her active social life, as she had many lovers during her time in the Street, some while she was still married and many of whom were themselves married. After divorcing Arnold, Elsie was married to American GI Steve Tanner, her wartime sweetheart, and finally to businessman Alan Howard, who she briefly lived with in Newcastle from 1973 to 1976. Despite being the source of much of the gossip in the Street, Elsie gave as good as she got, and was always up for an argument, presenting herself as confident and abrasive in public, however she felt inside.
Linda and Dennis left the Street in the 1960s, and Elsie took in a succession of lodgers in her later days in the street, including Gail Potter, Suzie Birchall and Marion Willis. She left to run a wine bar in Portugal in 1984 with her on-off boyfriend Bill Gregory.
Biography
Early life and first marriage
Elsie Grimshaw was born in Weatherfield at 18 Gas Street on 5th March 1923. A young redheaded Elsie went to Bessie Street School with Len Fairclough, who carried a torch for her into adulthood. She grew up fast and got pregnant by the older Arnold Tanner in 1939, marrying him on 4th October before the baby was born. Elsie didn't love Arnold and he wasn't committed to the marriage, and he left her before World War II was over, leaving her to raise Linda and a son Dennis (born in 1942) alone at No.11 Coronation Street, where they had moved to just before the outbreak of the war.
In 1945 Elsie and her friend Dot Greenhalgh turned the heads of the American GIs and Elsie had a romance with Steve Tanner. They felt strongly for each other but Steve went home, breaking her heart.
Elsie had a regular job with Dot at Miami Modes, a clothing store where she started work as a retail clerk in 1955. Elsie tried her best to provide for the two children, but she had few friends in the Street and sometimes even paying the rent was a struggle. Some of the neighbours objected to her entertaining men in the house, especially since she was technically still married, but raising the children alone was lonely for her and her dreams of a man who would sweep her off her feet led her many men. A string of bad relationships plagued Elsie throughout her life but she developed a tough exterior and her experiences made her worldly wise.
In 1958, 18-year-old Linda married Ivan Cheveski, a Polish immigrant, and the couple moved to Warrington. Also, Dennis was growing into a troublemaker, living by his own rules and disrespecting Elsie. He ended up a borstal in 1960 for petty theft, and couldn't find a job when he got out. Elsie despaired over his lack of proper ambition and worried that he wouldn't amount to anything. He found work at a club where he unexpectedly met absent father Arnold, who took the opportunity to visit Elsie and ask for a divorce. By now Elsie was wise to Arnold, having not heard from him since 1946 and suspected that the woman he wanted to marry, Norah Dawson, didn't realise he was only after her money. She agreed to a divorce anyway.
Affair with Bill and the poison pen letter
The Cheveskis returned to Weatherfield and moved into No.9, next door to the Tanners, when Linda announced she was pregnant, making Elsie a young grandmother at 38 in 1961. At first Linda wasn't happy with Elsie for being too interfering but laid off when she needed Elsie's help when baby Paul. The Cheveskis emigrated to Canada in December, leaving Elsie to look after the sale of No.9.
After unsuccessful relationships with Arthur Dewhurst, who was too possessive, and Walter Fletcher, Elsie was introduced to Bill Gregory by Alf Roberts at the wedding reception of Harry and Concepta Hewitt. Elsie was taken with Bill, and he was interested in her but didn't tell her he was married and they had an affair. When Elsie received a poison pen letter, reminding her that she was not divorced as she forgot to visit her solicitor, Elsie accused neighbours Annie Walker and Ena Sharples of writing it. The true author of the letter was Norah Dawson.
In 1962, Dennis left to stay in London. Bill met up with Elsie again in July, insisting that he was separated from his wife Phyllis, but when Phyllis arrived in Weatherfield soon after, he left with her, leaving Elsie feeling depressed and alone.
Soon after she met bookie Dave Smith on a night out and he tried to charm his way into her affections, and she went on holiday with him, but she didn't want a long-term relationship with Dave and cooled things off.
Mid-1960s
Elsie gave
Christine Hardman
lodgings at No.11 in
November
, Christine having recently contemplated suicide. Elsie looked out for Christine, fearing that she was getting herself into trouble by getting engaged to
Frank Barlow
, Christine being the same age as Dennis and Frank being older than Elsie. Elsie's landlord
Wormold
was informed about Elsie letting Christine a room, which was illegal, and that she had to go.
Elsie found out that Christine wrote the letter herself as she couldn't stand the neighbours talking about her anymore. Christine eventually moved in with
Esther Hayes
but she still worked with Elsie and Dot at Miami Modes, where she was promoted over them. The power got to Christine's head and she criticised Elsie's work in front of customers and put a complaint about her to the manager. Elsie was ready to quit but Christine was transferred to another department and the pair made up.
The dispute with Wormold was not over, as Elsie had refused to pay an increase in rent. Never one to back out of a fight - or in making a point - Elsie barricaded the house to stop the bailiffs getting in, which worked until Dennis showed up, home from London, and let the bailiffs in, not knowing the trouble Elsie had gone to. Elsie was ashamed that the neighbours weren't brave enough to come to her aid.
Despite a longstanding friendship with Len Fairclough, Elsie went on a few dates him him when he was getting divorced from his wife Nellie and he perhaps unwisely proposed to Elsie, asking her to marry him when the divorce was final. She turned him down as she preferred him as a friend.
In 1964, Elsie was involved with Laurie Frazer, who got her a job at the Viaduct Sporting Club in the basement of Elliston's Raincoat Factory, with Elsie in charge of the roulette table. She convinced Laurie to give Dennis a job too. However, on opening night Laurie's wife he never told Elsie he had showed up, but she told Elsie that Laurie had lots of women and she didn't mind. Elsie dumped Laurie, throwing all the gifts he had bought her at him in the street, and quit her job. Fortunately she was able to go back to Miami Modes.
She briefly took a job posing for art students to pay for Dennis' hairdressing course and had an affair with art teacher David Graham, who was Dennis's age. She was embarrassed when seen with him and finished with him because of the age difference, but an oversensitive David couldn't get over her and threatened to kill Elsie with a gun. David eventually ran off without harming anyone.
1965 was an eventful year for Elsie as she also had a relationship with Norman Lindley, estranged husband of Corner Shop owner Florrie Lindley, who was good friends with Elsie. He had given up hope of reconciliation with Florrie but at the last minute Florrie returned to Canada with him in Elsie's place. She walked out of Miami Modes again and into a job as Emily Nugent's assistant at Gamma Garments but soon left for the Laundryer. Later in the year, she was chatted up by Robert Maxwell and the Fox and Hounds but he crashed the car as he drove Elsie home. Elsie was worried that she would be considered a tart as Bob was married.
Dave Smith
Elsie kept her head held high and moved on, quickly fiding her fortunes improve with (unmarried) Jim Mount, who treated her well but soon took her for granted. He had no intention of moving the relationship forward but wanted to keep seeing Elsie, so she dumped him.
Elsie's love life took a back seat in 1966 as at home she was obligated to take in her father-in-law Wally Tanner and also let Sheila Birtles live with them, eventually becoming good friends with her. Dennis was feeling depressed and Elsie got him a job at the betting shop in Rosamund Street, run by Dave Smith. Elsie was patient with Wally as Dennis liked having him at No.11, but he never paid rent and lost half his pension gambling, so she went to see Arnold and gave him an ultimatum - either he took Wally in or Elsie put him in a home. Arnold obliged.
Having crosed paths with Dave Smith again, Elsie found he had not forgotten about her. She was shocked when Dave offered to pay off some heavies who were after Dennis if Elsie became his mistress.
In October, Elsie found out that Linda had had an affair in Canada and the Cheveskis would soon be moving to the UK to save their marriage. Linda was intending to return to Canada with Paul to be with her lover, but Elsie thought she was ruining her life and convinced her to return to Ivan. Meanwhile, Elsie was distraught as she had been receiving anonymous phone calls insulting her. Neighbour Hilda Ogden was caught making a call, thinking Elsie hadn't recommended her for a job, but the caller was Moira Maxwell, wife of Bob, who was still bitter towards Elsie for the death of her husband. She intended to take her revenge on Elsie but Elsie was saved by Len and Moira was arrested.
Elsie returned to work at Miami Modes to be supervisor. In 1967, she met a strange man, Percy Bridge, who claimed to be the one who pulled Paul out of the canal last year, but he was lying to get money off her, and the real hero was Dave Smith. Grateful, Elsie spent some time with Dave and changed her previous attitude towards him and they dated.
Return of Steve Tanner
In April Elsie found out that old flame Steve Tanner was posted to Burtonwood. They met up to see if they could rediscover the spark they had during the war and they enjoyed talking about the past. Steve told Elsie he still loved her, but she wasn't sure if she wanted him. Dave was disappointed by Elsie casting him aside but tried to remain friendly about it and invited the pair to dinner - Steve cancelled it when Elsie warned him Dave would make him feel like a spare part. Later that day, Steve was attacked outside the betting shop, and Dave was the prime suspect but it turned out to be a case of mistaken identity. Steve popped the question only a few months later, in the Roebuck Inn where they had first met. Elsie accepted.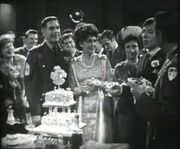 Elsie knew that marriage to Steve would mean moving to America and leaving everything and everyone she knew. Elsie was worried that she wouldn't fit in but put her fears aside as she loved Steve. They married in September and temporarily moved to Burtonwood, leaving just Dennis in No.11. Elsie found it difficult to adjust to not working and associating mainly with the middle class, and meeting Steve's mother Emmeline Tanner, who took an instant dislike to her, thinking she wasn't good enough for Steve. Elsie wanted to return to her old job, but Steve went behind her back and cancelled her application on her behalf. Steve had asked for a posting in Germany, and Elsie decided she and Steve needed time apart and went to stay with the Cheveskis.
With the cracks in Elsie and Steve's marriage already showing, Steve was transferred back to America and Elsie agreed to go, aware that it would make or break their marriage. The Tanners left for the United States in the new year. In Elsie's absence, Dennis turned No.11 into a hippie commune.
Marrriage breakdown
Elsie made a low-key return to Weatherfield in February 1968, claiming to be over for a visit with Steve posted to Panama. Dennis had disappeared and Elsie wanted to be left alone. After a few weeks Len, worried about her, barged into her house, finding it a pigsty and her a mess of her usual self. Elsie broke down and admitted to Len that she didn't fit in in America, and she and Steve had nothing in common except memories of a wartime affair twenty years ago. With Elsie out of work she had nobody to talk to and Steve ignored her. He had volunteered for the post in South America and asked Elsie not to go with him - he was now sorry he had met Elsie again.
Elsie picked herself up and tried to get on with things. When Dennis showed up again engaged to Jenny Sutton, Elsie was surprisingly unfair to Jenny at first until Minnie Caldwell had a go at her about it. When they got married they moved away permanently. Nephew Gary Bailey turned up to keep her money, she lent him £200 which he used to buy her a white jaguar. Elsie took driving lessons for a while but gave up after crashing the car into the back of Ken Barlow's vehicle and eventually sold the car. She also got back together with Dave Smith after he bought Gamma Garments and turned it into a florists called The Posy Bowl, giving Elsie the job of manageress.
After a separation from Steve Elsie received a letter from him asking where they would go from there. She ignored it but Steve persisted and came to the UK to chase her up, hoping that they could make the relationship work. She was ready to tell him no, but the police told her that Steve was dead, murdered. Suspects included Elsie, Len, and Steve's friends Gary Strauss and Joe Donelli. Elsie was left everything in Steve's will but most of the money went to Dave Smith who was owed money. The murder case was left unsolved until 1970 when Joe Donelli confessed to killing Steve. Elsie secretly thought that Len was the killer.
New life
Elsie's relationship with Dave often left her in a difficult position, especially when he hounded pensioner Minnie Caldwell to pay off gambling debts. The final straw was when Elsie found out Dave had a secret wife.
In 1969, Elsie walked out of her job at the florists and Dot got her back into Miami. Elsie was caught finding dresses stolen by Dot and was charged with shoplifting. Elsie expected Dot, the real culprit, to bail her out, but Dot stood firm and let Elsie take the blame. When Elsie appeared in court and the case was dismissed, Elsie and Dot both lost their jobs at Miami Modes. Elsie told Dot their friendship was over.
As she looked for a new job, Elsie had her niece Sandra Butler and nephew Bernard Butler live with her for a while. Businessman Alan Howard bought over the floirists and turned it into a salon. Alan asked Elsie to run the salon, but Elsie knew he was mainly interested in getting together with her even though she wasn't interested. She took the job anyway, and eventually agreed to a date with Alan.
Into the 1970s, and Elsie was surprised by the return of Bill Gregory. Elsie wasn't about to make the same mistakes again but he assured her his wife Phyllis was dead and he had come to Weatherfield to ask Elsie to marry him and move to Portugal with him to run a bar. Elsie was ready to accept but stayed at Alan's request - he wanted to give her a house and live with her, but since he wasn't open to marriage Elsie left him. She also found her professional relationship with him at an end as the salon was taken over by Dave Smith.
Third marriage
With Alan about to walk out of her life, Elsie admitted that she did love him. He proposed and she accepted. A quiet wedding followed at the registry office only days later, with Len Fairclough and Bet Lynch acting as witnesses. As this was her third marriage Elsie didn't want a fuss made by the nieghbours but she was overjoyed when they gave her their best wishes.
The Howards were intending to move to a better house than No.11, but Alan was fraught with financial difficulties and filed for bankruptcy. Elsie took a job selling cosmetics door to door. In November, Elsie met Alan's son Mark, who she never knew existed, but he wasn't nice to Elsie and Alan took Elsie's side against him.
In 1971, Elsie changed jobs again, becoming supervisor at the new Mark Brittain Warehouse in Coronation Street.
As Alan was something of a lothario, and given the way he had pursued Elsie, Elsie suspected him of playing away a few times, with Maggie Clegg and Rita Littlewood. She found out that Janet Reid, an old flame of Len's, was interested in Alan and had been trying to start a relationship with him. Elsie went easy on her but made sure to let her know that Alan was hers. Elsie and Alan didn't always see eye to eye and occasionally they fell out over a petty disagreement, or over money borrowed from Alan's ex-wife Laura.
The true test to their marriage came when Alan developed a drink problem in 1972. When Elsie found him passed out drunk in the sitting room in No.11 having nearly burned the house down, she was angry and thought he was an alcoholic. Alan made the effort to stay sober and recovered.
In 1973, Elsie heard that Dennis was in prison, and left Weatherfield to visit him, telling Alan that she was visiting Sheila Crossley as she was too ashamed to admit the truth. By now, Dennis and Jenny had separated. While in London Elsie was knocked down by a taxi. Elsie was widely susepcted to be having an affair with someone as she had lied about where she was - Alan believed her but gossip by Hilda Ogden didn't help.
Later in 1973 Elsie took a job in Newcastle and the Howards moved there, renting No.11 to Ken Barlow.
Back to Weatherfield
Elsie made a surprise return to Coronation Street in 1976, separated from Alan. She quickly moved back into No.11 and took a job as manager of dress shop Sylvia's Separates, taking on Gail Potter as assistant, eventually letting Gail live at her house. She quickly decided she didn't want to return to Alan and enjoyed mixing with her old friends again.
Gail became embroiled in a messy divorce case when she got involved with Roy Thornley, who she didn't know was married. Roy's wife sued him for divorce, citing Gail, but he ditched Gail for Sylvia, owner of Elsie's shop, and Sylvia was forced to sell to Mike Baldwin. Mike was going to get rid of Elsie as he thought she was too old but felt bad about it and gave her the job of sewing room supervisor at his new denim factory Baldwin's Casuals in Coronation Street. Her staff took an instant dislike to her as she didn't put up with any nonsense or skiving.
In 1977, Elsie let Gail's friend Suzie Birchall move into Number 11. Suzie was desperate for somewhere to live and tried to worm her way into Elsie's affections. Elsie was happy to let the girls stay but had strict rules that they weren't allowed to let boyfriends stay.
Now 54, Elsie struggled to keep glamour in her life. She started seeing Ted Brownlow after meeting him at Len and Rita's wedding reception but he went off her when he heard she had been married three times and wasn't yet divorced. He got back together with her when he saw her picture in the newspaper for a Glamorous Grannie competition that Gail and Suzie had entered her in without her knowledge.
Elsie soon had to deal with her divorce. Elaine Dennett, who worked with Alan, visited her to tell her she was having an affair with Alan and needed her to agree to a divorce so they could get married. Elsie knew that Alan didn't want to marry her and was using Elsie as an excuse but agreed anyway. The divorce came through in 1978 and it reduced her to tears even though she had expected it. She changed her surname back to Tanner and put it behind her.
While out at a bar, Elsie was picked up by Bernard Lane, who asked her to go to a hotel with him, mistaking her for a prostitute. A depressed Elsie stayed away from work but broke down in front of Mike and told him what happened in the bar. She had been thinking about what her life had been become and felt she had lost her self-respect.
In August, Elsie hit a child over the head when he cut down her washing line, leaving her clothes in the mud. The boy's mother brought the police into it and Elsie received a warning.
Elsie soon started seeing Ron Mather, a taxi driver with a passion for dancing. At first she thought he was seeing another woman, and was confronted by the supposed partner, only to realise she was only his dancing partner. In 1979, Ron took a job as a chauffeur in Torquay and Elsie declined the chance to go with him, but he returned a few months later and gave her the same offer again, with a job promised to her in Torquay, and this time she said yes. Gail had already moved out of No.11 and married Brian Tilsley, and Elsie was tiring of Suzie's workshy attitude and constant failure to pay the bills. Elsie left the house in the hands of the estate agent but Suzie put potential buyers off so she wouldn't have to move out. Elsie returned and kicked Suzie out, and dumped Ron after finding out he knew that their boss had fancied Elsie and knew he had tried to grope her but had turned a blind eye. Elsie held on to No.11 and lived there herself as she saw in the 1980s.
Alone at No.11
The year was a struggle for Elsie money-wise until she took a job at Jim's Cafe with Gail. To make more money she took in lorry driver Dan Johnson, but he two-timed her with Bet Lynch and Elsie threw his things into the street.
Grandson Martin Cheveski came to stay with Elsie after falling out with his parents. He stayed for a while and worked at the builder's yard with Len, but was most interested in his girlfriend Karen Oldfield, and although Elsie could see the mistakes he was making in the relationship he never listened to her advice. After Christmas Martin proposed to Karen but as Elsie suspected it was the end of the relationship. Martin decided there was nothing left for him in Weatherfield and he left on New Year's Eve, leaving Elsie to face another new year alone.
In 1981, Elsie met Wally Randle in the cafe, and struck up a friendship. She eventually took him in as a lodger and expected him to make the next move but he wasn't interested in a relationship at all, only interested in being a lodger. He thought Elsie was too old for him. He moved because of the misunderstanding and Elsie broke down as she had fallen in love with him.
Elsie found it difficult to face the world after that but went on a night out with Bet to cheer herself up and picked up sleazy Bill Fielding. She got very drunk and took him home with her. The next morning she tried to get rid of him, ashamed of herself, but he insisted of having breakfast after Elsie had gone to work. While she was away Bill's wife tracked him down and thinking Elsie was a common tart like the other women Bill had played away with, cut up all of Elsie's clothes and wrecked her house. Elsie refused to tell the police but the insurance company wouldn't pay out unless she did. She also lost her job because of too much time off. Depressed, she went to visit Linda in Birmingham.
When Elsie returned she took a job as a lowly machinist at Mike Baldwin's factory, a comedown from her former supervisor position. While attending a business dinner with Mike and some of his friends, she met Wilf Stockwell, who was keen on her and soon made her his mistress, deciding to leave his wife. Dot, but she finished with him as she didn't want to make a big commitment.
Later in 1982, Elsie took in Marion Willis, fiance of Eddie Yeats. She almost ruined their relationship when her boyfriend Geoff Siddall, who turned out to be a conman, stole all of Eddie's savings after convincing him to invest in a fictitious company.
In 1983, Suzie Birchall came back to Weatherfield and Elsie was happy to take her in. She turned out to be fleeing from an abusive husband, who turned up at No.11 before Elsie and the neighbours saw him off. However, when Suzie made a pass at Gail's husband Brian and offered to sleep with him, and he turned her down, Elsie broke up a row between Gail and Suzie and told Suzie to get out.
Departure
In late 1983, Elsie resigned from Baldwin's Casuals after being passed over for the supervisor's job for a second time and took a job as a barmaid at the Tropicana. She was stunned when Bill Gregory arrived on the Street yet again and confessed that he was still in love with her. He offered her the chance to be his wife and run the wine bar he owned in Portugal. After much agonising and thought, she decided to leave Coronation Street to be with Bill.
On the night she left, Elsie walked down the street and memories from the past filled her head; squabbles with Annie and Ena, yelling at Dennis. While clutching photographs of Linda and Dennis, she smiled knowing that her life in Coronation Street had left her with no regrets. As she got into the taxi that was to take her to the train station, the driver asked her if she was to be away for long. Giving him a knowing smile, Elsie replied: "Ah! Now there's a question!"
Elsie stayed in Portugal, sending Linda up to Weatherfield to deal with the sale of the house. Linda also paid a visit to Weatherfield in 1987, shortly after Elsie's death.
Personality
"Ee, Elsie, you're just about ready for the knacker's yard." - Elsie
Elsie was fiery-haired and fiery-tempered. Self-assured and always up for a good argument, Elsie never liked to be seen at anything less than glamorous in public, and cared a lot about what people thought about her, sometimes even making herself suffer if it meant she would save face in public, especially later in her life. She liked attention from men, but always seemed to attract the wrong type, either married ones or men who only wanted sex. Distressed by her failed love life, Elsie frequently had stroner feelings for the men she dated than they had for her, but she was good at hiding her true feelings and liked to encourage them to make a fuss over her.
Though her education and background put her firmly in the working class, Elsie rarely complained about what life had to throw at her, but she was more vulnerable than she wanted people to know and beneath the tough, brassy exterior lay a woman who just wanted to be loved and it was in that area that she was most easily hurt.
Relationships
Family
Main article: Tanner family
Elsie rarely mentioned or contacted the Grimshaw family, and after Dennis moved away in 1968, the Tanners drifted away from each other too. Until then, they were a close-knit family, though they usually argued when they were together.
Elsie got on best with her daughter Linda. Linda had married young like Elsie but unlike Elsie she had married someone who loved her and their children, and sometimes Elsie had to remind Linda how lucky she was. Aside from that, Elsie rarely had to mother Linda and they always got along even though they weren't much alike.
Most trouble came from Dennis, Elsie's son. He drifted from job to job without much ambition or purpose, but always had an idea to make money from, which usually brought trouble Elsie's way. Though she always defended Dennis in public, in private Elsie was always on at him about getting a proper job and worried about what havoc his next get-rich-quick scheme would unleash upon their lives. She was fed up with him but stuck with him and had to hope that he would eventually settle down and make something of his life.
Len Fairclough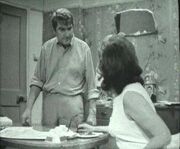 Len Fairclough was Elsie's best friend in Coronation Street (aside from Dot Greenhalgh). Len, a builder and strongman, had always wanted to get together with Elsie romantically, but she always said no, valuing the relationship they already had. The neighbours occasionally harboured suspicions that the pair were having a secret affair, believing it to be a factor in the breakup of Len's marriage to Nellie Fairclough. He twice asked Elsie to marry him - first when he was getting divorced then again a year later. To prove that a relationship wouldn't work, Elsie suggested a trial marriage to Len, which failed because he didn't like that she wouldn't make his dinner.
Elsie and Len's relationship was fraught with difficulties because of their feelings for each other that they never allowed themselves to act on, even though they spent a lot of time together. In 1969, Len was thinking about asking Janet Reid to marry him, telling Elsie that he wasn't going to wait for her forever. When he was rebuffed, Janet telling him she didn't love him, Len thought Elsie had influenced her out of jealousy. Elsie was distressed and went away from the street for a while. After that Len was more accepting that he and Elsie would never be more than friends. As friends, however, they were always there for each other, providing support and understanding however desperate the situation.
Len eventually married Rita Littlewood, who had a chip on her shoulder where Elsie was concerned because of Len and Elsie's history and continued flirting.
Ena Sharples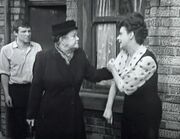 Ena Sharples was caretaker at the Mission of Glad Tidings and a generation older than Elsie. Self-proclaimed moral voice of Coronation Street, Ena was openly critical of her boyfriends and affairs; Ena had long since been widowed and never remarried or even considered doing so. The pair had a longstanding feud, mainly down to Ena interfering in things that were none of her business. In the snug of the Rovers Return, Ena and her cronies Minnie Caldwell and Martha Longhurst enjoyed criticising the neighbours, and Elsie was a favourite topic.
Despite developing a grudging respect for each other borne out of living in the same street as the other for years, they were more than willing to lock horns when circumstances put them against each other. One such row occurred in 1965 when when Ena was left Elsie's house in a will, and tried to evict the Tanners when her residence at the Mission of Glad Tidings looked set to be torn down. Elsie tried to put Ena off wanting to live in the house by having Len Fairclough make it look like it was badly in need of repair and not suitable to be lived in. Ena wasn't fooled and rowed with Elsie in the street, smashing the window of the front room of No. 11 with her handbag in a moment of rage before being alerted to the fact that it was another mission that was closing. Ena quickly sold the house, to avoid future clashes with Elsie.
In the 1970s, as Ena grew older and wiser, she was usually less concerned with the activities of the neighbours than before and did not clash with Elsie. It became evident that each were mellowing to each other as the decade grew, and a mutual friendship built up, with Elsie often visiting Ena for advice - on who to pick out of a choice of Bill Gregory and Alan Howard, to name one example (in 1970). The friendship and respect for each other was apparent as ever come 1980 when Ena was made temporarily homeless to allow for renovations to take place at the Community Centre (she lived in the adjoining caretaker's flat). Elsie offered Ena a roof over her head, and the two women lived together in the same house in peace and harmony: Ena was grateful for Elsie's offer of shelter and Elsie was grateful to be looked after via Ena's cooking. However, learning from hindsight, Ena stayed for only a few days before leaving the street for good - "a few days in the same house", said Ena to Elsie in the Rovers, "is alright, but after that, we're just cat and dog." "Or, man and wife, eh, Mrs. Sharples?", replied Elsie. "Well, why not, you've had plenty of practice at it!", teased Ena, in reference to the frequent clashes between the pair in the 1960s. Elsie, far from chagrining, took Ena's biting remark with good humour.
Suzie Birchall
Elsie's two lodgers in the late 1970s were Gail Potter and Suzie Birchall. Gail moved in first but Suzie was much closer to Elsie personality-wise and like Elsie she enjoyed the company of men. Elsie was a sort of surrogate mother to Suzie (and Gail), and a friend too, as although she was older and wiser she allowed herself to rediscover her youth through them. However, Suzie was always happier to skive off work compared to Elsie, who had a stronger work ethic and frequently got tired of Suzie's laziness.
In 1979, Suzie dated 52-year-old Paul Stringer, and when Elsie found the pair in her house she made him uncomfortable so that he would leave. Suzie knew Elsie's history and thought she was a hypocrite. When Suzie tried to seduce Gail's husband Brian Tilsley in 1983, Elsie threw Suzie out, telling her she didn't understand her after all.
Quotes
"Come on, Dennis Tanner, where is it?" (First words)
"You've not been doin' anythin' you shouldn't have, have you? It's no secret round here why yer dad left me." (Elsie trying to find out why Linda had left Ivan in 1960)
"They don't need sewers round 'ere, they've got Ena Sharples!" (to Ena in a 1961 argument)
"You old bat, you - you bandy-legged old bat!" (to Ena in 1965)
"Now look here - you'll only move me out of this house when I want to go. In the meantime, go jump in the cut!" (Elsie's remark to Ena in a heated 1965 clash - this comment led to an almost-physical fight between the two, and they had to be restrained)
"You know, they used to call us good time girls... well, we did have a good time, and a damn good time at that." (Elsie reflecting on the war with Steve Tanner in 1967)
"Ah, now there's a question!" (Last words)
Other information
Elsie's drink of choice was gin and tonic.
Elsie was a chain smoker, and it almost caused her death when she fell asleep with her cigarette still alight in 1980. She was rescued by Hilda Ogden. Even after the incident, she continued to smoke heavily.
Elsie was Nick Tilsley's godmother.
In 1978, Elsie found a nest of pigeons in her loftspace, the pigeons having got through the gap from a missing slate in the roof of the house of her neighbours the Ogdens. A war soon erupted between Elsie and Hilda Ogden, with them trying to be a thorn in each other's side until the other decided to pay for the damage. It went to court and they ended up having to pay for their own repairs. Elsie had never got along with Hilda, who took pleasure in gossiping about her all the time, and usually there was plenty to gossip about.
Background information
Elsie was one of Coronation Street's core characters in the 1960s, an early example of the 'tart with a heart' archetype common to soap operas. A few later characters, including Suzie Birchall and Denise Osbourne, were touted as 'the new Elsie Tanner' when they joined Coronation Street.
Actress Patricia Phoenix married actor Alan Browning (who played her on-screen husband Alan Howard) in 1972. Phoenix had originally chosen Browning for the role in 1969 when she was given casting control over the character Elsie would marry.
It was never planned for Phoenix to leave the series in 1973. Phoenix quit while on holiday.
During the 1960s Elsie was regarded as a television sex symbol, and was famously described as "the sexiest thing on television" by Prime Minister James Callaghan.
Due to the massive popularity of Elsie, Steve was also given the surname "Tanner" so that Elsie would not have to change her name when married.
Elsie's love life was the subject of one of the first Coronation Street video releases, The Life and Loves of Elsie Tanner. The 1987 video featured archive clips linked by newly recorded material featuring Linda Cheveski, Emily Bishop and Mike Baldwin reminiscing about Elsie during a return visit to the Street by Linda. The video is northworthy as at one point the characters discuss Elsie's recent death. In the series itself, the character's fate has never been addressed. At the time of the video's release, Patricia Phoenix had recently died.
See also
External links
*Disclosure: Some of the links above are affiliate links, meaning, at no additional cost to you, Fandom will earn a commission if you click through and make a purchase. Community content is available under
CC-BY-SA
unless otherwise noted.