Boba Fett Returns - The Loop
Play Sound
Easter is a religious festival commemorating the death and resurrection of Jesus. It is a public holiday in many countries of the world and therefore is often marked by visits or trips away from home. Within Coronation Street, characters have been shown to undertake such excursions many times over the years.
In April 1961, Frank and Ida Barlow, Esther Hayes, Florrie Lindley, Martha Longhurst, Minnie Caldwell, Leonard Swindley, Emily Nugent and Albert Tatlock went on a charabanc trip to Lake Windermere while back in Weatherfield, Jack Walker had to man the bar of the Rovers while Annie and Concepta Riley went to a fashion show in Heaton Park. Lucille Hewitt enjoyed a trip to Belle Vue with her father, Harry.
A year later, the Hewitt family took Jack, Annie and Len Fairclough to Lyme Park for the day, Frank Barlow went with Ken to watch brother David play football when his second division London team were appearing in the area, Florrie Lindley took Elsie Tanner to Belle Vue and Martha and Minnie took a recuperating Ena Sharples to the park where she was drenched in a sudden downpour.
In April 1965, Albert went to watch a local football match while Minnie and Ena paid a poignant visit to place daffodils on Martha's grave followed by a special steak dinner afterwards. Elsie was taken to see Liverpool play from the director's box in Anfield by Willie Piggott.
In 1969, Lucille planned her wedding to Gordon Clegg to take place on 5th April - Easter Saturday - but he got cold feet and called their engagement off. On the Easter Monday, the local pensioners boycotted a trip to see Albert's Fusiliers' Museum in Bury in protest at his treatment of Alice Pickins when he threw her out of 1 Coronation Street and dumped her belongings in the Coronation Street.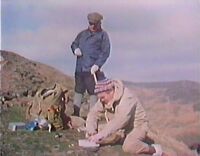 In April 1971 Ena insisted Minnie used the holiday to spring clean her house but she rebelled for once and spent the day sunbathing in her back yard wearing a "Kiss me quick" hat and eating ice cream. The following year, the residents celebrated an Easter wedding when Ernest Bishop married Emily while in April 1973 Albert and Jerry Booth spent the holiday walking the Pennine Way in the Peak District.
An engaged Albert and Minnie thought of having their wedding at Easter in 1974 but realising they weren't compatible, they soon called the entire thing off. Two years later, Ray Langton, Alf Roberts and Ernie attended a charity stag do at the Gatsby Club when it was raided by police as the event included strippers. In March 1978, Ken organised an Easter bonnet competition on the Red Rec which was judged by Mike Baldwin.
In April 1980, a barbershop quartet contest was held in the Rovers Return Inn which was won by The Flying Horse. Three years later, Curly Watts, Kevin Webster and Terry Duckworth took girlfriends Gill Collins, Mandy Whitworth and Elaine Pollard on a cabin cruiser down the Weatherfield Canal while a trip to Tatton Park for Ken and Deirdre Barlow was called off when she was summoned to see Christine Glover, a woman who was mentally ill and hospitalised and who had written to him using the problem page of the Weatherfield Recorder which he edited.
In April 1990, Dave Barton took Deirdre and Tracy Barlow to Alton Towers while Kevin and Sally Webster went to Heaton Park with Mark Casey and girlfriend Katie tagging along. The following year, the Websters went back to the same place, this time just with their newborn daughter Rosie.
In April 1993, Emily planned to take Percy Sugden and Olive Clarke to the country for Good Friday only to find that Vera Duckworth had "borrowed" her car to visit Terry (the vehicle's previous owner) who was now in Strangeways Jail. Two years later, Jon Welch took his salon partner Denise Osbourne and her son Daniel for an Easter picnic in the country.
In April 1996, Roy Cropper, Jack Duckworth, Bill Webster, Fred Elliott, Martin Platt, Alf, Gary Mallett and Billy Williams went horse racing where they ended up betting on "Betty's Hot Shot" which won at 50-1, giving them £250 each and enabling them to buy the horse!
Another Easter wedding was planned in 2002 between Dev Alahan and Geena Gregory but their engagement was called off when she discovered he had slept with Deirdre the previous Christmas. The same year, Kirk Sutherland and Tyrone Dobbs entered into a scheme to sell a job lot of Easter eggs but found few buyers. They ended up melting them down to make chocolate apples which they hope to sell to the corner shop but Tyrone's dog Monica upset them all over the floor of No.9.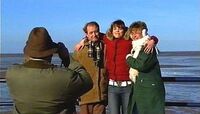 On Easter Sunday in March 2005, Deirdre agreed to take ex-husband Ray, now will with terminal cancer, to Southport for the day where he enjoyed the day out with daughter Tracy and granddaughter Amy. Easter Monday in April 2006 was marked by Mike Baldwin's funeral. Ryan Connor enjoyed a holiday in Cornwall with his natural father Nick Neeson in 2008 while the following year Blanche Hunt, Deirdre, Peter and Simon Barlow attended an Easter service at St. Saviour's Church.
In 2010, Rita Tanner attended an Easter dinner dance organised by the chamber of commerce at Weatherfield Town Hall in the company of escort Lewis Archer. Both Audrey Roberts and Claudia Colby had also tried to book Lewis for the same event and neither were pleased to see who he turned up with.
In 2011 Sean Tully made a special trip to London to see his son Dylan Wilson who was living in the capital with his mother Violet and Jamie Baldwin and made his re-acquaintance there of Marcus Dent, his ex-boyfriend. By the next year, Marcus was an item with Maria Connor and they took her son Liam to an Easter fair along with Fiz and Hope Stape.
In 2016 Yasmeen Nazir organised an Easter Egg hunt in the Jamila House community centre for the children of the area while a different event took place three years later in 2019 when Bertie Osbourne's christening was held with a party afterwards in the Viaduct Bistro where Kirk Sutherland sang one of his own compositions, the inappropriately named Your soul, my soul, our soles.


Background notes
For some years in the programme's first few decades, the Easter Monday episode regularly drew the lowest viewing figures of the respective years as the watching population emulated the fictional characters and also went out for the day instead of staying at home. Examples include 1973, 1976 and 1980.
The programme attracted complaints for Episode 7052 (12th April 2009) when Ken Barlow was vocally critical of Blanche Hunt, Peter, Simon and Deirdre when they attended the Easter service at

St. Saviour's Church

. His comments that the Christian religion was a "superstition" generated complaints to Ofcom but were defended by ITV.