2016 was Coronation Street's fifty-seventh year.
Main characters
| Ranking | Character | Played by | Duration | Number of Episodes | Running total | Previous year's ranking |
| --- | --- | --- | --- | --- | --- | --- |
| 1 | Nick Tilsley | Ben Price | Full year | 145 | 1747 | 6 |
| 2 | Michelle Connor | Kym Marsh | Full year | 140 | 1256 | 4 |
| 3 | David Platt | Jack P. Shepherd | Full year | 133 | 2175 | 1 |
| 4 | Aidan Connor | Shayne Ward | Full year | 130 | 191 | 52 |
| 4 | Pat Phelan | Connor McIntyre | Full year | 130 | 160 | - |
| 4 | Anna Windass | Debbie Rush | Full year | 130 | 940 | 10 |
| 7 | Leanne Tilsley/Battersby | Jane Danson | Full year | 125 | 1804 | 20 |
| 8 | Gail Rodwell | Helen Worth | Full year | 122 | 4128 | 2 |
| 9 | Sarah Platt | Tina O'Brien | Full year except for January | 119 | 1643 | 17 |
| 10 | Todd Grimshaw | Bruno Langley | Full year | 116 | 708 | 33 |
| 10 | Tim Metcalfe | Joe Duttine | Full year | 116 | 420 | 18 |
| 10 | Eva Price | Catherine Tyldesley | Full year | 116 | 564 | 60 |
| 13 | Robert Preston | Tristan Gemmill | Full year | 114 | 186 | 50 |
| 14 | Tracy Barlow | Kate Ford | Full year | 111 | 1909 | 6 |
| 14 | Eileen Grimshaw | Sue Cleaver | Full year | 111 | 1801 | 10 |
| 16 | Sally Metcalfe | Sally Dynevor | Full year | 110 | 3002 | 9 |
| 17 | Audrey Roberts | Sue Nicholls | Full year | 108 | 2974 | 27 |
| 18 | Kate Connor | Faye Brookes | Full year | 103 | 135 | 69 |
| 19 | Sean Tully | Antony Cotton | Full year except for October | 99 | 1460 | 15 |
| 19 | Gary Windass | Mikey North | Full year | 99 | 695 | 37 |
| 21 | Cathy Matthews | Melanie Hill | Full year | 98 | 166 | 43 |
| 21 | Bethany Platt | Lucy Fallon | Full year | 98 | 543 | 30 |
| 23 | Kevin Webster | Michael Le Vell | Full year | 97 | 2855 | 21 |
| 24 | Billy Mayhew | Daniel Brocklebank | Full year | 96 | 166 | 46 |
| 25 | Johnny Connor | Richard Hawley | Full year | 89 | 124 | 67 |
| 26 | Ken Barlow | William Roache | Full year | 88 | 4354 | 15 |
| 26 | Maria Connor | Samia Ghadie/Longchambon | From April | 88 | 1451 | 49 |
| 26 | Zeedan Nazir | Qasim Akhtar | Full year | 88 | 193 | 40 |
| 29 | Beth Sutherland | Lisa George | Full year | 87 | 484 | 24 |
| 30 | Kirk Sutherland | Andrew Whyment | Full year | 84 | 1147 | 32 |
| 31 | Roy Cropper | David Neilson | January and from May | 83 | 1951 | 5 |
| 32 | Mary Taylor | Patti Clare | Full year | 82 | 513 | 34 |
| 33 | Steph Britton | Tisha Merry | Full year | 81 | 300 | 28 |
| 33 | Norris Cole | Malcolm Hebden | Full year | 81 | 1549 | 45 |
| 35 | Liz McDonald | Beverley Callard | Full year except for November | 80 | 2094 | 3 |
| 35 | Steve McDonald | Simon Gregson | From April | 80 | 2929 | 25 |
| 37 | Rita Tanner | Barbara Knox | Full year | 78 | 3604 | 52 |
| 38 | Andy Carver | Oliver Farnworth | Full year except for May | 74 | 174 | 34 |
| 39 | Luke Britton | Dean Fagan | Full year | 73 | 208 | 34 |
| 40 | Kylie Platt | Paula Lane | Until July | 72 | 624 | 28 |
| 41 | Tyrone Dobbs | Alan Halsall | Full year except for June | 70 | 1768 | 13 |
| 41 | Gemma Winter | Dolly-Rose Campbell | Full year except for January and February | 70 | 100 | 74 |
| 43 | Sinead Tinker | Katie McGlynn | Full year except for November | 69 | 271 | 37 |
| 44 | Sophie Webster | Brooke Vincent | Until October | 68 | 1342 | 19 |
| 45 | Yasmeen Nazir | Shelley King | Full year | 67 | 169 | 55 |
| 46 | Carla Connor | Alison King | Until May | 66 | 1168 | 8 |
| 46 | Erica Holroyd | Claire King | Full year | 66 | 130 | 61 |
| 48 | Dev Alahan | Jimmi Harkishin | Full year | 65 | 1444 | 52 |
| 48 | Caz Hammond | Rhea Bailey | February, and April to December | 65 | 72 | 80 |
| 50 | Izzy Armstrong | Cherylee Houston | Full year | 64 | 569 | 55 |
| 50 | Jenny Bradley | Sally Ann Matthews | Full year except for June | 64 | 393 | 64 |
| 50 | Alya Nazir | Sair Khan | Full year except for January | 64 | 211 | 26 |
| 53 | Craig Tinker | Colson Smith | Full year | 59 | 216 | 39 |
| 54 | Max Turner | Harry McDermott | Full year except for February and September | 58 | 362 | 23 |
| 55 | Simon Barlow | Alex Bain | February, and from June | 57 | 526 | 48 |
| 55 | Michael Rodwell | Les Dennis | February to March and July to November | 57 | 249 | 12 |
| 57 | Jason Grimshaw | Ryan Thomas | Until June | 56 | 1509 | 30 |
| 58 | Amy Barlow | Elle Mulvaney | Full year | 55 | 569 | 50 |
| 58 | Fiz Stape | Jennie McAlpine | Full year | 55 | 1839 | 55 |
| 60 | Faye Windass | Ellie Leach | January to March, May and from August | 52 | 397 | 41 |
| 61 | Rana Habeeb/Nazir | Bhavna Limbachia | From February | 51 | 51 | - |
| 61 | Alex Warner | Liam Bairstow | Full year except for October | 51 | 54 | 84 |
| 63 | Sharif Nazir | Marc Anwar | Until November | 50 | 165 | 46 |
| 64 | Chesney Brown | Sam Aston | Full year except for August | 49 | 943 | 42 |
| 65 | Freddie Smith | Derek Griffiths | From March | 47 | 47 | - |
| 66 | Peter Barlow | Chris Gascoyne | From October | 40 | 1211 | 85 |
| 67 | Harry Platt | Woody Illsley and Pixie & Presley Sellars | March to July and from September | 39 | 39 | - |
| 68 | Lily Platt | Betsie & Emmie Taylor and Brooke Malonie | January, March to August and from October | 37 | 120 | 73 |
| 69 | Liam Connor | Charlie Wrenshall | April, and from July | 27 | 152 | 83 |
| 70 | Jake Windass | Seth & Theo Wild | February to November | 23 | 82 | 81 |
| 71 | Asha Alahan | Tanisha Gorey | January to February, July and from September | 21 | 160 | 76 |
| 71 | Adam Barlow | Samuel Robertson | From November | 21 | 236 | - |
| 73 | Aadi Alahan | Zennon Ditchett | January to February, July and from September | 20 | 161 | 75 |
| 73 | Daniel Osbourne | Rob Mallard | From November | 20 | 128 | - |
| 75 | Brian Packham | Peter Gunn | From November | 17 | 170 | 79 |
| 76 | Seb Franklin | Harry Visinoni | From October | 14 | 14 | - |
| 77 | Jack Webster | Maddox Beswick and Kyran Bowes | January to February, May to June, October and December | 13 | 122 | 70 |
| 78 | Hope Stape | Faith & Nicole Holt | January to February, April, October and December | 10 | 179 | 63 |
| 79 | Ruby Dobbs | Macy Alabi | January to February, April, October and December | 9 | 122 | 71 |
| 80 | Jude Appleton | Paddy Wallace | From December | 4 | 4 | - |
| 80 | Toyah Battersby | Georgia Taylor | From December | 4 | 617 | - |
| 80 | Shona Ramsey | Julia Goulding | From December | 4 | 4 | - |
| 83 | Emily Bishop | Eileen Derbyshire | Until January | 2 | 3301 | 64 |
| 84 | Rob Donovan | Marc Baylis | Until January | 1 | 301 | 78 |
Production
The long goodbye
Stuart Blackburn stood down as producer in April. His three-year run in the chair was the longest since Bill Podmore and, going by episode count, by the time he left Blackburn had produced more Coronation Street than anyone in history. He received his final credit with Episode 8967 on 12th August. Meanwhile Kieran Roberts, who celebrated ten years as executive producer at the beginning of the year, stayed on for an eleventh.
Eileen Derbyshire, a member of the cast since the fifteenth episode and the programme's longest-serving actress, had asked in 2015 to be written out for a period of six months for undisclosed personal reasons [1]. On 1st January, Emily Bishop left Weatherfield to join her nephew Spider Nugent volunteering in Peru. After the six months, Derbyshire entered a period of indefinite leave, with show bosses maintaining that she had not left the programme [2]. Emily's sojourn in Peru continued until 2018, when she moved (off-screen) to Edinburgh.
Coronation Street's creator Tony Warren passed away on 1st March after a short illness. Warren had last written for the show in 1976 and had continued to be involved in an advisory capacity until shortly before his death. The next instalment to air, Episode 8851, was dedicated to his memory.
Blackburn's last hurrah
Key plot threads were resolved in Stuart Blackburn's final months, chiefly Tracy Barlow's feud with Carla Connor and the Callum Logan saga, which came about because of Alison King and Paula Lane's exits.
It had been announced the previous May that King was taking a sabbatical, but in January the actress clarified that she was leaving for good after a ten-year run [3]. Coronation Street again supported the Britain's Got Talent live finals in May, broadcasting a week of post-watershed episodes centering around Carla's wedding to Nick Tilsley, at the end of which the pair split and Carla went alone to Devon after being bought out of Underworld by Johnny and Aidan Connor.
Paula Lane had also chosen to leave after six years playing Kylie Platt. Lane was pregnant with her second child and was due to take maternity leave in the summer when the actress decided to take a break from acting and focus on motherhood for a while [4]. As she had no immediate plans to return, producers decided to kill Kylie off and make David a widower, opening up new story opportunities for the Platts.
Lane shot her final scenes in June after months shooting the climax of the Callum Logan storyline. The drug dealer's body was exposed in May when Tyrone Dobbs crashed his pickup truck into 8 Coronation Street's annex. The murder of Callum was wrongly pinned on Tony Stewart, the builder who had unknowingly concreted over the body. An off-screen death by heart attack for Tony was written in prior to the body's discovery in order to end the storyline without any characters going to prison for the crime. Tony's death also led his grieving son Jason to leave Weatherfield to go travelling in Thailand. Ryan Thomas, who had been with Coronation Street since 2000, was inspired by working with seasoned actor Terence Maynard to quit and try something new [5]. While the door was kept open for Thomas, with Jason retaining ownership of the builder's yard, the actor did not return to the role.
In March, Sarah Platt gave birth to Harry, son of Callum, eventually leading into a portpartum psychosis storyline with Sarah believing that Callum was still alive and stalking her. Harry was initially played by Woody Illsley along with Pixie and Presley Sellars, but after a month Illsley was dropped with the twins continuing to share the role. Also on the Platt front, Lily was recast with Brooke Malonie replacing Betsie and Emmie Taylor in June. March also saw the return of Kylie's old friend Gemma Winter, now a regular and employee at Prima Doner, as well as the debut of her new friend Freddie Smith, played by former Play School presenter Derek Griffiths. Freddie was a client at Audrey's salon who gained employment at Webster's Autocentre.
In July, Kylie was killed in a random stabbing outside the kebab shop. Paula Lane last appeared in the role in a scene set in a Chapel of Rest. Kylie's death scenes were widely praised, particularly the performances of Paula Lane and Jack P. Shepherd [6] [7]. This was one of the last episodes produced by Stuart Blackburn, ending his lengthy tenure on a high note.
Time out
Steve McDonald was back on-screen in April when Simon Gregson returned from a period of absence. Just two weeks after the actor started filming, he hurt his shoulder in a fall at home and required surgery. This resulted in another three weeks' absence and the injury being written into the programme with Steve's arm in a sling for a while [8]. Liz McDonald was also absent for almost two months in the same period when Beverley Callard took time off to focus on health issues.
Three actors were granted leaves of absence to appear on stage. Roy Cropper spent four months nursing Sylvia Goodwin in Hastings while David Neilson acted in the Samuel Beckett play Endgame, while Michael Rodwell went to Brighton to run an ice cream van due to Les Dennis's commitment to Down the Dock Road. Brooke Vincent's absence to appear in Be My Baby began in August and lasted the remainder of the year, with Sophie Webster leaving the Street in October to join Rosie on a promotional contract in Miami.
Two key returns aired in January. Following her successful 2015 stint, Sally Ann Matthews signed a new contract as Jenny Bradley, who worked herself up from rock bottom with the help of Rita Tanner. The other was Pat Phelan, morally bankrupt builder who had previously blackmailed Anna Windass into sex. Played by Connor McIntyre, Phelan was given and home and job in the Street, and quickly took over as the programme's lead villain.
Two of the programme's child characters changed heads. Maddox Beswick made his final appearance as Jack Webster in May with the part then being taken over by Kyran Bowes, while the lesser-seen Jake Windass was recast with Seth and Theo Wild replacing Harley and Layton Phoenix. Meanwhile, Maria Connor and son Liam were back in April when Samia Longchambon returned from maternity leave. Lastly, Bhavna Limbachia joined the cast as maneating nurse Rana Habeeb, who later became Zeedan Nazir's girlfriend.
A small change to the make-up of the Street took place when Tracy Barlow closed down Barlow's Buys and opened a flower shop called Preston's Petals in its place.
The Kate Oates effect
Kate Oates became the credited producer with Episode 8968 on 15th August. Like Blackburn, Oates had been producing Emmerdale for ITV when she was offered the job on Coronation Street. She had previously been assistant producer on the latter programme for a short period from 2012 to 2013.
Oates would soon establish herself as someone willing to take risks with Coronation Street and explore darker themes in her stories, moreso than any of her predecessors. In 2016, her efforts mainly went towards resolving the leftover plot threads from Blackburn's tenure, getting the cast she wanted in place and sowing the seeds of what would be the major storylines of 2017.
Two examples of the former were David's revenge against Kylie's killer Clayton Hibbs and the departure of Caz Hammond. In October, a grief-stricken David hatched a plan to drive a petrol-doused car into a police van carrying Clayton to his murder trial, killing Clayton and himself. An October stunt had been teased by Kate Oates, with no further details given [9]. This was part of an initiative by the producer to adopt a more closed spoiler policy and reward the audience with surprises [10]. The stunt in question saw David's car flip over while swerving to avoid Lily, causing Lily and Gary Windass to be trapped underneath. Although they escaped without harm, Anna Windass was unexpectedly caught up in the resulting explosion and her legs were severely burned. In the other cited storyline, Caz Hammond was arrested after failing to frame Maria Connor for her own murder.
The fruits of Oates's labour could most clearly be seen in the revjuvenation of the Barlow family. In October, Peter Barlow made a return, once again down on his luck. On the same day, Ken suffered a stroke and the family began to rally round. Adam Barlow was pegged for a return, potentially to played by a new actor though ultimately Samuel Robertson reprised the role, which was now being more overtly modelled on Adam's father Mike Baldwin. Daniel Osbourne also returned, now played by Rob Mallard. Daniel was a university student, and very much like Ken. From being a mostly stand-alone character, Ken was now the head of a multi-generational family.
A recurring theme of Oates's tenure was a fast and loose approach with characters' backstories. In September, Beth Sutherland was revealed as a bigamist, thus invalidating her marriage to Kirk. Three months later, Mary Taylor confessed to Norris Cole that she was raped at fourteen years old and had a son named Jude who was taken off her. Now living in South Africa, Jude Appleton visited the Street on Christmas Day to meet his mum for the first time. Lastly, Sharif Nazir was exposed as a love cheat who had been carrying out a secret affair with Yasmeen's close friend Sonia Rahman for the last seven years. While the story was being filmed, actor Marc Anwar was fired with immediate effect for making racially insensitive comments about Indian people on Twitter [11]. The fallout from his affair was rewritten with Sharif fleeing to Newcastle and Sonia leaving the Street shortly thereafter.
Another controversy occurred following the broadcast of Episode 8978 on 29th August. In the episode, Eva Price makes a comment regarding the Roots character Kunta Kinte, which some viewers found to be culturally insensitive. An apology was made by the show's producers soon after and the line was cut from the ITV Hub version of the episode.
Gearing up
Compared with previous producers, Kate Oates's cast shake-up was relatively minor, concentrating mainly on returning characters. Brian Packham was back, now Environmental Health Officer with Weatherfield Council, while Georgia Taylor reprised the role of Toyah Battersby after an absence of almost fourteen years. Returning on Christmas Day, Toyah was revealed to be Peter Barlow's secret girlfriend, setting up one of the main plotlines of 2017.
Also making their debuts in the latter months of 2016 were Harry Visinoni as Seb Franklin, boyfriend of Faye Windass, Julia Goulding as Shona Ramsey, David's next love after Kylie, and Christopher Harper as Nathan Curtis, Shona's ex-boyfriend who befriended Bethany Platt.
By the end of the year, the only one of Blackburn's plots still running was the rise of Pat Phelan, which would eventually be extended into 2018 due to the character's popularity. In November, Les Dennis quitting his role after three years allowed Phelan to claim his first victim in Michael Rodwell. In his final episodes, Michael rumbled Phelan and Vinny Ashford's Calcutta Street flats scam but suffered a fatal heart attack while trying to make a run for it, with Phelan coldly watching him die.
Viewing figures
From the penultimate week of May, ITV started to amalgamate the main channel's viewing figures with those of ITV HD and ITV+1, giving programmes a significant boost on BARB which will distort any year-to-year ratings comparisons. Prior to this date, viewing figures had continued their downward trend which began in 2014, with January and February averaging 2.5m viewers down across the last three years, although the drop in 2016 was only around half that seen in 2014 and 2015.
The change in the way ITV measured its viewing figures immediately boosted Coronation Street's ratings by 0.5m viewers, with the spikes becoming more pronounced as the year went on. October to December averaged a rise of 1.5m viewers, giving an overall average for the year of 7.05 million viewers, half a million up on 2015.
Episode 8914, in which Carla Connor left the Street, was the most-watched episode of the year with 9.19 million viewers, the first time an episode shown on Britain's Got Talent finals week had ever claimed the top spot. In the charts, four episodes reached number one after the low of 2015.
Episodes
#
Ep.
No.
Date
Part
Writer
Director
Viewing
Figures

Chart
Position
1
8807
Friday 1st January
1
Damon Rochefort
Durno Johnston
6,470,000
18
2
8808
Friday 1st January
2
Damon Rochefort
Durno Johnston
6,110,000
22
3
8809
Monday 4th January
1
Ben Tagoe
Diana Patrick
7,200,000
12
4
8810
Monday 4th January
2
Ben Tagoe
Diana Patrick
6,980,000
14
5
8811
Wednesday 6th January
Martin Allen
Diana Patrick
7,080,000
13
6
8812
Friday 8th January
1
Mark Burt
Diana Patrick
6,820,000
16
7
8813
Friday 8th January
2
Perrie Balthazar
Diana Patrick
6,190,000
19
8
8814
Monday 11th January
1
Debbie Oates
Tim Dowd
6,950,000
12
9
8815
Monday 11th January
2
Susan Oudot
Tim Dowd
6,570,000
16
10
8816
Wednesday 13th January
Ellen Taylor
Tim Dowd
6,760,000
14
11
8817
Friday 15th January
1
Chris Fewtrell
Tim Dowd
6,780,000
13
12
8818
Friday 15th January
2
Perrie Balthazar
Tim Dowd
6,620,000
15
13
8819
Monday 18th January
1
Joe Turner
John Anderson
7,120,000
11
14
8820
Monday 18th January
2
Joe Turner
John Anderson
6,700,000
14
15
8821
Wednesday 20th January
Jayne Hollinson
John Anderson
6,210,000
17
16
8822
Friday 22nd January
1
John Kerr
John Anderson
6,870,000
12
17
8823
Friday 22nd January
2
Jan McVerry
John Anderson
6,810,000
13
18
8824
Monday 25th January
1
Martin Allen
Brett Fallis
6,940,000
10
19
8825
Monday 25th January
2
Ben Tagoe
Brett Fallis
6,840,000
13
20
8826
Wednesday 27th January
Jonathan Harvey
Brett Fallis
6,910,000
11
21
8827
Friday 29th January
1
Damon Rochefort
Brett Fallis
6,700,000
15
22
8828
Friday 29th January
2
Mark Wadlow
Brett Fallis
5,950,000
18
23
8829
Monday 1st February
1
Chris Fewtrell
Abe Juckes
6,710,000
14
24
8830
Monday 1st February
2
Damon Rochefort
Abe Juckes
6,700,000
15
25
8831
Wednesday 3rd February
Ben Tagoe
Abe Juckes
6,620,000
17
26
8832
Friday 5th February
1
Julie Jones
Abe Juckes
6,960,000
13
27
8833
Friday 5th February
2
Susan Oudot
Abe Juckes
6,700,000
16
28
8834
Monday 8th February
1
Simon Crowther
Duncan Foster
7,010,000
10
29
8835
Monday 8th February
2
John Kerr
Duncan Foster
6,800,000
11
30
8836
Wednesday 10th February
Mark Burt
Duncan Foster
6,600,000
12
31
8837
Friday 12th February
1
Ellen Taylor
Duncan Foster
6,450,000
13
32
8838
Friday 12th February
2
Ella Greenhill
Duncan Foster
6,310,000
14
33
8839
Monday 15th February
1
Joe Turner
Gill Wilkinson
6,580,000
12
34
8840
Monday 15th February
2
Joe Turner
Gill Wikinson
6,620,000
11
35
8841
Wednesday 17th February
Mark Wadlow
Gill Wikinson
6,410,000
15
36
8842
Friday 19th February
1
Jonathan Harvey
Gill Wilkinson
6,490,000
14
37
8843
Friday 19th February
2
Jan McVerry
Gill Wilkinson
6,310,000
17
38
8844
Monday 22nd February
1
Jayne Hollinson
Judith Dine
6,770,000
9
39
8845
Monday 22nd February
2
Martin Allen
Judith Dine
6,710,000
12
40
8846
Wednesday 24th February
Jonathan Harvey
Judith Dine
6,600,000
13
41
8847
Friday 26th February
1
Debbie Oates
Judith Dine
6,290,000
15
42
8848
Friday 26th February
2
Perrie Balthazar
Judith Dine
5,790,000
18
43
8849
Monday 29th February
1
Joe Turner
Matt Hilton
6,690,000
9
44
8850
Monday 29th February
2
Mark Wadlow
Matt Hilton
6,340,000
12
45
8851
Wednesday 2nd March
Damon Rochefort
Diana Patrick
6,540,000
10
46
8852
Friday 4th March
1
Ellen Taylor
Diana Patrick
6,470,000
11
47
8853
Friday 4th March
2
Julie Jones
Diana Patrick
6,200,000
13
48
8854
Monday 7th March
1
Simon Crowther
Tim Dowd
6,850,000
7
49
8855
Monday 7th March
2
Chris Fewtrell
Tim Dowd
6,520,000
9
50
8856
Wednesday 9th March
Mark Burt
Tim Dowd
6,500,000
10
51
8857
Friday 11th March
1
Jan McVerry
Tim Dowd
6,330,000
11
52
8858
Friday 11th March
2
John Kerr
Tim Dowd
5,800,000
14
53
8859
Monday 14th March
1
Chris Fewtrell
David Kester
6,590,000
9
54
8860
Monday 14th March
2
John Kerr
David Kester
6,280,000
12
55
8861
Wednesday 16th March
Mark Wadlow
David Kester
6,290,000
11
56
8862
Friday 18th March
1
Debbie Oates
David Kester
6,200,000
13
57
8863
Friday 18th March
2
Ellen Taylor
David Kester
5,730,000
14
58
8864
Monday 21st March
1
Jonathan Harvey
John Anderson
6,600,000
6
59
8865
Monday 21st March
2
Perrie Balthazar
John Anderson
6,390,000
7
60
8866
Wednesday 23rd March
Mark Burt
John Anderson
6,310,000
9
61
8867
Friday 25th March
1
Julie Jones
John Anderson
6,330,000
8
62
8868
Friday 25th March
2
Susan Oudot
John Anderson
5,660,000
12
63
8869
Monday 28th March
1
Joe Turner
Duncan Foster
6,480,000
9
64
8870
Monday 28th March
2
Martin Allen
Duncan Foster
6,530,000
7
65
8871
Wednesday 30th March
Ben Tagoe
Duncan Foster
6,630,000
6
66
8872
Friday 1st April
1
Simon Crowther
Duncan Foster
6,500,000
8
67
8873
Friday 1st April
2
Jan McVerry
Duncan Foster
6,210,000
12
68
8874
Monday 4th April
1
Julie Jones
Brett Fallis
6,470,000
6
69
8875
Monday 4th April
2
Julie Jones
Brett Fallis
6,330,000
10
70
8876
Wednesday 6th April
Martin Allen
Brett Fallis
6,380,000
8
71
8877
Friday 8th April
1
Mark Burt
Brett Fallis
6,390,000
7
72
8878
Friday 8th April
2
Ella Greenhill
Brett Fallis
5,920,000
12
73
8879
Monday 11th April
1
Simon Crowther
Tim Finn
6,650,000
6
74
8880
Monday 11th April
2
Simon Crowther
Tim Finn
6,540,000
7
75
8881
Wednesday 13th April
Jonathan Harvey
Tim Finn
6,020,000
10
76
8882
Friday 15th April
1
Jan McVerry
Tim Finn
6,520,000
8
77
8883
Friday 15th April
2
Ben Tagoe
Tim Finn
5,990,000
11
78
8884
Monday 18th April
1
Damon Rochefort
Jo Johnson
6,390,000
7
79
8885
Monday 18th April
2
Damon Rochefort
Jo Johnson
5,970,000
10
80
8886
Wednesday 20th April
Susan Oudot
Jo Johnson
5,950,000
11
81
8887
Friday 22nd April
1
Chris Fewtrell
Jo Johnson
6,370,000
9
82
8888
Friday 22nd April
2
Chris Fewtrell
Jo Johnson
5,620,000
14
83
8889
Monday 25th April
1
John Kerr
Tessa Hoffe
6,440,000
6
84
8890
Monday 25th April
2
Jayne Hollinson
Tessa Hoffe
6,240,000
7
85
8891
Wednesday 27th April
Mark Wadlow
Tessa Hoffe
6,050,000
10
86
8892
Friday 29th April
1
Joe Turner
Tessa Hoffe
6,090,000
10
87
8893
Friday 29th April
2
Joe Turner
Tessa Hoffe
5,640,000
12
88
8894
Monday 2nd May
1
Chris Fewtrell
Jordan Hogg
6,010,000
7
89
8895
Monday 2nd May
2
Mark Burt
Jordan Hogg
5,750,000
10
90
8896
Wednesday 4th May
Mark Wadlow
Jordan Hogg
5,800,000
9
91
8897
Friday 6th May
1
John Kerr
Jordan Hogg
5,510,000
11
92
8898
Friday 6th May
2
Perrie Balthazar
Jordan Hogg
5,420,000
14
93
8899
Monday 9th May
1
Ellen Taylor
David Kester
6,120,000
8
94
8900
Monday 9th May
2
Ella Greenhill
David Kester
6,020,000
9
95
8901
Wednesday 11th May
Susan Oudot
David Kester
6,190,000
7
96
8902
Friday 13th May
1
Jonathan Harvey
David Kester
5,950,000
10
97
8903
Friday 13th May
2
Jonathan Harvey
David Kester
5,700,000
11
98
8904
Monday 16th May
1
Damon Rochefort
John Anderson
6,230,000
9
99
8905
Monday 16th May
2
Damon Rochefort
John Anderson
6,150,000
10
100
8906
Wednesday 18th May
Debbie Oates
John Anderson
5,980,000
11
101
8907
Thursday 19th May
Julie Jones
John Anderson
5,520,000
16
102
8908
Friday 20th May
1
Simon Crowther
John Anderson
5,770,000
13
103
8909
Friday 20th May
2
Ben Tagoe
John Anderson
5,730,000
15
104
8910
Sunday 22nd May
Mark Burt
Michael Lacey
6,540,000
7
105
8911
Monday 23rd May
Julie Jones
Michael Lacey
8,280,000
7
106
8912
Tuesday 24th May
Debbie Oates
Michael Lacey
8,220,000
8
107
8913
Wednesday 25th May
Joe Turner
Michael Lacey
9,020,000
3
108
8914
Thursday 26th May
Jan McVerry
Michael Lacey
9,190,000
2
109
8915
Monday 30th May
1
John Kerr
Peter Rose
7,560,000
2
110
8916
Monday 30th May
2
Damon Rochefort
Peter Rose
7,550,000
3
111
8917
Wednesday 1st June
Martin Allen
Peter Rose
7,700,000
1
112
8918
Friday 3rd June
1
Jayne Hollinson
Peter Rose
7,010,000
5
113
8919
Friday 3rd June
2
Susan Oudot
Peter Rose
7,340,000
4
114
8920
Monday 6th June
1
Ellen Taylor
Gill Wilkinson
7,400,000
4
115
8921
Monday 6th June
2
Simon Crowther
Gill Wilkinson
7,580,000
2
116
8922
Wednesday 8th June
Perrie Balthazar
Gill Wilkinson
7,580,000
3
117
8923
Sunday 12th June
Chris Fewtrell
Gill Wilkinson
7,100,000
5
118
8924
Monday 13th June
1
Simon Crowther
Jo Johnson
7,410,000
3
119
8925
Monday 13th June
2
Mark Burt
Jo Johnson
6,810,000
6
120
8926
Tuesday 14th June
Ben Tagoe
Jo Johnson
6,590,000
8
121
8927
Sunday 19th June
Jonathan Harvey
Jo Johnson
6,910,000
5
122
8928
Thursday 23rd June
Ellen Taylor
Audrey Cooke
6,300,000
10
123
8929
Friday 24th June
1
Joe Turner
Audrey Cooke
7,040,000
4
124
8930
Friday 24th June
2
Mark Wadlow
Audrey Cooke
6,890,000
5
125
8931
Wednesday 29th June
1
Chris Fewtrell
Ian Bevitt
7,410,000
6
126
8932
Wednesday 29th June
2
Martin Allen
Ian Bevitt
6,830,000
8
127
8933
Wednesday 29th June
3
Damon Rochefort
Ian Bevitt
5,950,000
18
128
8934
Friday 1st July
1
Ella Greenhill
Ian Bevitt
6,970,000
7
129
8935
Friday 1st July
2
Susan Oudot
Ian Bevitt
6,400,000
13
130
8936
Monday 4th July
1
Ella Greenhill
Menhaj Huda
7,570,000
7
131
8937
Monday 4th July
2
Martin Allen
Menhaj Huda
7,650,000
6
132
8938
Thursday 7th July
Mark Wadlow
Menhaj Huda
6,430,000
13
133
8939
Friday 8th July
1
Mark Burt
Menhaj Huda
6,960,000
9
134
8940
Friday 8th July
2
Damon Rochefort
Menhaj Huda
6,980,000
8
135
8941
Monday 11th July
1
Debbie Oates
Nickie Lister
7,860,000
4
136
8942
Monday 11th July
2
Jan McVerry
Nickie Lister
8,020,000
3
137
8943
Wednesday 13th July
John Kerr
Nickie Lister
7,710,000
5
138
8944
Thursday 14th July
Perrie Balthazar
Nickie Lister
7,160,000
6
139
8945
Friday 15th July
1
Chris Fewtrell
Nickie Lister
8,110,000
2
140
8946
Friday 15th July
2
Chris Fewtrell
Nickie Lister
8,470,000
1
141
8947
Monday 18th July
1
Jayne Hollinson
Matt Hilton
7,500,000
3
142
8948
Monday 18th July
2
Joe Turner
Matt Hilton
7,800,000
2
143
8949
Wednesday 20th July
Jonathan Harvey
Matt Hilton
7,290,000
5
144
8950
Thursday 21st July
Susan Oudot
Matt Hilton
6,970,000
7
145
8951
Friday 22nd July
1
Julie Jones
Matt Hilton
7,130,000
6
146
8952
Friday 22nd July
2
Julie Jones
Matt Hilton
7,430,000
4
147
8953
Monday 25th July
1
Jayne Hollinson
Peter Rose
7,470,000
3
148
8954
Monday 25th July
2
Simon Crowther
Peter Rose
7,500,000
2
149
8955
Wednesday 27th July
Martin Allen
Peter Rose
7,570,000
1
150
8956
Friday 29th July
1
Julie Jones
Peter Rose
7,140,000
4
151
8957
Friday 29th July
2
Ben Tagoe
Peter Rose
6,910,000
5
152
8958
Monday 1st August
1
Debbie Oates
Michael Lacey
7,590,000
1
153
8959
Monday 1st August
2
Perrie Balthazar
Michael Lacey
7,480,000
2
154
8960
Wednesday 3rd August
Ellen Taylor
Michael Lacey
7,270,000
3
155
8961
Friday 5th August
1
Ella Greenhill
Michael Lacey
6,850,000
5
156
8962
Friday 5th August
2
Susan Oudot
Michael Lacey
6,620,000
6
157
8963
Monday 8th August
1
Joe Turner
Durno Johnston
7,240,000
3
158
8964
Monday 8th August
2
Mark Wadlow
Durno Johnston
6,820,000
4
159
8965
Wednesday 10th August
Mark Burt
Durno Johnston
7,480,000
2
160
8966
Friday 12th August
1
Jonathan Harvey
Durno Johnston
6,650,000
6
161
8967
Friday 12th August
2
Jan McVerry
Durno Johnston
6,390,000
9
162
8968
Monday 15th August
1
Ben Tagoe
Ian Bevitt
7,060,000
3
163
8969
Monday 15th August
2
Jonathan Harvey
Ian Bevitt
6,590,000
8
164
8970
Wednesday 17th August
Ellen Taylor
Ian Bevitt
6,950,000
4
165
8971
Friday 19th August
1
Damon Rochefort
Ian Bevitt
6,750,000
5
166
8972
Friday 19th August
2
Damon Rochefort
Ian Bevitt
6,610,000
7
167
8973
Monday 22nd August
1
Chris Fewtrell
Neil Alderton
7,570,000
6
168
8974
Monday 22nd August
2
Susan Oudot
Neil Alderton
7,190,000
7
169
8975
Wednesday 24th August
John Kerr
Neil Alderton
7,670,000
5
170
8976
Friday 26th August
1
Joe Turner
Neil Alderton
7,060,000
8
171
8977
Friday 26th August
2
Joe Turner
Neil Alderton
7,010,000
9
172
8978
Monday 29th August
1
Jan McVerry
Menhaj Huda
7,290,000
8
173
8979
Monday 29th August
2
Mark Wadlow
Menhaj Huda
7,210,000
11
174
8980
Wednesday 31st August
Mark Burt
Menhaj Huda
7,550,000
6
175
8981
Friday 2nd September
1
Simon Crowther
Menhaj Huda
7,280,000
9
11176
8982
Friday 2nd September
2
Ella Greenhill
Menhaj Huda
7,260,000
10
177
8983
Monday 5th September
1
Chris Fewtrell
Suri Krishnamma
7,790,000
5
178
8984
Monday 5th September
2
Joe Turner
Suri Krishnamma
7,770,000
6
179
8985
Wednesday 7th September
Mark Wadlow
Gill Wilkinson
7,410,000
8
180
8986
Friday 9th September
1
Jan McVerry
Gill Wilkinson
7,250,000
9
181
8987
Friday 9th September
2
Debbie Oates
Gill Wilkinson
7,200,000
10
182
8988
Monday 12th September
1
Jayne Hollinson
Nickie Lister
7,810,000
4
183
8989
Monday 12th September
2
Ben Tagoe
Nickie Lister
7,730,000
5
184
8990
Wednesday 14th September
Susan Oudot
Nickie Lister
7,220,000
9
185
8991
Friday 16th September
1
John Kerr
Nickie Lister
7,340,000
7
186
8992
Friday 16th September
2
Julie Jones
Nickie Lister
7,280,000
8
187
8993
Monday 19th September
1
Martin Allen
Sean Healy
7,820,000
6
188
8994
Monday 19th September
2
Mark Burt
Sean Healy
7,740,000
7
189
8995
Wednesday 21st September
Ellen Taylor
Sean Healy
7,370,000
9
190
8996
Friday 23rd September
1
Damon Rochefort
Sean Healy
7,240,000
10
191
8997
Friday 23rd September
2
Simon Crowther
Sean Healy
7,040,000
11
192
8998
Monday 26th September
1
Perrie Balthazar
Tim Finn
7,460,000
7
193
8999
Monday 26th September
2
Ella Greenhill
Tim Finn
7,480,000
6
194
9000
Wednesday 28th September
Jan McVerry
Tim Finn
7,450,000
8
195
9001
Thursday 29th September
Julie Jones
Tim Finn
6,560,000
15
196
9002
Friday 30th September
1
Damon Rochefort
Tim Finn
6,960,000
11
197
9003
Friday 30th September
2
Damon Rochefort
Tim Finn
6,920,000
12
198
9004
Monday 3rd October
1
Simon Crowther
Alan Grint
7,590,000
6
199
9005
Monday 3rd October
2
Mark Burt
Alan Grint
7,080,000
12
200
9006
Wednesday 5th October
Mark Wadlow
Alan Grint
7,710,000
5
201
9007
Friday 7th October
1
Martin Allen
Alan Grint
7,370,000
9
202
9008
Friday 7th October
2
John Kerr
Alan Grint
7,030,000
14
203
9009
Monday 10th October
1
Susan Oudot
Neil Alderton
7,910,000
4
204
9010
Monday 10th October
2
Susan Oudot
Neil Alderton
7,480,000
7
205
9011
Wednesday 12th October
Joe Turner
Neil Alderton
7,640,000
6
206
9012
Friday 14th October
1
Chris Fewtrell
Neil Alderton
7,400,000
8
207
9013
Friday 14th October
2
Chris Fewtrell
Neil Alderton
7,390,000
10
208
9014
Monday 17th October
1
Damon Rochefort
Tony Prescott
7,940,000
9
209
9015
Monday 17th October
2
Chris Fewtrell
Tony Prescott
7,780,000
10
210
9016
Wednesday 19th October
Jayne Hollinson
Tony Prescott
8,010,000
6
211
9017
Friday 21st October
1
Joe Turner
Tony Prescott
8,170,000
5
212
9018
Friday 21st October
2
Joe Turner
Tony Prescott
8,540,000
4
213
9019
Monday 24th October
1
Martin Allen
Abe Juckes
8,340,000
4
214
9020
Monday 24th October
2
Simon Crowther
Abe Juckes
7,960,000
5
215
9021
Wednesday 26th October
John Kerr
Abe Juckes
7,680,000
6
216
9022
Friday 28th October
1
Susan Oudot
Abe Juckes
7,340,000
10
217
9023
Friday 28th October
2
Ella Greenhill
Abe Juckes
7,470,000
9
218
9024
Monday 31st October
1
Debbie Oates
Judith Dine
8,020,000
6
219
9025
Monday 31st October
2
Debbie Oates
Judith Dine
8,030,000
4
220
9026
Wednesday 2nd November
Julie Jones
Judith Dine
8,030,000
5
221
9027
Friday 4th November
1
Mark Wadlow
Judith Dine
7,680,000
8
222
9028
Friday 4th November
2
Mark Burt
Judith Dine
7,780,000
7
223
9029
Monday 7th November
1
Julie Jones
Audrey Cooke
8,110,000
6
224
9030
Monday 7th November
2
Julie Jones
Audrey Cooke
7,940,000
7
225
9031
Wednesday 9th November
Susan Oudot
Audrey Cooke
8,360,000
5
226
9032
Thursday 10th November
Susan Oudot
Audrey Cooke
7,290,000
12
227
9033
Monday 14th November
1
Martin Allen
Tim Dowd
8,090,000
10
228
9034
Monday 14th November
2
Ella Greenhill
Tim Dowd
7,940,000
12
229
9035
Wednesday 16th November
Ellen Taylor
Tim Dowd
7,960,000
11
230
9036
Thursday 17th November
Ellen Taylor
Tim Dowd
7,240,000
14
231
9037
Friday 18th November
1
Chris Fewtrell
Tim Dowd
7,330,000
13
232
9038
Friday 18th November
2
Chris Fewtrell
Tim Dowd
7,050,000
18
233
9039
Monday 21st November
1
Simon Crowther
Jordan Hogg
8,520,000
12
234
9040
Monday 21st November
2
Simon Crowther
Jordan Hogg
8,630,000
11
235
9041
Wednesday 23rd November
Joe Turner
Jordan Hogg
8,360,000
13
236
9042
Thursday 24th November
Joe Turner
Jordan Hogg
7,570,000
15
237
9043
Friday 25th November
1
Damon Alexis-Rochefort
Jordan Hogg
7,680,000
14
238
9044
Friday 25th November
2
Damon Alexis-Rochefort
Jordan Hogg
7,450,000
16
239
9045
Monday 28th November
John Kerr
Durno Johnston
8,650,000
11
240
9046
Wednesday 30th November
Debbie Oates
Durno Johnston
7,960,000
12
241
9047
Friday 2nd December
Ben Tagoe
Durno Johnston
7,740,000
13
242
9048
Monday 5th December
1
Mark Burt
Tim Finn
8,510,000
4
243
9049
Monday 5th December
2
John Kerr
Tim Finn
8,270,000
6
244
9050
Wednesday 7th December
Susan Oudot
Tim Finn
7,870,000
7
245
9051
Thursday 8th December
Susan Oudot
Tim Finn
7,180,000
11
246
9052
Friday 9th December
1
Simon Crowther
Tim Finn
7,670,000
8
247
9053
Friday 9th December
2
Jonathan Harvey
Tim Finn
7,050,000
12
248
9054
Monday 12th December
1
Damon Alexis-Rochefort
Brett Fallis
8,410,000
2
249
9055
Monday 12th December
2
Damon Alexis-Rochefort
Brett Fallis
8,290,000
3
250
9056
Wednesday 14th December
Ellen Taylor
Brett Fallis
7,760,000
4
251
9057
Thursday 15th December
Ellen Taylor
Brett Fallis
7,220,000
10
252
9058
Friday 16th December
1
Martin Allen
Brett Fallis
7,630,000
5
253
9059
Friday 16th December
2
Mark Wadlow
Brett Fallis
7,300,000
8
254
9060
Monday 19th December
1
Ella Greenhill
Diana Patrick
8,200,000
5
255
9061
Monday 19th December
2
Julie Jones
Diana Patrick
7,410,000
12
256
9062
Wednesday 21st December
Jayne Hollinson
Diana Patrick
8,170,000
6
257
9063
Friday 23rd December
Chris Fewtrell
Diana Patrick
7,600,000
10
258
9064
Saturday 24th December
Chris Fewtrell
Diana Patrick
6,370,000
25
259
9065
Sunday 25th December
Jan McVerry
Duncan Foster
8,120,000
7
260
9066a
Monday 26th December
1
Joe Turner
Duncan Foster
7,600,000
6
261
9066b
Monday 26th December
2
Joe Turner
Duncan Foster
7,550,000
7
262
9067
Friday 30th December
Martin Allen
Duncan Foster
8,146,000
4
Storylines
January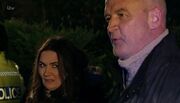 Jason Grimshaw makes proposals to convert the Viaduct Street archway into Webster's Autocentre's new bodyshop but Kevin gives the job to another builder, Ron Temple who sub-contracts to Jason. A bankrupt Pat Phelan is one of Ron's workmen. Anna is horrified to see him back. Phelan admits to Kevin they have a history but refuses to leave when she asks him, agreeing to stay out of her way if she'll stay out of his. Kevin takes Phelan's side when he advises him that Ron is ripping him off with the number of supplies that he's buying. Kevin sacks Ron and gives Jason and Phelan the job. Gary Windass attacks Phelan when he sees he's back and Kevin demands to know the full story of why there is so much bad blood between him, Gary and Anna. Ashamed of sleeping with Phelan, she remains tight-lipped and gets Gary and Izzy to do the same but tells Kevin they don't have a future together if he's on Phelan's side.
Jamie Bowman is released on bail. Luke Britton and Andy Carver find out he's working in a bar and inform his manager of what he's done. She sacks both him and his friend Lee who vouched for him. They plan to rob the bistro to revenge themselves on Steph Britton, but Carla is the one they inadvertently attack. Tracy, hidden on the premises, has just overheard her and Robert talking about their one-night stand and, unseen by anyone, leaves her to her fate but forgets to take her phone. Carla gives chase when the men snatch her bag and is badly injured when they drive off. She is operated on for a ruptured spleen. Tracy is interviewed by the police when they find her mobile, and she admits to an appalled Robert that she did nothing to stop the robbery. She vows revenge against Carla for sleeping with Robert. As Carla recovers, she remembers that one of the robbers mentioned Steph's name. She directs the police to Jamie who arrest him, and Tracy is no longer under suspicion. Steph is furious with Andy and Luke for taking actions that resulted in Carla being hurt.
Ken tries to be more than friends with Audrey Roberts, but she tries to avoid him. When she collapses with angina, he finds her, and she admits to him that she's been in love with him for months. Once she's recuperating, she refuses to discuss what she said with him.
Gail Rodwell asks Jason to quote for underfloor heating in the annex. He thinks a damp patch on the floor could be the cause of the problem but David and Kylie Platt refuse to allow him to carry out any work.
Sally decides to stand for the council as an independent. Although the residents are bemused, Ken agrees to be her campaign manager and Sophie is asked to run her media operation.
At her request, Sophie sets up Rita on social media. She's perturbed when Jenny Bradley sends her a message, worrying that she's in trouble again. They meet and Rita finds she's trying to get her life back together and living in a squalid bedsit. Finding her scared of abuse from local youths, Rita brings her back to live at 10a Coronation Street. No one is pleased to see her back, but Kevin realises they have common ground in having lost a child and tells her she's welcome to stay, provided she keeps away from Jack Webster. His support silences the others.
February
Kevin and Anna make up and she tries to move on, though she finds it difficult with Phelan around. Unable to find his next job, the builder sabotages a fuse box causing a week's delay to the garage work. Anna suspects him of the sabotage but grows angrier as she fails to convince Kevin. Jason takes Phelan on when he lands a contract converting some flats. Michael Rodwell starts to grow uneasy as Phelan charms Eileen Grimshaw. Livid that Phelan is staying in the area and that few people can see through him, Anna attacks him and his van. Gary warns her she's playing into Phelan's hands and Kevin finishes with her. He changes his stance when he walks into the cafe and interrupts Phelan physically threatening Anna. She won't forgive his disloyalty and the Grimshaws won't listen to Kevin's warnings about the man.
The bodyshop is opened for business.
Mary hides herself in No.7, busying herself with the twins. Erica persuades her to face the outside world. Mary gets paralytic on a girls' night out with Liz and Erica, and drunkenly points out to Dev how much he and Erica fancy each other.
Fiz sells her engagement ring. She and Tyrone economise to the bare minimum, and Luke voluntarily increases the rent he pays them by £50 a month.
Hearing about the problems that Jenny caused for Sophie, Kate takes against her until Rita makes her hear about the trauma of the death of her son. Kate sympathies change. To Sally's anger, Jenny is taken on as the Underworld cleaner. Jack wanders into the factory when he sees her working there after hours. Kevin thinks he's missing again and blames Jenny for kidnapping him when he sees them together, only dropping the accusation when Jack corroborates her innocence. Tired of accusations, she prepares to leave the area, but Kevin persuades her to stay.
Kate drops out of an evening at the O'Driscolls for a dinner party and persuades Aidan to take Eva instead. She makes the evening a success. Underworld gets a new contract with

O'Driscolls

and Johnny comes up with the idea of photographing real women wearing the line rather than models. Sinead Tinker is given the job and is a success in the role, though Chesney Brown is jealous when she gets further assignments.
Unbeknownst to anyone, the O'Driscolls have a modern slavery worker in their house from

Poland

: Marta Zarek. On the night of the party, she escapes by hiding in the back of the Underworld van and then secretes herself in the factory. She steals the staffs' lunch boxes and Sean Tully's coat for warmth, causing further conflict when the staff suspect Jenny. Eva finds Marta and hears how her unnamed captors confiscated her passport and threatened her family if she tries to return home. When the staff start to suspect someone is in the factory, she makes a run for it, knocking Izzy over in the process. Aidan is shocked by Marta's circumstances when Eva informs him. Eva finds Marta after searching for her and offers her shelter. She confesses to Billy Mayhew and Eva that the O'Driscolls were her captors and Eva determines to get the girl's passport back from them.
Simon joins a football team. Leanne becomes friendly with the team's manager Tom Finlay, embarrassing Simon when he plays and has to endure ribbing from Kyle and the other players. He commits a bad tackle on Kyle in which the lad breaks his leg. Simon insists it wasn't committed in anger, but Leanne isn't convinced and decides it's time to report his violence to the police. He's taken in for questioning where he has an anger outburst. Tom produces mobile footage of the match showing the tackle was an accident and Leanne feels guilty for what she's done. She retracts her complaint and arranges for Simon to go with Ken and stay with Peter for half-term. He's glad to get away from her and, when he returns, his in a happier state of mind, though he elects to stay with Ken for a short while longer.
Sally badgers Ken and a disinterested Tim to work on her campaign. A by-election is called for four weeks' time and Sally stands. Audrey also helps her out. Ken drops out and suggests Norris as a replacement. Mary is also interested and the two argue, with Sally having to choose Norris as the better candidate for the role. She fires him after a week when he uses her name to fight a new Freshco development without her permission. He decides to stand against her himself. Jason hopes to get a building contract from the new store.
Kate threatens to cancel her wedding unless Aidan and Johnny bury the hatchet. Johnny tries to reconnect with his reluctant son. Caz Hammond returns briefly, unhappy that Kate found Sophie to be a support when she found out that her father had another daughter.
In intense pain after dislocating her hip during Marta's escape, Izzy takes up Erica's offer to procure her some cannabis. When her supplier moves to Spain, Izzy buys from another dealer in Manchester, but he cons her by selling her oregano. Gary has to rescue her when she returns to confront the man and learns how she needs the enhanced painkiller. He tries to find another source for her.
David struggles to run the salon on his own and puts the wrong dye on Beth Sutherland's hair. She suffers an allergic reaction and blags a year's free hairdos from Audrey in compensation after first suspecting it's the food at the bistro which caused the problem.
Carla returns from hospital and Johnny overhears a conversation between her and Michelle Connor about her sleeping with Robert. She warns him off trying to interfere in her personal life when he confronts Robert. She and Michelle go to a wedding fair, only to find Tracy and Robert there as well. Tracy goes to Carla's room where she withholds her painkiller medication and phone until she confesses to an affair with Robert. Michelle arrives and saves her. Carla realises Tracy has a hold over her as she could tell Nick about her sleeping with Robert. Tracy gives her a week to persuade Nick to sell the bistro and leave the area. Nick agrees to the idea, and they plan to move to Devon. Robert makes an offer of £90,000 to Nick for his share of the bistro, delighting Tracy. An unwitting Ken offers to release some of Deirdre's trust money to enable Leanne to match the offer to secure Simon's future. Tracy blackmails Carla for another £10,000 for Robert to beat the bid which she obtains by stealing the funds from Underworld's account. Nick chooses Robert's offer, though Johnny sees the funds are missing and demands answers from Carla.
Having greater ambitions for Tim than being a window cleaner, Sally buys him Lloyd Mullaney's 50% share in Street Cars which he reluctantly accepts, but he then starts to enjoy the role.
Zeedan Nazir takes a liking to Alya Nazir's old university friend Rana Habeeb when they meet for lunch at the bistro. A nurse by profession, she gets a job at the medical centre. Alya dislikes her flirting with her brother.
Andy treats Steph to a luxury spa break for her twenty-first birthday. Jamie is given three years in prison for posting Steph's images online.
Sarah Platt discovers Bethany Platt has been playing truant from school on a regular basis.
Audrey, Gail and Michael join V Court Fitness.
March
Bethany is being bullied at school by Lauren and her gang. She loses her temper with her family. Todd tries to find out what's upsetting her but it's Kylie she opens up to. Luke steps in when the bullies confront Bethany and the Platts find out what's going on. Sarah visits Lauren's mother to put an end to her daughter's torment and finds out it's not the first time she's behaved in this way. Lauren steals Bethany's phone.
Eva is caught trying to steal the passport. Richie tells Johnny he can still have the order but insists that Eva is sacked. Marta does a runner, stealing Billy's phone. They use the tracker app and find her in

Bolton

. Billy takes her to the O'Driscoll's house for her passport, but Julia merely ushers the girl inside and shuts the door on him. Billy checks up on her a few days later and is told she has gone back to

Gdansk

, but Eva catches a glimpse of her at a window. Aidan doesn't believe her until he goes to the O'Driscoll's house himself to discuss their order and sees Julia padlocking a bedroom door. He advises Billy and Eva that the O'Driscolls will be at an exhibition tomorrow and that will be an ideal time to rescue the girl. The exhibition is cancelled and Aidan rushes to the house where the O'Driscolls have returned early and have had a fight with Billy. Aidan punches Richie when Eva is threatened. The police are called, the O'Driscolls are arrested and charged, and Marta returns to Poland.
Jason offers Andy some building work, pleasing Phelan who is happy to drive a wedge between Michael and the Grimshaws while he gets his feet under the table. Anna counsels Michael to keep away from Phelan. Andy overhears Phelan selling some of Jason's tools for his own benefit and tells Michael. He confronts him but suffers sudden chest pains and is taken to hospital where he repeats the accusation. Phelan presents the tools, polished and cleaned as a supposed favour and is happy when Eileen accuses Michael of being paranoid. Convinced that Phelan is moving in on Eileen, he follows their movements. He ends up being ditched by Eileen for not trusting her. Phelan integrates himself further with Eileen by saying he does have feelings for her. Anna tries to warn Eileen by telling her what happened between them, but Phelan gets in first by saying it was a one-night stand. Eileen thinks Anna is just bitter. She has doubts when Izzy backs up her version of events, but Phelan entices her back by pretending that she's blown it for good with him. They sleep together. Phelan spreads it around that he and Anna had an affair, shocking Kevin and the other residents. Anna tells Kevin the truth and they are totally reconciled when he fully takes her side. Kevin enjoys getting under Phelan's skin by sending a bottle of wine to his table when he and Eileen dine at the bistro, unnerving her with his threatening manner. Todd makes it clear to Phelan that he doesn't trust him.
Gail comforts Michael and they kiss but then he grows cold on her again. He buys an ice cream van, planning to move to Brighton and take up his old profession there. Andy advises him to try again with Gail, but an interfering Mary has also advised her to play it cool with him. Michael thinks there's no chance of a reconciliation and leaves, upsetting Gail.
To get Dev and Erica together, Mary scuppers a date he has with snobby fellow golfer Karen Dodson by telling her she's just the latest in a long line of women. Erica seduces Dev with a passionate kiss, though he is at first uncertain about a relationship. He receives a wedding invitation and asks her to be his plus one. They agree to be more than "friends with benefits".
Sally decides to be the face of family values but at a public debate between her and Norris, she's mortified when Jenny reveals that Tim told her he was imprisoned for his part in the poll tax riots in the 1990s. Norris is delighted until Sally makes a well-received impassioned speech. The two endlessly compete against each other with semi-underhand tactics. Sally wins the election, but Norris doesn't rise to her gloating, much to Rita's admiration. Sally throws herself into her new role. She orders the Nazirs to fix their fence when Sharif Nazir's chickens come through to her garden. Tim dislikes working at Street Cars.
Rana looks for somewhere to live in the area, flirting with Jason, and amused that she's making Zeedan jealous. She notices the tension between Alya and Jason and finds out they slept together. She and Zeedan start to date but Javed, her ex, warns him that she cheated on him with one of his friends.
A useless trainee, Josh Hallman, doesn't even last a full day at the salon. Gemma Winter is the next applicant who sees Sarah is pregnant, deduces Callum Logan is the father, and threatens to tell him unless she is given the job. Seeing how her indicating to people that Callum is still alive is useful to them, David persuades Audrey to take her on. She barely lasts a day before David loses patience with her attitude and sacks her. Dev takes her on at Prima Doner when she easily sees off some threatening youths.
Kylie is upset when a favourite client, Sadie Smith, dies. She steels herself to do her nails to enable her to go out in style as a favour to her widower, Freddie. He buys her a drink as a thank-you and meets Audrey. Kylie panics when she visits his house and thinks he has overdosed but he's only taken some sinus tablets. She helps him clear out his wife's things.
A scan reveals Sarah's baby is a boy. After a scare when the baby stops kicking, Sarah goes into premature labour. She gives birth by caesarean who she names Harry at Bethany's suggestion. Gemma tips off Marion Logan who arrives to see her grandchild, but Sarah angrily throws her out, worrying David and Kylie that she's over-stressing herself. David rings Marion and orders her to stay away. Max Turner worries that Callum will try to visit his brother and has to be reassured. Sarah grows concerned that something is wrong with her baby but is told that it is more than an infection.
Tyrone looks for extra work to earn cash to avoid scrimping. He is taken on by Sally as her "odd job" man. Tim offers him a cabbie's job, but Eileen points out that he needs the £300 special driver's licence.
Max and Lily Platt wreck No.8's kitchen with spray paints after Craig and Caitlin try to interest the youngsters in art while baby-sitting them. Jason gives David a quote for fixing the damage.
Having lost the O'Driscolls' business, Eva and Carla help Aidan and Johnny drum up some new customers. Aidan is impressed with Eva's help, and they kiss.
Tracy tries to sack Leanne from the bistro and gets a dressing down from Robert. Carla puts her flat up for sale and has to endure Tracy's sniping when she has a viewing. Carla tries to delay the sale of the bistro until she and Nick are safely married and in Devon, but he and Robert seal the deal early. Carla is on edge that Tracy will now reveal all. Robert gets annoyed with Tracy as she starts to lord it over the bistro staff. She enrages Robert when she arranges for the bistro name to be changed and he insists it remains as it is. Humiliated by Robert, she takes her temper out on Carla, earning herself a slap from her. Robert suspects that Tracy knows something and wonders where the £10,000 came from.
Michelle visits Steve for a weekend. She gains wedding client Saskia Larson who is getting married to Will Chatterton, Michelle's first boyfriend from their teenage years. The two are reunited and Liz sees how well they get on.
Izzy pain continues, and Gary gets stronger drugs for her from Dane Everton, his supplier. These cause an overreaction and Anna finds out what's being going on. She takes possession of Jake from Izzy until she's fit to look after the child.
Gemma tries to help Bethany when she sees the bullying. She offers to sell her an old phone in return for information on Jason who she's taken a fancy to.
April
An overprotective Sarah brings Harry home. She organises his christening, annoying Gail by her choice of Carla and Todd as two of the godparents. She finds it hard to cope at the event and Billy comforts her, worrying Kylie about what she will tell him. The family forget Gail's birthday so they hastily organise a joint birthday and christening party.
Caz rings Kate from her army base in Cyprus and is put out to hear that Sophie was with Kate when she tried on her wedding dress. Sophie starts to fall for Kate. When Caz comes back for the wedding, she warns Sophie off her fiancée, but Kate has had second thoughts and, on the eve of the hen night, asks Caz for a postponement. Caz finds her and Sophie together kissing. She leaves after lashing out at Kate who is confused as to exactly who she wants, however within a couple of weeks Caz suffers an accident in the army and ends up on crutches. Kate arranges for her to stay while she recuperates. Caz guilt-trips her into cutting Sophie out of her life.
Izzy takes back Jake, promising Anna she will see a doctor, but the medical centre doesn't prescribe her the level of pain relief she requires. Dane meets Gary at the gym to supply more cannabis, but Sharif grows suspicious that he's dealing steroids. He tries to entrap him, but Gary sees through it. Seeing Dane and Gary together again. Sharif calls the police who search Gary and arrest him for cannabis possession. To help him, Izzy confesses but while she's released on a caution, Gary is charged with dealing, making things worse for him. When Gary refuses to leave the gym, Sharif takes legal advice, but Alya makes him change his mind. A supportive Johnny lets Izzy keep her job.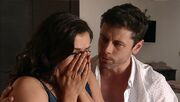 Michelle helps Will with his wedding plans, admitting to him how upset she is at Steve's continuing absence. Liz doesn't like the two old sweethearts being together and the two argue when she finds Will helping her clean up after closing. Realising that her own feelings for him are growing, Michelle asks him to find an alternative wedding planner. When Saskia can't find one, Sean steps in to handle all the correspondence between the two parties so Michelle doesn't have to be involved. However, Will claims he isn't up to the job, so Michelle has to step in again. Upset that she hasn't heard from Steve as her 40th birthday approaches, she's taken aback when Will confesses that he still has feelings for her. Steve plans to return as a surprise. She finds out from Tim about his imminent arrival but when Steve isn't on the expected plane, she leaves her own party and goes to Will's house when she knows Saskia is away. The two almost sleep together but consumed with guilt she returns home to find a delayed Steve there. His return discomforts her, especially when Will tells her that Saskia has left him because of his love for her.
An environmental health officer calls at No.6 following a complaint made about the chicken coop. The Nazirs guess it was Sally. They relish telling her it passed with flying colours. They agree to go halves on a new fence but Yasmeen deliberately winds Sally up by moving the boundary in her favour. Sally puts Tim on his best behaviour when she meets council manager Gerald Dutton and his wife Anne in the bistro to discuss the Freshco development, but he's late arriving and leaves when he hears Sally making false claims about his business successes, making him feel that she's ashamed of him.  
Freddie joins Ken and Audrey for drinks in the Rovers where a boisterous stag party almost starts a fight which Freddie defuses, impressing Audrey but making Ken jealous. Mary gets drunk with the stags and has to be rescued from going off with them by Erica. After a few weeks, Ken invites Audrey for a drink and is disappointed when, oblivious to his feelings, she brings Freddie and Kylie along.
Worried that she's pregnant, Tracy tells Robert that she knows about him and Carla, and also her efforts to get her to leave the area. Appalled by her actions, he dumps her after a test shows that she's not expecting after all. Scared that Tracy might say something to Nick, Carla pleads with Robert who returns to Tracy, but he threatens to finish with her for good if she wrecks Nick and Carla's relationship. Wanting to keep on his good side, she washes dishes at the bistro.
At Amy Barlow's violin lessons, Liz gets friendly with Chris Trenton, the father of Sam, another music pupil. Chris finds her attractive, but she doesn't correct him when he assumes that she's Amy's mother. When he brings her flowers and compliments her, Mary and Eva find out about Liz's little white lie. Amy also finds out and lightly blackmails her grandmother for money and a new dress. Chris continues to call on Liz.
Aidan obtains a new contract for Underworld, securing the workforce's jobs. He takes Eva back on.
Nick finds a restaurant in Devon he likes but it falls through. He intercedes when he sees Lauren bullying Bethany again and loses it with the girl, wrenching her bag from her. She and her mother come round to No.8 to complain, and Nick gives them £10 in compensation. David worries that he's lashing out again, but his brother angrily denies it. When Carla witnesses another outburst, David asks Nick to see a brain specialist. He books a scan, confiding in David that if there is something wrong, he can't marry Carla. When Bethany tells Luke that she's still being bullied, he collects her from school in a Mercedes that he's test driving, making Lauren's gang jealous.
Maria and Liam return from Cyprus. Luke is pleased to have her back, unaware that she is taking calls from someone called Pablo. She meets him at a restaurant. Luke follows and finds the two are married, having entered into an arrangement so Pablo could enter the country and be with his British boyfriend. Unsure of who she has become, Luke finishes with her, but they make up when she begs him to reconsider. He proposes to her, and she accepts. He moves into her flat, depriving Fiz and Tyrone of his rent.
Tyrone sells scrap metal to raise the £300 for his cab driving licence, filling up No.9 with rubbish but raising the final sum through Norris after he falsely accuses him of stealing the street signs.
Sinead agrees to more modelling to raise the money to enable Chesney to visit Joseph in Portugal. On the eve of the flight, she falls ill so Chesney goes on his own, leaving her to wonder if he likes her after all.
Gemma forces Chesney to put in a good word for her with Jason but nothing results from her interest. Phelan pushes Jason into applying for the full Freshco development contract, annoying Rita when he cancels a job to fix her guttering to gain himself the more lucrative work. Todd completes the work as a favour. Phelan sabotages a protest meeting about the Frescho plans by trashing the community centre before it can take place in there. Todd makes it clear that he suspects him. Jason's Construction gets the job of fixing the centre up. Todd tries to interest Yasmeen and Jason into checking the CCTV to find out who the vandal was, but Phelan was careful to unplug it and warns Todd off from interfering. The yard gets one of the Freshco jobs. Jason is devastated when the police inform him that Tony Stewart has been found dead of a heart attack. Phelan takes advantage of his grief-stricken state to try and take over operations at the yard, but Jason's sudden return spoils his plan. Jason takes his anger out on Liz and Eileen. Phelan comforts Eileen and, needing his supportive presence, she asks him to move in. Eva tries to sympathise with Jason, but he angrily rejects her advances, causing a fight between him and Aidan. Johnny stands up for his son, while Phelan does the same for Jason, and earns a punch from Johnny. In front of an interested Jenny, Phelan tells him he'll get his revenge.
Cathy takes an interest in Alex when he complains that his mother neglects him and spends his time getting drunk with friends. Cathy gets Roy to agree to let him move in when he confesses his unhappiness about moving to Inverness with Nessa and her new boyfriend.
Yasmeen pushes Rana into giving a first aid course in the community centre. There, she tries to seduce Zeedan in the stock cupboard, but he refuses, saying he has too much respect for her. He dumps her when he finds her flirting with a doctor from the medical centre.
Billy snaps at the people around him, causing them to be puzzled. He claims it's stress but avoids calls and messages on his phone. Eva sees him giving money to an unkempt young lad, Lee, and assumes he's helping a homeless man. Lee contacts him again, pushing the reluctant vicar for more money.
May
Johnny sticks up for Jenny when the factory staff continue to give her the cold shoulder. Tim books a mini-holiday for him and Sally. She boasts about it at work and is humiliated when she discovers that Blackpool is their destination. She refuses to go, so he takes Kevin and Jack on the same day that Jenny and Johnny are also there, where she is trying to lay the ghost of Alan Bradley to rest by seeing where he died for the first time. Jenny saves Jack when he steps in front of an oncoming tram. Sally and Sophie express their gratitude to Jenny, though Sally can't hide her irritation when a journalist interviews her about her bravery, annoying Johnny who is starting to grow attracted to Jenny. A wily Jenny keeps him at arm's length when Kate tells her that he proved all the keener when a previous girlfriend gave him the run-around. She gets Johnny to give her a special training lesson in sewing.
Sophie suspects Caz is playing on her injury to hang on to Kate. When Sophie talks to Caz about the nature of her accident, she grows evasive, making her suspicious. Kate tells Caz she has to move on from her jealousy of Sophie or they might as well finish. She agrees, though continues to be jealous. The three try to be friends but Sophie is taken aback when Caz implores her not to take Kate away from her.
Zeedan and Rana get back together when she makes it clear she's not giving up on him.
Billy catches Lee begging Steve for money. Sean tries to book a holiday for the two of them in Ibiza, but Billy shows no interest, being more caught up with worry about Lee. Sean worries that Billy has found someone else. Billy gives Lee a room at the rectory when he is caught attempting to steal Erica's handbag. He then steals from Preston's Petals. Billy stops Todd altering the police, revealing that Lee is his brother and a heroin addict, just released from prison. Todd reluctantly agrees to keep the revelation to himself but warns him that Sean thinks he's cheating on him.
Roy returns unexpectedly from Hastings as Sylvia's health has improved. He's furious when he finds Alex hosting five friends in a booze-up in his flat on what was Hayley Cropper's birthday and tells him and Cathy to pack their bags. After a period of reflection, he calms down, allows them to stay and bonds with Alex when he introduces him to his PlayStation. Carla hands over the care of Roy to Cathy once she has gone to Devon. Cathy admits to Anna she'd marry Roy in a heartbeat. She proposes to him and, after some time considering the matter, he accepts.
Sinead is disappointed when Chesney prolongs his visit to Portugal. She tries to maintain their relationship by video calls. When he returns at the end of the month, he upsets Sinead when she sees him getting on well with Gemma and she gets drunk, leaning in on a horrified Aidan for a kiss.
Caitlin finishes with Craig when she enrols at

Dundee University

, saying they won't be able to maintain a long-distance relationship.
Rushed off his feet at the garage, Kevin agrees to Kylie's suggestion employ Freddie, who refuses having a drink with a disappointed Audrey as he's now too busy.
Tyrone gets his cab licence.
Izzy needs more pain relief and meets dealer Marc Randall at her house. He has been followed by the police who conduct a raid as they're doing a deal. Desperate to see Gary who is appearing in court on his supplying charge, she loses her temper and runs over PC Burke's foot in her wheelchair. Gary is given a suspended sentence while Izzy's present supply of cannabis is found, and she is charged with assault and possession. She and Anna fall out over the incident. Gary moves in with her to help her with Jake Windass.
On the day of the wedding at the bistro, Tracy pushes Johnny too far when she manages to cancel the flower order for the wedding, and he has to buy replacements from her at the exorbitant price of £900. Not trusting her, he lures her to the factory for the money which he claims is in the safe and locks her in the stockroom to prevent her from interfering with the ceremony. Jenny finds out what's happened and guards Tracy for him so he can attend the wedding. Unable to deal with the guilt, Carla stops the ceremony and, alone with Nick, confesses her adultery to him. Shaken by the revelation, David convinces him to forgive her and the ceremony proceeds. Tracy lights a fire to set off the factory fire alarm. Investigating, Aidan releases her. She finds she's too late to stop the wedding. Nick suddenly decides he could never trust Carla and dumps her. Robert finishes with Tracy for her actions. In a state, and trying to drive away, Carla sees Tracy and aims the car at her. She hits Cathy instead. Trying to avoid the collision, Tyrone drives the garage pick-up into No.8's annex and caves in the manhole. Cathy suffers concussion. Disgusted with her mum, Amy moves out of No.1 to live with her dad. Callum's decomposing body is found when the pickup is towed out. The police identify it and begin a murder investigation. Carla leaves for Devon, having made her peace with Roy and Cathy. David, Sarah, Kylie and Gail are all arrested. David is the prime suspect, but he successfully diverts the police's attention on to Jason.
Norris is rude to Phelan when he asks him to look at No.3's roof tiles and he turns down the job.
June
A jealous Eva finds out about Sinead trying to kiss Aidan and then tells Chesney. He walks out on her, but Gemma persuades them to reconcile.
Sylvia pressures Roy to return and look after but he refuses when he finds out that her health is fine. He gives Cathy an engagement ring.
Phelan scams Norris by having crooked friend

Alastair Burton

buy the slates off No.3's roof, claiming

Edwardian

-era roof tiles are an expensive commodity, and then driving off with them without paying. Phelan pockets half the money, and also gets a contract from Norris to replace the stolen slates.
To help Jason, Todd pressures Sarah who breaks down and says she's responsible for Callum's death. He misinterprets her words and thinks she's confessed to killing him. He seeks Billy's advice as he wants to protect Sarah just as much as his brother. Billy tells him he's got to do the right thing. Sarah keeps thinking she's seen Callum alive. She becomes over-protective of Bethany, wanting to keep her on a close leash. Gemma refuses Jason's further advances, accusing him of murdering her friend. Todd tells the police that Tony killed Callum. They don't believe him but have no further evidence with which to convict David. Jason is upset that his father's reputation is tarnished and refuses to believe his brother's allegation. Billy decides not to get any further involved in the matter. Jason goes for David and the two men have to be separated. He gets Phelan to hide his dad's tool bag before the police can find it and the wily builder uses his distracted state to carry out a theft from the yard. Wanting to establish his father's guilt or innocence, Jason hands over the tool bag. The police find the murder weapon in the bag and Tony is officially declared the murderer. Callum's friends are out for revenge and Phelan arranges for Jason's van to be torched to make him think his life is in danger. Using his dad's money, Jason moves to

Thailand

leaving a triumphant Phelan in charge of the yard.
Yasmeen and Sharif go away for the weekend and Zeedan invites Rana round. He annoys her when he refuses to go to bed with her, saying he doesn't believe in sex before marriage.
Steve injures his arm lifting a barrel. Tracy fails to get Amy to return home. Amy finds out about Michelle and Will. She uses the information to blackmail Michelle into letting her stay at the Rovers, but it is Saskia who angrily accuses Michelle of an affair in front of Steve. The two admit they almost slept together but changed their minds. Steve can't forgive Michelle for considering being unfaithful. Their rowing makes Amy thinks she's not wanted, and she runs away. Michelle finds her but Tracy blames her for the situation occurring in the first place. When Steve doesn't back her up, Michelle leaves him and moves into Carla's empty flat. She tries to effect a reconciliation when Steve helps her clear out a spider, but the two are soon at loggerheads again. Tim gets Steve to sign up to dating websites to make him see how much better off he is with Michelle, but the plan backfires when she sees them on his phone and considers taking up a singing engagement on a cruise ship. Liz returns from Spain and she and Tim try to get the two together again but fail. Michelle leaves, but Maria finds her in Carla's flat where she admits the cruise ship job fell through. Amy finally manages to get them back together.
Expecting the worse in court, Izzy loses her temper when questioned by the

prosecution solicitor

and admits she has no regrets about buying cannabis. She is found guilty and released pending a pre-sentencing report.
Leanne and Simon return from Portsmouth and she hears about what happened at the wedding. She tries to persuade Robert to sell Nick his share of the bistro back, but he refuses. Leanne resigns in anger, making Robert take his temper out on the other employees. Leanne and Nick dine at the bistro where Nick delights in pointing out all the faults to other customers. Leanne refuses a 30% pay rise to return to work, even though she has to find £500 to send Simon to a football camp. She gives in to Robert, but he reduces the pay rise to 25%. Nick is hurt by her seeming betrayal and even more so when he overhears Leanne saying she pities him. She tries to apologise but the two have trouble connecting again. With both of them having relationship troubles, Leanne and Steve enjoy a quick fling.
With Sally away, Tim, Steve and Craig drink Tim's homebrew. Craig gets drunk, annoying Beth who Sophie has to placate her by giving her free beer. Sally returns and is drenched when an ale-filled keg explodes in her conservatory. Sophie suggests Tim erects a summer house in which he can continue his brewing activities. He and Craig build it badly when they decide not to bother reading the instructions. Sally gets Phelan to complete it properly and then invites council colleagues over for drinks. Infuriated by her snobbery, Yasmeen tries to sabotage the event by getting Tim to have local mates round at the same time to sample his home brew, but the councillors also like the ale, saving Sally's face.
Todd alerts Billy when he finds Lee unconscious in the ginnel and helps get him into the vicar's car. A jealous but unwitting Sean see Billy give Todd a hug of thanks for his assistance and dumps Billy, who burdened with his own and Sarah's secret, accepts they are over. However, he admits to Todd that he has in fact also fallen for him. Billy's guilt increases when Marion asks Billy to conduct Callum's funeral. Sean tries to effect a reconciliation, asking Todd for his help. Billy finds the funeral overwhelming when both Sarah and the police are in attendance. Lee pressures Billy for more money, and failing that, turns his attentions on Sarah, conning her that his brother has asked him to look after her. He locks up her up in his flat for £1,000 but she is rescued by David. Billy disowns Lee. Sarah's paranoia that Callum is still alive increases, and she barricades herself inside No.8. The family force themselves in and she is hospitalised undergoing psychiatric treatment.
Kate and Maria join a belly dancing class at the gym where Kate is attracted by Bella, the instructor. Caz makes her jealousy known but Kate is adamant that she can have other friendships. Caz's attitude annoys Sophie. Luke has suspicions about Caz when he overhears her rowing with someone on the phone, demanding they change their story.
Alex isn't bothered when Nessa takes an extended trip to

Bali

. He throws a sickie at work to go racing cars illegally with his friend Jordan but is caught out by Cathy, who throws Jordan out of the cafe. He then "borrows" Roy's car without permission to take Gemma to visit Callum's grave. Roy feels duty bound to report it stolen when Alex confesses. He is let off with a caution, but Roy's principled stance causes a rift with Cathy.
Bethany struggles with her schoolwork and, receiving no help from her mother, walks out of an exam. Seeing a letter from the school, Gail agrees to keep quiet to keep any further pressure off Sarah.
Beth upsets Kirk when she calls him thick when talking to an old frenemy at a school reunion. She buys a sexy outfit for the night to make it up to him, but Norris makes him see that she's trying to buy his forgiveness and walks out. Rita makes Norris put Kirk up as he caused the split. Kirk refuses to return as he enjoys his cooking while he infuriates the newsagent by beating him at endless board games. Norris tries to make him stay, determined to beat him, but Kirk realises he still loves his wife and returns to her.
Tracy suffers kidney pains, but Robert is dismissive of her complaints. Beth takes her to the medical centre.
July
Tracy is upset when Amy fails to tell her about a violin recital she has at school and turns up invited, putting her humiliated daughter off her concentration. Tracy collapses in the ginnel. After she is found by Beth and Robert, she is taken to hospital where a kidney infection is diagnosed. Recovering, she devastated when Amy refuses to visit her or speak to her when she's discharged. An obvious attempt to buy her daughter off with presents fails. Amy moves back to No.1 when she realises how much Tracy misses Deirdre Barlow on the anniversary of her death.
Gary comforts Izzy with a kiss on the day of her sentencing, giving her hope that the two could get back together again. Everyone is shocked when she is sent to prison for two months.
Phelan's plan to empty the business's bank account is thwarted when Jason gives Eileen control of the finances. Oblivious to his fury, she plans to cut down her hours at Street Cars so that she can help him out at the yard. He persuades her to raise the rent of Andy and Steph's flat. Michael returns from Brighton, angry when he hears the news as he can see who is pulling the strings. He resolves to stick around until people have seen the crooked builder for who he really is.
Chesney goes to see a sick Cilla Battersby-Brown, leaving Gemma in charge at the kebab shop. She and Kylie resume their friendship. Macca harasses her for free kebabs, turning up with teenage tearaway Clayton Hibbs. Gemma ends up paying for the food herself. Sinead misinterprets what's happening. Chesney checks the takings and finds that Gemma is innocent. Clayton blackmails Gemma into changing forged £20 notes at the shop. She initially complies out of fear but after Dev spots them in the till, she throws Clayton out when he calls again.
As Caz integrates herself with the other residents, Luke sees signs that her injury is faked.

Lynda Aitken

, Caz's army welfare officer, calls on her wanting to know why she missed her physio appointment whilst also awaiting her court martial. Caz threatens Sophie to keep away from her and her fiancée. When Clayton tries it on with Kate, Caz attacks him and Kate sees that she isn't as badly injured as she made out. Caz tells her she did it to spend more time with her. Kate's appalled when she finds out that the court martial is for badly injuring another woman soldier in a fight and finishes with her. Maria is sympathetic to the motives that Caz imparts to her and invites her to secretly move into the salon flat to give her time to affect a reconciliation. Instead, she grows jealous of Kate and Sophie's ever-closed friendship. Luke is perturbed by Caz's presence. Kate sees her and gives her marching orders, but Maria is taken in by Caz's false tears and lets her stay, much to Luke's fury.
Sarah begins her therapy sessions with

Dr Eamonn Parker

with the family joining in to help her. She begins to recover. Lauren overhears that Bethany's mother is in psychiatric care and gets a gang of her schoolmates to torment the girl, saying that Sarah's a psycho. Gail insists David and Kylie sleep in the annex from now onwards. Kylie feels guilty that her actions brought so much pain to the family. Max is traumatised when Asha playfully locks him the in the annex. Kylie resolves that they have to get away from the house and its memories and persuades David that they should move to Barbados. David begins proceedings to formally adopt Max.
Seeing that Gail still holds a candle for Michael, Kylie gets him to call at No.8 on a false pretext and the still-married couple hit it off again. Michael begins to spend nights with Gail.
Erica has to pull out of a spa weekend with Dev at the expensive

Morgrave Hall Hotel

and suggests Mary takes her place. Dev is horrified to find that double-bed booking hasn't been changed. Mary offers to sleep on the sofa but the two get drunk and end up sleeping in the same bed. Mary has to assure him and Erica that nothing further happened as he passed out drunk.
Billy grows closer with Todd when he helps him at the flower shop. He accidentally leaves his phone there and Todd mischievously returns it to Sean. Todd can't bring himself to split the two men up but neither Todd nor Billy can stay apart from each other. On the eve of a trip to see Dylan Wilson in London together, Billy splits with Sean, lying to him that there isn't anyone else involved. Knowing the truth, Tracy engineers a meeting between the two men where they finally kiss passionately. The bishop almost catches the two men together when Todd calls at the vicarage. Eileen grows suspicious that her son has a new man in his life. He denies anything untoward but over the Street cars radio she overhears the two men talking in a waiting cab and confronts them for betraying Sean. She demands her son comes clean to her lodger.
Leanne and Nick grow close again. Robert continues to pester her to return to the bistro and Nick warns him off. Leanne is stunned to find out that she is pregnant, and the thought makes her grow distant with Nick. She hides the news from everyone, but her morning sickness makes Simon think that she's ill and she's forced to confess her condition. Wanting Steve to know he's the father, she breaks the news to him, but assures him she wants nothing from him and no one else need ever know. Liz sees that her son is acting strangely and drags a confession from him. Michelle is chatting to Leanne when she is convulsed with stomach pains and accompanies her to hospital, thereby finding out that she is pregnant. Leanne lies to her about the father's identity, saying it was a stranger. She is given the all-clear and informs Eva of her condition. The incident makes Michelle broody herself, and she pushes Steve to try for their own baby. He agrees, but Liz thinks that things will turn out disastrously. Steve and Michelle go to Ireland to visit her parents.
Audrey takes Freddie for a drink on the anniversary of Sadie's death. Knowing she's interested in Ken, Freddie gets him to invite Audrey to see a play. Ken gets the wrong idea when he observes Audrey thanking Freddie for his help. He gives them the theatre tickets, but they are asked to leave the play for making too much noise. Audrey admits to Maria that she'd like to go out with Freddie again.
Kylie intervenes when Clayton tries to rob the kebab shop, hitting Gemma unconscious in the process. Craig is frozen with fear as Clayton stabs Kylie. She staggers back to Coronation Street where she collapses on the cobbles and dies in her husband's arms. The neighbours are stunned. Gail tries to comfort him. Utterly grief-stricken, he has to break the news of Kylie's death to the children.
Scared of retribution, both Gemma and Craig claim they cannot give a description of the assailant. When Clayton surfaces, David overhears him admitting the crime to Gemma and gives chase with a pipe in his hand but is stopped from a vigilante action when a scared Max screams out to him to stop. Gemma and Craig face their fears and give a description which results in the police seeking Clayton. David breaks the news of the death to Sarah in hospital. Clayton is found and arrested, and a guilty David sees the adverse effect that his desire for revenge has had on Max. He and the boy arrange Kylie's funeral. He returns to work sooner than expected, struggling with his grief but making his family worried, especially when he flies into a rage at Gemma when she expresses a wish to attend the funeral. Sarah releases herself early from hospital, convinced her family needs her. She persuades David to relent and allow Gemma to come to the funeral.
With the factory short on machinists, Jenny claims she can step into the breach but fails her practical test at a workbench. Johnny lets her practice after hours and they kiss. He offers her a month's trial, and they arrange to go for dinner, but Johnny stands her up to be with his upset daughter. Wanting to cool things, Johnny finds he is jealous when he spots Jenny dining with client Matthew Singh. Agreeing to give things another go in secret, Jenny acts as Johnny's spy on her colleagues in the factory.
Sally and Yasmeen bicker over a parcel being sent to the wrong house, and rival soirees. At Sally's, the invited Mayor's dog escapes and Yasmeen helps Sally look for it when she comes clean about just wanting to better herself after her difficult upbringing.
Zeedan is jealous when he thinks Rana is flirting with another man. She tells him she now realises his morals are to be respected and not laughed at.
August
Kylie's funeral is held. Todd is concerned for Sarah, worried that she will say something about Callum and incriminate herself. Shocked by what he means, she convinces him that she didn't kill Callum, though she won't say who did. He now thinks it was David, and his brother has suffered as a result. In a confrontation, Sarah blurts out Kylie's guilt and, to stop Todd saying anything to the police, tells him the full story of what happened that night in No.8. Stunned at the revelation, he agrees to keep quiet for Max and Lily's sake. Looking after Max, Michael sees him steal the toy in the Kabin and realises it's a cry for help as he's missing his mum. He helps him put together a memory box.
Sean sees Billy comforting Todd after a confrontation with Todd and realises who his new man is. Phelan's mate Vinny Ashford offers him a cut in

flat conversion

scam. Wanting to get his hands on Jason's £65,000, Phelan is annoyed that Eileen is instead listening to Sean's financial advice and lets slip that Eileen knew that the two men were together. Feeling betrayed, Sean moves out of No.11 and lodges in Norris's spare room. Todd realises that Phelan is trying to isolate his mother. Eileen leaves for Thailand where Jason has been in an accident, promising to think about investing in the flats. Needing planning permission, Phelan gets Sally on his side for her council contacts. Prompted by Todd, Phelan is furious when she demands that some of the flats be set aside for affordable housing, especially when it involves the demolition of a

community hall

that Alex and his friends use. With planning granted, Eileen invests Jason's money.
Craig protects Gemma when Macca threatens her with keeping silent for Clayton's sake. He reports the matter to the police and gains an ambition to join the force. He's taken aback when his reluctant mother helps him declare all the many family convictions on the application form.
A heavily drinking Robert struggles at an understaffed bistro. Nick plans to open a rival establishment in the arch next door and asks Leanne to go in with him, but she refuses realising that he's only doing it to settle a score with Robert. Nick maliciously reports him for drink-driving and Leanne decides she wants nothing to do with either of them. Feeling guilty, Nick makes Robert see how much his betrayal with Carla hurt him. Burying the hatchet, the two men enter into a 50/50 partnership at the bistro on the condition that Leanne returns as manager. She does but Nick soon grows jealous when she obviously enjoys helping Robert host a successful a speed-dating night. Nick begs Leanne for another chance with their relationship, but she refuses after he accuses her of falling for Robert. She then grows jealous when she sees Nick with another woman.
Eva and Aidan find it difficult to find somewhere to be undisturbed together. Jenny overhears Eva talking about renting Carla's flat and prompts into Johnny taking over the lease himself. Eva thinks Aidan has rented it for themselves and is angry to find out the truth, refusing to go on an expensive hotel break with him.
Michelle decides to spend more time with her parents so Steve returns alone from Ireland. Leanne isn't pleased when she realises that Liz knows that she's pregnant. Leanne asserts that the McDonalds will have nothing to do with the baby. Unable to deal with the pressure, she decides to move to Liverpool and be with Toyah Battersby. Michelle returns, determined to try for a baby, so Steve tries to avoid having sex with her. He summons up the courage to tell her he doesn't want any more children, only for her to announce that he's too late and a test shows she's already expecting. She's pleased when Steve realises that the reality of being a dad again has made him change his mind.
Luke tries to get along better with Caz to improve the mood in the flat. On the anniversary of Kate's mum's birthday, he suggests she sends her some flowers and, as she's skint, he does the job himself in her name but mistakenly orders the very ones that Kate's mum hated. Kate thinks it's malicious, as does Maria, and she and Luke row until he storms off in anger. Aidan and Maria share their joint woes and end up sleeping together. Guilt-ridden, he asks Maria to stay quiet, encourages Luke to get back together with her, though Maria makes it clear they're finished, and gives Eva an expensive necklace. Luke moves in with his sister and Andy. When Caz lets slip to Eva that Aidan was in their flat the previous evening, Maria lies by saying he was seeking her advice on getting a flat for them both. Eva is delighted at the prospect. Maria tells Caz to pack her bags when she makes jokes about her and Aidan being together. Sometime later, she finds her sleeping rough, having been discharged from the army but refuses to pleas to let her move back in. Caz engineers a burglary in the flat to spook Maria into asking her to return.
Not wanting to move in with Eva, Aidan's forced to find delays to the plans she makes but realises he's had a lucky escape when he sees Maria buying a pregnancy testing kit, not knowing it's for Michelle. His guard is therefore down when Leanne suggests Eva takes over the lease of the kebab shop flat after she moves to Liverpool and she asks Aidan to move in with her. Maria is irritated when Eva acts in a chummy fashion towards her, wanting to keep a distance between herself and Aidan.
When Izzy is released early on parole, Gary struggles with whether to get back together with her for Jake's sake. When Sally declares mistakenly that they are a couple again, Gary can't bring himself to correct everyone and reluctantly takes to Izzy's bed. She senses her feeling for him aren't being reciprocated and he admits he's back only for Jake's sake. Rather than lose him, she asks him to stay in the flat as a friend and he agrees.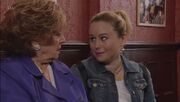 Gemma decides she wants to improve herself. Dev gets her to consider the

Weatherfield Good Samaritan Awards

. Doing so, she begins to help a bemused Rita with her chores. When she discovers the reason, Rita is impressed with Gemma's attempts to turn her life around and decides to help her. Norris uses her eagerness to get her to do a paper round for free. He's reluctantly grateful when she sees off a woman who tries to defraud him over a chest of drawers that he auctions online and he agrees to help with the nomination.
Having been asked by Gail to stay away while she concentrates on her family, Michael is pleased when Freddie and Audrey engineer a get-together, but Phelan mischievously interferes by making Gail think Michael's still carrying a torch for Eileen. He manages to convince Gail that he only has feelings for her.
Not wanting to go to Liverpool, Simon tells Nick what Leanne's planning, but not that she's pregnant. Simon hides the coach tickets giving Eva time to tell Nick that her sister loves him and also that she's expecting a baby by another man. After mulling over the matter, and with encouragement from David, Nick stops Leanne leaving, saying she's the love of his life. Leanne lies to him about the father's identity. Tracy sees them at the hospital having a scan. Leanne agrees that she and Simon will move into Nick's flat with him. When they announce their plan to an unhappy Gail and the Platts in the Rovers, Tracy enjoys stirring matters by letting slip that Leanne is pregnant. She and Nick instantly claim they are the parents the baby, causing puzzlement to everyone else who either knows Steve to be the father, or that it's a stranger.
Thinking that she's overweight, Bethany begins to take diet pills and overdoes her fitness routines at the gym. She collapses and Gary comes to her assistance, seeing the pills. He also witnesses her getting an abusive text from Lauren and receiving poor exam marks. Sarah blames herself for the results. Gary steps in when he sees Lauren bullying Bethany in the gym and throws her out. He agrees to keep quiet on condition that Bethany ditches the pills and reports Lauren's bullying to the school. Gary gets Craig to keep an eye on Bethany.
Sharif and Yasmeen celebrate their 45th wedding anniversary. The grandchildren put on a surprise party which is interrupted by the arrival of their old friend, Sonia Rahman, whose husband has just thrown her out. Sharif is not pleased when Yasmeen invites her to stay as he once had a seven-year affair with her. Alya notices something going on between them.
Jenny tells Johnny that the staff watched a film instead of working on a bank holiday when they were on double pay. He docks their pay leading them to suspect that someone is spying on them, and begin a strike.
September
Aidan ends the strike by offering out free cakes. As they return, they find Jenny kissing Johnny passionately and realise who the spy was. Aidan and Kate are appalled by their father. He's hurt to discover they think Jenny only wants him for his money and tells them he's taking her to a trade fair. Afterwards, they holiday in France.
The police reject Craig's application as he failed to declare a relative's criminal conviction. Beth reveals his dad, Darryl Parkins, is in prison after she shopped him to the police. Calling her a selfish liar, Craig moves out of the house and into No.4. Sally mediates between the two, but Craig is unmoved when it's obvious Beth hasn't been listening to a word he's said. He grows curious about his father and Faye helps him find which prison he is in. Craig visits Darryl and, appalled, has to refuse when his dad asks him to smuggle in drugs for him. In retaliation, Darren tells him that he never divorced his mother and she's now a bigamist. Kirk is devastated and leaves Beth while Craig reports his mother to the police who subsequently arrest her. When a depressed Craig gets drunk and is sick on the carpet, Sally makes him leave and Tyrone takes him in. Beth is given a £150 fine and community service. At his request, Beth supports a devastated Kirk when a cancer-ridden Ozzy has to be put down.
Hearing that Nick craves honesty in their relationship, Leanne comes clean and tells him that Steve is the father. Nick struggles with the revelation and thinks Steve took advantage of Leanne when she was at a low point. He orders Steve to leave the area otherwise Michelle will find out he is the father and unnerves Steve by pretending to send a text to Michelle with the revelation, blackmailing him into agreeing to have his own name on the birth certificate. Although angry at Nick's actions, Leanne agrees that if they are honest with each other from now on they can face the challenges in front of them.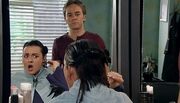 Gary supports Bethany when he tells headmaster Mr Griffin to deal with Lauren's bullying. Sarah is grateful for his intervention. An acrimonious argument between the mothers at the school ends up with both girls suspended. David gives Bethany work to do at the salon. Lauren turns up and continues to bully Bethany. David gets his niece out of the way and threatens Lauren, snipping off her long hair to show her that he means business. The police arrest David but an amused Gemma lies that she was a witness and that he did nothing wrong. Sarah cancels Bethany's gym membership when Gary warns her that her daughter is pushing herself too far. Following Bethany's example, other pupils complain about Lauren bullying them and she is expelled.
Aidan admits to Kate that he doesn't want to move in with Eva, but he chickens out of being honest with her. Under pressure, he moves into the kebab shop flat.
Sean tries to sabotage a booking that Todd makes for him and Billy in a

posh hotel

but Eva stops him. Their stay starts badly when Todd makes an ill-judged comment about Billy's religious beliefs and Todd leaves. Eva pushes them into making up. When Todd grows frustrated at Eileen's inability to see how Phelan is using her, he moves out of No.11 and into the vicarage with an uneasy Billy. Sean marks his fortieth. The diocese bishop tells Billy that there have been complaints from the congregation about Todd living under his roof and he must leave. Billy considers resigning. Todd returns to No.11. Sean is suspected of making the complaint, but Billy finds it was Todd, trying to manoeuvre him into leaving the church. Billy finishes with him.
Vinny grows tired of Eileen's interference in their business and orders Phelan to sort her out. With planning permission granted, Todd discovers all about the scam. Phelan and Vinny get Eileen out of the way so Todd can't tell her. He reports her missing to the police, but she is found safe in a luxury spa hotel, driven there by Vinny. Vinny wants to kill Todd but having discredited him in the eyes of the police, Phelan instead invites him in on the scam in order to buy his silence. Disillusioned after his break-up with Billy, Todd agrees and leaves the flower shop. Todd discovers Sarah is one of the potential scam victims as she's put down a deposit on a flat and threatens to inform her. Phelan frightens him off by passing on Vinny's threat to kill him. Todd retracts his threat so long as Sarah is reimbursed, and Phelan agrees. Todd offers Billy a heartfelt apology for reporting him to the bishop.
Maria helps Caz try to find a job and Caz starts to become attracted to her. Aidan finds Caz a job in Newcastle to get rid of her from the area, but she rejects it. Maria is unnerved when Caz kisses her on the lips as a thank-you. Caz is humiliated when she hears Audrey and Sophie laughing about the incident and goes missing. She is traced to a

hostel

and brought back. Maria struggles with her feelings for Aidan. Caz admits she wants to be more than friends, panicking Maria into demanding she leaves. A vengeful Caz steals Maria's newly delivered credit card.
Gail finds Kylie's bloody hoodie under David's bed when she thought he'd thrown it away. She tries to counsel him on his grief. He gives her reassurances but sends a friend request to lure Macca through a fake social media account. Michael moves back into No.8. Gail realises David is receiving messages from Macca. David is outraged when Clayton pleads guilty to manslaughter in order to get a lighter sentence.
Steph is made temporary bistro manager while Leanne is away on holiday with Nick in

Tenerife

and receives little credit by Robert for her work. It also creates issues between her and Andy when he finds himself working under her. Seeing that he wants more from life than being a barman, she suggests he does something he really likes instead but isn't impressed when he takes up writing horror stories. Mary thinks he has talent.
Hoping to share Roy's bed, Cathy is disappointed when he agrees on condition that it's a different bed and in the spare room, realising that he cannot bear to have her in Hayley's bed. Alex wants to put down a deposit on one of the fictitious flats. Roy refuses to lend the money so Cathy approaches Alex's estranged father Nigel Warner instead. She's devastated to discover that her deceased husband Alan is Alex's natural father and in her distracted state, leaves the cafe untended and forgets Roy's birthday when Ken and Alex hurriedly organise a surprise party. An angry Cathy doesn't feel that Roy understands her sense of betrayal and is happy for Alex to go and live with Nessa. She is unmoved when she discovers that Alex has known about his parentage for years. She suddenly changes her mind about Alex leaving when Roy breaks down in

County Durham

while driving the lad to Inverness and she thinks they've been in a vehicle fire. Reconciled, Roy and Cathy plan a December wedding, although Fiz and Tyrone worry that Roy doesn't really love her.
Audrey and Maria are delighted to make it through to the final of the

Greater Manchester Stylist Awards

, but Claudia Colby is the winner. Audrey and Freddie begin to see each other but he is unnerved when a friend of Sadie's rails at him for dating so soon after his wife's death. Freddie and Audrey cool towards one another, but prompted by Maria, Kevin and Tyrone, he woos Audrey with a motorbike ride, and they resume their friendship, both allowing for it to develop further given time.
Sharif and Sonia resume their affair. Alya grows concerned about their closeness and a calculating Sonia virtually blackmails him into getting her one of Phelan's flats when he suggests that she'll have to leave to allay the girl's suspicions. Alya confronts her grandfather. He admits to sleeping with Sonia, although just the once years ago. Aidan is impressed with Sinead and Alya's old bespoke designs but Alya's disappointed to discover that there will be steep start-up costs to get them made into sellable products. Disgusted with her grandfather, she blackmails him for the necessary money, though she sickens herself in doing so. Sharif gets the money from the gym's business account. Alya freezes Sinead out of the deal.
Mary puts herself forward as Todd's replacement at the flower shop. To her surprise, Tracy finds her presence bearable. The twins miss Mary as their nanny and decide to get her back by making Erica's life difficult. They also sell flowers through the corner shop in competition to an angry Tracy, telling her they'll only stop if she sacks Mary. She refuses. Erica realises they're stealing the flowers from the cemetery and tricks them into thinking the police are investigating. Dev is unhappy that she's scared his children. Mary gives Erica hints how best to handle the twins.
October
Steve becomes star-struck when County striker Tommy Orpington employs Michelle as his wedding planner. Steve and Tim become rivals to be Tommy's new friend. Tim invites him to tea at No.4, but in a kickabout with him and Steve in the street, Tommy is injured in a fierce tackle from Tim, putting him out for the remainder of the season.
Anna finds that Faye is seeing secret boyfriend Seb Franklin and, afraid of another teenage pregnancy, rips into her. Kevin counsels her to take a softer line and when they invite him for his tea, they find they like the lad.
Dev has a new bathroom fitted and has to stop Norris from putting his old rubbish in the skip outside his house. He asks Erica to move in, but the twins are annoyed as they weren't consulted.
Gary gets annoyed when Sharif won't buy any new gym equipment even though he's sure there is money in the account. He continues to worry for Bethany when he sees her undertaking an excessive running regime. Izzy warns Sarah about her daughter's activities. Realising that Bethany is struggling with image issues, Sarah renews her gym membership on the condition that she eats well and looks after herself properly. Grateful to Gary for his help, Sarah goes for a drink with him. They kiss when he escorts her home but fall out within a short time when Sarah discovers he knew about her daughter's diet pills and didn't inform her. Izzy speaks up for her ex and Sarah apologises to Gary. She is fully discharged by her psychiatric nurse.
Reading Macca's messages, David follows him to The Dog & Gun when he knows he's going to be there, but before he can exact any revenge he is beaten up in the car park by Lauren's dad for what he did to his daughter. He publishes underage Callum's name on the internet as the murderer of his wife and is arrested for perverting the cause of justice but not charged. Macca is injured when a brick is thrown at him through his window by his neighbour. David sneaks into the hospital to kill him but is interrupted by a nurse. Disregarding promises to his family to drop his vendetta, and neglecting the children, David begins to scout out the

court

where the trial will be held. He formulates a plan to ram Clayton's prison van with a petrol-filled car and buys an old vehicle from the garage. Gail is horrified when she finds a suicide message that he has prepared for the children. Initially not knowing what to do without getting her son into trouble with the police, she asks Nick for his help with a plan. David sees the prison van carrying Clayton arrive but when the moment comes the car doesn't start and he misses his chance. It is towed to the garage. Nick organises a family meal in the empty bistro where he lures his brother down to the cellar and locks him in, explaining its for his own good. David eventually escapes by pretending to be unconscious and making his mother open the door. Getting into the car, he speeds down the street, swerving to avoid Lily but hitting No.7's skip and overturning the car on himself, Lily and Gary, who has run out to pull the little girl out of the way. The residents free them and they are uninjured, but the petrol explodes and severely burns Anna's legs. David is horrified by what he has done.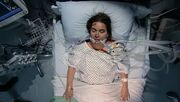 Anna requires a long course of skin grafts, physiotherapy and counselling. As she comes round, she is distressed to discover the extent of her injuries. The first of her operations goes well. Kevin blames David for her state but the Platts protect him from Kevin's wrath. In line with the new policy of being honest, Nick tells Leanne everything that David did. She agrees to keep it quiet. After being caught up in David's problems, Sarah apologises to Gary for being distant with him and they resume their relationship. Gary assures Gail that he doesn't hold her or her family to account for what happened to Anna.
Beth swaps places with Mary who completes her community service while she supports her son in court when he gives evidence against Clayton. Craig and Gemma find the trial an ordeal. Relieved that his mother wasn't injured as a result of the explosion, Craig makes up with her and returns home. At Craig's suggestion, Beth lures Kirk back to her when she buys him a dachshund puppy.
Clayton is found guilty of murder. David tries to move on, burning Kylie's hoodie as a first step. He is charged with causing injury by dangerous driving and takes the children to see Martin Platt.
Eileen leaves Street Cars to work full time on the flat development. She enrages Vinny with her interference when she buys a job lot of cheap tiles using money from the business account. She begins to notice puzzling things in the business, but a wily Phelan is able to forestall her enquiries every time. Rita put down a deposit on one of the new flats for Jenny, and Eileen notices that she has been allocated one apparently going to another man. Phelan sorts out the supposed confusion. Phelan and Vinny collect false passports for their future getaway. Phelan begins to lose his nerve, wanting to leave earlier, and Vinny has to agree to put a time limit on the scam of two more months. Desperate to get Eileen off his back, Phelan manages to persuade her to get her to return to Street Cars.
Steph disappoints Andy when she disparages his short story. Leanne tells her she isn't the automatic choice to succeed her as manager of the bistro when she goes on maternity leave. Andy speaks up for his girlfriend and she is given the position.
Gemma reaches the final three of the awards.
Jim McDonald rings Steve up with the news that he's been diagnosed with the genetic Myotonic Dystrophy condition. Steve realises both babies could be at risk but can't come to terms with the news and stalls on having a test to see if he is a carrier. All affected parties pressure him until he agrees and takes the test. A frantically worried Michelle starts to see a genetic counsellor and considers an abortion. She finds Robert a source of strong support. Everyone's relieved and celebrates when Steve is given the all-clear. The Rovers puts on a Halloween party. Leanne's scan shows she's expecting a boy.
A bitter Simon is let down when Peter Barlow promises to come home to see him receive a footballing award, and then cancels at the last minute. A bored Ken decides to go on a tour of

Europe

. Before he can leave, Peter returns, broke and evasive as to why he is back. Ken suffers a stroke while rowing with him and his speech and right side is affected. Tracy blames Peter and tells him to stay away from their father. Steve puts him up at the Rovers, against Michelle's opposition. Accepting he's not going to leave, Tracy puts her brother to work contacting family members to tell them what's happened and allows him back into No.1 in order to please Robert when he asks her to relent. A grateful Michelle gives a smitten Robert a peck on the cheek. Peter convinces Simon that he loves him. A frustrated Ken decides he doesn't want any visitors.
Sophie gets a call from Rosie Webster inviting her to join her on a trip to

Miami

for three months on a promotional contract. Kevin opposes the trip, saying he cannot afford to lose his daughter from the garage for that length of time, but Sophie and Anna persuade him to change his mind.
While Maria is visiting Pablo in London to sort out an immigration issue, Eva agrees to Liam staying a few days with them, not realising that Aidan hates having a child around their flat. Kirk fails to get Caz to vacate the salon flat. As landlord, Audrey orders her to leave. Caz starts to plant an idea in people's minds that Maria is acting strangely. Before Maria returns, Caz smashes the flat up, including leaving a large blood stain on the wall. Maria tells Aidan she doesn't want to get the police involved and he finds out about her illegal marriage. Caz leaves a voicemail for Kate sounding terrified, and then disappears. Kate reports her missing to the police who declare the flat a crime scene.
Zeedan discovers the missing money in the gym's business account and accuses his grandfather of trying to ruin the company. Rana considers going travelling and Zeedan proposes to her, wanting to go with her. Alya takes delivery of an expensive embroidery machine to make up Sinead's designs. She agrees to design new uniforms for the kebab shop after Dev is accused of copying those of another chain. Sinead is asked to take part but is annoyed when she receives no credit. Johnny and Jenny return from France, and Johnny isn't pleased that the factory is now branching out into a new line with Alya and considers the venture a waste of time and money. Alya volunteers to leave if business isn't booming in three weeks.
November
Underworld receives an order for Alya's new basques. Rana accepts Zeedan's proposal. Sharif organises for Sonia to live in the corner shop flat. Alya discovers that their affair has gone on for years. Yasmeen overhears her husband and friend talking and is devastated to learn of how she has been betrayed. She announces the affair to everyone at Zeedan's engagement party. When she finds out that Alya blackmailed her grandfather, she throws her and Sharif out of the house. He moves to Newcastle. Alya is put up at No.9 as Zeedan takes his gran under his protective wing, telling Sonia to leave the area. When she tries to apologise, Yasmeen slaps her face. Dev finds himself owed both the money taken out of the gym and Sonia's rent. Alya is excluded from a party to celebrate Zeedan's twenty-first, despite Rana's intercession. She and her fiancé argue about the matter but make up for Yasmeen's sake. Yasmeen promises Dev to repay his money. On the eve of the wedding Zeedan has second thoughts, but a conversation with his gran changes his mind again and he and Rana are married. Citing financial reasons, Johnny tells Alya he cannot buy her out of her deal when she tries to sell it to alleviate her gran's dire financial situation.
Clayton is sentence to life imprisonment with a fifteen-year minimum.
The police discover that the threatening messages were made to Caz were from a phone bought in London with Maria's credit card. As the residents starts to suspect her, Aidan takes her side, causing a rift with Kate. Fiz alerts the police when she finds a bloodstained rug in her bin and they question Maria. From afar, Caz watches events. Maria snaps when she overhears Michelle and others gossiping about her and shoves the pregnant lady against the Rovers bar. Robert comes to her aid and mans the bar while she goes for a check-up. Caz enters the flat and plants bloodied scissors, and installs a hidden webcam on which she is able to listen in to Maria and Aidan discussing their fling. To forestall the police, Maria confesses to her sham marriage, but they think that is a motive for her to have murdered Caz as she knew of the illegal act. Eva encourages Aidan to look after Maria and they realise Caz is both stalking her when the scissors are discovered, and somehow listening to their conversations. Johnny discovers the scissors and hands them over to the police who charge Maria with Caz's murder. Having hired solicitor Ben Lockhart to defend her, Aidan visits a

factory

on business and sees Caz among the workforce, but she runs off when she sees him. The police have doubts that his story is true, and Aidan determines to locate her himself.
Gemma sleeps overnight in the kebab shop, terrified of suffering retaliation on her estate for testifying. Alex falls for her. She fails to win the Good Samaritan award but is delighted to be invited to the ceremony as Peter Andre is the entertainment. Finding out that the girl is homeless, Rita takes her in and buys her a dress for the ceremony. Gemma is overwhelmed by her kindness, but Jenny is annoyed by her presence. Gemma is upset when Peter cancels his awards ceremony appearance, so Chesney organises a visit from a professional lookalike.
Anna finishes with Kevin, saying it's unfair to ask him to share the burden of her injuries. David wants to visit her, but Gail goes instead. On Sarah's advice, Kevin convinces her that he's with her every step of the way. Gary is grateful for her intercession. Anna walks on crutches for the first time.
The flat purchasers start to chase Phelan for a moving-in date. Michael overhears the builder talking to Vinny about their scam and escaping to

Mexico

without Eileen. He tries to warn her, but the ground is pulled out from under his feet when Phelan proposes to her with an engagement ring. Seb is involved in selling on knockoff gear and Faye tries to win his approval by pocketing Phelan's phone when he leaves it behind in the cafe. Anna discovers the phone when it rings with a message from Vinny, warning Phelan about Michael's snooping. Michael seeks Anna's advice, and she lures Phelan to her flat to keep the coast clear whilst Michael investigates the building site. When Phelan hears his phone ringing in Anna's flat, he realises something is up and rushes to the site where Michael has found a false passport and air ticket. Realising his life is in danger, Michael tries to escape but collapses and dies of a heart attack as Phelan coldly watches on. With their plan rumbled, Phelan tells Vinny that they need to leave now but his supposed partner has carried out a deception of his own and has flown from the country having emptied their business account to himself. After Todd discovers Michael's body, Phelan is forced to face the music on his own. He presents himself and Todd as victims of Vinny who has taken all of the neighbours' deposits with him, adding that Michael was brave in trying to investigate the fraudster. Eileen is incandescent that all of Jason's money has been lost but Phelan assures her he will get it back through hard graft. Gail and Andy are stunned by Michael's death. Anna and Andy are suspicious about the circumstances. The police don't believe Anna's accusations. Andy begins his own investigations. Eileen is touched when Gail invites her to the funeral where she hugs her.
Falling for Gary, Bethany invites him to a bonfire night at No.8 where he and Sarah secretly kiss again. Bethany invites Gary for dinner at Nick's flat and is distraught when she sees him and her mother kissing. She's further upset when they think she purposely tried to bring the two of them together. Not wanting a relationship that is built on a lie, Sarah confesses to Gary about what David was up to when his mother was burned in the accident. Gary thumps David but is unable to add to his mother's woes by telling her how she ended up so badly hurt. Gail doesn't approve of their relationship as she thinks Gary is too volatile.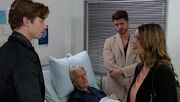 Luke spends the night with Tracy after he accidentally breaks her phone, but she makes it clear that it's only a one-night stand. Tracy asks Rana to intercede with her father, allowing him to see her, and discovers that he has had a mysterious regular visitor for the past two weeks. Adam Barlow, now a successful solicitor, comes over from Canada but even he is not allowed at the bedside. The family force their way into the ward and find Ken's son, English literature student Daniel Osbourne, reading to him. Ken is discharged and the family makes up a rota to look after him.
Adam gets up the backs of Johnny and Aidan when he saunters into the factory as if he owns it, but Eva is attracted to him, making Aidan jealous. Adam also annoys Robert by complaining about the bistro's service. Peter is taken on as a driver by Street Cars. Daniel is evasive about his relationship with his mother. Tracy is unnerved by a man who peers inside No.1's window, claiming he's selling broadband. She suspects Daniel is somehow involved and starts to investigate his home background, finding his flat is almost devoid of furniture. Daniel is forced to admit that Denise walked out when he was fifteen and made regular payments onto a debit card that she'd left him, though receipt of the money has now become erratic. Adam's hired Jaguar is stolen, and he accuses Daniel of stealing it for the money. Peter is furious that the ensuing row jeopardises Ken's recovery and lays down the law to the family. Adam takes a call from a friend who, as per their arrangement, is selling the vehicle on. He and Daniel move into the corner shop flat.
Concerned about Seb's illegal activities, Craig tries to warn Faye but she is too smitten with the lad to take any notice.
Roy reluctantly agrees to a church service for the wedding. With the event only a few weeks away, Cathy has to push him into playing his part in organising it. Seeing him struggle, she employs Michelle as a wedding planner. Brian Packham returns to the area, now working as an environmental health officer. Adam makes a false complaint to him about the bistro's hygiene, to wind up Robert on Tracy's behalf. Brian senses Roy's reluctance about the wedding. He and Sean gets involved in a bidding war with Norris when Brian tries to take him in as an additional lodger at No.3. Keen to get money from both, Norris moves into the downstairs front room allowing them the bedrooms.
Simon gets his first girlfriend,

Daisy

, though the relationship doesn't develop.
Aadi steals a scratch card in the corner shop and wins £300 on it, getting Bethany to pass it off as hers and splitting the money with her and Asha. Erica walks out on Dev when she discovers the deception but refuses to take any action. They make up but he deliberately doesn't tell the twins.
A tearful and emotional Mary says she's found a lump in her breast.
Tim is dismayed when Sally gets him an allotment as he claimed that he liked the outdoors. To avoid the work of digging it over, he plants false pots in the soil and alerts the

Weatherfield Amateur Archaeological Society

.
December
Zeedan and Rana buy back Yasmeen's jewellery and heirlooms that she sold to pay for the wedding. Rana steals some medication from the medical centre and takes it herself. Kate offers Alya a room in her flat.
Convinced that she is ill, Mary makes up a bucket list. She is given the all-clear but Erica is concerned that she is acting strangely. She sees the name Maureen Nuttall on Mary's list. She and Norris try to find out who the woman is. Mary finally breaks and confesses to a horrified and sympathetic Norris that Maureen was a nurse who found Mary's baby son on the steps of a hospital after she abandoned him there shortly after giving birth to him at the age of fourteen as the result of being raped by a family friend. She now wants to find her son who she knows was named Jude. Norris finds a list of possible candidates to visit. Gemma discovers what is happening when she overhears Norris on the phone. In a well-intentioned move, she uploads an appeal to social media which goes viral and humiliates Mary. She refuses to join Norris for Christmas dinner until she overhears him saying how brave she is and how much he admires her. She is stunned when Jude Appleton turns up on Christmas Day, having seen the video. He is a marine biologist based in South Africa and invites her to join him and his expectant wife there. Her friends are shocked but pleased for her when she announces she's leaving.
Caz is elated when she sees Kate defending her to Aidan on the webcam feed as the two search through Maria's papers. She texts Kate to meet her, but it is a trap and she is arrested. Kate explains that she recognised the name of the shop that sold the webcam on Maria's card statement as a same one that Caz had frequented and realised that the flat had been rigged. Maria is released and almost immediately begins an affair with Aidan, even though he is honest about not finishing with Eva. Maria is livid when Aidan takes Eva to a

hotel

to which he had first offered to take her, and on the rebound she goes out with Adam, staying the night with him after they get drunk. Overtired, she sleeps while a hungry Liam accidentally switches the cooker gas on. Kirk's timely arrival prevents a disaster. Aidan punches Adam in the face when he makes disparaging remarks about Maria who dumps him and resumes her affair with Aidan. Eva remains oblivious, thinking that Aidan was defending Maria's honour. Johnny finds his son kissing Maria and orders him to be straight with Eva. Convicted of bigamy, everyone is shocked when Maria is sentenced to twelve months in jail.
Roy sees the archaeologists digging over Tim's allotment and when he mentions it in front of Sally, Tim's dodge is caught out.
A lonely Freddie accepts Tyrone's invitation to move back into No.9.
Roy and Cathy are dismayed when Nessa suddenly turns up. Cathy unleashes her fury at her sister for having an affair with her husband and throws her out. She momentarily calls off the wedding, afraid that she will fail as a wife, as she did with Alan, but soon changes her mind. She also makes up with Nessa. Roy gets more stressed over the coming nuptials and starts sleepwalking again. When he has a panic attack, Brian and Tyrone try to help and get him to confess that he feels trapped, not realising his words are being recorded on a Dictaphone that Cathy has been using to practice her vows. She hears it on the day of the wedding and at the church tells him that he is free of the obligations that he felt he owed her. She and Alex move into No.6. Thinking of moving on, Roy puts the cafe up for sale. Nessa returns to Scotland.
Daniel is kicked out of his flat for being behind with his rent. He avoids questions from Ken about Denise's whereabouts but later confesses to a shocked Peter that he hasn't seen her for six years. Mindful of Ken's fragile health, they agree to hide the truth from him but still report her missing to the police.
Leanne is sympathetic to the family pressures that Peter is under. So much so that Nick starts to suspect an affair between the two, especially when Peter states in his hearing that there is only one woman for him. Peter is stung when Nick accuses him of dossing at No.1. The remark prompts him to ask Anna for his flat back. Upset as she had been using it as a refuge to hide from the world, she and Faye move into No.13. Peter takes Nick to a wine-tasting as a thank-you to him for being so good to Simon in his absence, but Nick isn't impressed with the gesture. He tries to upstage Peter in Simon's affections until warned off by Leanne. Knowing that Leanne and her sister were huge Bros fans in their youth, Nick is perturbed when he finds a present that Peter has wrapped of one of Tracy's old tapes of the group with a label addressed to the love of his life. Toyah invites Nick and Leanne to join her in Liverpool for the festive season but turns up on the street herself on Christmas Day, having left her husband, Toby Chapman, after she has been having an affair for six months. Overcome with jealousy, Nick fights with Peter but it is Toyah who Peter meets for a tryst at a hotel, he being the lover in question. Before they can come clean to everyone, Toby arrives to see his wife, convinced that she has left him because their constant attempts at IVF have failed. Having sent him packing, Toyah moves in with Leanne and Nick. Leanne is hospitalised with hypertension and a kidney infection. Simon sees his father kissing Toyah and realises what is going on.
Todd is delighted when Billy resigns from the church in order that he can consolidate his relationship with him. He moves him into No.11. They both look for work and Billy gets the job at a rehabilitation centre but finds it hard to leave his former parishioners.
Phelan gets labouring work as Andy keeps an eye on his movements. Anna starts to send Phelan poison pen letters, but he sees her delivering one. He threatens her about them, causing Kevin in turn to threaten him. Finding his grief at Michael's death overwhelming, Andy snaps and hits Phelan over the head with a brick. As he recovers in hospital, Kevin is suspected of the attack, but Phelan recalls Andy as being his assailant and begins to blackmail him into committing robberies for him to gain money. Andy steals from the bistro resulting in Steph being suspended by Robert for lax management. Andy then steals diamorphine hydrochloride from the medical centre with which to make a lethal cocktail for the builder, but Phelan sees through it. Seeing he is trapped if he stays in the area, Andy packs his bags,
Robert becomes more enamoured of Michelle when she delivers the bistro's food order as Steve is too busy. She offers to put him up in the Rovers spare room, but afraid of the implications he rents a flat at 9 Victoria Court instead. Michelle's scan reveals the baby is a boy.
Luke and Tracy continue to see each other for sex. Tracy has to pretend he is her boyfriend after Amy sees them kissing. Tracy decides she wants a proper relationship with him, but he isn't as keen.
Sarah makes David join a trip to a

nightclub

. There he meets Shona Ramsey, who chats him up but ends up stealing his wallet. As it contained a photo of Kylie, David tries to retrieve it and finds out that Shona is unknown kleptomaniac. When he confronts her, she denies all knowledge but retrieves the wallet and looks at the photograph with interest. At the Christmas Day service, Billy finds Shona drunk and homeless having left her boyfriend, Nathan Curtis. He takes her home for dinner and realises that being a vicar is his vocation. Initially upset, Todd gives his blessing.
Sarah books tickets to a gig in Leeds for her, Gary, Faye and Bethany. When Gary books hotel rooms for an overnight stay, and Sarah has to cry off as Harry has a temperature, Bethany sets out to seduce Gary, but Faye is the one who finds her draped over his bed. Bethany buys her silence with a bottle of vodka and is about to try again when they are interrupted by Sarah who has made the trip after all. The trip is brought to a halt when Faye gets drunk on the vodka, making Gary furious with Bethany for handing the liquor over to her. Faye is equally annoyed to discover that Seb fancies Bethany. Once back in Weatherfield, Sarah thinks Bethany has run away, but she has only spent the night at a friend's flat. Bethany resumes taking diet pills. Sarah realises that Bethany has a crush on her own boyfriend when she intercepts a message between her and Faye. Humiliated, Bethany takes an overdose of the diet pills and is rescued by Nathan who was on the street following Shona. She is referred to a mental health team. Once home, she visits Nathan at the tanning salon he runs to thank him. Although he is far older, the two are attracted to each other.
Steve buys Michelle a widescreen television for Christmas and stores it in Tim's shed. When Tim and Craig try to move it, they smash the device and Tim is forced to replace it, but Sally thinks it's her present and Tim doesn't have the gumption to correct her. Steve is forced to accept a grotty globe that Tim thought of giving Sally but wisely decided against. When Steve overhears Sally bragging about her new television, Steve realises what has happened and informs Michelle who steals Tim's new laptop in retribution. Sally is livid to discover what was her intended present.
Johnny asks a delighted Jenny to move in with him.
Kevin has to pay for Sophie to have her appendix out in Miami as she isn't insured. Anna falls and knocks herself unconscious on New Year's Eve when Kevin is on a breakdown call. Left alone in the house, Jack lets himself out to look for help.
Who lives where
Coronation Street
Rosamund Street
Victoria Street
Victoria Court
Others
Awards and nominations
BAFTA
Ceremony held on 8th May 2016
BAFTA Craft Awards
Ceremony held on 24th April 2016
The British Soap Awards
Ceremony televised on 29th May 2016
Inside Soap Awards
Coronation Street had 18 nominations and 4 wins.
Best Bad Boy: Connor McIntyre
Funniest Male: Joe Duttine
Best Newcomer: Shayne Ward
Best Show-Stopper: The live episode
Royal Television Society
Ceremony held on 22nd March 2016
Soap and Continuing Drama: Coronation Street (Nominee)
Royal Television Society Craft and Design Awards
Ceremony held on 28th November 2016
Multicamera work: The camera team for the live episode (Winner)
Lighting for multicamera: The live episode (Nominee)
Royal Television Society (North West) Awards
Ceremony held on 12th November 2016
Best Performance is a Continuing Drama: Tina O'Brien (Winner)
National Television Awards
Ceremony held on 26th January 2016
Best Serial Drama: Coronation Street (Nominee)
Best Newcomer: Shayne Ward (Winner)
Best Serial Drama Performance: Alison King (Nominee)
TV Choice Awards
Best Soap: Coronation Street (Nominee)
Best Soap Newcomer: Shayne Ward (Winner)
Best Soap Actress: Paula Lane (Nominee)
Best Soap Actor: Jack P. Shepherd (Nominee)