Doctor Strange in The Multiverse o Madness - The Loop
Play Sound
2014 was Coronation Street's fifty-fifth year.
Main characters
Production
A new home
Stuart Blackburn produced Coronation Street in its first year at MediaCityUK, with Kieran Roberts continuing in the role of executive producer. The first scenes were shot at MediaCity studios, Coronation Street's new production base, when cast and crew re-convened on 9th January. The programme operated out of four studios in the main building, which was christened "The Tony Warren Building" in honour of the programme's creator in a special ceremony held on 20th May. To reflect this change, an updated title sequence premiered with Episode 8339 on 10th March, the first episode to be made entirely at MediaCity. This was a tweaked version of the previous title sequence replacing the outdated shots of the street with ones filmed on the new outdoor set [1].
The backlot at MediaCity replicated its Quay Street counterpart as much as possible, with the intention being that viewers would not be able to tell the difference. The biggest change was that the Rosamund Street backdrop was done away with, and the thoroughfare carried on past the viaduct crossing a row of shops, possibly an extension of Mawdsley Street. The new façade wasn't shown in full for several months, and directors were initially instructed to use tight camera angles to hide the 9/10 scale of the houses (compared with 7/10 on the 1982 set) in order to make the transition between the two sets as seamless as possible. Meanwhile, the backs of the houses in Mawdsley Street were built for the first time to enable more flexibility in recording ginnel and back yard scenes.
From this point onwards, the exterior of the main studio building doubled as the outside of Weatherfield General hospital. The car park and front gates were also used for occasional filming.
In April, the former site at Quay Street was opened to the public for the first time since 1999. Coronation Street: The Tour was originally envisaged as a six-month attraction allowing visitors to roam freely around the 1982 outdoor set with guided tours of the studio facilities at Stage One, where a number of standing sets were displayed on loan from ITV, along with an exhibition of costumes and props. The tours ran from 5th April to 4th October but were re-opened the following week due to high visitor numbers, continuing until 31st December 2015 [2].
Kevin and Ken's returns
Two of Coronation Street's senior cast members returned after concluding high-profile legal battles.
Michael Le Vell was back on set in January after signing a new contract. Kevin and Jack Webster returned to screens in March. Just four weeks later, the pair were written out again when Le Vell admitted to taking class-A drugs before and after his 2013 trial for sex offences in a "moment of weakness" [3]. Le Vell and producers mutually agreed that he would take another break from the programme in order to seek professional help. Kevin's departure from Weatherfield took place off-screen with the mechanic again going to nurse a sickly Bill Webster in Germany. Following his successful treatment, Le Vell returned to work with a low-key return by Kevin and Jack airing in September.
Jaxon and Maddox Beswick had remained in the role of Jack Webster throughout Le Vell's troubles and carried on until Episode 8539 on Christmas Day, after which Maddox played the part by himself.
William Roache's trial for rape and indecent assault began on 14th January at Preston Crown Court. One of the charges was dropped on 27th January due to insufficient evidence and on 6th February he was cleared of the six remaining charges. Outside court after the verdicts were announced, the 81-year-old actor told the press "if you'll excuse me, I'd like to get back to work." [4].
Roache returned to filming in June after a 14-month absence. Three months later, ITV announced that Anne Kirkbride would be taking an extended break from the programme but did not give a reason [5]. Deirdre Barlow was written out for the duration, leaving the street to stay with her friend Bev Unwin in the Peak District after struggling to cope with recent family dramas. Kirkbride passed away on 19th January 2015 after a battle with breast cancer, which had been diagnosed in the autumn and was only revealed to the public afterwards [6].
Deaths of Hayley and Tina
Hayley Cropper was killed off in January as part of her pancreatic cancer storyline. Hayley ended her own life before the cancer took her, a decision not supported by her husband Roy. The story garnered critical acclaim and was responsible for much of the programme's awards haul in 2014, contributing six awards at the British Soap Awards, Best Storyline at the TV Choice Awards, and a win for Serial Drama Performance by Julie Hesmondhalgh at the National Television Awards, while Coronation Street won for Serial Drama at the latter ceremony as well as Best Soap and Continuing Drama at the BAFTA TV Awards.
The biggest storyline of 2014 was the murder of Tina McIntyre by Rob Donovan. Michelle Keegan confirmed reports that she had quit the programme over a year before the episodes aired as part of Britain's Got Talent week in May [7]. Her exit was unusual in that while Rob was plainly shown landing the killing blow after Tina threatened to report him and Tracy Barlow for buying knock-off gear at Barlow's Buys, ITV presented it as a whodunit, publicising the fact that Tina would be murdered and previewing showdown scenes with each of the four prime suspects, dubbing the storyline "Who Kills Tina?" [8]. Tina's last appearance came in the form of a video on Steph Britton's phone, seen two weeks after her on-screen death, which was the last scene Keegan shot for the programme.
One of the suspects in the murder was Peter Barlow, who was charged and found guilty of the crime. Actor Chris Gascoyne had decided to leave at the end of his contract having played Peter constantly since 2008, opening the possibility that Peter would remain in prison, but instead Carla Barlow exposed her brother Rob as the killer and Peter was exonerated, moving to Portsmouth immediately afterwards. The main casualty of the storyline was Marc Baylis, who was forced to leave the programme when his character Rob was imprisoned.
Peter continued to appear while at Highfield Prison, in a storyline with a returning Jim McDonald. Nicknamed "The Landlord", Jim smuggled alcohol into the prison allowing him to use Peter to get Liz and Steve to visit him. This continued the transition of Jim into a more unsavoury character and tied into Steve's ongoing depression storyline.
Putting down roots
The first change to the new set occurred within weeks of the move. V Court Fitness gym was opened opposite the Victoria Court apartments in April and introduced Kal Nazir's father Sharif to the programme as its co-owner. The other Nazirs - Kal's mother Yasmeen and children Alya and Zeedan - appeared over the coming months as they became relevant to storylines, so that they were all familiar to viewers before the family moved into the street in December.
Yasmeen, matriarch of the family, rented the old butcher shop in Victoria Street and opened Jamila House community centre in October, the first such establishment to feature regularly in the programme since 1989.
A deeper exploration of Kylie Platt's past took place with the introduction of Max Turner's father, drug dealer Callum Logan, as a major villain. Kylie sought out her ex-boyfriend for a pick-me-up after becoming addicted to Max's ADHD medication. The storyline was only meant to lead into Paula Lane's maternity leave, with David Platt kicking Kylie out of the house on Christmas Day, but Sean Ward who played Callum was kept on in her absence with David and Callum fighting over Max.
Another character created at this time was Gemma Winter, a friend of Kylie's from the estate where she grew up. Gemma appeared sporadically in 2014 and 2015 as a lackey of Callum's before becoming a regular in 2016.
Comedian Les Dennis, famous for his Mavis Wilton impression on Russ Abbot's Madhouse, joined Coronation Street as Michael Rodwell, a down-on-his-luck businessman who was caught burgling No.8. After his release from prison, Michael befriended and eventually romanced his victim, Gail McIntyre. This led into a major storyline where Michael traced his long-lost son Gavin and was welcomed back into his life, only for it to be revealed (to the audience) that "Gavin" was an impostor named Andy Carver.
Other introductions included Steph Britton's brother Luke, vicar Billy Mayhew, Liz McDonald's friend Erica Holroyd played by Emmerdale veteran Claire King, and Dr Gaddas, a new GP employed at Rosamund Street Medical Centre to replace Dr Carter. Meanwhile, Jason Grimshaw's shady father Tony Stewart re-appeared as a regular character, recast with Terence Maynard in the role. Two of the children in the programme also changed heads, with Lucca-Owen Warwick replacing Ronny and Tommy Cheetham as Joseph Brown and Betsie and Emmie Taylor taking over the role of Lily Platt from Ava and Lilly Bushell.
Notable departures
Some prominent names from Phil Collinson's tenure left the programme. Michelle Collins, playing Stella Price, resigned after her character was moved on from her position as landlady of the Rovers Return. Collins stated that she "didn't want to just be hanging around not doing anything" [9]. Stella made a low-key departure in April, two months after her mother Gloria left Weatherfield in the more dramatic fashion of driving off in a sports car with Dennis Tanner. Sue Johnston had quit the programme in order to focus on other TV projects [10]. This left Eva Price as the only remaining member of the clan.
Dennis Tanner was seen again in his final storyline where he returned with his tail between his legs and attempted to persuade Rita to take him back. In his last appearance, Dennis was caught by Rita with his hand in The Kabin till, convincing Rita to finish with him for good. The decision was taken to write Dennis out to show the consequences of him reverting to his roguish ways [11]. At the point of Philip Lowrie's axing, he was the only member of Coronation Street's original cast still in the programme on account of William Roache being absent indefinitely.
Charlie Condou quit after seven years on-and-off as Marcus Dent [12]. Marcus left for pastures new in July after breaking up with Todd Grimshaw. The following month saw Jenna Kamara go overseas to do voluntary work when producers decided not to renew Krissi Bohn's contract [13].
Fiz Stape was written out temporarily in November as Jennie McAlpine went on maternity leave. Wendi Peters made her first appearance as Cilla Battersby-Brown since 2007 to facilitate Fiz's exit, as Cilla came to stay at No.9 and revealed her osteoporosis to Fiz and Chesney. Fiz then went Wolverhampton to help look after Cilla for a while.
The final episode written by Peter Whalley before his retirement was broadcast on 26th February. Whalley was the most prolific Coronation Street writer of all time, with 601 scripts credited to him.
Ephemera
Three online spin-offs were made in 2014 which to date are the most recent bonus material produced for Coronation Street. As with most earlier web productions, the episodes were a few minutes each with a strongly comedic flavour. The first, made available for streaming in February, was Street Car Stories, a four-part series showing the inner workings of the Street Cars cab office. The series was written by Chris Fewtrell and featured Steve McDonald and Lloyd Mullaney.
Next were two videos posted on Norris Cole's Twitter page @NorrisMole, which had been active since 2010 featuring occasional posts purportedly written by the character. The "selfie"-style videos were written by Martin Sterling and featured Norris and Mary Taylor within Weatherfield Crown Court as Norris prepared to give evidence at Peter Barlow's murder trial.
Finally, a third mini-series was released over December 2014 and January 2015, entitled What Would Kirk Do?. In each of the five episodes, Kirk Sutherland would be presented with a dilemma relating to his upcoming wedding to Beth Tinker with three possible solutions offered to viewers.
Viewing figures
BARB ratings across the 253 episodes averaged 7.23 million viewers. This represented a loss of 1.24m from 2013, or 14% of the total audience - proportionally the biggest single-year drop in the programme's history. While every month was down year-on-year by at least 600k, the magnitude of the drops generally increased as the year went on, with the most extreme case being October which was down 1.7m viewers.
Coronation Street's chart performance also took a downturn, with three episodes reaching number one compared with 13 in 2013, its lowest since 2001, although three episodes fell outside the top twenty which was only one more than 2013. The highest rated episode - Hayley Cropper's death from cancer - was 8305 on 20th January which was seen by 9.53 million viewers. This was the first occasion since 1960 where the peak viewing figure was sub-ten million viewers, a figure the programme has not achieved since. The low point of the year - Episode 8528 on 7th December - was also notable in that its audience of 5.25m viewers was the lowest of any episode up to this point. The previous record for lowest rated episode had stood since 2009.
It is worth noting when making these observations that at this point ITV did not amalgamate figures for simulcasts on their main channel, ITV+1 and ITV HD.
Episodes
#
Ep.
No.
Date
Part
Writer
Director
Viewing
Figures

Chart
Position
1
8291
Wednesday 1st January
Mark Wadlow
Menhaj Huda
8,310,000
8
2
8292
Friday 3rd January
1
Julie Jones
Menhaj Huda
8,630,000
5
3
8293
Friday 3rd January
2
Carmel Morgan
Menhaj Huda
8,180,000
12
4
8294
Monday 6th January
1
Jayne Hollinson
Peter Rose
8,860,000
4
5
8295
Monday 6th January
2
John Kerr
Peter Rose
8,560,000
5
6
8296
Wednesday 8th January
Mark Burt
Peter Rose
8,300,000
7
7
8297
Friday 10th January
1
Damon Rochefort
Peter Rose
8,120,000
8
8
8298
Friday 10th January
2
Martin Allen
Peter Rose
7,820,000
11
9
8299
Monday 13th January
1
Jonathan Harvey
Lee Salisbury
8,510,000
6
10
8300
Monday 13th January
2
Jonathan Harvey
Lee Salisbury
8,060,000
12
11
8301
Wednesday 15th January
Peter Whalley
Lee Salisbury
8,070,000
11
12
8302
Friday 17th January
1
Jan McVerry
Lee Salisbury
8,450,000
7
13
8303
Friday 17th January
2
Jan McVerry
Lee Salisbury
8,130,000
10
14
8304
Monday 20th January
1
Debbie Oates
Kay Patrick
9,060,000
3
15
8305
Monday 20th January
2
Chris Fewtrell
Kay Patrick
9,530,000
2
16
8306
Wednesday 22nd January
Susan Oudot
Kay Patrick
7,850,000
10
17
8307
Friday 24th January
1
Joe Turner
Kay Patrick
8,410,000
7
18
8308
Friday 24th January
2
Joe Turner
Kay Patrick
7,760,000
11
19
8309
Monday 27th January
1
Julie Jones
David Kester
8,940,000
3
20
8310
Monday 27th January
2
Jayne Hollinson
David Kester
8,600,000
5
21
8311
Wednesday 29th January
Mark Burt
David Kester
8,350,000
6
22
8312
Friday 31st January
1
Ellen Taylor
David Kester
8,290,000
7
23
8313
Friday 31st January
2
Ellen Taylor
David Kester
8,170,000
8
24
8314
Monday 3rd February
1
Joe Turner
Audrey Cooke
8,640,000
3
25
8315
Monday 3rd February
2
Mark Wadlow
Audrey Cooke
8,370,000
6
26
8316
Wednesday 5th February
Peter Whalley
Audrey Cooke
8,520,000
4
27
8317
Friday 7th February
1
Simon Crowther
Audrey Cooke
8,120,000
9
28
8318
Friday 7th February
2
Chris Fewtrell
Audrey Cooke
7,690,000
11
29
8319
Monday 10th February
1
Martin Allen
Duncan Foster
8,730,000
4
30
8320
Monday 10th February
2
Mark Burt
Duncan Foster
8,550,000
6
31
8321
Wednesday 12th February
Susan Oudot
Duncan Foster
8,170,000
9
32
8322
Friday 14th February
1
Jonathan Harvey
Duncan Foster
8,290,000
8
33
8323
Friday 14th February
2
Carmel Morgan
Duncan Foster
7,870,000
11
34
8324
Monday 17th February
1
Joe Turner
John Anderson
8,400,000
3
35
8325
Monday 17th February
2
Damon Rochefort
John Anderson
7,930,000
8
36
8326
Wednesday 19th February
Mark Burt
John Anderson
7,860,000
10
37
8327
Friday 21st February
1
Jan McVerry
John Anderson
8,150,000
7
38
8328
Friday 21st February
2
Julie Jones
John Anderson
6,740,000
14
39
8329
Monday 24th February
1
Susan Oudot
Tony Prescott
8,210,000
5
40
8330
Monday 24th February
2
Susan Oudot
Tony Prescott
7,990,000
9
41
8331
Wednesday 26th February
Peter Whalley
Tony Prescott
7,810,000
10
42
8332
Friday 28th February
1
Simon Crowther
Tony Prescott
8,400,000
2
43
8333
Friday 28th February
2
Simon Crowther
Tony Prescott
7,660,000
11
44
8334
Monday 3rd March
1
Jayne Hollinson
Lee Salisbury
8,500,000
4
45
8335
Monday 3rd March
2
Jonathan Harvey
Lee Salisbury
8,120,000
5
46
8336
Wednesday 5th March
Chris Fewtrell
Lee Salisbury
7,290,000
9
47
8337
Friday 7th March
1
Ellen Taylor
Lee Salisbury
7,570,000
8
48
8338
Friday 7th March
2
Mark Wadlow
Lee Salisbury
7,060,000
12
49
8339
Monday 10th March
1
Simon Crowther
Alan Grint
8,090,000
2
50
8340
Monday 10th March
2
Debbie Oates
Alan Grint
7,810,000
4
51
8341
Wednesday 12th March
Joe Turner
Alan Grint
7,450,000
8
52
8342
Friday 14th March
1
Jonathan Harvey
Alan Grint
7,630,000
6
53
8343
Friday 14th March
2
Mark Wadlow
Alan Grint
7,200,000
10
54
8344
Monday 17th March
1
Jayne Hollinson
David Kester
8,020,000
1
55
8345
Monday 17th March
2
Jayne Hollinson
David Kester
7,840,000
5
56
8346
Wednesday 19th March
Damon Rochefort
David Kester
7,680,000
6
57
8347
Friday 21st March
1
John Kerr
David Kester
7,090,000
9
58
8348
Friday 21st March
2
Carmel Morgan
David Kester
6,130,000
18
59
8349
Monday 24th March
1
Mark Burt
Judith Dine
8,120,000
1
60
8350
Monday 24th March
2
Julie Jones
Judith Dine
7,750,000
4
61
8351
Wednesday 26th March
Martin Allen
Judith Dine
7,600,000
5
62
8352
Friday 28th March
1
Susan Oudot
Judith Dine
7,570,000
6
63
8353
Friday 28th March
2
Jan McVerry
Judith Dine
6,950,000
10
64
8354
Monday 31st March
1
Joe Turner
Duncan Foster
7,630,000
4
65
8355
Monday 31st March
2
Damon Rochefort
Duncan Foster
7,650,000
3
66
8356
Wednesday 2nd April
Susan Oudot
Duncan Foster
7,440,000
7
67
8357
Friday 4th April
1
Simon Crowther
Duncan Foster
7,590,000
5
68
8358
Friday 4th April
2
Mark Wadlow
Duncan Foster
7,290,000
9
69
8359
Monday 7th April
1
Chris Fewtrell
Tony Prescott
8,180,000
2
70
8360
Monday 7th April
2
Martin Allen
Tony Prescott
7,900,000
4
71
8361
Wednesday 9th April
Jayne Hollinson
Tony Prescott
7,410,000
6
72
8362
Friday 11th April
1
John Kerr
Tony Prescott
7,150,000
7
73
8363
Friday 11th April
2
Ellen Taylor
Tony Prescott
6,850,000
11
74
8364
Monday 14th April
1
Jan McVerry
John Anderson
7,580,000
3
75
8365
Monday 14th April
2
Mark Burt
John Anderson
7,550,000
4
76
8366
Wednesday 16th April
Jonathan Harvey
John Anderson
7,240,000
6
77
8367
Friday 18th April
1
Julie Jones
John Anderson
7,140,000
7
78
8368
Friday 18th April
2
Carmel Morgan
John Anderson
6,850,000
10
79
8369
Monday 21st April
1
Ellen Taylor
Menhaj Huda
7,560,000
9
80
8370
Monday 21st April
2
Ellen Taylor
Menhaj Huda
7,830,000
5
81
8371
Wednesday 23rd April
Mark Wadlow
Menhaj Huda
7,680,000
8
82
8372
Friday 25th April
1
Simon Crowther
Menhaj Huda
7,820,000
6
83
8373
Friday 25th April
2
Jonathan Harvey
Menhaj Huda
7,170,000
11
84
8374
Monday 28th April
1
Susan Oudot
Diana Patrick
7,700,000
5
85
8375
Monday 28th April
2
Mark Burt
Diana Patrick
7,250,000
8
86
8376
Wednesday 30th April
Damon Rochefort
Diana Patrick
7,280,000
7
87
8377
Friday 2nd May
1
Debbie Oates
Diana Patrick
6,940,000
10
88
8378
Friday 2nd May
2
Debbie Oates
Diana Patrick
6,540,000
11
89
8379
Monday 5th May
1
John Kerr
Alan Grint
7,170,000
8
90
8380
Monday 5th May
2
Martin Allen
Alan Grint
7,020,000
9
91
8381
Wednesday 7th May
Perrie Balthazar
Alan Grint
7,170,000
7
92
8382
Friday 9th May
1
Jan McVerry
Alan Grint
6,860,000
10
93
8383
Friday 9th May
2
Jayne Hollinson
Alan Grint
6,420,000
12
94
8384
Monday 12th May
1
Chris Fewtrell
Durno Johnston
7,380,000
4
95
8385
Monday 12th May
2
Chris Fewtrell
Durno Johnston
7,020,000
6
96
8386
Wednesday 14th May
Joe Turner
Durno Johnston
6,860,000
7
97
8387
Friday 16th May
1
Julie Jones
Durno Johnston
6,510,000
11
98
8388
Friday 16th May
2
Julie Jones
Durno Johnston
6,300,000
12
99
8389
Monday 19th May
1
Julie Jones
Judith Dine
7,340,000
6
100
8390
Monday 19th May
2
Perrie Balthazar
Judith Dine
7,510,000
4
101
8391
Wednesday 21st May
Martin Allen
Judith Dine
5,750,000
12
102
8392
Friday 23rd May
1
Jonathan Harvey
Judith Dine
7,320,000
8
103
8393
Friday 23rd May
2
John Kerr
Judith Dine
6,900,000
9
104
8394
Monday 26th May
Jan McVerry
Duncan Foster
8,290,000
4
105
8395
Tuesday 27th May
Simon Crowther
Duncan Foster
7,900,000
5
106
8396
Wednesday 28th May
Simon Crowther
Duncan Foster
8,440,000
2
107
8397
Thursday 29th May
Chris Fewtrell
Duncan Foster
8,300,000
3
108
8398
Sunday 1st June
Chris Fewtrell
Duncan Foster
7,180,000
9
109
8399
Monday 2nd June
1
Joe Turner
Tony Prescott
8,050,000
3
110
8400
Monday 2nd June
2
Joe Turner
Tony Prescott
7,940,000
4
111
8401
Wednesday 4th June
Damon Rochefort
Tony Prescott
6,970,000
6
112
8402
Thursday 5th June
Mark Wadlow
Tony Prescott
6,930,000
7
113
8403
Friday 6th June
1
Carmel Morgan
Tony Prescott
6,780,000
9
114
8404
Friday 6th June
2
Susan Oudot
Abe Juckes
6,790,000
8
115
8405
Monday 9th June
1
John Kerr
Terry Dyddgen-Jones
7,630,000
6
116
8406
Monday 9th June
2
Mark Burt
Terry Dyddgen-Jones
6,970,000
10
117
8407
Wednesday 11th June
Jonathan Harvey
Terry Dyddgen-Jones
7,170,000
9
118
8408
Friday 13th June
Jan McVerry
Terry Dyddgen-Jones
6,020,000
13
119
8409
Monday 16th June
Debbie Oates
Griff Rowland
7,330,000
6
120
8410
Wednesday 18th June
Ellen Taylor
Griff Rowland
6,750,000
7
121
8411
Monday 23rd June
Jayne Hollinson
Diana Patrick
6,930,000
3
122
8412
Wednesday 25th June
Julie Jones
Diana Patrick
6,550,000
4
123
8413
Friday 27th June
1
Simon Crowther
Diana Patrick
6,150,000
6
124
8414
Friday 27th June
2
Chris Fewtrell
Diana Patrick
5,800,000
10
125
8415
Monday 30th June
Julie Jones
Brett Fallis
6,290,000
9
126
8416
Wednesday 2nd July
John Kerr
Brett Fallis
6,470,000
6
127
8417
Thursday 3rd July
Mark Burt
Brett Fallis
6,060,000
12
128
8418
Friday 4th July
Carmel Morgan
Brett Fallis
6,460,000
7
129
8419
Monday 7th July
1
Jonathan Harvey
Tim Finn
7,160,000
6
130
8420
Monday 7th July
2
Jonathan Harvey
Tim Finn
6,720,000
9
131
8421
Wednesday 9th July
Susan Oudot
Tim Finn
6,280,000
10
132
8422
Thursday 10th July
Martin Allen
Tim Finn
6,010,000
14
133
8423
Friday 11th July
1
Joe Turner
Tim Finn
6,130,000
13
134
8424
Friday 11th July
2
Joe Turner
Tim Finn
6,010,000
14
135
8425
Monday 14th July
1
Chris Fewtrell
Ian Bevitt
7,068,000
2
136
8426
Monday 14th July
2
Chris Fewtrell
Ian Bevitt
7,068,000
2
137
8427
Wednesday 16th July
Mark Wadlow
Ian Bevitt
6,407,000
4
138
8428
Friday 18th July
1
Simon Crowther
Ian Bevitt
6,095,000
5
139
8429
Friday 18th July
2
Perrie Balthazar
Ian Bevitt
6,090,000
6
140
8430
Monday 21st July
1
Chris Fewtrell
Michael Lacey
6,493,000
4
141
8431
Monday 21st July
2
Damon Rochefort
Michael Lacey
6,507,000
3
142
8432
Wednesday 23rd July
Perrie Balthazar
Michael Lacey
5,890,000
6
143
8433
Friday 25th July
1
Jayne Hollinson
Michael Lacey
5,894,000
5
144
8434
Friday 25th July
2
Susan Oudot
Michael Lacey
5,810,000
7
145
8435
Monday 28th July
1
John Kerr
Terry Dyddgen-Jones
6,501,000
1
146
8436
Monday 28th July
2
Mark Burt
Terry Dyddgen-Jones
6,334,000
3
147
8437
Wednesday 30th July
Jonathan Harvey
Terry Dyddgen-Jones
6,103,000
4
148
8438
Friday 1st August
1
Debbie Oates
Terry Dyddgen-Jones
6,361,000
2
149
8439
Friday 1st August
2
Carmel Morgan
Terry Dyddgen-Jones
5,760,000
6
150
8440
Monday 4th August
1
Jan McVerry
Tim Dowd
6,751,000
4
151
8441
Monday 4th August
2
Ellen Taylor
Tim Dowd
6,931,000
2
152
8442
Wednesday 6th August
Martin Allen
Tim Dowd
6,300,000
9
153
8443
Friday 8th August
1
Joe Turner
Tim Dowd
6,643,000
5
154
8444
Friday 8th August
2
Mark Wadlow
Tim Dowd
6,330,000
8
155
8445
Monday 11th August
1
Ellen Taylor
Kay Patrick
6,941,000
3
156
8446
Monday 11th August
2
Martin Allen
Kay Patrick
7,096,000
2
157
8447
Wednesday 13th August
Julie Jones
Kay Patrick
6,560,000
6
158
8448
Friday 15th August
1
Damon Rochefort
Kay Patrick
6,530,000
7
159
8449
Friday 15th August
2
Damon Rochefort
Kay Patrick
6,390,000
9
160
8450
Monday 18th August
1
Simon Crowther
Brett Fallis
6,897,000
4
161
8451
Monday 18th August
2
Simon Crowther
Brett Fallis
6,720,000
6
162
8452
Wednesday 20th August
Susan Oudot
Brett Fallis
6,390,000
7
163
8453
Friday 22nd August
1
Jonathan Harvey
Brett Fallis
6,390,000
7
164
8454
Friday 22nd August
2
Jonathan Harvey
Brett Fallis
6,340,000
10
165
8455
Monday 25th August
1
Debbie Oates
Durno Johnston
6,915,000
6
166
8456
Monday 25th August
2
Mark Wadlow
Durno Johnston
6,844,000
7
167
8457
Wednesday 27th August
Perrie Balthazar
Durno Johnston
6,730,000
9
168
8458
Friday 29th August
1
Joe Turner
Durno Johnston
6,766,000
8
169
8459
Friday 29th August
2
Joe Turner
Durno Johnston
6,470,000
11
170
8460
Monday 1st September
1
Chris Fewtrell
Jo Johnson
7,230,000
6
171
8461
Monday 1st September
2
Susan Oudot
Jo Johnson
7,070,000
7
172
8462
Wednesday 3rd September
Jonathan Harvey
Jo Johnson
5,920,000
14
173
8463
Friday 5th September
1
Simon Crowther
Jo Johnson
6,470,000
10
174
8464
Friday 5th September
2
Martin Allen
Jo Johnson
6,430,000
12
175
8465
Sunday 7th September
Jan McVerry
Alan Grint
6,000,000
13
176
8466
Wednesday 10th September
Mark Wadlow
Alan Grint
6,510,000
7
177
8467
Friday 12th September
1
John Kerr
Alan Grint
6,350,000
8
178
8468
Friday 12th September
2
Damon Rochefort
Alan Grint
6,110,000
11
179
8469
Monday 15th September
1
Julie Jones
Matt Hilton
6,890,000
11
180
8470
Monday 15th September
2
Mark Burt
Michael Lacey
7,000,000
9
181
8471
Wednesday 17th September
Cardy O'Donnell
Michael Lacey
6,230,000
15
182
8472
Friday 19th September
1
Jayne Hollinson
Michael Lacey
6,640,000
13
183
8473
Friday 19th September
2
Carmel Morgan
Michael Lacey
6,300,000
14
184
8474
Monday 22nd September
1
Martin Allen
Tim Dowd
7,030,000
9
185
8475
Monday 22nd September
2
Ellen Taylor
Tim Dowd
7,040,000
8
186
8476
Wednesday 24th September
Cardy O'Donnell
Tim Dowd
6,910,000
13
187
8477
Friday 26th September
1
Simon Crowther
Tim Dowd
6,960,000
12
188
8478
Friday 26th September
2
Susan Oudot
Tim Dowd
6,880,000
14
189
8479
Monday 29th September
1
Chris Fewtrell
Audrey Cooke
7,400,000
10
190
8480
Monday 29th September
2
Mark Wadlow
Audrey Cooke
7,030,000
11
191
8481
Wednesday 1st October
Jonathan Harvey
Audrey Cooke
6,990,000
12
192
8482
Friday 3rd October
1
John Kerr
Audrey Cooke
6,930,000
13
193
8483
Friday 3rd October
2
Perrie Balthazar
Audrey Cooke
6,770,000
15
194
8484
Monday 6th October
1
Jan McVerry
Peter Rose
7,590,000
6
195
8485
Monday 6th October
2
Debbie Oates
Peter Rose
7,300,000
8
196
8486
Wednesday 8th October
Jayne Hollinson
Peter Rose
7,100,000
10
197
8487
Friday 10th October
1
Joe Turner
Peter Rose
7,060,000
12
198
8488
Friday 10th October
2
Julie Jones
Peter Rose
6,730,000
16
199
8489
Monday 13th October
1
Joe Turner
David Kester
7,450,000
9
200
8490
Monday 13th October
2
Jonathan Harvey
David Kester
7,410,000
11
201
8491
Wednesday 15th October
Jayne Hollinson
David Kester
7,750,000
6
202
8492
Friday 17th October
1
Chris Fewtrell
David Kester
7,120,000
13
203
8493
Friday 17th October
2
Simon Crowther
David Kester
7,000,000
14
204
8494
Monday 20th October
1
John Kerr
Tim Finn
7,960,000
6
205
8495
Monday 20th October
2
Susan Oudot
Tim Finn
7,978,000
4
206
8496
Wednesday 22nd October
Martin Allen
Tim Finn
7,130,000
10
207
8497
Friday 24th October
1
Damon Rochefort
Tim Finn
7,030,000
11
208
8498
Friday 24th October
2
Mark Wadlow
Tim Finn
6,750,000
16
209
8499
Monday 27th October
1
Jan McVerry
Kay Patrick
8,045,000
5
210
8500
Monday 27th October
2
Debbie Oates
Kay Patrick
7,930,000
6
211
8501
Wednesday 29th October
Julie Jones
Kay Patrick
7,410,000
9
212
8502
Friday 31st October
1
Mark Burt
Kay Patrick
7,340,000
12
213
8503
Friday 31st October
2
Carmel Morgan
Kay Patrick
6,830,000
15
214
8504
Monday 3rd November
1
Chris Fewtrell
Nickie Lister
7,820,000
6
215
8505
Monday 3rd November
2
Simon Crowther
Nickie Lister
7,890,000
4
216
8506
Wednesday 5th November
Susan Oudot
Nickie Lister
7,420,000
12
217
8507
Friday 7th November
1
Mark Burt
Nickie Lister
7,420,000
11
218
8508
Friday 7th November
2
John Kerr
Nickie Lister
6,970,000
15
219
8509
Monday 10th November
1
Ellen Taylor
Alan Grint
8,170,000
5
220
8510
Monday 10th November
2
Ellen Taylor
Alan Grint
7,800,000
9
221
8511
Wednesday 12th November
Cardy O'Donnell
Alan Grint
7,610,000
11
222
8512
Friday 14th November
1
Jonathan Harvey
Alan Grint
6,740,000
16
223
8513
Friday 14th November
2
Damon Rochefort
Alan Grint
5,770,000
22
224
8514
Monday 17th November
1
Julie Jones
Lee Salisbury
7,560,000
10
225
8515
Monday 17th November
2
Julie Jones
Lee Salisbury
7,720,000
9
226
8516
Wednesday 19th November
Mark Wadlow
Lee Salisbury
7,150,000
15
227
8517
Friday 21st November
1
Joe Turner
Lee Salisbury
7,220,000
14
228
8518
Friday 21st November
2
Perrie Balthazar
Lee Salisbury
6,920,000
18
229
8519
Monday 24th November
1
Jonathan Harvey
Audrey Cooke
7,530,000
9
230
8520
Monday 24th November
2
Jonathan Harvey
Audrey Cooke
7,480,000
11
231
8521
Wednesday 26th November
Jayne Hollinson
Audrey Cooke
7,000,000
16
232
8522
Friday 28th November
1
Damon Rochefort
Audrey Cooke
6,840,000
20
233
8523
Friday 28th November
2
Damon Rochefort
Audrey Cooke
6,930,000
18
234
8524
Monday 1st December
Martin Allen
Durno Johnston
7,540,000
6
235
8525
Wednesday 3rd December
Chris Fewtrell
Durno Johnston
7,090,000
12
236
8526
Friday 5th December
1
Simon Crowther
Durno Johnston
6,890,000
17
237
8527
Friday 5th December
2
Simon Crowther
Durno Johnston
6,490,000
21
238
8528
Sunday 7th December
Perrie Balthazar
Peter Rose
5,250,000
33
239
8529
Wednesday 10th December
Carmel Morgan
Peter Rose
7,280,000
7
240
8530
Friday 12th December
1
Susan Oudot
Peter Rose
6,900,000
11
241
8531
Friday 12th December
2
Susan Oudot
Peter Rose
6,570,000
13
242
8532
Monday 15th December
1
Debbie Oates
Menhaj Huda
7,160,000
9
243
8533
Monday 15th December
2
Debbie Oates
Menhaj Huda
6,800,000
12
244
8534
Wednesday 17th December
Cardy O'Donnell
Menhaj Huda
7,270,000
6
245
8535
Friday 19th December
Jan McVerry
Menhaj Huda
6,990,000
11
246
8536
Monday 22nd December
1
Julie Jones
Menhaj Huda
7,150,000
15
247
8537
Monday 22nd December
2
Julie Jones
David Kester
7,020,000
16
248
8538
Wednesday 24th December
Jan McVerry
David Kester
6,500,000
19
249
8539
Thursday 25th December
Joe Turner
David Kester
6,650,000
18
250
8540/1
Friday 26th December
John Kerr
Mark Burt
David Kester
6,390,000
20
251
8542
Monday 29th December
1
Jayne Hollinson
Michael Lacey
7,600,000
10
252
8543
Monday 29th December
2
Mark Wadlow
Michael Lacey
7,200,000
13
253
8544
Wednesday 31st December
Susan Oudot
Michael Lacey
6,480,000
16
Storylines
January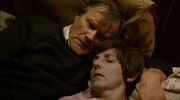 February
Tina returns briefly to sort out her belongings. Norris Cole has a dispute with Tracy over an unpaid paper bill, and he retaliates by telling her about Rob's kiss with Tina. When Tina confesses the truth, Tracy throws him out and he lodges with Carla and a reluctant Peter. Carla tries to matchmake between Tina and her brother, but he misses Tracy and wants her to take him back. She refuses but both Tina and Deirdre make her see that she still loves him and they get back together.
Maddie contacts Sophie asking to meet on the Red Rec, but Sally follows her daughter there and her presence makes Maddie run off. They follow her to her mother's flat where they discover that her brother Ben Heath is there having run away from his foster carers. They return him so as not to cause problems with social services. Maddie disappears again and Tim helps Sophie look for her, realising that she fancies the runaway.
Lloyd admits he fancies Andrea. Steve tries to prevent him contacting her but fails and she agrees to go out with him. Steve is jealous when they spend the night together and Michelle, in turn, is annoyed with Steve's attitude towards them. She believes his claims that he merely feels left out and has no feelings for Andrea. Nevertheless, Steve and Andrea feel uncomfortable in each other's presence.
Dev and Kal choose premises on Victoria Street for their new gym. Jason agrees to carry out the conversion work, but Tony and Eva Price think he's charged too little and make him increase his price. To raise the funds, Kal has to bring in his controlling father Sharif Nazir who insists they use someone cheaper than Jason. He blames Tony for the loss of the work.
Phelan fails to pay in his £120,000 for the flats' deal and Owen can't trace him. No.6 is now at risk as it was used as security for the loan, however the bank made an error and the cash was there all along. Phelan makes Anna uncomfortable when he admits that he finds her attractive. She decides not to tell Owen but finds socialising between the business partners to be an ordeal. She receives a Valentine's card and is relieved to discover it's from Owen. She grows more uncomfortable in Phelan's presence and makes a disastrous attempt to discuss the matter with him when he comes on extremely heavy with her. Izzy guesses what happened and tells a livid Gary when pressured by him. He and Phelan fight at the site and Gary fears he's killed the builder. He goes back there with Owen, only to find the site deserted. They have to leave the search when Jake Windass is rushed into Weatherfield General with a urine infection. They worry when they are unable to find Phelan anywhere.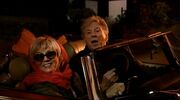 Rita muscles in on the discussions between Dennis, Gloria and Ritchie de Vries about the next gig, annoying Gloria, who thoroughly enjoys the attention from the two men. Dennis is jealous when Ritchie takes Gloria for a drink and tries a more youthful image to get back in with them, causing him and Rita to row and split up. Gloria takes Dennis in and enjoys telling Rita when she and her husband attempt a reconciliation. Ritchie bails out on Gloria when an international management outfit employs him. Dennis convinces Rita to take him back and Gloria decides to go travelling and enjoy life. Dennis breaks Rita's heart when he leaves her and goes off with Gloria to pastures new. Her friends rally around her to comfort her.
Tina decides to stay in the area to look after Rita but admits to Peter that it's also to be near him. They resume their affair as Carla travels to Paris for several weeks to help a friend with a factory launch. They are almost caught in the act by Steve and Lloyd as they meet for their trysts.
Fiz takes charge at the cafe when a pipe bursts and she rings Roy for the insurance details, only to find that Sylvia is away, and he never turned up at her house. The police are alerted, and Roy's friends search for him in his usual haunts. They fear he has drowned in the canal when CCTV footage shows him in the vicinity and his bag is also found there. Steve and Tracy bump into him when they take Amy to the

Museum of Science and Industry

for the day. He returns home, saying he has been in a B&B and his bag was stolen. He returns to work in the cafe. Regular presents arrive which delight him, ordered by Hayley for him before she died.
Todd continues his slow-but-sure pursuit of Marcus, offering to babysit Liam Connor and making Eileen suspicious as to what he's up to. On a false pretext, Todd gets Maria to return to their flat from a meal out so he can get Marcus alone. Todd plays on his sympathies and also seduces him. Marcus falls for Todd's manipulations and they end up in bed. Marcus regrets the slip and warns Todd to keep quiet about it. Eileen finds out what happened and warns her son to steer clear of Marcus, but he refuses.
Beth prevents an old lady being mugged on a night out at bingo and revels in the praise lavished down on her, but soon bores everyone with tales of her heroism.
Stella plans a surprise fiftieth birthday party for Dev.
Eileen is unhappy to observe Tony and Liz growing closer.
March
Carla returns from Paris. Steph Britton moves in with Tina, helped by her brother Luke who takes a fancy to his sister's flatmate. Tina and Peter meet when they can. He books a

hotel

for the two of them, but Carla finds out about the room and thinks it's a surprise for her. Afterwards, Tina has to listen to Carla's tales of what a wonderful time they had together. Peter uses AA work as an excuse to carry on seeing Tina, but she feels used when he books them a B&B to meet in, rather than a swanky hotel and plans to finish with him. She can't bring herself to do it, but Peter begins to show cold feet. Steph guesses about the affair. Carla discovers she is pregnant and is also shocked by the sudden death of her hated stepfather. Tina insists that Peter come clean about them to Carla, but he can't commit to her because of his wife's woes. Tina understands when she finds out that he's telling the truth about the death and not prevaricating. Carla can't bring herself to go through with a termination and floors Peter when she tells him the news, but not as much as when Tina tells him that she thinks that she's expecting too.
Jason isn't pleased to find out that Tony and Liz are an item. Deirdre tries unsuccessfully to prevent Eileen and Liz falling out over the matter. To get his son work, Tony steals the tools of the builder who has been hired to do the gym conversion. Kal and Liz suspect him of carrying out the robbery. Re-employed, Jason won't take his father on the job. Steve is annoyed when Tony dismisses a warning from him to treat his mother well. Liz demands her son shows Tony respect while behind her back Tony threatens Steve not to get on his wrong side.
Invited to No.13 by Stella for his surprise party, Dev misreads the situation and goes to kiss Stella before everyone jumps out. The embarrassed atmosphere deflates the party. Stella starts to take an interest in Kal and Nick encourages her to ask him out but when she does so, he refuses, being far more interested in Leanne. She however is torn as Nick makes it clear that he would like the two of them to get back together. Stella decides on a fresh start and plans to move to New York. She arranges for Leanne and Eva to move into the kebab shop flat.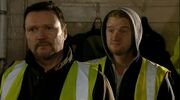 Valerie Phelan looks for her husband who eventually turns up with CCTV footage of the assault which he uses as blackmail to change the terms of the agreement, making Owen and Gary work for minimum wage only. They start to encounter money problems at home, causing arguments. Phelan makes Gary and Owen's working atmosphere hellish. They concoct a scheme to steal materials from the builder, but the plan fails and in revenge he threatens Owen with the police unless he surrenders their £80,000 investment to him. Gary decides to steal the DVD of the CCTV footage from Phelan's house, but Owen prevents him while Anna and Izzy despair of him making matters worse. Phelan gets Owen removed from the council's list of approved suppliers, cutting him off from a rich source of alternative work.
Sophie gives up work at the homeless shelter, deeply disappointing Maddie. The two of them agree to go on seeing each other but Maddie stands up Sophie on their first date when she is mugged. Sophie invites Maddie to stay at No.4, against Sally's objections. The girl pushes Sophie to sleep with her, but she refuses. They grow closer after Sophie encourages her to visit Ben, and they finally commit to each other.
Fiz and Julie Carp think of raising funds for a cancer charity in Hayley's name, but Roy shows no interest, and his friends worry that he's becoming a recluse. He hesitates for some time to collect Hayley's ashes but Fiz and Chesney make him go through with it. Worried that he's avoiding them, they and Tyrone push their way into his flat and find he's enjoying himself with an elaborate model railway with the items purchased by Hayley before she died.
Fiz starts to grow suspicious of Marcus and Todd. Maria finds a house she wants and makes Marcus view it without her as she has to work. Todd pushes himself in on the viewing and he and Marcus have sex in the property's bedroom. They are interrupted by the unexpected arrival of Maria and Audrey. Maria finishes with Marcus and evicts Fiz from the flat when she confesses that she kept her suspicions to herself. When Eileen refuses Marcus a permanent place in her house, Todd gets Julie to take him in at No.12.
Tyrone struggles at the garage before Kevin Webster's scheduled return from

Germany

and he takes Luke on as a mechanic. Kevin and Jack Webster return. He mistakes Tim for a thief in No.4 and attacks him. The matter is amicably sorted out. Kevin stays at No.9, not keen on sharing his house with Stella. He finds the garage's affairs in a mess. When Sally uses him to try and get Maddie to move out of her house, they discover she and their daughter are lovers.
Kylie is dissatisfied with the lack of romance between her and David. They throw caution to the wind and get intimate at the salon but Dev walks in on them. Unable to get any time alone, they book into a

hotel

where they almost bump into Peter and Tina who are continuing their affair from supposed prying eyes.
Gail McIntyre arrives home to find a hapless burglar named Michael Rodwell in her house. He manages to make his escape. She is unnerved by the incident and hates being home alone. She identifies Michael from a police mugshot.
Beth receives a gift from Maureen of £5,000. The Gazette publishes the story, but it leads to a string of online abuse about Beth's appearance from readers. To cheer her up, Craig publishes his own comments about how much he loves her.
April
Stella leaves the street for her new life.
Tim has to pay for Faye Windass's school trip to London as Anna and Owen can't afford it. Anna approaches Valerie about her husband's blackmail and finds out that she already knows. She calls Anna a liar when she tells her that Phelan tried to seduce her. Phelan appoints Clive, a new foreman, with instructions to continue to make Owen's life difficult. His tactics drive Owen to the edge and Anna has to stop him torching down the building site. Gary starts to suffer panic attacks again. To end the persecution of her family, Anna agrees to sleep with Phelan but is disgusted with herself afterwards. Phelan releases them from their contract and hands over the CCTV footage. Afterwards, Anna finds physical contact with Owen difficult and he worries why. She gets a cleaning job at the Rovers to help with their debts where Liz finds fault with her work.
Peter hits the bottle to escape his troubles. Steve picks him up in his cab, and spending the night with him at a B&B as he is drunk, is told about the affair and the two pregnancies. Recovering from his hangover the next day, Peter tries to avoid Tina and is relieved when her pregnancy test is negative. He dumps her and she swears revenge but, deeply in love, softens towards him again after a few days. Peter carries on drinking as Tina seduces him all over again. Carla discovers that Peter is on the booze again and Michelle is furious that Steve covered for him. Carla tries to cut off Peter's access to drink and forces him to go to a rehab centre. Simon Barlow is resentful that he can't contact his dad and an oblivious Carla asks for Tina's help with him. Steve grows angry with Tina's duplicity and confronts her with his knowledge of her affair but agrees to keep quiet.
Maddie returns to Sophie. Social services call at No.4 asking where she is as the girl is under 18. Sally throws her out and Sophie leaves with her, living with her in her hostel. There they are attacked by some of the lads who are also residents and Maddie has to give them money to make them leave. Annoyed by her social worker, Maddie leaves the hostel and sleeps on the streets. Sophie goes with her. Kevin gets the girls to move in with him when Sally refuses. After taking Maddie on at the garage, Kevin returns to Germany when Bill Webster breaks his leg in a fall. Tim encourages Sally to make her peace with Maddie. The girl is upset when she discovers that Ben's foster parents are taking him to live in Devon and Sophie grows impatient at her inability to deal with life's bad throws of the dice.
Dev, Kal and Sharif open V Court Fitness. Kirk and Norris are the first customers. Gail starts at a self-defence class there to overcome her fears about being left alone.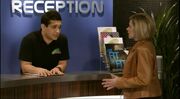 Nick is jealous of Leanne and Kal's growing closeness and is told to mind his own business but Leanne herself is uneasy with Kal's attentions. An unimpressed Sharif finds out about Leanne's chequered past. Kal steps in for a topless waiter at a hen night at the bistro. Leanne gives in to him and they kiss. She steels herself to tell Nick and is taken aback when he re-proposes to her. His hopes are raised when she can't bring herself to say an outright no to him, and she confesses to Kal that she's bottling out of telling him the truth. Pushed by Kal, Nick hits Steve too hard in a training session at the gym, making him worried that he's suffering further violent episodes. Finding out he was responsible, Leanne finishes with Kal. Nick keeps him on as a personal trainer and invites both him and Leanne to dinner. There, she grows annoyed as Nick behaves as though they are still a couple and she reconciles with Kal.
Having had their rent increased on their shop by Peter, Tracy and Rob run into business difficulties. Tony offers them cheap gear to help but Rob refuses it, suspecting it's stolen. Tracy and Tony wear down his resistance and they take delivery of a load of knock-off electrical goods. Rob, in turn, manages to offload a stock of hairdryers on to an old business associate. He and Tracy become engaged.
Stung by the online comments, Beth decides to spend her windfall on a breast enlargement, despite her family's pleas to change her mind.
Maria makes it clear to Marcus that they have no future, and he goes to London for a couple of weeks, upsetting Todd who takes his temper out on her until an angry Kirk steps in. Tyrone is horrified to hear that Kirsty Soames has been released from prison. Fiz and Maria are reconciled when Fiz comes to her aid after she injures herself, but Maria is put out by the closeness between Fiz and Tyrone. Maria attacks Todd when he twists the knife in with her about Marcus. Tyrone steps in and Maria starts to rediscover her long latent feelings for him. When he refuses an attempted kiss, Maria starts a campaign of harassment against him and Fiz, pretending that Kirsty is actually the one behind it. Fiz reports the matter to the police, but they have little to go on as evidence. Tyrone is angry for Fiz involving the law and confides his annoyance with Maria. Fiz grows suspicious that something in going on between them, but Maria manages to convince her that they're just good friends.
Gail attends Michael's sentencing at court where he receives twelve months.
Steve avoids Andrea when they have a

college

project they have to work on together. He knuckles down to the task, but a mistake is made, and Michelle and Lloyd think they are having an affair which the two make a mess of explaining matters. Lloyd and Andrea declare their love for each other. Jenna Kamara is suspicious when Andrea won't let Lloyd stay the night at her house.
Dennis turns up in Weatherfield General having been beaten up. Despite Norris's warnings, Rita visits him where she finds out that he ended up sleeping rough again when he and Gloria split up. Reluctantly, she takes him in again, causing tensions in The Kabin.
The women of the street hold a charity night at the bistro in Hayley's memory. Then, the Underworld girls prepare for a 5k run for the same cause and Izzy is asked to look after the sponsorship money. Forgetting her purse, she uses some of it to pay for shopping and uses money from Gary to replace it. Steve and Lloyd are shamed by Kal into taking part in the run. Steve trains hard on the quiet to beat Lloyd.
Upset at her looks, Sinead isn't impressed with a dress that Chesney buys her with Steph's help.
May
Maria's capacity for rational thought diminishing, she subjects Marcus to a barrage of abuse when he returns from London. Todd and Marcus start going out together again while Maria briefly dates Luke. She continues the calls to Tyrone in the guise of Kirsty, trying to split up him and Fiz as she is sure that Tyrone loves her. When she tells him of her infatuation, he tries to let her down gently and hugs her, but they are spotted by Fiz who thinks they're having an affair. Maria tries to seduce Tyrone, but they are interrupted when Fiz rings "Kirsty"'s number and he answers Maria's phone, both of them realising suddenly who sent the texts. Audrey is appalled by the extent of Maria's breakdown when she hears about the texts and summons Kirk to help his sister. She is arrested when Fiz reports her to the police. Marcus feels he's to blame for triggering Maria's breakdown. Kirk gets Fiz to drop the charges, in return for which Maria will go and stay with her parents in Cyprus for a while.
Maddie takes Ben from his foster parents without permission and the police and social services call at No.13 to take him back. After briefly hiding the boy, Maddie surrenders him when she realises that he doesn't mind moving to Devon. She behaves herself when it comes time to say goodbye to her brother.
Sinead gets drunk when she wears the dress to a bistro date with Chesney when Katy Armstrong walks in wearing the same outfit.
Leanne worries that her new relationship will set Nick back months with his recovery. Even though his father gives him his blessing, Kal thinks it's too soon to enter into another relationship, but he nevertheless continues a friendship with Leanne. After several weeks, he decides to follow his heart and takes up with her again. Eva lets slip to Gail that the two are an item. She demands that Leanne comes clean with her son.
Tim leaves Sally when she bosses him about once too often, but they are soon reconciled.
Lloyd collapses with a heart attack at the 5k race. Steve feels terrible seeing his old friend so ill and they jealous rivalry dissipates. Andrea takes a long time to arrive at the hospital and has a feeble excuse, making Jenna and Eileen even more suspicious as to what she's up to. Lloyd suffers an angina attack and has stents fitted.
Owen can't get Anna to open up with him as to what's wrong. Unable to find work, he has to consider selling the

yard

and its flat. He also sells his tools. Anna breaks down at work and confesses to Roy that she's done something terrible. He encourages her to be honest with Owen. Tony is interested in the properties and makes a desperate Owen accept a low offer. Jason wonders where his father's money came from. Owen fails to get a packing job at the factory and can only pay off £5,000 of the loan from the yard/flat sale but he does get a short-term job tarmacking in

Aberdeen

. On the eve of his departure, Anna confesses about her sleeping with Phelan, and he leaves under a dark cloud.
Izzy is given the charity money from the race to look after. She is tempted to dip into it when she and Gary fall behind with the bills. A journalist arrives at the factory to cover the story of the fundraising and Izzy is supposed to come up with the collected cash to be photographed. She has to confess she has spent some £100 of the money. Owen has to make good the shortfall from what little funds he has from his tool sale, whilst a sympathetic Carla allows her to retain her job.
Dennis apparently looks for a job, but Norris spies him coming out of the Rovers. Rita gives him a week's notice to leave but Julie offers to put him up.
Returning from rehab, Peter is hurt when Simon doesn't want to see him. Tina accompanies him to a

hotel

bar to prevent him drinking where Rob almost catches them together. Peter also misses Carla's scan and returns home drunk to a furious row. Tina finds out about Rob and Tracy's dodgy dealings with Tony and, in turn, Rob grows more suspicious about her and Peter. Peter grows fearful that Rob will discover the truth and tries to end things with Tina, so she resolves to move away to Portsmouth and take him with her. At the same time, Carla plans to move Peter away with her to Chorlton and he riles against her efforts to control him. Rob sees Tina with a pen from the same hotel where he bumped into Peter and realises he has proof of the affair. Before he can tell his sister, she is hospitalised with stomach pains, though tests show the baby is safe. Peter assures Rob he'll stick by Carla and is threatened if he doesn't. Tony tries to interest Tracy and Rob in a stolen van full of electrical goods but Rob refuses. Tracy is interested, though the heist will have to take place on the night of her and Rob's engagement party. Tina pressures Peter to move to Portsmouth with her. Expecting to meet him for the journey, she enters the Rovers where Rob and Tracy's party is taking place and hears about Carla's pregnancy. Devastated, she threatens to tell Carla about their affair, but Peter forestalls her and confesses to his wife himself. Not knowing this, Rob threatens Tina in her flat who retaliates by threatening to tell all about his illegal dealings with Tony. After a struggle she falls off the balcony. Rob goes down, clubs her with a piece of piping, stages a robbery in the flat and the hides the piping at No.1 where he accidentally drops a bracelet of Steph's. She's taken to hospital where she is in a critical condition. Various residents fall under suspicion, Peter is questioned, and Carla is arrested, much to Rob's horror.
Beth goes to Latvia for her breast enlargement but changes her mind and doesn't go through with the procedure. She uses the money to take the family on holiday instead.
Gail and Katy job-share the receptionist's job at the gym where Gail riles the customers and staff with her officious manner.
Todd tries to move Marcus into No.11 but tired of the overcrowded house, Eileen refuses to let him.
June
Carla is released pending further enquiries. As Rita and David watch over Tina, her condition deteriorates and she is operated upon. Dennis supports Rita. Deirdre and Tracy look after a drunk Peter. Steph notices her bracelet is missing. Tina dies. Carla publicly accuses Peter of her murder, and he is treated as pariah by everyone except Deirdre and Tracy. Simon also turns against him. Brought on by stress, Carla loses the baby. Rob swears revenge. Ann McIntyre returns to organise her daughter's funeral. Carla gets drunk under the pressure of further police questioning and tells Ann what she thinks of her dead daughter. Rob tries to turn the pressure off his sister by making everyone think Peter is the true culprit. Deirdre persuades Peter to fight and prove his innocence. Tina's funeral takes place. A drunk Peter attends and is publicly accused of killing Tina by David in his eulogy. Peter and Rob fight by the graveside after Peter admits he ruined Tina's life. Both are arrested for the fracas. Eccles sniffs out the bracelet which Tracy decides to keep after Peter unwittingly puts his fingerprints on it.
When questioned by the police, Steve tells them about Peter and Tina's affair. An unwitting Michelle is puzzled as to why they are so keen to talk to him. When she discovers that he knew about the affair and withheld the information from her and Carla, she finishes with him. Steve turns against Peter and starts to win Michelle back. Michelle and Rob run the factory in Carla's absence but Peter refuses to be excluded. With Rob out of the way, Tracy and Tony bring more stolen goods into the shop. Carla returns to work where her excessive drinking starts to badly affect the business. Peter tries to help her but is prevented from doing so by Rob, who remains protective of his sister. Once she is back in control, and having been vile to her staff while drinking, Carla apologises to them all, but she has to make Sally her PA in order to buy her forgiveness.
When questioned, Kal admits to Nick that he and Leanne are a couple. He reacts with anger towards everyone, and Leanne finishes with Kal as she feels she can't trust him but takes back up with him after a couple of weeks. Nick sacks Leanne from the bistro and starts divorce proceedings. Leanne is furious when the formal papers cite her adultery and decides to fight for the bistro. Nick promotes Steph to supervisor to annoy Leanne.
Anna tells Izzy and Katy about her sleeping with Phelan. Katy can't cope with what she views as a betrayal of her father. Owen returns from Aberdeen and is mortified to find out that his daughter now knows what happened. Not knowing the cause, Gary is puzzled by Owen's cold manner to his mother. When Faye gets drunk with her teenage friends after Gary gives her money to go ice skating, Owen takes out his frustrations on the lad and thumps him, making Anna furious. When Gary fails to get a job and blames Owen, he tells him what his mother did. Gary offers Anna his support. She finishes with Owen, tired of his disgust of her, but she relents and asks him to remain for Faye's sake however the girl isn't fooled and knows that things are bad between the couple.
Sally feels neglected. To make it up to her, Tim cancels a stag weekend and the everyone wonders if he's going to propose but Sally is happy with things the way they are. The two accidentally become engaged when neither is truthful with the other about not wanting to be. He buys a cheap engagement ring from Tracy's shop. Sally tries to put Tim off marrying her. Realising that neither wants to commit, Tim goes down on one knee in the Rovers and asks Sally not to marry him. She accepts his non-proposal.
To calm her nerves, Gail meets Michael in a restorative justice session. She warms to him when he tells her how his life has fallen to pieces in recent years through no fault of his own. Much to David and Kylie's derision, she starts to correspond with the prisoner. Gail and Kylie fall out over a carpet burn so Kylie alters one of Gail's letters to Michael, who is now released on probation, to say she's interested in him. She quickly regrets her rash action. Michael turns up at No.8, confusing Gail until she realises what Kylie did. She is sorry for Michael when Kylie is rude to him and livid when she and David connive to get Michael sacked from his job at the

Weatherfield Garden Centre

. Max starts to be disruptive at school, but Kylie blames the teachers. Becky McDonald invites them to visit her in Barbados.
Maddie is invited to stay with Ben in Devon. Sophie joins her for part of the trip.
Marcus drunkenly tells Todd he loves him, but regrets it when he sobers up. Todd admits to Tony that he's just using Marcus for his money and will move on when he's bled him dry. Todd is sacked from Street Cars for skiving.
Lloyd recovers but is puzzled by Andrea's continuing evasiveness. Unknown to him, her husband Neil Beckett returns from working in

Nigeria

for three months. She hides the fact from Lloyd and asks for more time to think about it when Lloyd asks her to move in with him. Alongside this, she pretends to her husband to have extra shifts at work to cover for her absences from him.
Dennis threatens Norris when he accuses him of using Tina's death to worm his way back into Rita's affections.
Luke takes a fancy to Katy.
Gary grows tired of Izzy blaming him for the Windass's problems and goes out clubbing with Jason where he hooks up with a girl named Alya Nazir. Drunk, he spends the night with her. He's shocked the next day to discover that she's Kal's daughter while she is angry that he has a girlfriend and son but agrees to keep her silence. Izzy feels their relationship is falling apart. Alya approves of her father's relationship with Leanne.
Liz plans a secret 40th birthday party for Steve. He's depressed over his age and mishandling the Peter/Tina situation and almost doesn't attend. The party invigorates him, and he decides to take a new course in his life and retire successfully before he is fifty. He continues to find his studying difficult.
Unhappy at the factory, Eva gets a barmaid's job at the Rovers.
Maria returns from Cyprus to insults from Fiz and anger from Todd when she agrees that Marcus can continue to see Liam.
July
Sharif demotes Gail to gym cleaner and makes Alya receptionist. David and Nick are annoyed when she finds a job for Michael at Street Cars. Nick threatens Michael into keeping away from his mother and his job. Gail finds out and gets Steve to take him back on. Using an inheritance from his aunt, Michael buys an expensive television set as a thank-you to her, but leaving her and David wondering where the money came from. Once he proves that it's legitimate, he and Gail grow closer. Eileen discovers how they met and advises Michael to run for the hills. Michael buys himself an ice cream van which Gail helps him to do up, much to Nick's annoyance. He vandalises the van when he sees his mother and Michael kissing. Gail succumbs to the pressure and finishes with Michael.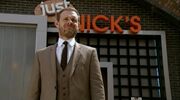 Nick deliberately spoils Leanne's birthday by making her work that night, but Kal circumvents him by keeping her company at the bistro. Nick then makes Leanne's life a misery at work, forcing her to quit. His family start to grow concerned about his behaviour. Yasmeen Nazir turns up to see Leanne for herself. As Nick decides to close the bistro, he announces to the Nazir family that Leanne used to be a prostitute. Yasmeen advises Leanne to finish with her son, but Kal won't be dissuaded. Nick renames the bistro "Just Nick's". Yasmeen isn't pleased to see Kal supporting Leanne through her divorce, but Leanne declares her love for him. Nick grows concerned that she'll take half the business and reluctantly attends a mediation session between the two which merely ends up being rancorous.
Jenna plans a holiday for her and Lloyd in

Majorca

. He is puzzled when Andrea won't commit to seeing him off. At the same time Neil delays his return to Nigeria and suggests to Andrea that instead they visit their daughter, Jessica, in Liverpool. Upon his return, Lloyd pushes Andrea to move in with him. She blocks for time while keeping her husband and her boyfriend at a distance from each other. Steve gets a C in his exam while Andrea gets an A. Lloyd presents her with a key to his flat. Feeling the pressure, Andrea tells an astonished Michelle the truth and leaves Neil. A suspicious Steve gets the truth out of Michelle and he in turn warns his friend, just as Andrea is about to move into the flat. Distraught at the lies, Lloyd finishes with her. Neil follows his wife and sees her talking to Steve, mistaking him for her fancy man. He begins to stalk Steve who, unaware of his follower, reluctantly allows Andrea to lodge in the pub as she's now homeless. Lloyd has to step forward and introduce himself to Neil as his wife's lover when he confronts Steve. Determined not to give up on him, Andrea tries to force Lloyd to talk things through but fails. He gets Steve to evict Andrea who moves into a B&B.
Todd deliberately doesn't set his alarm to prevent Marcus from getting up in time to take Liam to school. Despite this, Maria allows him to continue to see her son but warns him against Todd who then uses the excuse of traumatic memories of Billy to emotionally blackmail Marcus into not being in contact with Liam. At the same time, behind Marcus's back, he has a fling with an old friend, Johnny Cattermole. In disgust, Sean warns Marcus who doesn't believe him until he sees Todd with Johnny and attacks him in front of Liam. Marcus is suspended from work for taking too much time off. Saying he has nothing left for him in Weatherfield, he leaves. Tony takes Todd on in the yard without consulting Jason first.
Peter is jealous as Carla flirts with Luke. She gets him to hand over his share of Underworld to her. Upset at seeing her enjoying Luke's company, he starts drinking again. Carla almost sleeps with Luke, but he stops her as he knows she's in a bad place and not thinking straight. She plans to move into Victoria Court to get away from Peter.
Steve buys a retro camper van for his and Michelle's wedding business.
Jason employs Gary whose relationship with Izzy deteriorates to the point where they split up. Thinking Izzy knows about their one-night stand, Alya insists to her that they only kissed, only to learn that Izzy was oblivious until then.
Faye develops a crush on an older boy at school. After a few weeks, she avoids her friends and Craig warns her that people are saying on social media that she's sleeping around. Anna finds out about the tweets and thinks Craig is to blame.
Max continues to play up. David, Kylie and the children go to Barbados.
Steph recognises the bracelet that Tracy is wearing as the one stolen from her flat. She reports the matter to the police. When Deirdre confirms where it was found, No.1 is declared a crime scene, evacuated and searched, throwing further suspicion on Peter. The police find his fingerprints on the bracelet and traces of Tina's blood in No.1's outhouse. He is arrested and charged with Tina's murder, being remanded in custody. Despite pressure from Tracy, Deirdre withholds the news from Ken Barlow in Canada as Adam Barlow is still very ill and he's already worried about his son's drinking. Peter sacks his solicitor when he recommends accepting his guilt with a plea bargain. He's gutted to realise that Deirdre and Tracy also think he's guilty and refuses to see them on prison visits again, thinking he's alone in the world.
Sophie returns from Devon ahead of Maddie who is upset that Ben is so happy with his new family and her visits are disturbing him. As Sophie won't move to Devon, Maddie decides to stay in Weatherfield. She manages to gain Simon's trust when he retreats into his shell over his dad's arrest.
Norris tries to block Dennis's attempts to reconcile with Rita. He is annoyed when Dennis sympathetically helps Rita deal with disposing of Tina's effects. Dennis tries unsuccessfully to warn Norris off. Rita does the same and Emily offers Dennis her support. He stages a row with Julie to get Rita to move back into her flat. Rita refuses to listen to Norris's warnings as she tells Dennis not to rush things. Norris suspects Dennis of stealing £20 from the till but Rita reveals she borrowed it. Julie lets slip to Norris about the staged row and he tells Rita who tells Dennis to stay away from her. He steals a wad of cash from the till, punches Norris and leaves.
Roy finds out the

Weatherfield Community Library

is closing and mounts a defence of it. He starts with a petition but Yasmeen favours more direct action. After a council meeting concurs the plan for closure, Yasmeen organises a sit-it with Roy, Emily and Mary.
Katy makes up with Anna. Bailiffs call and repossess goods from No.6 in lieu of debts outstanding. Owen is declared bankrupt and grows despondent, but their adversity brings him and Anna to a full reconciliation and they start sleeping together again. She has to use a food bank as they are so short of money.
Find out that Albert Tatlock's Military Medal is worth money, Tracy steals it and sells it to finance her wedding. Rob forces her to tell Deirdre who has to threaten her with eviction to make her retrieve it.
August
The council stalls the library closure to allow Yasmeen to make a formal appeal, but the building is mysteriously burnt down to the ground soon afterwards. Roy opens up a new community library in the cafe.
Despite Tracy's opposition, Rob buys back Albert's medal at the inflated price of £575.
David and Kylie arrive back from Barbados with Max's behaviour worse than ever. David worries that something is wrong with him, but Kylie is in denial. Dr Gaddas examines him and diagnoses ADHD, referring him to a child psychiatrist. In the meantime, his behaviour doesn't improve. Kylie starts to get annoyed by what she sees as Gail's lack of help as all her interest seems to be invested in renewing her friendship with Michael. He takes Gail out but knocks her over slightly in his ice cream van, twisting her ankle. The two bond over a romantic film and they kiss. She announces to the family that they are an item but only Audrey is supportive. Kylie struggles more and more with Max and begins to feel that everyone judges her as a useless mother.
Maddie stands up for Simon when Amy teases him about his dad being in prison. The girl tells Tracy that Maddie threatened to slap her and demands £10 compensation out of her which Sophie pays. A few weeks' later, Amy lets Eccles go while walking her and she is found injured by the roadside. Maddie uses Carla's car without permission to take her to the vets, angering Carla who refuses to give Maddie a job at the factory.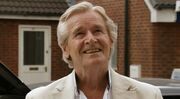 With Adam better, Ken returns from Canada, still oblivious about Peter. Deirdre tries to stop him talking to the neighbours before she has a chance to explain, but he soon bumps into Carla who reveals all that has happened. He tears into Deirdre, especially when he realises that she doubts Peter's innocence.  His visits his son and declares he will fight to release him, giving Peter hope but unnerving Rob. Ken hires a new solicitor and tries to get Simon to visit with him, but Rob offers the boy an interesting trip to

Chester Zoo

instead, depressing Peter who craves a drink. He finds out that the inmate supplying illicit drink is none other than Jim McDonald who gives him a bottle. He also encourages Peter to plead not guilty at his hearing. This news shakes Rob. Jim continues to supply Peter with booze in exchange for favours but he ends up drunk when Leanne brings a reluctant Simon to visit him. When they abruptly walk out, he thinks he's lost his son forever while Rob is pleased that he's struggling again. Jim cuts off Peter's supply as he doesn't trust him not to give his activities away, so Peter agrees to entice Steve to visit his dad in return for more drink. Upon visiting Peter, Steve angrily refuses his plea to see his dad and Liz goes instead to demand her ex keeps away from her family. Jim blames Peter for the rejection and refuses any more booze. Peter finds his stash and drinks himself into intensive care with his life in the balance.
Todd starts to aggressively drum up business for Jason, involving Tony in underhand practices without Jason's knowledge. Jason agrees to do a loft conversion at No.9 for Tyrone at mate's rates and to make a profit Todd and Tony surreptitiously obtain cheap and unsafe materials pocketing the difference. Gary spots what they are doing but is told to keep quiet or lose his job. Tyrone falls through the flimsy boards and is injured and hospitalised. Tony tells Todd he's making him carry the can and not his son. Todd is forced to confess to his brother who, guilt-ridden that Tyrone will lose eight weeks of pay while he recovers, gets drunk and rejects Todd however Tony refuses to let Jason fire him as it will arouse too much suspicion.
Rob and Tracy set their wedding date for October. He asks Michelle to be their wedding organiser, angering Tracy. She drives Michelle mad with her outrageous demands.
Lloyd finds he still craves Andrea's company, and they sleep together, much to Jenna's hostile disapproval. Neil begs Andrea to return to him, saying he has a new job in the Philippines, but she refuses. Lloyd tries to get the two women in his life talking over a meal, but it goes badly. He makes contact with a strangely calm Neil to get him to leave Andrea alone. Wanting a fresh start, Jenna moves overseas to do voluntary work. Neil gives up his own work abroad, wanting to persuade Andrea to return to him. Unable to face the reality that their marriage is over, he begins to stalk his wife and makes fake call-outs and pizza deliveries to Street Cars. In retaliation, Steve and Lloyd order a clown to go to Neil's house, but working out what's going on, he merely asks the entertainer in for a chat.
Sinead manufactures a range of bath bombs. Beth tries one which brings her out in a rash. Her health scare makes Kirk realise he wants to marry her. He buys an engagement ring but messes up several attempts at a proposal until he is finally able to go down on one knee and be accepted.
Nick can't cope with the stress of seeing Leanne with Kal and fakes a seizure in front of them to make them feel guilty. Leanne offers to delay the divorce to help him recover. Bored with no job, she is delighted when Dev takes her on at Prima Doner. Leanne quickly starts to suspect how genuine Nick's condition is, but he manipulates Eva into fully believing him. Starting to get exasperated that no one believes her, she interrupts a Platt family dinner at the bistro, smashing plates until Nick admits the truth. Realising he gets no satisfaction out of hurting Leanne, he agrees to the divorce.
Deirdre is unenthusiastic when Ken borrows a caravan to take the two of them to

North Wales

on a holiday. Once there, her worst fears are realised with a lack of luxury or even some basic facilities while Ken is thrilled being back with nature. Although starting to relax, she's pleased when Ken cuts their trip short.
The Flying Horse challenges the Rovers to a cricket match. Dean Upton, the braggart landlord, riles Steve with his boasting but he struggles to raise a team to compete.
Luke and Katy become close, but Steph doesn't like the idea of her brother and her best friend getting together and sits in on their first date to make sure it goes no further. She fails but she and Steve find the two of them having sex in Steve's wedding camper van.
Julie joins the gym and a jealous Mary watches on as Dev inducts her. He insults Julie when he talks about her excess weight and has to apologise.
September
Psychiatrist Amanda Dewhurst assesses Max and diagnoses ADHD which is hereditary in nature. The boy's prescribed medication works but Kylie is depressed and stressed out with being a full-time working mother. She takes Max's pills to buoy herself up, claiming to David that she lost them and obtaining a new supply from Dr Gaddas by also lying to her. Helping out at the bistro on a spur of the moment, she realises how much she relishes being there as opposed to the salon and gives Eva the spare pills for safekeeping as she used to be a drug addict and she is scared she will relapse. However, her pressures continue, and David finds her taking Max's pills again, resorting to locking them away to keep them safe from his wife.
Steph explains to Katy why she doesn't like her being with Luke. Understanding her reasons, she breaks up with him, but they put on a final show of togetherness to wind Steph up.
Peter is stabilised. Rob is furious when Carla cancels a holiday abroad to visit Peter who claims he is dying. He tells his stunned ex that he'll take her secret to the grave that she was the one who killed Tina. Carla and Michelle try to work out who was the person who did kill Tina if Peter didn't. Rob is shaken when he hears of the development as Peter continues to recover, though he is warned of the consequences of continuing to drink. Rob tries to quietly persuade Carla not to investigate Peter's revelation further. He manages to retrieve the piping used in the killing when he suddenly discovers that the site where he hid it is to be dug over for building works.
Fiz pushes Tony for a higher compensation offer than he's offering although it won't cover their lost income. Tony makes Todd help with the loft repairs, undermining him all the time. The garage loses the Street Cars contract when they can't fit the work in due to Tyrone and Kevin's absence and Tyrone ups the compensation demand to £3,000 which is duly paid. Owen reveals that the old flooring is cheap chipboard and Tyrone realises they've been duped. He and Fiz sue Jason. Eileen is furious when she finds out what her menfolk have been up to. Tony makes things worse when he adopts a threatening manner towards Fiz, riling both Tyrone and Jason. Liz and Eileen make father and son reconcile which makes Todd feels excluded. After he makes a feeble attempt to intimidate Tyrone, Jason cuts his ties with him. Liz and Eva successfully plead with Tyrone and Fiz to drop the court action in exchange for £5,000. Jason moves in with Eva while everyone has had enough of Todd's behaviour and Eileen orders him to leave. When Todd is about to sleep rough on the Red Rec, Eva lets him move in making Jason walk out.
Ken pressures Tracy to cancel the wedding while Peter is so ill. She agrees but behind his back continues with the arrangements. Steve drops her in it when he mentions the wedding in front of Ken. Tracy persuades her father that it's something to look forward to amidst all their troubles.
Peter is discharged from hospital and returns to prison where he is threatened by Jim for ruining his booze operation. Steve has a change of heart and visits his father. Peter uses this to keep Jim off him by threatening to expose his activities to Steve if he comes to any harm but is alarmed when he hears that the family are planning for Amy to visit her grandfather and tells Tracy all about his illicit activities. She in turn informs Steve, who both tells his father he never wants to see him again and informs the guards what he has been doing. Jim beats up Peter in retaliation and, concerned that the matter isn't over, Ken and Deirdre persuade Liz to see Jim again and pressure him to leave their son alone. She does so and he agrees but in return wants regular visits from her. She keeps the blackmail a secret from everyone.
Kirk and Beth book Michelle as their wedding planner but are shocked at the price quoted when they present a list of expensive demands. They exhaust themselves working overtime to pay the price, all the time competing with Tracy as to who can have the best wedding.
With a team finally in place, a practice cricket match takes place which Kal's son, Zeedan Nazir, turns up to watch. Alya is made team captain when Sharif and Dev fall out over which of them should have the role. At the game, Zeedan joins the team but walks off the pitch when Leanne turns up. Gary fails to persuade him to relent in his attitude towards his father's girlfriend. Rob scores the winning runs for the Rovers.
Michael has his tag removed but starts to suffer attacks of chest pain, unseen by Gail. She persuades him to try and contact his estranged family and especially his son, Gavin Rodwell, who he hasn't seen since he was three. He discovers his father is dead from a genetic heart problem and frets that he himself won't see 60. Having heard what his problem is, Gail and Kylie pressure him to see a doctor who refers him to a genetics clinic.
Andrea worries when she doesn't hear from Jessica who is due back from holiday and is livid with Neil when she discovers that he withheld the news of her return from her. As he continues to stalk Lloyd and Andrea, she demands a divorce. When Lloyd calls at Neil's home to warn him away, he is himself reported to the police and arrested for harassment. In the meantime, Neil continues to follow Andrea, convinced he can make her see the error of her ways. Overhearing Lloyd talking about possible wedding arrangements, he climbs up on the Rovers roof and refuses to come down until Andrea comes back to him. He is shocked when she almost dies climbing up after him, and seeing the error of his ways, leaves the country.
Simon injures Amy's hand when they have a childish altercation, and she claims that Eccles bit her. Tracy demands that Deirdre gets rid of the dog, but she angrily refuses. Simon misunderstands an overheard conversation as Deirdre and Tracy agreeing to have Eccles put down and gets Maddie to dognap her, hiding her in No.4 and away from an unsuspecting Tim and Sally. Ken retrieves the dog when he sees Maddie taking her for a clandestine walk and makes Amy tells the truth about her injury.
Mary feels jealous of Dev and Julie when they start to socialise. To her chagrin, she finds herself babysitting when Dev takes Julie out and starts to play gooseberry when the couple exercise together at the gym. She warns Julie not to hurt Dev.
Carla gives Maddie a few weeks unpaid employment at Underworld to make up for stealing her car. She works with Kirk in packing, improves on his processes and outperforms him.
With Bill better, Kevin and Jack return from Germany. Tim is jealous as the family welcomes him back until Kevin makes it clear he has nothing to fear from him and wants to move in with his own life. He tries to get the garage working properly again with a recovering Tyrone looking after the office side of things.
Maddie realises that Tim can't read and is hiding the fact from everyone.
Yasmeen exasperates Roy with her growing demands for more library space at the cafe. Realising that more is needed, she looks over the empty butcher's shop premises next door deciding to turn it into a community centre.
Audrey has a slight accident while driving her car.
October
Determined to find out the cause of Max's genetic problems, Kylie looks for his father; Callum Logan, a drug dealer who has just come out of prison after two years. David is oblivious as, with Eva's help, Kylie traces Callum using one of her old friends, Gemma Winter, who is a part of his gang on the Paul Robeson Estate. Eva suspects that the real reason for finding him is to obtain drugs. Kylie is annoyed as David keeps Max's drugs under lock and key. Desperate for a high, she goes back to Callum to obtain another supply from him as David frets over why she is becoming so distant from him and the children. She goes berserk and falls out with Maria after Liam plays with her supply which she has monetarily hidden in the salon. Callum decides he wants contact with Max again and offers more drugs in return. She warns him to stay away from her family but is prevented from returning home after Gemma accidentally overdoses and requires hospital treatment. David thinks she's been out drinking and, realising that she's putting her marriage under strain and her family in danger, resolves to kick the drugs, washing them down the sink.
Mary is jealous again when Julie gets on well with the twins when she babysits them. She runs off from a kiss from Dev and is later hurt when she overhears Dev assuring Mary that he has no intentions towards her.
Refusing help from Maddie with his reading, Tim begins a window-cleaning business but makes a basic spelling error with his flyers which leads to Sally receiving phone calls from perverts.
Yasmeen approaches the council for funding for the community centre. She employs Jason to convert the shop but annoys Emily by saying that it isn't for the elderly in the community, and her family by neglecting them for her project. The centre is eventually opened as Jamila House, named after Kal's wife. In a speech of thanks, Yasmeen ignores Emily's contribution.
Suspicious of what Liz is up to, Tony follows her to the prison and insists she stops seeing Jim or they're finished. She ignores him to keep Peter safe, so Tony leaves her. Despite Liz's visits, Jim continues to threaten Peter. He uses an illicit phone to bombard Liz with texts. When he reveals to her that he's always known that he's being moved to an open prison where he can receive more visits, she realises he was just using Peter to coerce her. An angry Steve visits him and in front of his father tells the officers about the phone, cancelling the prison move. Jim threatens revenge as he is dragged away. After a short period away, Tony returns and initially avoids Liz, though the two eventually make up.
The strain of the forthcoming trial overwhelms Deirdre, and she goes to stay with Bev Unwin for a rest. Peter is upbeat about his chances at the trial which includes testimony from Roy, Steve, Leanne and Mary. Their evidence and the cross-examination begin to paint Peter in a bad light. Carla's evidence does the same, though Rob is infuriated when she tells the

court

that she doesn't believe Peter committed the crime. To everyone's shock, Peter is found guilty. Ken and Simon are devastated, especially as Rob tried to buoy up Simon's hopes. Although initially exultant at the verdict, his overall feelings of guilt remain. Sentenced to life with a minimum of fifteen years, Peter puts in an appeal, planning to sell Tracy's shop to fund it.
The Nazirs celebrate Eid but Zeedan objects to Leanne being invited to the feast that they prepare, and she stays away. Yasmeen starts to sympathise with her. Gary and Alya are still attracted to each other and kiss, but Alya regrets doing so and tells Gary they have no future. He tries to get her to enter into a platonic relationship with him.
Steve worries about a growing mole on his arm. His friends and family laugh at his concerns. The doctor gives him the all-clear but realises that his patient is suffering from depression. Steve rejects the offers of medical help but Liz and Michelle notice that there is something wrong with him. He finds giving evidence at Peter's trial a huge ordeal and explodes at his mother when she gets Michelle's agreement to let Tony move in without consulting him. Michelle tries to get through to him to find out what's the matter but fails. Still unaware of the cause, Liz counsels her son to be more caring towards his girlfriend.
Seeing how exhausted Kirk and Beth are, Sinead persuades them to have a "shabby-chic" ceremony, claiming that it's fashionable. Michelle still wants to invoice them for the work done.
Tracy takes Todd on at Barlow's Buys. Eva asks him to move out but helps find a new flat for him.
Awaiting his results, Michael enjoys a holiday with Gail in the Peak District. On his return, he dreads the results of his tests and, not wanting to burden Gail with his fears, agrees to Eileen accompanying him for them, but making David and Kylie suspicious as to what's going on between them. The tests show that he does has a heart defect. Despite being hurt that he was with Eileen, Gail supports him and he resolves to find his son for something positive in his life. Nick and David try to help in the search.
Tracy is livid both with Rob when he asks Carla to be his "best man" and with Deirdre for to staying with Bev after her brother dies unexpectedly, making her miss the wedding. On the eve of the ceremony, Carla grows suspicious of a disconnect between Rob and Tracy's stories about their whereabouts on the night of Tina's murder. Erroneously thinking Tracy was the killer, she discusses the matter with Rob whose feelings of guilt overwhelm him, and he confesses. He begs her to say nothing until after the wedding. Unsure what to do, she informs on her brother on the day of the ceremony. He flees the venue before the police arrive and Tracy is arrested in her wedding dress for perverting the cause of justice by giving him a false alibi in May and buying stolen goods for the shop. She is released on bail. Peter doesn't think the confession will help him. Rob checks into a B&B, ignoring Tracy's calls.
Roy still finds it difficult to let Hayley go and decides it's time to scatter her ashes. He decides on Blackpool and invites Fiz and Tyrone to join him but finds himself unable to let the ashes go. Teenagers start to harass him and trash his flat. He starts to lose his confidence and is nervous to face the world.
Audrey is nervous about getting behind the wheel again, so Luke accompanies her out once he's made the repairs to her car. She's delighted at the attention.
Owen and Anna receive a court order for the repossession of No.6 and look for flats to rent.
Cilla Battersby-Brown returns unexpectedly for a visit, claiming she wants to see her children and grandchildren. He family suspects her motives. Sinead finds her in pain, and she admits she's been diagnosed with osteoporosis but swears her to silence. After a short stay, she returns to

Wolverhampton

and Sinead, tired of hearing her family blackguarding her, tells them the truth. They get her to return under a pretext and she is touched that they believe she is being honest about her condition. They ask her to stay at No.9.
November
Rob contacts Tracy, asking for money. She goes to his hideout to give him £200 and a tongue-lashing in an emotional meltdown. She agrees to go on the run with him but instead betrays his whereabouts to the police and he is arrested. Wracked with guilt, she takes out her temper on almost everyone around her but has a special animus towards Carla, blaming her for calling the police initially. Carla puts up with several digs before she bites and turns the blame back on Tracy. Pressured by Michelle to pay her bill, and facing mounting debts, Tracy sells both Rob's belongings, and their wedding presents in the shop but has a go at her for hounding her. Liz is surprised when Tony defends Tracy. Carla is outraged when she finds her brother's own belongings on sale, but Tracy is unrepentant.
Tony worries that Tracy has told the police about their own nefarious activities. He takes Zeedan on in a labouring job, but Kal thinks he ought to be aiming higher in his gap year, especially when finds out that Tony is paying him less than minimum wage. Zeedan resents his interference.
Peter is released after a week to a warm welcome from Tracy, a friendship renewed with Steve but a rejection from Carla who returns her wedding ring. He decides to move on from her and, constantly tempted by drink, also to leave the area altogether. He makes his peace with Simon before he moves to Portsmouth and settles all his financial arrangements, including renting out the shop flat to Owen and Anna for them to move into.
Luke accompanies Maria to view a Fiesta for sale in

Knutsford

but on a test drive in the country, owner John Hardacre falls ill with a diabetic attack. Taken away by an ambulance, Luke and Maria have to trudge back into the town to collect their own car.
Michael looks for Gavin in bars he's supposedly working at in Manchester and finds him through the last job he worked at. The two men have an initial uneasy meeting with each other. Nevertheless, Gavin asks to see his father again. He accepts money from Michael when he needs to pay a plumber's bill but is reluctant to let Michael round to visit his flat. A suspicious David gets Nick to take him on at the bistro when he claims he needs bar work. Steph takes a fancy to him. When Michael has a dizzy spell in front of Gavin, he is forced to tell his shocked son about his hereditary condition. Realising that he's getting in too deep, the man tries to get in touch with the "real" Gavin for help.
Yasmeen organises a first aid course at the community centre. The women in the audience aren't interested until they realise it's being run by a good-looking paramedic. Katy and Alya compete for his attentions and Katy ends up volunteering for the St. John's Ambulance.
Todd helps Roy deal with his tormenting hooligans, earning guarded admiration from Fiz and Tyrone. He tries to make amends to his family by organising a meal at the bistro. No one turns up and, walking the streets, he is mugged and badly beaten up. His shocked family feels guilty for how they treated him, and Eileen makes No.11 ready for him to move back into. Todd is traumatised to realise he may have a permanent facial scar and isn't grateful for his family's support. Tracy forces him to face the outside world when she is desperate for his assistance at the shop.
Chesney remains suspicious of Cilla until she drops a pan on the floor in pain while making a family meal and he asks her to stay at No.5 for a few days. Nevertheless, he finds it hard to forgive her for her past neglect of him. Cilla fractures her vertebrae when babysitting Joseph Brown though Chesney doesn't believe her claim to be hurt and refuses to help look after her. Fiz agrees to move to Wolverhampton for a while to nurse her and they leave the street.
Tim is alarmed when he is asked by Faye to read out a script at a school Christmas charity auction. Anna agrees to teach him, but Sally knows nothing of the arrangement and wonders why the two are spending so much time together. He ends up having to cancel lessons so as not to deepen Sally's suspicions, but she continues to wonder what her boyfriend is up to and imagines an affair with Anna. When Sophie sees Tim giving Anna flowers as a thank-you, she tells her mother who accuses them both and throws him out of the house. From the garden, he has to shout up to her window the truth and they are reconciled. Sally has to apologise to Anna but, newly enthused, she also takes over Tim's lessons. Faye is proud of her father for persevering.
Gary and Alya enjoy going on secret dates but tell Leanne what is going on, asking her not to tell Kal as he might not approve of Gary. Leanne refuses to lie to her boyfriend and nags Alya to be honest with her father.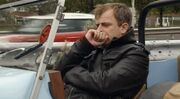 Still not knowing about Steve's depression, Michelle starts to resent his inattentive attitude towards her while Liz grows angry with her son's behaviour. Michelle has to organise a country and western evening at the Rovers for a customer's party, but Steve avoids helping by drinking cocktails in the bistro. He then annoys her by buying a classic car on impulse and naming it "Lightning". Making a last attempt at keeping their relationship on an even keel, she organises a short break in the Lake District for the two of them. When they are due to depart, she finds him sat in his car and unable to express himself to her. Driven to despair, she finishes with him. Amy's worries about her father prompt him to see Dr Gaddas who diagnoses depression, recommends psychotherapy and tells him to talk to Liz about how he's suffering. He tries to but she is too angry with him when he fails to collect Amy from school. She tries to reconcile her son and Michelle but fails when he refuses to be drawn into any conversation with her.
Tony offers Owen work on a warehouse conversion.
Alya applies to be a trainee manager at Underworld but does badly at the interview when she denigrates the firm's lines. Kal intercedes on his daughter's behalf and Carla offers her the job.
Mary is upset when Dev asks her to babysit rather than take her to a posh birthday party. Making her anger clear, he invites her along, but on the night, she suffers a reaction to the glue used for her false eyelashes and Julie takes her place. There, she attracts the attention of Dev's golfing friend Dominic Saul and they go on a date, much to Mary's delight. Dev realises he wants Julie himself and tries to put the couple off from seeing each other. The two kiss and start to date. Julie is sympathetic to Mary's feelings and prompts Dev to tell her how much she means to him and his children, both as a friend and role model.
Callum supplies Kylie with more drugs after he texts her.
Norris misses an unexpected parcel being delivered to him and delays matters further by arguing with the clerk at the

delivery depot

by making him wait an extra day. When he finally takes possession, he finds it is a telescope from Ramsay Clegg, lost in transit for many years. He takes up astronomy, fascinated by his new hobby.
Beth decides on an 1980s's theme for her wedding.
December
Tracy can't stand seeing Carla enjoying the good life while her own business teeters on the brink. Tony tries to tempt her with more dodgy stock, admitting to Liz that he intends to take over the shop. Carla returns from a spa day to find that Tracy has trashed the factory and locked the two of them in to have it out between them. Carla makes her see that she should concentrate on the good things in her life such as Amy, and the two reach an uneasy truce. Michelle starts to get threats of legal action unless the supplier costs of Tracy's wedding are paid for. Carla lends her the money to tide her over. Looking after Peter's interests, a reluctant Leanne pressures Tracy for the shop rent and has to threaten eviction. Tony makes his move and offers Tracy the arrears for 50% of the business. She refuses the arrangement but sleeps with him. Todd starts to suspect something is going on between them. Tony gets annoyed when she teases him about having a relationship with him.
Alya begins at Underworld. Leanne refuses to let Alya and Gary use her flat as a love nest and they use an empty No.6 to meet up but are caught by Yasmeen and Kal when they view the house with a view to buying. Kal punches his old army friend, and the argument spills out onto the street where an upset Izzy and others find out what's been going on. Kal sacks Gary from building work at the gym and takes Owen on instead, causing a rift between the two men. Alya stops seeing Gary. The Nazirs win the auction for No.6 and move in.
Steve spends £3,000 on a new engine for "Lightning" and orders more expensive work to be done on the car. A worried Lloyd finds out from Andrea that his friend has been seen coming out of the medical centre. Steve explodes in fury at Lloyd when he tries to find out what's going on, and invites him to spend Christmas dinner at the Rovers to make it up to him. Lloyd has to fly to Spain when Jenna is arrested for trying to defraud a car hire firm and misses the dinner. Steve manages to put on a show of normality for Christmas Day, spending lavishly on presents. Andrea and Eileen discover that the Street Cars account is £4,000 overdrawn. Liz is unable to get any sense out of her son but lends him the money to pay the cab firm's staff. Steve sobs in his room at New Year when she overhears Michelle saying that she's moving on.
Sally patronises Tim during one of his reading lessons. He drops out of the auction with Faye's approval. He obtains a new sofa for No.4 from a garage customer. Sally loathes the red-lipped shaped creation until she finds it's a designer-brand exclusive model. Diane Mellor, the estranged wife of the man who sold the sofa without her knowledge, looks for it. Kevin falls for her but, has to keep the knowledge of the sofa from her. Owen is the one who accidentally tells her, and she repossesses her furniture. Sally is left to sit on deckchairs and orders Tim to find a replacement sofa. He manages to get the old one back, but just for Christmas Day, and Sally is mortified when the Nazirs arrive for Boxing Day nibbles with nothing to sit on. Sophie makes an excuse to stop them entering the house.
Todd resolves on a new start in life. He persuades Jason and Sean to join him in a night out which ends badly when Jason has a run-in with a gay man who comes on to him.
Rob pleads guilty and is sentenced to 25 years, devastating Tracy.
Katy finds that she can't stand the sight of blood and has to drop out of the paramedic course. She feels unfulfilled in life.
Sean looks forward to the annual Underworld Christmas party but everyone except himself and Sinead drop out. They go to a nightclub where he is attracted to the new vicar of St. Mary's, Billy Mayhew, and they begin to see each other.
Yasmeen organises a Christmas family fun day at Jamila House. Zeedan drops out in disgust as it would have been his mother's birthday, preferring to work with Tony and almost causing his father to fight with the builder when he finds out. Kal convinces his son that he still loves Jamila. Roy and Yasmeen organise a Christmas soup kitchen at the centre and Sally volunteers Sophie and Maddie to help run it. Sharif gets a present of chickens for Christmas.
David remains suspicious of Kylie and follows her to The Dog & Gun where he sees Macca, one of Callum's gang, handing over drugs to her. He threatens to deny her access to the children unless she stops but she struggles to comply. She admits she used to be a drug addict and David starts to control her movements and contacts, no longer trusting her. The eventually make up but Callum turns up at the salon, posing as a client, and an oblivious David cuts his hair. He begins to stalk Kylie, wanting to be back with her. In front of him, she throws away her drugs to prove her loyalty to David but when he turns up at No.8 on Christmas Day and introduces himself as both Max's dad and Kylie's dealer, David finishes with her and throws her out. She leaves the street with Callum. Max worries that she left because of him.
Luke comes to Maria's rescue when she sustains a minor injury. She asks him out, although she's worried about the age difference. Luke lodges at No.9 when he misses out on a flat in Manchester.
Kirk asks Chesney to be his best man and Beth decides to dress up as Madonna at her wedding.
Erica Holroyd, a friend of Liz from Spain, arrives in Weatherfield and stays at the Rovers for a few weeks. She and Nick enjoy a holiday fling, much to Gail's disgust. Erica ends up staying in the country when her mother in

Preston

falls sick, though she and Nick both worry that the other is serious about their fling.
"Gavin" finds himself getting deeper in the mire when he is invited to spend Christmas and New Year in the street. Steph recruits him at the bistro when they are short-handed. Nick and Leanne are divorced. They agree to be friends and Nick persuades Leanne to return to the bistro as manageress. Gavin is put on the spot when she asks him for his national insurance number and he hands over the real Gavin's one to her. He acts strangely when Steph tries to sneak a look at his phone.
Jake Windass falls over when Gary looks after him, mildly hurting himself, and the

Armstrongs

start to lose patience with him, especially when he spends money meant for a Christmas present for Jake on booze. He's invited for Christmas dinner but, riled by Owen, gets into a rage and breaks Faye's present of an expensive set of headphones. The teenagers start to harass Roy again, despite the efforts of his friends to protect him. Desperate for cash, Gary breaks into the cafe and Roy, not recognising and driven over the edge, batters him with a cricket bat. Roy is arrested and appalled at his actions. To protect him, Gary confesses his theft and plays down the severity of the assault, even though he is hospitalised. The incident causes a breach between Anna and Roy, though Gary apologises unreservedly to a guilt-ridden Roy. Alya, worried about Gary, renews her friendship with him.
Gail visits Sarah Platt in Milan for the New Year. David lets Michael move into No.8 when he is evicted from his flat.
Norris spots a strange white cloud over No.1 on his satellite app and wonders if it is Blanche Hunt's ghost as the image dates back to the day she died.
Who lives where
Coronation Street
Rosamund Street
Victoria Street
Victoria Court
Others
Awards and nominations
BAFTA
Ceremony held on 7th April 2014
British Soap Awards
Ceremony televised on 25th May 2014
Freesat TV Awards
Best British Soap: Coronation Street (Winner)
National Television Awards
Ceremony held on 22nd January 2014
Best Serial Drama: Coronation Street (Winner)
Best Serial Drama Performance: Julie Hesmondhalgh (Winner), Michelle Keegan, David Neilson (Nominees)
Best Newcomer: Marc Baylis (Nominee)
Royal Television Society
Ceremony held on 18th March 2014
Soap and Continuing Drama: Coronation Street (Winner)
TV Choice Awards
Best storyline: Hayley's cancer (Winner)