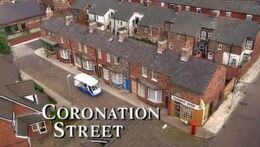 2009 was Coronation Street's fiftieth year.
Main characters
Production
Best laid plans
Kim Crowther and Kieran Roberts remained in their roles as producer and executive producer respectively.
The signature storyline of Crowther's tenure played out over the course of the year, depicting the downfall of Underworld owner Tony Gordon following his murder of Liam Connor in 2008. As originally planned, the denouement would have taken place this year with Carla and Maria Connor playing key roles, but the back-to-back maternity leaves of Alison King and Samia Smith resulted in the plot being extended into 2010, with Tony falling for Maria before ending the year languishing in prison.
King's exit was screened in February, with Carla running away to Los Angeles to escape from Tony after his confession to hiring Jimmy Dockerson to run Liam over. Helping Carla in her quest to uncover the truth about Liam's death was Jed Stone, who made a brief return after his disappearance at Christmas. Jed suffered a heart attack after being threatened by Jimmy, but this plot point was left hanging and Kenneth Cope made no further appearances. While Carla was away, Tony had to contend with Luke Strong, sent by Carla to run the factory in her stead. Actor Craig Kelly stayed for eight months, departing in Carla's comeback episode where Luke did a runner with £90,000 he'd conned out of Rosie Webster. Like the week of Liam's death a year before, all five episodes were set on one day.
The episode in which Carla fled also saw the character of machinist Wiki Dankowska depart for Poland in order to look after her mother. Wanda Opalinska was meant to return to the programme after giving birth but this never happened.
Liz McDonald was absent from March to August due to an unplanned absence by Beverley Callard for personal reasons. Liz re-appeared ahead of Steve McDonald and Becky Granger's wedding, which also featured cameos by Jim and Andy McDonald. This is the last time to date that the original four members of the McDonald family have appeared together.
The year of celebrity
Four name actors appeared for extended periods over the course of the year. The first was to be cast in a storyline in which Ken Barlow would meet his perfect match and nearly give up everything for her. Stephanie Beacham got the part of barge-dwelling actress Martha Fraser after Joanna Lumley declined a return as Elaine Perkins, a former girlfriend of Ken's who had last appeared in 1973.
Next was Andrew Sachs as Norris Cole's half-brother Ramsay Clegg, who arrived in Weatherfield to affect a reconciliation with his brother before succumbing to a brain tumour. Meanwhile, Nigel Havers and Rula Lenska made guest appearances as male escort Lewis Archer and hairdresser Claudia Colby respectively, the former Audrey Roberts's unlikely suitor and the latter her friend and rival. Havers and Lenska made several return appearances over the next decade.
Other cast changes
Also on maternity leave were Julia Haworth, who returned to filming at the beginning of the year, and Jane Danson, who had an on-screen absence of six months between March and September. Her character Leanne Battersby spent the intervening months in Leeds.
In October, Rita Sullivan sold The Kabin to Norris Cole and embarked on round the world cruise, ahead of a five-month sabbatical by Barbara Knox.
As the programme consolidated its cast, many of the new faces from 2008 were written out, namely Tara Mandal, Tom Kerrigan, Poppy Morales and Mary Taylor. Margi Clarke reprised her character Jackie Dobbs again for two weeks in January, causing chaos at Tyrone Dobbs and Molly Compton's wedding, while John Thomson returned full-time as children's entertainer Jesse Chadwick in June.
Shobna Gulati was invited back nearly four years after her character Sunita Alahan was axed. Returning with her in December were a recast Aadi and Asha, who were aged up by a year to be played by Zennon Ditchett and Tanisha Gorey. In preparation for the storyline of Dev and Sunita's reconciliation Amber Kalirai, her boyfriend Darryl Morton and Dev Alahan's eccentric uncle Umed - himself a recent addition to the character roster - were written out. The departure of Darryl left Teresa Bryant as the only remaining member of the dwindling Morton clan.
Meanwhile, a circle of friends was built up for teenagers Sophie Webster and Ryan Connor. These included Ben Richardson, who didn't last the year, and Sian Powers, Sophie's best friend played by Sacha Parkinson.
Maggie Jones, who had played Blanche Hunt since 1974, passed away on 2nd December after a short illness. Her final recorded scenes were transmitted on 20th November, although due to episodes being shot out of sequence Blanche made one further appearance, in Episode 7227 on 11th December. Three days later, a reference was made to Blanche going to Portugal with her friend May Penn, where she remained until an appropriate amount of time had passed to incorporate Blanche's death into the programme.
Nick Tilsley returned at the end of the year, recast with Ben Price in the role due to Adam Rickitt's commitments to New Zealand soap opera Shortland Street.
Dylan and Hayden Whitbread made their final appearances as Freddie Peacock in September with Lewis and Niall Beresford taking over a month later, becoming the third set of twins to appear in the role.
The only birth this year was Liam Connor, son of Maria and named after his late father. Liam was written out temporarily in November, along with Maria when Samia Smith went on maternity leave. Liam was played by Imogen Moore and Logan Pearson, neither of whom returned to the role when the character reappeared in 2010.
Move to Thursdays and Romanian Holiday
In July, Coronation Street was moved permanently from 7.30pm on Wednesday evenings to Thursdays at 8.30pm due to contractual football coverage on ITV1. This marked the first time since the programme began in 1960 that it was not regularly shown on that day. The Thursday episodes continued until September 2012, when the programme regained its former slot.
Following the success of Out of Africa, another DVD spin-off was commissioned, built around the same theme of a select group of characters going abroad, in this case Roy and Hayley Cropper and Becky McDonald. This became Coronation Street: Romanian Holiday, written by Simon Crowther and Chris Fewtrell and directed and produced by Ian Bevitt. Romanian Holiday marked the last time to date that Coronation Street or a spin-off has been shot on location outside the United Kingdom.
Viewing figures
Coronation Street's BARB ratings fell for the sixth year in a row, attaining an average of 9.23 million viewers. At 11.46m, the highest-rated episode was Episode 7003 on 2nd February in which Carla Connor moved closer to the truth about Tony Gordon. Meanwhile, the programme aired its lowest-rated episode to date on Sunday 12th April.
June to August and November saw increases on the same months in 2008, with June experiencing the biggest surge of 300,000 viewers. Drops were typically larger, especially January and April which were down 10% on the previous year.
The programme's dominance over the charts continued to trend downwards, with six fewer episodes reaching number one than 2008 for a total of 22.
Episodes
#
Ep.
No.
Date
Part
Writer
Director
Viewing
Figures
Chart
Position
1
6981
Friday 2nd January
1
Peter Whalley
Kay Patrick
8,920,000
9
2
6982
Friday 2nd January
2
Jonathan Harvey
Kay Patrick
9,280,000
7
3
6983
Monday 5th January
1
Simon Crowther
Duncan Foster
11,130,000
2
4
6984
Monday 5th January
2
Simon Crowther
Duncan Foster
11,290,000
1
5
6985
Wednesday 7th January
John Kerr
Duncan Foster
10,100,000
6
6
6986
Friday 9th January
1
Joe Turner
Duncan Foster
10,340,000
4
7
6987
Friday 9th January
2
Damon Rochefort
Duncan Foster
10,350,000
3
8
6988
Monday 12th January
1
Jonathan Harvey
Alan Wareing
10,710,000
3
9
6989
Monday 12th January
2
Jonathan Harvey
Alan Wareing
10,760,000
2
10
6990
Wednesday 14th January
Carmel Morgan
Alan Wareing
11,030,000
1
11
6991
Friday 16th January
1
Mark Wadlow
Alan Wareing
9,960,000
5
12
6992
Friday 16th January
2
Mark Wadlow
Alan Wareing
10,170,000
4
13
6993
Monday 19th January
1
Peter Whalley
Pip Short
10,620,000
1
14
6994
Monday 19th January
2
Peter Whalley
Pip Short
9,930,000
3
15
6995
Wednesday 21st January
David Bowker
Pip Short
10,200,000
2
16
6996
Friday 23rd January
1
Julie Jones
Pip Short
9,810,000
4
17
6997
Friday 23rd January
2
Julie Jones
Pip Short
9,140,000
6
18
6998
Monday 26th January
1
Mark Burt
Stuart Davids
10,220,000
3
19
6999
Monday 26th January
2
Chris Fewtrell
Stuart Davids
10,480,000
1
20
7000
Wednesday 28th January
David Lane
Stuart Davids
10,400,000
2
21
7001
Friday 30th January
1
Jayne Hollinson
Stuart Davids
9,930,000
5
22
7002
Friday 30th January
2
Lucy Gannon
Stuart Davids
9,870,000
6
23
7003
Monday 2nd February
1
Martin Allen
Jerry Smith
11,460,000
1
24
7004
Monday 2nd February
2
Mark Burt
Jerry Smith
11,390,000
2
25
7005
Wednesday 4th February
Joe Turner
Jerry Smith
10,700,000
5
26
7006
Friday 6th February
1
Jonathan Harvey
Jerry Smith
10,710,000
4
27
7007
Friday 6th February
2
Chris Fewtrell
Jerry Smith
10,550,000
6
28
7008
Monday 9th February
1
Lucy Gannon
John Anderson
10,730,000
1
29
7009
Monday 9th February
2
John Kerr
John Anderson
10,600,000
2
30
7010
Wednesday 11th February
Carmel Morgan
John Anderson
10,500,000
3
31
7011
Friday 13th February
1
Damon Rochefort
John Anderson
9,980,000
5
32
7012
Friday 13th February
2
Mark Wadlow
John Anderson
9,420,000
7
33
7013
Monday 16th February
1
Jayne Hollinson
Ian Bevitt
10,780,000
2
34
7014
Monday 16th February
2
Julie Jones
Ian Bevitt
11,010,000
1
35
7015
Wednesday 18th February
David Lane
Ian Bevitt
9,990,000
4
36
7016
Friday 20th February
1
Peter Whalley
Ian Bevitt
10,090,000
3
37
7017
Friday 20th February
2
Simon Crowther
Ian Bevitt
9,820,000
6
38
7018
Monday 23rd February
1
Damon Rochefort
David Kester
10,480,000
1
39
7019
Monday 23rd February
2
Martin Allen
David Kester
10,060,000
2
40
7020
Wednesday 25th February
Mark Wadlow
David Kester
9,840,000
3
41
7021
Friday 27th February
1
Jayne Hollinson
David Kester
9,000,000
7
42
7022
Friday 27th February
2
David Lane
David Kester
7,920,000
12
43
7023
Monday 2nd March
1
David Bowker
Durno Johnston
10,580,000
1
44
7024
Monday 2nd March
2
Lucy Gannon
Durno Johnston
10,580,000
1
45
7025
Wednesday 4th March
Peter Whalley
Durno Johnston
10,020,000
3
46
7026
Friday 6th March
1
Julie Jones
Durno Johnston
9,640,000
5
47
7027
Friday 6th March
2
Simon Crowther
Durno Johnston
9,400,000
7
48
7028
Monday 9th March
1
Joe Turner
Stuart Davids
10,500,000
2
49
7029
Monday 9th March
2
Jonathan Harvey
Stuart Davids
10,510,000
1
50
7030
Wednesday 11th March
Mark Burt
Stuart Davids
9,420,000
7
51
7031
Friday 13th March
1
Chris Fewtrell
Stuart Davids
9,630,000
6
52
7032
Friday 13th March
2
Debbie Oates
Stuart Davids
9,070,000
9
53
7033
Monday 16th March
1
Jayne Hollinson
Jerry Smith
10,260,000
3
54
7034
Monday 16th March
2
Lucy Gannon
Jerry Smith
10,430,000
2
55
7035
Wednesday 18th March
Jonathan Harvey
Jerry Smith
9,670,000
4
56
7036
Friday 20th March
1
Mark Burt
Jerry Smith
9,520,000
5
57
7037
Friday 20th March
2
Debbie Oates
Jerry Smith
9,030,000
7
58
7038
Monday 23rd March
1
Chris Fewtrell
Pip Banyard
10,220,000
2
59
7039
Monday 23rd March
2
Simon Crowther
Pip Banyard
10,370,000
1
60
7040
Wednesday 25th March
John Kerr
Pip Banyard
9,760,000
3
61
7041
Friday 27th March
1
Peter Whalley
Pip Banyard
9,550,000
5
62
7042
Friday 27th March
2
Damon Rochefort
Pip Banyard
9,160,000
6
63
7043
Monday 30th March
1
Julie Jones
Pip Short
9,830,000
4
64
7044
Monday 30th March
2
Joe Turner
Pip Short
10,260,000
2
65
7045
Friday 3rd April
1
Carmel Morgan
Pip Short
8,650,000
7
66
7046
Friday 3rd April
2
Mark Wadlow
Pip Short
8,630,000
8
67
7047
Monday 6th April
1
John Kerr
Pip Short
10,060,000
3
68
7048
Monday 6th April
2
Peter Whalley
David Kester
10,000,000
4
69
7049
Wednesday 8th April
Peter Whalley
David Kester
8,790,000
9
70
7050
Friday 10th April
1
Joe Turner
David Kester
9,180,000
6
71
7051
Friday 10th April
2
Joe Turner
David Kester
8,350,000
10
72
7052
Sunday 12th April
Mark Wadlow
David Kester
5,440,000
25
73
7053
Monday 13th April
1
Damon Rochefort
Durno Johnston
9,490,000
3
74
7054
Monday 13th April
2
Martin Allen
Durno Johnston
9,500,000
2
75
7055
Wednesday 15th April
David Lane
Durno Johnston
9,220,000
4
76
7056
Friday 17th April
1
Jayne Hollinson
Durno Johnston
9,100,000
6
77
7057
Friday 17th April
2
Jayne Hollinson
Durno Johnston
8,600,000
7
78
7058
Monday 20th April
1
Debbie Oates
Tessa Hoffe
9,150,000
4
79
7059
Monday 20th April
2
Debbie Oates
Tessa Hoffe
9,410,000
2
80
7060
Wednesday 22nd April
Carmel Morgan
Tessa Hoffe
8,550,000
5
81
7061
Friday 24th April
1
Jonathan Harvey
Tessa Hoffe
8,380,000
6
82
7062
Friday 24th April
2
Jonathan Harvey
Tessa Hoffe
8,200,000
9
83
7063
Monday 27th April
1
Lucy Gannon
Ian Bevitt
9,150,000
3
84
7064
Monday 27th April
2
Lucy Gannon
Ian Bevitt
9,700,000
2
85
7065
Wednesday 29th April
Julie Jones
Ian Bevitt
8,450,000
7
86
7066
Friday 1st May
1
Chris Fewtrell
Ian Bevitt
8,890,000
4
87
7067
Friday 1st May
2
Simon Crowther
Ian Bevitt
8,640,000
5
88
7068
Monday 4th May
1
Chris Fewtrell
Terry Dyddgen-Jones
10,290,000
3
89
7069
Monday 4th May
2
Simon Crowther
Terry Dyddgen-Jones
10,750,000
2
90
7070
Wednesday 6th May
Martin Allen
Terry Dyddgen-Jones
8,650,000
5
91
7071
Friday 8th May
1
David Lane
Terry Dyddgen-Jones
8,600,000
6
92
7072
Friday 8th May
2
Julie Jones
Terry Dyddgen-Jones
8,320,000
8
93
7073
Monday 11th May
1
Mark Burt
Pip Banyard
8,990,000
4
94
7074
Monday 11th May
2
Damon Rochefort
Pip Banyard
9,700,000
2
95
7075
Wednesday 13th May
Jonathan Harvey
Pip Banyard
8,920,000
5
96
7076
Friday 15th May
1
Peter Whalley
Pip Banyard
9,080,000
3
97
7077
Friday 15th May
2
Peter Whalley
Pip Banyard
8,850,000
6
98
7078
Monday 18th May
1
Jonathan Harvey
Pip Short
9,560,000
4
99
7079
Monday 18th May
2
Lucy Gannon
Pip Short
9,700,000
3
100
7080
Wednesday 20th May
Damon Rochefort
Pip Short
8,910,000
7
101
7081
Friday 22nd May
1
Debbie Oates
Pip Short
9,040,000
6
102
7082
Friday 22nd May
2
Julie Jones
Pip Short
8,620,000
9
103
7083
Monday 25th May
1
Jayne Hollinson
David Kester
9,070,000
8
104
7084
Monday 25th May
2
Joe Turner
David Kester
9,450,000
7
105
7085
Tuesday 26th May
Simon Crowther
David Kester
7,800,000
12
106
7086
Thursday 28th May
Martin Allen
David Kester
8,150,000
11
107
7087
Friday 29th May
Mark Burt
David Kester
7,710,000
13
108
7088
Monday 1st June
1
Peter Whalley
Dominic Leclerc
8,110,000
9
109
7089
Monday 1st June
2
Carmel Morgan
Dominic Leclerc
8,440,000
4
110
7090
Wednesday 3rd June
David Lane
Dominic Leclerc
8,680,000
3
111
7091
Friday 5th June
1
Mark Wadlow
Dominic Leclerc
8,390,000
6
112
7092
Friday 5th June
2
Chris Fewtrell
Dominic Leclerc
8,350,000
7
113
7093
Monday 8th June
1
Peter Whalley
Kay Patrick
David Kester
9,300,000
1
114
7094
Monday 8th June
2
Chris Fewtrell
Kay Patrick
David Kester
9,260,000
2
115
7095
Wednesday 10th June
Jayne Hollinson
Kay Patrick
David Kester
8,410,000
4
116
7096
Friday 12th June
1
Martin Allen
Kay Patrick
David Kester
8,250,000
5
117
7097
Friday 12th June
2
Lucy Gannon
Kay Patrick
David Kester
8,010,000
6
118
7098
Monday 15th June
1
Mark Burt
Terry Dyddgen-Jones
9,140,000
2
119
7099
Monday 15th June
2
John Kerr
Terry Dyddgen-Jones
9,220,000
1
120
7100
Wednesday 17th June
Damon Rochefort
Terry Dyddgen-Jones
8,960,000
3
121
7101
Friday 19th June
1
Mark Wadlow
Terry Dyddgen-Jones
8,440,000
5
122
7102
Friday 19th June
2
Mark Wadlow
Terry Dyddgen-Jones
8,060,000
6
123
7103
Monday 22nd June
1
David Lane
Tony Prescott
8,740,000
2
124
7104
Monday 22nd June
2
Julie Jones
Tony Prescott
9,250,000
1
125
7105
Wednesday 24th June
Jonathan Harvey
Tony Prescott
7,960,000
6
126
7106
Friday 26th June
1
Simon Crowther
Tony Prescott
8,050,000
4
127
7107
Friday 26th June
2
Simon Crowther
Tony Prescott
7,970,000
5
128
7108
Monday 29th June
1
Damon Rochefort
Pip Short
7,600,000
6
129
7109
Monday 29th June
2
David Lane
Pip Short
7,960,000
4
130
7110
Wednesday 1st July
Chris Fewtrell
Pip Short
7,490,000
7
131
7111
Friday 3rd July
1
Chris Fewtrell
Pip Short
8,070,000
3
132
7112
Friday 3rd July
2
Simon Crowther
Pip Short
8,080,000
2
133
7113
Monday 6th July
1
Joe Turner
Duncan Foster
9,410,000
2
134
7114
Monday 6th July
2
Joe Turner
Duncan Foster
9,520,000
1
135
7115
Wednesday 8th July
John Kerr
Duncan Foster
8,940,000
3
136
7116
Friday 10th July
1
Peter Whalley
Duncan Foster
8,370,000
5
137
7117
Friday 10th July
2
Mark Wadlow
Duncan Foster
8,110,000
6
138
7118
Monday 13th July
1
Jayne Hollinson
Ian Bevitt
9,230,000
2
139
7119
Monday 13th July
2
Mark Burt
Ian Bevitt
9,660,000
1
140
7120
Wednesday 15th July
Lucy Gannon
Ian Bevitt
8,810,000
4
141
7121
Friday 17th July
1
Julie Jones
Ian Bevitt
8,530,000
7
142
7122
Friday 17th July
2
Julie Jones
Ian Bevitt
8,990,000
3
143
7123
Monday 20th July
1
Jonathan Harvey
Dominic Leclerc
9,310,000
2
144
7124
Monday 20th July
2
Jonathan Harvey
Dominic Leclerc
9,560,000
1
145
7125
Thursday 23rd July
Debbie Oates
Dominic Leclerc
8,350,000
5
146
7126
Friday 24th July
1
Martin Allen
Dominic Leclerc
7,890,000
7
147
7127
Friday 24th July
2
Carmel Morgan
Dominic Leclerc
8,160,000
6
148
7128
Monday 27th July
1
Peter Whalley
David Kester
8,390,000
2
149
7129
Monday 27th July
2
Jonathan Harvey
David Kester
8,850,000
1
150
7130
Thursday 30th July
Daran Little
David Kester
8,210,000
6
151
7131
Friday 31st July
1
Martin Allen
David Kester
8,240,000
4
152
7132
Friday 31st July
2
Mark Wadlow
David Kester
8,320,000
3
153
7133
Monday 3rd August
1
David Lane
Tim Dowd
9,180,000
2
154
7134
Monday 3rd August
2
Julie Jones
Tim Dowd
9,300,000
1
155
7135
Thursday 6th August
John Kerr
Tim Dowd
8,010,000
4
156
7136
Friday 7th August
1
Simon Crowther
Tim Dowd
7,830,000
7
157
7137
Friday 7th August
2
Chris Fewtrell
Tim Dowd
7,910,000
5
158
7138
Monday 10th August
1
Mark Burt
Tony Prescott
9,260,000
1
159
7139
Monday 10th August
2
Damon Rochefort
Tony Prescott
9,000,000
2
160
7140
Thursday 13th August
Carmel Morgan
Tony Prescott
8,300,000
5
161
7141
Friday 14th August
1
Joe Turner
Tony Prescott
8,500,000
3
162
7142
Friday 14th August
2
Joe Turner
Tony Prescott
8,550,000
4
163
7143
Monday 17th August
1
Joe Turner
Pip Short
8,550,000
3
164
7144
Monday 17th August
2
David Lane
Pip Short
8,980,000
2
165
7145
Thursday 20th August
John Kerr
Pip Short
8,390,000
4
166
7146
Friday 21st August
1
Jayne Hollinson
Pip Short
7,960,000
6
167
7147
Friday 21st August
2
Jayne Hollinson
Pip Short
7,950,000
7
168
7148
Monday 24th August
1
Daran Little
Durno Johnston
8,770,000
1
169
7149
Monday 24th August
2
Simon Crowther
Durno Johnston
8,920,000
2
170
7150
Thursday 27th August
Chris Fewtrell
Durno Johnston
8,620,000
4
171
7151
Monday 31st August
1
Damon Rochefort
Duncan Foster
8,590,000
4
172
7152
Monday 31st August
2
Damon Rochefort
Duncan Foster
8,890,000
2
173
7153
Thursday 3rd September
Peter Whalley
Duncan Foster
8,760,000
3
174
7154
Friday 4th September
1
Debbie Oates
Duncan Foster
8,070,000
8
175
7155
Friday 4th September
2
Debbie Oates
Duncan Foster
7,590,000
9
176
7156
Monday 7th September
1
Mark Wadlow
Alan Wareing
9,250,000
3
177
7157
Monday 7th September
2
Mark Wadlow
Alan Wareing
9,880,000
2
178
7158
Thursday 10th September
Martin Allen
Alan Wareing
8,450,000
5
179
7159
Friday 11th September
1
Jonathan Harvey
Alan Wareing
8,150,000
7
180
7160
Friday 11th September
2
Jonathan Harvey
Alan Wareing
8,270,000
6
181
7161
Monday 14th September
1
Joe Turner
John Anderson
9,610,000
3
182
7162
Monday 14th September
2
Joe Turner
John Anderson
9,540,000
4
183
7163
Thursday 17th September
Martin Allen
John Anderson
8,230,000
13
184
7164
Friday 18th September
1
Jayne Hollinson
John Anderson
8,390,000
10
185
7165
Friday 18th September
2
Peter Whalley
John Anderson
7,100,000
16
186
7166
Monday 21st September
1
Debbie Oates
Tim Dowd
9,760,000
4
187
7167
Monday 21st September
2
Daran Little
Tim Dowd
9,830,000
3
188
7168
Wednesday 23rd September
Stephen Russell
Tim Dowd
8,740,000
6
189
7169
Thursday 24th September
Damon Rochefort
Tim Dowd
8,370,000
10
190
7170
Friday 25th September
1
Jonathan Harvey
Tim Dowd
8,100,000
12
191
7171
Friday 25th September
2
Jonathan Harvey
Tim Dowd
7,410,000
15
192
7172
Monday 28th September
1
Mark Burt
David Kester
10,020,000
3
193
7173
Monday 28th September
2
John Kerr
David Kester
9,820,000
4
194
7174
Thursday 1st October
Julie Jones
David Kester
8,540,000
10
195
7175
Friday 2nd October
1
David Lane
David Kester
8,610,000
9
196
7176
Friday 2nd October
2
David Lane
David Kester
8,720,000
7
197
7177
Monday 5th October
1
Mark Wadlow
Pip Short
9,940,000
3
198
7178
Monday 5th October
2
Mark Wadlow
Pip Short
9,400,000
4
199
7179
Thursday 8th October
David Lane
Pip Short
8,310,000
13
200
7180
Friday 9th October
1
Peter Whalley
Pip Short
9,260,000
7
201
7181
Friday 9th October
2
Joe Turner
Pip Short
9,390,000
5
202
7182
Monday 12th October
1
Stephen Russell
Stuart Davids
10,080,000
3
203
7183
Monday 12th October
2
Stephen Russell
Stuart Davids
9,610,000
4
204
7184
Thursday 15th October
Lucy Gannon
Stuart Davids
8,290,000
13
205
7185
Friday 16th October
1
Damon Rochefort
Stuart Davids
8,460,000
10
206
7186
Friday 16th October
2
Julie Jones
Stuart Davids
9,040,000
7
207
7187
Monday 19th October
1
John Kerr
Duncan Foster
10,540,000
3
208
7188
Monday 19th October
2
Jonathan Harvey
Duncan Foster
10,520,000
4
209
7189
Thursday 22nd October
Martin Allen
Duncan Foster
8,640,000
13
210
7190
Friday 23rd October
1
Chris Fewtrell
Duncan Foster
9,460,000
8
211
7191
Friday 23rd October
2
Simon Crowther
Duncan Foster
10,240,000
5
212
7192
Monday 26th October
1
Peter Whalley
Tony Prescott
10,350,000
4
213
7193
Monday 26th October
2
Stephen Russell
Tony Prescott
10,460,000
3
214
7194
Wednesday 28th October
Daran Little
Tony Prescott
9,100,000
10
215
7195
Thursday 29th October
John Kerr
Tony Prescott
8,630,000
13
216
7196
Friday 30th October
1
Joe Turner
Tony Prescott
9,130,000
9
217
7197
Friday 30th October
2
Joe Turner
Tony Prescott
9,510,000
6
218
7198
Monday 2nd November
1
Lucy Gannon
Tim Dowd
10,850,000
3
219
7199
Monday 2nd November
2
Lucy Gannon
Tim Dowd
10,540,000
4
220
7200
Thursday 5th November
David Lane
Tim Dowd
8,600,000
12
221
7201
Friday 6th November
1
Jonathan Harvey
Tim Dowd
9,160,000
10
222
7202
Friday 6th November
2
Damon Rochefort
Tim Dowd
9,460,000
7
223
7203
Monday 9th November
1
Debbie Oates
John Anderson
10,070,000
4
224
7204
Monday 9th November
2
Mark Wadlow
John Anderson
9,770,000
8
225
7205
Wednesday 11th November
Jayne Hollinson
John Anderson
9,280,000
10
226
7206
Thursday 12th November
Mark Burt
John Anderson
8,770,000
14
227
7207
Friday 13th November
1
Chris Fewtrell
John Anderson
9,830,000
7
228
7208
Friday 13th November
2
Simon Crowther
John Anderson
9,580,000
9
229
7209
Monday 16th November
1
Simon Crowther
David Kester
10,720,000
5
230
7210
Monday 16th November
2
Joe Turner
David Kester
11,130,000
3
231
7211
Thursday 19th November
Mark Wadlow
David Kester
9,770,000
9
232
7212
Friday 20th November
1
Lucy Gannon
David Kester
8,630,000
17
233
7213
Friday 20th November
2
Stephen Russell
David Kester
8,130,000
19
234
7214
Monday 23rd November
1
Jayne Hollinson
Ian Bevitt
10,490,000
4
235
7215
Monday 23rd November
2
Jonathan Harvey
Ian Bevitt
10,720,000
3
236
7216
Thursday 26th November
David Lane
Ian Bevitt
7,400,000
18
237
7217
Friday 27th November
1
Daran Little
Ian Bevitt
8,970,000
11
238
7218
Friday 27th November
2
Peter Whalley
Ian Bevitt
9,550,000
7
239
7219
Monday 30th November
Julie Jones
Alan Wareing
10,360,000
4
240
7220
Tuesday 1st December
John Kerr
Alan Wareing
8,260,000
17
241
7221
Wednesday 2nd December
Martin Allen
Alan Wareing
9,270,000
8
242
7222
Thursday 3rd December
Mark Burt
Alan Wareing
9,630,000
5
243
7223
Friday 4th December
Chris Fewtrell
Alan Wareing
9,080,000
10
244
7224
Monday 7th December
1
David Lane
Pip Short
10,400,000
4
245
7225
Monday 7th December
2
David Lane
Pip Short
10,110,000
5
246
7226
Thursday 10th December
Peter Whalley
Pip Short
8,570,000
11
247
7227
Friday 11th December
1
Martin Allen
Pip Short
8,890,000
9
248
7228
Friday 11th December
2
Jayne Hollinson
Pip Short
9,350,000
7
249
7229
Monday 14th December
1
Damon Rochefort
Stuart Davids
9,900,000
3
250
7230
Monday 14th December
2
Damon Rochefort
Stuart Davids
9,510,000
6
251
7231
Thursday 17th December
Mark Burt
Stuart Davids
8,600,000
11
252
7232
Friday 18th December
1
Jonathan Harvey
Stuart Davids
9,530,000
5
253
7233
Friday 18th December
2
Jonathan Harvey
Stuart Davids
9,290,000
7
254
7234
Monday 21st December
1
Debbie Oates
Tony Prescott
9,710,000
7
255
7235
Monday 21st December
2
Daran Little
Tony Prescott
9,710,000
7
256
7236
Thursday 24th December
John Kerr
Tony Prescott
8,450,000
14
257
7237/8
Friday 25th December
Joe Turner
Tony Prescott
8,720,000
11
258
7239
Monday 28th December
1
Chris Fewtrell
John Anderson
9,900,000
7
259
7240
Monday 28th December
2
Chris Fewtrell
John Anderson
9,820,000
8
260
7241
Thursday 31st December
Jonathan Harvey
John Anderson
7,560,000
16
Storylines
January
February
Ken continues to see Martha but doesn't admit he's married. When Deirdre hears about Ken buying expensive wine, she assumes he's planning an evening with her, so when Ken's late home he tells Deirdre he was at the theatre with Ted Page. Ken later confides in Ted his meeting with Martha, but won't admit he has feelings for her.
Tina is unsure about lying for David in court. At first the Windasses try to make amends with a charm offensive, but when the Platts refuse to budge, Len threatens Tina in the kebab shop, although Tina's surprised when Gary hits Len for doing so. Len moves onto dirtier tactics, first trashing Joe's lock-up then saving Joe's ailing business by giving him a contract on the condition that he persuades Tina to tell the truth in court. Desperate for the money, Joe starts working on Tina, but the pressure only makes Tina leave, apparently to miss the court case.
Janice has been reflecting on her life and decided to train as a nurse. Ken agrees to tutor her.
When questioned by Carla, Tony says he caught Jed trying to commit suicide at Christmas and housed him out of guilt. He then has Jimmy Dockerson threaten Jed, who ends up in hospital after a heart attack. Still not convinced, Carla goes to see Jimmy then confronts Tony again. The pair talk alone in a darkened factory, where Carla admits her true feelings for Liam, and Tony tells Carla how he was involved in Liam's death. As Tony confesses, Carla starts to fear for her own safety and runs off. As Tony tries to track his wife down, Maria is surprised when Tony shows up at Liam's grave on the anniversary of Liam and Maria's wedding, overcome with emotion.
Sophie introduces her friend Ben Richardson to her parents and joins the

Christian Youth Club

, deciding to lead a more Christian life.
Eddie's mugging scam backfires when he's recognised by one of the Flight Fandangos during a competition against the Rovers team, as he has used the same scheme before.
Wiki Dankowska returns home to

Poland

for a family emergency.
Steve is still upset over Becky seeing Jason and sleepwalks his way through a date with Natasha Blakeman. On Friday 13th, Jason proposes to Becky and she accepts - however as the couple celebrate Steve also proposes, and Becky decides to let Jason down. As Steve and Becky enjoy their engagement, Becky has trouble convincing Liz that she is worthy of Steve and will be a good mother to Amy. Becky's soon angry with Steve again when Michelle reveals that Steve proposed with the same ring he used when he asked Michelle to marry him last year. Steve however makes it up by booking the wedding for March.
Julie Carp is horrified when Tony tells her to sack someone at the factory or she's fired. Julie decides to sacrifice her own job, but she's saved when Luke Strong arrives as Tony's new partner, having been asked by Carla to take care of her shares of the factory and

Lad Rags

, Liam and Tom Kerrigan's T-shirt business. Tony doesn't trust Luke and is convinced he knows where Carla is.
Ashley Peacock is shocked when Graeme Proctor starts talking like the late Fred Elliott when he wears Fred's old butcher's hat. Claire admits that it was her idea.
Eileen Grimshaw meets up with her old friend Paula Carp and is surprised to find out she left school at 14 as she was pregnant.
March
Tina arrives in court at the last minute, however she surprises everyone when she takes the stand and says David threw the first punch. Gary is found not guilty. In the wake of the court case, Tina splits up with David, while David finds out about Joe's deal with Len and tells the Platts. When Gail learns that he only moved into No.8 as he had nowhere to live, Joe ends their relationship out of embarrassment. Tina leaves to stay at her mum's, while Gail tries to bring Joe out of his depression, convincing him to move back into No.8 which causes an angry David to leave to stay with his dad for a few weeks.
Ken and Martha get closer and they share a kiss. Ken turns down an invitation to stay the night but continues to see Martha.
Becky is worried about the wedding being on Friday 13th and decides not to have a hen night in case it goes wrong. She's hurt when she overhears Liz and Lloyd betting that the wedding won't happen, which prompts Steve to bar them both from the ceremony. On her wedding day, Becky drinks to calm her nerves and ends up singing on the factory roof. When she finally gets to the register office, the Registrar refuses to marry her and Steve as she's too drunk. The next day Steve can't bring himself to tell a hung-over Becky that they're not married - though Michelle enjoys breaking the news. Becky puts her anger aside as she and Steve leave for their honeymoon in the

Maldives

.
Leanne Battersby, who has been running the bookies while Peter is away, is offered a job running a restaurant in Leeds. She turns it down when she hears Peter is returning, however when Christina turns up looking for Peter, Peter admits he left rehab and had a fling with Christina. An angry and hurt Leanne takes the job after all. Yet again, Peter turns to drink, which doesn't go unnoticed by Deirdre who starts to worry that Simon might not be safe living with Peter. Deirdre tries to take Simon away to No.1 but Peter takes him back. As Deirdre moans at Ken over his passive role in dealing with Peter, over at the flat a cigarette causes a major fire, which Peter and Simon only survive thanks to Tony and Luke getting them out just in time.
Dev agrees to fund an art gallery Tara wants to open. Meanwhile, Dev's Uncle Umed comes to stay. Umed thinks Dev is being taken for a ride by spending so much money for Tara. To encourage Tara, Dev asks Minnie Chandra to pretend to be an art dealer and buy some artwork but Tara finds out about the deal and leaves Dev. Dev meets up with Lisa Dalton and they spend the night together.
Mary invites Norris to go travelling with her in the motor home. They leave for the Lake District but return almost immediately as Norris has been having doubts.
Lloyd lies about his whereabouts as he can't afford to take Liz out. Liz thinks he's embarrassed about the age difference. Lloyd proves this isn't the case by announcing their relationship in the Rovers.
On Tony's advice, Maria refuses to sell Lad Rags to Luke. Tony meanwhile is furious to find out that Carla wants to sever all ties with him and is selling her share of Underworld to Luke. He hires a PI to find out more about Luke, while in an effort to forget Carla he takes up with hairdresser Natasha Blakeman. Maria meanwhile decides to accept Tony's help with Lad Rags when Carla gives Maria her share. As Tony gets close to Maria, he suffers panic attacks as he's reminded of Liam's death.
Ryan starts going out Sophie's friend Sian Powers.
Audrey Roberts asks Bill Webster to pay her back the money she loaned him for the builders' yard, forcing him to cut Jason's hours.
April
Following the Bookies fire, Peter vows to quit drinking, however a date with Michelle is a disaster as he won't stop talking about his drinking problem.
When Ken finally tells Martha he is married, she tells him she doesn't want to see him any more. Ken tries to move on, but can't resist going to see the play Martha is performing in and takes the opportunity to speak to Martha and plead forgiveness. Audrey, who saw Ken with Martha, tells Peter that Ken is having an affair. Peter is disgusted with Ken, but Ken says Martha is his soul mate and refuses to let her go.
Dev and Tara get back together but Dev keeps quiet about sleeping with Lisa. He's in the clear until Lisa shows up again and, thinking Dev and Lisa wasn't a one-off, Poppy Morales tells Tara about them. Tara decides to give Dev a chance to confess, but when he doesn't, Tara plots revenge, persuading him to have nude photographs taken.
Chesney starts skiving off school when he's being bullied by Kenzie Judd. Fiz goes to see the headmaster Mr Griffin but when he refuses to act, she decides that Chesney will be tutored at home. Ken is unavailable to help and the tutors he recommends are too expensive so Fiz gets help from John Stape in prison, without telling Chesney.
Kirk Sutherland finishes with Julie, explaining that she never takes his ambitions seriously. Julie moves out of No.5.
Mary tells Norris her mother has died, but she's happy about it as they can not travel the world together. Norris pretends to Rita Sullivan and Emily Bishop that he's keen.
Tina gets Joe to agree to move out of No.8, but while lifting some hardboard he does his back in, and Gail volunteers to look after him while he recovers... at No.8. Out of work in the meantime, Joe gives Gary a job under pressure from Len. David isn't happy about it and decides to hide Joe's painkillers, so that he can later gain Tina's favour by 'finding' them, however when he suggests he and Tina move into their own flat, Tina turns him down and tells him their relationship is over for good. Audrey, meanwhile, makes it clear that she doesn't like Joe sponging off Gail, but when this results in Gail throwing her out, she tries to make amends by giving David back his job at the salon.
Anna Windass gets a job at Roy's Rolls.
Molly starts looking over the books at the garage and isn't happy to find out Sally gets a wage for doing the same job. Kevin, Jason and Molly sign up for a 10k run.
David blames Gary for Tina dumping him and plots revenge. He sets Gary up for stealing Bill's tools but then provides him with a false alibi, saying he wants to call a truce.
Darryl Morton's mum Teresa Bryant shows up in Coronation Street as she has nowhere else to go. Dev reluctantly lets the shop flat to Teresa and Darryl.
When Tom objects to Tony giving Maria business advice, Tony buys his share of Lad Rags to get rid of him, although Tom tells Maria that she's making a mistake getting mixed up with Tony but she ignores his advice and allows him to take care of her as she gets closer to term.

Becky and Steve row when Becky tells Amy that her mother is in prison, even though Steve explicitly asked her not to do so.
Jason and Julie get drunk in the Rovers and end up in No.11. The next day, Paula hears about it and chastises Julie, telling her Jason is not the man for her. Meanwhile, Colin Grimshaw's 70th birthday party takes place in the Rovers, and Colin takes the opportunity to propose to Rita. She accepts. However, when Paula argues with Julie again at the party, Paula reveals to the whole pub that the reason behind her opposition to them being together is that they're related - Colin is Julie's father, and he got Paula pregnant when she was 14. Rita leaves, hurt and humiliated, while Eileen questions Paula. Julie reveals that nothing happened between her and Jason.
Jack Duckworth is distraught when one of his

pigeons

goes missing, but it's returned by Connie Rathbone. Jack and Connie meet up and get along well, as they have both been recently widowed, although Tyrone doesn't like Connie, thinking she's after Jack's money.
May
Colin collapses from a stroke when Rita and Eileen make it clear they now want nothing to do with him, but Julie is determined to be there for her dad and goes to visit Colin in hospital when he stabilises. After some consideration, Eileen also visits him but makes it clear she hasn't forgiven him. Against his doctor's advice, Colin discharges himself from hospital, and Eileen reluctantly agrees to take him in. Paula is trying to make amends with Julie and Eileen but when she finds out Colin is back in the street, Paula goes to the police to report him for abuse. Eileen persuades Colin to face up to his actions, but he dies from another stroke just as the police knock on the door.
Ken visits Martha and persuades her to give him another chance. She asks him to leave Manchester with her. Deciding to seize the opportunity, Ken puts his affairs in order and writes a letter for Deirdre before he embarks on his new life, but as he arrives at Martha's barge and she makes plans for their future, the reality of the situation sinks in and

Ken chickens out. Although Deirdre hasn't seen the letter, Ken opts to show it to her anyway. Deirdre is angry but also understanding and agrees to forgive Ken as long as the incident is never mentioned again. Blanche thinks Deirdre is letting Ken off too lightly, so Deirdre throws her out of No.1. Peter isn't happy when Blanche moves into his flat without asking him.
Roy gives Anna his account card and details so she can go to the cash and carry for him, however Eddie uses the card for some shopping trips of his own. On one such trip, an alarm goes off at the checkout, and Eddie finds out he's the shop's millionth customer and is offered a free European holiday.
Tara plans a public art display outside the Victoria Court flats. At the exhibition, Dev proposes to Tara, but Tara's response is to unveil a massive poster of Dev in the nude, humiliating him in public as revenge for his lies.
David makes sure Gary overhears him and Graeme planning a (fake) robbery, and Gary tells David he wants in on it.
Mary is getting sick of waiting for Norris to decide to go travelling with her. Much to Norris's horror, Mary tries to seduce him in their motor home, which convinces him that travelling with her is not for him. As Mary leaves, another visitor arrives looking for Norris - his half-brother Ramsay Clegg, who he hasn't spoken to in 50 years. Norris wants nothing to do with Ramsay but won't tell Emily or Rita what caused the rift between them.
Peter and Luke both vie for Michelle's affections. JD asks Michelle to go on tour with the band for six months - she declines for Ryan's sake but Ryan makes arrangements to stay with his friend Phil so Michelle can go. In the meantime, she starts seeing Luke, and a jealous Peter asks Michelle to stay in Weatherfield. She's impressed when Peter sees off Sian's dad Vinnie when an angry Vinnie accused Ryan of raping Sian.
Jack agrees to go on holiday to Spain with Connie, but tells Tyrone and Molly he's going to Blackpool alone as he knows Tyrone won't approve.
Fiz learns that John is in hospital after being attacked by another inmate. When Chesney becomes suspicious he follows Fiz to the prison, realising she's been seeing John, runs off. He only agrees to return home when he hears his dog Schmeichel has been pining for him. Chesney tells Fiz to choose between him and John, but as she wonders how to resolve the situation, she visits John who insists they end their relationship. Chesney decides to go back to school so he doesn't have to see Fiz during the day.
As Tony spends more time supporting Maria, he ignores Natasha's phone calls. He later explains away his action to Natasha by saying he only feels sorry for Maria, but when Natasha tells Maria this, Maria confronts Tony who denies saying it. Tony dumps Natasha, insulting her in the process.
Joe is becoming dependent on painkillers to get him through the working day and isn't happy when he's prescribed a lower dosage.
June
Peter and Michelle spend the night together, but Michelle regrets it the next day and leaves for her tour as planned. Her departure hits Peter hard and he is tempted to drink, though at Ken's suggestion he starts going to Alcoholics Anonymous meetings, where he admits his addiction and begins to come to terms with it.
David and Gary plan their burglary. Unbeknown to Gary, however, David is setting him up and their target is actually Audrey's house. The plan is for Graeme to call the police when Gary enters the house but before he does Ted arrives, causing Gary to flee. Gary is arrested and receives a custodial sentence but he tells Audrey about David's involvement, a story David unwittingly confirms while denying it.

While most of his family shun him, David is surprised when Ted forgives him, even though the incident caused him to have a heart attack.
After a disastrous date with Minnie, Jason starts seeing more of Tina. They share a kiss.
Fiz becomes worried about John's state of mind as he refuses to see her and returns her letters. Rosie, meanwhile, receives a visiting order and goes to see John. He claims he wants to do right by her and gives her £150,000 as compensation for kidnapping her last year. Rosie immediately quits her job at the factory and starts spending the money, buying a sports car (even though she can't drive) and, at Luke's suggestion, investing in a 9% share of Underworld. She also takes back her PA position, replacing Janice who was disastrous in her brief tenure in the role. John, meanwhile, is on suicide watch, prompting Fiz to make a scene outside the prison and hold up a banner asking John to marry her, with John watching on the CCTV. Fiz is allowed to see him, and he accepts.
While shopping, Hayley sees the cardboard cutouts of 'Roy Cropper' and confronts Eddie about his scam, though Roy is forgiving.
Joe isn't coping well with his bad back, a situation made worse by the fact that David frequently hides his pills.
Kevin notices Jason and Molly getting along well and angrily accuses Jason of being too friendly with her. After running the marathon with Molly, Kevin realises he is attracted to her and wonders if his feelings are reciprocated. Molly, meanwhile, is caught up with other problems as Tyrone realises that Jack went on holiday with Connie. Tyrone continues to be hostile towards Connie, causing Jack to decide to move out. Molly is shocked when Kevin admits he has feelings for her but while she is initially disgusted, problems at home make her seek out Kevin's company. They go on another run together and as they're caught up in the excitement they kiss.
As manageress at the Rovers, and with Liz away, Poppy sacks barmaid Betty Williams, believing she's too old. Steve assures Betty that her job is safe but Betty refuses to work with Poppy. Steve sacks Poppy and reinstates Betty.
Bill and Pam see a different side to each other when they meet up on a single's night.
Maria has a false labour. Tony offers his support and accepts Maria's invitation to stay at No.7 until the baby is born. In the meantime, he does everything he can to support her, even putting aside his managerial duties at the factory.
Norris is annoyed as Emily and Rita appear determined to welcome Ramsay into their lives, despite Norris's attempts to make him feel as unwelcome as possible.
Becky's old boyfriend Slug visits, telling her that he's got a legitimate job and is no longer a drug user. Becky is worried about Steve's reaction as Slug continues to visit.
Eileen meets up with Jesse Chadwick again, this time without his

General Custard

guise. They start seeing more of each other.
July
Maria goes into labour while on a walk at the beach with Tony, and Tony has to deliver the baby boy there. With Maria back home, Tony stays on at No.7 to help with baby Liam, although when Barry and Helen Connor arrive to see their grandson, they're suspicious of Tony and Helen even accuses Maria of betraying their Liam's memory. Tony warns Barry that he and his wife risk alienating Maria if they interfere too much with her life, prompting Helen to apologise. Maria agrees to go to Ireland with the Connors.
Kevin and Molly try to continue their affair, but Kevin's family commitments continually get in the way of them meeting. Kevin makes it up to Molly by booking a hotel room for them, but when Sally finds out about it on her birthday he has to tell Sally it's a birthday surprise. He makes it up to Molly by having sex with her, but comes to regret it so much that he ends the affair and persuades Tyrone to go on holiday with Molly to

Tenerife

, as he knows he won't be able to resist Molly otherwise. Molly is furious.
Tina breaks the news about her relationship with Jason to David. David vents his anger by throwing objects at Jason. Meanwhile, Graeme secures painkillers for a dependent Joe, although he refuses subsequent requests from Joe. David finds out about the deal and decides to take advantage of Joe's addiction by giving him painkillers in exchange for large amounts of money, which necessitates a desperate Joe stealing from Gail. David, however, withholds most of the pills from Joe until he convinces Tina to leave Jason. Tina and Jason meanwhile have decided to buy a property and sell it at a profit, with their sights set on No.12 flat above the Kabin. In light of David's demands, Joe retracts his offer to fit their kitchen for free, and warns Tina that Jason is still in love with Becky. Jason reassures Joe that he's wrong.
Steve is jealous of Slug, unaware that Slug has unsuccessfully tried to convince Becky to leave him. Steve sets a date for his and Becky's wedding.
Sean fancies a man called Leon at the gym. He tells Leon that Jason is his boyfriend, then tries to gain Leon's sympathy by telling him that Jason dumped him as he doesn't want to come out as gay. He's alarmed when Leon meets and befriends Jason.
Norris returns shoes that he thought were from Rita when he finds out that they were actually from Ramsay, even though they helped his feet. Meanwhile, Emily and Ramsay are developing feelings for each other, although Norris is oblivious and is pleased when Emily's visiting niece Freda also dislikes Ramsay.
Bill responds to a personal ad and agrees to a date but ends up cancelling to go out with Pam instead, unaware that the ad was actually Pam's.
Fiz and John prepare their prison wedding, but Fiz hasn't yet told Chesney about the wedding. Chesney learns about it when he finds Fiz's engagement ring. In his anger, he steals Rosie's car, but Anna finds him and convinces him to leave it, where it's found by Kevin. Chesney soon realises that he's left the ring in the car.

Sophie is jealous when Rosie flirts with Ben, even though Ben is unresponsive. When she throws a drink over Rosie, Ben dumps her.
Claire starts behaving oddly, and rows with Ashley for silly reasons. Lloyd pays her a visit when she doesn't turn up for work, only to find Claire has collapsed. In hospital, Ashley finds out that Claire was pregnant and has lost the baby. When she wakes, Claire is shocked to learn she was pregnant and tells Ashley that she doesn't want any more children because of her postnatal depression after their son Freddie's birth. Ashley agrees to have a vasectomy but when he goes to hospital to have the operation he chickens out.
Connie finally shows Jack where she lives - a mansion. Jack learns that Connie is wealthy.
Eddie tries to convince Anna to marry him, but she refuses.
Deirdre is made redundant from the council. The Barlows go along to an AA meeting to support Peter.
August
Rosie finds Fiz's ring and gives it to Sally as a present. When Fiz sees Sally with it, she steals it back, but with the factory girls accusing Fiz is being a thief, Julie tells them about Fiz's engagement to John to clear her name. Fiz covers for Chesney by saying she stole Rosie's car but Kevin works out the truth and lets Chesney help out at the garage to make up for it. While he refuses to speak to Fiz, Chesney finds a confidante in Anna.
Joe's painkiller addiction costs him a kitchen fitting contract which had been sustaining him financially. At his wits end, Joe steals Gail's keys to the Medical Centre and trashes the place in a search for painkillers. He sets off an alarm, alerting the police as well as the street residents. His addiction finally revealed to Gail, Joe refuses methadone to ease his withdrawal, preferring to go without drugs. Looking after Joe is a struggle for Gail but she talks him round when he offers to leave, the pair deciding to give their relationship another go. Joe's problems finally begin to ease as he gets a job in a hardware shop.
The rift between Tina and David is deepened when she finds out that he took advantage of Joe. Meanwhile, Jason and Tina buy No.12 at an auction and move in. When Tina's bracelet goes missing, Tina accuses David, who swears his innocence and threatens Tina. Later that day, David is beaten up, but he can't identify the attacker and points the finger at Jason. Jason is arrested by the police, sparking an argument between the Platts and the Grimshaws in the Street, but he is released as there is no evidence that he was the attacker.

In private, Gary, released from prison, admits to David that he attacked him as payback for setting him up.
In preparation for the wedding, Becky invites Jim McDonald as a surprise for Steve, while Liz and Steve's brother Andy return from Spain for the occasion. Becky stays sober at her hen night, determined not to ruin another wedding, and to everyone's surprise the ceremony goes without a hitch. At the reception in the Rovers, the police turn up to search the pub for drugs, and find some in Becky's bag. Becky is arrested for drug trafficking and is interviewed by DC Hooch, a bent copper who is an old enemy of Becky's. Hooch has got revenge on her by paying Slug to plant the drugs at the Rovers while everybody was at the wedding. Becky is released on bail but while Steve supports her, nobody else does. Steve and Becky realise that Slug is involved and try to find him.
When Michelle pays a brief visit to Weatherfield, a smitten Luke focuses his attentions on her instead of Rosie.
Maria returns with the news that she's thinking of moving to Ireland permanently. She decides to stay when Tony admits he is in love with her. They sleep together. Michelle finds out and is horrified. Tony moves into No.7 permanently.
Liz ends her relationship with Lloyd, deciding that she is too old for him, having re-evaluated her life during her stay in Spain.
Ramsay makes one last attempt to bury the hatchet with Norris and tries to persuade Norris to move into a Victoria Court flat with him. Norris tells Ramsay that if he doesn't leave, then Norris will, prompting Ramsay to book an immediate flight back home. Emily is disgusted with Norris's lack of empathy. Norris soon learns that Ramsay has died on the flight to Australia, and that he had a brain tumour. While Emily mourns, Norris gets on with his life, apparently unaffected by his brother's death.
Claire decides to arrange a charity fete in the Street. The residents turn out in force at the event, with Claire trying her best to make sure it goes according to plan. She fails to notice that Josh is in pain after swallowing a bee but when he goes into shock in front of Janice, Janice gets Ashley to phone for an ambulance. Josh is rushed to hospital.
Kevin tries to avoid Molly when she returns from her holiday but is unable to back out of a fun run with her. At the event, they succumb to desire and go off to a hotel together.
Amber passes her exams and is admitted to University in London.
Eileen's delight that Jesse has finally stood up to his domineering mother is short-lived as he is thrown out of his house, and has to move into No.11 with his parrot, John.
September
Joe is given community service for the pharmacy break-in.
Leon doesn't believe Sean's assertion that Jason is straight. Leon enters Jason in his club's Mr Gay Weatherfield contest.
Jesse hires Julie as an assistant for his act.
Jack decides to move in with Connie. Tyrone apologises to Connie when he sees her house and realises he's been wrong about her.
While Kevin tells Sally that he is taking on more out-of-hours breakdowns, Molly tells Tyrone that she's taking yoga classes, allowing Kevin and Molly to meet for sex without their families becoming suspicious. The affair is put on hold however when Rosie pays for a holiday for Kevin and Sally. Kevin's departure clashes with Jack's leaving party but Kevin and Molly meet anyway, and both almost miss their commitments. Tyrone becomes worried that Molly is losing interest in him and tries to work harder on his marriage.
Josh suffers no lasting effects from the bee incident. Ashley finally admits to Claire that he didn't go through with the vasectomy. Claire bans sex until he has the operation.
As a favour to Emily, Norris changes the arrangements of Ramsay's funeral so that it takes place in England. He also makes a last-minute decision to deliver a eulogy, and is surprised when he discovers Ramsay has left him all of his assets, which include correspondence between Ramsay and their mother that Norris didn't know about. Norris finds out that their mother had tried to keep Ramsay out of their lives because of its illegitimacy and begins to regret how he treated Ramsay. Ramsay's death also makes Rita re-evaluate the time her life and she decides to retire. Norris buys Rita's share of the Kabin with the inheritance money. Rita leaves Weatherfield to go on a cruise.
Liz makes Becky feel guilty about the trouble she's causing, and Becky decides to leave Weatherfield. Steve catches up with Becky at the coach station and persuades her to stay. Shortly thereafter, Lloyd spots Slug and he and Steve bundle him into a car and take him to Becky, who gets him to admit that Hooch blackmailed him into getting involved in the scheme. They confront Hooch, who seems unfazed. As Becky awaits sentencing, she's told that the charges have been dropped. Steve and Becky embark on their long overdue honeymoon though neither is pleased that Liz has asked Michelle to help out at the Rovers in their absence.
Peter has a date with Naomi and introduces her to Simon but when they don't get on, Peter dumps Naomi. When Simon's rabbit Leanne dies, Peter goes to see Leanne Battersby, and tells her how she had a positive effect on him and that he is now putting Simon first. Leanne is annoyed at first but soon arrive back in Weatherfield. Peter blows his chances again when Leanne finds out that he's lied about not seeing anyone else while she was away. Leanne decides to give him one last chance.
Amber and Darryl argue over Amber's friendship with her student friend Mitch and they split up. They reconcile when Amber returns during Fresher's week and admits she's thinking of quitting University to stay in Weatherfield. Dev is determined that Amber will return to London and bribes Darryl to move to Spain, where his family lives.
No.11 is burgled by a man Sean had invited into the house. Steve and Lloyd buy Eileen a new TV when the insurance company won't pay out.
Kirk inadvertently tells Chesney that Fiz is marrying John in prison, resulting in Chesney refusing to attend. When Fiz shouts at Kirk, he decides to move in with Maria. At the wedding, Fiz tells John she can't marry him if it means losing Chesney, unaware that Chesney has had a last-minute change of heart and is on his way to the prison.
Michelle's tour finishes and she returns for good. Luke dumps Rosie for Michelle but Rosie seduces him and invites Michelle over, who dumps Luke.
David brings his new girlfriend, Zoe, to Tina and Jason's flat-warming party.
October
Chesney arrives at the prison chapel just in time for Fiz and John to get married. Chesney agrees to live with Fiz and John at No.5 when John is released from prison, but John isn't sure the neighbours will be happy with him living in the Street and sends letters to every house asking the families for their support. Sally calls a meeting at the Rovers to convince the locals not to allow John to live in the Street but Fiz shows up and delivers a heartfelt speech which convinces most of them otherwise.
When Leanne quits her job, Peter suggests they open a wine bar in an empty shop unit in the Street. At Ken and Emily's joint birthday party, the Barlows find out about Peter and Leanne's plan and are wary of the idea, worried that Peter will be tempted to drink. They pursue it anyway but can't get a big enough loan to afford it.

A sexually frustrated Ashley finally goes through with his vasectomy.
Darryl regrets accepting Dev's bribe but prepares to move to Spain anyway. When Teresa tells Amber about the deal, Amber immediately leaves for London, angry at Darryl and Dev. When Darryl cancels his plans and throws Teresa out of their flat, Lloyd takes pity on Teresa and lets her stay with him for one night. After another rejection by Liz, Lloyd ends up sleeping with Teresa, but he regrets it right away and loses any hope of reconciling with Liz when she finds out. Teresa also loses her job at the kebab shop.
Joe buys a used boat and decides to fix it up.
Roy and Hayley go to Frankie Baldwin's wedding in

Romania

. (See Romanian Holiday)
Norris hires new Kabin assistants Sheila, who never stops talking, and Joan, who never says anything. He sacks them both.
When the Websters return from their holiday, Kevin books a romantic break in

Chester

for him and Molly, using a 10k run in Glasgow as cover. While Sally suspects nothing, Tyrone has started thinking Molly might be having an affair with someone and confides in Kevin, who assures him he's wrong. Pam finds out about the affair when she sees Kevin and Molly kissing, and confronts Molly, telling her that if they don't end the affair she'll tell Tyrone. Kevin suggests that they lie to Pam that it's over.
Eileen demands that Jesse sack Julie, convinced that he fancies her. Jesse tells Eileen that he has, although they continue to work together in secret.
Luke fires Rosie for tricking him. He soon has other problems however as Carla backs out of their deal, losing him his factory shares. In desperate need of money, he flatters Rosie and convinces her to buy "his" 51% share of the factory, and flees Weatherfield before Rosie realises she's been conned. The money John gave her is now gone.
Umed annoys the shop customers with a comedic doorbell. Graeme breaks it accidentally on purpose. Umed later decides to return to Mumbai and face his gambling debts.
Maria struggles to deal with Barry and Helen, who arrive for baby Liam's christening. On the anniversary of Liam's death, Tony proposes to Maria and she accepts. As the christening takes place, Tony is called away by Carla, who has returned to put a stop to his relationship with Maria and tells him to leave Weatherfield or she'll tell the police everything. Tony calls Jimmy and tells him to kill Carla, but has a last-minute change of heart and rushes to Carla's flat to stop Jimmy, inadvertantly alerting Carla to Jimmy's presence and allowing her to hit Jimmy over the head. Tony tells Carla that Jimmy is dead and that she has to leave Weatherfield while he disposes of the body. Carla does so, unaware that Jimmy is alive. While Maria goes to Cyprus to tell her parents about her engagement, Tony gives Sally Rosie's old job at the factory and, alone in the Street, suffers a heart attack. Roy finds him and gets him to hospital, where Tony is convinced he's going to die and, full of drugs, confesses to Liam's murder.
Ben moves in with Michelle and Ryan while his parents are away. Michelle hires builder Jake Harman to repair her roof, but he seems more interested in sexually harassing Michelle, causing Michelle to phone the police. She agrees to a date with him and is surprised when she enjoys it.
November
Tony recovers from his heart attack but doesn't remember his deathbed confession, which Roy believes was genuine, despite Hayley refusing to believe it and accepting an invitation by Tony to take charge at the factory while he is ill. Roy begins obsessing over Tony and stalks him until Tony threatens to kill him. Fearing for their lives, the Croppers tell the police what

they know, although after being questioned Tony is released, as there is no evidence against him. Tony admits to Maria that the Croppers wants them dead but denies killing Liam. In shock, Maria goes to see Hayley, while Tony confronts Roy at the canal. Roy tries to put up a fight but is pushed into the water. After a moment of indecision, Tony rescues Roy before going to the police station and confessing to Liam's murder. Maria is overwhelmed by guilt that she let Tony into her life and agrees to move to Ireland with Barry and Helen so that they can help with baby Liam. Meanwhile, Carla returns to face police questioning but doesn't admit that Tony had confessed to her in February. Carla also takes over the factory.
Michelle and Jake sleep together. Jake invites Michelle to go to Glasgow with him but she turns him down.
A man introduces himself to Peter as Simon's grandad George Wilson. Peter allows George and his wife Eve to meet Simon. The affluent couple gain the approval of the entire Barlow clan except Ken, who wonders why George has not contacted them before. When Blanche tells George about Peter's alcoholism, George assures Peter that that past is the past.
Despite having just lost his job at the hardware shop, Joe proposes to Gail on his completed boat,

Gail Force

. Gail accepts. His happiness is short-lived however as debt collector Rick Neelan visits him, and Joe has to give him his van. Joe tells Gail he sold the van to buy an engagement ring. However, Rick turns up again and doubles his remaining debt. Joe admits to Gail that he owes thousands, and is surprised when Gail decides that they will sell No.8 to pay it off and move into a flat. Audrey strongly objects to their plans and to their decision to marry but is unable to change Gail's mind. Meanwhile, Ted agrees to give Gail away.
Norris continues his search for an assistant with Horace Steel, who is a clone of Norris, although Norris fires him when he is rude to customers.
Jack worries that Connie wants more than friendship from him when he starts hearing her outside his bedroom during the night. Connie tells him that she's sleepwalking.
Freda loses her job and moves into No.3.
John is released from prison and moves into No.5. Sally protests his arrival by painting the house's windows black. John manages to get a job at the café, but is deflated when Rosie starts to prey on him, demanding that he give her more money or she'll say he assaulted her. John refuses, so Rosie screams for help.
When Sally checks the Garage's accounts, she notices many discrepancies, which are actually down to the motel expenses. She confronts Kevin, who is relieved when she attributes it to Molly's poor accounting skills. When they're almost caught in bed by Sophie, Kevin and Molly decide to tell their partners about the affair.
Eileen finds out that Julie is still working for Jesse and makes him sack her. Jesse opts to spend his birthday with his parents rather than Eileen.
Ted gives Gary a sharp talking-to when he mocks poppy-wearing. The incident makes Gary think about joining the army, and to that end he goes to an army taster weekend.
Steve and Dev complete at a golf club for a membership. Both of them book lessons with Bernie Sayers, and Dev starts dating her.
Claire accuses Becky of teaching Amy swear words, which Amy has taught Joshua. They call a truce and become friends, and go to drama classes together.
Lloyd throws a vicars and slappers themed party. Liz is offended when the guests gain the inspiration from her.
December
Rosie accuses John of trying to grab her, and Sally contacts the police, but Rosie drops the charge when John publically exposes her story as a lie in the Rovers. Rosie later gets a job as a promotions girl for a vodka company, which involves her wearing skimpy outfits. Graeme falls for Rosie when she shows him her modelling photos.
Teresa apologises to Liz, but only after making Lloyd propose and accepting as a joke.
Becky finds out the price of golf club membership and distracts Steve at the play-off with Dev to make sure he loses the game. Dev starts going golfing regularly and meets Matt Davis, who Dev is stunned to learn is engaged to Dev's ex-wife Sunita. Dev doesn't like the idea of him raising his children Aadi and Asha and can't resist having a go at Matt whenever he visits Sunita. Sunita quickly tires of his behaviour and considers restricting his access to the children. Dev considers applying for custody of the kids and asks Bernie to move in with him, hoping that a stable relationship will count in his favour, but Bernie dumps him instead, unwilling to be used.
Ken's fears that George is trying to buy his way into Simon's life intensify when George gives Peter the money he needs for his bar. Ken takes a job as a Santa so that he can buy Simon a bike for Christmas, but when George shows up at the department store with Simon, Ken has a go at George and ends up being sacked. Ken becomes determined to put a stop to the

bar opening, although his efforts only turn the family against him. Peter is furious when the Gazette publishes an article against his character, using material provided by Ken. Against his better judgement, Peter agrees to a family dinner at No.1, but when Ken uses the opportunity to criticise George, all of the guests walk out.
Eddie tries to scam the residents by clearing their guttering which he blocked in the first place, but Eileen rumbles his scheme.
Blanche goes on holiday to

Portugal

to house-sit for a friend.
Molly is annoyed when Kevin postpones splitting up with Sally, and when Sally surprises Kevin with a weekend in Paris, he leaves Molly in the lurch yet again. When Kevin returns, Molly tells him their affair is over, but on Christmas Day Kevin meets Molly and they agree to tell their partners about the affair immediately so they can be together. As Kevin is about to tell Sally, Sally tells him she has breast cancer. Kevin gets to Molly before she tells Tyrone and tells her that the affair is over. Confused over his feelings, Kevin admits his troubes to Bill, who demands that he support Sally and forget his bit on the side. He decides to do so.
Becky and Claire decide to put on a Christmas panto in the Rovers. John gives them his script for

Cinderella

, and the play is performed on Christmas Eve with Claire as Cinderella and Steve as Prince Charming. Amy takes to the stage to sing but forgets her lines and lets out a swear word.
Gary decides to join the army.
When questioned again by the police following Jimmy's arrest, Carla admits that Tony confessed to her in February. Michelle quickly pieces the truth together and rages at Carla in the Street, blaming her for letting Tony get close to Maria. When Ben later tries to console Michelle, he clumsily tries to kiss her, which causes the embarrassed teen to move back into his parents' house, and Sophie to dump him when she finds out. Michelle's delighted when Jake returns to spend New Year with her, although as they return home they interrupt Ryan and Sian, who have taken advantage of Michelle's absence to sleep together for the first time.
Audrey takes Norris as her guest to the

Weatherfield Traders' Association

lunch. There, Audrey meets her old friend Claudia and her escort, Lewis Archer.
Audrey secretly invites Gail's son Nick Tilsley to Weatherfield. She tells him that Gail is marrying a loser and hopes his disapproval will make Gail see sense. On his first night back, Nick goes on a night out and meets Tina, who has fallen out with Jason after finding out that he is still married to Sarah. When they kiss, Tina feels guilty and leaves, later reconciling with Jason. The pair don't discover their identities until Christmas Day when Tina and Jason go to No.8 for Christmas dinner.
Steve suggests to Becky that they try for a baby, but Becky doesn't want children of her own.
Who lives where
Coronation Street
Victoria Court
Others

Unknown residence - Kelly Crabtree, Poppy Morales, Sian Powers, Pam Hobsworth, Tom Kerrigan, Graeme Proctor
Awards and nominations
BAFTA
British Soap Awards
Ceremony televised on 13th May 2009
National Television Awards
The NTAs changed the timing of the event from October to January so there was no event in this year.
Royal Television Society
Ceremony held on 17th March 2009
Soap and Continuing Drama Coronation Street (Nominee)
TV Times Awards
Editor's programme of the year: Coronation Street
Sexiest Female: Alison King (Winner)
Sexiest Male: Rob James-Collier (Nominee)
Favourite Show: Coronation Street (Nominee)
Favourite Actor: Rob James-Collier (Nominee)
Favourite Newcomer: Michelle Keegan (Nominee)
Favourite Soap Star: Rob James-Collier (Nominee)
Editor's Choice for Star of the Year: Katherine Kelly