Wiki Targeted (Entertainment)
Play Sound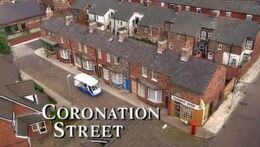 2007 was Coronation Street's forty-eighth year.
Main characters
Production
Broken families
Steve Frost and Kieran Roberts's second year as producer and executive producer respectively saw nearly all key families lose one or more of their number.
The year kicked off with the murder of Charlie Stubbs by his girlfriend Tracy Barlow. Bill Ward and Kate Ford had decided to leave at the end of their contracts, allowing their characters to be written out together. Viewers saw Tracy kill Charlie in cold blood in retaliation for his adultery in January, and try to get away with it by claiming that it was self-defence. A week before the trial, the programme transmitted its second (and last to date) two-hander, in which Tracy confessed to Deirdre Barlow that the killing was pre-meditated and asked her to lie for her in court. Tracy last appeared in April when she was handed a life sentence for first degree murder.
The Barlows' ranks were bolstered by the return of Chris Gascoyne as Peter for the duration of the storyline, at the end of which Adam went with Peter to Portsmouth to run a bookies. After they left, Ken and Deirdre took centre stage in a story where Ken attempted to build a relationship with his 12-year-old son Daniel, who he had ignored for years. Daniel was recast with Dominic Holmes in the role while Denise Black made her first appearance in a decade as Denise Osbourne. Although the storyline ended with Ken promising to keep in touch with Daniel, the character wasn't seen again until 2016.
Bruce Jones was suspended in March over allegations that he had leaked upcoming storylines to the press. Two months later, he left the programme by mutual consent without recording exit scenes for Les Battersby-Brown. At that point, writers were scripting Cilla Battersby-Brown's exit following Jones's screen wife Wendi Peters's decision to quit her role. Ultimately, the departures were unconnected; Les left off-screen to become a roadie for tribute band ZZ Top O' the Morning, while Cilla moved to Las Vegas five months later after coming into money. Her 13-year-old son Chesney remained in the programme in the care of the family's lodger Kirk Sutherland.
Sarah and Bethany Platt were written out following Tina O'Brien's decision to leave the programme after eight years. Bruno Langley briefly returned as Todd Grimshaw for Sarah and Jason's wedding in October. The newlyweds split up almost immediately when Sarah cheated David out of a job with their uncle Stephen Reid in Milan and took it for herself, resulting in Jason refusing to accompany his wife to Italy out of disgust.
Another actor to quit was Sean Gallagher, who played Paul Connor. Despite being a recent addition to the cast, writers had envisioned a long future for the character, who had recently become the majority owner of Underworld and been joined by his wife Carla. In order to spare Carla and keep the factory in the Connor name, writers killed off Paul in a car crash in June. Carla then assumed the role of Underworld boss, which she would occupy for the next nine years. Carla had previously run her denim business from the factory in the evenings, employing cheap Polish labour including Wiki Dankowska, who stayed on as a daytime worker once that storyline had concluded.
Newcomers and returnees
Following the addition of the Connors in 2006, Frost created a second family in the Mortons, the largest at the point of conception in the programme's history. Single father Jerry Morton, played by former Brookside regular Michael Starke, bought the empty bakery at 18 Victoria Street in January ahead of the family's arrival as the new residents of No.6 in March. The clan was comprised of Jerry, older daughter Jodie, twins Mel and Darryl, younger daughter Kayleigh and granddad Wilf. Three weeks later, Jerry took in the children's half-brother Finlay Bryant, who had been neglected by his mother Teresa. The Mortons' storylines focused on Jerry's inability to control his children while running the family business, kebab shop Jerry's Takeaway. By the end of the year, the seven inhabitants of No.6 had been reduced to five as Samantha Seager, who played Jodie, left at the end of her initial contract, and Granadad Morton wasn't seen again after October, with no explanation given.
The old bookies at 9 Rosamund Street also returned to the fold under new management in the form of father-and-son team Harry and Dan Mason, played by Jack Ellis and Matthew Crompton respectively. Other additions to the cast included Charlie Condou as Marcus Dent, a sonographer and boyfriend of Sean Tully, Tom Hudson as a recast Paul Clayton, Graeme Hawley as teacher John Stape, Andrew Dunn as plumber Roger Stiles, Gray O'Brien as Scottish businessman Tony Gordon, and former Pardon the Expression regular Barbara Young as Doreen Fenwick, an old showbiz friend of Rita Sullivan's.
Meanwhile, Lloyd Mullaney returned in February when Craig Charles served out his suspension for crack cocaine use, Hayley Cropper left to do volunteer work in Mozambique when Julie Hesmondhalgh took a year out to concentrate on family, Jane Danson returned to filming in January after giving birth and Charles Lawson made another of his semi-annual returns as Jim McDonald, who was released from prison after serving seven years for manslaughter. Jim left for pastures new in January 2008, after Liz married Vernon Tomlin in the last episode of 2007.
Other notable events
In the Spring, filming began on a major storyline where Freddie Peacock was snatched from his bed by Casey Carswell. The plan was for Freddie to be missing for months, with one scene showing Ashley and Claire at a press conference appealing for information. In May, following the disappearance of Madeleine McCann in Portugal, producers decided that it would be inappropriate to broadcast the recorded material and six episodes were reshot with the new scenes showing Freddie being found abandoned in a park after a few days.
The programme went overseas for the second year in a row when Steve McDonald and Eileen Grimshaw holidayed in Malta together (as friends) in August. Spanning three episodes, this was the last foreign location shoot in the main programme to date.
ITV's first on-demand streaming service, ITV Catch-up, launched on 12th June, allowing viewers in the UK to watch the channel live over the internet or catch up with programming from the past 30 days. The first episode of Coronation Street shown on this service was Episode 6576 (13th June 2007). Viewers who watched Coronation Street by this method were not counted in BARB's official ratings figures.
Viewing figures
After three years in which Coronation Street's ratings fell by a million viewers apiece, 2007 logged an average of 10.11 million viewers, a drop of only 75,000 from 2006. This was the smallest change from the year before since 1980. However, individual months showed greater variation from last year's figures, with June gaining a million viewers, January and July half a million, and four months experiencing drops of over half a million.
The programme's domination of the viewing charts continued with 41 episodes reaching number one, down from 44 the previous year. The highest rated episode was Episode 6471 on 15th January, which immediately followed Charlie Stubbs's death. This episode, along with Charlie's death and Tracy being found guilty of murder, out-rated the most-watched episode from 2006.
Episodes
#
Ep.
No.
Date
Part
Writer
Director
Viewing
Figures
Chart
Position
1
6459
Monday 1st January
1
Jayne Hollinson
Michael Kerrigan
11,120,000
5
2
6460
Monday 1st January
2
Jan McVerry
Michael Kerrigan
11,370,000
4
3
6461
Wednesday 3rd January
Simon Crowther
Michael Kerrigan
11,680,000
3
4
6462
Friday 5th January
Jonathan Harvey
Michael Kerrigan
11,690,000
2
5
6463
Sunday 7th January
Jonathan Harvey
Michael Kerrigan
11,110,000
6
6
6464
Monday 8th January
1
Debbie Oates
Alan Wareing
12,460,000
1
7
6465
Monday 8th January
2
Debbie Oates
Alan Wareing
12,370,000
2
8
6466
Wednesday 10th January
Peter Whalley
Alan Wareing
11,260,000
6
9
6467
Friday 12th January
1
John Fay
Alan Wareing
12,210,000
3
10
6468
Friday 12th January
2
John Fay
Alan Wareing
11,770,000
4
11
6469
Sunday 14th January
Julie Jones
Alan Wareing
11,520,000
5
12
6470
Monday 15th January
1
Joe Turner
Terry Dyddgen-Jones
12,780,000
2
13
6471
Monday 15th January
2
Joe Turner
Terry Dyddgen-Jones
13,080,000
1
14
6472
Wednesday 17th January
Mark Wadlow
Terry Dyddgen-Jones
12,120,000
3
15
6473
Friday 19th January
Carmel Morgan
Terry Dyddgen-Jones
11,270,000
5
16
6474
Sunday 21st January
Stephen Bennett
Terry Dyddgen-Jones
11,360,000
4
17
6475
Monday 22nd January
1
Joe Turner
John Anderson
12,050,000
2
18
6476
Monday 22nd January
2
Jayne Hollinson
John Anderson
12,270,000
1
19
6477
Wednesday 24th January
David Lane
John Anderson
11,420,000
3
20
6478
Friday 26th January
Damon Rochefort
John Anderson
11,070,000
4
21
6479
Sunday 28th January
Simon Crowther
John Anderson
11,070,000
4
22
6480
Monday 29th January
1
Jan McVerry
Kay Patrick
11,830,000
2
23
6481
Monday 29th January
2
John Fay
Pip Short
11,910,000
1
24
6482
Wednesday 31st January
Mark Wadlow
Pip Short
10,900,000
3
25
6483
Friday 2nd February
Martin Allen
Pip Short
10,760,000
5
26
6484
Sunday 4th February
Stephen Bennett
Pip Short
10,820,000
4
27
6485
Monday 5th February
1
Chris Fewtrell
Tim O'Mara
11,660,000
2
28
6486
Monday 5th February
2
Jonathan Harvey
Tim O'Mara
12,060,000
1
29
6487
Wednesday 7th February
Catherine Hayes
Tim O'Mara
10,820,000
4
30
6488
Friday 9th February
Jan McVerry
Tim O'Mara
11,090,000
3
31
6489
Sunday 11th February
Carmel Morgan
Tim O'Mara
10,670,000
5
32
6490
Monday 12th February
1
Debbie Oates
Michael Kerrigan
11,420,000
2
33
6491
Monday 12th February
2
Peter Whalley
Michael Kerrigan
11,600,000
1
34
6492
Wednesday 14th February
Martin Allen
Michael Kerrigan
10,300,000
4
35
6493
Friday 16th February
David Lane
Michael Kerrigan
10,720,000
3
36
6494
Sunday 18th February
Jayne Hollinson
Michael Kerrigan
10,300,000
4
37
6495
Monday 19th February
1
Mark Wadlow
Mark McKillop
11,390,000
1
38
6496
Monday 19th February
2
Mark Wadlow
Mark McKillop
11,380,000
2
39
6497
Wednesday 21st February
Damon Rochefort
Mark McKillop
10,530,000
5
40
6498
Friday 23rd February
Stephen Russell
Mark McKillop
10,930,000
4
41
6499
Sunday 25th February
Carmel Morgan
Mark McKillop
10,960,000
3
42
6500
Monday 26th February
1
Jonathan Harvey
Nigel Keen
11,450,000
2
43
6501
Monday 26th February
2
Jonathan Harvey
Nigel Keen
11,560,000
1
44
6502
Wednesday 28th February
Julie Jones
Nigel Keen
10,950,000
3
45
6503
Friday 2nd March
Chris Fewtrell
Nigel Keen
10,360,000
5
46
6504
Sunday 4th March
Joe Turner
Nigel Keen
10,900,000
4
47
6505
Monday 5th March
1
Stephen Bennett
Stuart Davids
11,950,000
1
48
6506
Monday 5th March
2
Mark Burt
Stuart Davids
11,810,000
2
49
6507
Wednesday 7th March
Damon Rochefort
Stuart Davids
10,150,000
3
50
6508
Friday 9th March
Catherine Hayes
Stuart Davids
10,070,000
5
51
6509
Sunday 11th March
Martin Allen
Stuart Davids
9,000,000
7
52
6510
Monday 12th March
1
Simon Crowther
Pip Short
11,000,000
1
53
6511
Monday 12th March
2
Simon Crowther
Pip Short
10,720,000
2
54
6512
Wednesday 14th March
Peter Whalley
Pip Short
9,800,000
6
55
6513
Friday 16th March
David Lane
Pip Short
8,940,000
9
56
6514
Sunday 18th March
Julie Jones
Pip Short
10,480,000
3
57
6515
Monday 19th March
1
Joe Turner
Tim O'Mara
11,480,000
1
58
6516
Monday 19th March
2
Joe Turner
Tim O'Mara
8,990,000
7
59
6517
Wednesday 21st March
Chris Fewtrell
Tim O'Mara
10,960,000
2
60
6518
Friday 23rd March
Jan McVerry
Tim O'Mara
10,430,000
3
61
6519
Sunday 25th March
Jonathan Harvey
Tim O'Mara
10,010,000
4
62
6520
Monday 26th March
1
Jonathan Harvey
Michael Kerrigan
10,630,000
3
63
6521
Monday 26th March
2
John Fay
Michael Kerrigan
11,590,000
1
64
6522
Wednesday 28th March
Mark Wadlow
Michael Kerrigan
10,370,000
4
65
6523
Friday 30th March
Stephen Russell
Michael Kerrigan
10,890,000
2
66
6524
Sunday 1st April
Mark Burt
Michael Kerrigan
9,930,000
5
67
6525
Monday 2nd April
1
Stephen Bennett
Neil Alderton
11,760,000
2
68
6526
Monday 2nd April
2
Joe Turner
Neil Alderton
13,070,000
1
69
6527
Wendesday 4th April
Carmel Morgan
Neil Alderton
10,050,000
4
70
6528
Friday 6th April
Jan McVerry
Neil Alderton
10,100,000
3
71
6529
Sunday 8th April
Chris Fewtrell
Neil Alderton
8,360,000
7
72
6530
Monday 9th April
1
Julie Jones
Kay Patrick
10,960,000
1
73
6531
Monday 9th April
2
Debbie Oates
Kay Patrick
10,830,000
2
74
6532
Wednesday 11th April
Jayne Hollinson
Kay Patrick
9,330,000
5
75
6533
Friday 13th April
Martin Allen
Kay Patrick
9,910,000
3
76
6534
Sunday 15th April
Peter Whalley
Kay Patrick
9,630,000
4
77
6535
Monday 16th April
1
Chris Fewtrell
Stuart Davids
10,530,000
1
78
6536
Monday 16th April
2
Chris Fewtrell
Stuart Davids
10,290,000
2
79
6537
Wednesday 18th April
Joe Turner
Stuart Davids
9,730,000
4
80
6538
Friday 20th April
Mark Burt
Stuart Davids
9,420,000
5
81
6539
Sunday 22nd April
David Lane
Stuart Davids
9,810,000
3
82
6540
Monday 23rd April
1
Jan McVerry
Pip Short
10,870,000
1
83
6541
Monday 23rd April
2
Peter Whalley
Pip Short
10,690,000
2
84
6542
Wednesday 25th April
Julie Jones
Pip Short
9,410,000
3
85
6543
Friday 27th April
Jayne Hollinson
Pip Short
8,970,000
5
86
6544
Sunday 29th April
Jonathan Harvey
Pip Short
8,950,000
6
87
6545
Monday 30th April
1
Mark Wadlow
Tim O'Mara
9,430,000
2
88
6546
Monday 30th April
2
Mark Wadlow
Tim O'Mara
9,550,000
1
89
6547
Wednesday 2nd May
Damon Rochefort
Tim O'Mara
8,870,000
6
90
6548
Friday 4th May
Stephen Bennett
Tim O'Mara
9,070,000
4
91
6549
Sunday 6th May
Simon Crowther
Tim O'Mara
8,990,000
5
92
6550
Monday 7th May
1
Peter Whalley
Terry Dyddgen-Jones
10,550,000
1
93
6551
Monday 7th May
2
Stephen Bennett
Terry Dyddgen-Jones
9,960,000
4
94
6552
Wednesday 9th May
Catherine Hayes
Terry Dyddgen-Jones
10,340,000
2
95
6553
Friday 11th May
David Lane
Terry Dyddgen-Jones
10,080,000
3
96
6554
Sunday 13th May
Carmel Morgan
Terry Dyddgen-Jones
9,600,000
5
97
6555
Monday 14th May
1
Chris Fewtrell
Mike Adams
10,440,000
2
98
6556
Monday 14th May
2
Stephen Russell
Mike Adams
9,990,000
4
99
6557
Wednesday 16th May
Martin Allen
Mike Adams
10,540,000
1
100
6558
Friday 18th May
Jonathan Harvey
Mike Adams
9,560,000
5
101
6559
Sunday 20th May
Jonathan Harvey
Mike Adams
10,020,000
3
102
6560
Monday 21st May
1
Debbie Oates
Tony Prescott
10,690,000
2
103
6561
Monday 21st May
2
Simon Crowther
Tony Prescott
11,210,000
1
104
6562
Friday 25th May
Julie Jones
Tony Prescott
9,440,000
5
105
6563
Sunday 27th May
Damon Rochefort
Tony Prescott
9,790,000
4
106
6564
Monday 28th May
1
Peter Whalley
Kay Patrick
10,650,000
1
107
6565
Monday 28th May
2
Peter Whalley
Kay Patrick
10,540,000
2
108
6566
Wednesday 30th May
David Lane
Kay Patrick
10,180,000
3
109
6567
Friday 1st June
Simon Crowther
Kay Patrick
7,960,000
9
110
6568
Sunday 3rd June
Stephen Bennett
Kay Patrick
8,870,000
5
111
6569
Monday 4th June
1
Joe Turner
Michael Kerrigan
9,910,000
2
112
6570
Monday 4th June
2
Joe Turner
Michael Kerrigan
10,090,000
1
113
6571
Wednesday 6th June
Mark Wadlow
Michael Kerrigan
8,860,000
3
114
6572
Friday 8th June
Jayne Hollinson
Michael Kerrigan
8,850,000
4
115
6573
Sunday 10th June
Damon Rochefort
Michael Kerrigan
8,660,000
6
116
6574
Monday 11th June
1
Martin Allen
Pip Short
Kay Patrick
9,640,000
5
117
6575
Monday 11th June
2
Mark Burt
Pip Short
Kay Patrick
9,700,000
4
118
6576
Wednesday 13th June
Chris Fewtrell
Pip Short
Kay Patrick
10,100,000
3
119
6577
Friday 15th June
1
Julie Jones
Pip Short
Kay Patrick
9,440,000
6
120
6578
Friday 15th June
2
Jonathan Harvey
Pip Short
Kay Patrick
8,070,000
13
121
6579
Monday 18th June
1
Joe Turner
Duncan Foster
Kay Patrick
9,990,000
2
122
6580
Monday 18th June
2
Jayne Hollinson
Duncan Foster
Kay Patrick
10,270,000
1
123
6581
Wednesday 20th June
Stephen Bennett
Duncan Foster
Kay Patrick
9,110,000
5
124
6582
Friday 22nd June
Martin Allen
Duncan Foster
Kay Patrick
8,780,000
7
125
6583
Sunday 24th June
Simon Crowther
Duncan Foster
Kay Patrick
9,040,000
6
126
6584
Monday 25th June
1
Peter Whalley
Terry Dyddgen-Jones
9,970,000
2
127
6585
Monday 25th June
2
Mark Wadlow
Terry Dyddgen-Jones
9,910,000
3
129
6586
Wednesday 27th June
Catherine Hayes
Terry Dyddgen-Jones
9,350,000
4
130
6587
Friday 29th June
Julie Jones
Terry Dyddgen-Jones
7,820,000
11
131
6588
Sunday 1st July
Jonathan Harvey
Terry Dyddgen-Jones
6,920,000
17
132
6589
Monday 2nd July
1
Debbie Oates
Mike Adams
9,840,000
2
133
6590
Monday 2nd July
2
Debbie Oates
Mike Adams
10,050,000
1
134
6591
Wednesday 4th July
Chris Fewtrell
Mike Adams
9,040,000
4
135
6592
Friday 6th July
Damon Rochefort
Mike Adams
8,480,000
7
135
6593
Sunday 8th July
John Fay
Mike Adams
8,100,000
8
136
6594
Monday 9th July
1
Stephen Bennett
Tony Prescott
9,770,000
2
137
6595
Monday 9th July
2
Stephen Bennett
Tony Prescott
9,950,000
1
138
6596
Wednesday 11th July
Peter Whalley
Tony Prescott
8,800,000
6
139
6597
Friday 13th July
Peter Whalley
Tony Prescott
9,290,000
3
140
6598
Sunday 15th July
Martin Allen
Tony Prescott
8,910,000
4
141
6599
Monday 16th July
1
Stephen Russell
Neil Alderton
9,370,000
4
142
6600
Monday 16th July
2
Stephen Russell
Neil Alderton
9,450,000
3
143
6601
Wednesday 18th July
Damon Rochefort
Neil Alderton
8,620,000
5
144
6602
Friday 20th July
David Lane
Neil Alderton
9,480,000
2
145
6603
Sunday 22nd July
Mark Wadlow
Neil Alderton
7,570,000
9
146
6604
Monday 23rd July
1
Chris Fewtrell
Pip Short
9,300,000
3
147
6605
Monday 23rd July
2
Mark Burt
Pip Short
9,360,000
2
148
6606
Wednesday 25th July
Julie Jones
Pip Short
9,010,000
4
149
6607
Friday 27th July
Simon Crowther
Pip Short
8,470,000
6
150
6608
Sunday 29th July
Jonathan Harvey
Pip Short
8,180,000
7
151
6609
Monday 30th July
1
Jayne Hollinson
Duncan Foster
9,010,000
2
152
6610
Monday 30th July
2
Jan McVerry
Duncan Foster
9,600,000
1
153
6611
Wednesday 1st August
Stephen Bennett
Duncan Foster
8,680,000
3
154
6612
Friday 3rd August
Chris Fewtrell
Duncan Foster
8,520,000
5
155
6613
Sunday 5th August
Chris Fewtrell
Duncan Foster
8,090,000
6
156
6614
Monday 6th August
1
Julie Jones
Terry Dyddgen-Jones
9,400,000
2
157
6615
Monday 6th August
2
Julie Jones
Terry Dyddgen-Jones
9,490,000
1
158
6616
Wednesday 8th August
Peter Whalley
Terry Dyddgen-Jones
8,660,000
3
159
6617
Friday 10th August
Catherine Hayes
Terry Dyddgen-Jones
8,260,000
5
160
6618
Sunday 12th August
Damon Rochefort
Terry Dyddgen-Jones
8,230,000
6
161
6619
Monday 13th August
1
Simon Crowther
John Anderson
9,130,000
5
162
6620
Monday 13th August
2
Simon Crowther
John Anderson
9,500,000
2
163
6621
Wednesday 15th August
David Lane
John Anderson
9,430,000
3
164
6622
Friday 17th August
Mark Burt
John Anderson
9,030,000
6
165
6623
Sunday 19th August
Mark Wadlow
John Anderson
9,150,000
4
166
6624
Monday 20th August
1
Joe Turner
Pip Banyard
9,640,000
2
167
6625
Monday 20th August
2
Joe Turner
Tony Prescott
9,970,000
1
168
6626
Wednesday 22nd August
Jonathan Harvey
Tony Prescott
8,570,000
5
169
6627
Friday 24th August
Martin Allen
Tony Prescott
8,200,000
8
170
6628
Sunday 26th August
Lucy Gannon
Tony Prescott
7,470,000
11
171
6629
Monday 27th August
1
Lucy Gannon
Alan Wareing
8,760,000
4
172
6630
Monday 27st August
2
Damon Rochefort
Alan Wareing
9,070,000
2
173
6631
Wednesday 29th August
David Lane
Alan Wareing
8,610,000
6
174
6632
Friday 31st August
Jayne Hollinson
Alan Wareing
9,070,000
2
175
6633
Sunday 2nd September
Peter Whalley
Alan Wareing
8,490,000
8
176
6634
Monday 3rd September
1
Debbie Oates
Stephen Moore
9,380,000
3
177
6635
Monday 3rd September
2
Debbie Oates
Stephen Moore
9,850,000
1
178
6636
Wednesday 5th September
Mark Burt
Stephen Moore
9,580,000
2
179
6637
Friday 7th September
Mark Wadlow
Stephen Moore
6,870,000
13
180
6638
Sunday 9th September
Joe Turner
Stephen Moore
8,620,000
5
181
6639
Monday 10th September
1
Stephen Bennett
Jerry Smith
9,750,000
2
182
6640
Monday 10th September
2
Jonathan Harvey
Jerry Smith
9,870,000
1
183
6641
Wednesday 12th September
Chris Fewtrell
Jerry Smith
9,260,000
4
184
6642
Sunday 16th September
Jan McVerry
Simon Crowther
Jerry Smith
8,450,000
7
185
6644
Monday 17th September
1
Chris Fewtrell
Duncan Foster
10,370,000
2
186
6645
Monday 17th September
2
Simon Crowther
Duncan Foster
11,140,000
1
187
6646
Wednesday 19th September
Jayne Hollinson
Duncan Foster
9,830,000
3
188
6647
Friday 21st September
Stephen Bennett
Duncan Foster
8,070,000
10
189
6648
Sunday 23rd September
Mark Burt
Duncan Foster
8,720,000
7
190
6649
Monday 24th September
1
Carmel Morgan
John Anderson
10,430,000
2
191
6650
Monday 24th September
2
Julie Jones
John Anderson
11,110,000
1
192
6651
Wednesday 26th September
Jan McVerry
John Anderson
10,070,000
3
193
6652
Sunday 30th September
Catherine Hayes
Martin Allen
John Anderson
8,640,000
6
194
6654
Monday 1st October
1
Peter Whalley
Tony Prescott
10,510,000
1
195
6655
Monday 1st October
2
Peter Whalley
Tony Prescott
10,380,000
3
196
6656
Wednesday 3rd October
Damon Rochefort
Pip Banyard
10,450,000
2
197
6657
Friday 5th October
1
David Lane
Pip Banyard
9,190,000
5
198
6658
Friday 5th October
2
Mark Wadlow
Tony Prescott
8,200,000
10
199
6659
Monday 8th October
1
Mark Burt
Alan Wareing
10,580,000
1
200
6660
Monday 8th October
2
Stephen Bennett
Alan Wareing
10,390,000
2
201
6661
Wednesday 10th October
Lucy Gannon
Alan Wareing
9,970,000
3
202
6662
Friday 12th October
1
Carmel Morgan
Alan Wareing
9,500,000
6
203
6663
Friday 12th October
2
Martin Allen
Alan Wareing
8,400,000
11
204
6664
Monday 15th October
1
Jonathan Harvey
Tim Dowd
10,900,000
3
205
6665
Monday 15th October
2
Jonathan Harvey
Tim Dowd
11,230,000
2
206
6666
Wednesday 17th October
Jan McVerry
Tim Dowd
9,990,000
7
207
6667
Friday 19th October
David Lane
Tim Dowd
10,120,000
6
208
6668
Sunday 21st October
Peter Whalley
Tim Dowd
10,290,000
5
209
6669
Monday 22nd October
1
Joe Turner
Michael Kerrigan
10,830,000
3
210
6670
Monday 22nd October
2
Joe Turner
Michael Kerrigan
10,860,000
2
211
6671
Wednesday 24th October
Simon Crowther
Michael Kerrigan
10,150,000
5
212
6672
Friday 26th October
Julie Jones
Michael Kerrigan
10,180,000
4
213
6673
Sunday 28th October
Jayne Hollinson
Michael Kerrigan
10,990,000
1
214
6674
Monday 29th October
1
Debbie Oates
Duncan Foster
11,960,000
2
215
6675
Monday 29th October
2
Joe Turner
Duncan Foster
12,060,000
1
216
6676
Wednesday 31st October
Peter Whalley
Duncan Foster
11,340,000
3
217
6677
Friday 2nd November
Chris Fewtrell
Duncan Foster
10,300,000
5
218
6678
Sunday 4th November
Jayne Hollinson
Duncan Foster
10,440,000
4
219
6679
Monday 5th November
1
Mark Wadlow
John Anderson
10,940,000
1
220
6680
Monday 5th November
2
Mark Wadlow
John Anderson
10,630,000
3
221
6681
Wednesday 7th November
Damon Rochefort
John Anderson
10,440,000
4
222
6682
Friday 9th November
Carmel Morgan
John Anderson
10,270,000
6
223
6683
Sunday 11th November
Martin Allen
John Anderson
10,840,000
2
224
6684
Monday 12th November
1
Simon Crowther
Pip Short
11,520,000
1
225
6685
Monday 12th November
2
Simon Crowther
Pip Short
11,100,000
2
226
6686
Wednesday 14th November
Julie Jones
Pip Short
10,630,000
4
227
6687
Friday 16th November
Jonathan Harvey
Pip Short
9,170,000
9
228
6688
Sunday 18th November
Lucy Gannon
Pip Short
11,030,000
3
229
6689
Monday 19th November
1
Martin Allen
Alan Wareing
11,460,000
1
230
6690
Monday 19th November
2
Martin Allen
Alan Wareing
10,840,000
3
231
6691
Wednesday 21st November
Jayne Hollinson
Alan Wareing
10,300,000
7
232
6692
Friday 23rd November
Mark Burt
Alan Wareing
10,780,000
4
233
6693
Sunday 25th November
Stephen Bennett
Alan Wareing
10,590,000
5
234
6694
Monday 26th November
1
Julie Jones
Illy
11,310,000
1
235
6695
Monday 26th November
2
Jonathan Harvey
Illy
10,440,000
5
236
6696
Wednesday 28th November
Catherine Hayes
Illy
10,820,000
4
237
6697
Friday 30th November
Mark Wadlow
Illy
10,410,000
6
238
6698
Sunday 2nd December
Peter Whalley
Illy
10,930,000
3
239
6699
Monday 3rd December
1
Joe Turner
Tim Dowd
11,530,000
1
240
6700
Monday 3rd December
2
Joe Turner
Tim Dowd
11,380,000
2
241
6701
Wednesday 5th December
Jan McVerry
Tim Dowd
10,510,000
4
242
6702
Friday 7th December
David Lane
Tim Dowd
10,320,000
6
243
6703
Sunday 9th December
Chris Fewtrell
Tim Dowd
10,040,000
7
244
6704
Monday 10th December
1
Julie Jones
Tim O'Mara
11,370,000
3
245
6705
Monday 10th December
2
Julie Jones
Tim O'Mara
11,100,000
4
246
6706
Wednesday 12th December
Lucy Gannon
Tim O'Mara
10,560,000
6
247
6707
Friday 14th December
Damon Rochefort
Tim O'Mara
10,150,000
8
248
6708
Sunday 16th December
Jan McVerry
Tim O'Mara
10,330,000
7
249
6709
Monday 17th December
1
Debbie Oates
Duncan Foster
11,470,000
3
250
6710
Monday 17th December
2
Debbie Oates
Duncan Foster
11,830,000
2
251
6711
Wednesday 19th December
David Lane
Duncan Foster
10,010,000
6
252
6712
Friday 21st December
Peter Whalley
Duncan Foster
9,950,000
7
253
6713
Sunday 23rd December
Jonathan Harvey
Duncan Foster
9,490,000
9
254
6714
Monday 24th December
1
Mark Wadlow
Stuart Davids
9,840,000
8
255
6715
Monday 24th December
2
Chris Fewtrell
Stuart Davids
9,050,000
14
256
6716
Tuesday 25th December
Simon Crowther
Stuart Davids
9,400,000
10
257
6717
Wednesday 26th December
Martin Allen
Stuart Davids
9,910,000
7
258
6718
Friday 28th December
Stephen Bennett
Pip Short
9,140,000
13
259
6719
Sunday 30th December
Joe Turner
Pip Short
9,240,000
12
260
6720
Monday 31st December
1
Chris Fewtrell
Pip Short
9,370,000
7
261
6721
Monday 31st December
2
Damon Rochefort
Pip Short
8,900,000
9
Storylines
January
February
Becky Granger meets up with her old friend Slug, who convinces her to go for a joyride with him in Hayley's car. After being deserted by Slug, Becky leaves the car, but the police find it with her coat inside, incriminating her. Later, a fire starts in Roy's Rolls, and Lloyd Mullaney rescues Becky, who is the only person inside at the time. The street residents, including Roy and Hayley, are convinced Becky was behind the fire, but when the cause turns out to be an electrical fault, Hayley tries to apologise to Becky but Becky, who has lost her job over the fiasco, leaves the street. A heartfelt Hayley tracks Becky down and offers her her job back.
Sean Tully is surprised when he meets Sonny as he already knows him; they have a romantic history together. Sean agrees not to tell Michelle about his bisexual past. Meanwhile, Steve and Tracy have been seeing more of each other and after Amy's birthday party they sleep together. Steve regrets it at first and tells Tracy it was a one-off, but when Michelle appears jealous upon seeing them together, he decides to keep the relationship going longer. On a night out, Steve finds Sean and Sonny kissing, and delights in the knowledge that he has ammunition against Michelle's boyfriend. Sean plans to finish with Sonny but Sonny convinces him to continue the affair, while Sonny allays Michelle's fear that he is going to dump her by proposing to her.
Cilla has started feeling guilty over her treatment of Chesney and becomes determined to win him back. Fiz meanwhile is struggling to take care of Chesney on her wages alone while Les and Cilla continue to claim child benefits. Cilla lures Chesney to No.5 and spoils him with home comforts, and Chesney decides to move back there.
Rita receives a visit from Doreen Fenwick, an old friend from her singing days.
Kelly and Joanne have a bust-up in the factory when Joanne reveals she had a fling with Liam. Paul sacks Joanne when it becomes clear she and Kelly won't work together.
Jason panics when Holly goes missing, though Eileen has only taken her for a walk. The event makes Jason reconsider his commitment to taking care of Holly and he decides to contact social services, hoping they'll take her away, but he's disappointed when they don't. Eileen is furious and tells Jason that she will bring up Holly with or without his help.
David decides not to testify for Tracy after all, but seeing her desperation he changes his mind, but in exchange for sex. Tracy bargains with David, agreeing to sleep with him after the trial.
Tyrone Dobbs takes possession of an old metal detector. When he doesn't find anything, he gives it to Chesney, who detects something large in the

Peacocks

' garden which turns out to be an old bomb. The street is evacuated while a bomb disposal unit remove the device.
Carla is having trouble finding a workforce for her denim business, but Becky agrees to recruit workers from her

hostel

, providing Carla with cheap labour.
Claire meets up with Casey Carswell, a girl she has been counselling through the voluntary phone service she works for. Casey has been struggling since her baby died.
March
Upon hearing about Sonny's proposal, Steve tells Michelle about Sonny and Sean kissing but Sean talks his way out of it. Liam and Paul aren't convinced and, under pressure, Sean tells them the truth. They make him tell Michelle, who is devastated and dumps Sonny. When Ryan hears about it he steals Sonny's car but the police catch him and make him return it. Sean and Sonny try to continue their affair but Sean ends it when he realises they can't have a normal relationship in the Street.
The factory is understaffed so Liam gives Janice her job back when she returns from France. Kelly meanwhile quits the nightshift as she can't cope with the other dayshift staff's jibes. To sort out the staffing problems, Carla brings in Polish workers from the nightshift, including Wiki Dankowska.
Jamie has a surprise encounter with ex-girlfriend Leanne Battersby. Leanne says she's been making money in the property market and she becomes interested in buying No.7. Leanne breaks into Janice's flat so she has somewhere to live while Janice is away. When Janice returns, she's impressed by how much money Leanne appears to have, until she sees Leanne meeting an older man and realises she's a prostitute. Janice tries to stop Leanne meeting her clients but Leanne refuses to quit. Leanne isn't happy when she finds out Liam has put in a higher offer for No.7 than her.
David puts pressure on Tracy to sleep with him before the trial, or he won't testify. The pair have a secret meeting in Charlie's old flat but Jason sees them enter on CCTV and tells David's sister Sarah. Deirdre overhears Sarah warning Tracy and confronts Tracy with the tape, though Tracy convinces her to destroy it. The Barlows prepare for the trial - Tracy enters a not guilty plea but Deirdre is having doubts about Tracy's account of Charlie's death and speaks to Claire, Steve and David behind Tracy's back. Meanwhile, Peter flirts with Maria and when they're seen together by Tracy, Tracy attacks Maria, who will be testifying against her in court. The night before the trial, Tracy tells Deirdre the truth about Charlie's murder and how she has manipulated everybody,

leaving Deirdre wondering whether she can bring herself to lie for Tracy. The trial begins. The evidence weighs against Tracy and David's testimony doesn't help her at all. Deirdre decides to take the stand against Ken's recommendation but she lets Tracy down as the prosecution makes her contradict herself.
The Morton family move into No.6 - single dad Jerry, as well as Jodie, twins Darryl and Mel, Kayleigh and granddad Wilf. On their first day in the street, they upset the other residents with their loud music. While Jerry opens his Victoria Street kebab shop, Kayleigh is unhappy with the move and goes to stay with her mum Teresa Bryant.
Paul hits Ryan when he hears about him joyriding. Carla is surprised by his extreme reaction and his subsequent sacking of Sean, which results in the factory staff going on strike. When Paul goes missing, Liam gives Sean his job back to settle the strike. Liam confesses to Carla that Paul was driving under the influence and crashed, resulting in Ryan's dad Dean's death. Paul returns and Carla assures him the secret is safe with her.
Liz McDonald meets delivery man Derek and they hit it off. Derek asks her out but Liz goes for a meal with her partner Vernon Tomlin instead, though they meet up again subsequently.
Violet is told by the doctor that there is still a chance that she can conceive.
Doreen moves into the Kabin flat with Rita.
April
The jury finds Tracy guilty of murder, and she receives a life sentence. Tracy asks Ken and Deirdre not to visit her in prison, telling them she blames them for everything.
Claire has to leave her son Freddie in the Casey's care but when she returns they're both gone. Casey returns saying she took Freddie for a drive.
Leanne decides not to buy No.7, so Liam buys the house and moves in. The pair have been getting on well lately but when she realises she can't tell him about her soliciting she tries to cool their relationship.
Janice is worried she and the other factory girls will lose their jobs because of the cheap labour influx, and contacts the Immigration Department, tipping them off about illegal immigrants. Polish workers Wiki and Kasia Barowicz check out, but Joanne is arrested, having come to the UK illegally when she was eight. Janice admits her guilt to her co-workers and when Joanne returns they agree to support her appeal.
Liz is getting tired of Vernon's free-spirited attitude and is becoming more interested in Derek but when Vernon suddenly proposes, she accepts. The day is spoiled when Vernon stands Liz up at a dinner date, as he has got drunk and passed out while celebrating, so Liz meets up with Derek instead. They continue seeing each other and spend the night together.
Bill wants to buy the builder's yard, and Audrey agrees to invest in the yard, allowing Bill to buy it. Bill proposes to Audrey but she turns him down.
Peter returns to Portsmouth without saying goodbye to Maria. Adam Barlow goes with Peter when he's offered a job.
Jerry finds out that Kayleigh has been shoplifting, and that Teresa has gone on holiday leaving Kayleigh and her younger son Finlay Bryant at home. Jerry takes them both to live at No.6. Jerry buys Mel and Darryl a car for their 18th and invites the neighbours to a party to make amends. His efforts are undone however when a massive shed is crane-lifted into the Mortons' garden.
Holly's mum Emma shows up at No.11 with news - Charlie is Holly's dad, not Jason. Charlie had used Jason's name when he met her, and Emma was none the wiser until she saw Charlie's photograph in the newspaper in the wake of the court case. Emma wants Holly back, and Jason is prepared to give her up but Eileen isn't, feeling that Emma only wants her daughter back so she can claim Charlie's inheritance. When Jason fails to make Eileen see reason, he goes to stay with the Platts. Eileen realises she's fighting a losing battle and decides to run away with Holly but Gail convinces her to hand Holly over to social services.
Carla's night shift staff finish an important order on her dungaree business, but in a freak accident Kasia falls down the stairs and dies while carrying some boxes for Carla. Panic-stricken Carla summons Paul, who waits until 8.00am to phone the ambulance as by law Kasia cannot work in the factory before then. Wiki is persuaded to lie the police and Health and Safety is satisfied that the death was an accident, but Paul and Liam have a hard time convincing the staff there wasn't any wrongdoing. When Paul denies Carla usage of the factory for her business, Carla hints to Michelle that her brothers are keeping a secret from her. Michelle gets Liam to admit the truth about Dean's death. Michelle confides in Steve, who takes that moment to move in for a kiss, but she rejects him again.
Vera Duckworth wants husband Jack to help more around the house but Vera slips on some magazines he has put on the stairs, hurting herself. Molly Compton gives her Holly's baby monitor so she can call Jack for help whenever she needs it.
May
Ken is in a quandary over his marriage, which has been strained by the court case. He goes to see Denise Osbourne, a former Coronation Street resident who had a baby with Ken in 1995. For ten years Ken has had no contact with Denise or their son Daniel, but he now wants to be a proper father. Ken has an awkward meeting with Daniel but Denise thinks Ken should prioritise making up with Deirdre. He tries to do so but it only results in another row, prompting Denise to step in and try to talk sense into them. Deirdre slaps Denise in the Rovers, which causes Ken to move out of No.1, hoping some time apart will make Deirdre see sense.
Mel applies to join the police.
Paul is ignoring Carla's attempts to reconcile. He's surprised when he hires a prostitute and it's Leanne. Paul is angry that Leanne is deceiving Liam but can't do anything about it as Leanne will tell Carla about his passion for prostitutes. Leanne is almost caught out when Dev asks her to find a villa for him and she has to admit to Liam that she lost her job in the property market. Feeling she is about to be found out, Leanne quits her escort job but when Carla persuades Leanne to buy a restaurant with her, she takes it back. Leanne is shocked when a client of hers recognises her during a business meeting with Carla, but fortunately for her the man doesn't know her real name.
Gail and Claire conspire to have Darryl's shed removed by the council, as they're tired of Darryl's music playing. Jerry agrees to sort it out but when he doesn't, Claire steals the stereo from the shed. Ashley and Joshua Peacock go on holiday, leaving Claire with Freddie, but during the night a fire starts in the house and as it quickly spreads, Claire is incapacitated while trying to rescue Freddie. Jamie and Kirk enter the house and get Claire to safety but as the firefighters arrive Freddie isn't rescued in time. Ashley returns and is just taking in the news that his baby son is dead when the police tell him Freddie wasn't in the house at the time. Further, the fire was started deliberately. Freddie is found unharmed in the park. The police arrest Claire and question her about her history of mental health issues but release her without charge.
Vernon goes on tour with his band. Liz continues her affair with Derek but finds out that Derek's wife

Linda

knows he is cheating on her.
Violet starts seeing Gary, but it doesn't work out.
Steve is determined to beat Paul at golf, unaware that Paul is the club champion, so to stop him losing money Michelle lets Steve know. Michelle finally admits to Steve that she cares about him and they get together. Their attempts to be alone together are continually scuppered however because of their parental responsibilities.
Sutherland's Kennels is closed when the wrong dog is castrated, and Kirk Sutherland is left unemployed, though he promises to pay sister Maria back her share. Meanwhile, Fiz is surprised when she finds out Chesney's English teacher is John Stape, an old flame, and as they spend time together, Fiz realises it's John she wants to be with. When Kirk proposes to Fiz to show he's serious about their future, Fiz turns him down and tells him their relationship is over. Kirk is hurt when he later finds out that she dumped him for somebody else.
Rita phones the council to find out when Doreen's flat will be ready for her to move back in, only to find out it's been ready for ages. Doreen moves out when Rita confronts her. Rita later feels guilty and meets up with Doreen again.
June
Through Frank Taylor, Carla finds out about Leanne's escorting. Carla sets Paul up by phoning Leanne's agency, pretending to be Leanne, to set up a meeting between them. When he's found out, Paul admits he's been hiring prostitutes for three years, and Carla finishes with him, adamant that it's for good this time. Faced with losing everything, Paul tells Leanne to leave Weatherfield or he'll tell Liam about her job. Leanne's surprised however when Paul bundles her into his car boot, and phones Liam, asking to meet him. Paul is distracted while he drives and the car collides with another vehicle after running a red light. Paul dies in hospital but Leanne has only minor injuries. Leanne has to tell Liam the truth, and news of her profession quickly spreads through the street. Paul's funeral is held in Ireland. Michelle doesn't tell Ryan the circumstances of Paul's death but Vernon lets it slip.
The Peacocks go for a break to the Isle of Man, with Kirk covering Ashley at the shop. When they return, Claire becomes paranoid that the arsonist will try to hurt them again. The police question Casey, who Claire thinks did it, but she is released without charge.
Following her brief relationship with Gary, Violet has a date with Tam, but even though it's going well Violet panics and leaves. She later admits to Sean that she wants to have a baby, and doesn't care who the father is, so has been trying to get pregnant. Violet later considers fertility treatment but Sean suggests he could father her baby.
Liz becomes worried that Linda will find out she is Derek's mystery woman and finishes with Derek.
Kirk is preoccupied with figuring out who Fiz is dating. He finds out when Fiz accuses him of wrecking her scooter out of spite. The real culprit was Sophie Webster.
It's exam time but David has been skipping his exams. He only attends one, but when he hands the paper in he sets it alight. Headmaster Mr Griffin interrupts Bethany Platt's birthday party at No.8 to speak to Gail. David decides to leave school but is forced to get a job to earn his keep. Bill gives him a job at the builders' yard, while Gail lets Jason move into No.8. At the yard, Jason tries to be friendly with David and admits to a fear of heights, but David exploits this by taking the ladders away while Jason is working on a roof. David is sacked when Bill finds him sawing up good timber, though Audrey bails him out by giving him a job at the salon.
Denise asks Ken how long he is staying with her, but he isn't sure himself. His mind is made up when Denise misinterprets his intentions and tries to kiss him - he's moving back in with Deirdre immediately. He promises to stay in touch with Daniel, and returns to No.1.
After reading Wilf's (fake) obituary in the newspaper, Blanche starts thinking about death and decides to have a wake now, while she is still alive. When the 'mourners' admit what they really think of her, however, Blanche decides to start being nice to people, although it doesn't last long.
Jerry becomes interested in Eileen, but Eileen has just started seeing Pat Stanaway.
Unable to cope with running the factory so soon after Paul's death, Liam takes a break and leaves Hayley in charge. Hayley is a poor boss however as the staff don't respect her authority and take advantage of her unconfrontational nature. She also gives Joanne her job back. Carla reveals Paul has left her his share of the factory.
When Carla backs out of buying the restaurant with Leanne, Leanne decides to buy it herself but is £10,000 short so decides to resume her escort work. Meanwhile, Janice meets up with Roger again when he returns from France and they get back together. Janice convinces Roger to give Leanne a loan.
July
Violet agrees to have a baby with Sean. They awkwardly start sleeping together and quickly conceive. Jamie finds out about and doesn't understand why Violet had to resort to it. They decide to keep it secret for now.
Suspecting that Eileen's new man Pat might be married, Steve and Lloyd stake out at his house and see him with a woman. They tell Eileen but she already suspects he's married and plans to confront him about it, however she does her best to ignore it instead. He comes clean when he leaves his phone at the cab office and Steve reads multiple text messages from the many women he has on the go. Eileen dumps him when she finds out. Depressed, she invites herself to Steve's holiday to

Malta

.
Molly and Tyrone's plans to move out of No.9 are scuppered when Jack's back goes, meaning they have to take care of him and the already ill Vera. Quickly tiring of it, they contact the Duckworths' relatives to see if anyone will help out. Jack and Vera's grandson Paul Clayton shows up but Tyrone is jealous of the closeness between Jack and Paul.
Leanne starts work at the restaurant but she has trouble getting used to dealing with the accounts and can't pay Roger back right away. Janice makes her feel guilty that Roger is penniless in the meantime. She also has trouble getting along with the staff and fires the chef when she finds out he isn't professionally trained. She hires Paul as his replacement.
With Hayley struggling to run the factory, Carla takes over and quickly earns the respect of the staff. She also promotes Hayley and gives Rosie the PA job that Sally had been wanting. Liam returns and, unsure about working with Carla, offers to buy her share of the factory but she refuses. As the majority shareholder, Carla goes over Liam's head to sack Joanne again. Citing her tryst with Liam, Joanne has the grounds to claim unfair dismissal but Carla pays her not to pursue it. Joanne leaves the street.
The public smoking ban takes effect. Blanche objects to people leaving cigarette ends outside the Rovers.
Liz returns and Derek convinces her to resume their affair, though she quickly regrets it and confesses to Linda. Linda throws Derek out but he returns the favour by spilling the beans to Vernon. Liz realises how badly she has treated Vernon and tries to stop him moving to Spain.

As Lloyd drives Vernon to the airport, he plays a tape Liz has given him which contains songs that remind Vernon of his time with Liz. He decides not to move.
Sarah and Jason decide to get married.
Ashley and Claire still aren't seeing eye-to-eye and Claire goes to stay with her mum for a while. In the meantime, Ashley and Claire both find themselves confiding in Casey, but they don't realise she is doing her best to keep them estranged, acting as a confidante to Claire while helping out at No.4 for Ashley and advising both of them to give each other space even though they want to reconcile. Ashley is grateful for Casey's support and they end up sleeping together. Claire decides to return home.
Sally decides to study English Literature. John offers to tutor her.
Cilla loses her job at

Wong's Chippy

. She takes her anger out on Jodie, who gets her own back by kidnapping Schmeichel, who she thinks is Cilla's dog, but she returns him when she finds out Chesney is his owner.
August
In Malta, Steve finds a hotel but he and Eileen have to share a bed. Things pick up when he meets Shania - but as they move to the bedroom Shania reveals he's a transvestite and leaves. An embarrassed Steve convinces Eileen to keep quiet about Shania when they return to Weatherfield, for Michelle's sake. Michelle finds out and is angry at first but forgives him, while Eileen, Lloyd and Jamie enjoy taking the mickey. Steve and Michelle go to Ireland to visit Michelle's parents.
Although Claire is back at No.4, Claire still thinks Ashley and the neighbours think she started the fire and lashes out at people. Casey begins stalking the Peacocks and convinces Claire to go back to her mum's until she feels better, upon which Casey unofficially moves into No.4 on the pretext of helping Ashley, which doesn't go unnoticed by the curious neighbours. Ashley develops feelings for Casey but when Claire returns, apparently recovered, she asks Casey to leave. Casey however is in love with Ashley and meets up with him, imploring him to leave Claire.
David goes on a few dates with Mel, which arouses Sarah's curiosity. Sarah fills Mel in on David's history, prompting Mel to stand David up. To save face, David tells Amber Kalirai that he slept with Mel then dumped her, although when Jerry finds out about this David is forced to apologise to Mel. Later, David tells Jason that he wants his family dead. David later surprises everyone by revealing he passed the single exam he sat.
Leanne feels guilty when Roger has to move in with her and Janice as he can't pay his rent. She tries to raise money to pay Roger back by finding someone to invest in the restaurant - Dev turns her down, but Paul offers, using money stolen from Jack. Leanne accepts.
Norris learns his ex-wife Angela Hawthorne has recently died. At the funeral, he meets Angela's other ex-husbands George Trench and Ivor Priestley. As they celebrate Angela's death, Norris reveals he is planning to propose to someone, but doesn't reveal who.
Cilla takes her career in a new direction and gets a job at a care home. She flirts with elderly Frank Nichols when she finds out he's rich. Frank is taken with her and gives her a job as his full-time carer.
Tyrone goes to Spain when he finds out his mother Jackie Dobbs has been arrested there.
Carla moves out of No.12 and back into her and Paul's flat. Carla accuses Liam of still harbouring feelings for Leanne.
Jack and Vera celebrate their golden anniversary in the Rovers.
Jerry and Eileen go on a date. They get on well and later use Darryl's shed to escape from Jerry's kids.
Hayley's Aunty Monica dies. At the funeral, Roy defends Hayley against her judgemental family. Hayley's uncle gives her some odds and ends which belonged to Monica and among them are some letters which reveal that Hayley had a son who Monica had prevented from contacting her.
September
Ashley tells Casey he is devoted to Claire but she doesn't believe him. Desperate and deranged, Casey kidnaps Freddie. Ashley finds them in Casey's flat, where Casey admits it was she who set fire to No.4. When Ashley spurns her, Casey prepares to jump off the balcony with Freddie. They're interrupted by Claire, who phones the police. To stall Casey, Ashley admits to his affair to Claire and pretends to agree to marry Casey. Casey is arrested,

but Ashley's betrayal sees him thrown out of No.4 by Claire, who is resolute that their marriage is over.
Norris takes Rita out to dinner and unexpectedly pops the question. Rita turns him down.
Hayley decides to locate her son and hires a PI, who tells her her son is Christian Gatley. Hayley breaks the news about Christian to Roy. Although upset that she lied to him about being a virgin, he agrees to support her if she's honest from now on, a promise she quickly breaks she introduces herself to Christian as Harold's sister. Roy's disapproval creates a rift between them until Hayley tells Christian the truth. Christian is disgusted that Hayley is his father and punches her. Hayley makes Roy feel guilty as it was his advice that led to her alienating her son. When Roy breaks down at Freshco's, he and Hayley agree to try to work things out.
Gail asks David to start paying rent. When he refuses, Audrey takes the money out of his wages and gives it to Gail. David is furious and walks out of No.8. He's picked up by the police sporting cuts and bruises which he says were caused by Gail assaulting him. He's warned for wasting police time. Feeling defeated, David causes upset by cutting the hair off one of Bethany's dolls. He then volunteers to stash some Ecstasy tablets for a friend of Darryl's but Bethany finds one of the pills in her doll's head and swallows it. When Sarah gets home, Beth starts convulsing and is taken to hospital, where under pressure David admits what happened. Beth recovers, and the police let David off with a caution, but it's the final straw for Gail, who tells David to move out and stay away from his family. Audrey goes against Gail's wishes by letting him stay with her.
Fiz is furious when Cilla goes on holiday, leaving Chesney with Kirk. Cilla is taken with Las Vegas starts thinking about moving there.
Jodie is continually left looking after Kayleigh and Finlay while Jerry and Eileen go out together. She's delighted when Lloyd collects Kayleigh for her.
Violet and Sean go for their first scan. Sean chats up sonographer Marcus Dent and they exchange phone numbers. Violet and Sean start telling their friends about their baby news. When Sean and Marcus start dating, Violet feels left out and ends up seeing more of Jamie again, accompanying him to his mum's wedding.
Tyrone doesn't trust Paul and puts off looking for a flat for himself and Molly so he can stay at No.9 and keep an eye on him. Tyrone's fears seem justified when he overhears Paul calling himself Mr. Duckworth on the phone. He tries to expose Paul for opening Jack's mail but it backfires as it turns out to be a delivery note for a present Paul bought Jack and Vera. Tyrone knows Paul is guilty of something but is forced to apologise. To avoid any future problems, Paul has the loan company send any letters to the restaurant instead of No.9. Paul later steals more money from Jack but it's Tyrone who is caught with it, making him appear guilty.
John realises that Sally has a crush on him. To get out of going to the theatre with her he invites Kevin and Fiz along.
Carla strikes up a good working relationship with customer Tony Gordon. Liam is jealous of them spending so much time together but he is diverted by a flirtatious Maria.
Vernon books his and Liz's wedding for 31st December. Steve hopes they will move out when they get married but Liz and Vernon intend to live in the Rovers.
October
Liam confronts Carla about her seeing Tony, under the pretence of looking out for Paul's memory, but in a heated argument he kisses Carla. Carla is angry and pushes him away. As Carla and Tony grow closer, Liam distracts himself by seeing more of Maria, who surprises him by getting him a dog, Ozzy.
Two heavies arrive at Valandro's looking for Paul. Leanne reluctantly gives them his address, but when Paul begs Tyrone tells them he doesn't him.
With Roy and Hayley away, Becky confronts Christian about the way he treated Hayley. When they return, Roy finds out Christian left Manchester rather abruptly. Hayley decides to sign up for volunteer work in Africa, but finds out the only place left is a year-long placement for which she would need to leave almost immediately. Hayley is ready to give up, but Roy convinces her to go.
A genuinely sorry David is still getting the short shrift from the Platts. He tries to make peace with Sarah and Jason but Gail tells him that saying sorry isn't enough. When he finds out he's not invited to the wedding, David becomes determined to ruin the occasion by inviting Jason's brother Todd, with whom Sarah has a history. Sarah's fuming when Todd arrives but when they work out David's scheme they call a truce. His plan failed, David loosens the bolts on the scaffolding at the builder's yard balcony, which causes Jason to fall to street level when he leans on it.

 David, feeling a brief pang of guilt, phones the ambulance upon witnessing the accident. Jason, who believes David caused the accident but can't prove it, is soon discharged from hospital but is in crutches for the wedding. David's last hope vanishes when his dad phones to say he can't make the wedding. Sarah and Maria find a suicide note from David, who has disappeared, but Sarah rips it up, certain that it's another of David's stunts, and doesn't tell Gail about it despite Maria's misgivings. As the congregation sets off for the wedding, David is furious to see that no-one seemingly cares about his suicide note (not knowing only Sarah and Maria saw it) and leaves a telephone message for Gail, telling her she'll finally be rid of him, and he drives his car into the canal. The police arrive at the church just as Sarah and Jason are exchanging vows, telling Gail that David's car has been found. Though Gail and Audrey leave, the wedding goes ahead without them at Sarah's insistence. David later turns up unharmed, and a relieved Gail is determined to take care of him after the "suicide attempt" and is angry with Sarah for not telling her about the suicide note. In front of Sarah, however, David expresses his delight that he managed to ruin her wedding after all.
Ashley tries to worm his way back into No.4, but Claire isn't ready to get back together with him yet.
When Frank dies, Cilla is invited to his will reading, but only receives £500. Dismayed, she sells a necklace Frank bought her but gets £45,000 for it. She immediately starts planning a new life in Las Vegas, but Fiz is furious that she is willing to leave Chesney behind. Cilla leaves regardless, with Chesney staying at No.5 with Kirk.
Lloyd asks Jodie out, but they have to cancel their date when Jerry goes out with Eileen and leaves Jodie with the kids. Jerry later feels guilty but while trying to make amends he agrees to go on a trip to Milan with some friends, leaving Jodie in the lurch again. Lloyd gets Eileen to babysit Kayleigh and Finlay while he goes out with Jodie, but when Eileen catches Kayleigh leaving the house to go clubbing she has to phone Jodie to deal with it.
Sean decides to be a full-time dad to Violet's baby. Marcus is angry when Sean tricks him into revealing that the baby is a boy, even though Violet didn't want to know.
Leanne is annoyed when Roger charges her for fixing a leak in the restaurant. When Paul buys into the restaurant, Leanne uses the money to pay Roger back.
Rosie is jealous of Maria and Liam's relationship, and wants Liam for herself. When she interferes with their meeting plans, Liam tells Rosie that she is just a little girl and doesn't have a chance with him. Later, Rosie is impressed when John talks to her like an adult, and she kisses him. John reciprocates. John isn't interested in taking things any further but Rosie easily seduces him and they begin an affair. He's shocked when Rosie decides to return to school so that he will be teaching her.
November
In the wake of David's suicide attempt, the Platts are doing their best to support him, except Sarah, who is angry when Jason cuts short their honeymoon by insisting they return home. While Todd returns to London, David tells Sarah he intends to wreck her marriage. He steals her wedding dress and throws it into a bag of cast-offs the Mortons use to dress their guy for their bonfire. When Audrey tells Sarah she's taking David back at the salon, Sarah quits and gets a job as a waitress at Valandro's. Sarah and Jason make peace after weeks of arguing. David responds by trying to convince Sarah that Jason and Becky are interested in each other. Sarah is disbelieving.
Vernon takes Liz to

Paris

for her 50th birthday. Finally alone with Michelle in the Rovers, Steve suggests she and Ryan move in, assuring her that Liz and Vernon will find their own place. Unbeknown to them, Liz has assumed Steve and Michelle will do the same.
Rosie and John are nearly caught kissing at No.13. To explain his presence to the Websters, John says he was going to ask Sally if she wanted to continue their lessons. Sally misinterprets John's intentions and during a lesson admits to having feelings for him. She's humiliated when he doesn't reciprocate. When John accepts Fiz's invitation to move into the salon flat with her and Maria, he decides to end things with Rosie. On her first day back at school, Rosie dresses provocatively and flirts with John. When Rosie chats to a boy called

Lee

, a jealous John warns Sally that Lee is a troublemaker. Fiz, meanwhile, has noticed Sally's interest in John and thinks there might be more going on between them than English lessons.

She tells Kevin about her suspicions. They agree to follow their partners to see if they've arranged to meet, but their alibis check out on this occasion. Elsewhere, Rosie convinces John to give her poorly written essay an A. Sally notices the inexplicable high grade and John explains that he was trying to encourage Rosie academically.
A woman enters the factory and attacks Carla. The woman, Tony's wife Lindsey, warns Carla to stay away from Tony, and that he is a control freak. While Liam tries to convince Carla to dump Tony, Maria discovers she's pregnant and breaks the news to Liam.
Jerry returns and makes peace with Jodie by giving her a week off work. When Finlay gets a spark from the bonfire in his eye while under Jodie's care, however, Jerry blames Jodie for being distracted by Lloyd. Lloyd decides that Jodie has too much baggage and dumps her. Tired of Jerry's interference in her life, Jodie decides to move to London right away, ignoring Jerry's last-minute pleads with her not to go. Jerry finally has to take on the responsibilities of running the shop and looking after the kids by himself, and when he realises that he hasn't even noticed Kayliegh has been going clubbing for months, he rethinks his priorities and ends his relationship with Eileen.
Violet is appalled when Jason announces the sex of her baby to the Rovers regulars, having found out from Sean. Violet makes it clear to Sean that it is her baby, not his. Violet soon finds herself growing closer to Jamie again. They decide to raise Violet's baby together, but Sean meanwhile has decided he wants to be a proper dad to his son. He's distressed when Violet and Jamie tell him their news and seeks legal advice. As Violet and Jamie move into No.12 flat, however, Sean apologises for his behaviour and lends them money to pay their deposit. They assume he's supporting them, but really he's doing it to gain a foothold in their lives.. Meanwhile, Violet's outgoing sister Lauren Wilson arrives in the Street.
Claire goes on a singles night to prove that she has no intention of getting back together with Ashley. When she drunkenly tries to kiss Kevin, Kevin takes her home. The night convinces Claire that she loves Ashley and she agrees to let Ashley move back in.
Norris decide to propose to Doreen, although Rita warns him against it. He's surprised to learn that Ivor and George have both already proposed to her.
Vera becomes taken with the idea of moving to Blackpool permanently. Jack's not so keen but goes along with it for Vera's sake.
Steve meets his dad Jim McDonald when he is released from prison. Steve warns Jim not to inferere with Liz's impending nuptials with Vernon.
December
Steve gives Jim a job at Street Cars to help him get back on his feet. Liz is initially wary of Jim being around but over time she becomes more receptive. She soon realises that Vernon does not excite her as Jim did and, on her wedding day, decides not to marry Vernon. Jim seizes the opportunity to tell Liz he still loves her but she rejects him. Their argument is witnessed by Vernon, who tries to attack Jim but Jim punches him. Feeling sorry for Vernon, Liz decides to marry him after all and the wedding goes ahead.
After an argument with Carla about Tony, where Liam is accused of being jealous, Liam immediately proposes to Maria, who accepts and also agrees to move in with Liam. Carla later tells everyone about her kiss with Liam but Liam convinces Maria it meant nothing.
Norris withdraws his marriage proposal to Doreen.
Ryan starts noticing a car following him around. Liam confronts the driver, Nick Neeson, who tells him that he's Ryan's dad, although Michelle denies the possibility. After finding out where Nick lives, Michelle goes to his house and is disturbed when a boy Ryan's age who looks like Dean answers the door. Nick tells Michelle that he believes that their sons were mixed up in the hospital when they were born. Michelle refuses a DNA test but after a difficult few weeks decides she has to know the truth.
Harry Mason and son Dan arrive to take over the Rosamund Street betting shop. Dan immediately pressures Lloyd to pay up the £400 he owed to the previous owner. He's annoyed however when Harry moves into the bookies' flat with him when his wife throws him out.
David steals Jason's phone and returns it to Sarah, saying he found it. He later sends a flirtatious text message to it from Becky's phone which Sarah reads, once again causing Sarah and Jason to row. When Sarah confronts an oblivious Becky, Jason realises David is behind it. Gail decides that as Sarah and David aren't getting on, Sarah and Jason should move out. Gail's successful half-brother Stephen Reid comes to visit and David sweet-talks him into offering him a job in Milan. Sarah's furious that David is being rewarded for his bad behaviour and decides to play him at his own game by stashing Ecstasy tablets in his drawer at the salon, only to "find" them and show Audrey. David loses his job opportunity, but Sarah persuades Stephen to offer her the job. Jason agrees to move to Milan for Sarah's sake, although he himself is not keen. David warns Jason that Sarah has stitched them both up. At the train station, Sarah admits to Jason that she planted the drugs on David. Jason is shocked that she would stoop to David's level and move to another country just to get revenge, and refuses to go with her. Sarah and Beth leave for Milan without him.
When Jack and Vera announce that they are moving, Paul tells Jack about the loan he took out in his name. An angry Jack gives Paul money to pay off the loan.
Rosie is becoming tired of sharing John with Fiz and tells him she wants a proper relationship. John tries but fails to dump Fiz. On Christmas Day, John accidentally gives Rosie and Fiz each other's presents. Fiz assumes it's Sally's gift she has received and accuses her at No.13, but when Rosie enters with Fiz's gift, everyone realises the truth. An enraged Kevin beats John up and is arrested for assault by the police, leaving him worried that he will face a prison sentence.
Lauren moves in with Eileen.
Mel is accepted into the police force.
Becky, Chesney and Kirk spend Christmas Day with Roy in the café, as he faces the festive season without Hayley.
Who lives where
Coronation Street residents
Rosamund Street residents
Victoria Street residents
Others
Unknown residence - Kelly Crabtree. Tony Gordon. Joanne Jackson. Marcus Dent.
Awards and nominations
National Television Awards
British Soap Awards
Inside Soap Awards
TV Times Awards
Favourite Programme: Coronation Street
Sexiest Male: Rob James-Collier
Sexiest Female: Alison King
Royal Television Society
Soap Coronation Street (Winner)