Boba Fett Returns - The Loop
Play Sound
1995 was Coronation Street's thirty-sixth year.
Main characters
Production
Sue Pritchard spent her second year as Coronation Street's producer, with Carolyn Reynolds continuing as executive producer.
The programme marked its 35th anniversary in December with its first purposely written hour-long episode, featuring the surprise wedding of Curly Watts and Raquel Wolstenhulme (previous hour-long episodes were made as single episodes which were edited together for scheduling purposes). Curly and Raquel's honeymoon aboard the QE2 was unseen on the main programme but served as the basis of its first straight-to-video spin-off, released under the title Coronation Street - The Feature Length Special. The video also starred Barbara Knox and Thelma Barlow, with Rita Sullivan and Mavis Wilton ending up on the same cruise at the Watts, and featured an appearance by Roy Barraclough as Alec Gilroy. Meant as an optional bonus for viewers, offering them a chance to see familiar characters in a more exotic locale, the special had a self-contained plot which was teased in the main programme but was not required viewing to follow current storylines.
After 25 years playing Rovers barmaid and landlady Bet Lynch, Julie Goodyear decided to move on from the programme. Goodyear's exit storyline saw brewery Newton & Ridley sell the Rovers Return, and Bet quietly leave Weatherfield for an uncertain future after failing to convince Rita and Vicky McDonald to fund her takeover of the pub. The Rovers was bought over by Jack and Vera Duckworth, using their £30,000 inheritance following the deaths of Jack's brother Clifford and sister-in-law Elsie and the sale of 9 Coronation Street. The Rovers becoming a free house brought an end to 35 years of brewery-related storylines, and led to more frequent changes of landlords. Meanwhile, No.9 was bought by Gary and Judy Mallett, a new young couple played by Ian Mercer and Gaynor Faye.
Ken Morley also quit, after six years playing Reg Holdsworth. The door was kept open for Morley, with Reg working away in Lowestoft and maintaining an off-screen presence until April 1996 when he ran off with wages clerk Yvonne Bannister. Curly Watts became the new manager of Firman's Freezers, which had first appeared as a continuing location in February. Although not seen as often as Bettabuy had been in the earlier part of the decade, Firman's served the same role in being the main workplace which wasn't part of Granada's backlot. Other staff members included Anne Malone, played by Eve Steele who joined the main cast in September.
Another setting introduced this year which was similarly shot on location was 5 Crimea Street, a large Victorian house converted into flats and owned by Mike Baldwin. With Anne Kirkbride well enough to return to a full-time role, Deirdre Rachid's husband Samir was killed off. The attack itself was not seen, but viewers were left to assume that Samir had been beaten up by a gang while walking to Weatherfield General to donate a kidney to Tracy Barlow, who was on dialysis after taking bad Ecstasy. The storyline also marked the departure of Dawn Acton from the regular cast, although she returned for short stints as Tracy in 1996, 1997 and 1999. Deirdre was subsequently offered a flat and the job of caretaker at 5 Crimea Street by Mike. One of the tenants was Roy Cropper, who was introduced as a creepy loner who hung around Deirdre. When David Neilson was asked back full-time, the darker elements of Roy's character were removed, establishing him as a harmless eccentric.
Ivy Brennan suffered a fatal stroke, 17 months after Lynne Perrie's last appearance. In order to claim No.5 as his inheritance, Nick Platt had to change his surname back to Tilsley. Don's new partner Josie Clarke was played by Ellie Haddington, who joined the cast in January. Helene Palmer returned as Ida Clough for Ivy's funeral.
Other new cast members included Tracy Shaw as hairdresser Maxine Heavey, Lee Warburton as mechanic Tony Horrocks, Lewis Harney as Daniel Osbourne, newborn son of Ken Barlow and Denise Osbourne, Frank Mills as Billy Williams, who wed Betty Turpin in October and, for two episodes, Steven Arnold as helium-voiced butcher Ashley Peacock. Meanwhile, Tracy Brabin and Joseph Gilgun as Tricia and Jamie Armstrong were made regulars, Peter Armitage returned as Bill Webster after ten years, and Roy Barraclough, Bill Kenwright and Amelia Bullmore made short returns as Alec Gilroy, Gordon Clegg and Steph Barnes respectively, the latter making her final appearances in the role. Lastly, Sally Whittaker was absent for three months between March and June due to maternity leave.
A small change was made to the title sequence following Episode 3819. The last shot, which featured a dog frantically running up the length of the Street appeared for the last time in that episode. From the next episode onwards (and many beforehand), a differing number of shots of activity in the Street closed the sequence and if the opening scene was set on the Street, then the title caption appeared over the start of that scene.
Viewing figures
For the fourth year in a row, Coronation Street sat atop the charts on most weeks of the year. 44 episodes reached number one, down from 46 in 1994, and for the third year in a row no episodes fell outside the top twenty. The highest-rated episode was Episode 3802 on 9th January, which saw Curly Watts fight Des Barnes after Des convinced Raquel Wolstenhulme to break her engagement with Curly. 19.44 million viewers either watched the episode on original transmission or saw it as part of the omnibus.
Overall, ratings declined by the same factor as in 1994. The average (aggregated) was 16.07 million viewers, a drop of 366k on the previous year. All months except October and December were down, with the biggest drops (of a million viewers) occurring in March, May and August.
The first hour-long Christmas special was shown at 6:30pm on 25th December, gaining an aggregated audience of 12.78 million viewers and charting at 13th place for the week. From 1997 onwards, an hour-long episode of Coronation Street was shown every Christmas Day.
Episodes
#
Ep.
No.
Date
Writer
Director
Viewing
Figures
(With omnibus)
Chart
Position
1
3799
Monday 2nd January
Barry Hill
Brian Mills
18,150,000
3
2
3800
Wednesday 4th January
Martin Allen
Brian Mills
18,620,000
2
3
3801
Friday 6th January
Frank Cottrell Boyce
Brian Mills
18,870,000
1
4
3802
Monday 9th January
Tom Elliott
Kay Patrick
19,440,000
1
5
3803
Wednesday 11th January
Stephen Lowe
Kay Patrick
18,450,000
2
6
3804
Friday 13th January
Peter Whalley
Kay Patrick
17,820,000
3
7
3805
Monday 16th January
John Stevenson
Michael Kerrigan
18,530,000
1
8
3806
Wednesday 18th January
Martin Allen
Michael Kerrigan
17,070,000
3
9
3807
Friday 20th January
Julian Roach
Michael Kerrigan
18,160,000
2
10
3808
Monday 23rd January
Sally Wainwright
John Michael Phillips
18,590,000
2
11
3809
Wednesday 25th January
Stephen Mallatratt
John Michael Phillips
17,880,000
3
12
3810
Friday 27th January
Adele Rose
John Michael Phillips
18,980,000
1
13
3811
Monday 30th January
Stephen Mallatratt
Brian Mills
18,840,000
1
14
3812
Wednesday 1st February
Tom Elliott
Brian Mills
17,670,000
3
15
3813
Friday 3rd February
Peter Whalley
Brian Mills
17,840,000
2
16
3814
Monday 6th February
Sally Wainwright
Colin Cant
18,330,000
1
17
3815
Wednesday 8th February
Mark Wadlow
Colin Cant
17,200,000
3
18
3816
Friday 10th February
Adele Rose
Colin Cant
18,210,000
2
19
3817
Monday 13th February
John Stevenson
Michael Kerrigan
18,390,000
1
20
3818
Wednesday 15th February
Stephen Lowe
Michael Kerrigan
18,240,000
2
21
3819
Friday 17th February
Martin Allen
Michael Kerrigan
18,110,000
3
22
3820
Monday 20th February
Martin Allen
John Michael Phillips
17,990,000
2
23
3821
Wednesday 22nd February
Stephen Lowe
John Michael Phillips
18,420,000
1
24
3822
Friday 24th February
Julian Roach
John Michael Phillips
17,690,000
3
25
3823
Monday 27th February
Stephen Mallatratt
Brian Mills
18,270,000
1
26
3824
Wednesday 1st March
John Stevenson
Brian Mills
17,970,000
2
27
3825
Friday 3rd March
Phil Woods
Brian Mills
17,630,000
3
28
3826
Monday 6th March
Adele Rose
Colin Cant
17,820,000
1
29
3827
Wednesday 8th March
Tom Elliott
Colin Cant
17,050,000
2
30
3828
Friday 10th March
Peter Whalley
Colin Cant
16,410,000
4
31
3829
Monday 13th March
Stephen Lowe
Michael Kerrigan
18,000,000
2
32
3830
Wednesday 15th March
Mark Wadlow
Michael Kerrigan
18,070,000
1
33
3831
Friday 17th March
Barry Hill
Michael Kerrigan
14,870,000
7
34
3832
Monday 20th March
Peter Whalley
John Michael Phillips
17,510,000
2
35
3833
Wednesday 22nd March
Julian Roach
John Michael Phillips
Jon Woods
17,440,000
3
36
3834
Friday 24th March
Stephen Mallatratt
Jon Woods
16,930,000
4
37
3835
Monday 27th March
Patrea Smallacombe
Brian Mills
17,600,000
1
38
3836
Wednesday 29th March
John Stevenson
Brian Mills
16,650,000
2
39
3837
Friday 31st March
Adele Rose
Brian Mills
15,890,000
5
40
3838
Monday 3rd April
Peter Whalley
Colin Cant
16,700,000
2
41
3839
Wednesday 5th April
Barry Hill
Colin Cant
16,850,000
1
42
3840
Friday 7th April
Sally Wainwright
Colin Cant
15,770,000
3
43
3841
Monday 10th April
Patrea Smallacombe
Penelope Shales
16,270,000
1
44
3842
Wednesday 12th April
Stephen Lowe
Penelope Shales
15,730,000
2
45
3843
Friday 14th April
Stephen Mallatratt
Penelope Shales
15,110,000
3
46
3844
Monday 17th April
Adele Rose
Jon Woods
17,940,000
1
47
3845
Wednesday 19th April
Julian Roach
Jon Woods
16,410,000
2
48
3846
Friday 21st April
John Stevenson
Jon Woods
15,470,000
3
49
3847
Monday 24th April
Peter Whalley
Brian Mills
16,940,000
1
50
3848
Wednesday 26th April
Mark Wadlow
Brian Mills
15,440,000
2
51
3849
Friday 28th April
Martin Allen
Brian Mills
14,820,000
3
52
3850
Monday 1st May
Phil Woods
Colin Cant
14,740,000
1
53
3851
Wednesday 3rd May
Adele Rose
Colin Cant
14,100,000
2
54
3852
Friday 5th May
Frank Cottrell Boyce
Colin Cant
13,220,000
5
55
3853
Monday 8th May
John Stevenson
Penelope Shales
11,610,000
8
56
3854
Wednesday 10th May
Stephen Mallatratt
Penelope Shales
13,510,000
4
57
3855
Friday 12th May
Julian Roach
Penelope Shales
15,850,000
1
58
3856
Monday 15th May
Barry Hill
Jon Woods
15,610,000
2
59
3857
Wednesday 17th May
Peter Whalley
Jon Woods
16,150,000
1
60
3858
Friday 19th May
Tom Elliott
Jon Woods
14,840,000
3
61
3859
Monday 22nd May
Sally Wainwright
Brian Mills
15,300,000
2
62
3860
Wednesday 24th May
Adele Rose
Brian Mills
13,350,000
5
63
3861
Friday 26th May
John Stevenson
Brian Mills
14,840,000
3
64
3862
Monday 29th May
Patrea Smallacombe
Colin Cant
15,120,000
3
65
3863
Wednesday 31st May
Stephen Lowe
Colin Cant
14,460,000
4
66
3864
Friday 2nd June
Stephen Mallatratt
Colin Cant
15,480,000
1
67
3865
Monday 5th June
Stephen Mallatratt
Gareth Morgan
15,170,000
2
68
3866
Wednesday 7th June
Adele Rose
Gareth Morgan
15,320,000
1
69
3867
Friday 9th June
Peter Whalley
Gareth Morgan
14,600,000
3
70
3868
Monday 12th June
Frank Cottrell Boyce
Jon Woods
15,780,000
1
71
3869
Wednesday 14th June
Mark Wadlow
Jon Woods
15,530,000
2
72
3870
Friday 16th June
Phil Woods
Jon Woods
12,800,000
5
73
3871
Monday 19th June
John Stevenson
Mervyn Cumming
15,290,000
1
74
3872
Wednesday 21st June
Tom Elliott
Mervyn Cumming
13,750,000
2
75
3873
Friday 23rd June
Paul Abbott
Mervyn Cumming
13,110,000
4
76
3874
Monday 26th June
Paul Abbott
Kay Patrick
14,020,000
1
77
3875
Wednesday 28th June
Patrea Smallacombe
Kay Patrick
13,250,000
2
78
3876
Friday 30th June
Tom Elliott
Kay Patrick
12,540,000
4
79
3877
Monday 3rd July
Peter Whalley
Brian Mills
15,020,000
2
80
3878
Wednesday 5th July
John Stevenson
Brian Mills
13,920,000
3
81
3879
Friday 7th July
Stephen Mallatratt
Brian Mills
13,630,000
4
82
3880
Monday 10th July
Stephen Lowe
Gareth Morgan
14,610,000
1
83
3881
Wednesday 12th July
Adele Rose
Gareth Morgan
14,320,000
2
84
3882
Friday 14th July
Barry Hill
Gareth Morgan
13,990,000
3
85
3883
Monday 17th July
Frank Cottrell Boyce
John Michael Phillips
15,430,000
1
86
3884
Wednesday 19th July
Martin Allen
John Michael Phillips
13,930,000
2
87
3885
Friday 21st July
Barry Hill
John Michael Phillips
13,540,000
3
88
3886
Monday 24th July
Julian Roach
Mervyn Cumming
14,080,000
1
89
3887
Wednesday 26th July
Sally Wainwright
Mervyn Cumming
13,980,000
2
90
3888
Friday 28th July
Peter Whalley
Mervyn Cumming
13,180,000
3
91
3889
Monday 31st July
Stephen Mallatratt
Kay Patrick
14,090,000
1
92
3890
Wednesday 2nd August
Adele Rose
Kay Patrick
13,630,000
2
93
3891
Friday 4th August
Patrea Smallacombe
Kay Patrick
12,750,000
4
94
3892
Monday 7th August
Phil Woods
Brian Mills
14,210,000
1
95
3893
Wednesday 9th August
Julian Roach
Brian Mills
13,340,000
2
96
3894
Friday 11th August
Adele Rose
Brian Mills
12,660,000
3
97
3895
Monday 14th August
John Stevenson
John Michael Phillips
14,020,000
1
98
3896
Wednesday 16th August
Martin Allen
John Michael Phillips
13,390,000
2
99
3897
Friday 18th August
Mark Wadlow
John Michael Phillips
12,740,000
3
100
3898
Monday 21st August
Tom Elliott
Mervyn Cumming
14,020,000
2
101
3899
Wednesday 23rd August
Stephen Lowe
Mervyn Cumming
15,170,000
1
102
3900
Friday 25th August
Peter Whalley
Mervyn Cumming
13,650,000
3
103
3901
Monday 28th August
Peter Whalley
Kay Patrick
14,500,000
2
104
3902
Wednesday 30th August
Julian Roach
Kay Patrick
15,420,000
1
105
3903
Friday 1st September
John Stevenson
Kay Patrick
14,030,000
5
106
3904
Monday 4th September
Phil Woods
Brian Mills
15,720,000
2
107
3905
Wednesday 6th September
Tom Elliott
Brian Mills
15,780,000
1
108
3906
Friday 8th September
Frank Cottrell Boyce
Brian Mills
15,300,000
4
109
3907
Monday 11th September
Patrea Smallacombe
June Howson
14,740,000
5
110
3908
Wednesday 13th September
Stephen Mallatratt
June Howson
13,300,000
9
111
3909
Friday 15th September
Barry Hill
June Howson
16,200,000
2
112
3910
Monday 18th September
Martin Allen
Colin Cant
15,990,000
2
113
3911
Wednesday 20th September
Mark Wadlow
Colin Cant
15,920,000
3
114
3912
Friday 22nd September
Peter Whalley
Colin Cant
15,510,000
4
115
3913
Monday 25th September
Julian Roach
Kay Patrick
16,110,000
3
116
3914
Wednesday 27th September
Tom Elliott
Kay Patrick
15,500,000
4
117
3915
Friday 29th September
Barry Hill
Kay Patrick
16,400,000
1
118
3916
Monday 2nd October
Phil Woods
Brian Mills
16,510,000
3
119
3917
Wednesday 4th October
Stephen Lowe
Brian Mills
17,220,000
1
120
3918
Friday 6th October
Patrea Smallacombe
Brian Mills
17,220,000
1
121
3919
Monday 9th October
Phil Woods
June Howson
17,040,000
1
122
3920
Wednesday 11th October
Adele Rose
June Howson
16,870,000
3
123
3921
Friday 13th October
Julian Roach
June Howson
16,940,000
2
124
3922
Monday 16th October
Stephen Mallatratt
Colin Cant
19,220,000
1
125
3923
Wednesday 18th October
Peter Whalley
Colin Cant
16,380,000
4
126
3924
Friday 20th October
John Stevenson
Colin Cant
17,560,000
3
127
3925
Monday 23rd October
Barry Hill
Kay Patrick
18,170,000
1
128
3926
Wednesday 25th October
Sally Wainwright
Kay Patrick
17,740,000
4
129
3927
Friday 27th October
Tom Elliott
Kay Patrick
17,940,000
3
130
3928
Monday 30th October
Sally Wainwright
Brian Mills
18,060,000
1
131
3929
Wednesday 1st November
Julian Roach
Brian Mills
14,620,000
8
132
3930
Friday 3rd November
Tom Elliott
Brian Mills
17,530,000
2
133
3931
Monday 6th November
Frank Cottrell Boyce
Penelope Shales
17,850,000
3
134
3932
Wednesday 8th November
Martin Allen
Penelope Shales
17,870,000
2
135
3933
Friday 10th November
Phil Woods
Penelope Shales
17,770,000
4
136
3934
Monday 13th November
John Stevenson
Jon Woods
17,090,000
4
137
3935
Wednesday 15th November
Peter Whalley
Jon Woods
17,300,000
3
138
3936
Friday 17th November
Adele Rose
Jon Woods
17,660,000
2
139
3937
Monday 20th November
Frank Cottrell Boyce
John Michael Phillips
17,770,000
2
140
3938
Wednesday 22nd November
Adele Rose
John Michael Phillips
15,460,000
6
141
3939
Friday 24th November
Sally Wainwright
John Michael Phillips
15,470,000
5
142
3940
Monday 27th November
Barry Hill
Kay Patrick
17,120,000
1
143
3941
Wednesday 29th November
Julian Roach
Kay Patrick
16,880,000
2
144
3942
Friday 1st December
Martin Allen
Kay Patrick
16,500,000
4
145
3943
Monday 4th December
Mark Wadlow
Penelope Shales
17,720,000
2
146
3944
Wednesday 6th December
Tom Elliott
Penelope Shales
14,200,000
7
147
3945
Friday 8th December
John Stevenson
Penelope Shales
19,420,000
1
148
3946
Monday 11th December
Barry Hill
Jon Woods
18,190,000
1
149
3947
Wednesday 13th December
Adele Rose
Jon Woods
16,860,000
2
150
3948
Friday 15th December
Stephen Mallatratt
Jon Woods
16,620,000
3
151
3949
Monday 18th December
Patrea Smallacombe
John Michael Phillips
17,400,000
1
152
3950
Wednesday 20th December
Martin Allen
John Michael Phillips
17,300,000
2
153
3951
Friday 22nd December
Peter Whalley
John Michael Phillips
17,120,000
3
154
3952
Monday 25th December
Julian Roach
Brian Mills
12,780,000
13
155
3953
Wednesday 27th December
Tom Elliott
Brian Mills
17,550,000
2
156
3954
Friday 29th December
John Stevenson
Brian Mills
16,620,000
3
Storylines
January
Raquel Wolstenhulme and Curly Watts hold an engagement party at which Raquel's ex-boyfriend Des Barnes shows up and asks her to marry him instead. Although she rejects him, Raquel realises that she only loves Curly as a friend and calls off the engagement. Curly is devastated and feels that Raquel was only with him to make Des jealous. After picking a fight with Des at Skinner's Bookies, he breaks down at

Soopascoopa

by shovelling kidney beans into Percy Sugden and Emily Bishop's basket. When he's reprimanded, he resigns from the food store.
Pregnant Denise Osbourne goes into labour at Jim's Cafe. Against Denise's wishes, Alma Baldwin informs the father, Ken Barlow. Denise eventually relects and calls Ken, who is by her side as she gives birth to Daniel. Afterwards, Denise declares that Daniel will be an "Osbourne" rather than a "Barlow", and upsets Ken by leaving his name off the birth certificate. Ken begins suffocating Denise again, making up a bed on her sofa for himself and never leaving her alone.
Clifford Duckworth gets his brother Jack to field calls for him at 9 Coronation Street. The calls come from a mystery woman. Jack also gets a black eye when a

man

mistakes him for Cliff and punches him. The woman, Cliff's wife Elsie Duckworth, shows up at No.9 to collect her husband, as Jack and Vera find out that his claims of having a fatal heart condition were made up.
Derek Wilton decides to get fit for his medical at

Hawthornes

. Norris Cole interests him in buying a "Mile Muncher" running machine, and Derek horrifies Mavis by purchasing one for £700. When Mavis tries out the machine in her court shoes, she is thrown off and suffers a concussion. Derek is unsympathetic until Martin Platt suggests suing Mile Muncher for damages.
Martin makes an effort with Nicky Platt by giving him a United team shirt.
Vicky Arden turns eighteen and inherits her parents' trust fund of £240,000.
Jim and Liz McDonald celebrate their 21st wedding anniversary.
Ken decides to buy 1 Coronation Street back from Mike Baldwin for his new family but Mike intends to rent it out. Out of spite, Mike also refuses to return Albert Tatlock's old furniture. Ken is able to let himself in and take the furniture after Emily gives him her own key. Mike responds by reporting Ken to the police, but the officer, PC Bathurst, is an ex-pupil of Ken's and declines to press charges. Mike attempts to provoke Ken into a fight at the Rovers Return by challenging him about his bastard son, but Bet Gilroy intervenes before things get ugly.
Tricia Armstrong enquires after Jim's Cafe flat for her and her son Jamie. As there's only one bedroom, Alma arranges with Mike for them to move into No.1 on a short-term tenancy instead.
Reg Holdsworth fixes Curly up with a new job under him as assistant manager at Firman's Freezers.
With Ivy Brennan still at a religious retreat, Don helps fare Josie Clarke look for her daughter and kindly lets her off when she's £2.50 short for her fare. She later tracks him down to repay him and they start seeing each other, with Don introducing her to the Rovers regulars.
Sean Skinner's divorce is finalised. While out celebrating, he offers Liz a job at the betting shop, an offer he later forgets making due to being drunk at the time. Nevertheless, Liz chases it up and gets taken on, keeping the Rovers on in the evenings. Working there makes Liz realise how much her son Steve is gambling. When she refuses to place his £300 bet, Des takes it instead and Liz is reprimanded by Sean. Concerned, Liz asks Steve's girlfriend Fiona Middleton to keep an eye on him, but Fiona relays her orders to Steve instead causing a row between mother and son. Liz resigns from the bookies, but returns following a show of support from Des.
Roger Crompton continues his friendship with Rita Sullivan but is put off when a jealous Mavis tells him that Rita can't have a platonic relationship with a man. Over lunch, he and Rita clear the air and agree that they only want companionship.
Andy McDonald considers selling his car as he can't afford to run it. Steve gives him enough from his gambling winnings to get it through its MOT.
Tracy Barlow visits Ken, expecting a generous cash present for her eighteenth birthday, but slams out after he only gives her £50.
Jack is accused of going out with Tricia when Jamie identifies him as the man his dad Carl thumped in March 1994.
Tricia tries to get taken on at the Rovers, but puts her foot in it by asking Bet to put in a good word with the "slab-faced" landlady.
Audrey Roberts regrets her decision to resign as Mayoress when she discovers that a royal is attending the upcoming County Hall bash. She nags Alf to take her, but Alf is adamant that her replacement, Betty Turpin, should have the honour.
February
Derek makes Mavis pretend that her injury is more serious as he stymies Norris's own investigation into the accident. When Rita warns Mavis that a court will find her at fault for wearing court shoes on the Mile Muncher, Mavis tries to make Derek drop the lawsuit idea, but he's already filed the compensation claim. In order to avoid going to court, Norris agrees to settle with the Wiltons, however their employer Angela Hawthorne orders Derek to drop the claim instead and he dutifully obeys his ex-wife.
Steve starts doing his gambling in other betting shops and tells his family that he's given up betting. However, he finds himself blacklisted at Billy Featherstone's shop after Sean spreads it about that Steve refused to settle the £2,000 owing on his account. When Fiona finds out that his credit card has been cut off, Steve admits that his debts run to £6,000 and they row over his lies. Steve proposes to Fiona, thinking she must really love him to stick with him when he's broke, but she refuses to marry him until he's paid his debts. Fiona convinces Steve to give up his Weatherfield Quays flat and arranges with Alma for them to move into Jim's Cafe flat.
Audrey declares war on Alf and asks Fred Elliott to escort her as she branches out on her own as mayoress. At their first "engagement", Audrey re-organises the official opening of the

South Weatherfield Leisure Centre

so that Alf and Betty don't arrive in time. Alf decides to give in to spare himself further humiliation, but with Betty refusing to give ground, he's left with no option but to stay home and let the women attend the County Hall bash as mayoress and friend. Afterwards, Audrey is full of stories about meeting the princess but Betty admits to everyone that they hardly got near her.
Mike decides not to prosecute Ken over the stolen furniture.
Vicky drops out of

school

and tells Bet she plans to live off her inheritance. Bet doesn't approve, but is forced to accept her decision when Raquel warns her that Vicky is considering leaving Weatherfield as she's sick of Bet's bitchiness. When Alec Gilroy finds out, he blames Bet, leading Vicky to go to Southampton to put her grandfather straight.
Bet takes on Tricia as Rovers cleaner.
Liz gives up the Rovers when her job at Skinner's is made permanent. When Sean makes a pass at her, Liz turns him down, prompting Sean to order Des to fire her. However, Des refuses to do so without grounds, so Sean apologises to Liz and asks her to forget what happened.
Jon Welch enters the

Weatherfield Federation of Hairdressers

competition, with Raquel agreeing to model for him in exchange for six months' worth of free haircuts. He persuades Fiona to compete, with Steve as her model. On the day, Jon wins second prize and Fiona gets a special commendation.
Josie begins to look after Don by doing his laundry and cleaning. Vera, as Ivy's oldest friend, is disgusted to see Don with another woman.
Vera befriends Tricia when she hears that her estranged husband Carl Armstrong used to knock her about. She decides to matchmake her with Curly, inviting them both to No.9 for tea. The evening goes well but Curly is alarmed when Jamie advises him to take precautions when seeing his mother.
Jamie takes an interest in Jack's pigeons and the two start to bond.
Martin writes his thesis at No.7, where he's disturbed by Tricia borrowing tea. Gail walks in on them and when word reaches Alf that they were alone together in the house, he quizzes Martin about how things are with Gail. Later, when Martin sees Alf kissing Rita on her birthday and makes a jokey comment, Alf uncharacteristically flies off the handle. Alf later explains his coldness to Martin, revealing that he saw him kiss nurse Cathy Power at Weatherfield General on Christmas Day.
Reg and Curly react to the news that Firman's is being taken over by

American Edibles

. Reg panics when Norris tells him that they have a reputation for sacking anyone over forty.
When Alec offers Vicky a free three-week cruise holiday to North Africa for two, she invites Bet along. Bet asks Raquel to run the Rovers in her absence, but Raquel isn't convinced that she's up to the challenge and stalls Bet, resulting in her being passed over in favour of brewery-appointed Rodney Bostock, a retired policeman.
Maureen Holdsworth gets fed up when the Corner Shop van keeps breaking down.
The Wiltons and Norris are invited to dinner by Angela Hawthorne. When Angela makes a play for Norris, Derek advises him to be masterful, delighting in the thought that she'll eat him alive.
Maureen wonders what Reg is up to when a mystery man keeps phoning and doesn't leave a message.
Rodney agrees to a lock-in after-hours at the pub, at Jack's suggestion. However, all of Jack's friends prove too busy and Jack has a miserable night listening to Rodney playing his trombone.
March
Reg has a £300 hairpiece fitted in order to give himself a more youthful appearance for the Americans. At first, he only wears the wig at work and hides it from Maureen. When the van breaks down again, Maureen drives Reg's car and pulls down the sun visor, causing the hairpiece to fall onto her lap. Coming clean, Reg is met with support from Maureen, while Maud Grimes mocks him for being too scared to wear the toupee in public. Reg braves the Rovers and begins wearing the hairpiece regularly, even purchasing another one with longer hair to make it seem his hair is growing.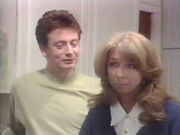 Alf fills Audrey in on Martin's illicit kiss. When Martin begs Alf to keep quiet about what he saw, the Roberts become worried that there was more to it, with Alf warning Martin that secrets always find their way out. Martin then confesses to Gail that he was unfaithful to her but tells her it only happened once and meant nothing. Afterwards, Gail falls into a depression and refuses to let Martin touch her. Trying to comfort her daughter, Audrey gives away the fact that she and Alf knew, causing Gail to become further embittered. Meanwhile, Nicky and Martin have a bust-up over Martin's fling, with Martin telling Nicky that he started everything by hating him. Nicky leaves No.8 and tries to stay with Don before he along with Sarah Louise and David are taken in by the Robertses, in order for Gail and Martin to have time alone. As she considers whether to forgive Martin, Gail tracks down Cathy and is shocked to find that she isn't bothered she slept with a married man.
Jack reluctantly baby-sits Jamie while Tricia goes out with Curly. Worn out by the lad's pranks, Jack nevertheless enjoys himself and promises Jamie a newborn pigeon the next time one hatches.
Josie assumes that Don is going off her after he refuses to let her stay the night at No.5. Don explains that he isn't ready for a sexual relationship and they agree to continue as friends. When he hears that Josie has been talking to Denise, Don makes her aware that he stalked Denise over the phone in 1993. Although shocked, Josie carries on seeing him.
Percy looks after Rosie Webster to help Sally out.
Jack fears Rodney is carrying out a time and motion study at the Rovers when he helps out with the cellar work. In protest, Jack throws the beer away, telling Rodney the customers are complaining about the taste.
Steve and Fiona move into the cafe flat. Collecting the £500 deposit money from the Quays flat, Steve spends it at the dogs and wins £300. However, Sean sees him win and takes the £800 off him to pay off some of his debt. Fiona doesn't trust Steve to balance the books, especially when his credit card is cut up at an expensive restaurant. When Billy Featherstone demands Steve settle his debt with him, Steve reports Sean to the police for robbing him in the hope of getting the £800 back. Sean explains to the police that it was a gambling debt and gives Des's name as a witness. However, Des fails to back up his story, forcing Sean to let to Steve pay off his debt at £20 a week in exchange for him dropping the charges.
Alma receives a £2,000 inheritance after her ex-husband Jim Sedgewick passes away and shocks Mike by buying a sports car. Thinking she must have been swindled, Mike clears the car with an agency, causing Alma to retaliate by having Mike's Mercedes checked out. They're amazed to discover that the Merc is stolen, and Mike immediately puts the vehicle up for sale.
Norris's relationship with Angela is going well, much to Derek's chagrin.
Rodney decides to liven the Rovers up with a karaoke evening. Denise, Fiona, Jon, and Reg have turns on the karaoke machine, but a returning Bet steals the show with "What Do You Want to Make Those Eyes at Me For?". Smitten with Bet, Rodney calls on her with flowers.
Reg tells Maureen that he doesn't want to mark his birthday and is disappointed when she takes him at his word and doesn't buy a present.
Ken grows tired of being a baby-sitter for his own son. When he finds out that Denise went out with Jon, he tells her he's seeing a solicitor and getting full rights to Daniel.
Vicky decides to give up on her dream of running a stables and invests £2,000 in Steve's deal with

Costello's Club

. Steve doesn't tell Fiona about the arrangement.
The Americans arrive to look over Firman's Freezers. Afraid that one of them will lose their job when the deal goes through, Reg and Curly nobble each other, with Reg talking Curly into meeting Brad Martin without his glasses and Curly failing to warn Reg that Brad is touchy about his wig. They both make a terrible impression but fortunately the Americans pull out of the deal anyway.
Tracy is rushed to hospital after taking bad Ecstasy. As Ken waits for Tracy to wake from a coma, her mother Deirdre Rachid arrives from

Morocco

. Ken lets Deirdre live at No.12 while in the

UK

but is shocked when Denise refuses to allow him to live with her temporarily. Tracy awakens from her coma as Deirdre repairs her friendship with Emily.
Raquel lets Curly know that Tricia has been seeing Sean. Curly finishes with Tricia.
April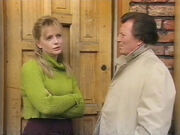 Reminded of his promise to give Deirdre any profit he makes on No.1, Mike puts the house up for sale and tells Tricia to move out. Tricia refuses to leave, citing her rights as a sitting tenant, and she and Jamie rip up the "For Sale" sign.
Gail goes back to work but remains deeply unhappy. At Martin and Alma's urging, she sees a doctor and is prescribed anti-depressants. Martin considers leaving Gail as he gets sick of waiting for her to decide whether they have a future together.
As Tracy recovers in hospital, Ken and Deirdre are informed that her kidneys are damaged and she'll be on dialysis until a donor is found. Tracy falls into a depression upon being told. Meanwhile, Samir Rachid arrives in the country as Deirdre extends her stay until Tracy is better. When Deirdre announces her intention to give Tracy one of her kidneys, Samir is unsupportive due to the immense risk to her and the fact that even if it goes well, it would make them unable to have children. Deirdre is tested but is found to be incompatible. While Deirdre attempts to track down Tracy's biological father Ray Langton to test him for compatibility, Ken puts himself forward as a donor, causing friction between Deirdre and a jealous Samir. When Ken is also rejected, Samir decides to get tested to please Deirdre.
Ken sees a solicitor about Daniel but is told he has no rights as he's not named as the baby's father. Forced to reach an agreement with Denise, Ken gives her a letter outlining his requests concerning access and his say over Daniel's future.
Rodney decides to buy Mike's Mercedes to impress Bet. Taking Tricia out to the country on a test drive, he does a check on the vehicle using his police contacts and discovers it's stolen. Desperate to sell, Mike offers Rodney half price for the car if he doesn't go to the police but he already has. Mike is questioned and released without charge, having purchased the vehicle in good faith, but the police seize the car leaving him £9,000 out of pocket.
Bet puts Ken up at the Rovers while the Rachids are using No.12, refusing to take no for an answer.
The Mayor of

Charleville

,

Valery Picot

, makes an official visit to Weatherfield, staying with the Roberts at Grasmere Drive. Due to a series of misunderstandings, Valery comes to believe that Betty is Alf's mistress and the Rovers is a brothel. When a charmed Audrey tries to get herself invited to a Town Hall dinner as Valery's escort, Valery thinks she's offering herself to him and turns her down, having already secured Raquel's services for the occasion. He again gets the wrong idea when Raquel tells him that she's a model known for hand jobs, and after the dinner he tries to get into her bedroom, only to be baffled when she rebuffs him. Meanwhile, a rejected Audrey invites ex-Mayoral Rolls driver

Brian Bowes

for a drink to make Alf jealous. After the Town Hall dinner, Alf returns to the Rovers and catches Audrey flirting with Brian.
The print shop, renamed

Dun 2 A T

, finishes the Costello order with Steve collecting a cheque from

Nick Gerrity

. Vicky then agrees to invest a further £1,500 on the condition that Steve enters into a business partnership with her. Steve manages to convince Fiona that the partnership with his ex-girlfriend is just business, while Andy warns his brother about messing both women around. Due to Costello's going bust, Gerrity's cheque bounces and Vicky is left out of pocket. Putting it down to experience, Vicky drops Steve and signs up for a business administration course at the

Community College

.
Des is down on his thirtieth birthday.
Fiona qualifies as a stylist.
The Duckworths join Don and Josie at the theatre, after which Don and Josie spend the night together for the first time.
Derek buys a couple of gnomes for the

Wiltons

' garden. Norris laughs at the gnomes when he visits Derek to show off his new watch from Angela.
Jon continues to pursue Denise. When Denise begins to open up to him, Jon kisses her only to be firmly rejected. Feeling misled, Jon tells Denise she's sick for the way she treats men and quits the salon. Following his departure, Denise begins rowing with Fiona at the salon. Eventually, Denise leaves the street with Daniel, telling Fiona that she can't cope anymore.
Sean sorts out a lease for a new betting shop in

Fallowfield

.
May
Fiona calls in her friend Maxine Heavey to help out at the salon as she soldiers on single-handedly. As Denise continues to stay away, Maxine encourages Fiona to pocket the takings rather than put them through the till but Fiona remains loyal to her employer.
Vera throws a party for Tommy and allows Des to take her grandson out for the day. Des enjoys it when Tommy is mistaken for his son.
A moody Tracy is discharged from hospital and moves into No.12. The flat proves to be a tight squeeze for the three of them and Deirdre arranges for her and Samir to stay at No.11, with Ken moving back into No.12 to look after Tracy and Andy taking Des's spare room at No.6.
Samir's initial tests show that he is a match for Tracy, much to everyone's surprise. While he awaits further tests, the Barlows keep Tracy in the dark so as not to get her hopes up. Unaware of Samir's sacrifice, she continues to needle him for marrying Deirdre. While Samir presses ahead with becoming a donor, he admits to Jim that he only put himself forward as he didn't think he'd be compatible, and now he feels obliged to carry on with the operation. Final tests prove positive, and Tracy is told that Samir will be her donor. At a counselling session, Samir convinces Tracy of his love for Deirdre and they finally start to get along. As the operation nears, Deirdre and Samir start making plans to remain in Weatherfield. The day then arrives and Samir chooses to walk to the hospital on his own to prepare himself for surgery. On the way, he bumps into a gang of youths who make racial slurs at him.
Vicky begins pursuing Steve again, offering to invest more money if she has total responsibility over the finances. Together they buy a paper company,

Dalmation Consolidated Holdings

, with Vicky putting up the cash. Vicky then plans a business trip to

Dublin

with Steve to secure a contract with

Red Ferret Records

. Meanwhile, Fiona becomes increasingly convinced that Vicky has designs on Steve. When the couple return having landed the contract, Vicky tells Andy that she intends to have Steve.
While Steve and Vicky are in Ireland, a heavy, Denny Bull, calls at Steve and Fiona's flat and smashes furniture as a warning for Steve to pay his debts. Fiona is terrified but Steve shows little concern upon his return. She's grateful when Andy lends her a sympathetic ear.
Fiona gives Ken Denise's address in Macclesfield and he goes to see her and Daniel to make sure they're all right. Surprised that he didn't take the opportunity to pressure her over access, Denise decides to return to Weatherfield and give a proper relationship a try in order to give Daniel stability. However, Ken turns her down, as he feels she'll change her mind again. After a pep talk from Bet, Denise convinces Ken that she really does want him and they are reconciled.

Arthur

the gnome goes missing from the

Wiltons

' garden. Derek and Mavis realise they're being pranked when they receive a postcard from Arthur in

Eastbourne

. The mystery deepens when, weeks later, the gnome re-appears.
After passing his nursing exams, Martin takes the Platts away to a caravan in Mold. Arriving at the site, the family discover they're in the caravan next to the Duckworths'. Vera volunteers Jack to baby-sit the Platt children, which he gets around by playing hide and seek with them and "hiding" miles away. Returning at midnight after a sing-song at the local pub, Jack can't find his own caravan and spends the night under the Platts'. Seeing Jack and Vera bickering the next morning makes Gail realise what she's got with Martin and they patch up their marriage.
Don and Josie's plans for an intimate weekend are thwarted when Nicky arrives to stay with them while the Platts are away. While there, Nicky skives off school with his girlfriend

Melanie Hesketh

. Josie catches them snogging at No.5 and Don warns Nicky about skipping school.
Maxine makes a play for Des, finding him attractive.
The fiftieth anniversary of VE Day arrives. At the Rovers, Betty is reunited with her old flame Billy Williams when he recreates a pub crawl from five decades ago. He begins to romance her again, taking Betty dancing at the Ritz Ballroom. She is shocked when Billy tells that her he wrote to her in 1945 proposing marriage, but the letter never reached her.
Tricia is pleased to be given bar work at the Rovers, but resigns when Bet docks her pay for her continued lateness. Raquel is forced to do the cleaning at the pub.
Alf and Betty's term of office comes to an end.
Alma and Audrey go shopping in Southport, where they meet a couple of men in the guise of a fashion buyer and caterer.

Gareth Jenkins

asks Alma to look over his pub,

The Wheatsheaf

. Keen to see

Jeff Bryant

again, Audrey rings Gareth on Alma's behalf, forcing Alma to make an appointment to see his pub so that she can go along. There, Gareth asks Alma to make up a sample menu and Alma decides to take the job to prove to Mike that she is a good businesswoman.
Maureen and Maud go down with gastroenteritis. Reg pushes Maureen into work while she's sick before employing Tricia to help out. Maud gives Tricia her approval when she calls her a misereable old hag for giving her a hard time.
Jim fixes up his old motorbike in the yard, with Jamie giving a hand. Jim returns the favour by taking Jamie along on a chauffeuring job.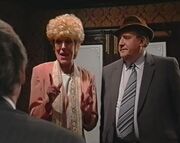 The Prime Minister writes to Alf offering him an OBE. Against Alf's wishes, a proud Audrey announces it to all the Rovers regulars.
Who lives where
Coronation Street
Rosamund Street
Others
Awards and nominations
National Television Awards
Ceremony on 29th August 1995 - first year held